Timeless, classic yet stylish- nothing can describe a choppy bob haircut better than this. Women of all ages and personalities gravitate to try this haircut because it not only oozes style and edge but also looks good on any face shape and hair type. Be it fine, thick, straight, or curly, the appeal of this haircut is just as fabulous as it sounds.
It can be styled in different ways too. From elegant, professional cut to a cool and messy do, you can try a whole lot of different looks with this "do" and be the most stylish version of yourself. ALWAYS!
How To Cut a Choppy Bob Yourself- Step by Step
If you don't trust a hairdresser or don't have a salon near you, it's natural that you might want to cut your hair own on your own. Even though some haircuts are extremely easy to do at home, a choppy bob might require extra effort and time. Let's learn how to cut it yourself the easy way so that you don't have to visit a salon again.
Step 1: Prepare Your Hair
Getting your hair ready before a haircut is important. Otherwise, you might not achieve the right cut with the right length.
To prepare your hair, spritz on water and dampen it. With a regular comb, comb through your manes to remove any knots and tangles from them. Make sure that the strands are super smooth.
Step 2: Divide Your Hair
For the choppy bob, divide your tresses into three equal sections so that you have two parts on either side and a part at the back of your head.
Then, cut the back section first according to the length you want. Then cut the two sides one by one, keeping a sync with the length of the back hair.
Step 3: Add Choppy Layers
Now that you have the desired length start adding layers to the hair. Cut layers all over your manes and then finish off by blending the ends of the strands.
And voila! You have cut a choppy bob on your own.
Fabulous 40 Choppy Bob Haircut for You
If you are in the mood to try out a sexy, glamorous choppy cut bob in your hair, we have got you covered. Below, we have listed the most fabulous choppy bob haircuts just for you so that you can pick ONE for yourself easily.
1. Shaggy Choppy Bob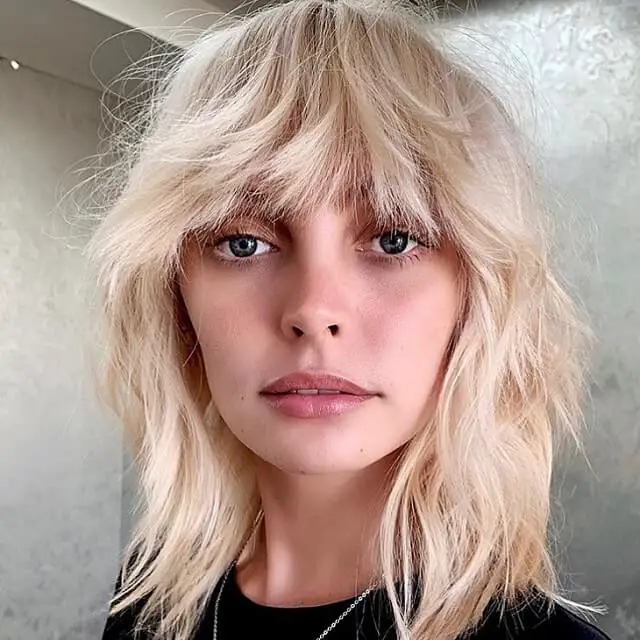 the messy and unstructured appearance of a shaggy haircut is casual yet sexy. The texturized layers create volume and edginess in your tresses and easily make you stand out in the crowd. It doesn't matter if you have fine or thick hair, this haircut would never fail to elevate your look.
2. Choppy Bob with Curtain Bangs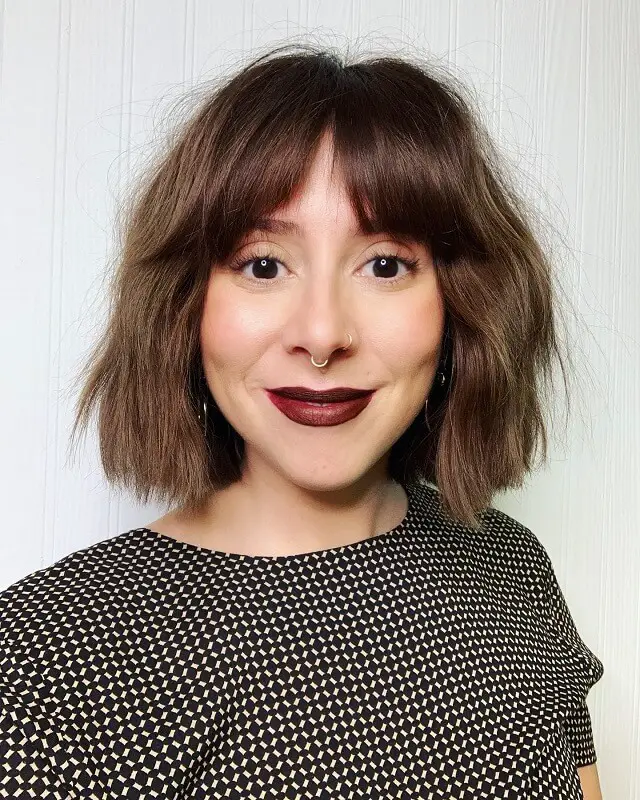 Pair your classic choppy bob haircut with curtain bangs to draw attention to your facial features. This sexy, versatile, and stylish "do" suits almost any face shape and hair type and makes you look chicer than ever.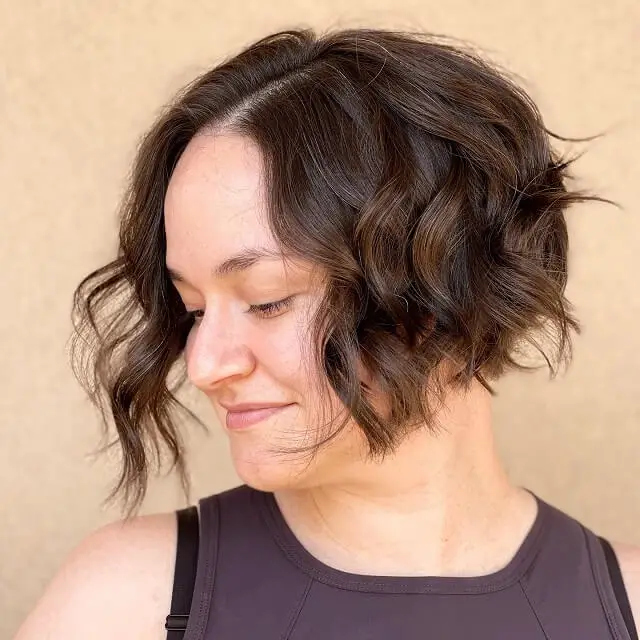 This choppy cut bob is the shorty short version of the classic bob and looks just as fabulous. While the choppy layers at the back create incredible volume, the longer strands frame the face for a chic look. You can play with the length of this bob to suit your personality the best.
4. Side Part Choppy Bob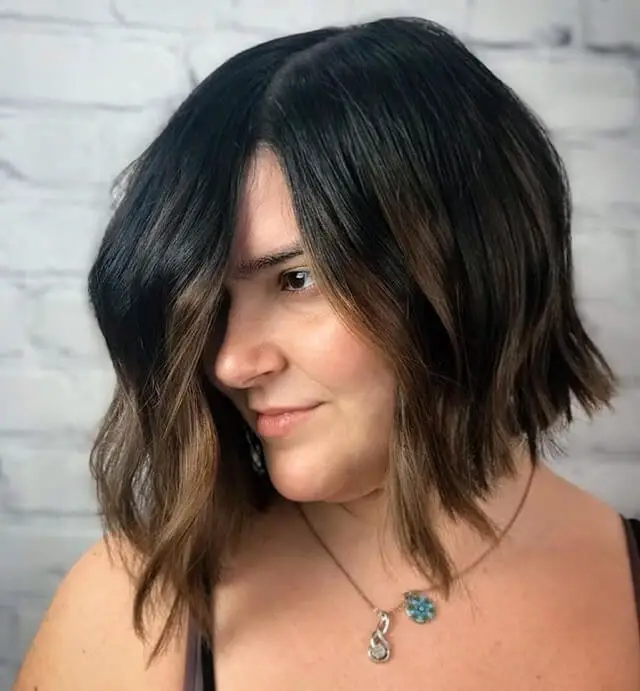 If you want to look younger and glamorous with minimal effort, style your bob with an amazing side-part! Wearing your bob with a side part looks incredibly flattering and is also easy to maintain. Change the part every now and then to switch your style subtly.
5. Long Choppy Bob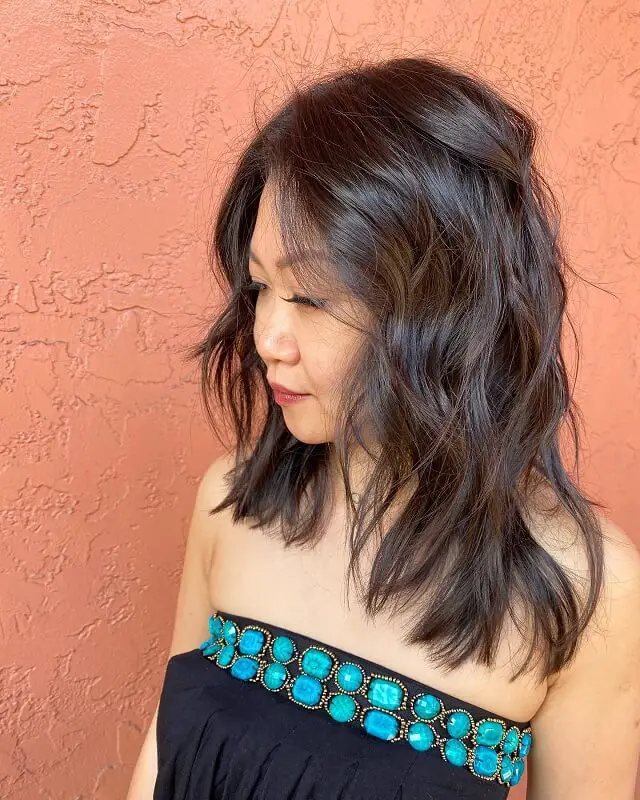 When you are unsure about chopping down your manes to a classic bob, a long bob could be your best option. You can play with the length of the layers to make it more versatile and adaptive to your personal style. For more edge and style, you might also add fringes and bangs to this haircut.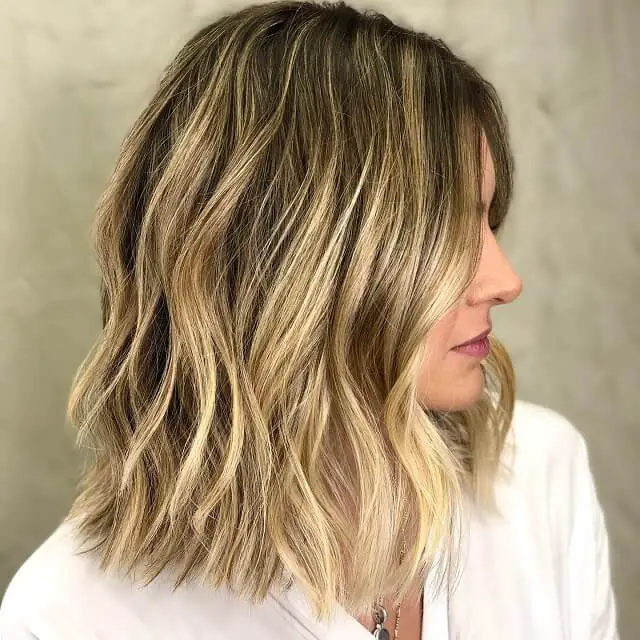 Messy hair is effortlessly cool and sexy. And when you pair a choppy bob with messy strands, the result is incredibly chic with an underlying carefree finish. Style this "do" with some salt spray and texture to create a fashion-forward outlook.
7. Medium Choppy Bob Haircut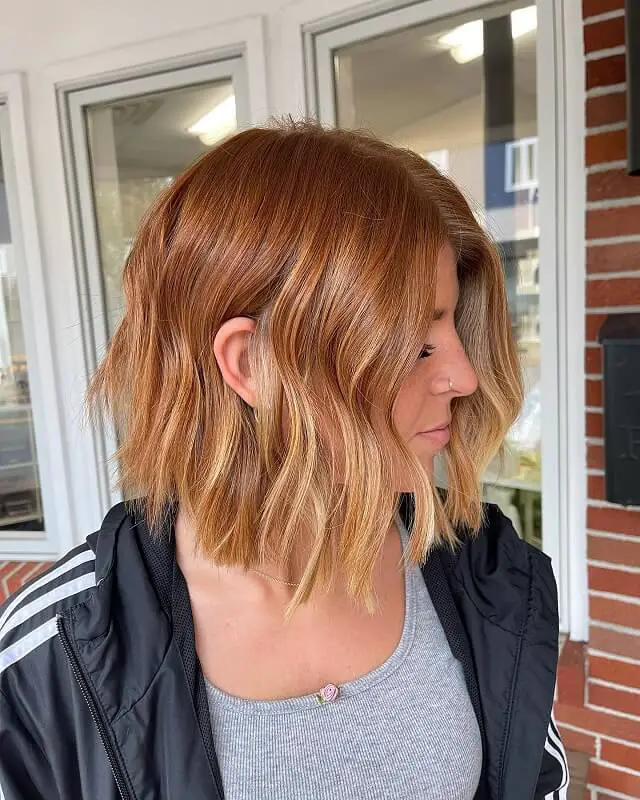 The medium choppy lob suits almost all face shapes. It is also a great haircut to try if you are not comfortable with a shorty short, classic bob. The medium-length tresses would also give you the time to adapt to try a shorter version of this bob haircut.
8. French Bob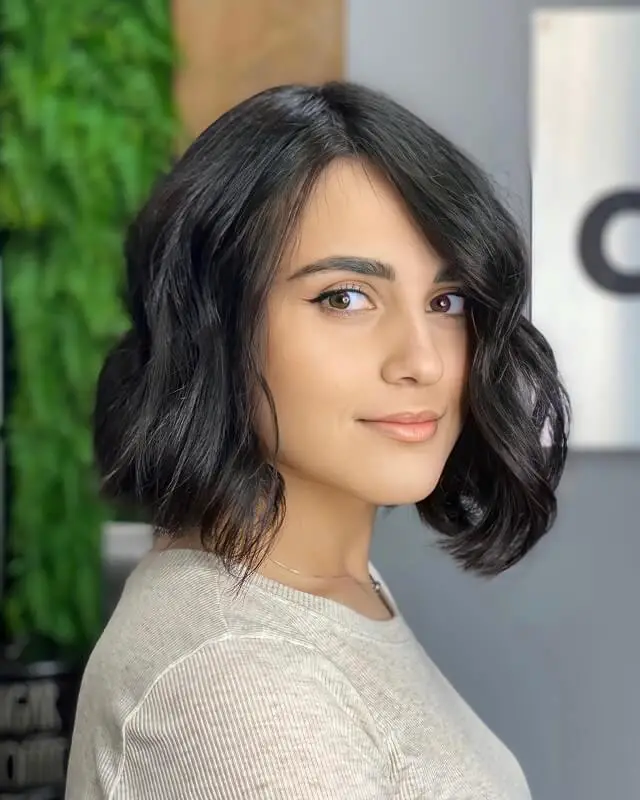 The choppy French bob haircut is everything chic and classy. Because the texturized layers of this cut fall around the chin, it draws attention to your jawline and makes your face a lot slimmer than before. Try this bob cut if you have a square or oval face!
9. Choppy Layered Bob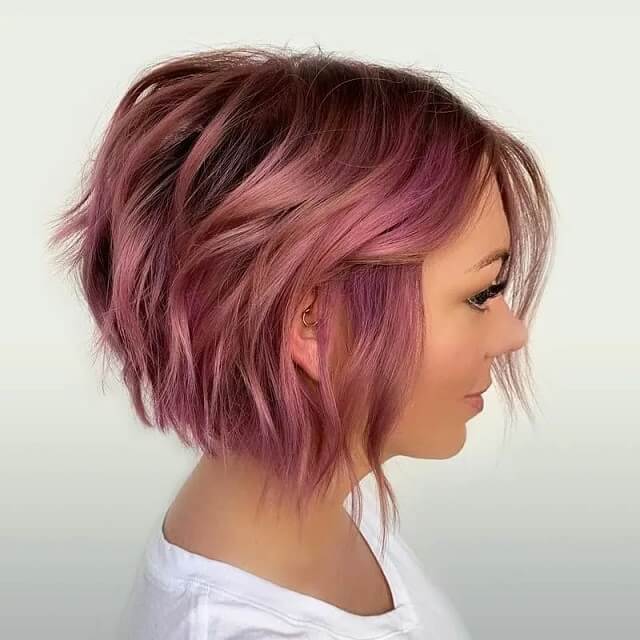 The layers in a choppy cut create the perfect illusion of body and volume in your otherwise flat, limp hair. If you have fine, lackluster tresses, a layered bob haircut is a must to create drama and oomph in your look. It will never disappoint!
10. Soft Choppy + Layered Bob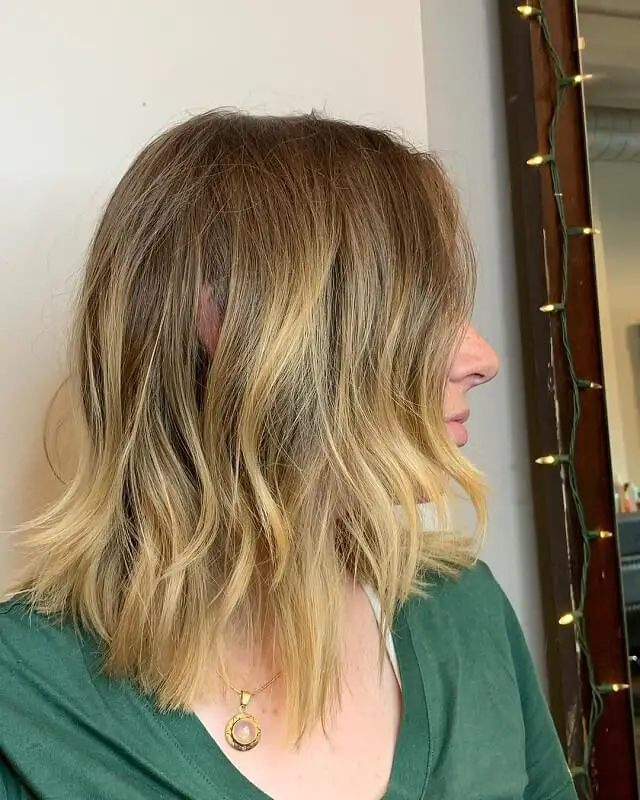 Add a soft, feminine touch to your look with a smooth, layered bob. The perfectly cut layers all over your head fall seamlessly on one another and make your tresses look super gorgeous. It doesn't matter if you have thick or fine tresses, this haircut would never miss flattering your appearance, ever!
11. Choppy Short Layered Bob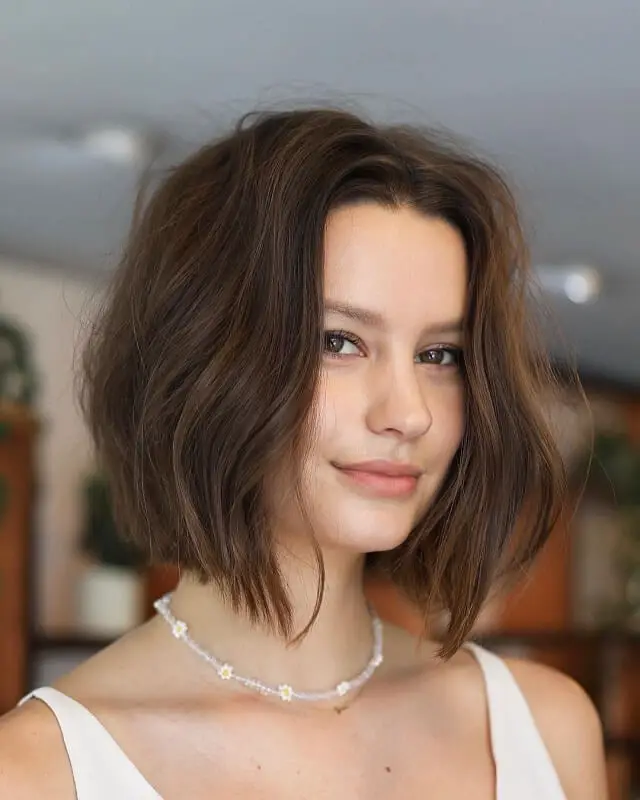 Wear your hair in a short layered bob if comfort and easy maintenance is your main concern. The shorter, texturized layers not only make for a sexy, appealing style but also provide just the right amount of edge and dimension to your look. Pair it with high-street fashion or couture, this hairstyle will always make an impact!
12. Balayage Bob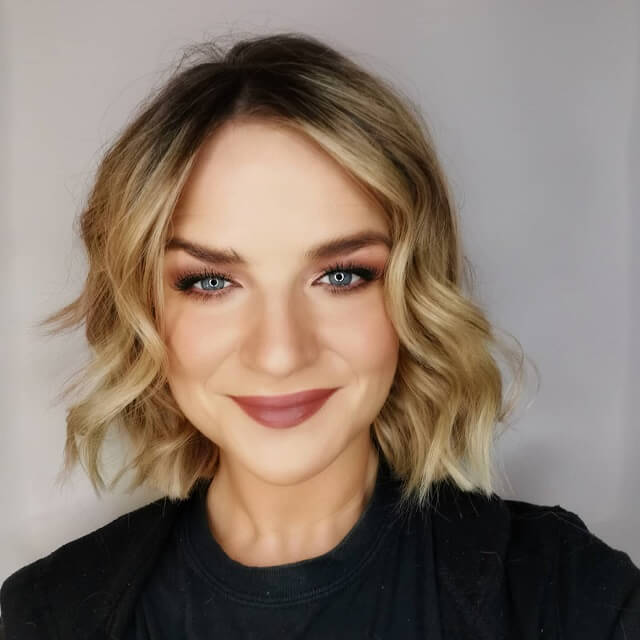 The amazing balayage along with the choppy cut bobs, draws an appealing sexy picture. This coloring technique gives your tresses a lift and dimension and makes them the highlight of your overall appearance.
13. Bob With See-through Bangs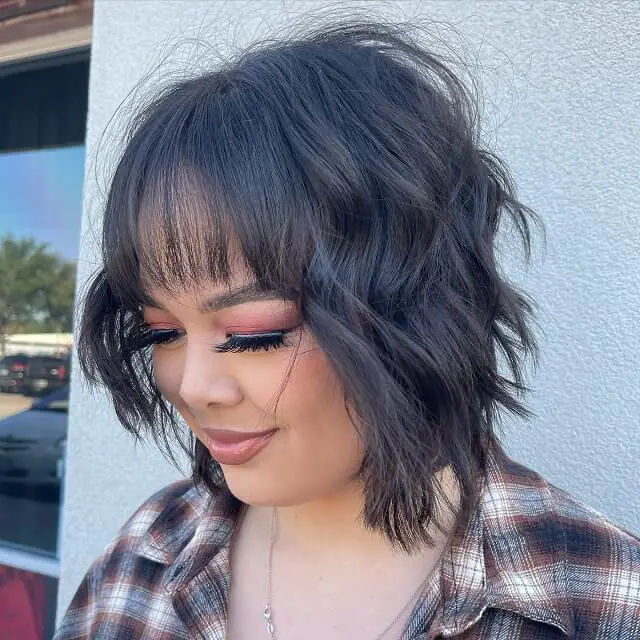 Adding bangs to your bob is a wonderful way to hide your big forehead and draw attention to your beautiful eyes. The noticeable fringes also soften down your overall outlook and make you look younger and trendy. You can also experiment with the length of the bangs for a customized appearance.
14. Choppy Bob for Round Face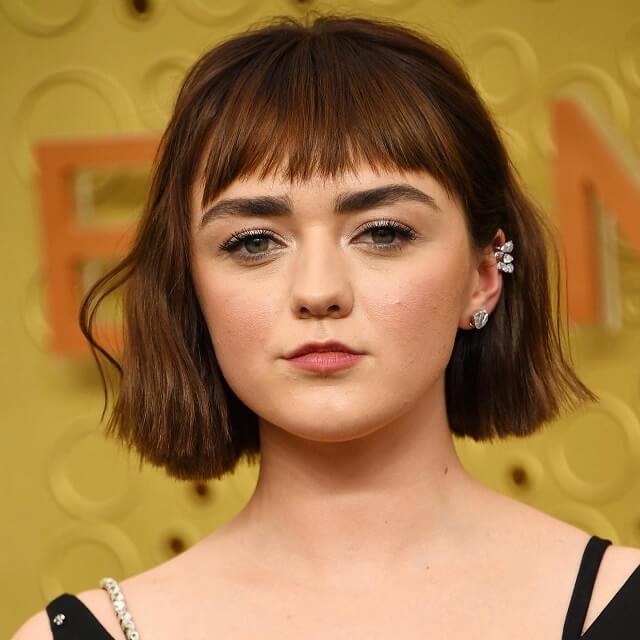 A choppy bob haircut is a great way to define your jawline, especially if you have a round face. The layers of this amazing haircut can make your face look slimmer and longer and make you look even sexier. Sport it with any hair texture, and its appeal is unmissable!
15. Choppy Bob With Bangs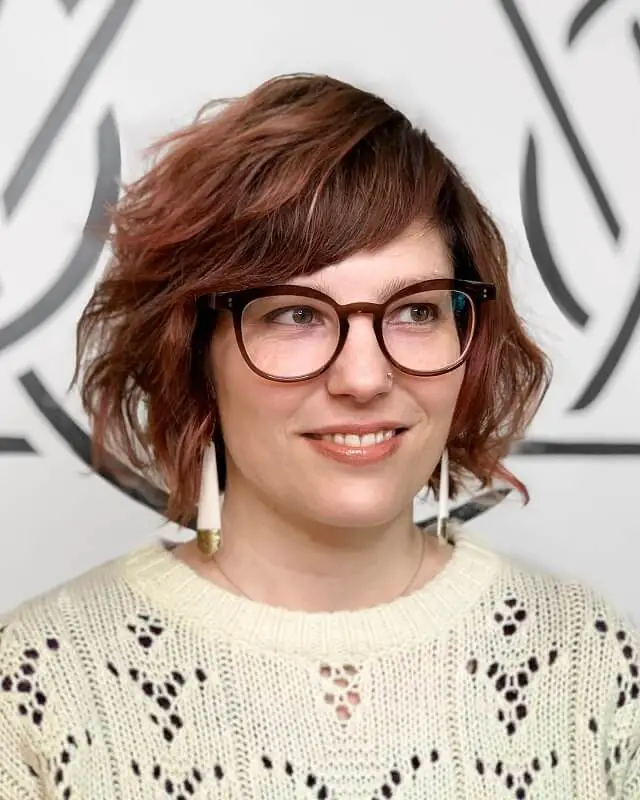 Pair your jaw-length bob with subtle bangs for maximum cuteness. The bangs lessen the sharpness of the bob and provide a very cute vibe to your look. It also takes away years from your age and makes you look younger and more mellow and bubbly!
16. Low Maintenance Choppy Bob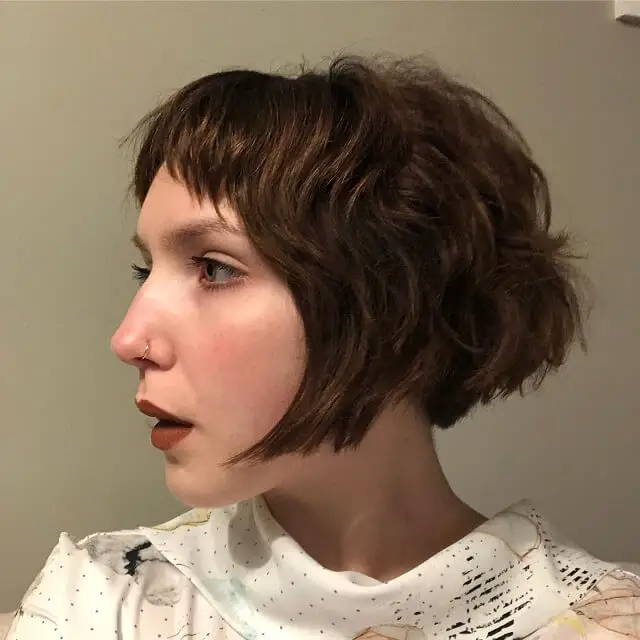 This simple, shorty short bob is incredibly easy to style and maintain. Because the choppy layers are over the shoulder and there is less "hair weight," it wouldn't take much time or effort to style or take care of it perfectly.
17. Jaw Length Edgy Choppy Bob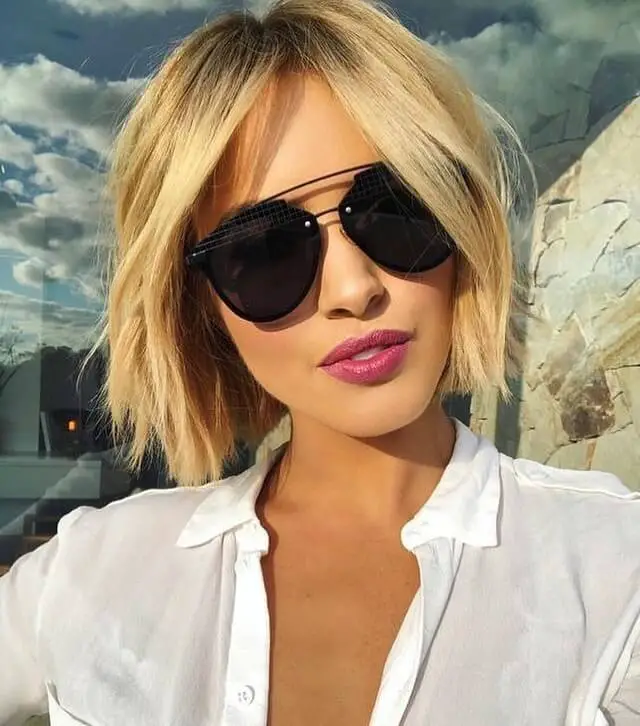 A jaw-length choppy cut bob is actually a choppy lob. This neither long nor short haircut flatters women of all ages and will suit most face shapes. You can also customize it according to your own hair texture. Style this interesting haircut with a few waves here and there, and it will look fabulous on you!
18. A Modern Haircut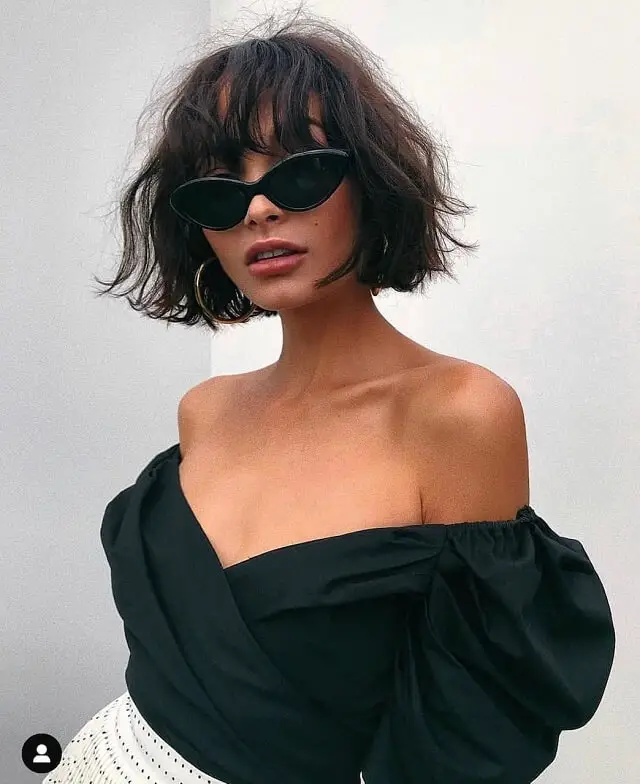 Give your classic bob a modern twist with this amazingly stylish ear-length choppy cut. Featuring no angles and no textured layers, this hairdo is super simple yet striking enough to make a statement. Pair it with bangs for added drama and dimension.
19. Shoulder Length Layered Bob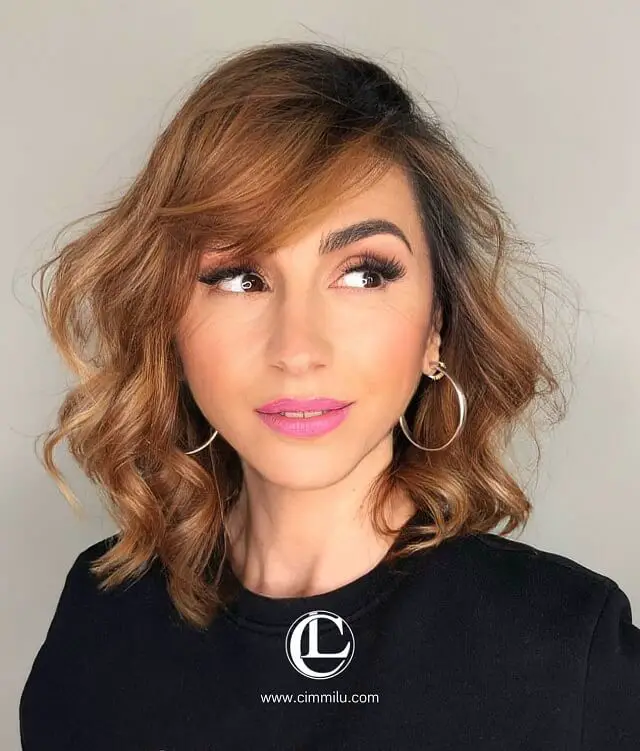 As the layers of the choppy cut fall perfectly on the shoulder, the appeal of a shoulder-length bob is truly unmissable. This haircut provides just the perfect length to style your tresses as you like while also ensuring comfort. It will be the ideal cut for you if you don't want too long or too short tresses to rock.
20. Choppy Bob Haircut with Middle Part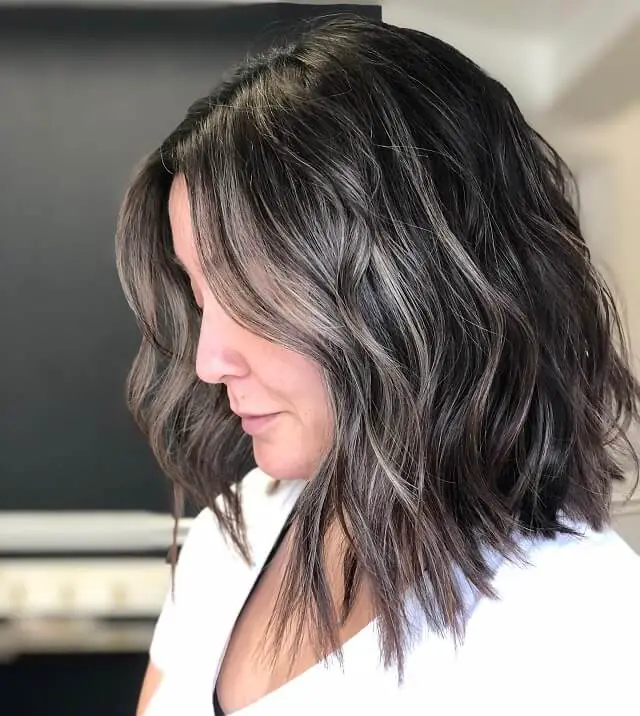 A middle part in your choppy bob hairstyle is an incredible way to complement your facial symmetry and draw attention to your facial features. It creates a subtle balance and makes the tresses appear as sleek and polished as ever, especially when you have straight hair.
21. Choppy Inverted Bob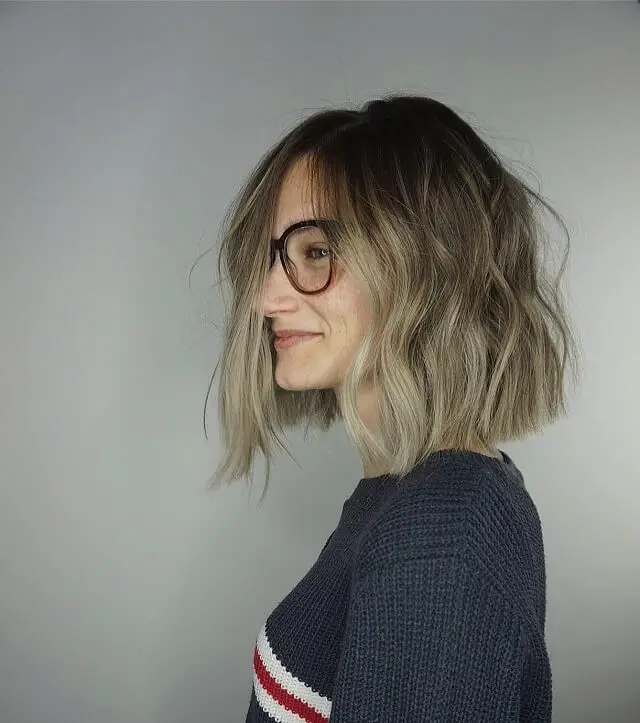 Featuring a shorter back and longer front, an inverted bob could be an incredibly interesting haircut for you, regardless of your hair type and personality. It frames the face perfectly and highlights your facial features so that all the attention is on you, whether you want it or not.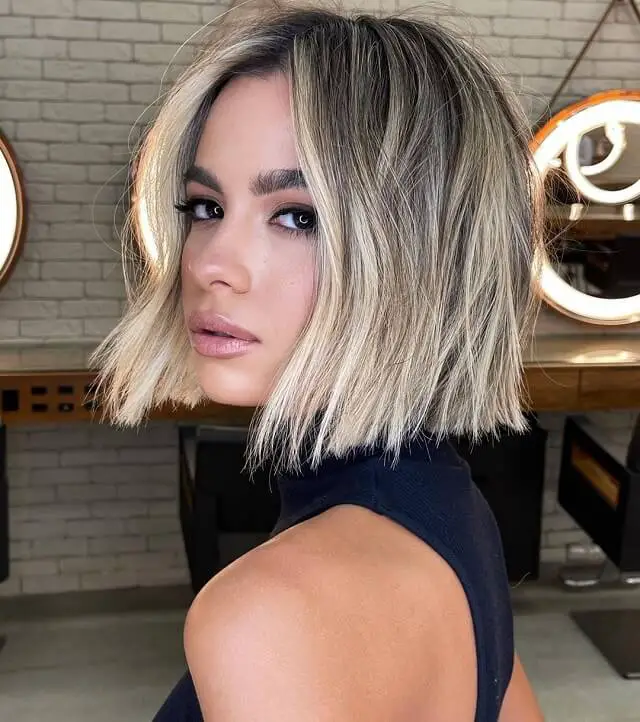 If you want a "sexy meets sophisticated" do in your hair, a blunt cut choppy bob is your thing. It is sharp, chic, and stylish. This haircut flatters almost anyone and any hair type and never fails to make an impact.
23. Choppy Bob For Fine Hair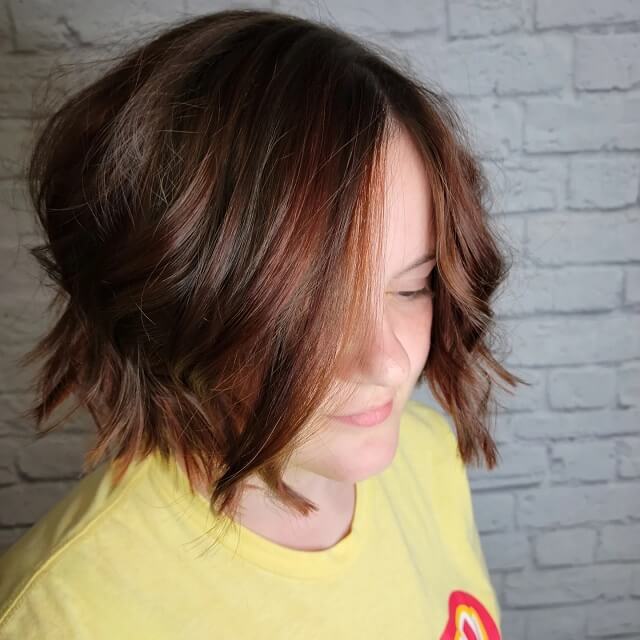 It is a perfect haircut for fine hair because it provides body and volume to your otherwise flat tresses. The texturized, uneven layers of this haircut give an illusion of thicker, fuller hair and ensure a glamorous outlook. Adorn it with a few highlights to create depth and drama in your appearance.
24. Long Inverted Bob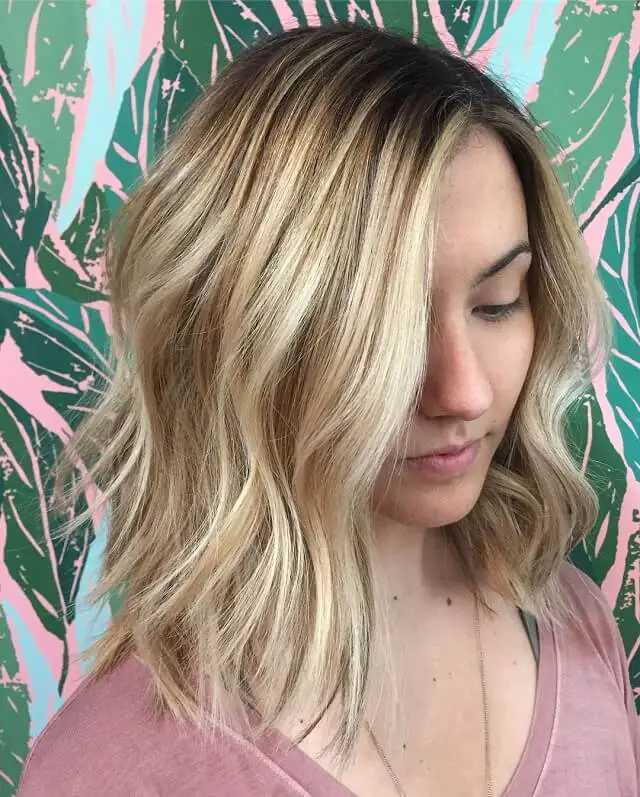 If you want a modern haircut and full of movement, a long inverted bob is your thing. Featuring softer, more toned-down layers, this interesting haircut is feminine, elegant, and visually striking. And because of such characteristics, it goes seamlessly with any age and personality you can think of!
25. Choppy Hair With Long Layered Bob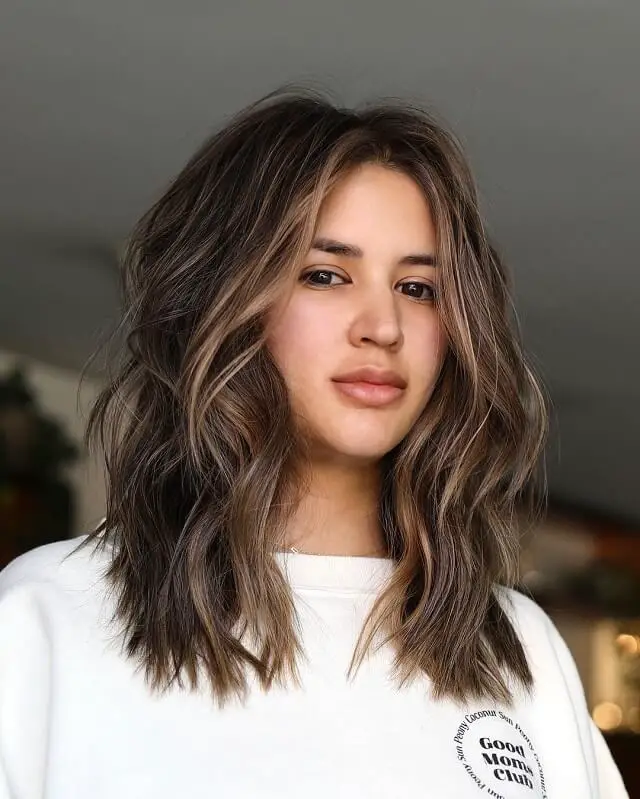 The choppy layered bob creates a voluminous, glamorous look. While the subtle layers create an illusion of body and texture in your manes, they also take away a lot of your hair weight to ensure comfort. Style this cut with curls, waves, or any other way, and it will always make you look uber cool and stylish.
26. Long Choppy Bob With Fringe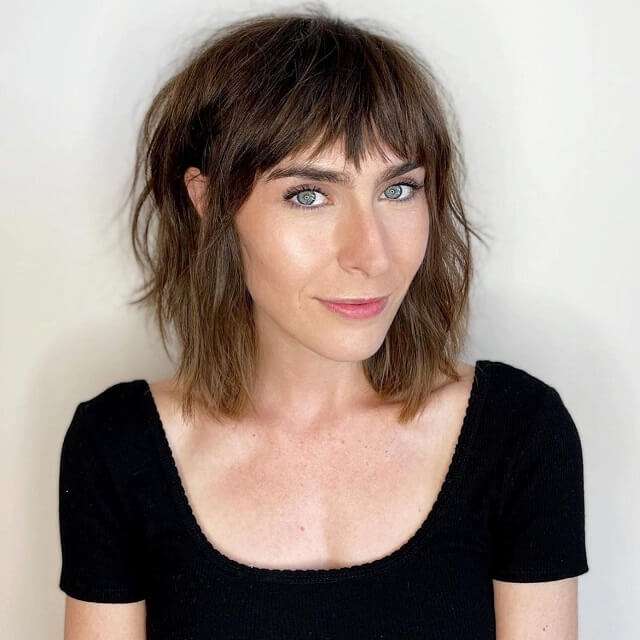 Adding fringes to your chic choppy cut bob is super stylish and convenient. The perfectly cut bangs can draw attention to your face in no time and look fantastic regardless of how you style them. They are also an incredible way to hide the imperfection of your forehead, without even trying hard!
27. Choppy Bob Haircut For Thick Hair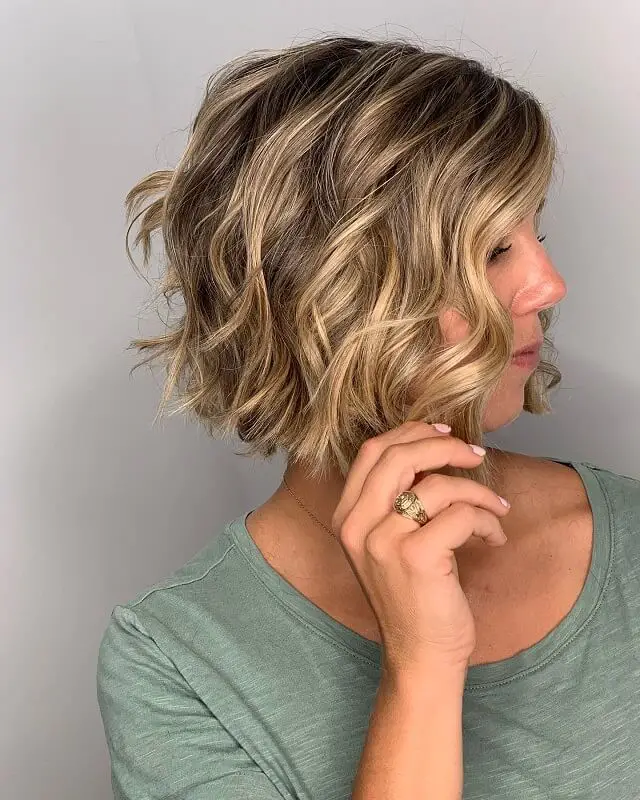 A choppy cut bob is just the right hair cut for thick hair because it takes a lot of your hair weight and ensures comfort. Moreover, this amazing haircut appears to be less bulky while also maintaining the movement in your manes. Try it in your straight, natural, or curly hair, and the result will be absolutely ravishing.
28. Ear Length Bob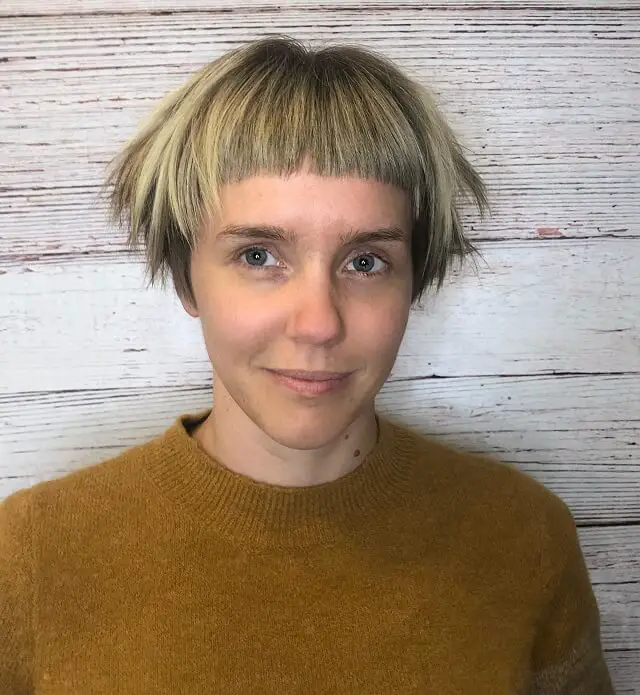 The ear-length bob is the super short version of a classic bob with a shaved back. Because of the shaved undercut, this haircut seems extremely voluminous and full of movement. If you are looking for a fuss-free, easy maintenance haircut, this is "do," girl!
29. Choppy Haircut With A-Line Bob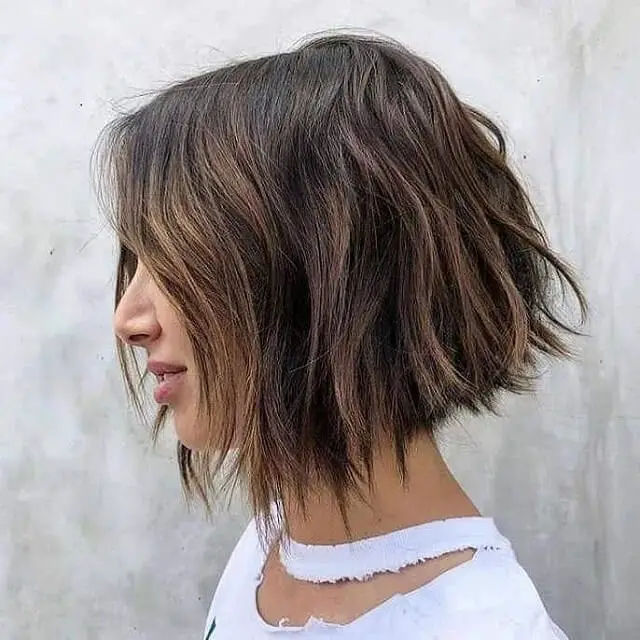 If you want your face to look slimmer and a lot sharper, try out the A-line bob with a choppy cut right now. This cut features longer strands at the front that become gradually shorter at the back to frame your face precisely. Style it with some hair gel to illusion an even slimmer look.
30. Angled Bob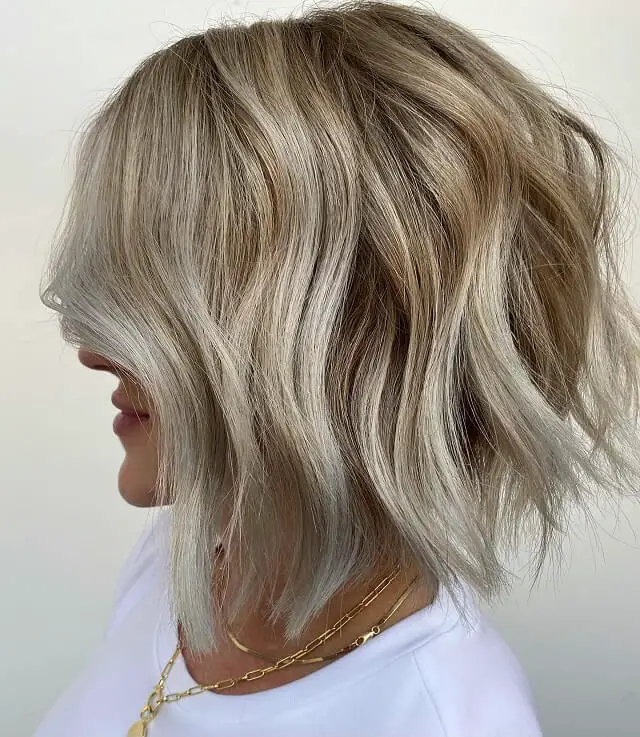 Adding angles to your timeless choppy bob haircut can be an excellent way to add drama and dimension to the whole look. The choppy, voluminous layers at the back along with the sharp, angled strands at the front create a perfect balance. And makes you as fearless yet sophisticated as ever.
31. Asymmetrical Bob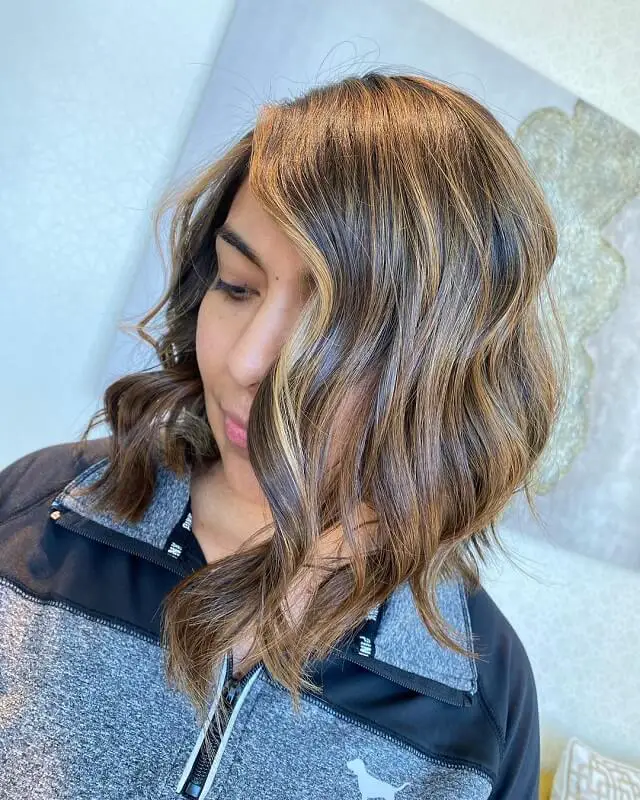 The asymmetrical layers of an asymmetrical bob are a daring hairstyle that seamlessly suits any hair type and face shape. This fearless, fashion-forward "do" creates a lot of visual interest in your manes and ensures that you look your best with any outfit we wear or any look you sport.
32. Choppy Blonde Bob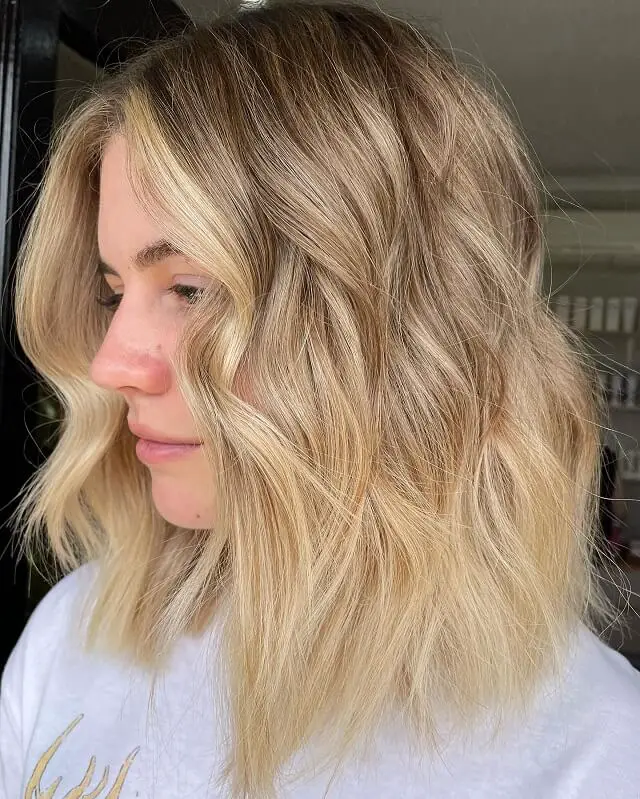 Blonde is bold, sexy, and attractive. And when you pair it with a classic choppy bob haircut, the outcome is anything but ordinary and boring. Style it with beach waves or texturized strands for an even glamorous outlook.
33. Straight Choppy Bob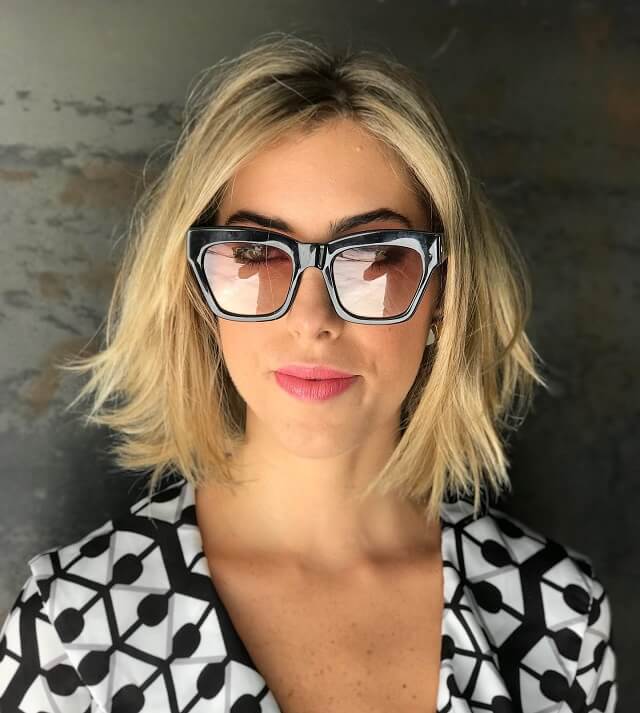 A straight bob ensures a more structured and face-shaping appearance and looks sophisticated as ever. While the layers at the front draw attention to your beautiful facial features, the ones at the back assure volume for a more modern, dimensional outlook.
34. Choppy Pixie Bob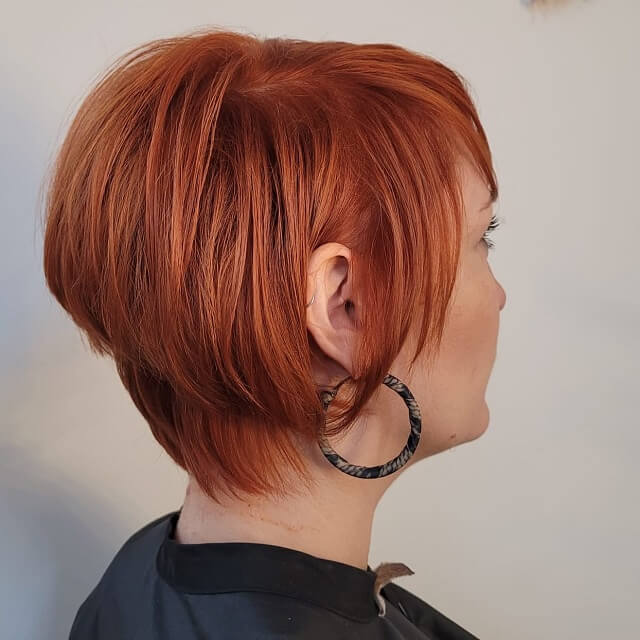 A pixie bob with choppy hair is effortlessly smart, feminine, and trendy. Featuring short hair on the back and sides and long bangs, this haircut would never disappoint you when it comes to looking uber stylish yet comfortable.
35. Chunky Short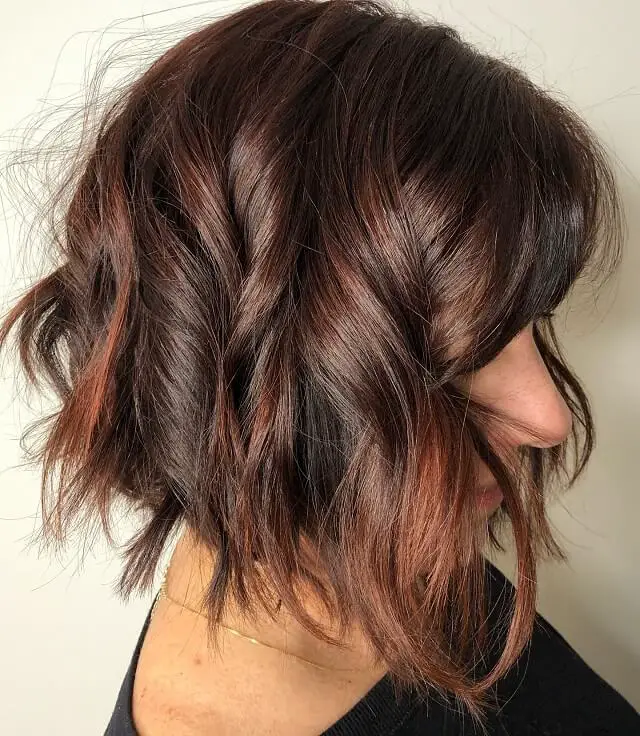 Create amazing volume and movement in your hair with a chunky haircut. The uneven layers along with the signature features of a bob offer edge and attitude to your whole look and draw all the attention toward you.
36. Textured And Layered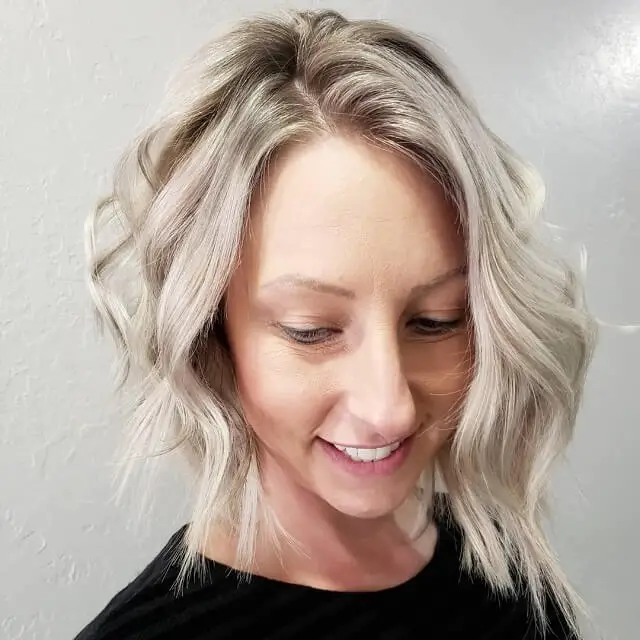 Get a textured choppy bob if you want dimension and movement in your hair. This visually striking haircut features a deliberately undone vibe and makes the tresses look even more voluminous.
37. Choppy Cut Bob With Undercut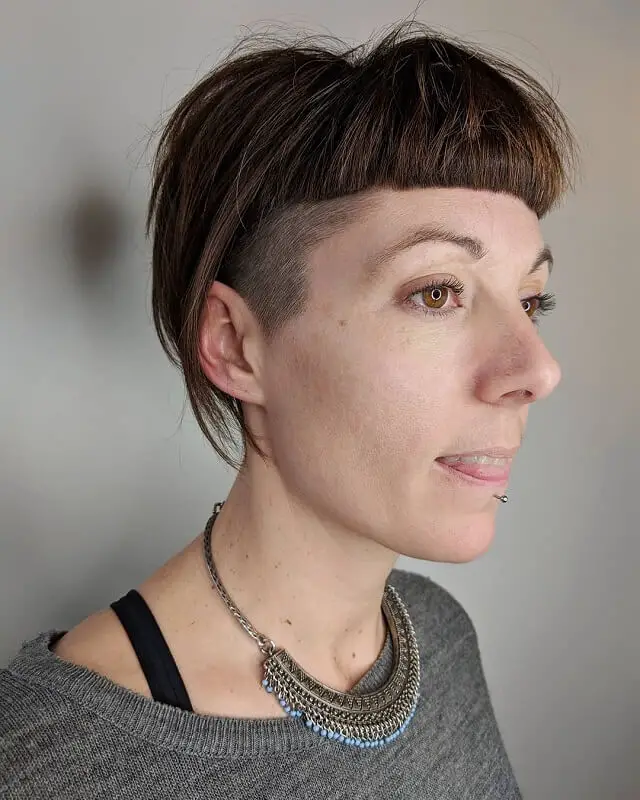 While some bobs with undercuts can be polished and sophisticated, others are cool and rebellious. Whatever type of undercut you choose to rock on your hair will definitely make an interesting statement and add more to your personality.
38. Choppy Cut Curly Bob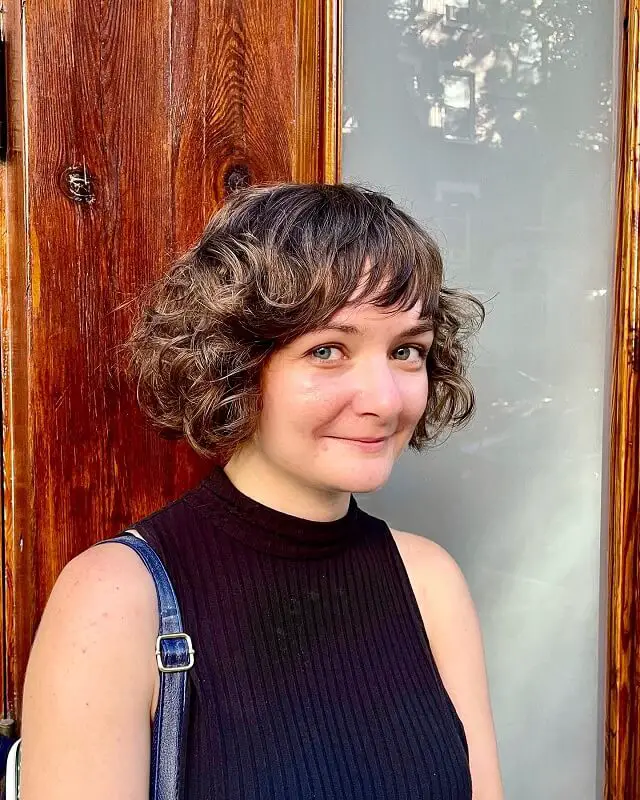 A curly choppy haircut is interesting and chic. The choppy ends and the texturized layers make your tresses look voluminous and provide a very fresh, new look. Moreover, as you take off a lot of hair weight, this haircut is super comfortable and easy to maintain, especially if you have thick curly tresses.
39. Choppy Wavy Bob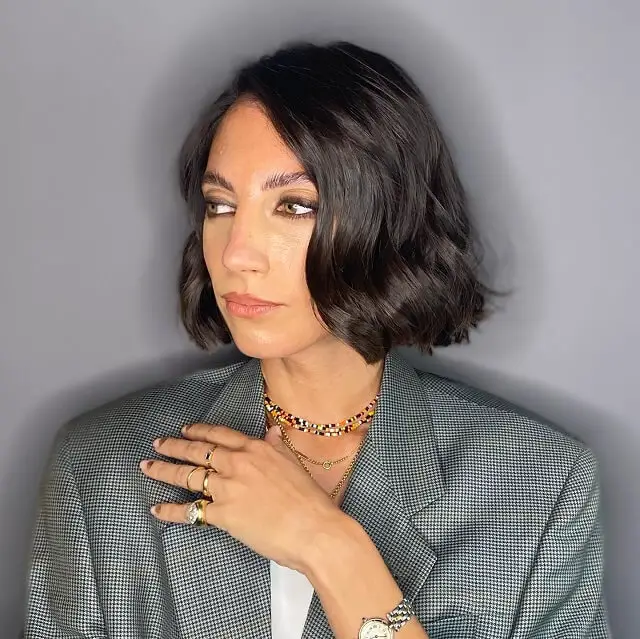 Adorn your sassy wavy tresses with a chic, stylish choppy bob haircut! The versatile length of this cut accentuates the natural waves of your manes and makes them look even more flattering. You can play with the length for a more customized appearance.
40. Red Bob With Choppy Haircut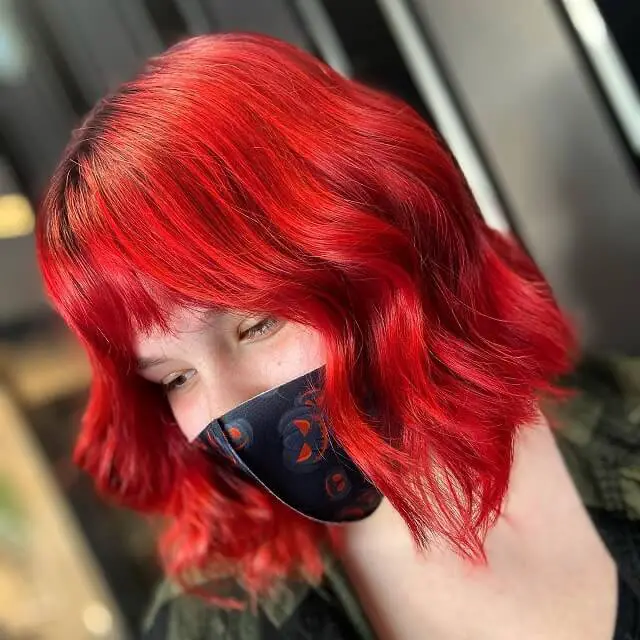 When you are not afraid of attention and the spotlight, choppy bob with bright red color is for you. The dazzling hues of the red combined with the edginess of the bob are eye-catching and make for a perfect combination. It will never fail to draw the attention of the onlookers, even if you don't want to!
41. Blue Shade On Choppy Bob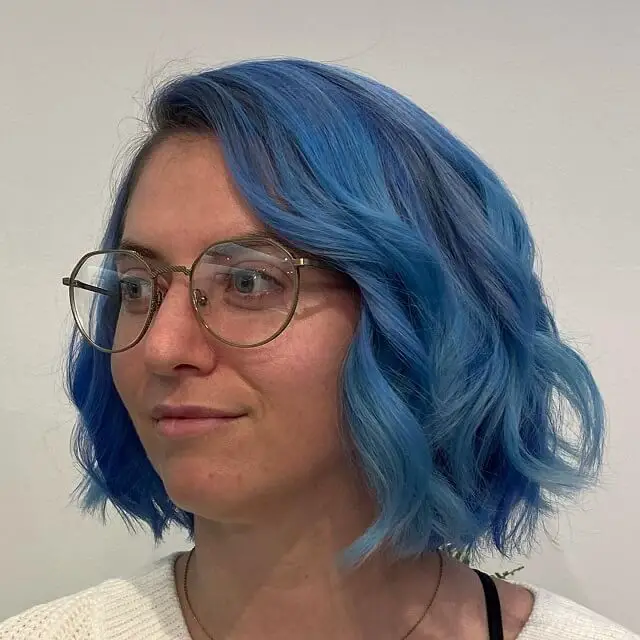 42. Textured Razor-Cut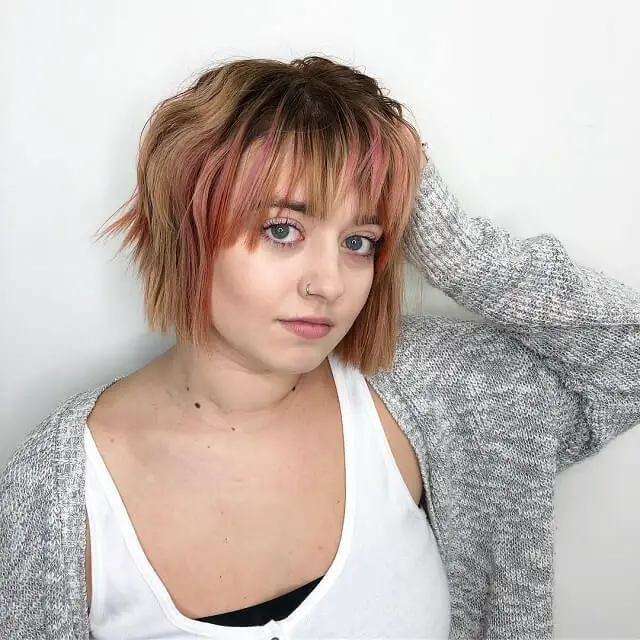 43. Copper & Orange Highlights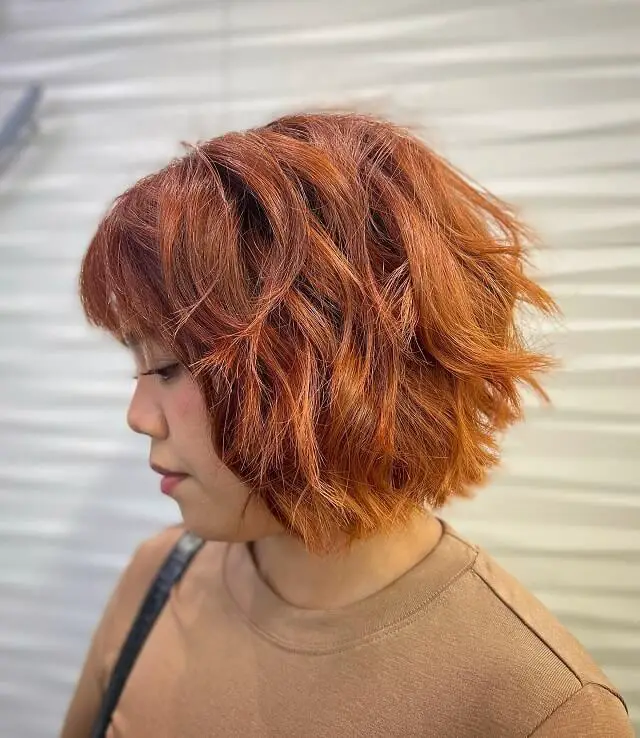 44. Edgy + Redish Vibe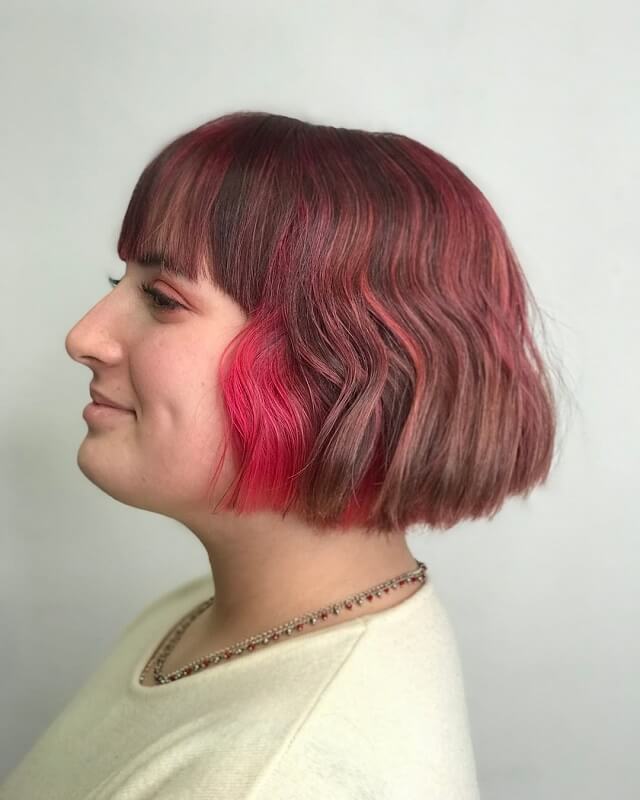 45. Pastel Choppy Bob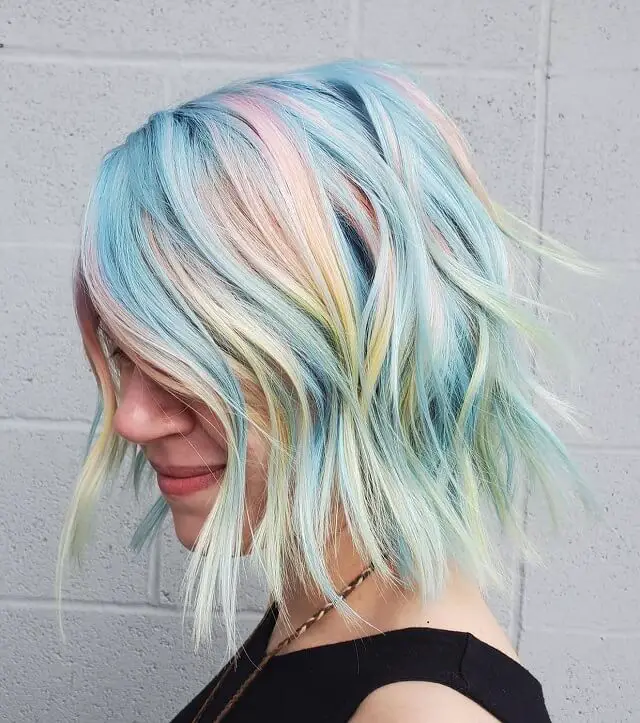 46. Statement Highlights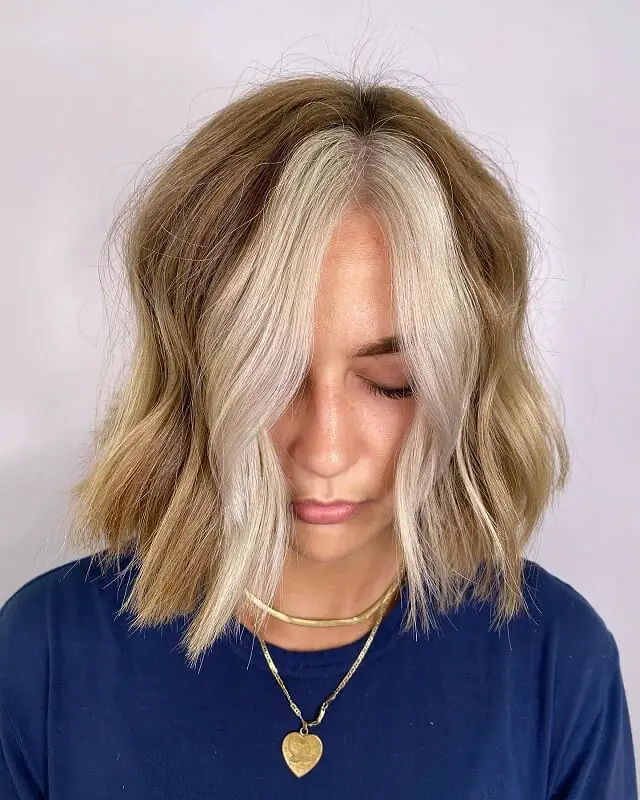 47. Bright Purple Choppy Bob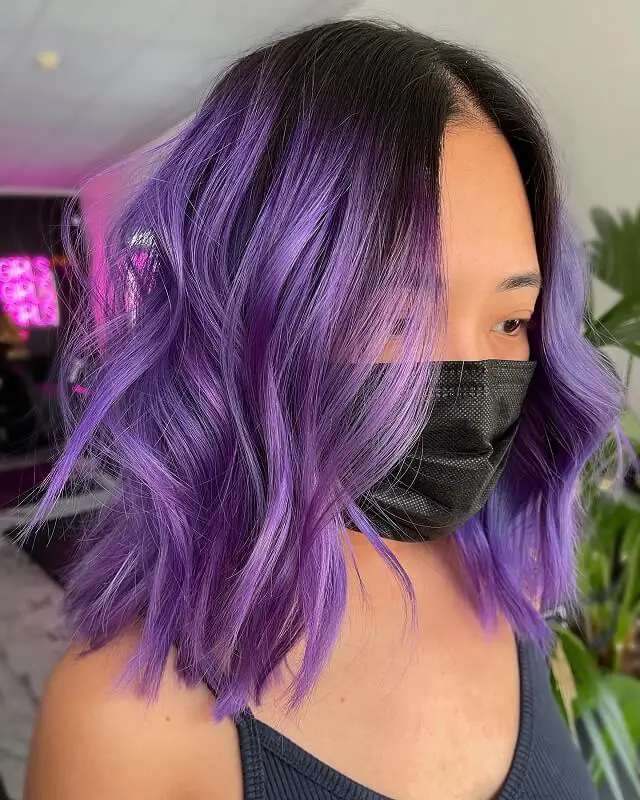 48. Bright And Flaming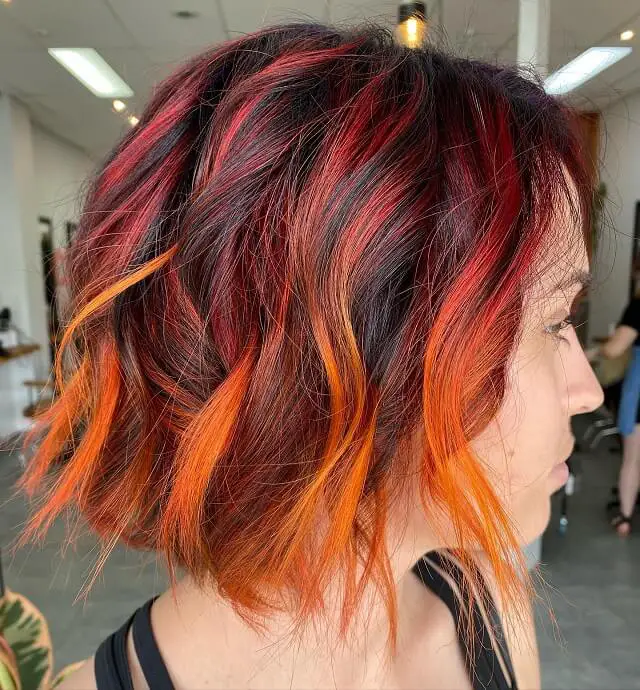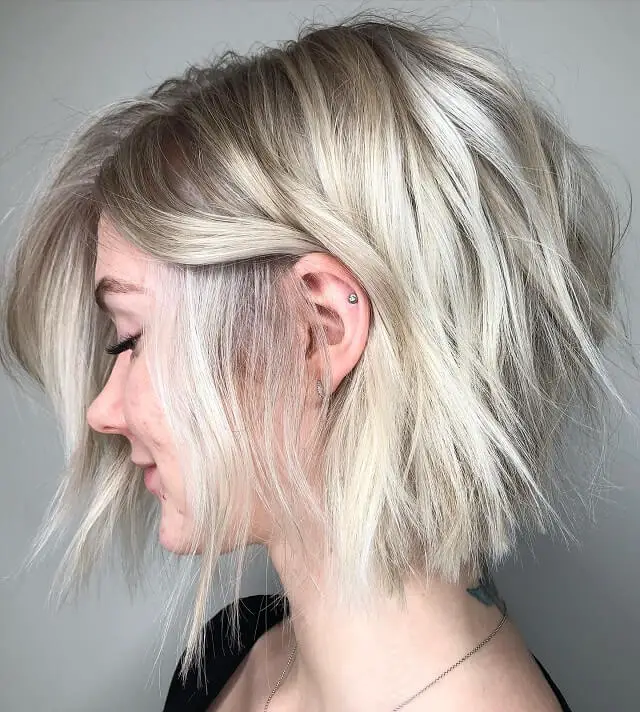 50. Casual Choppy Bob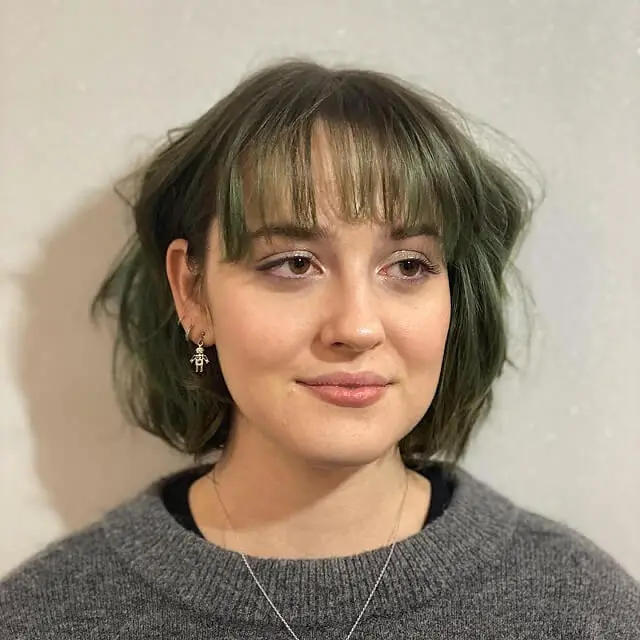 FAQS:
Is A Choppy Bob Low Maintenance?
A choppy bob haircut is an extremely low-maintenance haircut that goes with almost all hair types and personalities. As you chop off a lot of your hair to achieve this cut, there are lesser tresses to deal with. And when you have lesser hair, it takes just a few minutes to style and doesn't require as much care and attention as before.
So, if getting a low-maintenance cut is your goal, try out a choppy bob now!
The variations of a choppy bob haircut are never-ending. If you are interested in trying out this interesting haircut in your manes, pick anyone from the above. Because we have discussed so many types of choppy cut bob in this article, you would surely find the one that would suit you the most.