Coi Leray Braids are the "IT" hairstyle right now! From celebrities to socialites and even the women at your work or neighborhood, anyone and everyone are flaunting this hairdo because of the statement and appeal it makes. Not only are these plaits effortlessly cool, but they are also versatile and make you look super chic and stylish.
Also known as "knotless braids," the Coi Leray Braids gained immense popularity, especially in recent years, because of their protective, non-damaging nature. As these plaits don't put tension on your scalp and have a super seamless finish, they are anything but damaging for your sensitive black manes.
So, if you are looking for a gorgeous, eye-catching hairstyle without any hair breakage and damage, the Coi Leray Braids "do" is the "ONE' for you.
What Are Coi Leray Braids?
Coi Leray Braids, more often known as knotless braids, are jumbo knotless braids with curly ends that are usually done in natural black hair. Named after the famous rapper Coi Leray, these amazing knots are protective, fashionable, and chic. However, recently, everyone has tried these plaits with their own spin to make them even more glamorous and stylish.
How To Do Coi Leray Braids?
Creating some Coi Leray Braids in your hair is as easy as it sounds. If you have the right products and know the proper steps, you can make these plaits even at home, without a stylist's help. Sounds interesting, right?
However, before making the braids, gather all the things you need so that you don't have to run all over the house when you need them.
For Coi Leray Braids, you would need:
Shining Jam
Rat tail Comb
Curling Iron or Perming Rods
How to make Coi Leray Braids
Before you start making the knotless braids, wash and blowdry your manes so that it's easy to make the plaits.
Then, with a rat tail comb, section your manes into your favorite shape [box, triangle, or diamond] and start braiding these sections one after another. Instead of securing each hair section with a knot, make three-strand braids and blend them seamlessly with your black hair using a feed-in technique. And voila! You have the gorgeous knotless plaits in your natural manes.
Make sure to apply an edge control gel all over the hair before sectioning them off for a more precise outlook.
15 Bold & Beautiful Coi Leray Braids For Your Hair
You always don't have to style your Coi Leray with jumbo box braids. You can also try a whole lot of plaitstyles, colors and accessories to make this hairstyle even more appealing and gorgeous. And for inspiration, keep on reading below. We have the most versatile Coi Leray Braids ideas just for you!
1. Coi Leray Braids With Beads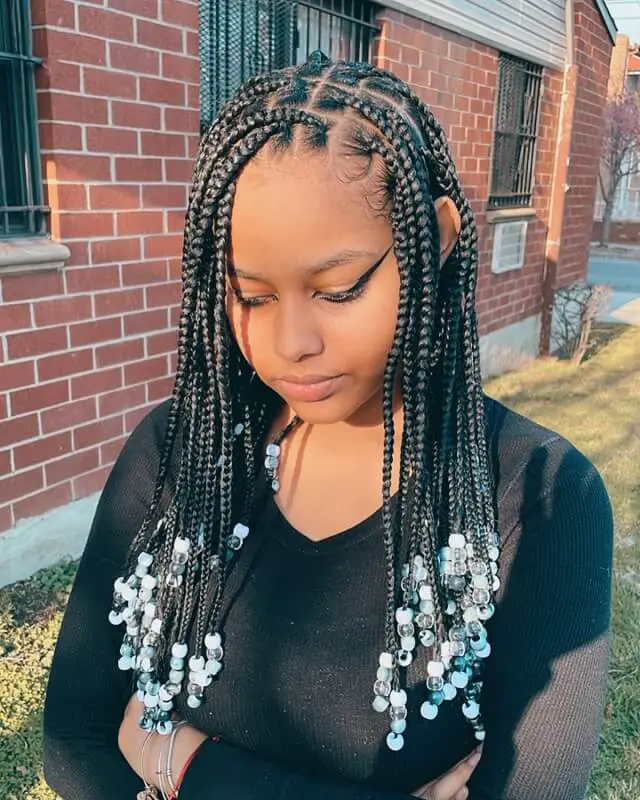 Adorn your knotless braids with some fantastic beads and make a style statement instantly. Versatile beads placed here and there on your pleats allow you to add a personal touch to the "do." It also takes the style to another level without much effort. Try playing with the beads' type, shape, and color for a fun, vibrant result.
2. Coi Leray Braids With Curly Ends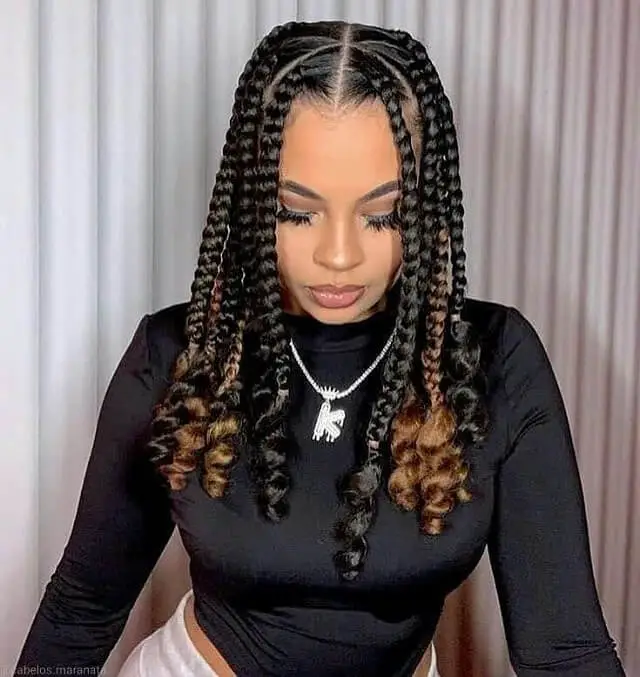 This braided hairstyle is stylish at its most! This hairstyle features ringlets at the end and gives your "not so ordinary" Coi Leray braids a unique and eye-catching finish. If the curls are dyed with a bold color, it will make the style even more attractive!
3. Coi Leray Box Braids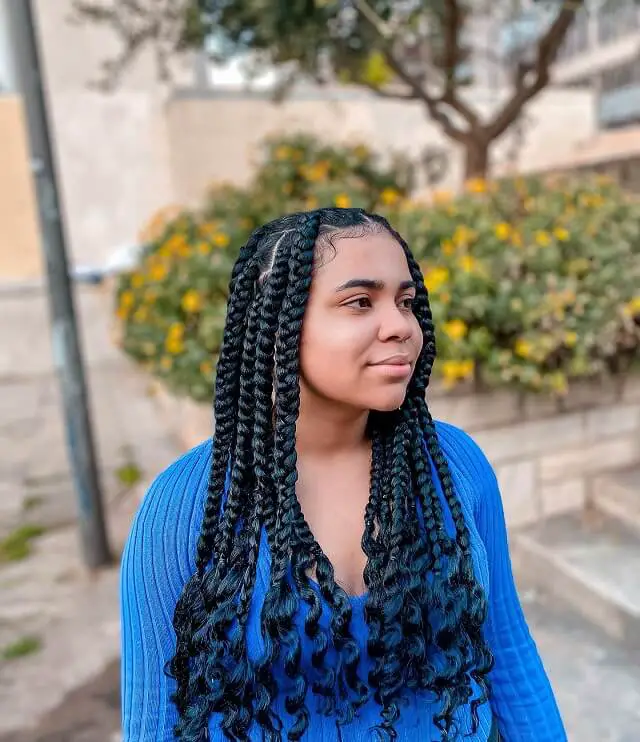 Knotless box braids never fail to give your look a magnificent yet bohemian outlook. The medium-sized, long braids with open, curly ends have a carefree, sexy vibe while not being OTT. If you are going for an effortlessly cool hairstyle, try the box braids, girls!
4. Long Coi Leray Braids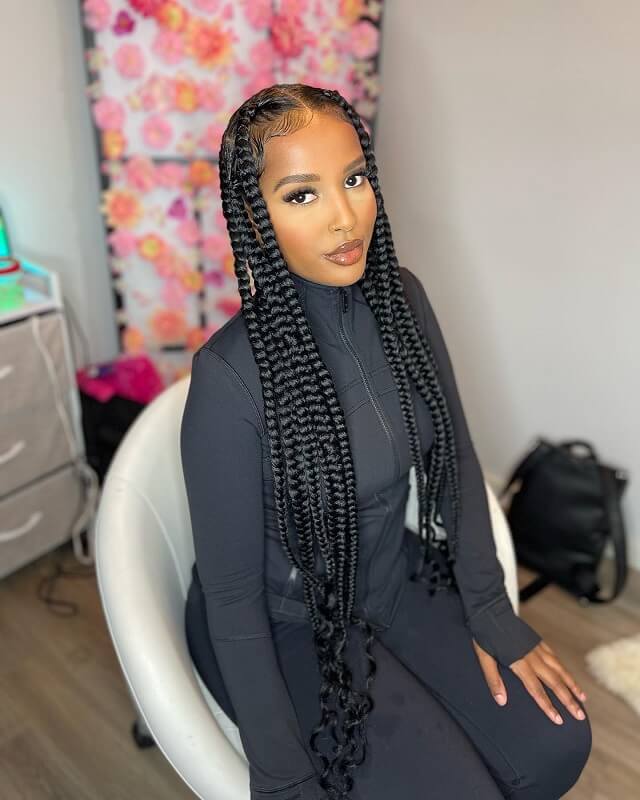 Give your long tresses dimension and depth with a head full of Coi Leray Braids. These plaits make it easier to manage long hair and ensure a style statement depending on how you style them. However, remember that, because of long manes, creating knotless braids can be a time-consuming one.
5. Knotless Coi Leray Braids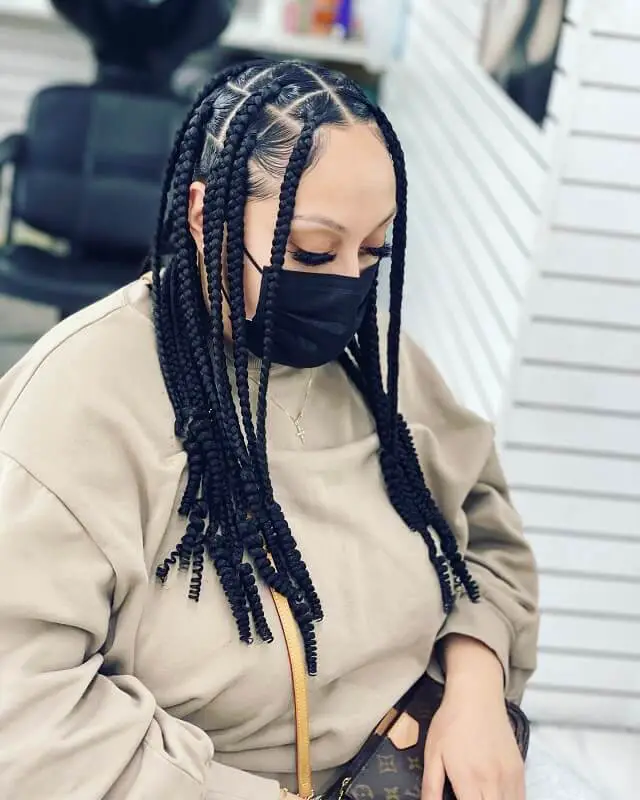 Keep the ends of your Coi Leray braids coiled and springy for a versatile and attractive hairstyle. To make this "do" even more chic, create thin plaits. These will make the coily ends even more prominent and eye-catching.
6. Coi Leray Braids Blonde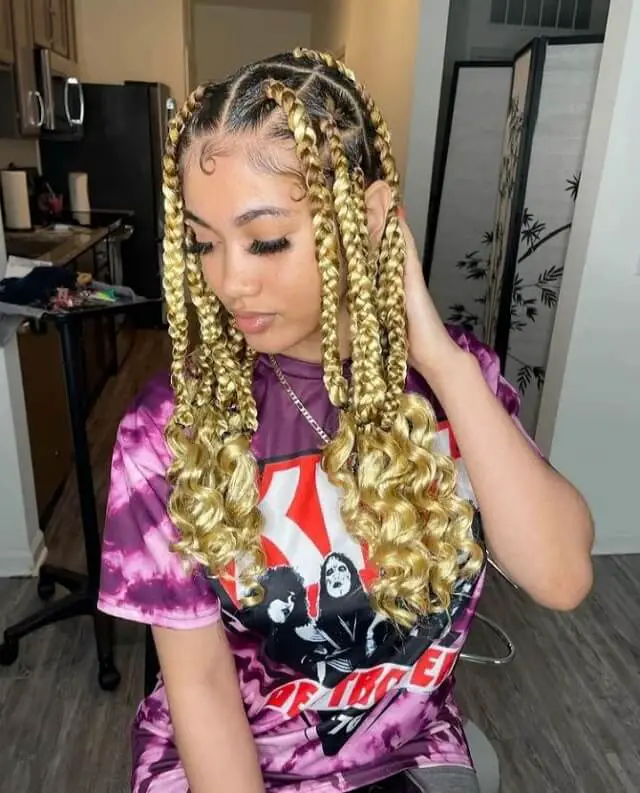 The contrast of blonde hair with a deep skin tone is "oh so amazing." This amazing hair color highlights your braids and draws immense attention to your face. Make sure to adopt a shade of blonde that compliments your skin perfectly!
7. Brown Coi Leray Braids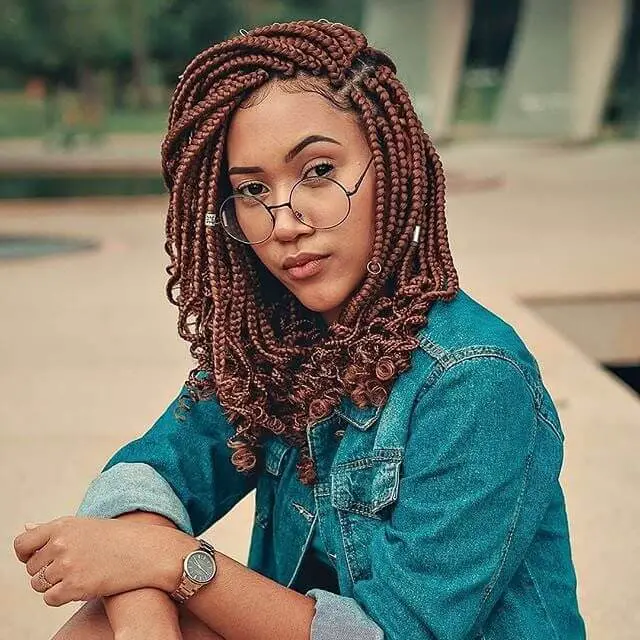 Even though colorful braids are trendy now, brown knotless braids never went out of style. Classic, chic, glamorous- these brunette plaits are understated yet flattering in the best possible way. For a more modern touch, you can add high and lowlights with different shades of brown and make the "do" look even more gorgeous.
8. Jumbo Coi Leray Braids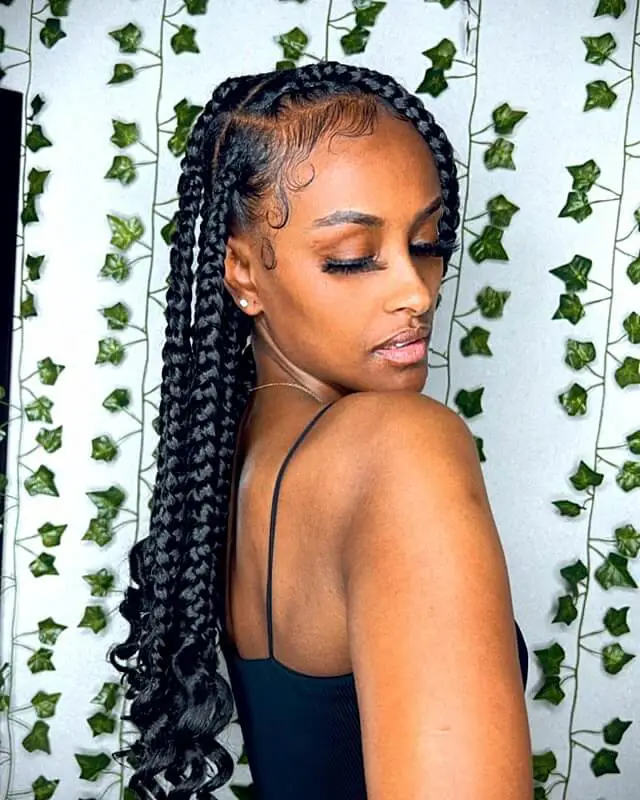 With these big, jumbo knotless braids, you would never go unnoticed, we can promise you that! For additional drama and limelight, you always have the freedom to try different colors, lengths, and accessories in your plaits!
9. Coi Leray Braids With Knots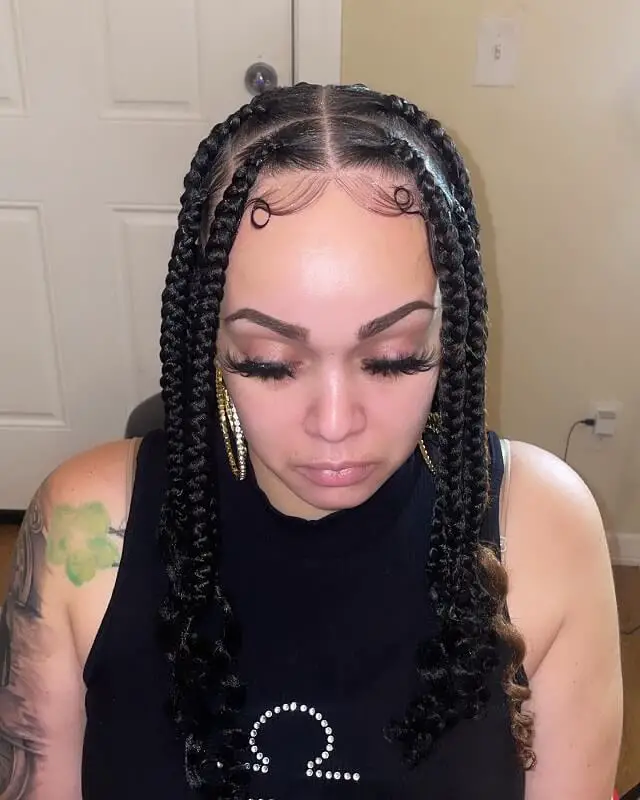 Even though Coi Leray Braids are knotless, if you look closely, these plaits have knots in them. However, the knotted braids didn't dim the charm of the look in any way. They actually give the style a bit of oomph and definition and make you look like a fashionista!
10. Coi Leray Braids With Front And Back View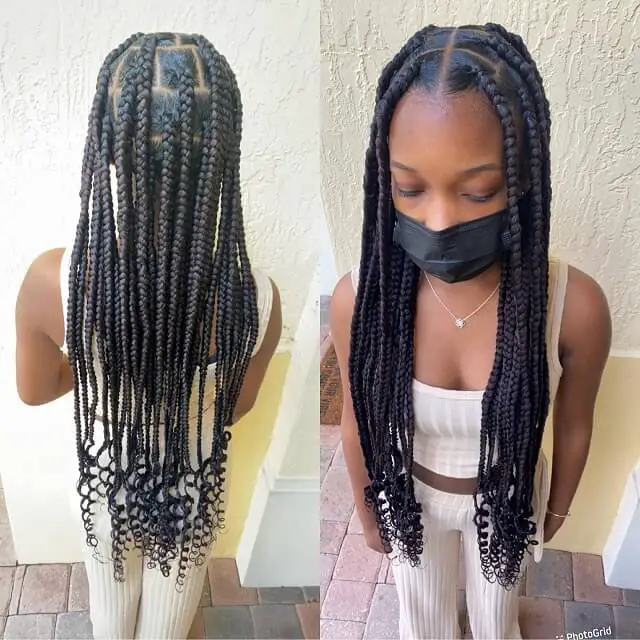 For a striking look, make knotless braids all over so they fall on both the front and back sides of your head. This "do" would add a whole lot of visual interest to your style and make you the star of the crowd in no time.
11. Coi Leray Braids For Short Hair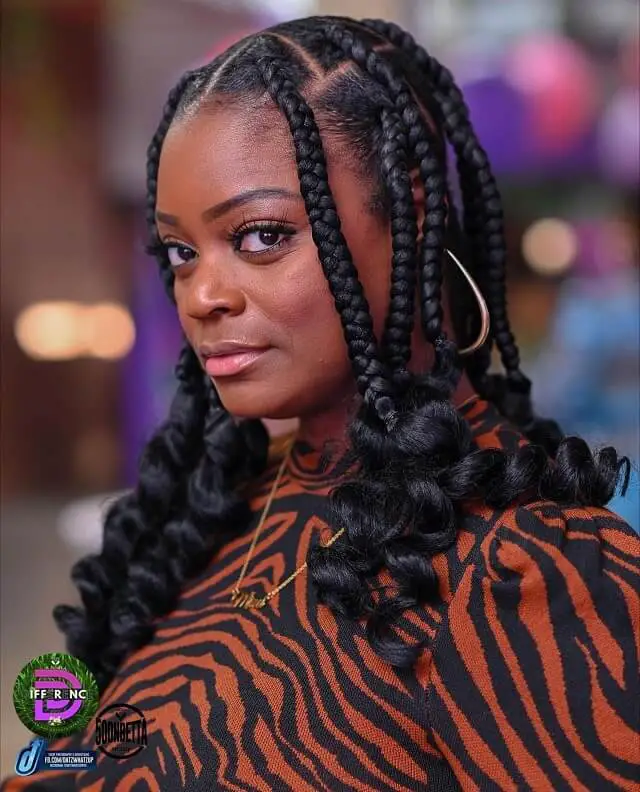 Even if you have short manes, you can always try Coi Leray Braids for an exciting outlook. This low-maintenance hairstyle accentuates shorter tresses, giving them a chic and appealing outlook.
12. Blonde Coi Leray Braids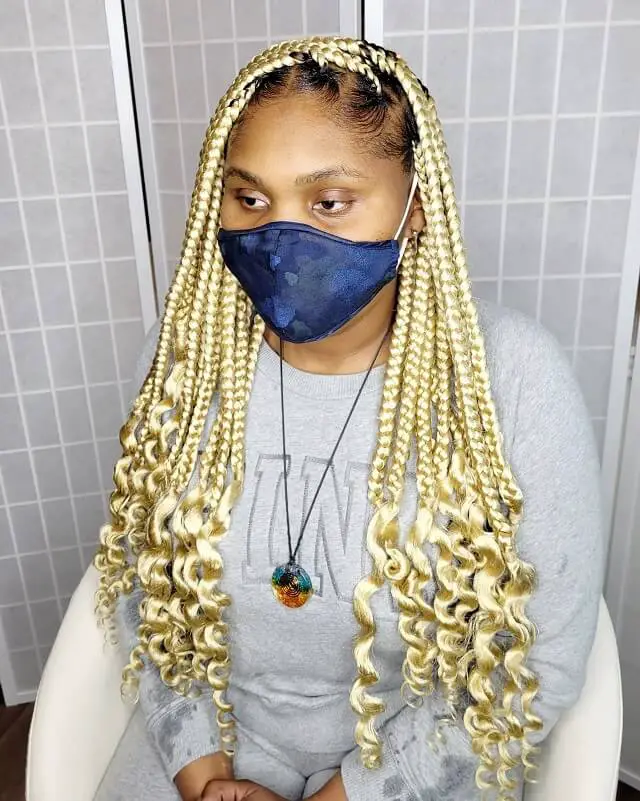 Make knotless braids in your blonde hair if you want to draw attention! The light, alluring hue of your manes will brighten your appearance and make you look as radiant as ever, especially if you have dark skin.
13. Coi Leray Braids For Red Hair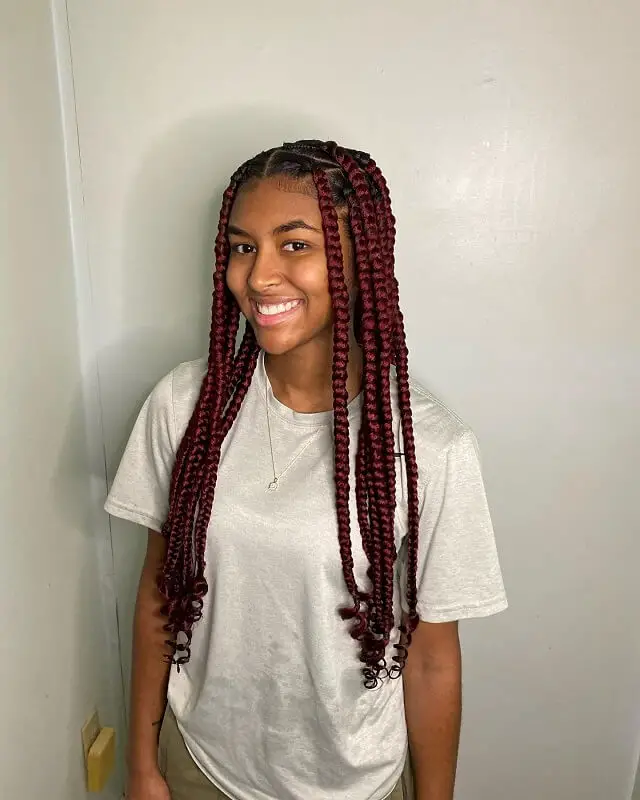 A bold color, like red, can take your braided hairstyle to the next level. There's no doubt about that. A bright or even muted shade of red can grab all your attention towards you in a good way. So, if you are not afraid to stand out, do try red on your manes, ladies!
14. Coi Leray Braids For Kids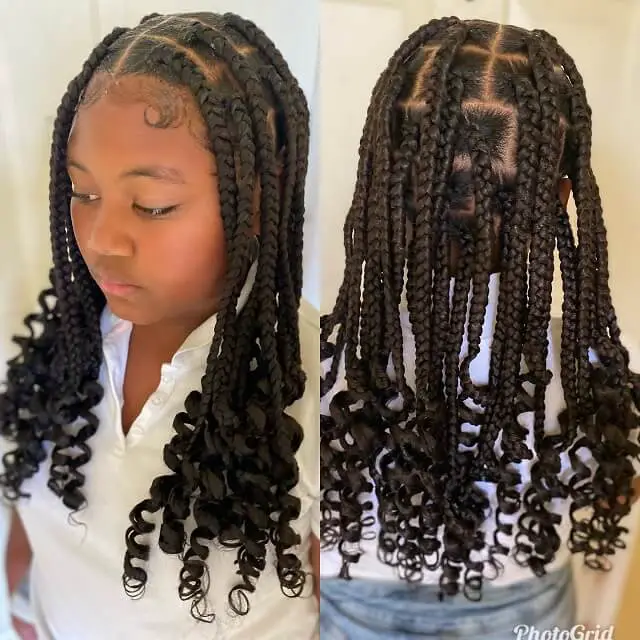 The Coi Leray Braided hairstyle is a popular hairstyle for little girls too. Depending on the length, you can play with the plaits and accessories to make the style more fun and interesting. However, ensure your little one is comfortable with the "do," as it might take a few hours to create the braids in their manes.
15. Coi Leray Braids For Natural Hair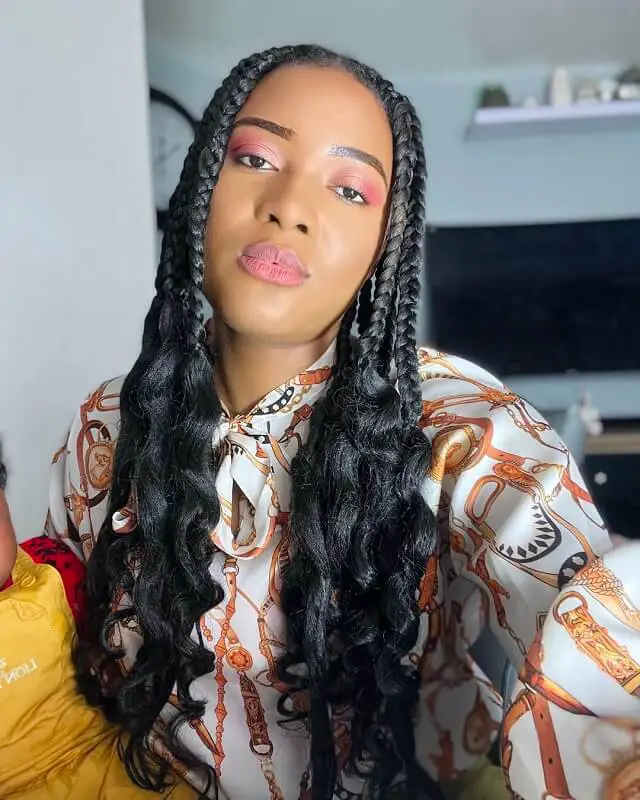 The Coi Leray Braids is an incredible protective hairstyle for natural black hair. It keeps the tresses well-maintained with an impressive outlook. Be it long or short, natural manes, this "do" would never fail to make an impression.
Frequently Asked Questions
What Kind of Braids Does Coi Leray have?
Coi Leray usually has jumbo box braids. However, in some cases, this hairstyle also features thinner, more prominent braids to switch things up.
How Long Do Coi Leray Braids Last?
Coi Leray Braids can last as long as four weeks with a proper maintenance routine. However, if you don't take of them properly, these plaits might come off sooner than you anticipate.
How Much Do Coi Leray Braids Cost?
Depending on the length and thickness of the plaits, a Coi Leray braided hairstyle can cost you somewhere between $100 and $250.
Even if you try creating them at home and by yourself, these plaits would still cost you a couple of bucks depending on your products.
If you are looking for a fresh, exciting hairstyle for your black hair, don't delay trying out the most amazing Coi Leray Braids in your manes. These versatile protective plaits can be done in various lengths and sizes and look great with different hair colors. All you need to do is just pick the braid style to flaunt in your manes.