Are you tired of lengthy hairstyles and dark hair colors? How about chopping the locks into a refreshing blonde bob with a flattering shade? Here is an exuberant list of vivid and classy haircuts for you to try a sensual and sexy look.
Perfect Blonde Bob haircuts to Try
Scroll down to find blonde bob hairstyles for all face types along with tips to flaunt them.
1. Short Blonde Bob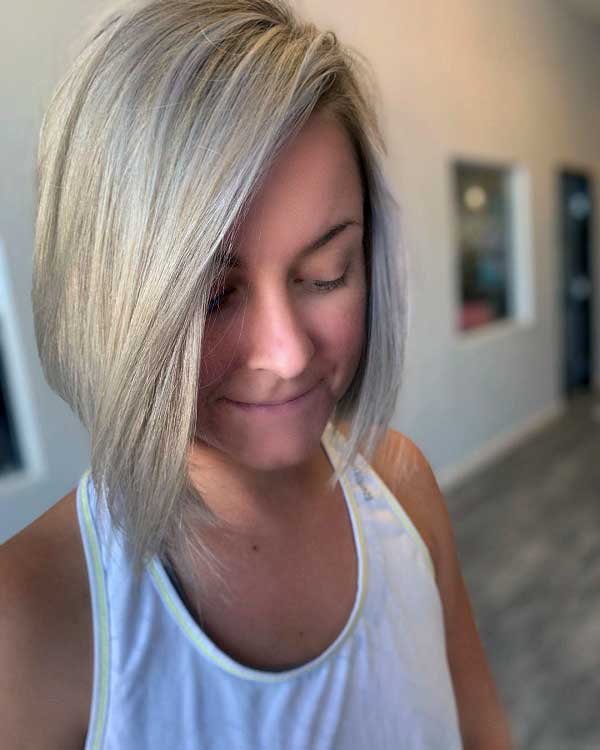 When you want volume, try an inverted bob with layers and long side bangs. A side part will instantly make the crown look voluminous while the razor cut ends will add sharpness to the face.
Wavy Blonde Bob with Dark Roots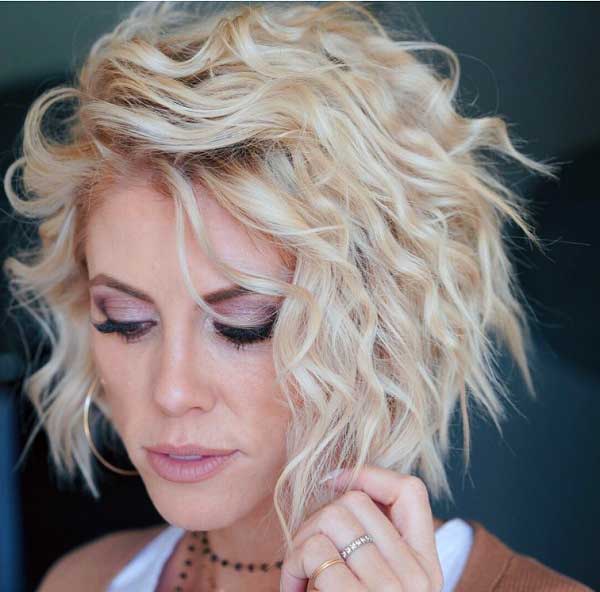 Chop your locks in short layers for a bouncy feel and touch up the roots with a darker shade while using a lighter blonde shade for the length. If your face is heart-shaped, side part with faux bangs to frame the face.
Super Short Silver Bob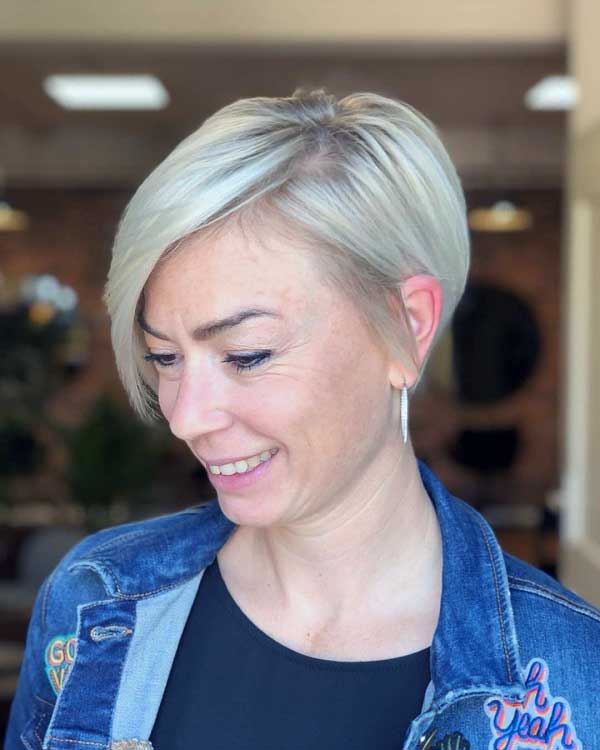 Ask your stylist for a super short bob with short layers in the back to gain more volume. To keep it even all over the head, avoid layering. Silver or grey is the perfect blonde shade for such haircuts.
2. Blonde Long Bob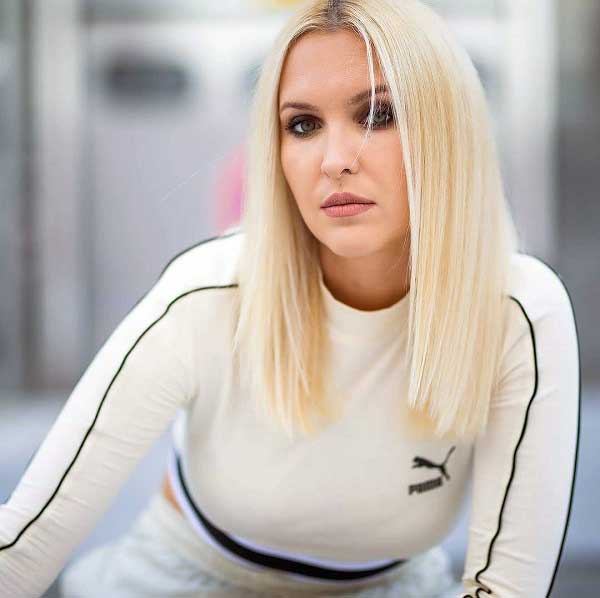 Lob or the long bob hairstyle is fit for girls who want the blonde bob look without compromising on the length. To achieve such a refined look, just cut off the locks to shoulder length and run a straightener for a polished appeal.
Blunt Long Bob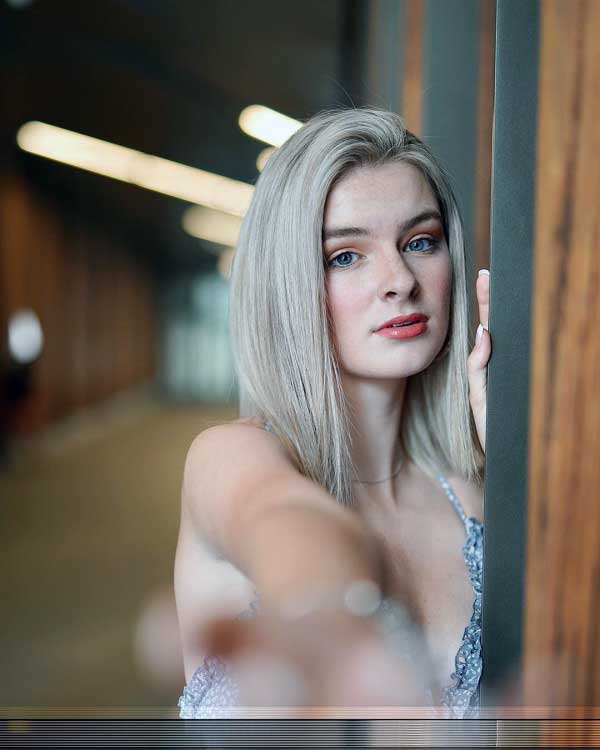 Fabulous and flattering, this blunt cut middle length lob looks great on oval and round faces. You can try the silver shade with an in-between darker tone for a refined and elegant look that can match with professional as well as party style.
Blunt Blonde Slick Lob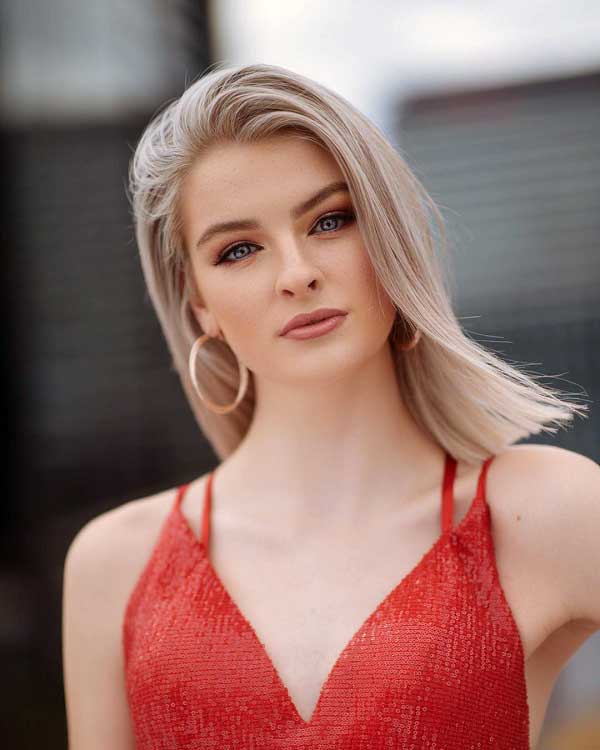 When you want a classic look that lasts forever, go for a blunt cut copper tinted hair. Straighten your hair and create a side parting with fingers. To maintain the shine, use a good hair spray that doesn't stick.
3. Blonde Balayage Bob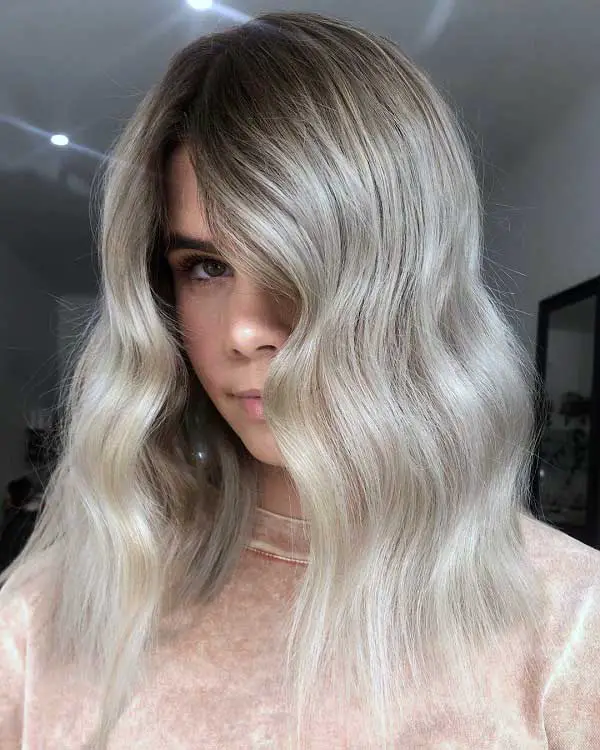 If you want to keep your tresses long or would like to try a new haircut that suits your face shape, then go for a wavy lob with balayage blonde. It offers a stunning look even when tied up in a bun or pony.
Blunt Balayage Blonde Bob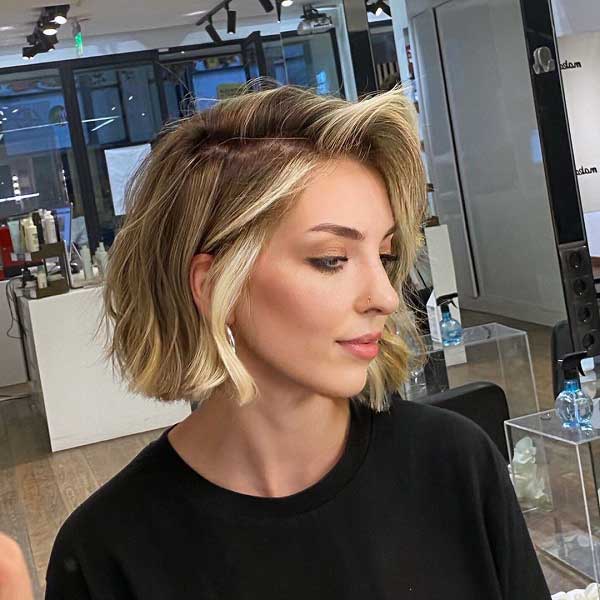 Did you know you can easily toss your dull blunt cut into a gorgeous one with balayage blonde? Moreover, ask your stylist to keep your bangs long enough to be tucked on sides for an instant switch of look.
4. Blonde Bob With Bangs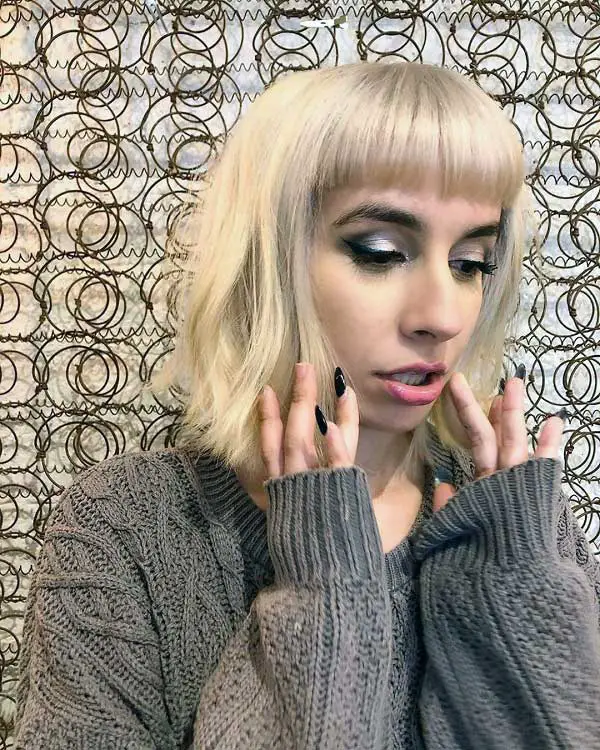 This blunt bob with bangs is ideal for oval and heart-shaped faces. A blunt blonde bob with bangs frames the cheekbone and brings attention to your eyes. So with the blunt bangs, opt for subtle eye make-up and blush on and enjoy the compliments.
Short Blunt Bob with Bangs and Dark Roots
Color can bring great dimensions to your hair. For a round face, blunt bob with bangs in grey tones and dark roots is a classy choice. It lightens the look and gives the hair a cool effect.
Tousled Bob and Bangs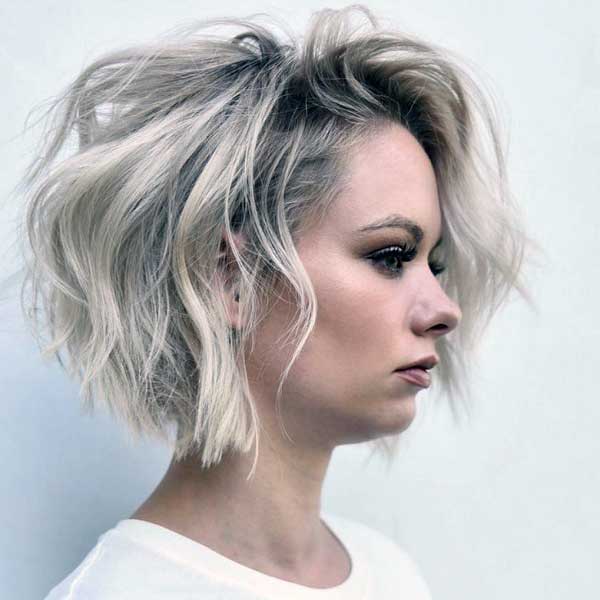 If you want an eye-catching and modern look, try white with black balayage. Go for a short layered-cut bob and bangs. With a tousled styling, you can create a natural wavy texture that's easy to maintain and change in minutes.
5. Honey Blonde Bob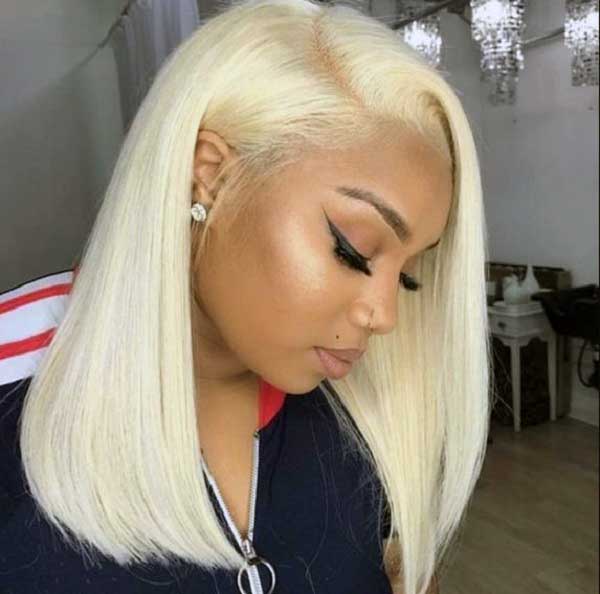 For a bright, head-turning look, a blonde lob like this one is just apt. This all-over color needs frequent saloon visits but this stunning style is worth it. You should also maintain a healthy hair routine to keep your hair thick and strong.
Angled Honey Blonde Bob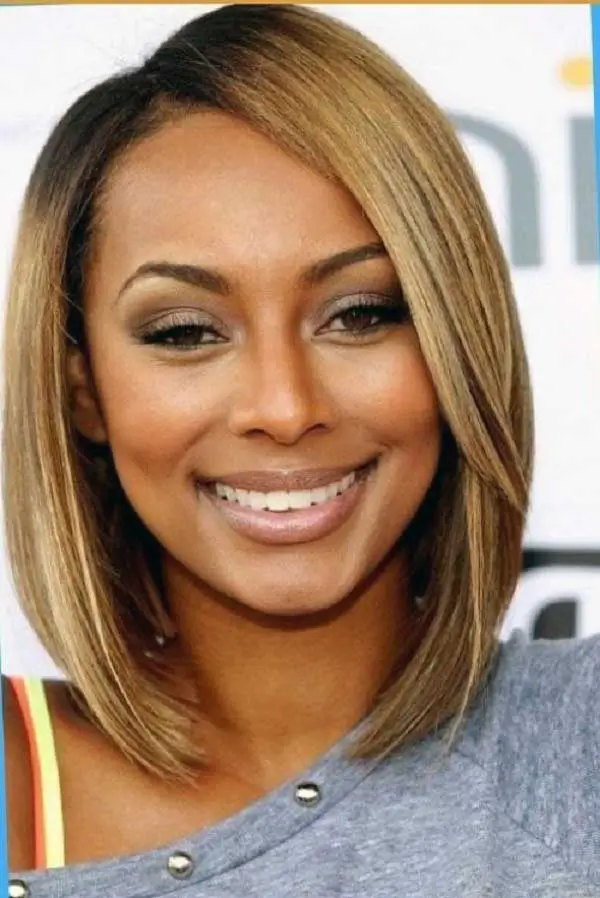 This is such a face-framing haircut that any girl can enjoy it. For such a versatile look, chop off your locks in an angled bob with razor cut ends and side-swept long bangs. The honey-hued ombre is the perfect icing on the cake.
Sharp Honey Blonde Bob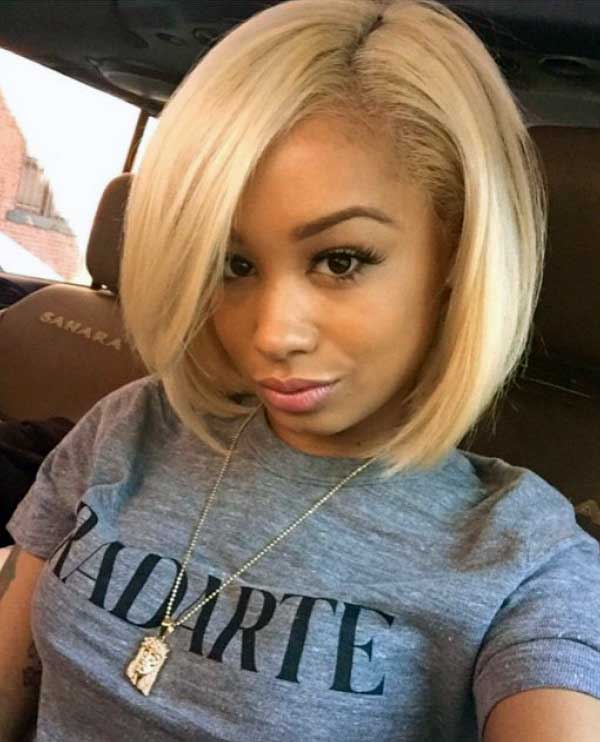 A sharp, blunt bob with a few layers is good for a face-framing look. This one-length cut can be enhanced with some blow-drying to increase the volume and bounce while the honey-hued single color look is pretty to create a luminous sun-kissed effect.
6. Platinum Blonde Bob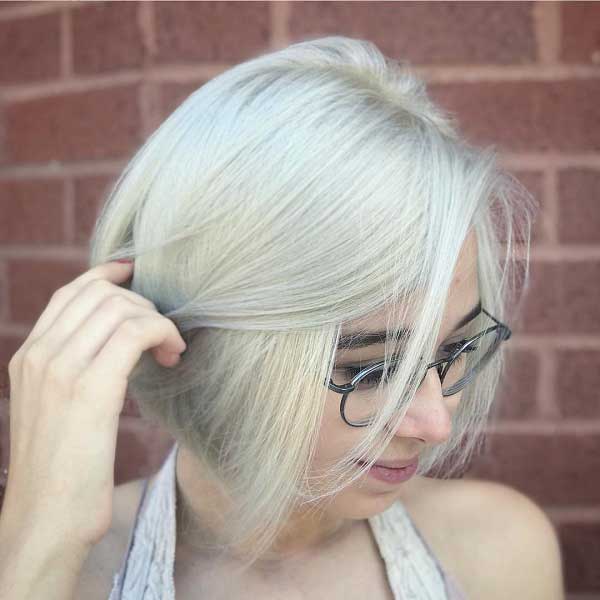 To get this perfect platinum tone, use a toner to eliminate the existing hue from the hair. Also, read the description on the color box very carefully so that you choose the right platinum tone.
Angled Platinum Bob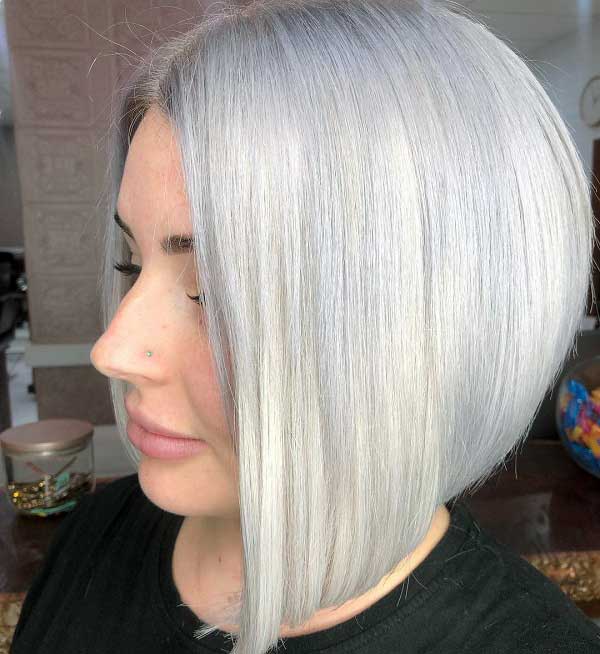 If you want to feel like a social media model, try an angled bob with platinum blonde hues. The style is a bit high on maintenance but this is so chic and flawless that you won't mind blow drying every morning.
Wavy Platinum Blonde Bob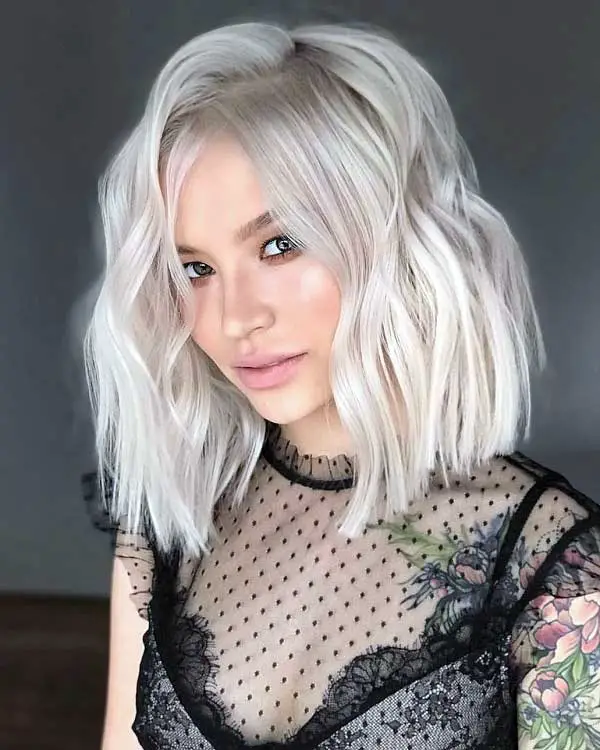 This thick wavy platinum blonde lob is classy to style for any big event like prom night or even a wedding. If it's your first platinum hair experience, better to look for an expert to dye your hair.
7. Blonde Bob Weave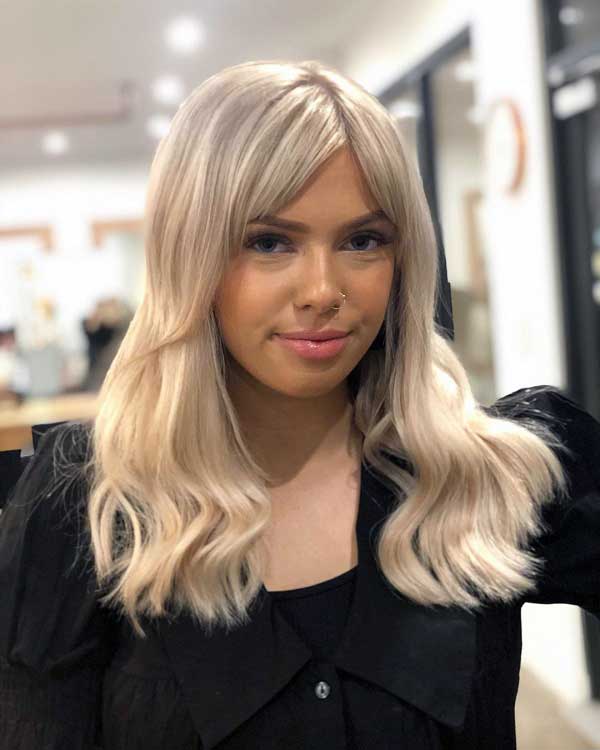 If you want to ditch the regular bob style, then go for a loose, breezy weaved lob with bangs. With a mid-length hair and a dramatic blonde shade and razor-cut ends, this hairstyle is easy to manage and look fabulous.
Asymmetrical Lob with Balayage Blonde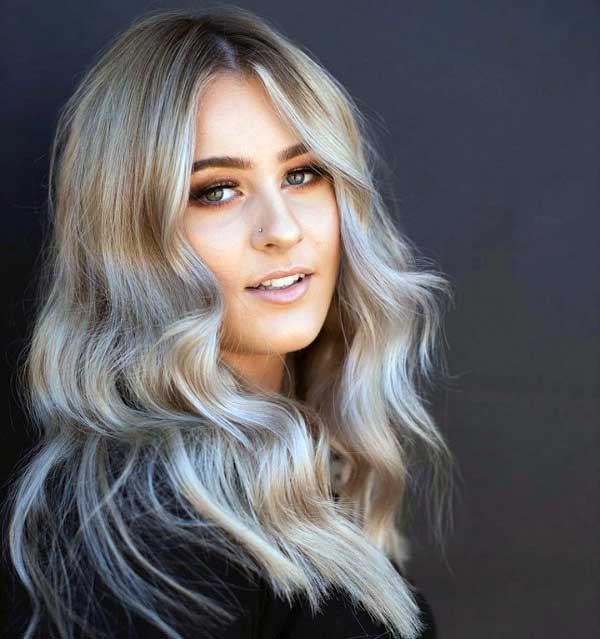 For an effortless high street look, you can try a weave lob with classy hue. Layered tresses, razored ends and a flattering honey-hued balayage enhance your natural style. It's also versatile and can be tucked in a ponytail or a bun.
Blunt Blonde Weaved Bob
This blonde weave is blown out in swoopy blunt that shows off the tousled hair and honey-hued roots fading in platinum white. With a side-parting, this cropped hairstyle is a good way to enhance the volume and add a bit of bounce.
8. Blonde Ombre Bob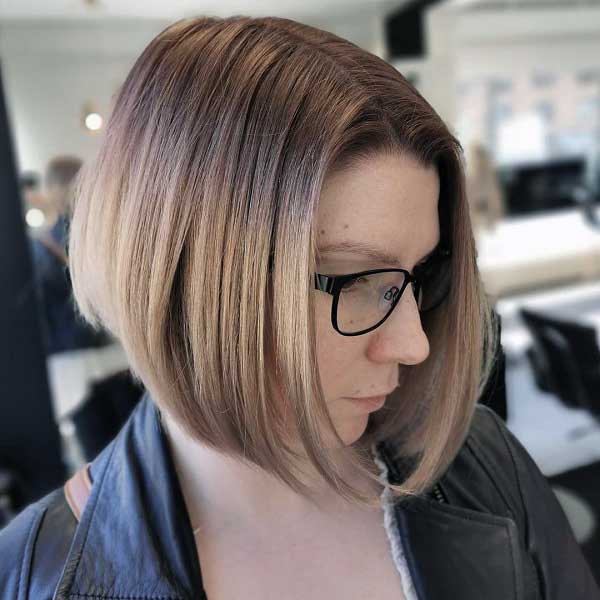 This super straight angled bob is a great style to make a statement. It's the haircut for round faces. With refined smoky ombre hue and a middle parting, this blunt cut bob is sure to grab attention.
Striking Angled Platinum Ombre Lob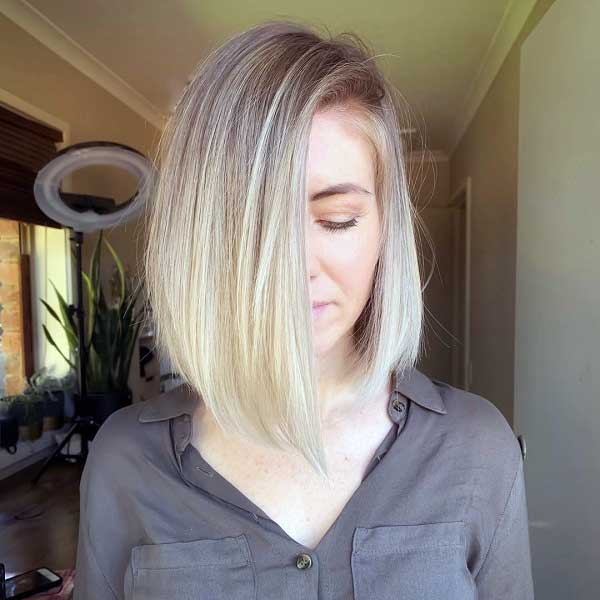 This style is especially good for small faces as the angled lob with side parting creates an illusion of an elongated face. This brunette to blonde ombre hairstyle can be worn as a ponytail, a bun with longer bangs, and even braids.
Blunt Blonde Ombre Bob with Shaved Side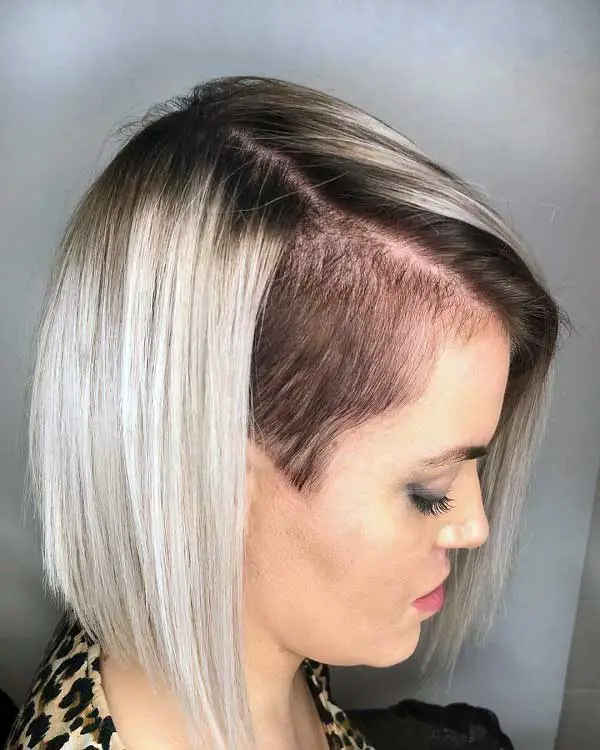 If Raihana is your fashion icon, you will love this modern blunt bob. Dark roots are always great when you wish to enjoy a maintenance-free styling. We love this remarkable monochrome ombre with a side shaved parting.
9. Blonde Blunt Cut Bob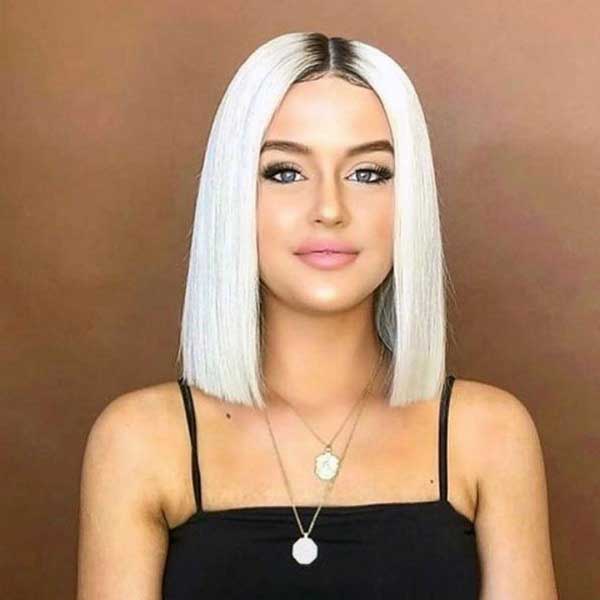 Perfect for all face types, this classic look is both eye-catching and sophisticated. The dark roots and icy-white strands create a remarkable effect. This style is however needs good maintenance to enjoy the perfect blunt bob and high shine with super straight hair.
Blunt Ombered Bob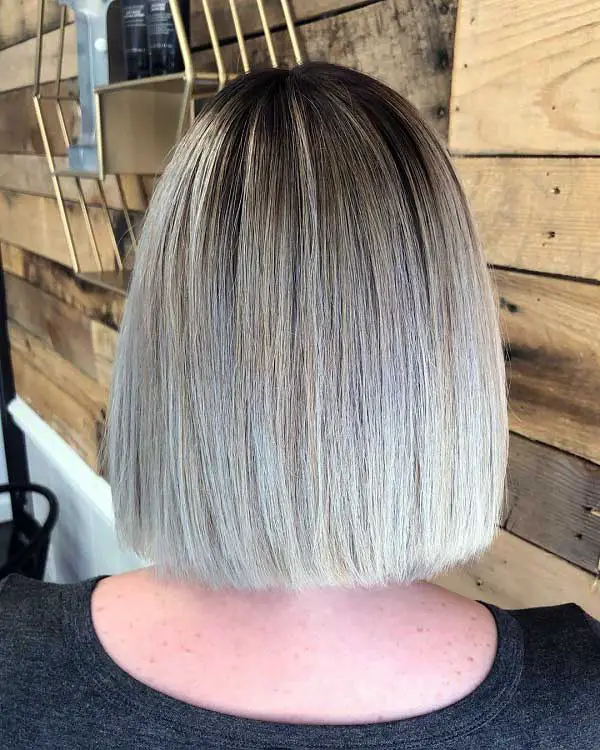 Finely ombered locks are stunning to show off your perfect blunt cut blonde bob. Short hair means you can instantly draw attention to your face. It also cost less for color touch-ups as well as consumes the least time in ironing the tresses.
Super Slick Ash Blonde Lob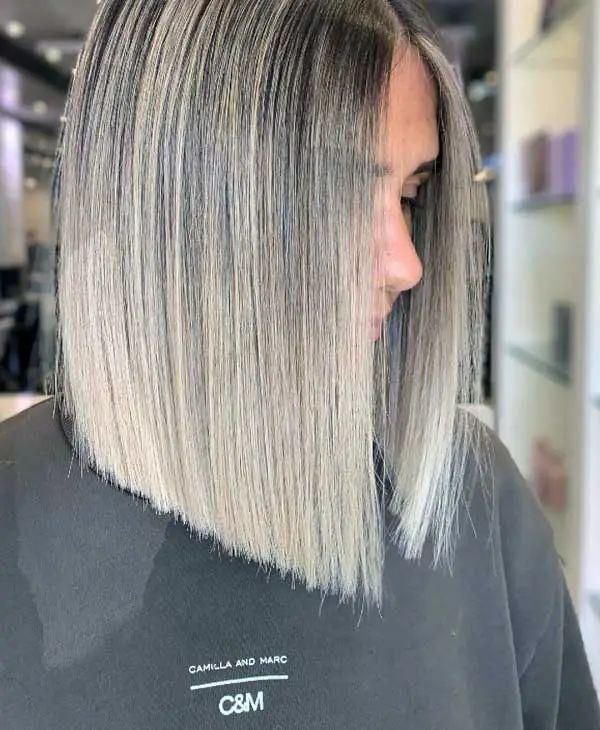 This ash-blonde well-maintained blunt bob is perfect for all face types. All you need is a straightener or an iron rod, a good moisturizer, and a leave-in conditioner that keeps your hair least affected by the regular ironing.
10. Blonde Highlights Bob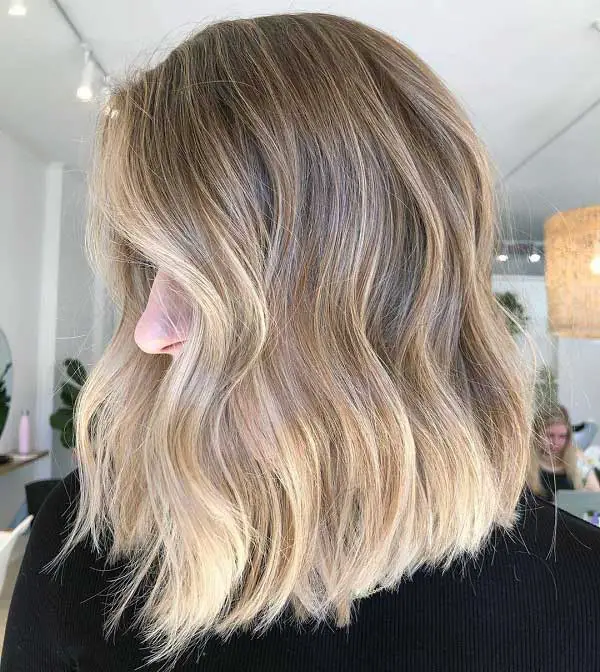 This casual blonde bob with a mid-shaft wave creates a comfy look suitable for all face types. Enhanced by soft caramel highlights for a relaxed texture, this side-swept look is very easy to do at home with just a curling tong.
Short Bob with Blonde Highlight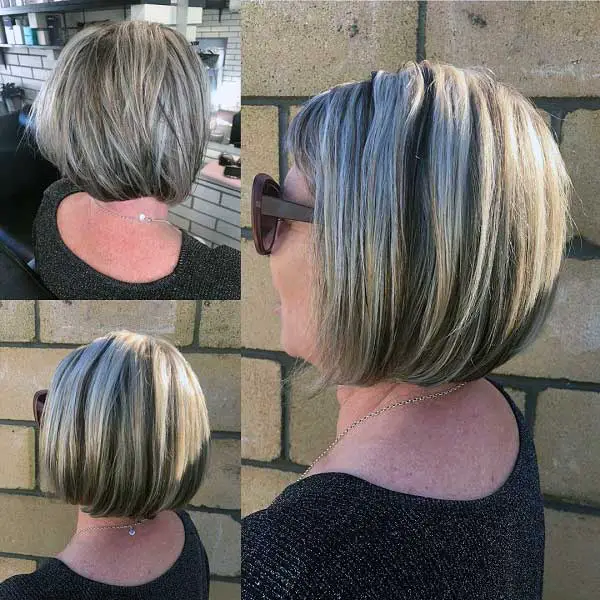 Very good for round faces, it has slight stagger drop roots and a lot of blonde highlights that fall in balayage pieces. Chop off your hair in a short inverted bob with slight side parting and add subtle textured layers at the back for volume and dimension.
Blunt Lob with Ash Blonde Highlights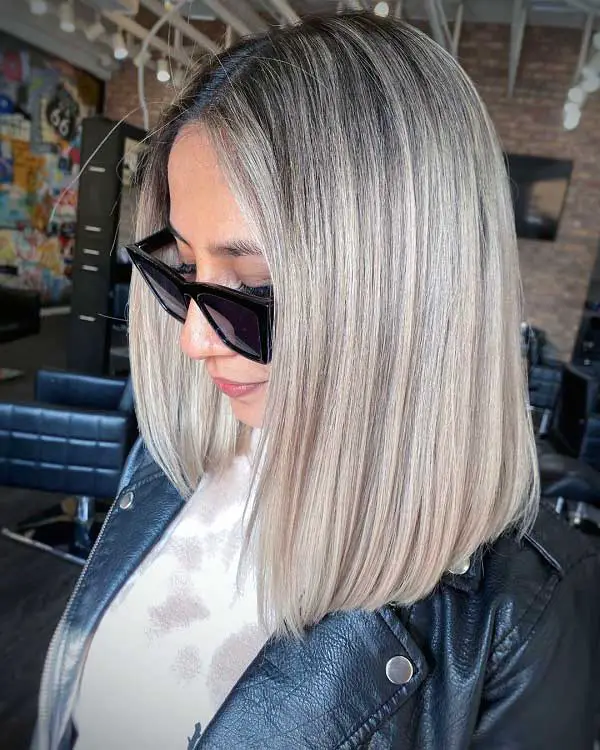 For a face-framing cut with personality, a mid-parted blunt lob with subtle highlights is just perfect. This hairstyle is a good fit for round and heart-shaped faces as it gives an elongated look.
11. Blonde Bob Black Girl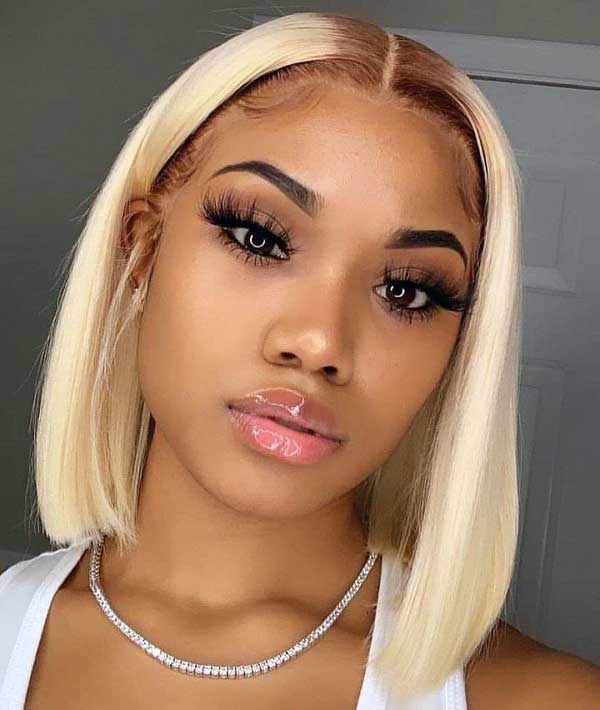 Start with asymmetrical blunt cut and then choose a light honey color for the strands with the darker shade of the same for the roots. Remember to keep your hair hydrated for a lustrous look and generously use a straightener for the needle-like tresses.
Asymmetrical Blunt Bob for Black Girl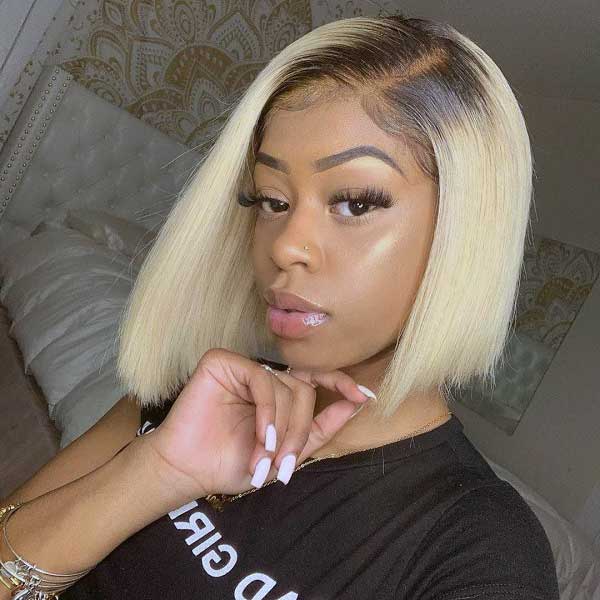 An uneven blunt bob with perfect blonde is a nice option for round faces and thin hair. Additionally, the champagne hair color with dark roots accentuates the side-parted asymmetrical bob that gives an impression of a longer face.
Curl-in Blonde Bob for Black Girls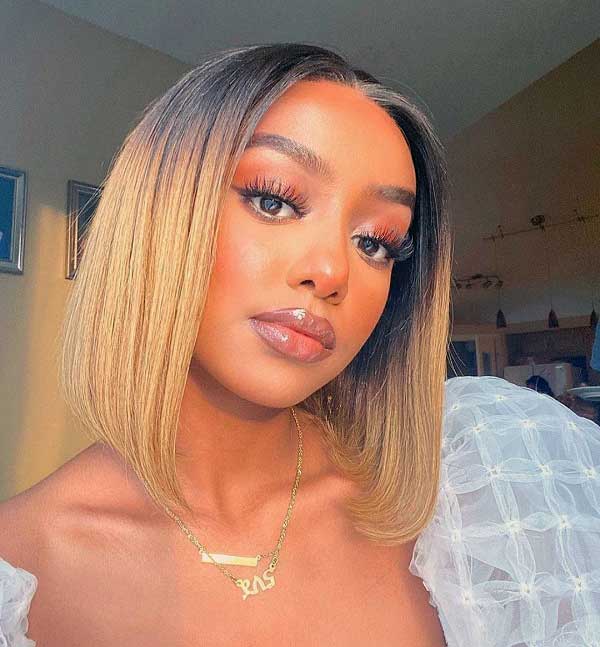 Isn't this style so red-carpet-worthy? If you have a blonde texture, then try this look by simply blow drying your hair and curling the ends inside. You can also try a weave for extra length or thickness.
12. Blonde Curly Bob
Suitable for all face shapes, this classic wavy bob needs the perfect platinum blonde hairs that are curled up in loose thick waves. If you have a broad forehead, the bangs will cover it to ensure your eyes will do the talking.
Short Curly Bob for Blonde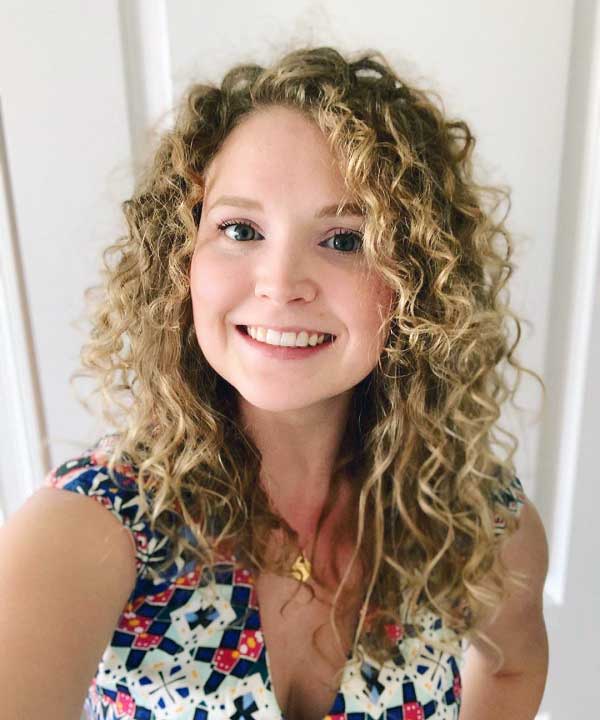 If yours are naturally curly hair, a bob with blonde shades would add a soft and feminine touch to your styling. You can either go for a balayage or strategically placed highlights that can make your curls pop.
13. Medium Blonde Bob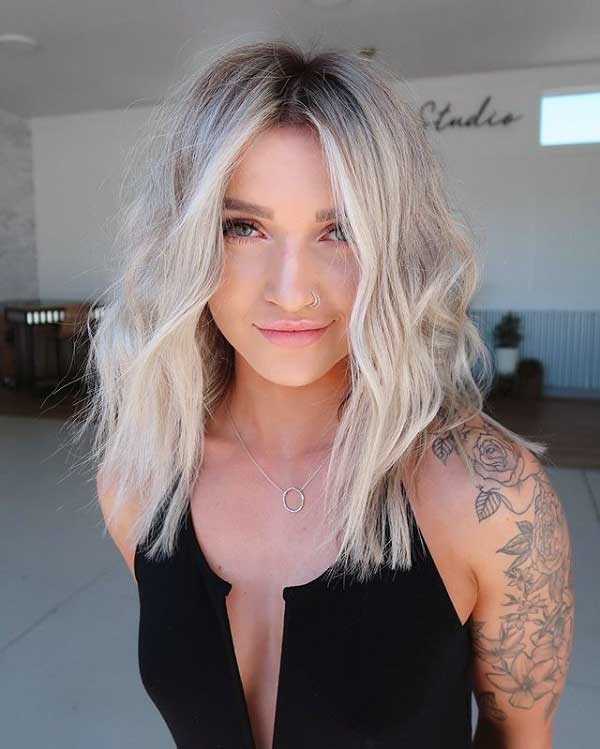 To get a chic, messy look, try a choppy cut with balayage blonde. Use a dry shampoo to enhance the effect. This haircut suits both oval and round face shapes by giving an elongated look.
Champagne Blonde Lob with Bangs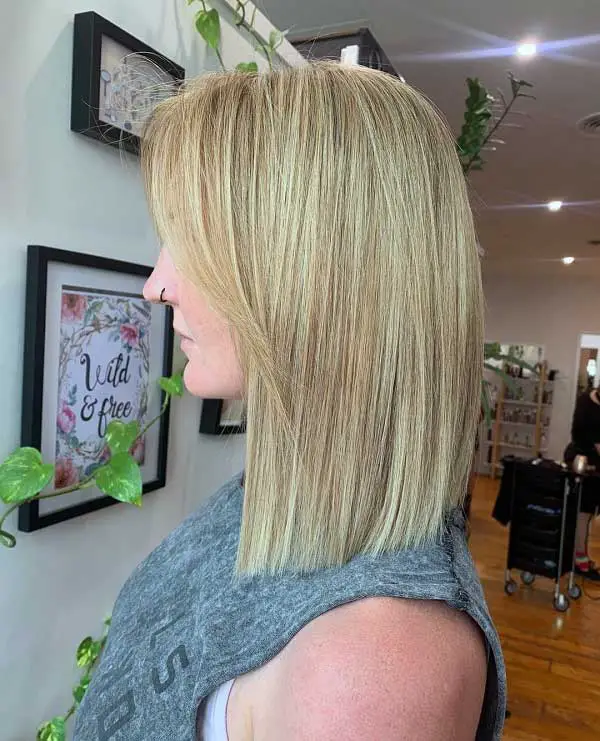 An angled bob with side bangs perfectly frames the face. Moreover, the layers give a modern touch to the classic blunt bob while the finely done hair coloring is flattering for girls who are a bit shy in trying a bold look.
Textured Platinum Blonde Bob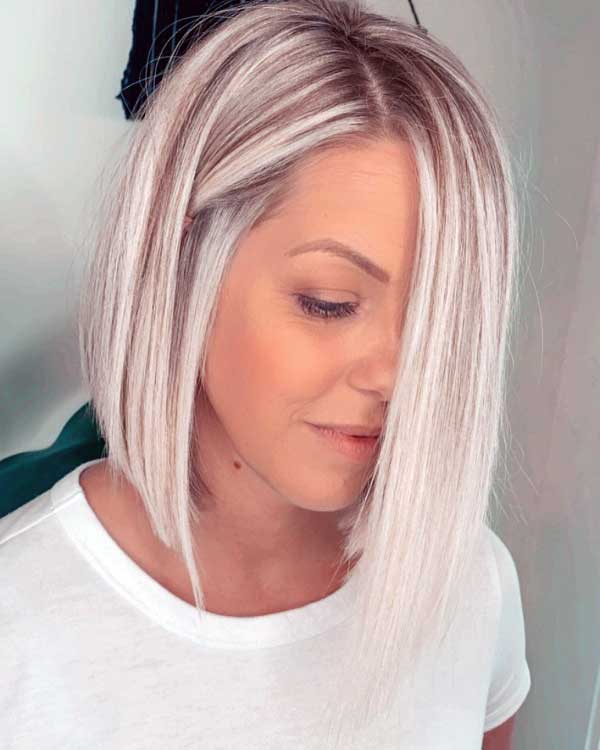 However, blunt cut bob with bangs for mid-length is easy to sweep from one side to the other for instant styling. The key here is the finely done hair color with amazing texture for a more youthful and flattering look.
14. Blonde Bob Sew In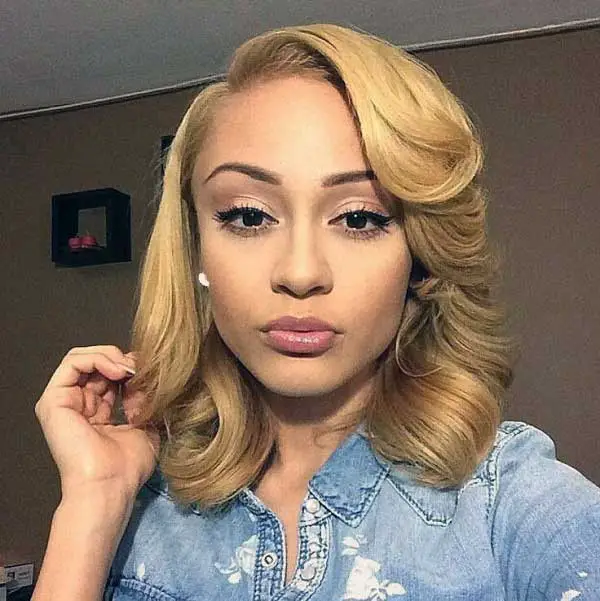 Focus on the texture and body of the sew-in weave so that it won't look lumpy and unnatural. Better to take the help of a licensed stylist to install the sew-in and once you have those killer curls done, follow healthy hair routine with styling mousse and shine booster.
Voluminous Sew In Blonde Bob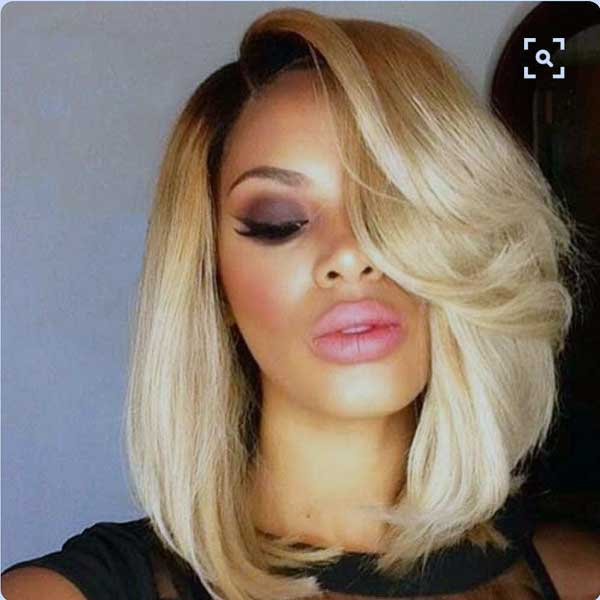 When you are going with a sew-in bob, a voluminous weave will be gorgeous. Give the hair roots a darker shade and a nude shade on the length. A side part with cascading wavy bangs is just ideal for any event.
15. Blonde Inverted Bob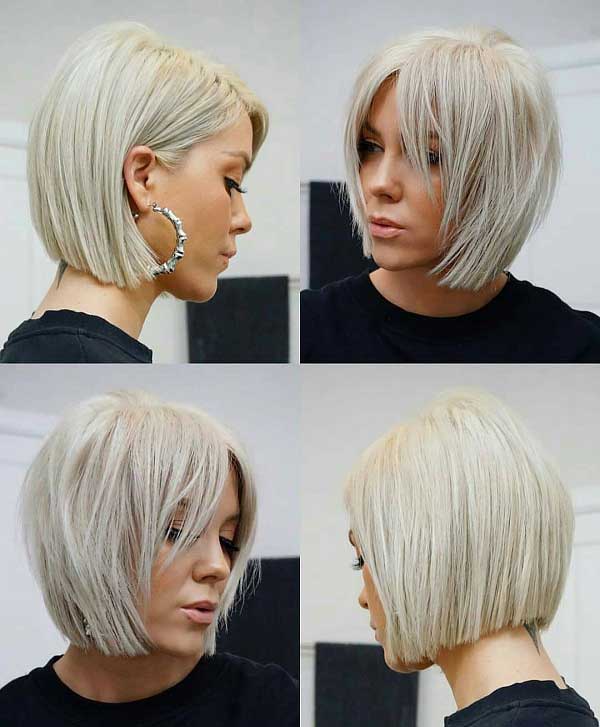 There are many variations you can try for a custom inverted bob. For instance, an all grey color with dark highlights would look classy when you have a razor cut bob with asymmetrical edges and wispy bangs.
Steeply Angled Blonde Feathered Bob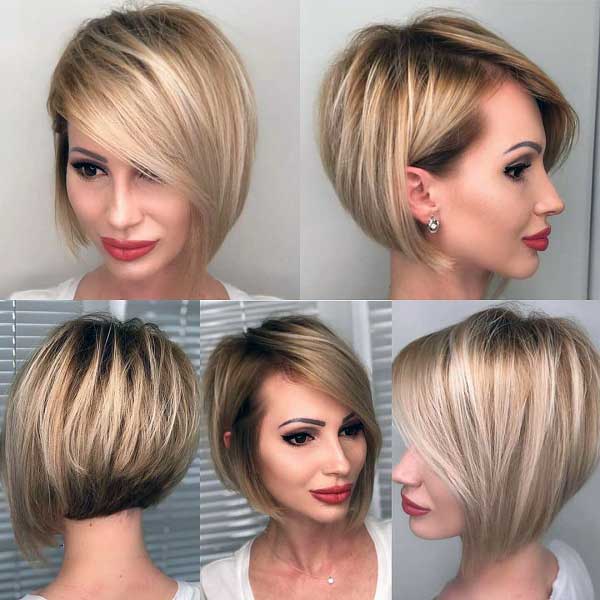 Try a steeply angled bob like this for a remarkably face-framing look. The one-sided elongated tresses grazing the collarbone will make an illusion of a longer face while the champagne hair texture will add an edgy flair.
Ash Blonde Inverted Bob with Rounded Back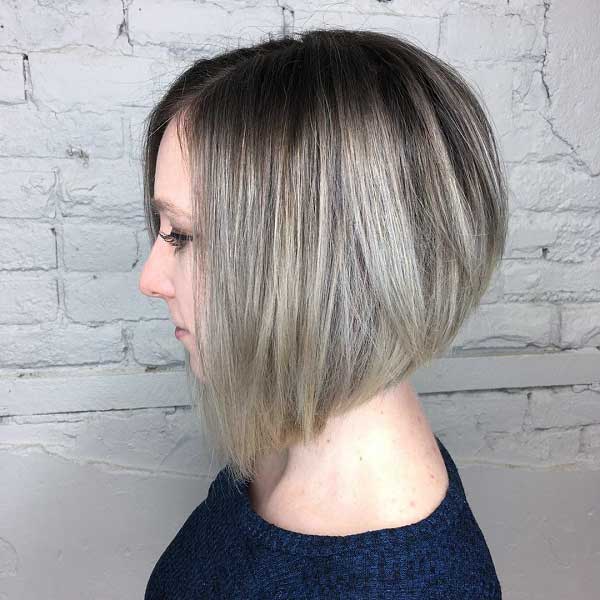 If you can spend some time in the morning for the hair-do, then try this look now. Here the crown is slightly teased for extra height and volume while the one-sided long front is graduated towards the collarbone.
16. Blonde Layered Bob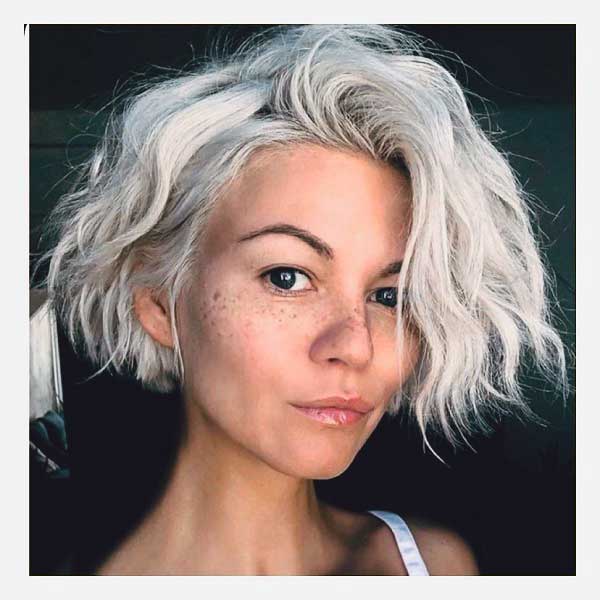 Isn't this so ramp-worthy look? For an effortless yet chic look, try layers with waves. All-white hair color will immediately add a fresh vibe. Just ensure you use good hair products for healthy scalp and strands.
Gorgeous Grey Layered Bob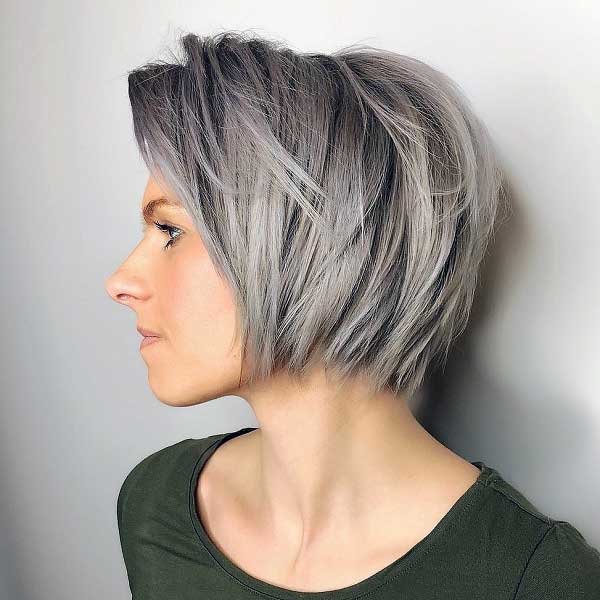 As layers can add bounce and volume, you can try them strategically for more volume on the crown and frame the face with bangs. With highlights all over, this short bob bangs haircut is refreshing and forever.
Side Swept Blonde Layered Lob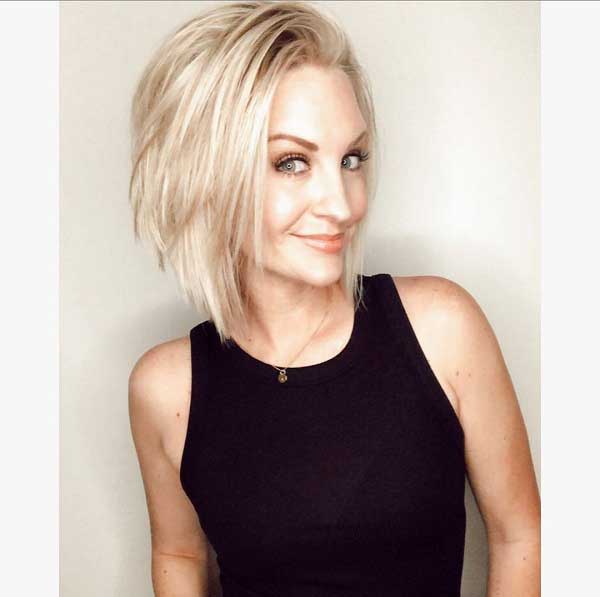 What a perfect cut to frame round faces. It's even better for heavy faces as the bouncy fluffs balance the look. Add layers to your blonde locks and use fingers for styling in a wet look.
17. Blonde Middle Part Bob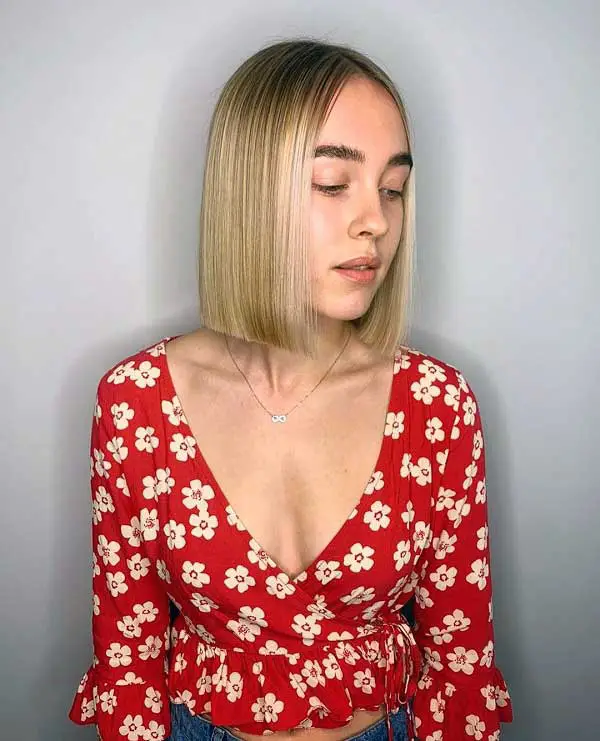 A mid parted blunt bob looks fabulous with golden shades. The chin-length needle-like straight hair finely shapes the face and gives a sleeker, more mature appearance.
Silver Middle Part Blonde Bob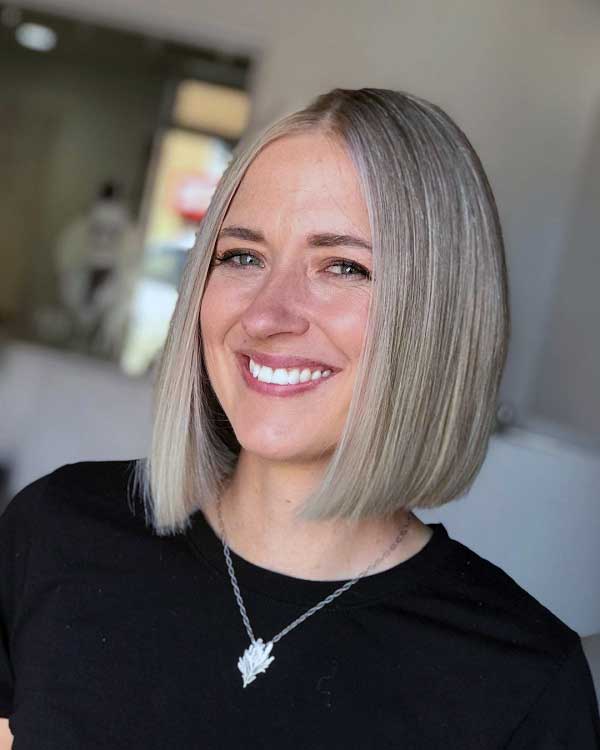 Combine the icy highlights with darker shades to create a versatile look that works well in office and for after-parties. You can keep hair smooth and polished or even tousled them for a fun look.
18. Blonde Side Part Bob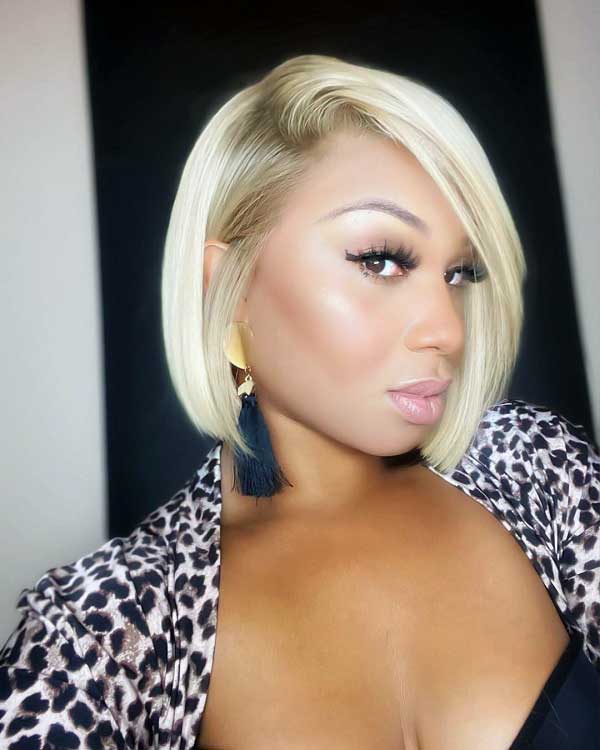 For a cute yet professional look, add layers to your bob and side-swept those to create faux bangs. You may part them on either side. An all blonde look is good but it is even better with highlights.
Side Parted Balayage Angled Bob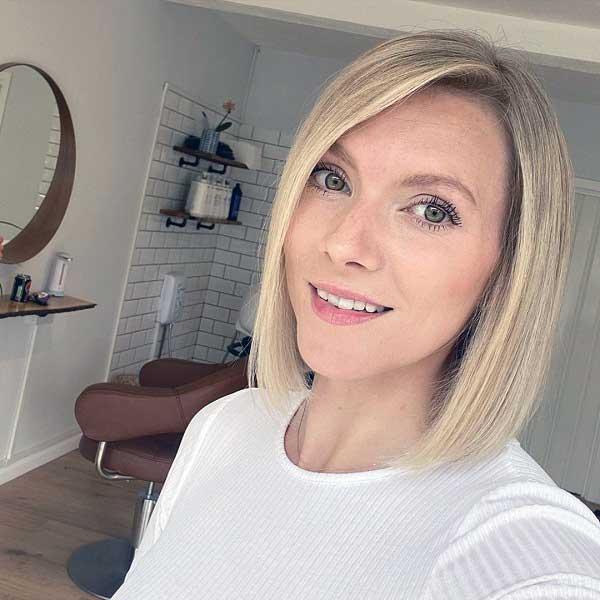 When you like to keep your styling simple and easy to manage, a side-parted angled bob like this is the best. With a blunt cut, choose for a blonde balayage to enjoy a versatile hairstyle. Straight bob is good for all face types.
19. Blonde Box Braids Bob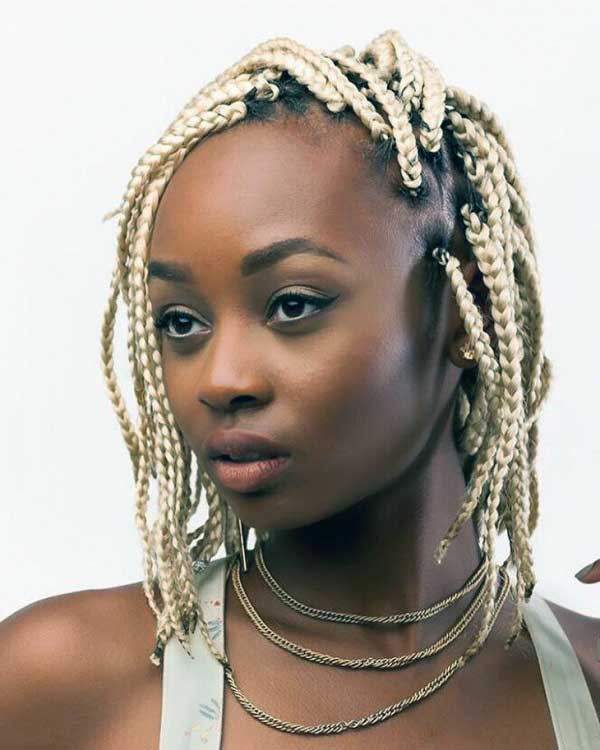 Box braids in bob are super cute and chic. It's handy and finely frames your face. You can choose this style to add thickness to your natural hair along with protection.
Angled Box Braids Bob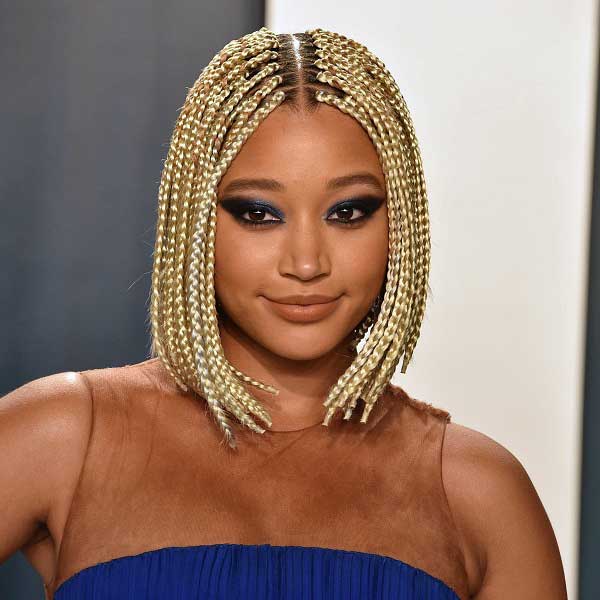 Ask your stylist to create an angled bob look with the blonde box braids for a perfect head-turning look. The weaving has to be clean and tidy. Once done, this style lasts for weeks.
Short Dookie Braids Bob with Accessories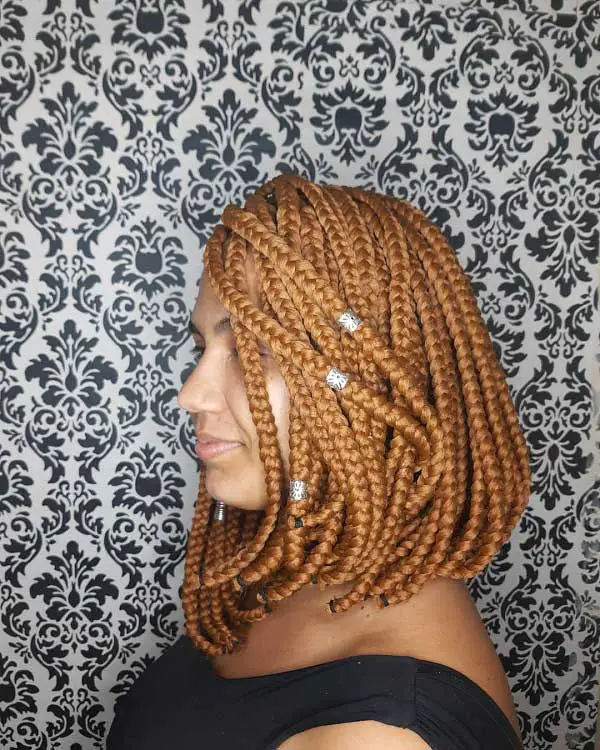 You may try thick box braids with funky hair accessories to enjoy a blonde bob with a twist. The length of the braids may vary and depends on your choice. It can be very short or can be in a lob.
20. Blonde Angled Bob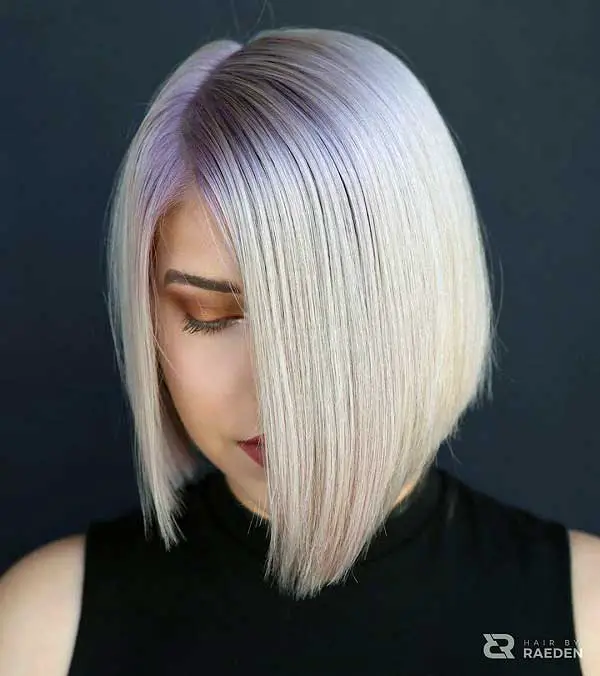 Take advantage of an angled bob with layers to create volume. To keep it sleek, keep the layers a bit long all over. While the purple highlight is a perfect match with platinum, you can choose your preferred colors for a custom look.
Classic Bob with an Angled Twisted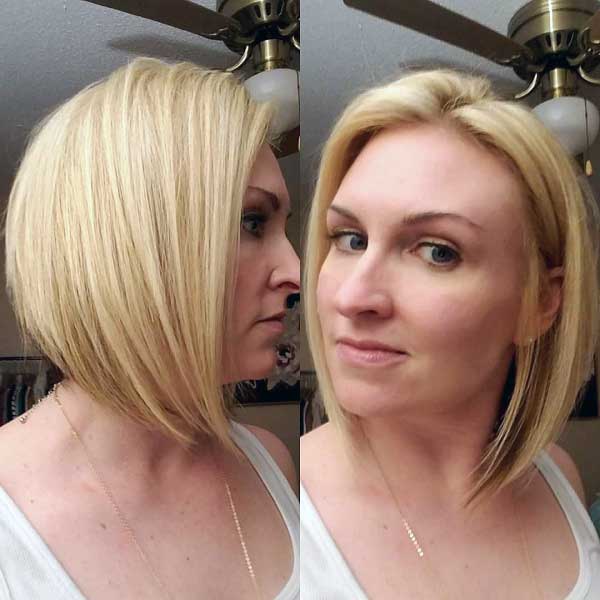 A classic bob looks beautiful with sharp, longer sides. With layers the razor cut ends at an angle can make your side-part bob very lively.
Ash Blonde Angled Bob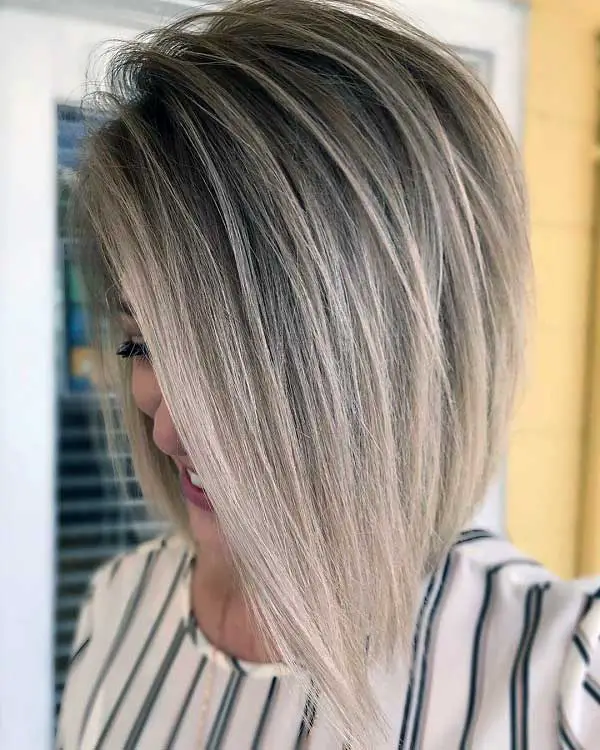 Ash-blonde is one of the most loved hair shades. If you like to keep styling simple, minimal yet trendy, try an angled bob with ash blonde balayage.
If you wish to turn heads for all the right reasons, you should try any of the above blonde bob hairstyles. Choose the cut and color that flatters your face shape and everyday styling needs. You can also come up with your blonde shade for an individual look.