It is always going to be in vogue to look chic and classy. What better way to earn this look than to do a long bob haircut! Be it wavy, straight, messy, sleek, it's always in fashion. But then with an added bang, they are just simply jaw-dropping. Long bob with bangs haircuts is perfect for a variety of face shapes, complexions, and hair types. Regardless of your hair type, there's no second-guessing our aim. We aim to please.
Best Long Bob with Bangs Demonstration
1. Long Bob With Side Bangs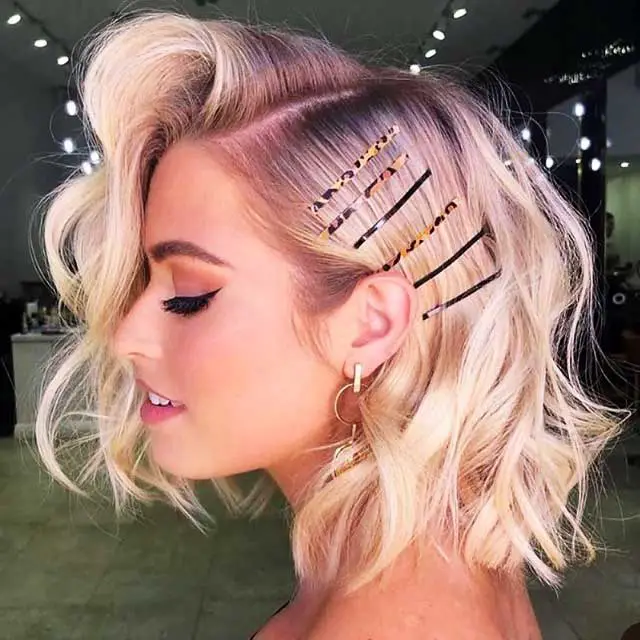 Side bangs with long bob will always be a pleasure to behold. They are hot, sexy and trendy. For ladies with beautiful round faces, this style makes you the perfect dinner date. All you have to do is rock the bangs. Walk in with a bang and watch heads turn as you walk by. Someone holds back the paparazzi!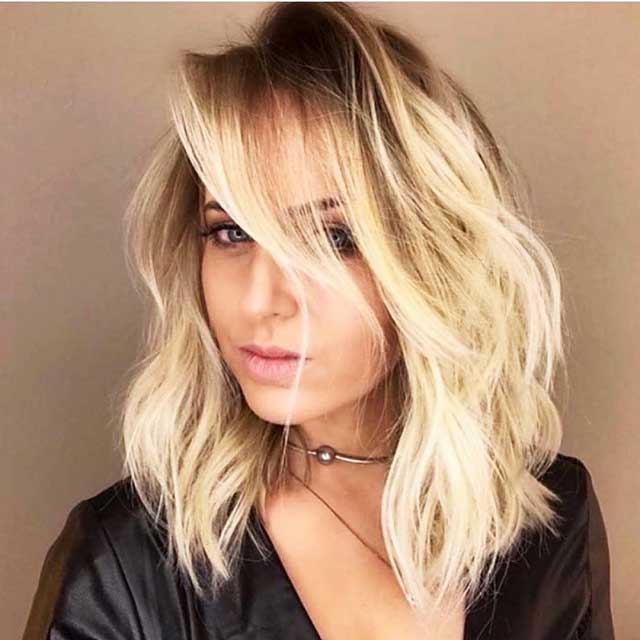 This style places right in the heart of the action. Asides from its overwhelming appeal, the lob with side bangs give you a total confidence boost. An oval-shaped face is just enough to do the trick.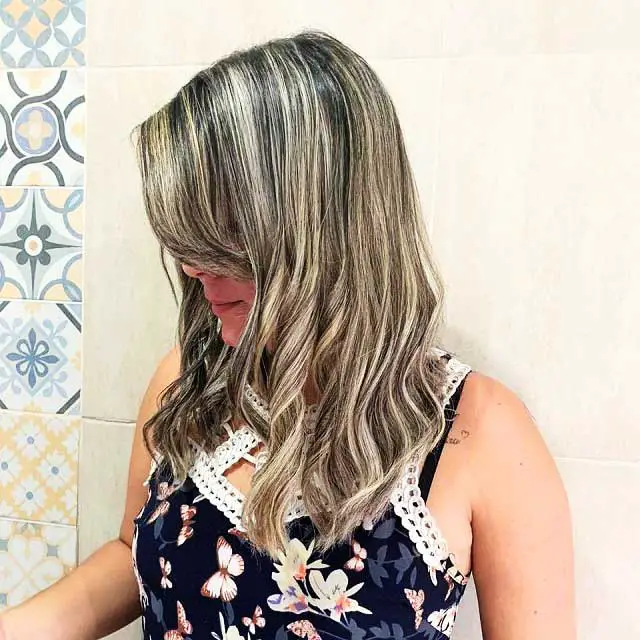 This hair is the ideal go-to due to the ease of wearing it. It is just as beautiful as it is convenient to rock even in stressful situations. You're having a busy day at work, baby trouble, going for a jog, it never lets you down.
2. Long Layered Bob Along With Bangs
Layered with bangs are still trendy this season and can be done for any occasion. They may be a little more expensive to maintain however make no mistake, they are worth a try. You can use beautiful accessories to have that extra pop.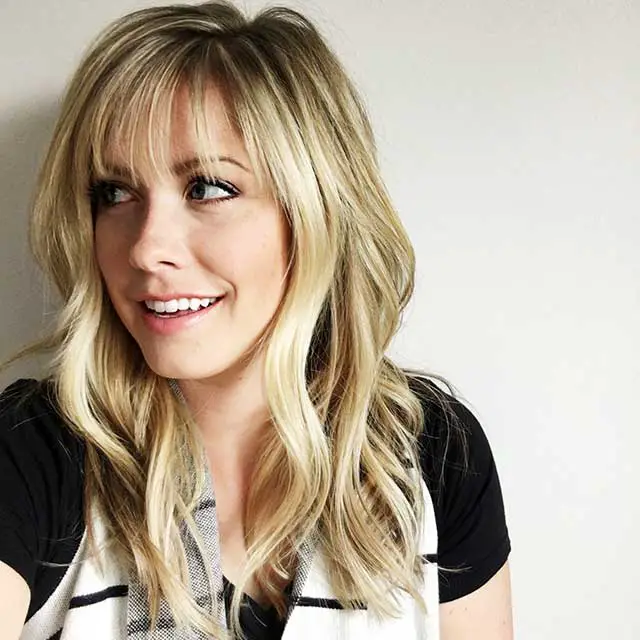 Flexible styles are a gift to womanhood on a day when you don't feel up to it. If you're a conservative lady, this long bob with bangs style is for you. It looks stunning and singles you out from the crowd. They afford you the luxury of wrapping it into a band and do not fall too over your face.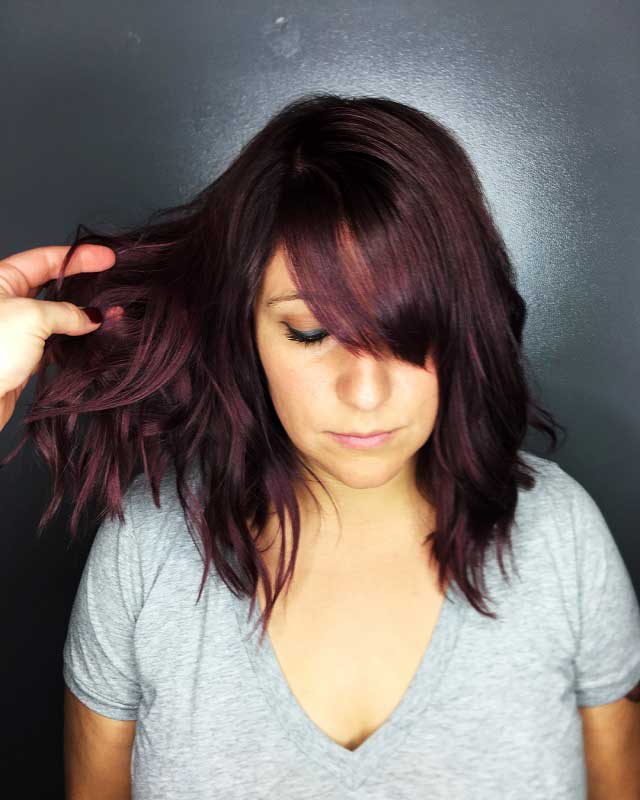 If you're considering a long lob for your next style, this one is definitely for you. The flexible bangs give you room to part and clip them on sunny days. It might require additional extensions, but this depends on your preferences. Try a lob today, they never let you down.
3. Long Angled Bob and Bangs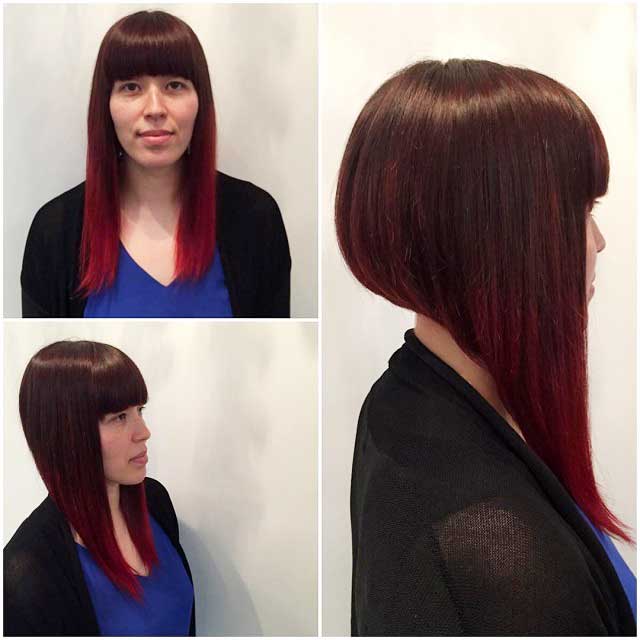 Regardless of your face, this style fits rather perfectly. With its full bangs, you can choose to let it down so the front pieces highlight those cleavages or wrap it in a band for that official meeting. A perfect blend of comfort and finesse.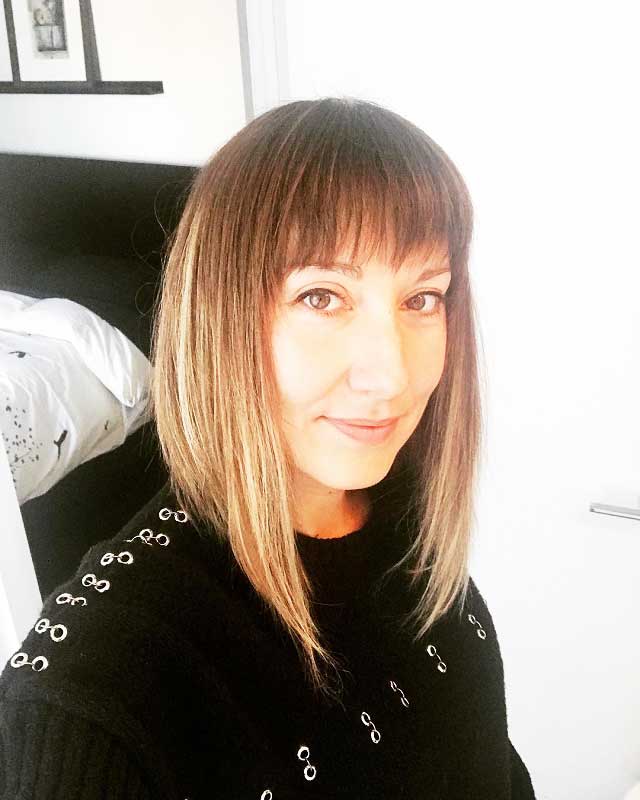 Don't you just love it? Brown is a color you always want to wear because it is neutral and goes with any skin tone. This style is hot, chic, and elegant. There is no better way to appear at work on Monday mornings.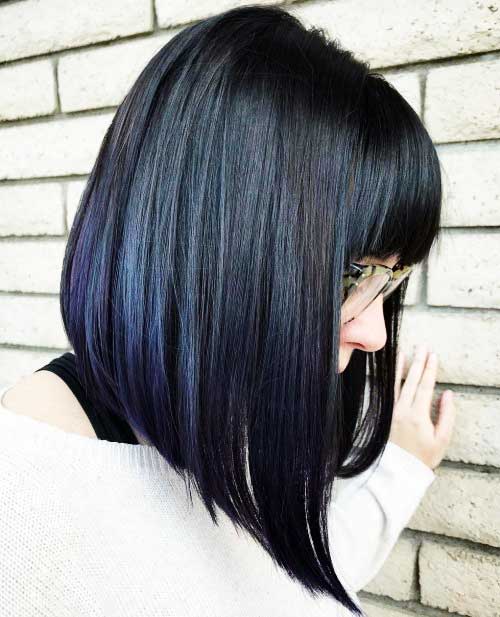 So, if you are going for that cool nerdy look, here is one for you. It fits any face type and does not blow in your face. This hair is an excellent choice for a classroom setting and gives a beautiful balance between elegance and simplicity.
4. Bangs with Long Inverted Bob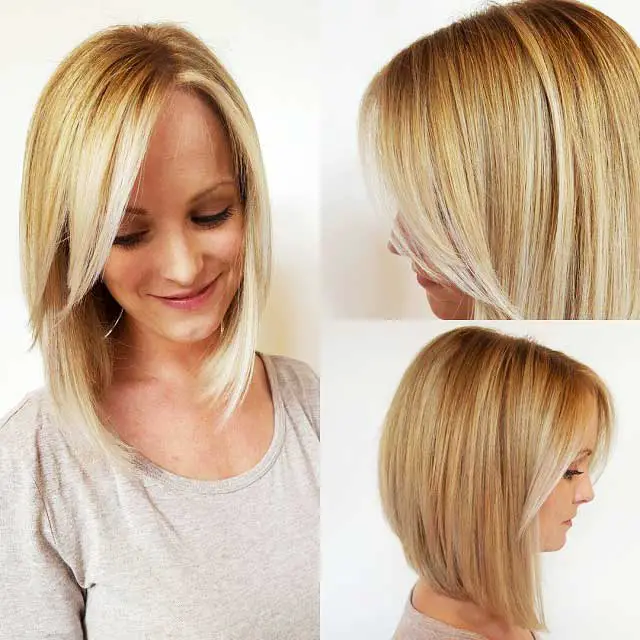 The inverted long bob with bangs is a style that never goes out of season. It makes a classy statement and is a sure mix of femininity and panache. It comes in a vibrant golden hue and you just can't get enough. Little wonder, it is fondly referred to as "keeps on giving".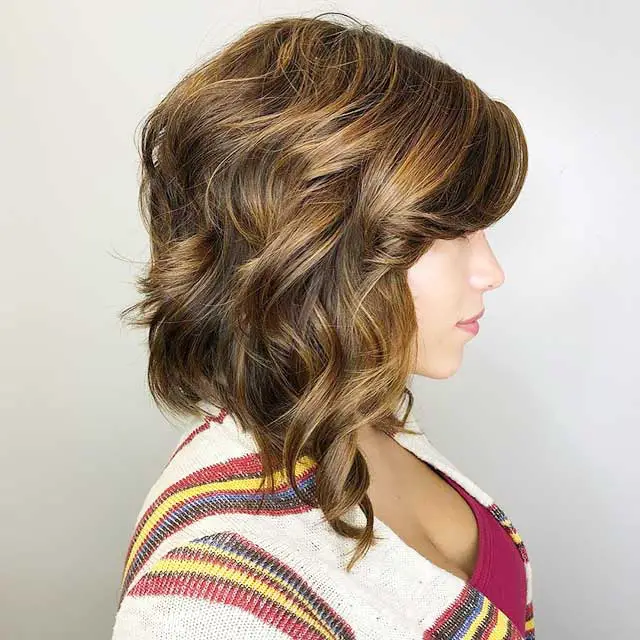 While some like their hair inverted just at the tip, others prefer to have a smooth top and curly inverted tips. If you are going on a date and intend to wear a style that is simple but emphasizes the effort you put into it, this is no doubt the hairstyle for you.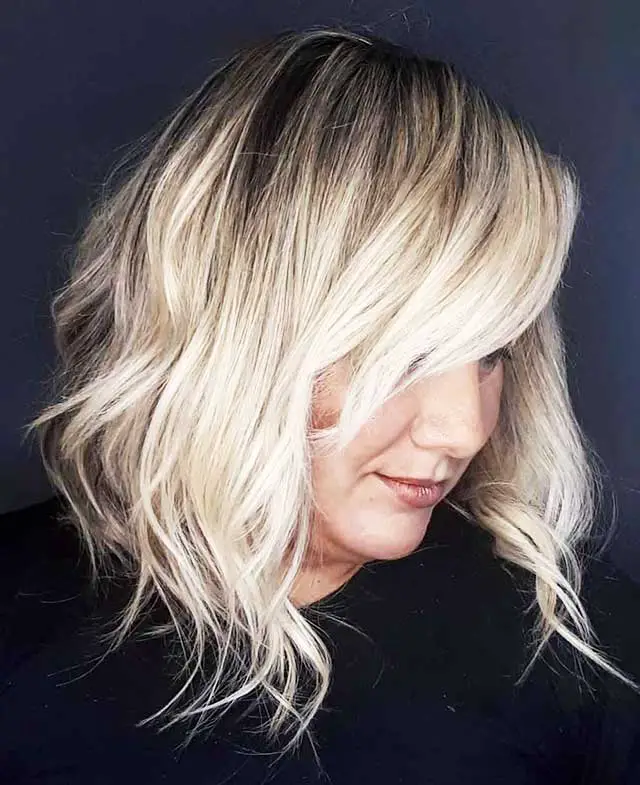 There is so much to love about the inverted lob with bangs. The highlights are simply breathtaking and this hairstyle is exactly what you need to create that full-bodied hair appearance. Other styles could create that but if you want to have that look with a lob, look no further!
5. Long a Line Bob With Bangs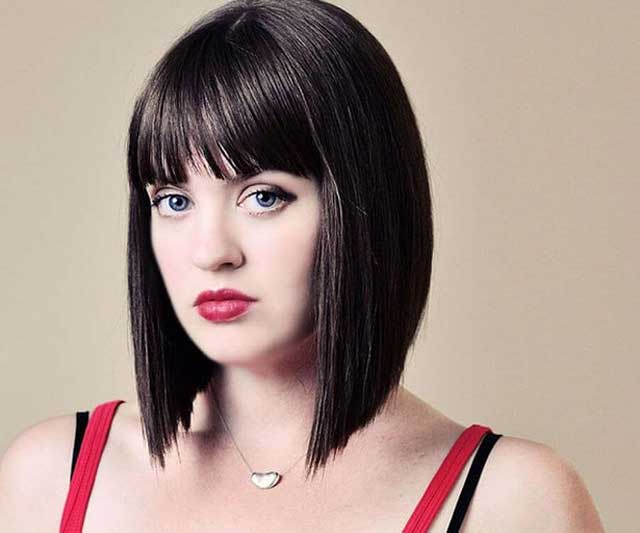 The ease of use and versatility that long a-line bob provides is nothing short of priceless. It gives off a chic, laid back appeal and fits seamlessly with any face type. If you are at a loss on your next hairstyle, give this a try.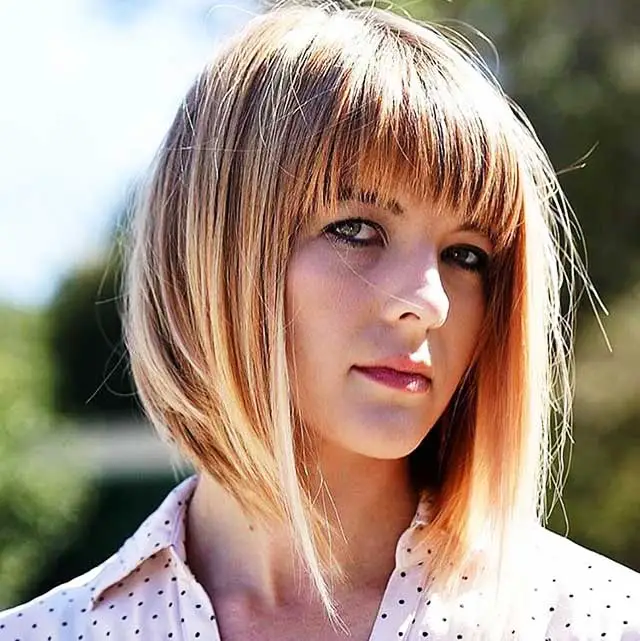 If you are up for showcasing your chin, cheekbones and eyelid, this was made for you. The bangs fall just right above your eyes, while the tip of the hair falls right below your chin and rests gently on your cheekbones. This is a perfect match for a heart-shaped face.
Flattering Short Bob with Bangs
6. Long Bob With Bangs For Thin Hair
Blonde is classy and there is no doubting its flexibility with any complexion. You don't need to be so extra to look bold and chic, this style right here is all that in one.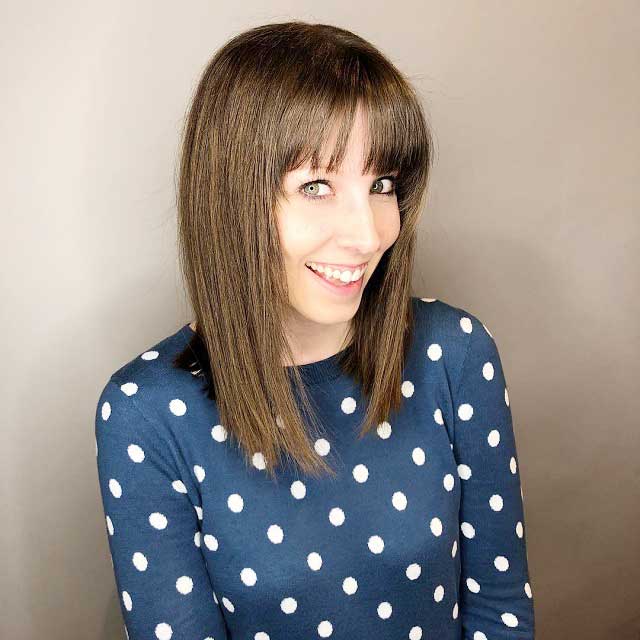 Proper maintenance of layers can be hectic at times. However, it is nothing but a side job for some. If you fall into this category, this style is just perfect for you. Instead of a plain lob, the bangs are there to give a lifting appearance.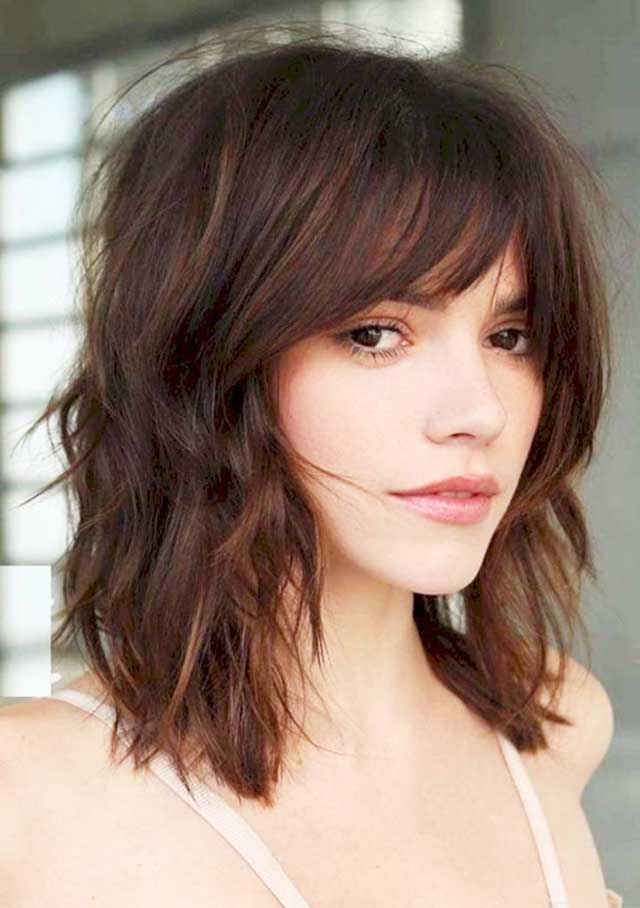 Messy waves just have an aura and a different vibe. Leaving your waves till they have that rough look is somewhat cool and is still very much in vogue. This style is most suitable for an oval-shaped face with a bubbly personality just like Rihanna.
7. Long Bob Hairstyles with Bangs For Thick Hair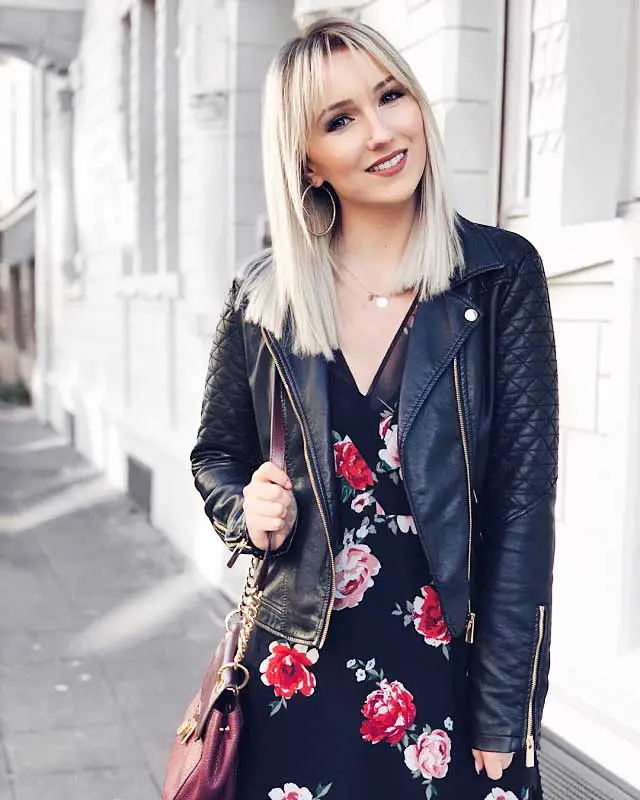 It can be frustrating to have thick hair sometimes. Do not get that big chop because this here is the remedy: a lob with bangs for that thick hair. You can wear it anywhere, not to mention how much room it gives for styling.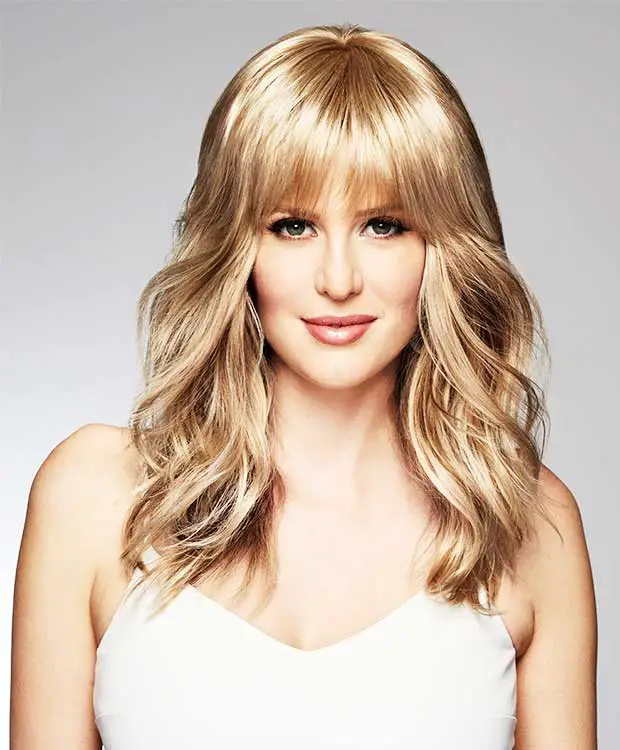 If you are a woman with really thick hair, you might just appreciate this urban style. The wavy locks that land slightly below your shoulders, highlighting your collar bones and neckline. It creates a look that is simply hot and fierce.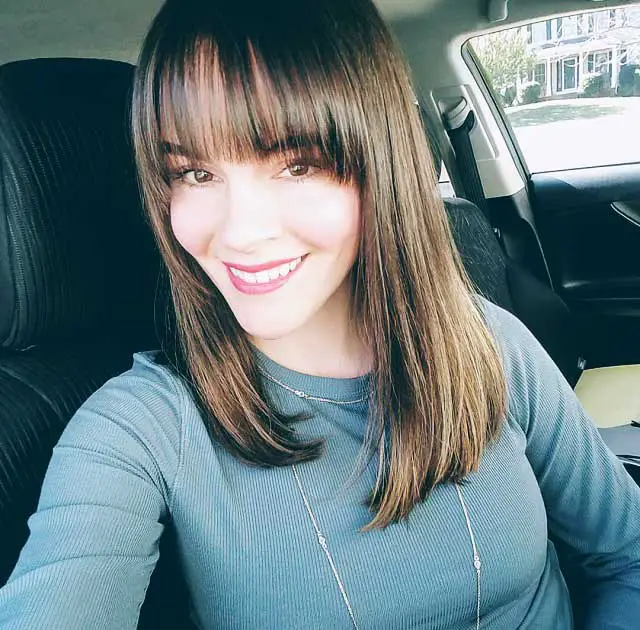 This style is lovable because of how sweetly it accentuates one's facial features. For ladies with thick hair, this lob with bangs is easy to maintain, seductive, and gorgeous. If you are looking to achieve that simple classy look for an evening date, this is definitely for you.
8. Long Bob for Long Bangs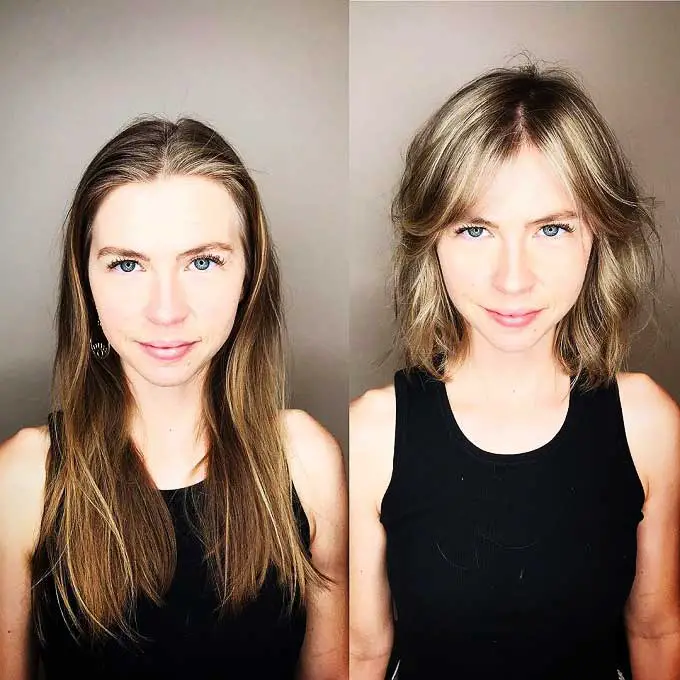 Lobs just have a way of giving you that flattering look. This classic long-bob-bangs highlights your face and shows just how beautiful your eyes are. It is beautiful when worn long but still amazing if worn at shoulder-length.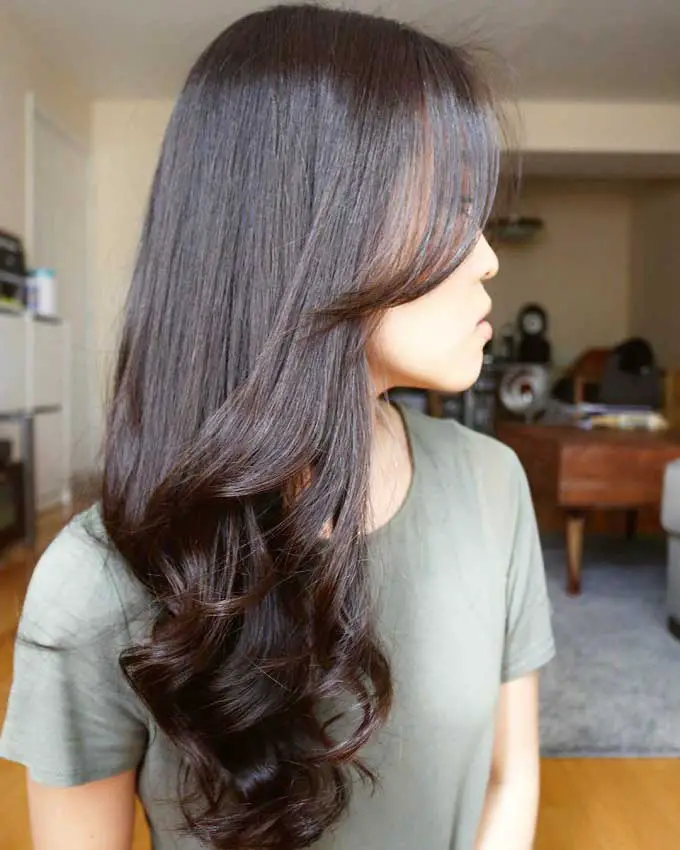 This adorable long and full bangs are epic. Short bangs are more of a thing but long bangs bob are still as beautiful. If you want lobs with bangs but are not ready to give up any of your hair to create them natural short bangs, this is perfect for you. Suitable for all face shapes.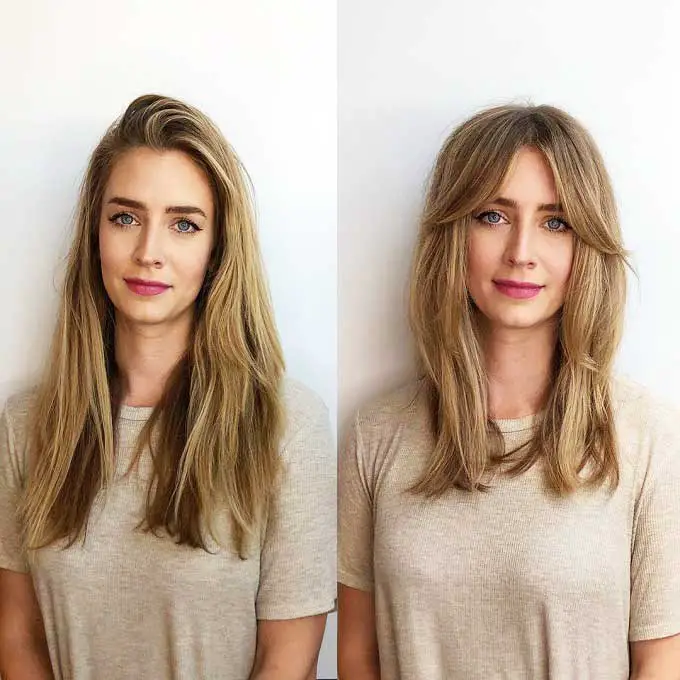 If you have doubts about if lobs are the best option for you, try this hairstyle. This lob with long bangs stands out among most due to its amazing texture, beautiful color, and how elegantly its locks sit on your shoulders, giving you a renewed sense of youth.
9. Long Stacked Bob and Bangs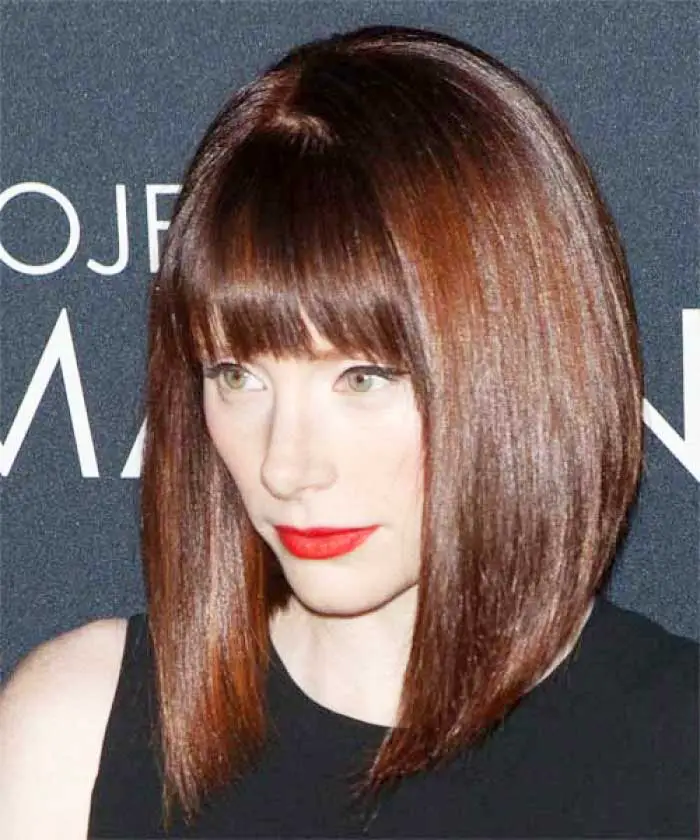 There is nothing better than beautiful straight hair, and a shoulder-length bob with feminine bangs. This can be exactly what's needed to give your hair that extra glam. Its beauty stems from its effortlessness.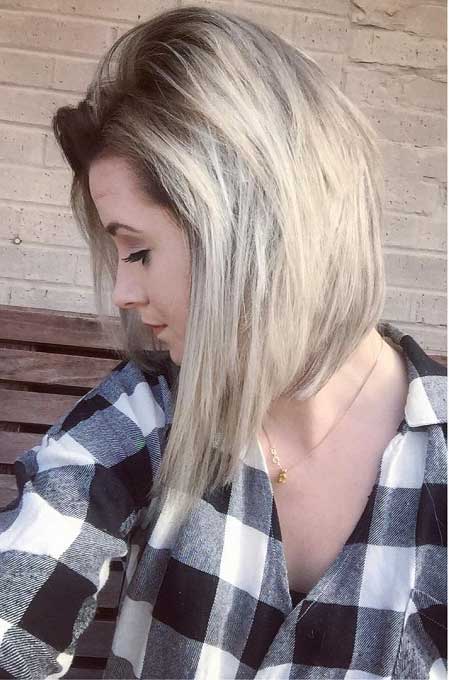 If you need inspiration on what a long bob with side swept bangs could look like, then this is a fine example. Angled to perfection with soft layers as compliments, this cut would look amazing on practically anyone. It is well suited to all face types.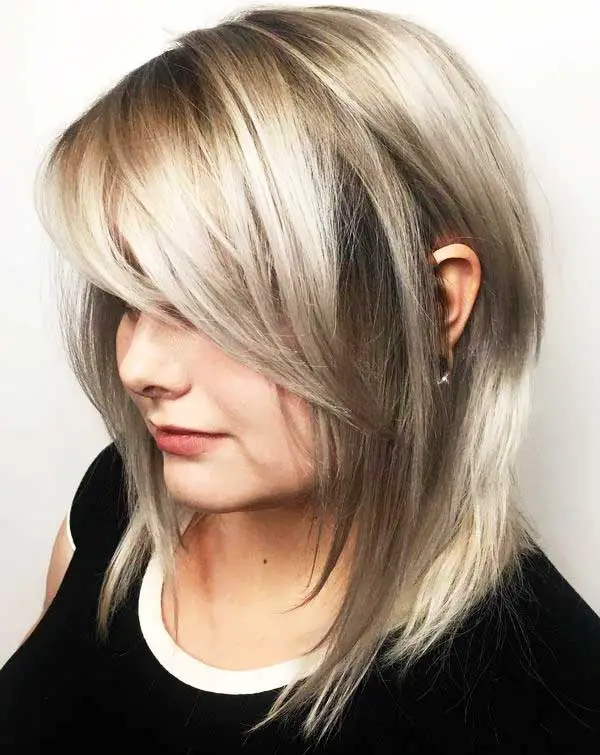 Nothing is more dramatic than short-length bobs with big slants. This is a great cut and is most suitable for a round face. It can also fit perfectly around a square face if you are not aversed to flexing around with some curls at the tips of your bang.
10. Long Choppy Bob With Bangs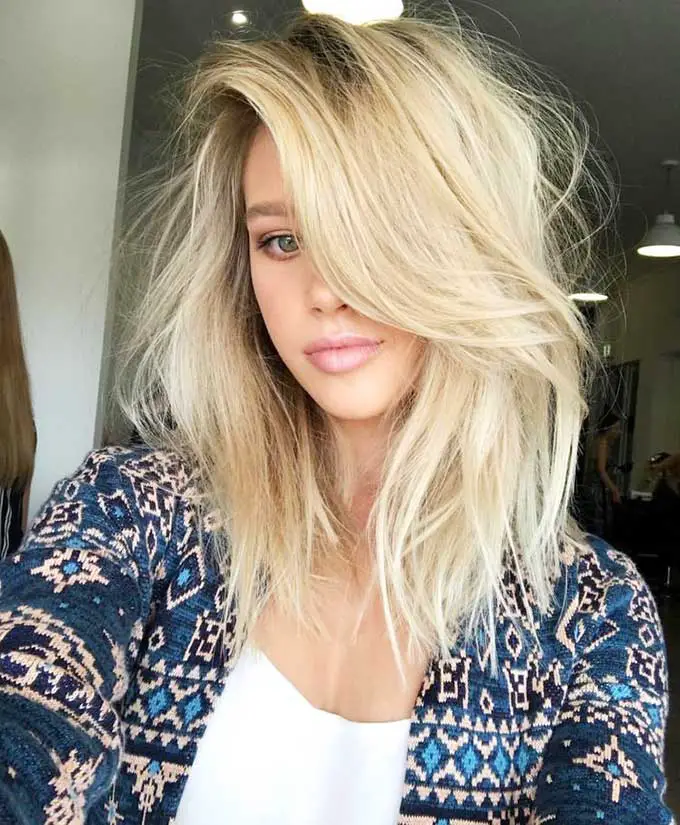 There is something so glamorous and sexy about messy long choppy bobs. Chops and messy bobs seem to be very much in season. This style is one for the ages and can be trusted to refresh your tired hair.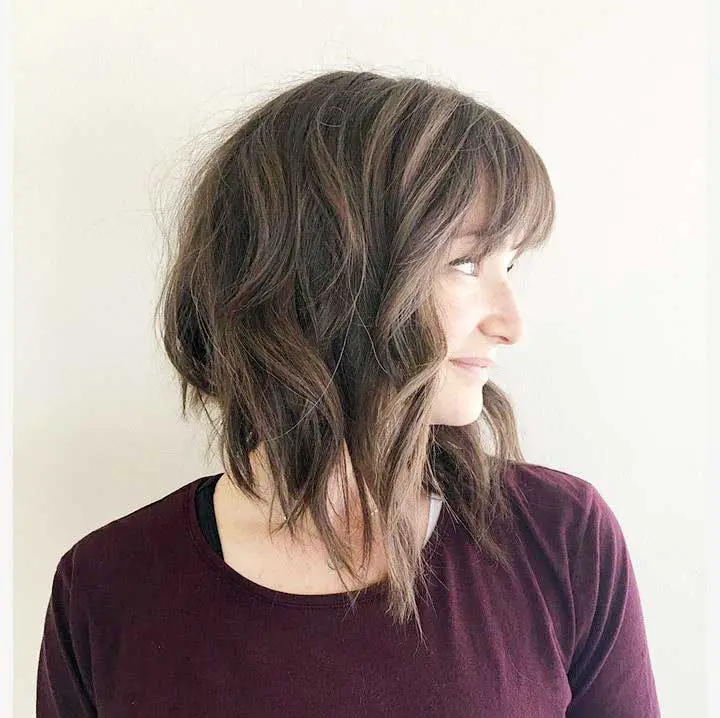 Adding soft messy waves to your lobs is subtly hot and sexy. The simple bangs and uneven ends on a diamond-shaped face make it even more elegant and its peek-a-boo bangs help to frame the face beautifully.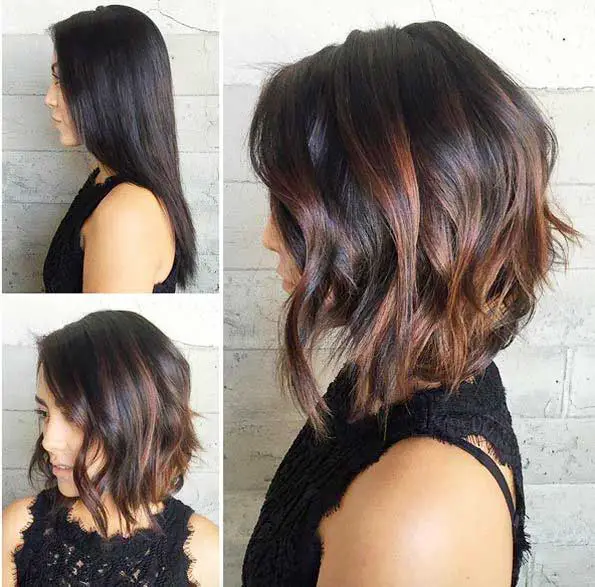 A mix of two different shades of brown and a hint of black never fails you on a lob. At times, you could get caught in the middle on choosing a perfect neutral color for your lob with bangs, why not just have a bit of all.
11. Long Bob With Bang- Chinese Style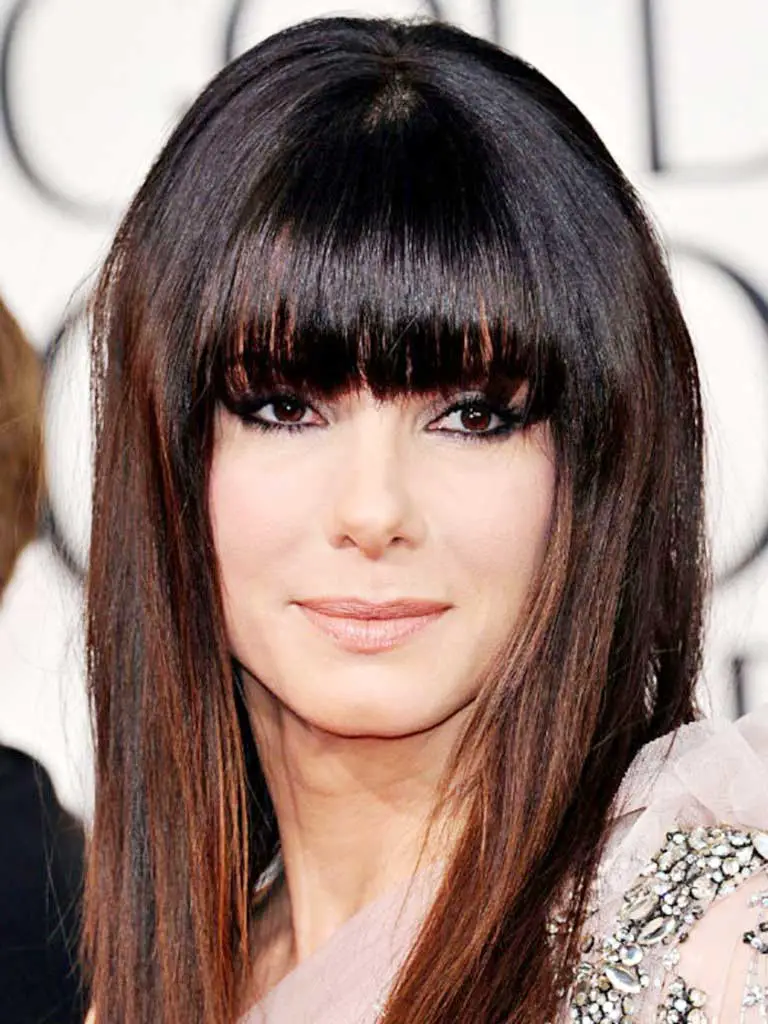 Chinese bangs are forever hot when done right. Adding them to your full-bodied lobs thick or not, is a sight to behold and holds the ultimate appeal. Your triangle or oval-shaped face might just be what you need to try this for a change.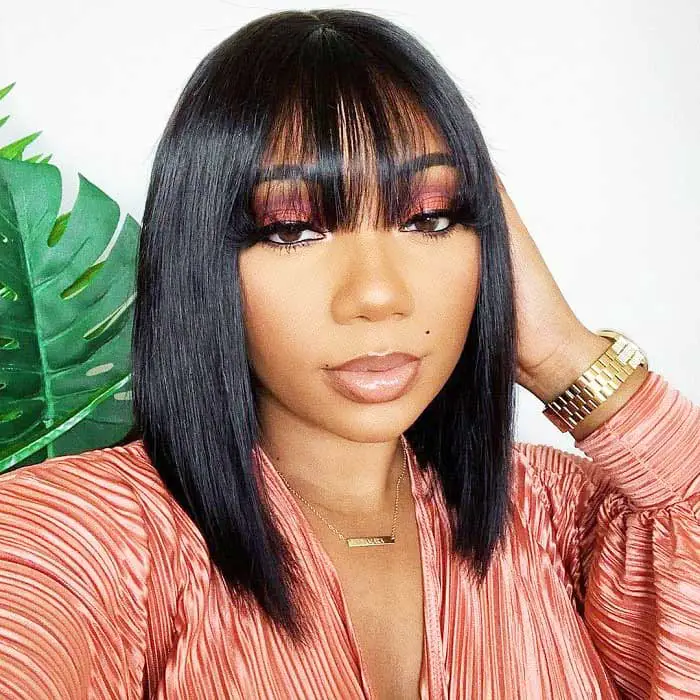 Jet black, check! Straight hair, check! Beautiful shoulder length locks, double check! This lob with Chinese bangs is guaranteed to keep you looking young forever. It is absolutely stunning on a round face.
12. Lob With Side Bangs For Round Face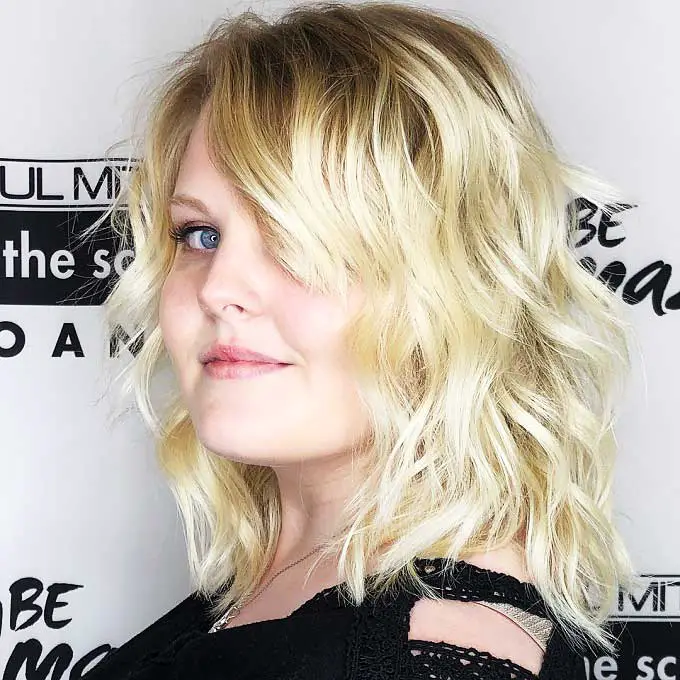 For you round faced ladies, this lob with side bangs are to die for. It is a perfect blend of gorgeous highlights and full-bodied messy waves. The blonde hair color ensures versatility of use and it is quite easy to maintain.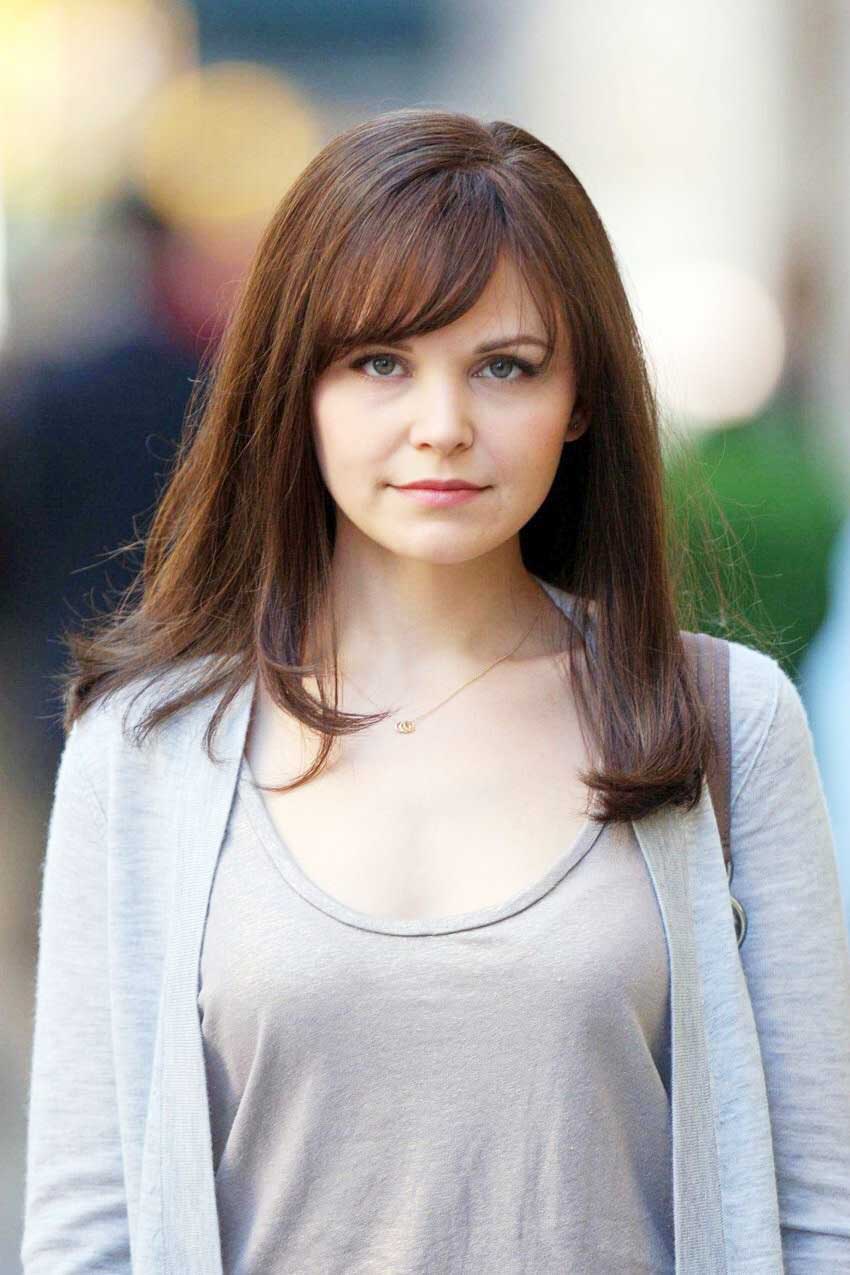 This hairstyle is a classy option that looks great and yet is pretty simple. It works with any other face shape and gives off that extra touch of sophistication when you tuck the bangs behind the ear.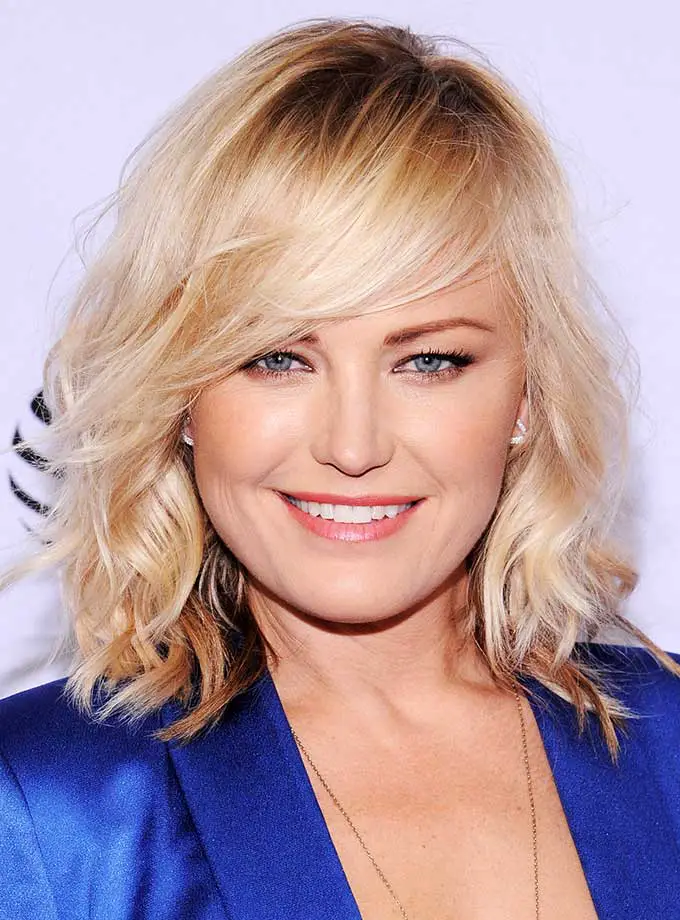 This is a style you would refer to as a sexy and sassy haircut with an elegant edge. Urban and trendy, the wavy tresses boast such bright blonde highlights that give depth to its dark brown base color. What a gem!
13. Long Bob Hairstyle With Bangs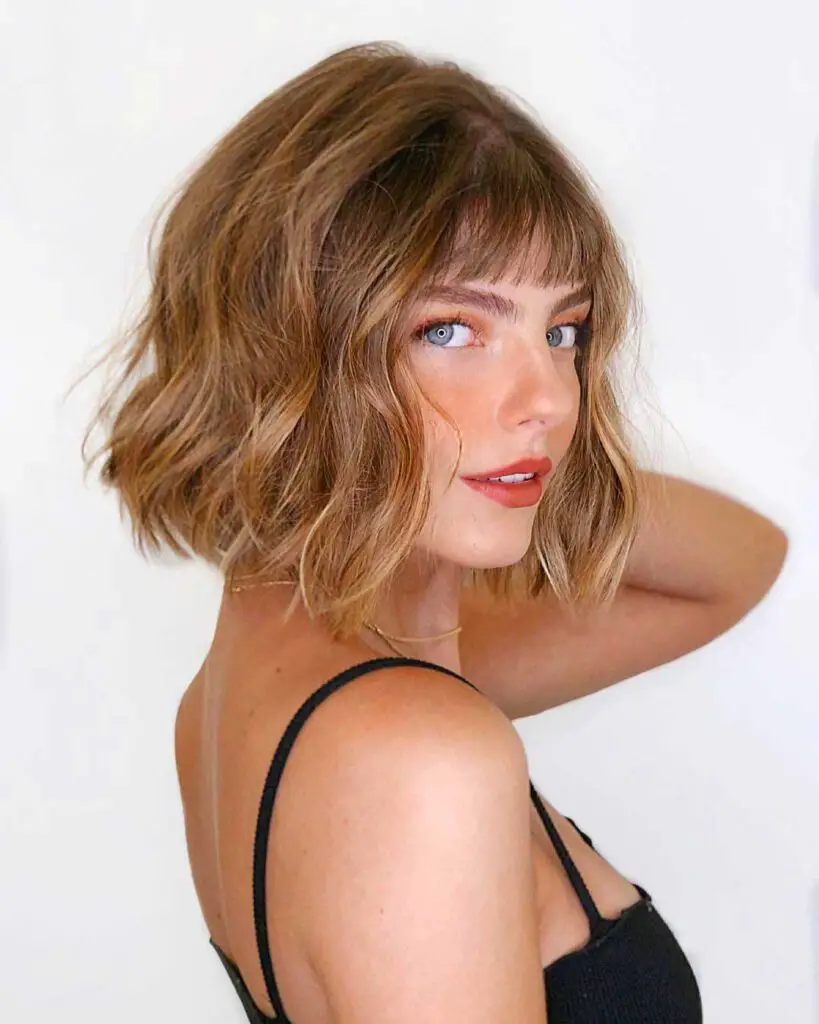 One cannot deny the maturity and ageless beauty of this messy lob with bangs. Layers would be perfect with this to balance out the hair. It is a flattering color choice for most complexions and will serve you well for that fun date to the cinema.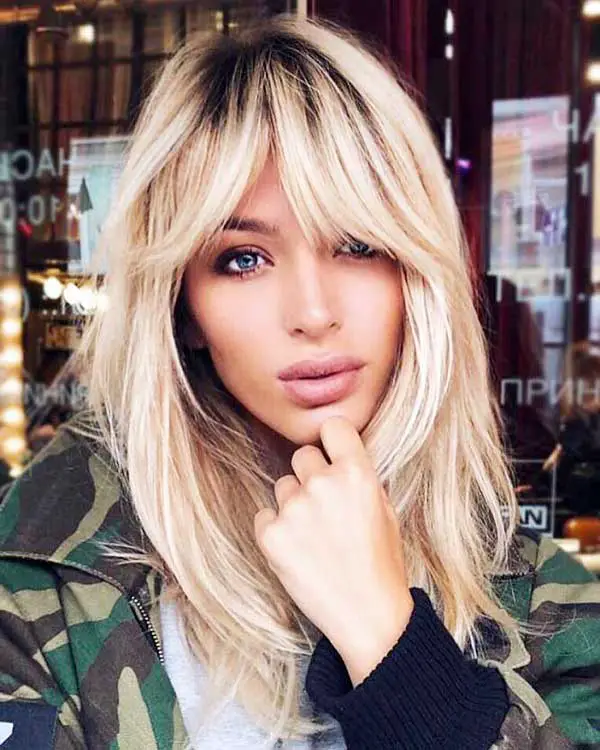 You cannot do wrong with this hair draping down your shoulders. Its tousled, lush and blonde locks house beautiful highlights that make you stand out from the crowd and it is darkened at the top to add some dynamism. It is suitable for women with any face shape.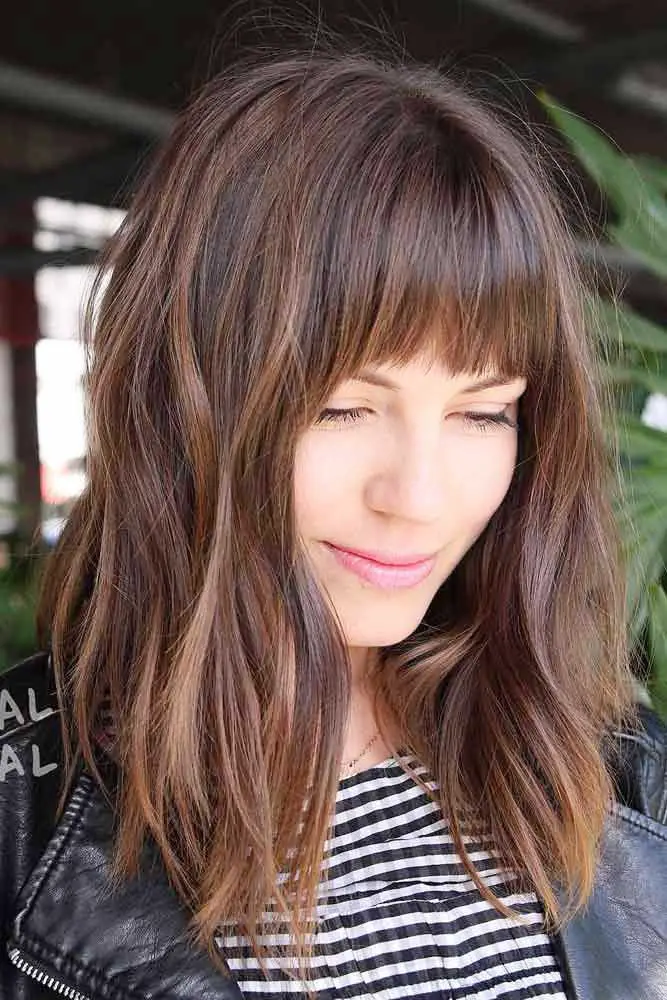 This style is edgy and modern with every snip and manages to look totally unique on every woman. It comes in a dark brown hue and is a style right out of the fashion books. This lob is perfect for ladies with round and oval shaped faces.
14. Asymmetrical Lob With Bangs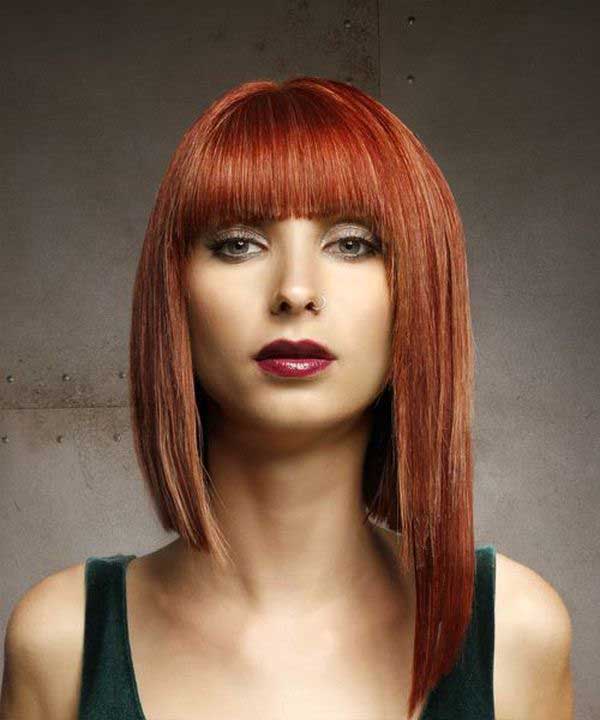 This asymmetrical lob with bangs is not for the faint-hearted. Its yummy orange tint is a classic and gives off a daring, dynamic and extremely captivating look that is guaranteed to blow minds. Goes well with a heart-shaped face.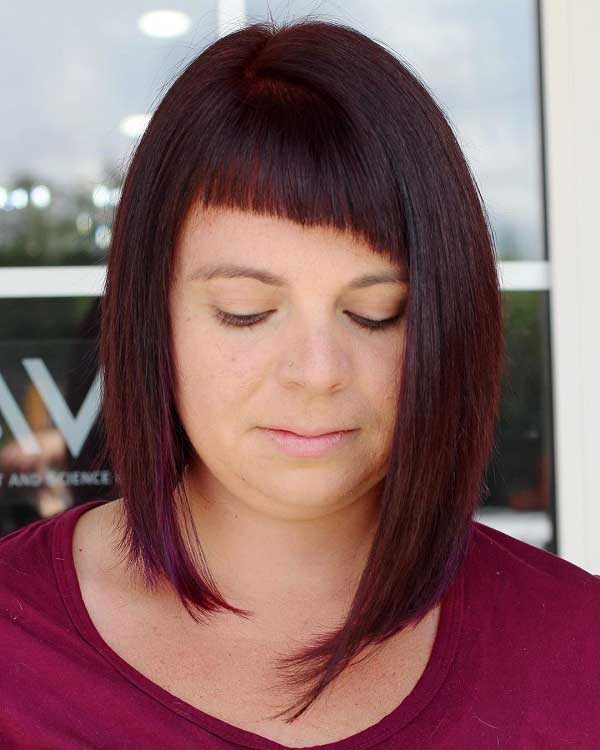 This gorgeous lob for straight, thick hair is sculptured perfectly with not a hair out of place. You can go with your natural hue or go brave with this wine-colored hue that works for many different skin tones.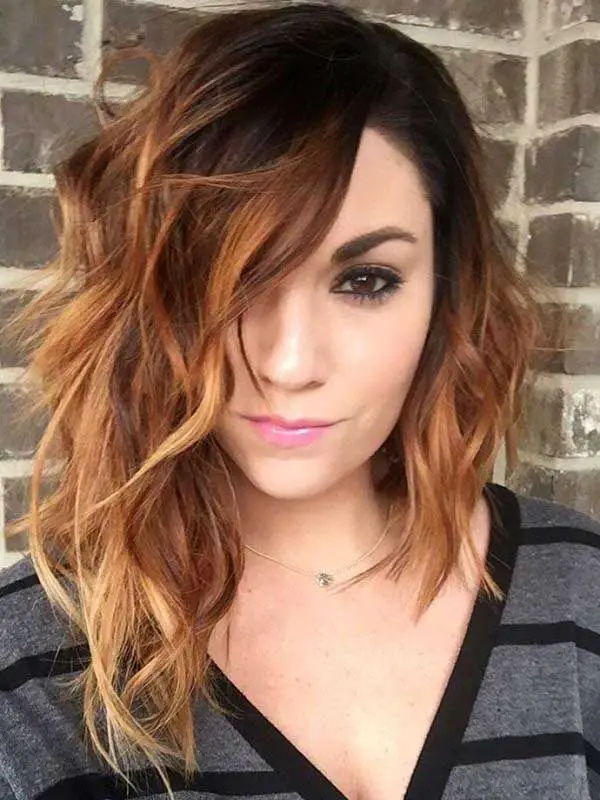 Sometimes, nothing is more perfect than a minor imperfection. This asymmetrical lob lets you wear your brown hair in different shades at once, with beautiful messy and wavy tresses for company. The layering from the top to the sides, giving it super flattering fullness. The darkening at the top and disparity of length scores it maximum points.
15. Bangs and Long Blonde Bob Hairstyle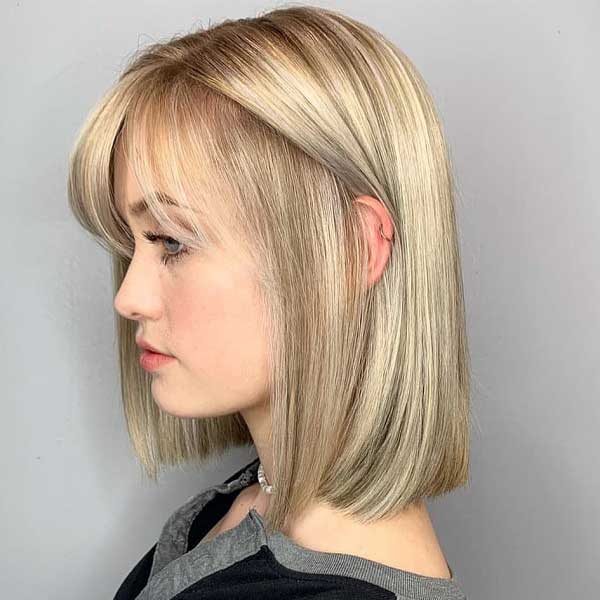 If you love the look of long flowing blonde locks and want to appear like a million bucks, this lob haircut is the pick for you. With bangs, it is sure to make jaws drop and is suitable for ladies with oval faces.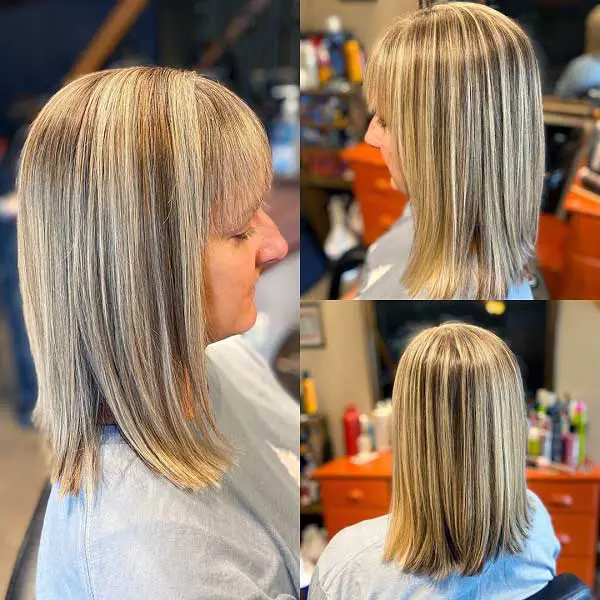 A long bob cut bangs is made beautiful when it follows the natural lines of your straight hair and emphasizes your facial features. This 360 degrees view gives you a rounded idea of the beauty of this style. It is well trimmed at the edges and suits a round face gracefully.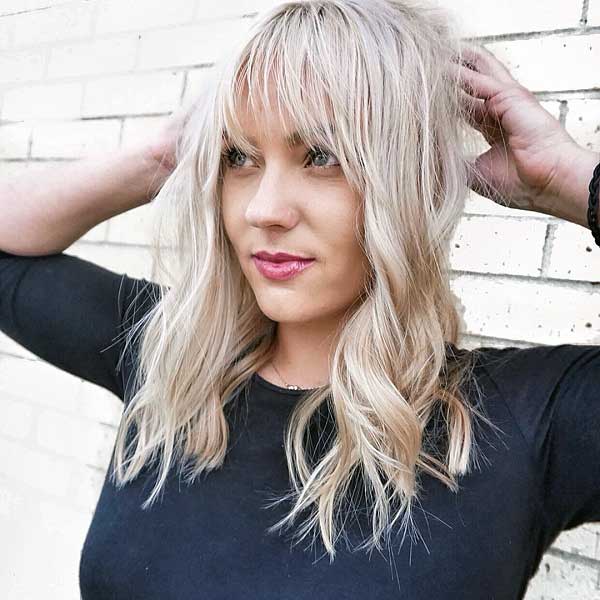 A lob haircut with full, bold tresses is simply a must. The peek-a-boo frame shapes the face nicely while its blonde highlights swirl through each curl enhancing the healthy shine. Bangs bring an extra dimension of drama to your hairstyle and would be the yin to this haircut's yang.
16. Long Pixie Bob Plus Bangs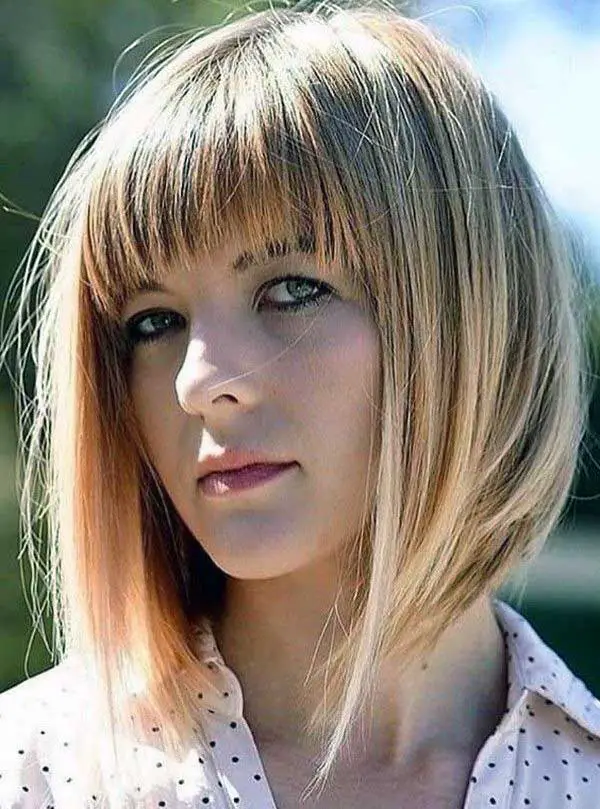 This splendid style has been worn by career women and soccer moms over the years. It remains very relevant due to its easy maintenance and ability to work in both casual and formal settings. It combines lovely highlights with a beautiful straight hair frame and is suitable for all face shapes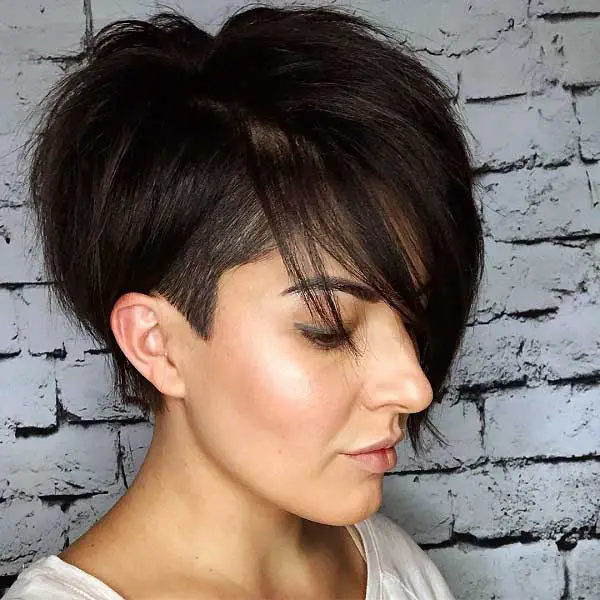 This jet-black hairstyle is a fun cousin of the traditional lob. If your hair is thick and naturally wavy, you will win with this tousled style that aims to please the whole day through. It is ultimately classy and fierce.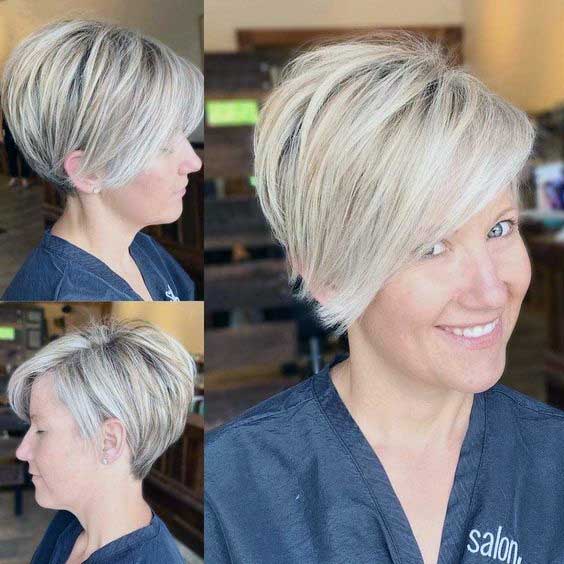 You can transform your look from just okay to stunning, with this haircut. Layers are a great match with this cut because of how they enhance the drama of the angles. This bangs with nape-length pixie bob boasts a bright, grey hue and tremendous highlights that give it a sun-kissed glow.
17. Long Straight Bob With Bangs
This lob with bangs has a lush appearance and a beautiful shoulder-length trim. It is absolutely what you want if you have fine, straight hair. With the added bangs, this cut is elegance and poise personified.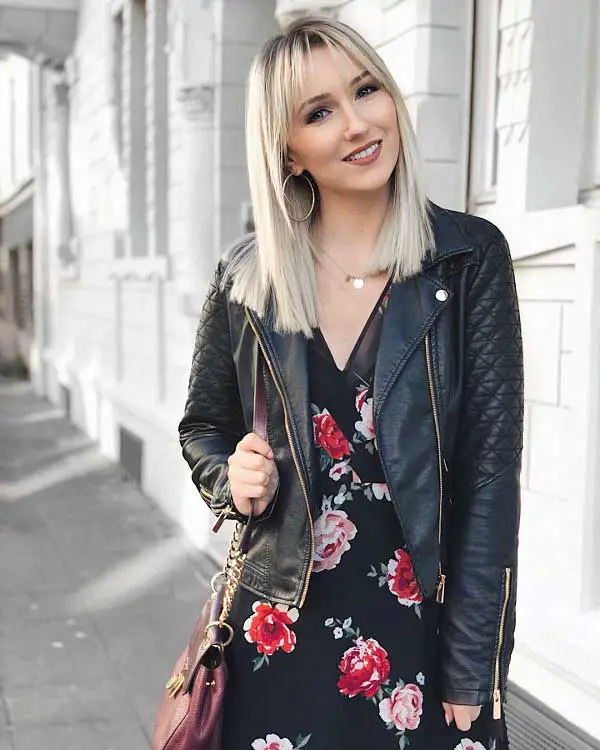 A shoulder-length style can be so relaxing, yet always looks stylish and cool. This blonde straight hair with vivid highlights is perfect for that lunch date. All you need is a beautiful sundress and you are green to go.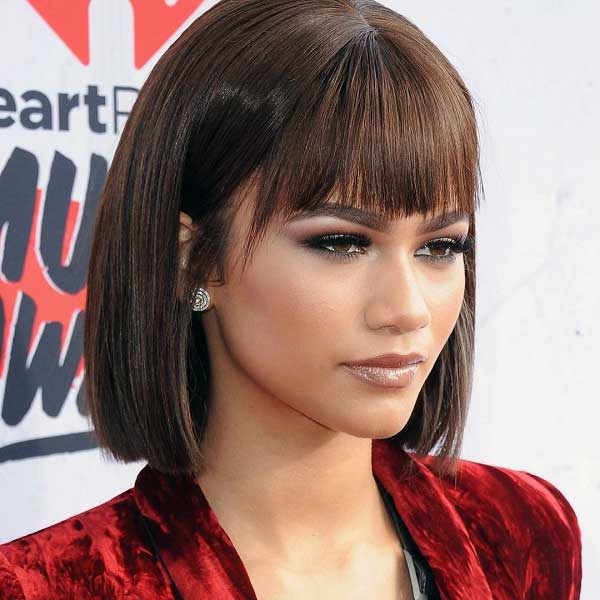 This coffee-brown-colored beauty with highlights is a million cuts. Its short length makes it flexible for any occasion and is perfect for oval or heart-shaped faces. This straight hairstyle takes a new dimension when tucked behind the ear and is the best bet for a look that simple, yet fizzling with glam.
18. Long Bob With Bangs – Wavy Style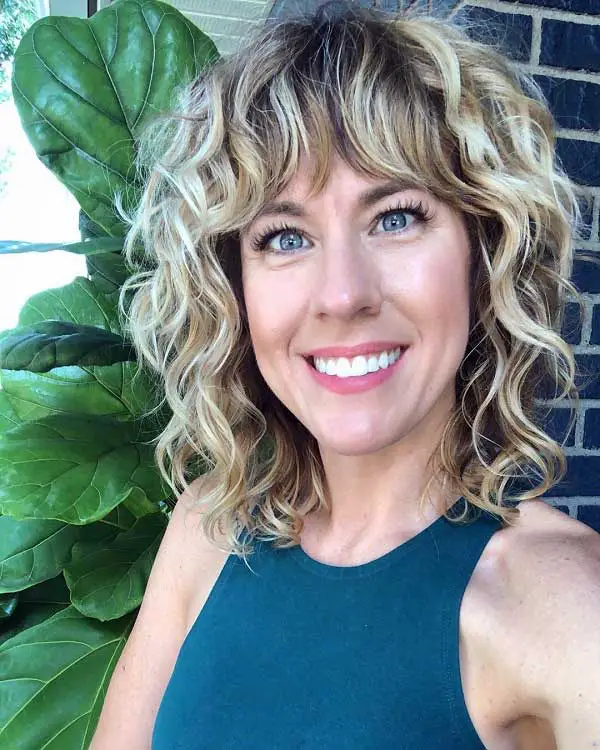 Tousled, textured blonde waves are what define a long wavy bob. The bright, creamy highlights make the haircut appear youthful and carefree. This is a style that is trusted to make waves and is relatively easy to maintain.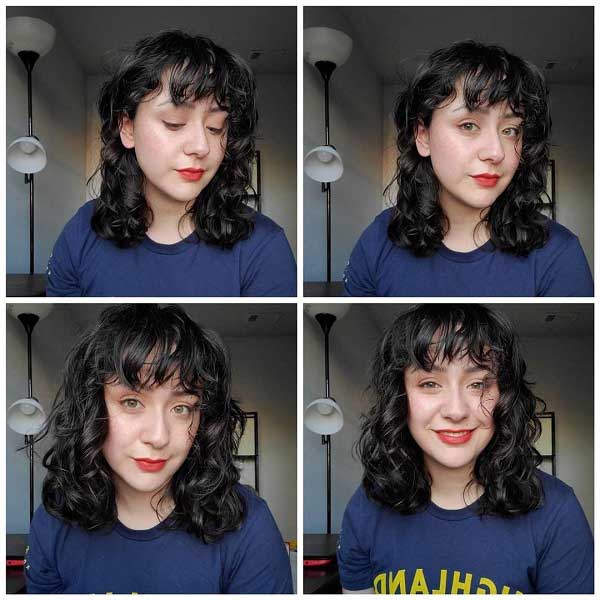 What's more enchanting than glowing, black, curly locks with bangs? This fabulous style with its luscious, shiny appeal is aesthetically pleasing and rests gracefully on your shoulders. It is a sure way to look chic and sophisticated.
19. Long Curly Bob With Bangs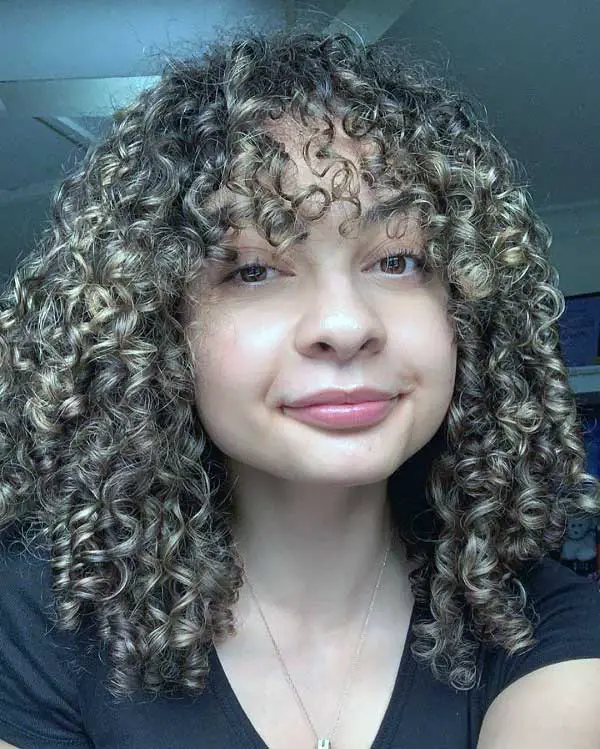 This lob is simply dazzling and if you are having second thoughts on what to do with your curls, this one is for you. It gives you the freedom to let your hair down and go on that road trip. Its messy curls are a rare beauty and work with all face shapes.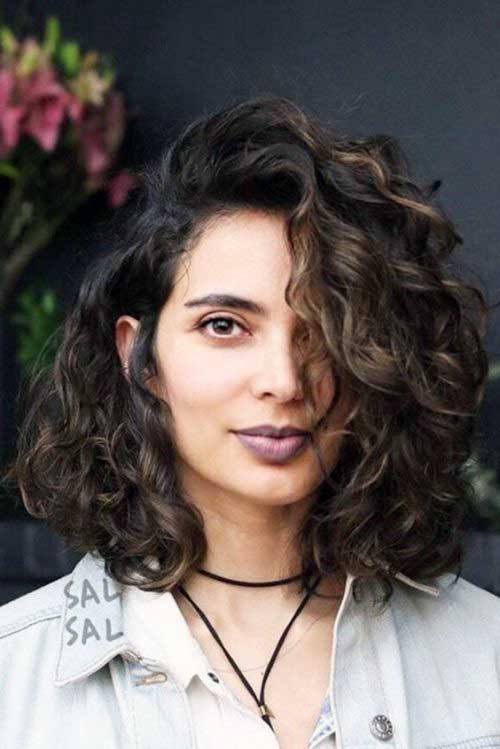 If you are looking for your next hair adventure, you definitely should embark on this. This sweet blend of black and brown wavy tresses with a side parting is worth the hype. It is playful yet stunning and is suitable for a heart-shaped face.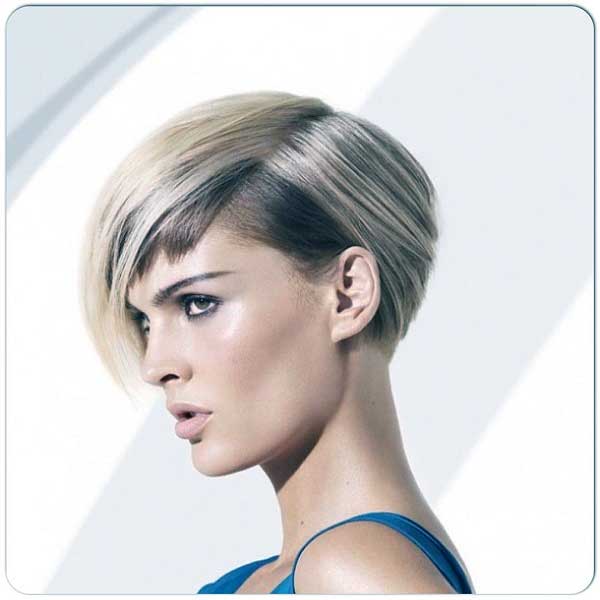 For a million-dollar look on a very affordable budget, this haircut is a valuable option. A perfect mix of blonde and dark hair with ravishing highlights, this style is without doubt, classy and urban. It turns you into a model in an instant and the cameras sure won't get enough of you.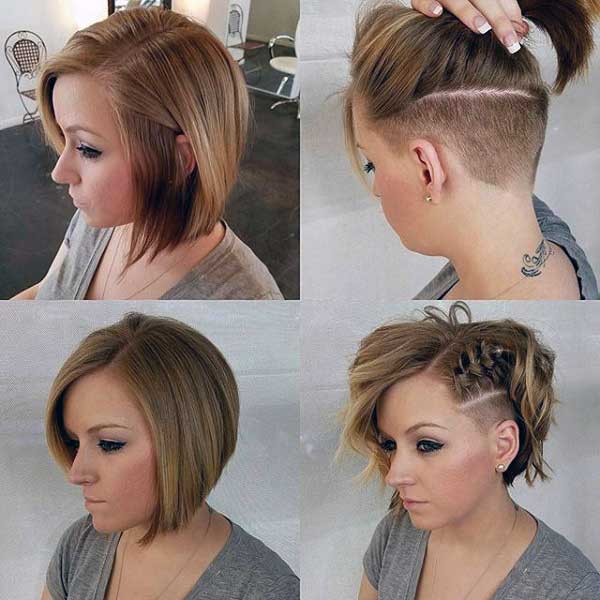 There's nothing like taking brave and bold risks with your hair. This haircut breathes high fashion with every strand and allows you room to experiment with different styles. Pro-tip: This is not for the faint-hearted.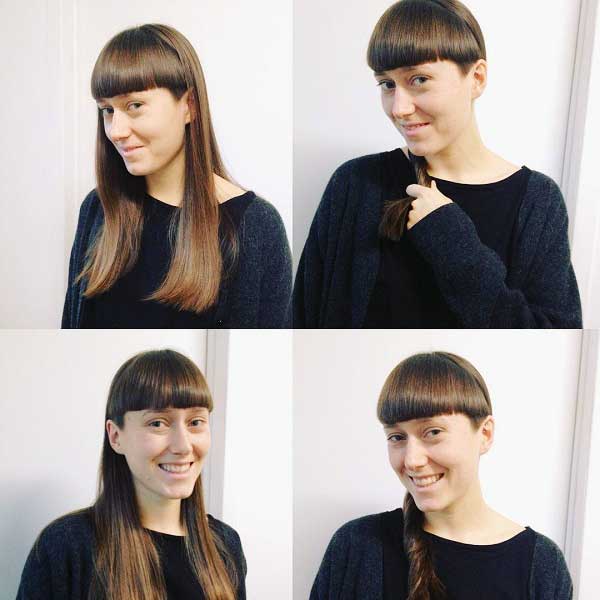 This haircut is the perfect camouflage for any occasion. It can be let down on one side or both and this lob is a must for ladies with straight hair. The bangs are gorgeous and its beautiful deep brown tresses fall to your shoulders providing you with an alluring and refreshing look.
21. Black Long Bob Hairs With Bangs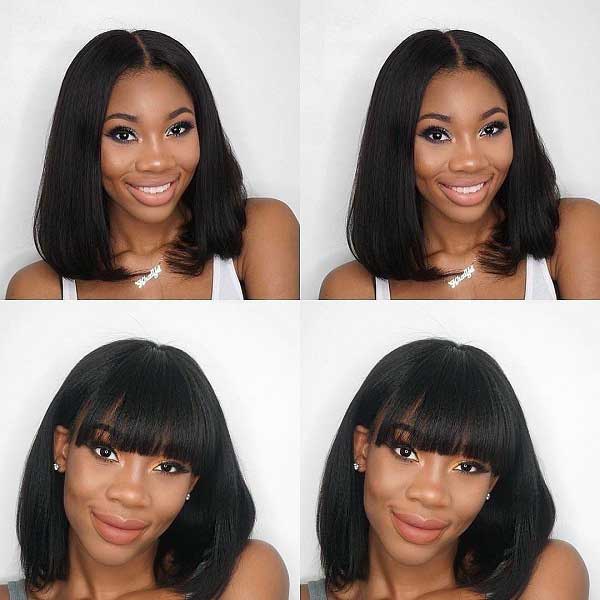 There's nothing more endearing than beautiful, flowy locks, and a shoulder-length bob with feminine bangs is just what you need. This style has a center-parting coupled with its sleek, rich black color and can be used with or without bangs. A sure fit for any face shape.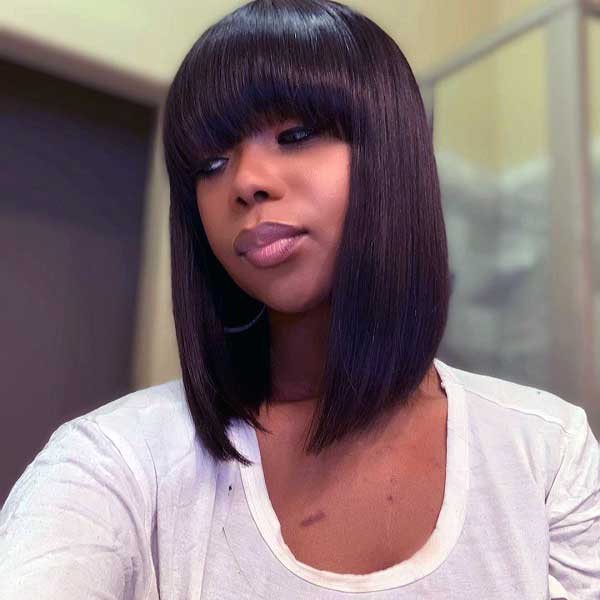 A lob haircut with bangs is a fantastic choice for women with thin hair because unlike a lot of other styles, your locks do not appear flat. This cut comes in a jet black color – which keeps you looking superfly.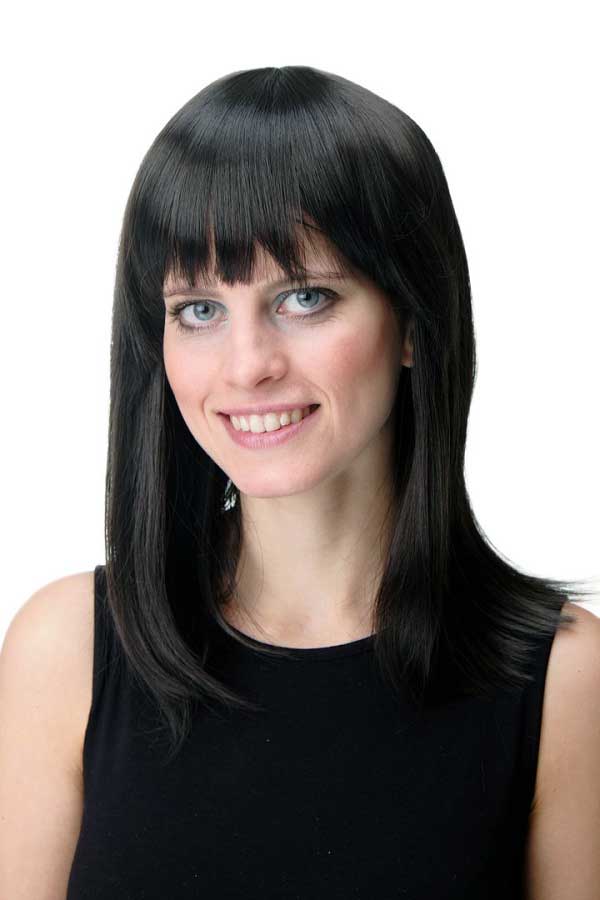 In search of a stress-free hairstyle? Say no more! This long layered bob with simply amazing bangs is classic and timeless, yet has a youthful element to it. It is a great bargain because minimal effort is required for styling.
22. Long Blunt Bob Hairstyle With Bangs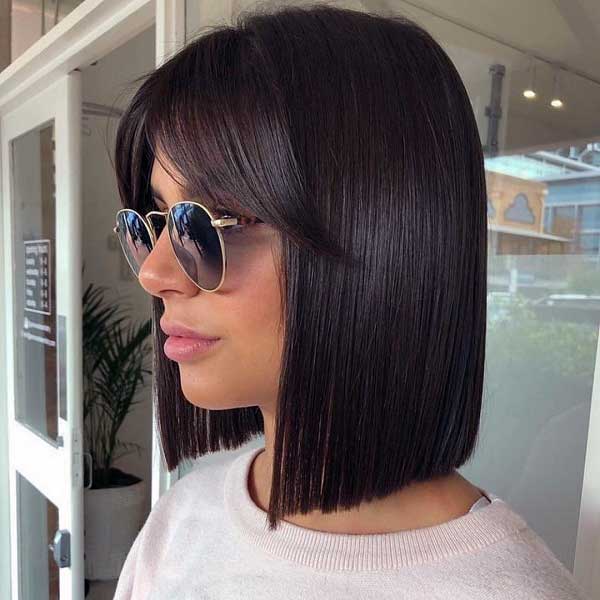 This blunt bob with bangs is highly fashionable. It shapes the face deftly and is particularly striking on black hair. This hairstyle is great for women with oval, square, and heart-shaped faces.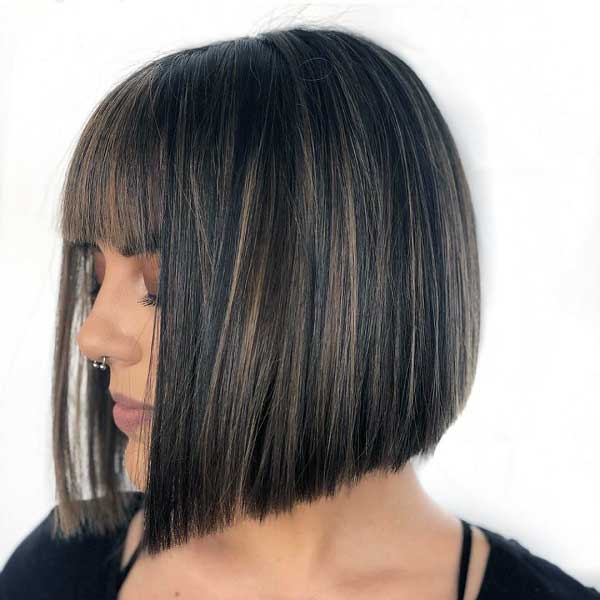 This A-line blunt bob brings out your exotic nature and is anything but out-of-date. It is a chin-length beauty and combines dark straight hair with beautiful brown highlights to give a balayage effect. It is suitable for women with oval-shaped faces.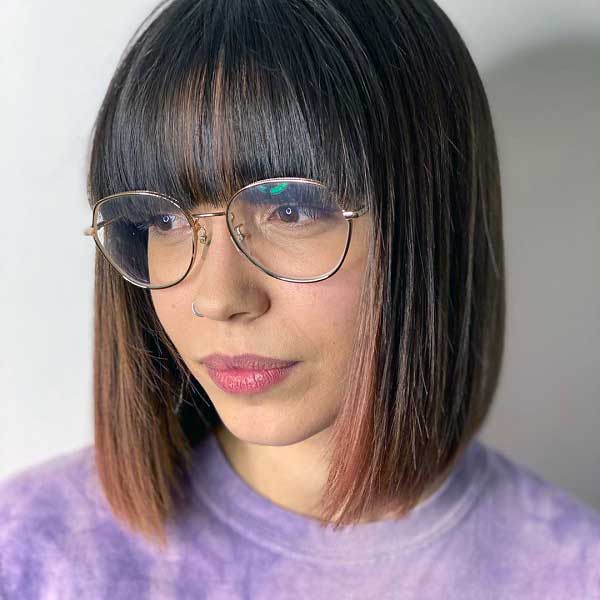 What is there not to love? Absolutely nothing! This fashion-forward image is proof that lobs work for just about any texture, including straight. It has spectacular bangs that give off a sexy and feminine vibe.
23. Long Bob With Highlights and Bangs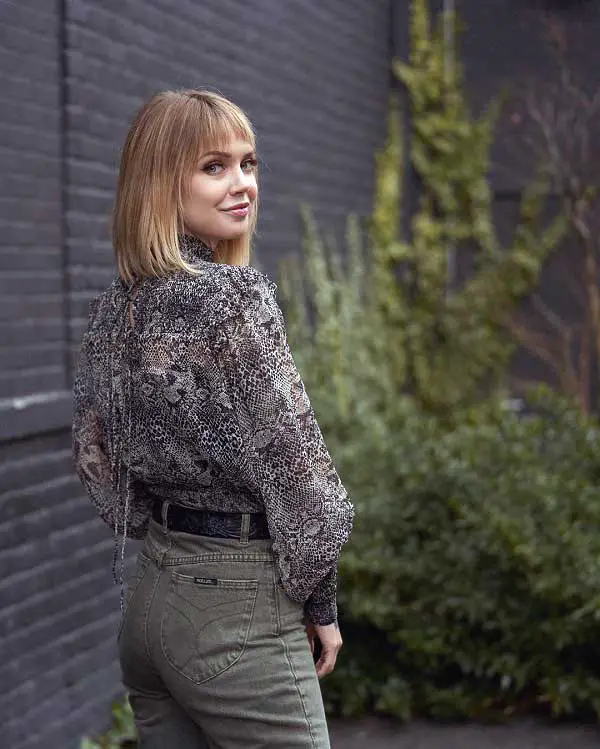 Lobs are commonly seen colored as a dark brown or platinum blonde, however, the sweet middle hues must not be overlooked! This hairstyle is picture-perfect in its warm honey blonde hue and would fit women with a heart-shaped face.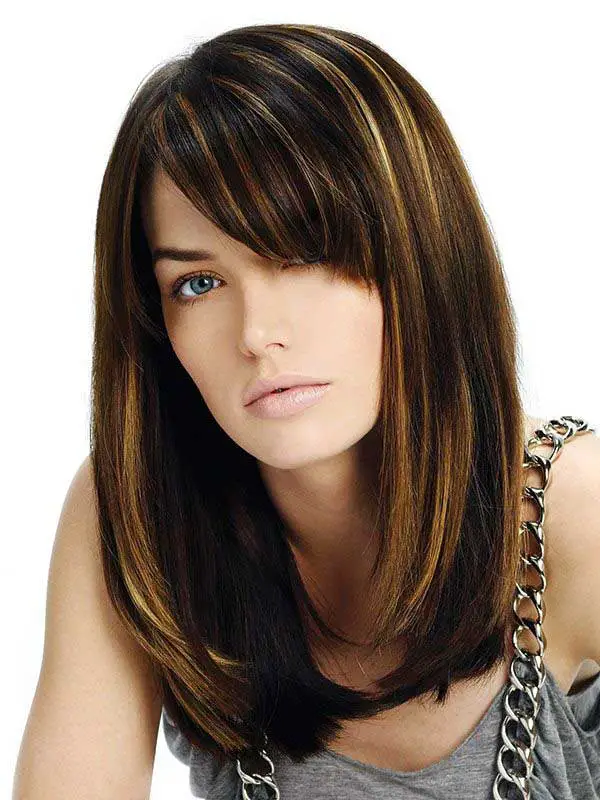 This lob simply changes the narrative. It pulls off an amazing balayage effect with golden highlights sitting proudly among black locks and a side bang that is screaming for attention. This creative look leaves you looking classy and mature.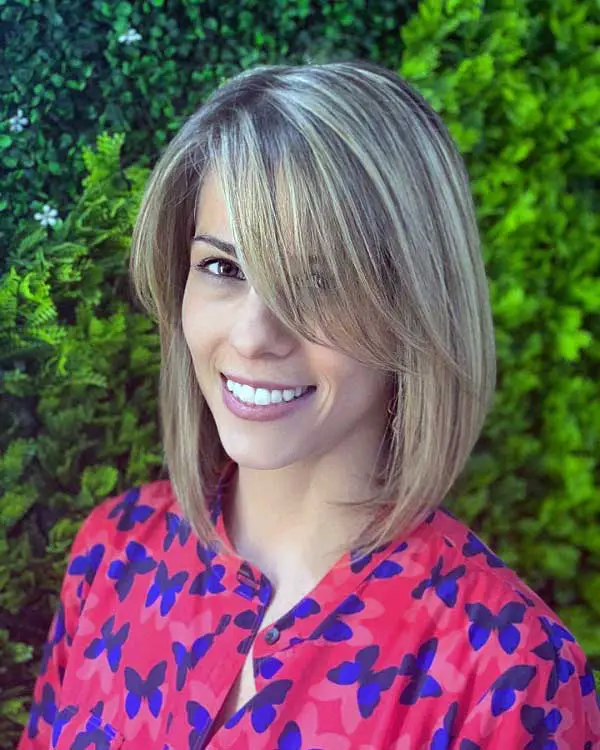 Besides being modern and chic, long bobs largely owe their popularity to how versatile they are when it comes to styling. The roots are darkened as they fade into the prominent highlights of the locks while the side bangs give this style an extra dynamism and sass. It is suitable for women with oval-shaped faces.
24. Long Bob With Curtain Bangs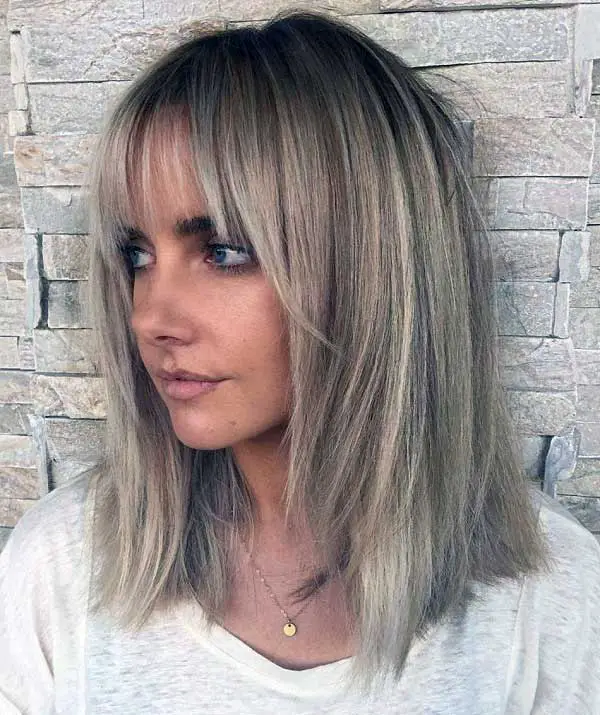 Curtain bangs are back and don't you just love it? They were popular in the '70s but are now here to stay. This style frames your face beautifully and is perfect for that retro, laid-back, girly look.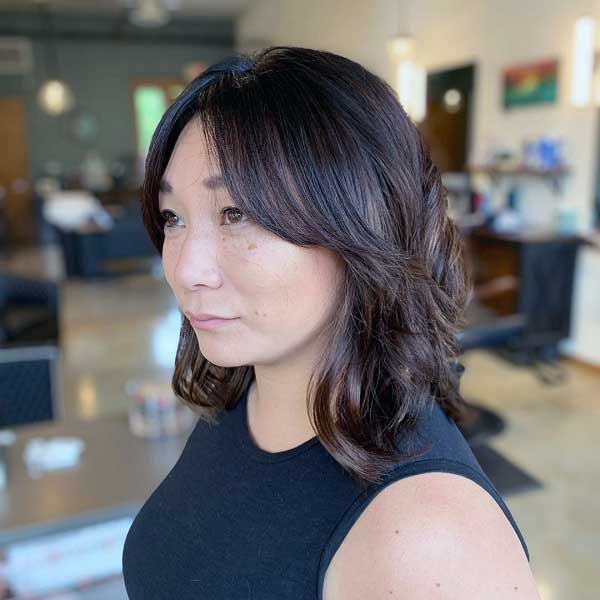 Nothing speaks being a cool mum than a lob with curtain bangs. This shoulder-length style lob with wavy locks works for both thin and thick hair and is well-suited for women with heart-shaped faces.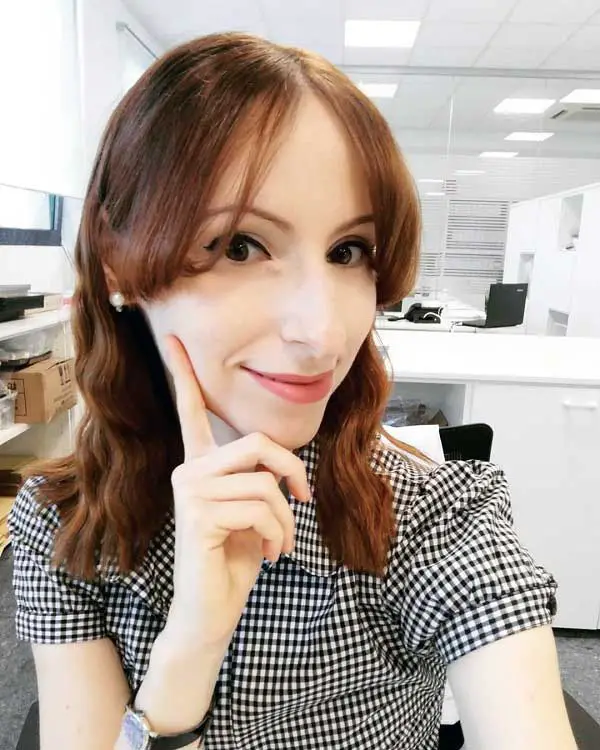 This auburn-colored lob fits right in the office setting. It is easy to maintain and comfortable to carry even during activities. Its blunt ends and shoulder-length locks give you an extra edge of simplicity and a new dose of confidence.
25. Long Bob With Feathered Bangs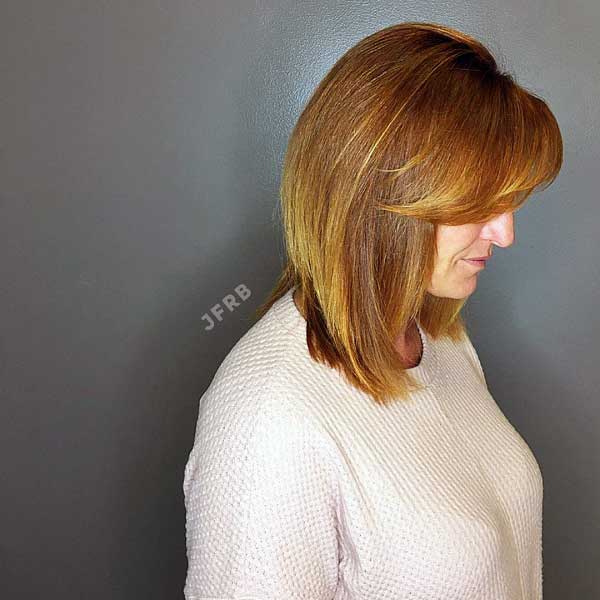 With lobs, do not be scared to try out daring colors! This hairstyle comes in a honey gold hue with layers at the top to give it a full-bodied appearance. Its side swept feathered bangs and twinkling highlights add some angles and drama to make this look a no-brainer.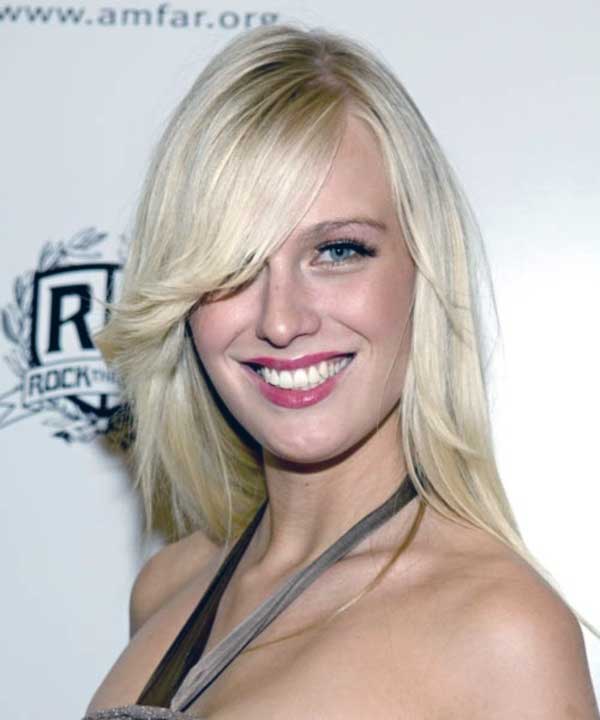 If you are going for a red carpet event, this is ideal for you. There is something about a blonde lob with bangs that is undeniably stunning. It is classy and seductive, thanks to the elegant fringe and subtle waves and is best on women with oval-shaped faces.
26. Long Bob With Swoop Bangs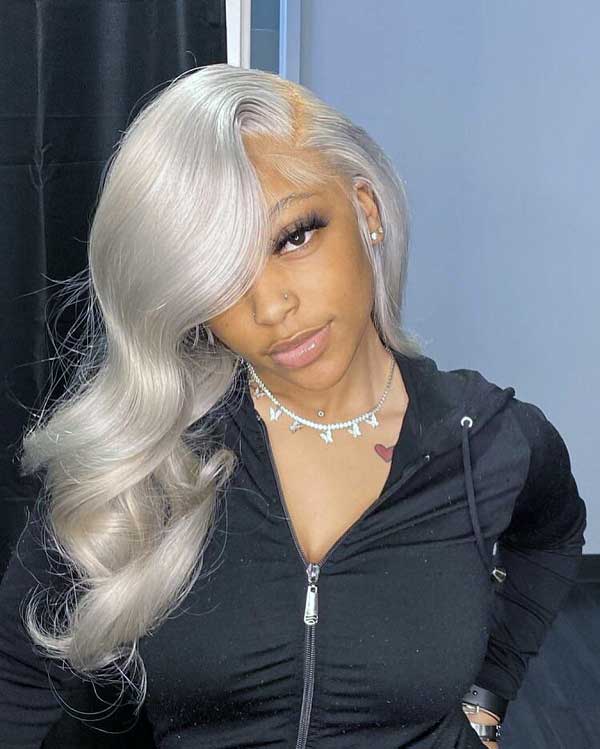 Finally, the fashion world has started to appreciate the beauty of silver hair. It is hot and sexy!!! You should add them to your lobs.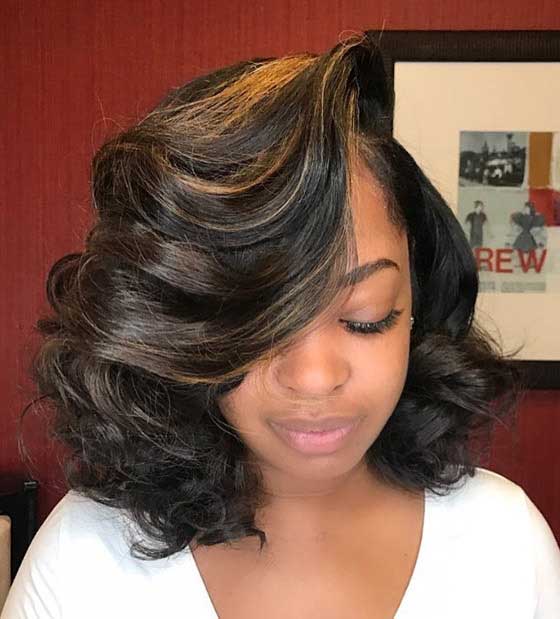 These silky brown swoop bangs are indescribably flattering. The perfectly swooped bangs cut your face into two sexy halves and make you look as hot as you want to. This style fits just right on any face shape.
27. Long Bob With Wispy Bangs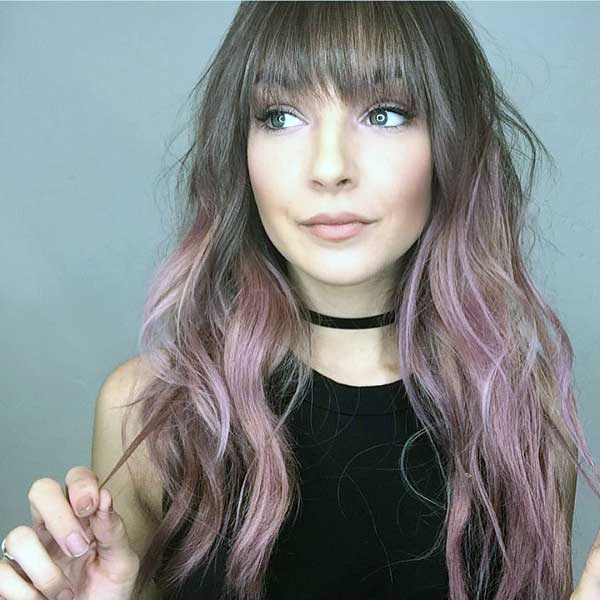 That violet tip is sure to stand out anywhere you are. It speaks creativity and the difference you like to be. The bangs are a perfect match for the wavy curls too and you might want to try it on your heart-shaped face for a change.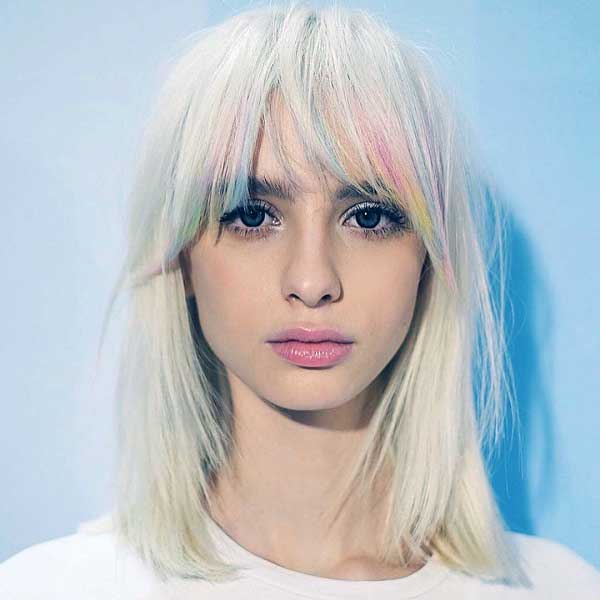 Adding a little bit of color to the tip of your silver bangs is something to try. The color play makes it pop more and fun. If you are up for a fun type of hair, you should try this.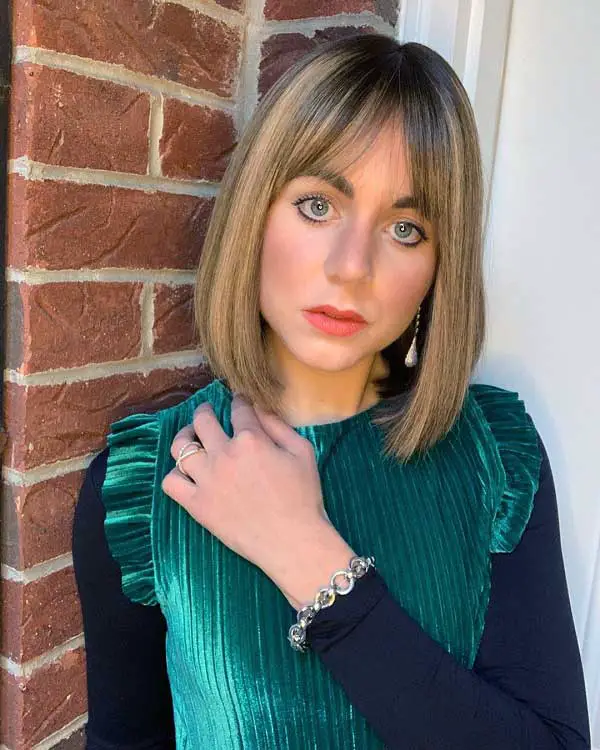 Golden brown lobs with wispy Bangs will forever be hot and cool. It is so flattering how this style can blend in with any outfit, hot and sexy or official and collected. If you need a style that you can wear to all your occasions, you should consider this.
28. Long Graduated Bob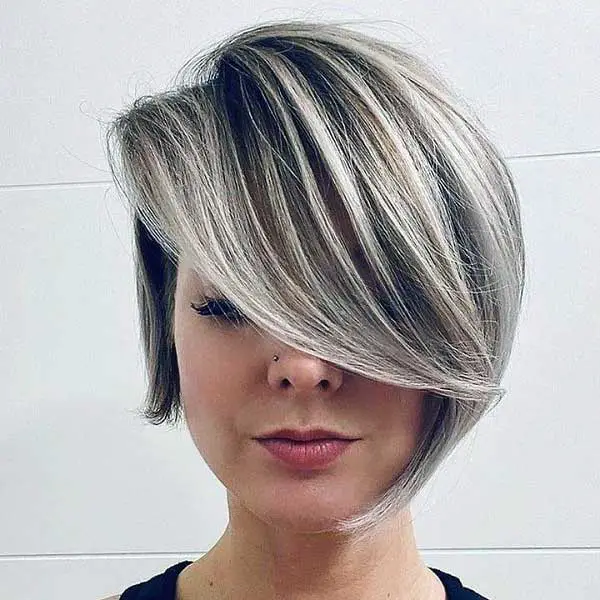 Color play? Perfect-length? Sauce? Absolutely Splendid. This is a gorgeous style for your thick hair. The displaying highlights will be more flattering on a square-shaped face.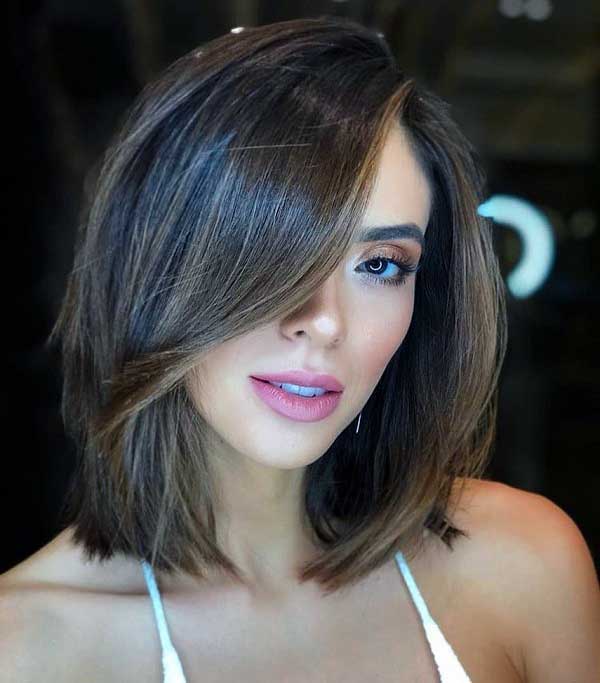 Side bangs that fall over your face are sexy, hot and flirty! The perfect sleek hairstyle you have been searching for, for your triangle faced shape.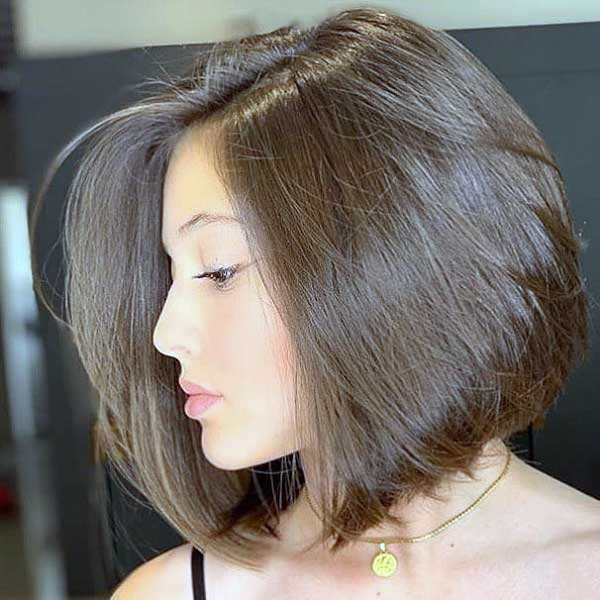 This chin-length lob with bangs is outstanding, hot, and fun. It is a good choice if you are considering a straight hair, regardless of your face shape.
29. Bang with Long Shaggy Bob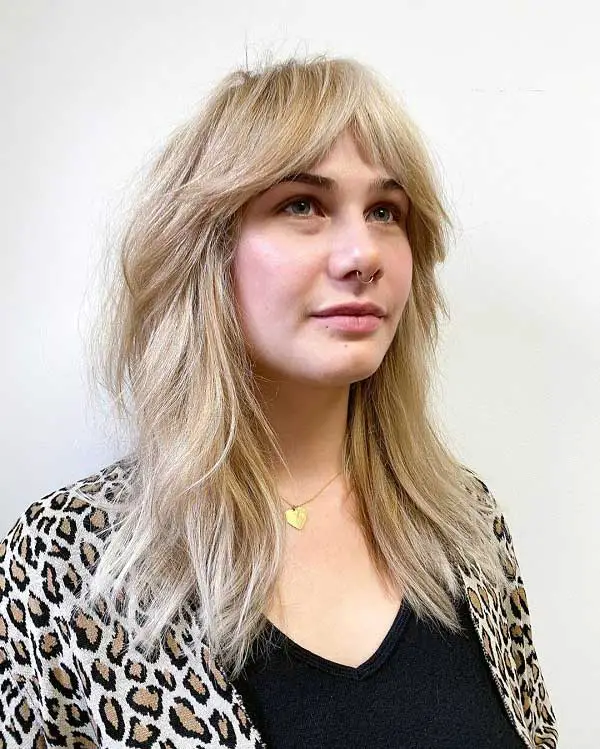 This shoulder-length lob is perfect and speaks a lot of creativity. The shaggy, tinted, messy layers are also very gorgeous and will do magic on a round face.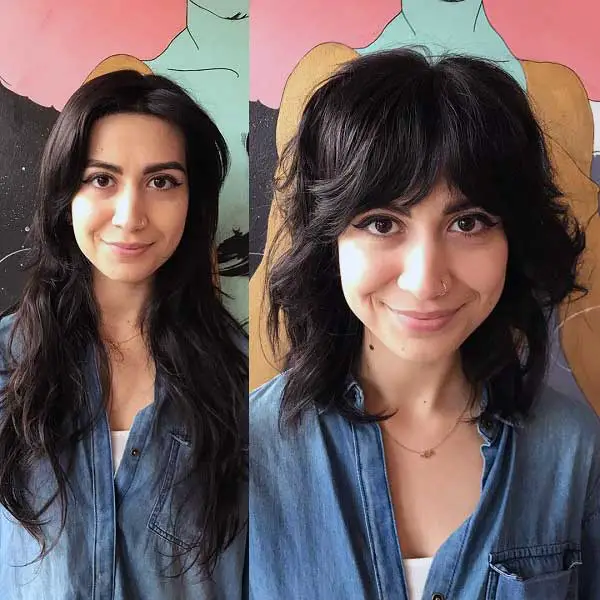 The bangs are well shaped to fall into two perfect parts. The shade of this shiny black lob is pretty! Look at those bangs too. They are a luxury. You could part them to blend with the long shaggy lobs or let them fall over your face. You decide.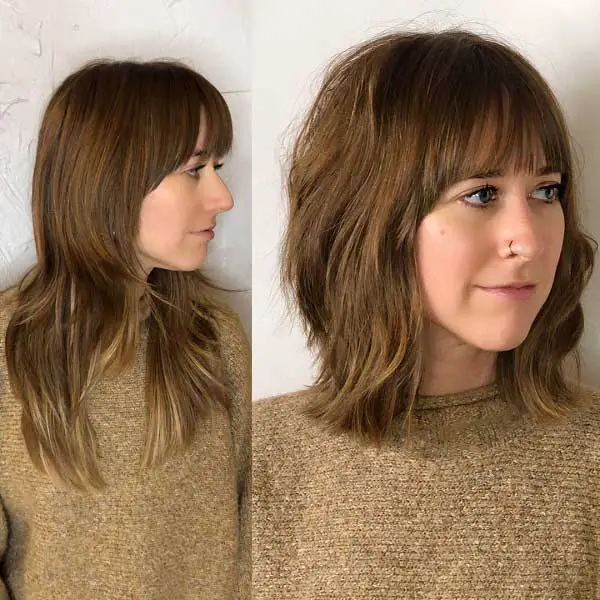 Tired of your long shaggy lobs with bangs? Cut them short. They will get everyone talking. That's a guaranty. The edgy cut, the bangs, they come out so bold!
Long bob with bangs comes in different variety and there is surely one for you. One that fits your face, your personality, and lastly, your budget. Whether you want a sexy look, a relaxed look, a flirty look, or an official one, there is a lob for you.