Bangs are so versatile that they can be combined with several different length hairstyles. From ponytails to pigtails, bob styles to even braided hairstyles, with the right bangs you can transform any look to perfection. Here's how you can rock your medium hair with bangs.
1. Bangs With Medium Layered Hair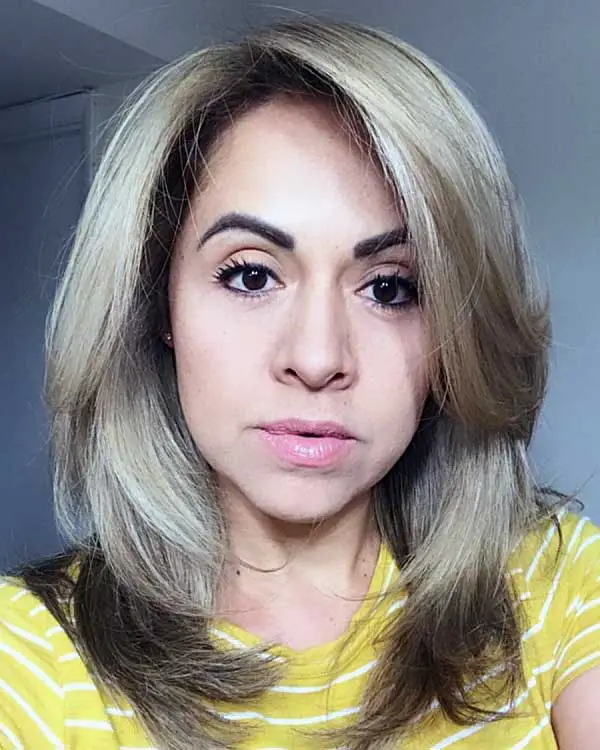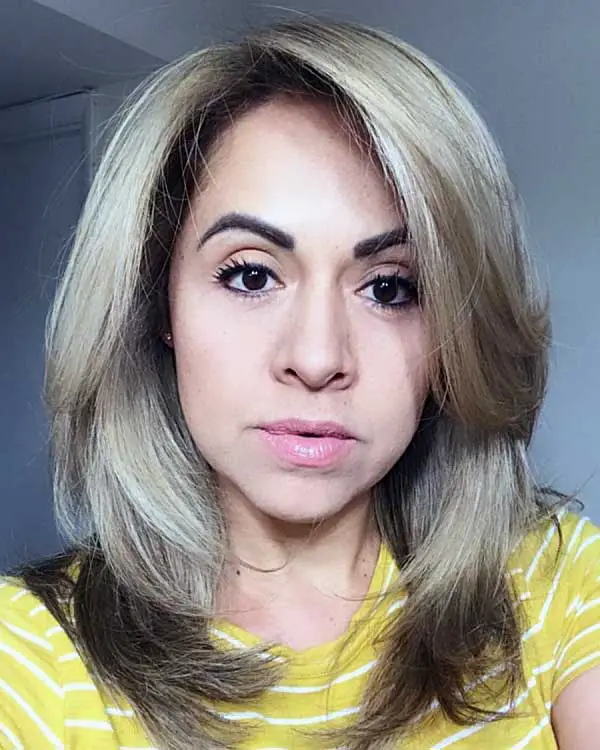 Featuring medium-length layered hair, soft side bangs, and a whole lot of pizzazz. This look has a little bit of everything. The layers of fine lustrous hair on shoulder-length hair just makes the hairstyle seem effortless.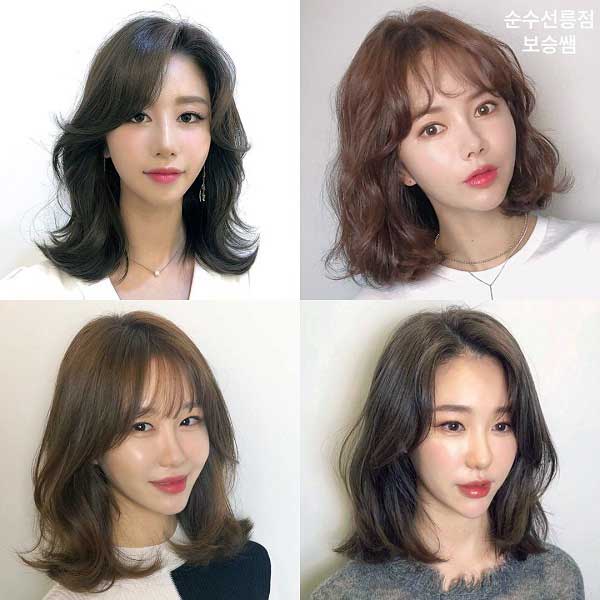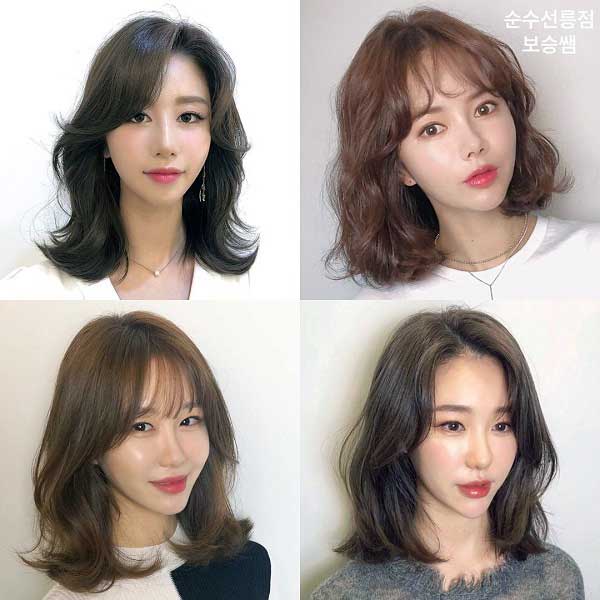 There's quite a lot to unpack with each individual look but you can see the similarities in the length of each style. This style definitely resonates within the loose curls department and the layered with bangs are so unique in each frame.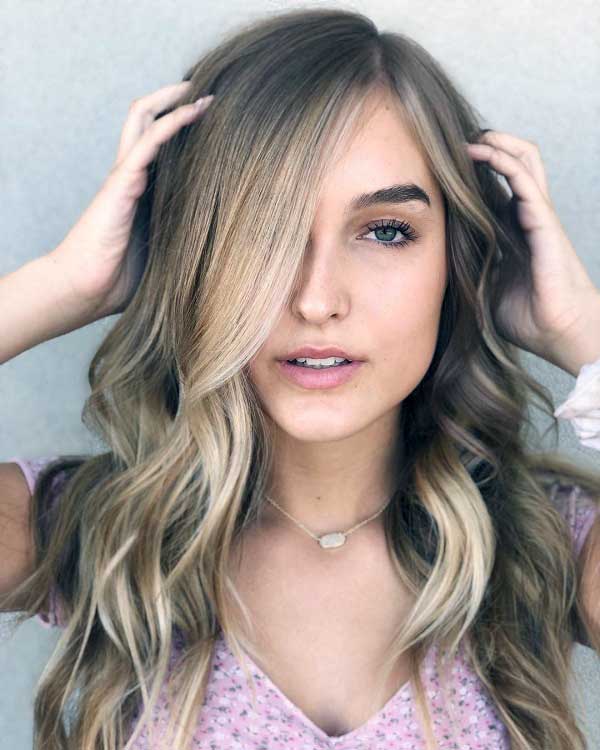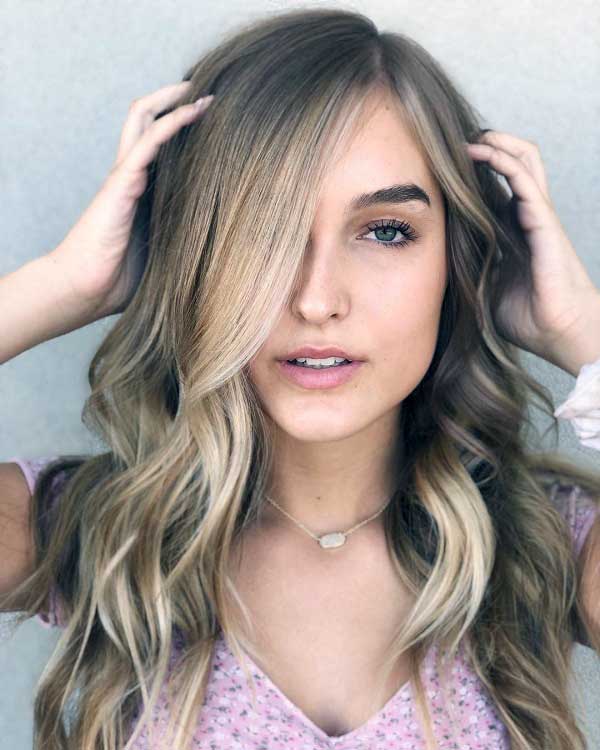 Who said bangs have to be a certain length? This style features a center-parted approach to a long, curly hairstyle that has bangs. The layered hair, soft bouncy curls, and fine texture of this hairstyle are just a few things that make it so gorgeous. 
2. Shoulder Length Hair With Side Bangs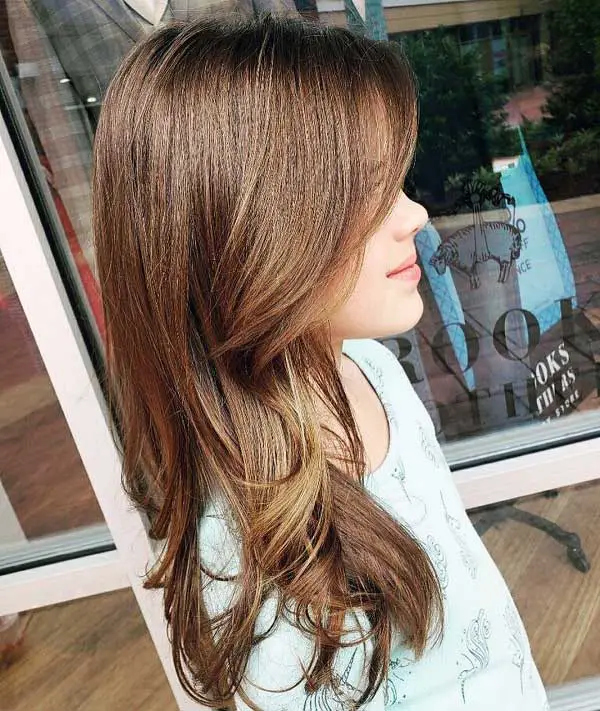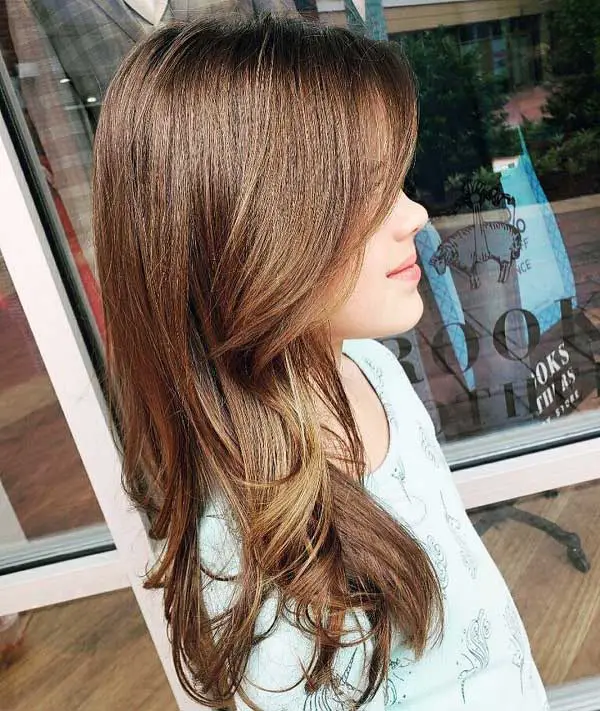 This approach to bangs is quite effortless. Featuring shoulder-length hair of fine texture, a side part draping into bangs and curly tips, this hairstyle is quite the attention grabber. It hugs the facial features and gives them a nice silhouette.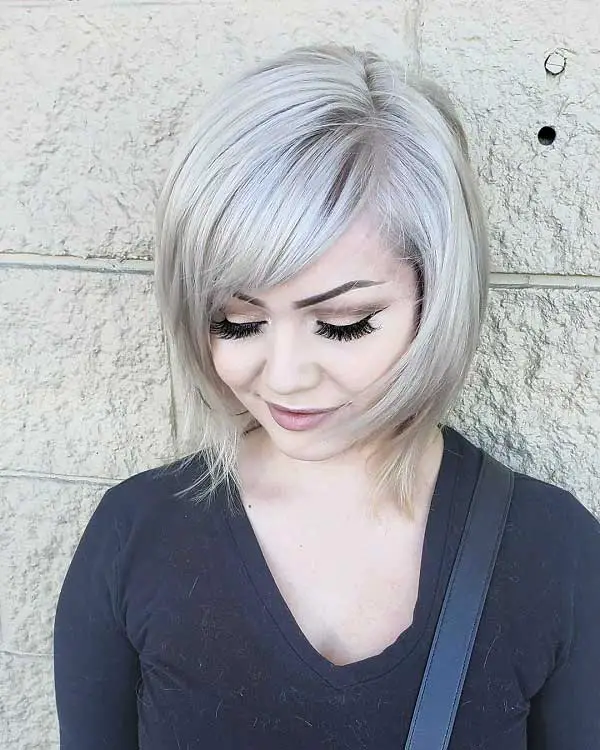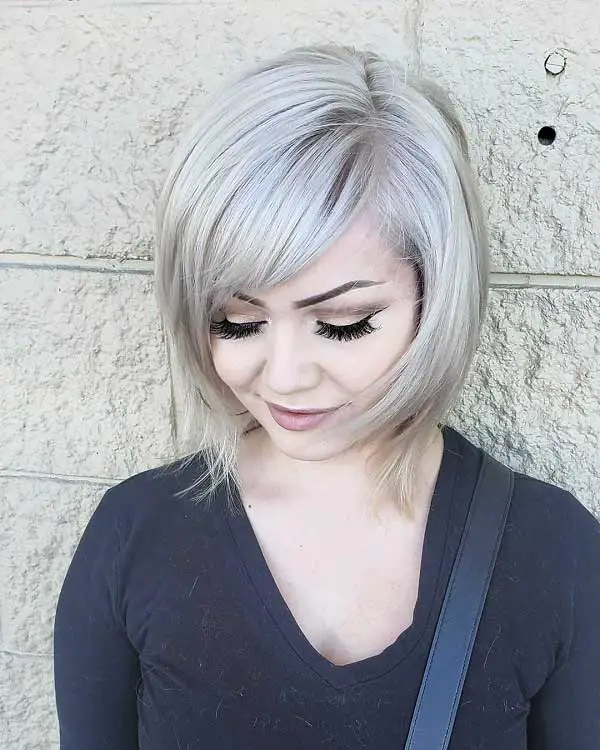 This is a much shorter approach to the hairstyle. The hair is bobbed, the bangs sit nicely on the forehead and the side part gives it a beautiful finish. Also, the color is quite unique.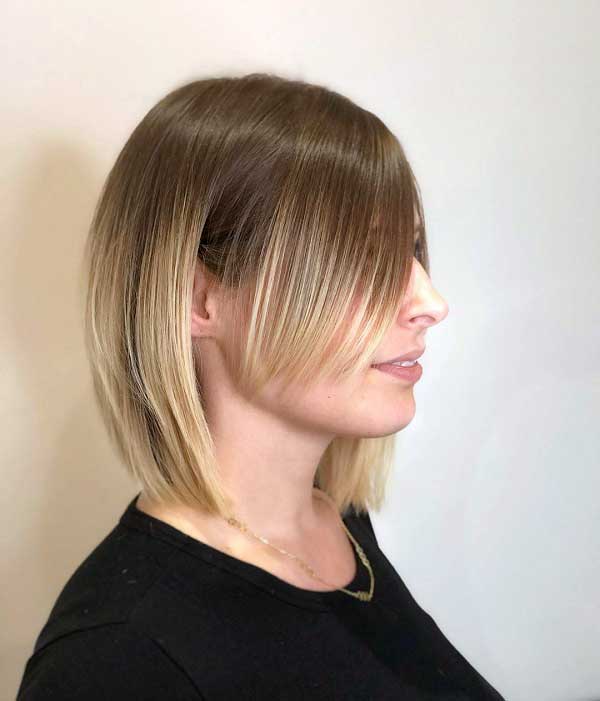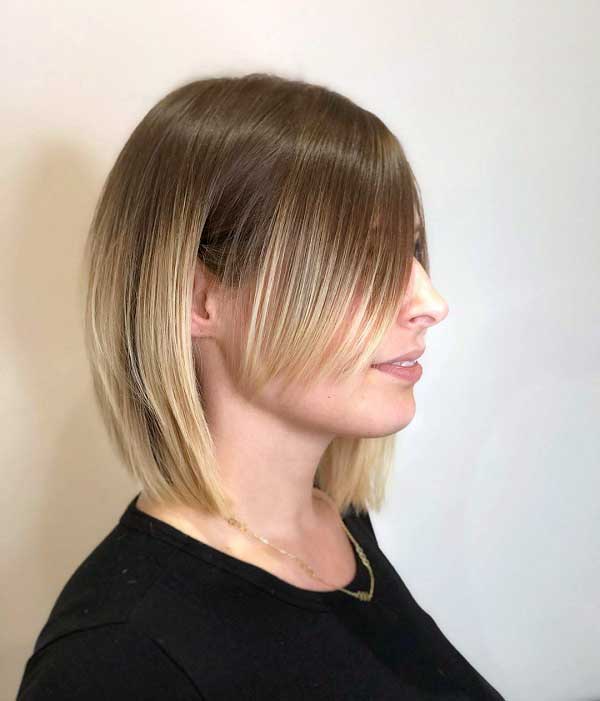 This is another bob approach to the renowned bangs hairstyle. This look is achieved with short straight hair, a side part, and much longer bangs as it drapes down to the cheeks. 
3. Medium Curly Hair Bangs Hairstyle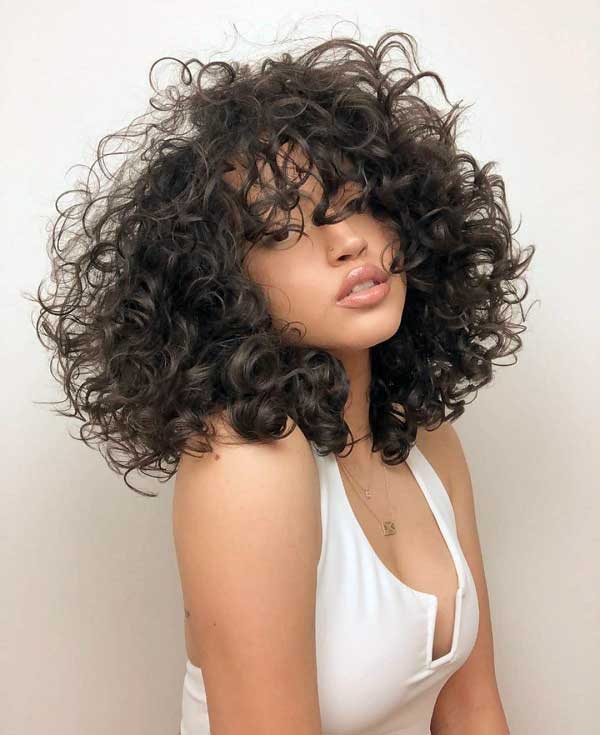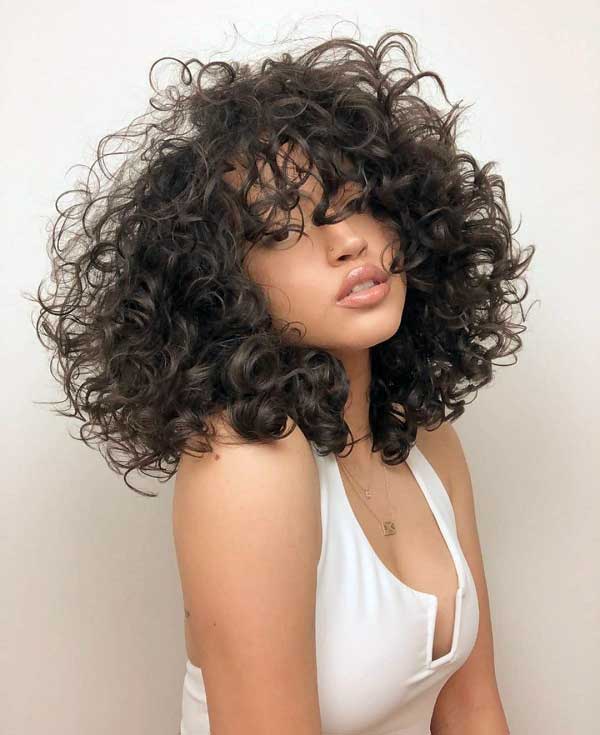 Curly hair is so breathtaking and making bangs out of it gives it such definition. This style has the soft volume, medium shoulder length, and of course curly bangs. Such pizzazz.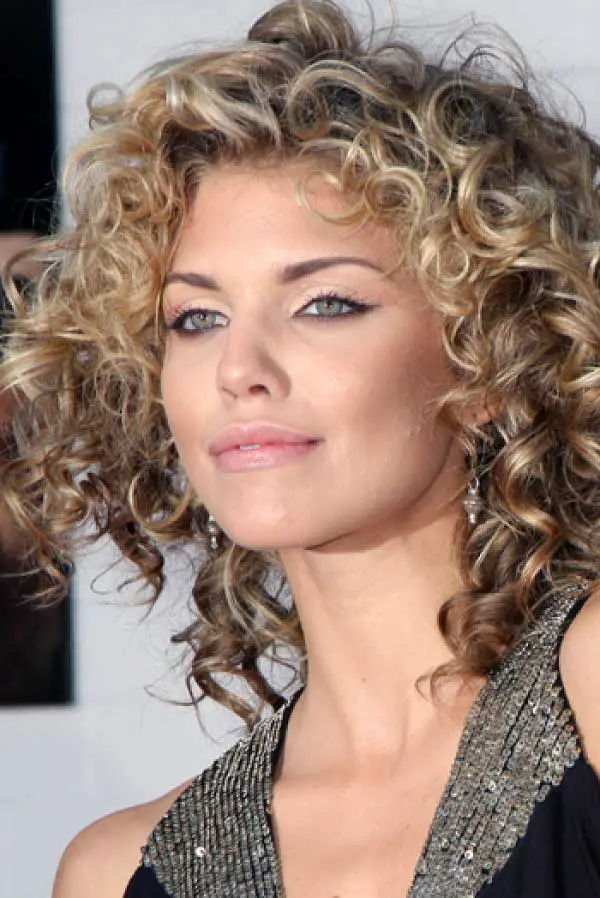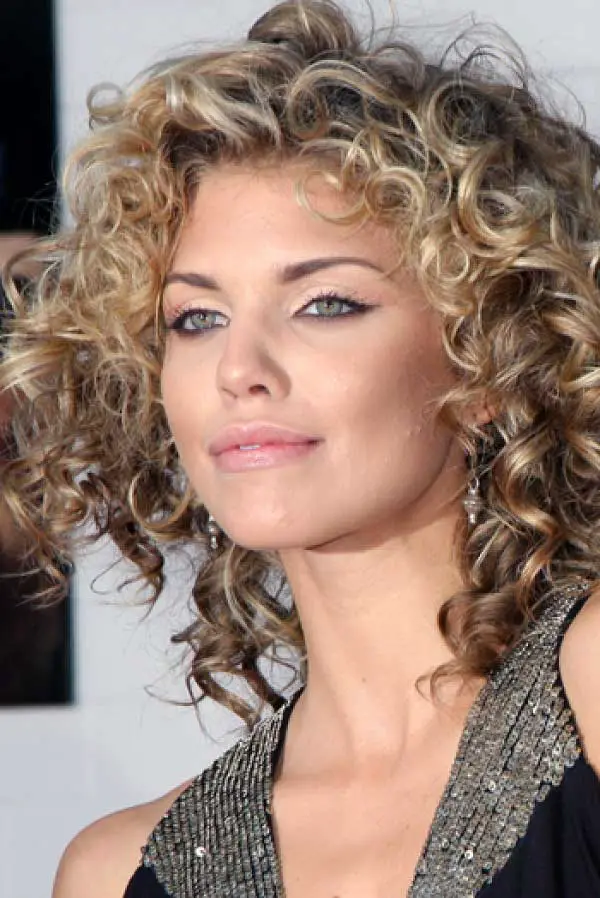 Curly hair has so much depth and lustrous layers. This look features curly hair of shoulder length with flecks of bangs swept to the sides. It's full, it's lush, it's attention grasping.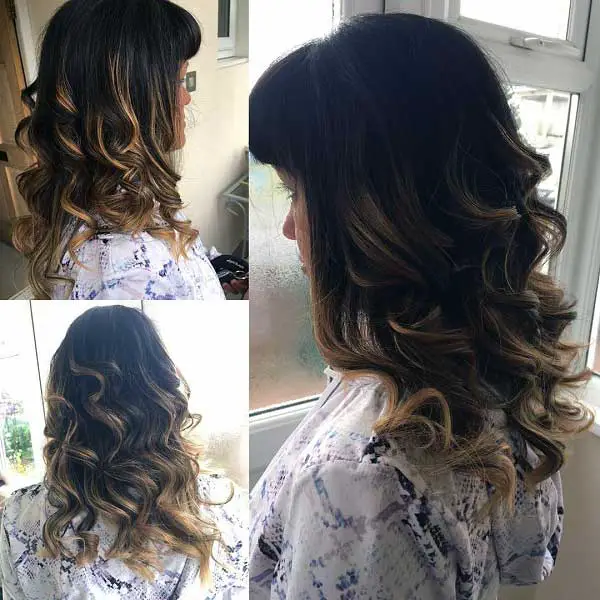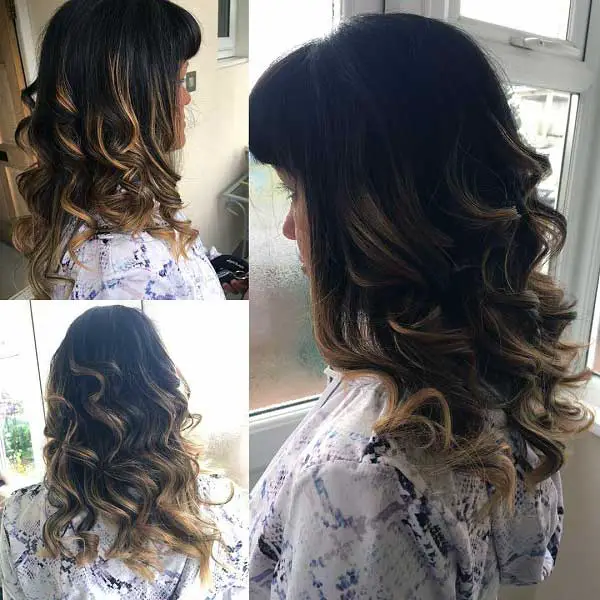 This curly hair approach is achieved with much longer hair than the previous one. Here, the bangs are straight, they're well defined and they cup the forehead quite nicely. 
4. Medium Bob With Bangs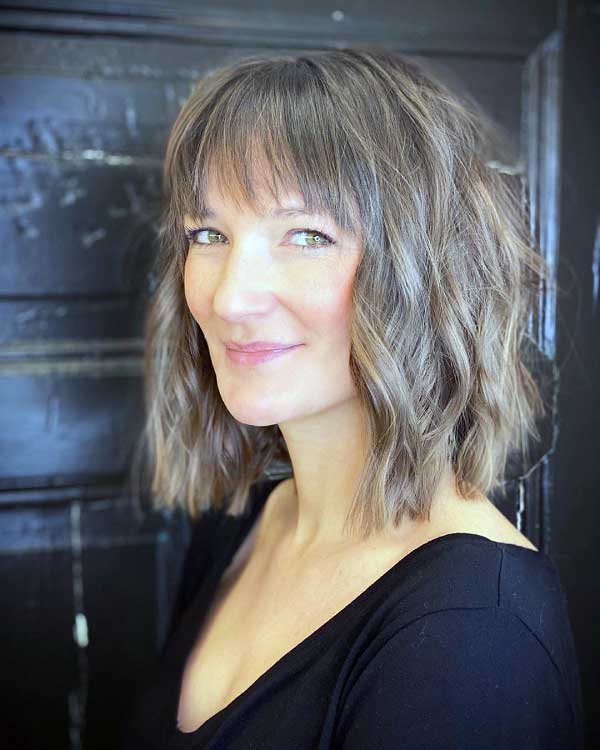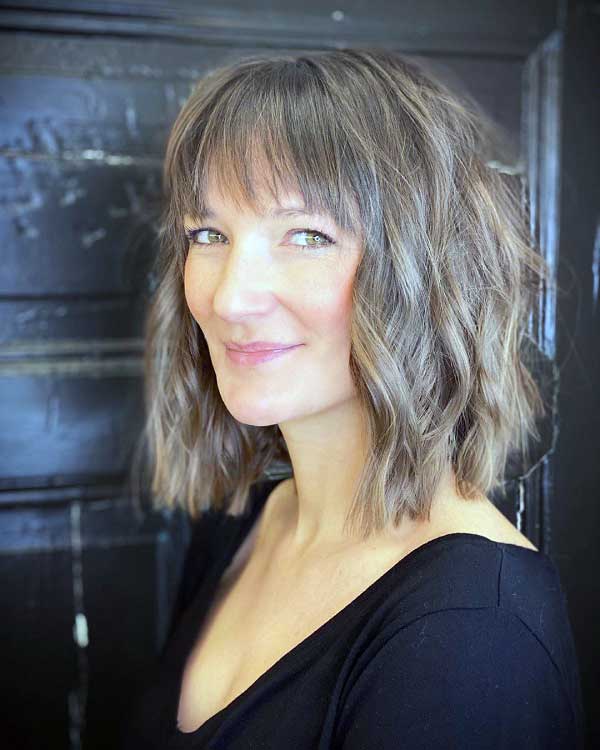 The Bob hairstyle is mostly synonymous with bangs and just as they're several diverse approaches to bangs, they're even a lot more bob styles. This one features medium length hair with soft curls and straight bangs.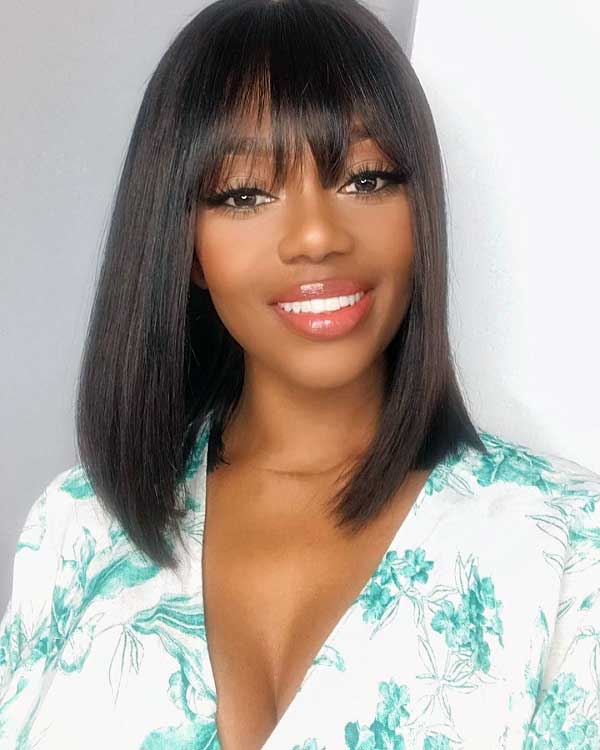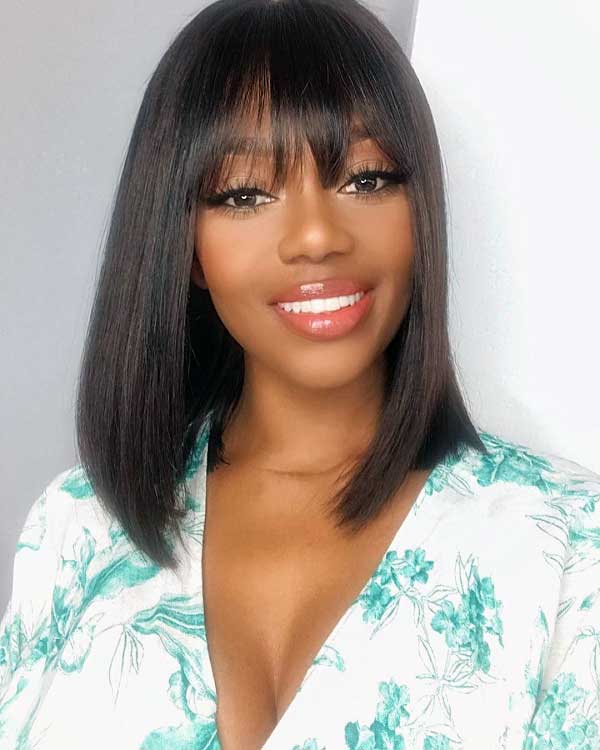 Unlike the previous style, this bob approach is achieved with shoulder-length straight fine hair. The bangs here rest nicely below the eyebrows and they give a flirty yet very professional look.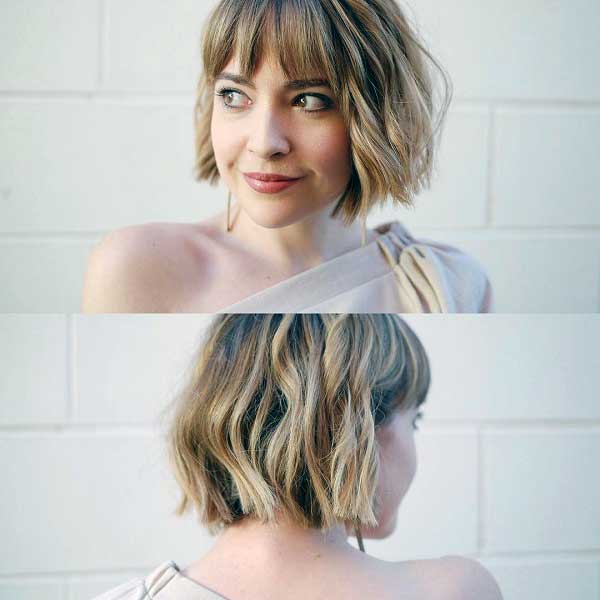 The length of this bob style doesn't even reach the shoulders. The hair is curled but the bangs remain straight. The hair hugs the facial features and gives it a bit of edge.
5. Straight Bangs With Medium Hair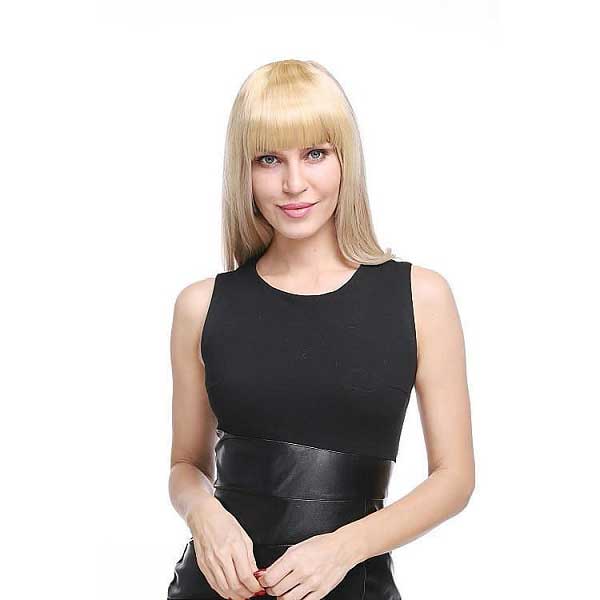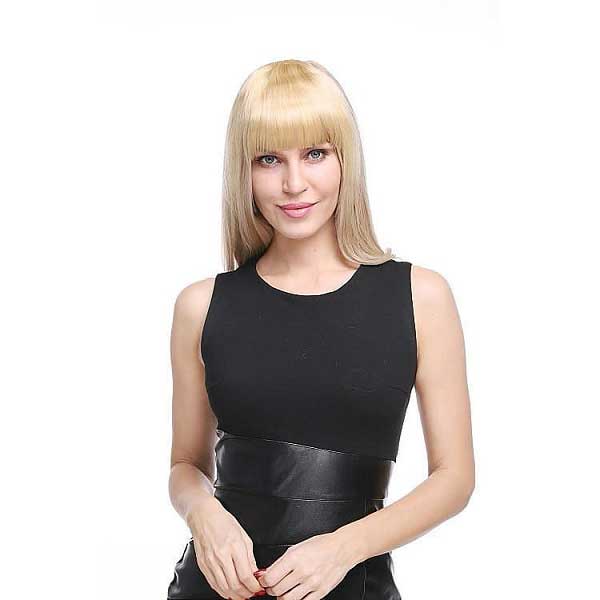 There's something very professional about straight bangs and it's evident in this look. The medium-lengthed straight hair gives the clean-cut bangs resting on the brows a nice and polished finish.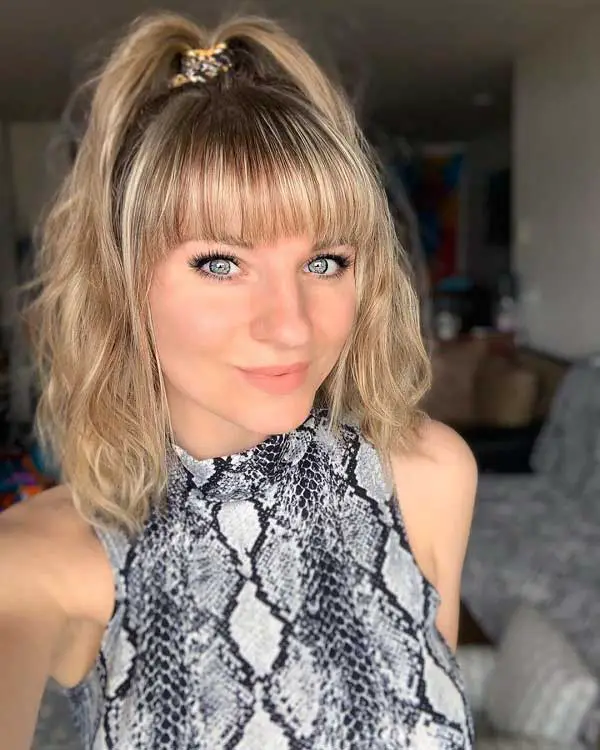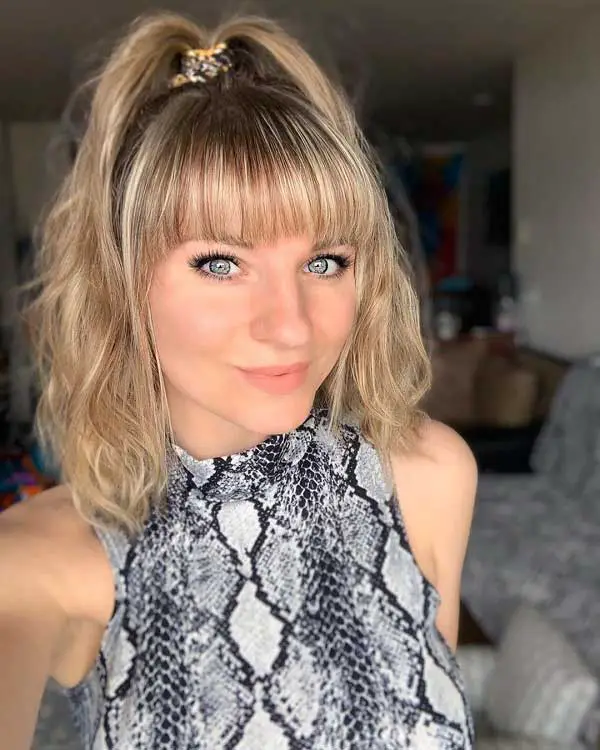 Straight bangs can also look casual and even flirty as well. This look features straight bangs on loose curly hair of medium length, done into a half-up, half-down ponytail.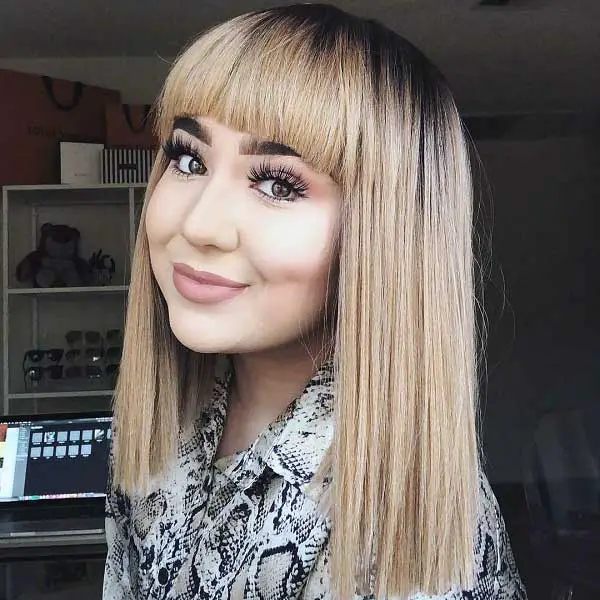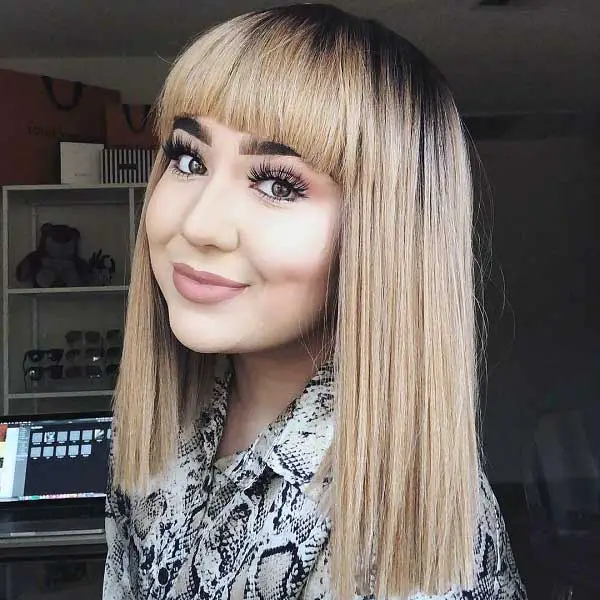 This look definitely has a finer texture to it. The bangs seem to commence at the center of the head and terminate right on the eyebrows while the rest of the hair drapes down into a straight medium-length waterfall. 
6. Medium Hair With Long Bangs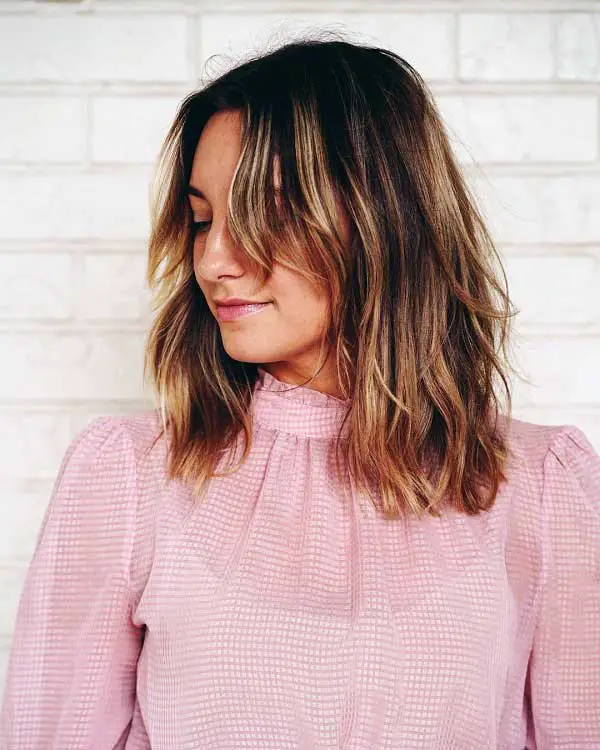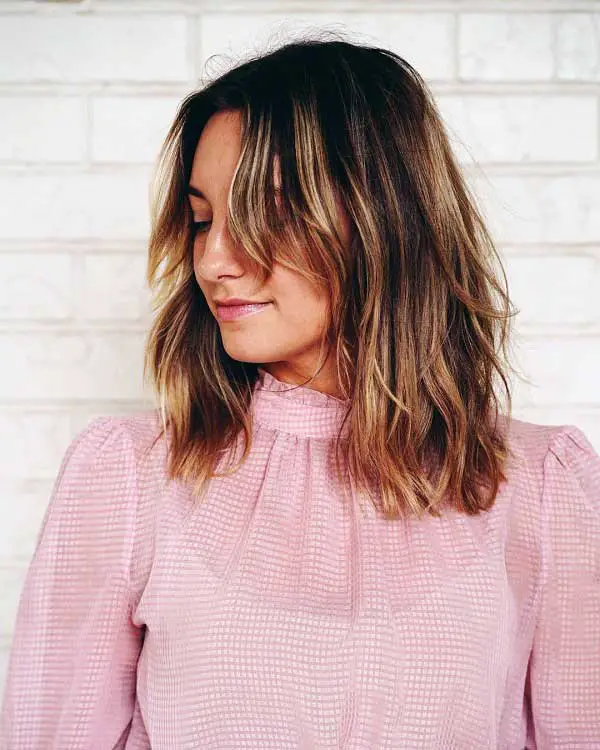 Some bangs can be a little less obvious than others and this look exhibits that. This style features shoulder-length wavy hair, a center part and long bangs caressing each side of the face.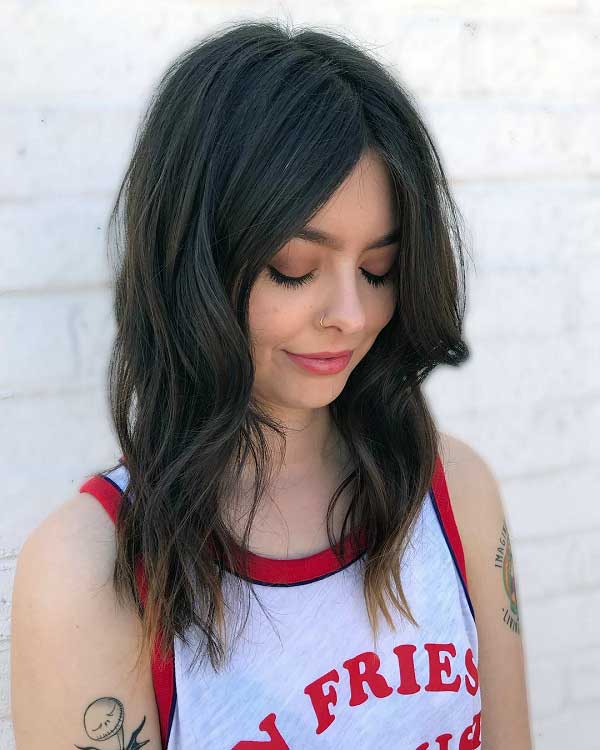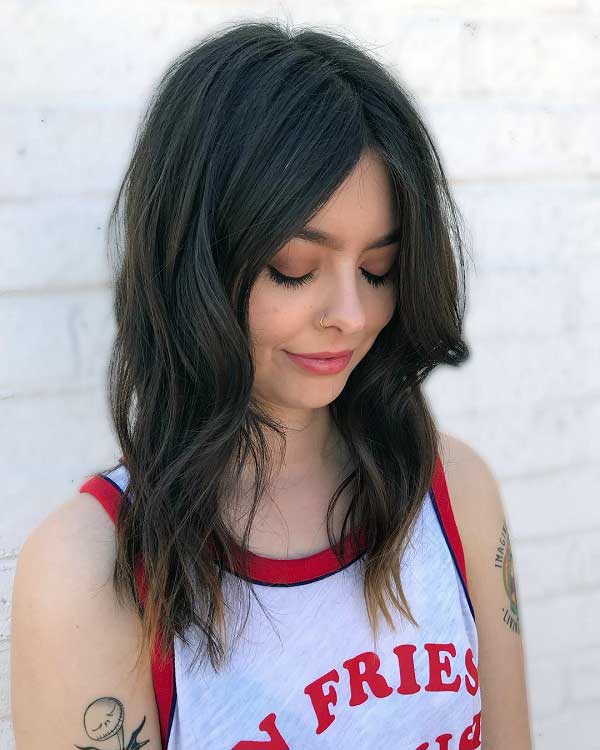 There's a lot of elements in this particular look. From the medium-length wavy hair to the layered textures, the color and of course the center-parted long bangs whose definition is unclear.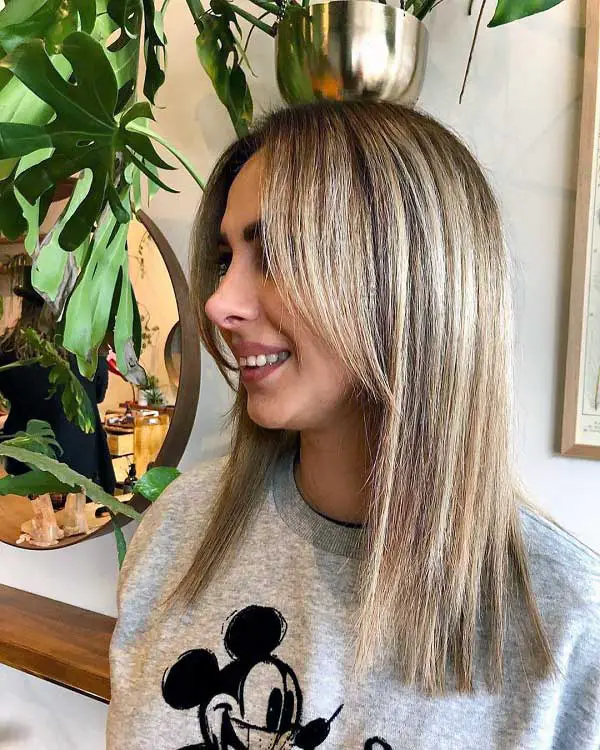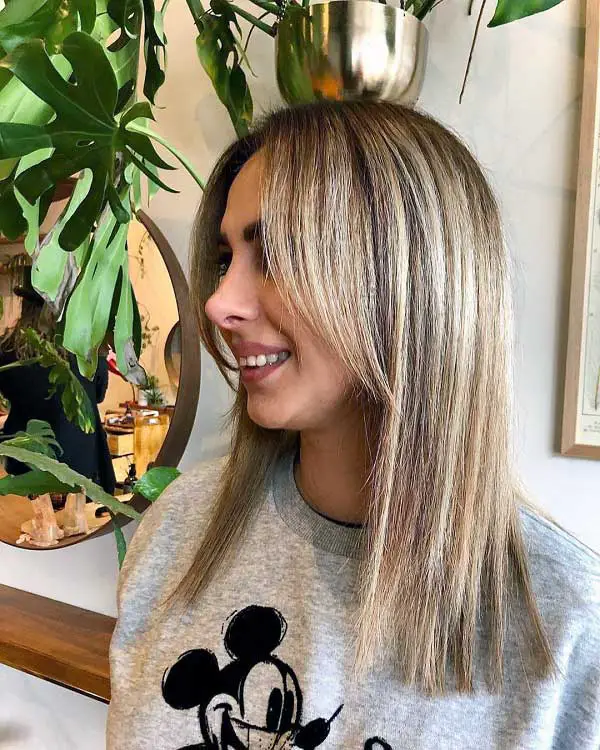 Although they're still long, this approach has much more defined bangs. Achieved with fine straight hair and a center part, there's quite a comforting aura to this medium-length look. 
7. Medium Hair With Bangs And Highlights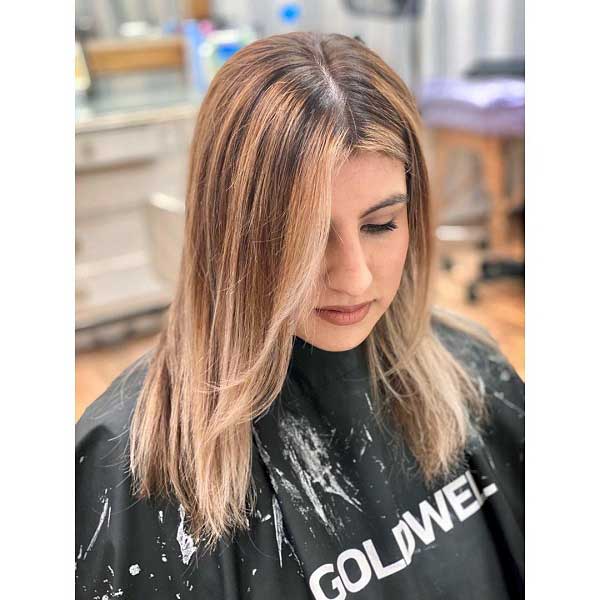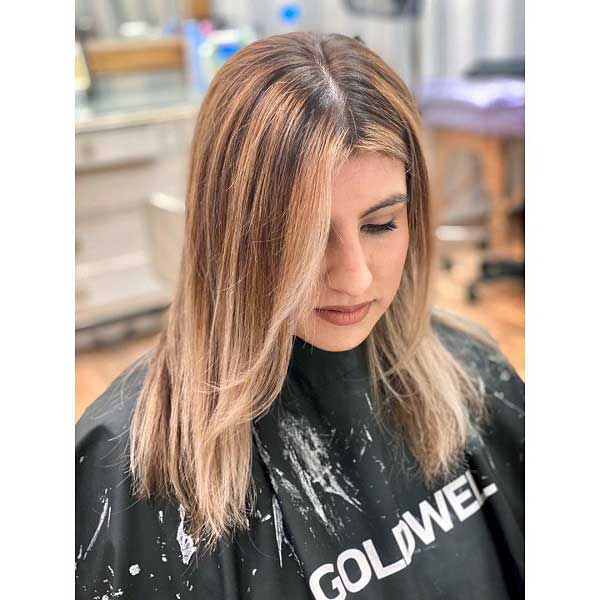 Highlights is always a great option and this look features brown hair with blonde highlights, center-parted with long bangs. It's a beautiful look and it highlights certain facial features.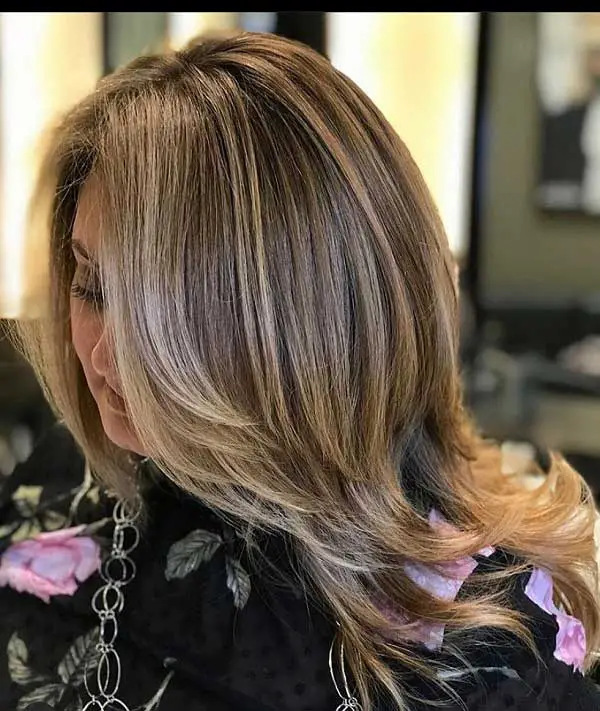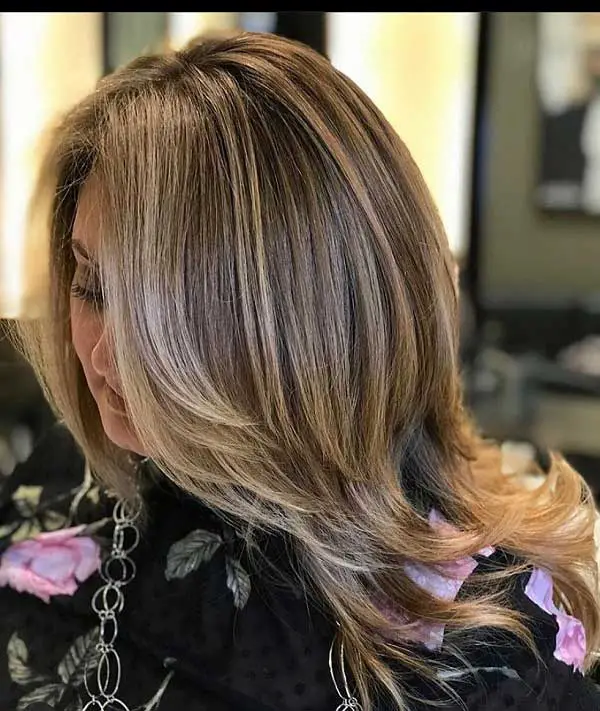 Talk about layered. This hairstyle has the beautiful feathery curls, the blonde highlights, the layered texture and of course, long bangs. There are enough elements here to make anyone look dreamy.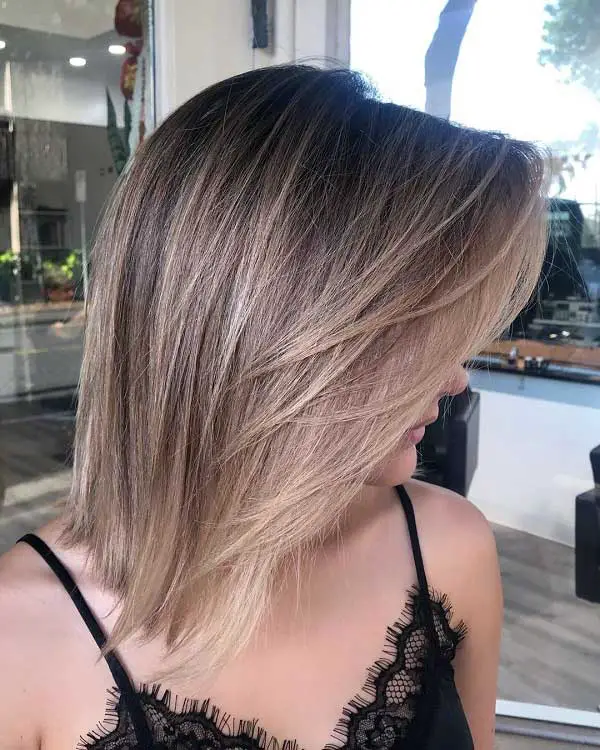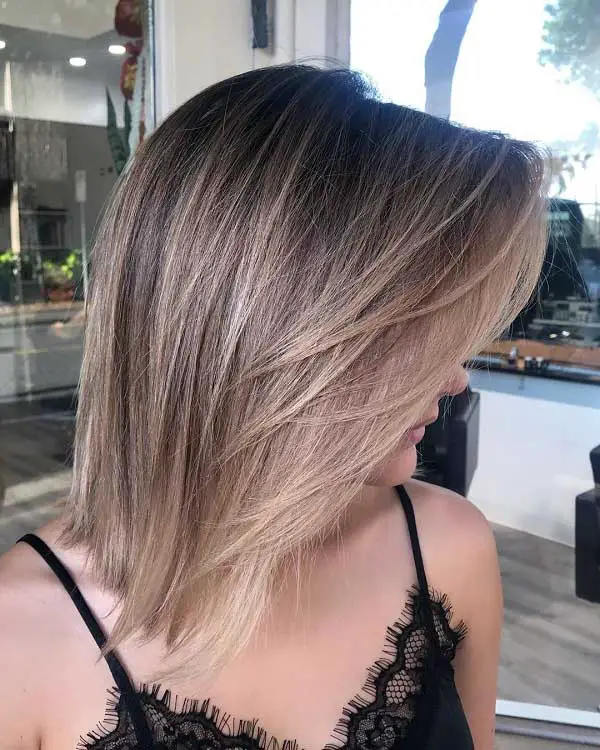 This short hair approach still has the highlights but it appears to be of the side-parted nature. Thus the bangs are draped to the right side of the face and they're of the long length. 
8. Shoulder Length Dark Hair With Bangs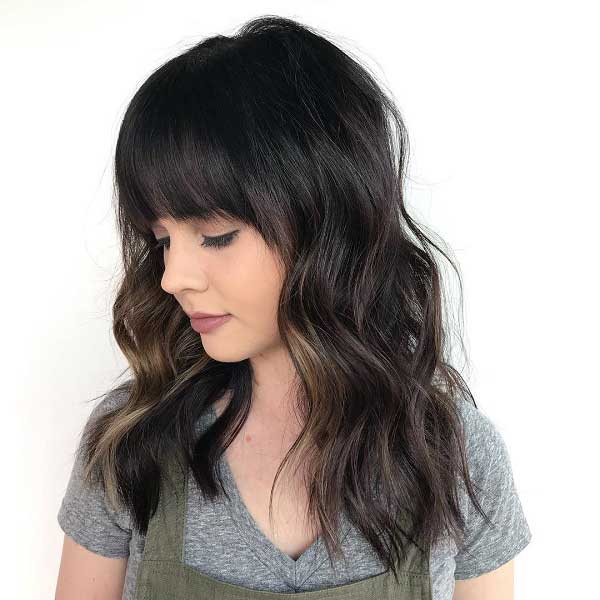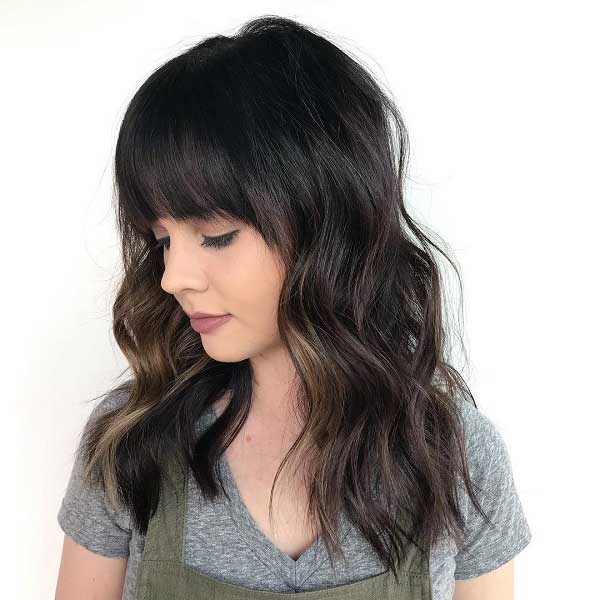 The title says it all. This style is achieved with wavy hair of shoulder length, it possesses full straight bangs which cup the forehead and it has a great lush finish.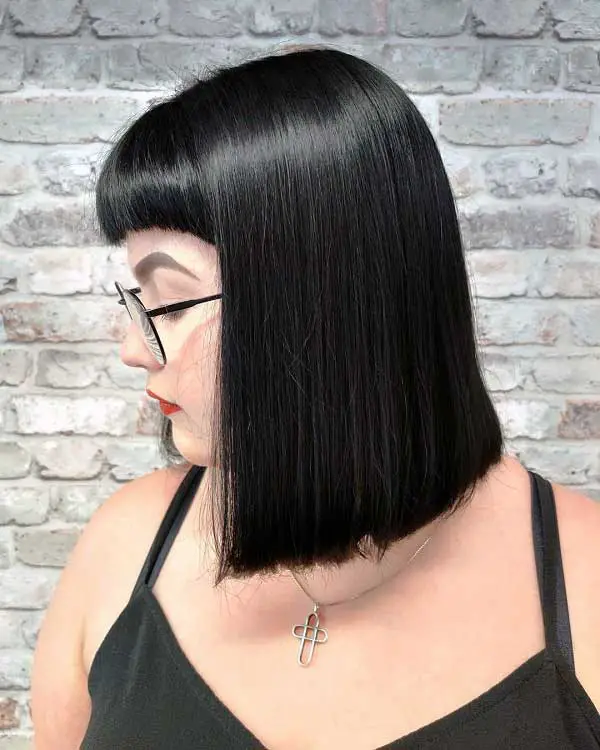 This approach to bangs is achieved with a shoulder length bob hairstyle. The bob is straight and the bangs rest a few inches above the eyebrows. The jet black color of this hair is really captivating.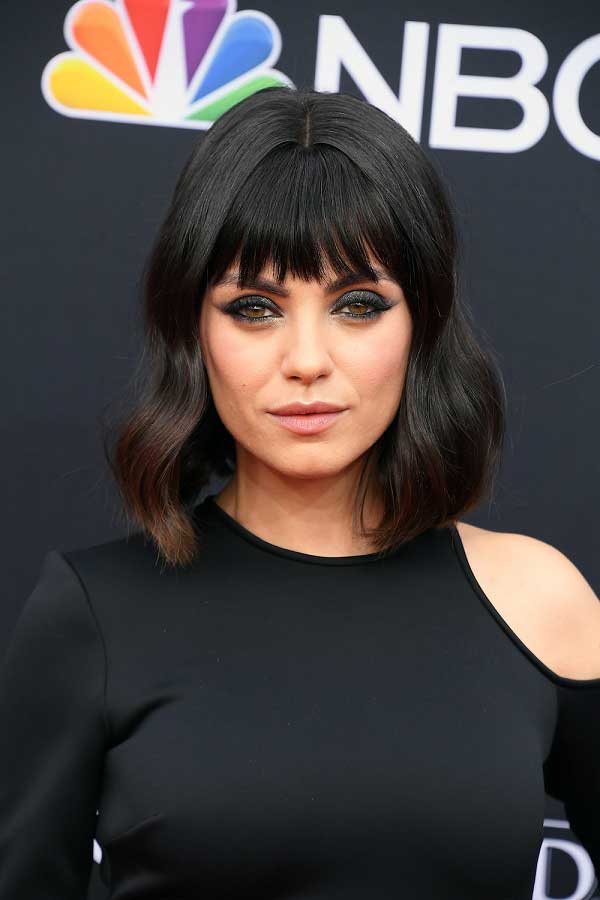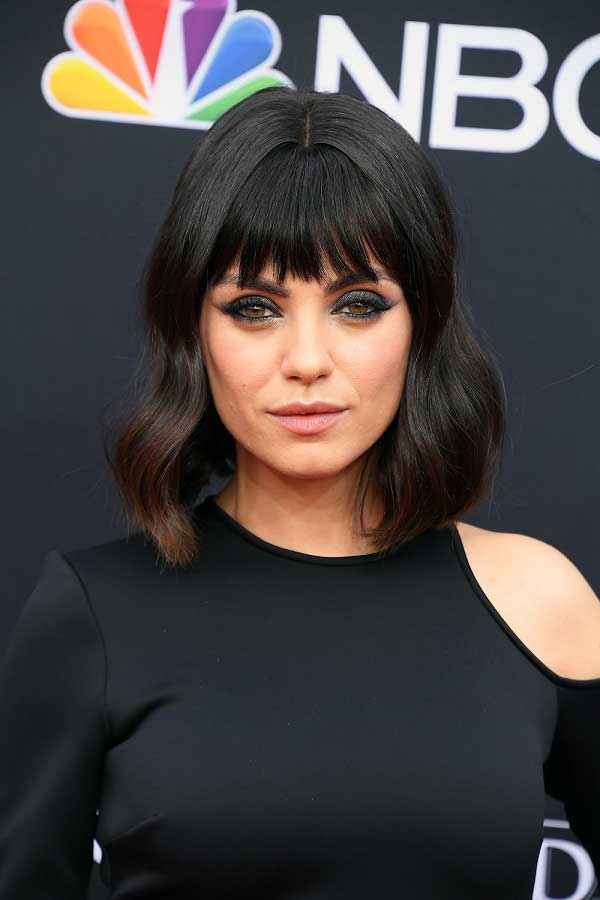 Featuring a curly bob of shoulder length, a center part and straight bangs, this style is quite one for the celebrities. It's so flattering and contrasting that it brings out the eye color.
9. Medium Blonde Hair With Bangs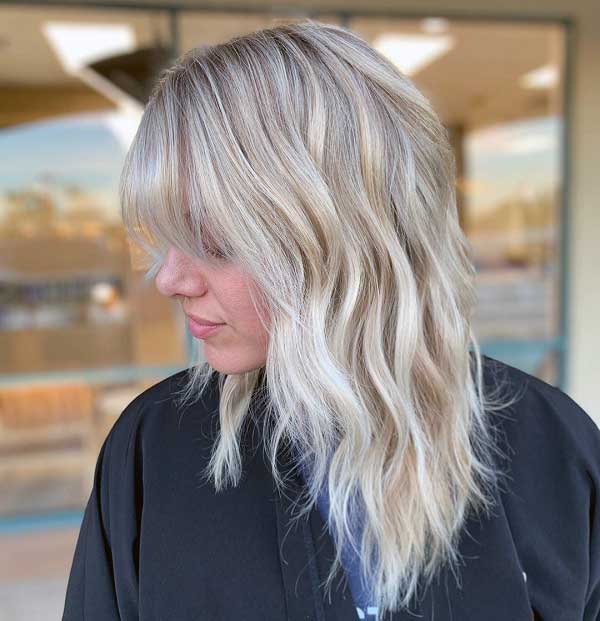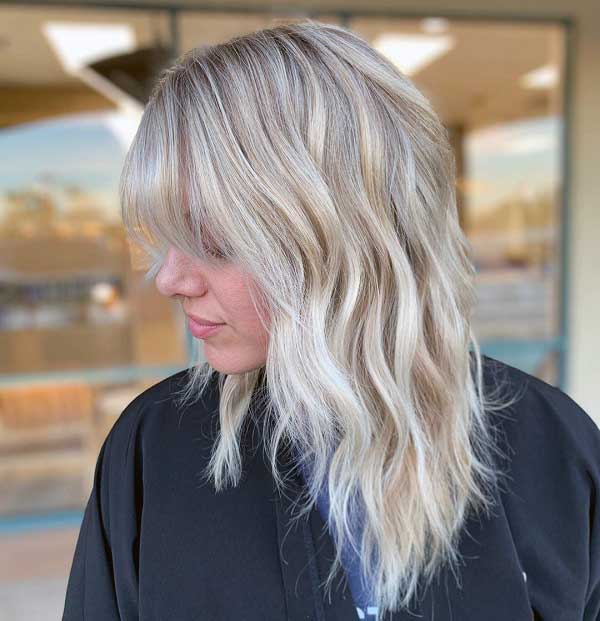 Everyone has heard of the myth that blondes have more fun and judging from this medium length bangs hairstyle with loose curls and long bangs, one can see how that might be true.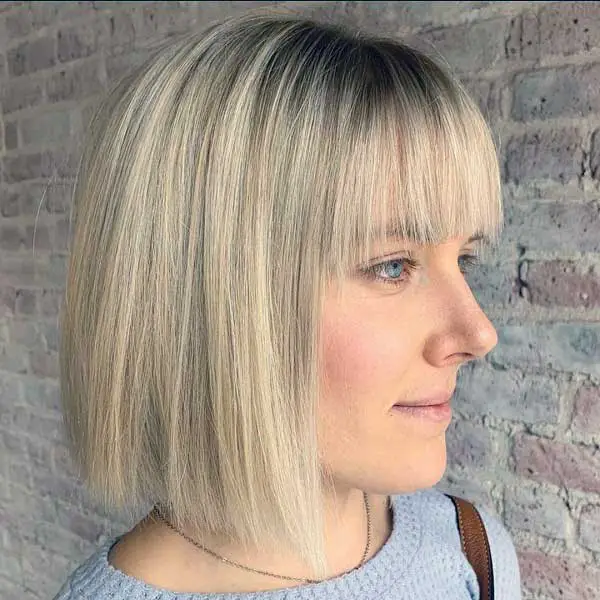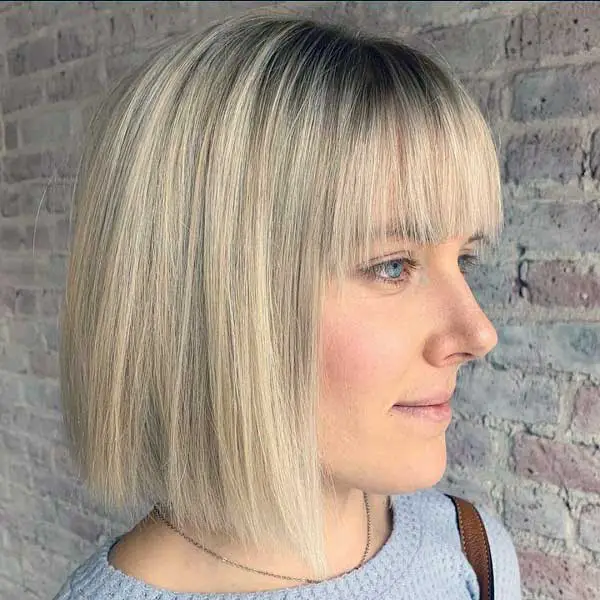 This simple neck-length hairstyle is quite the stunner. Look how the beautiful blonde color brings out the blue in her eyes. The straight nature and ombre top are just bonuses.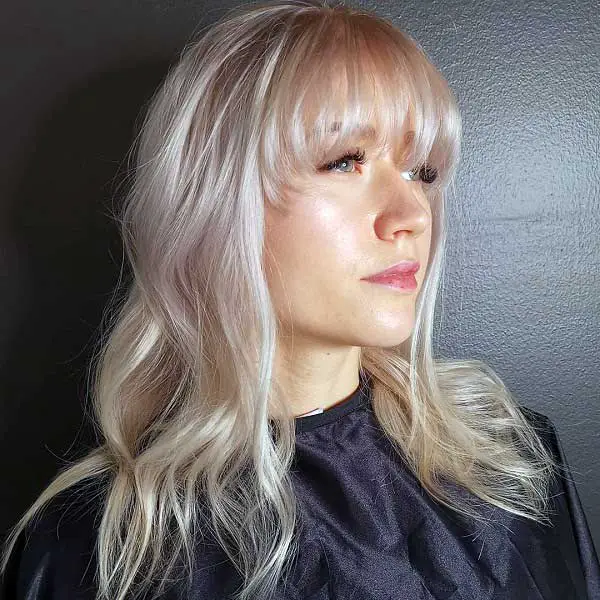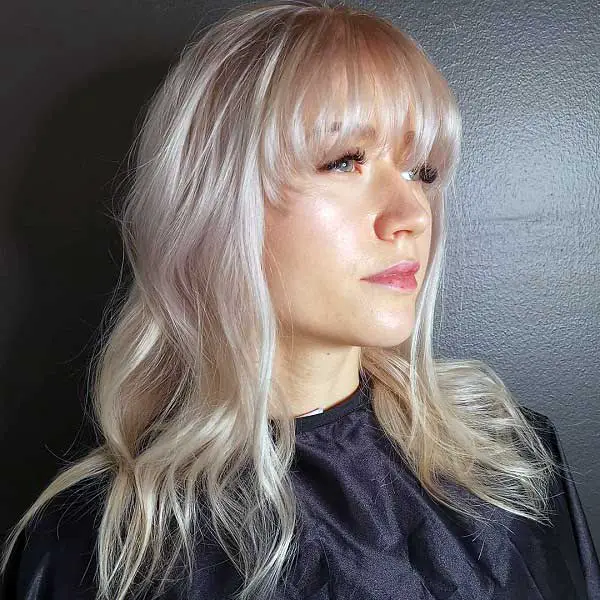 With so many shades of blonde, you can say this one has a silver lining. This curly hairstyle comes with shoulder level length, loose soft bangs, and the soft layered finish. It's a show-stopper. 
See Also : Flattering Short Bob with Bangs
10. Medium Messy Hairstyle With Bangs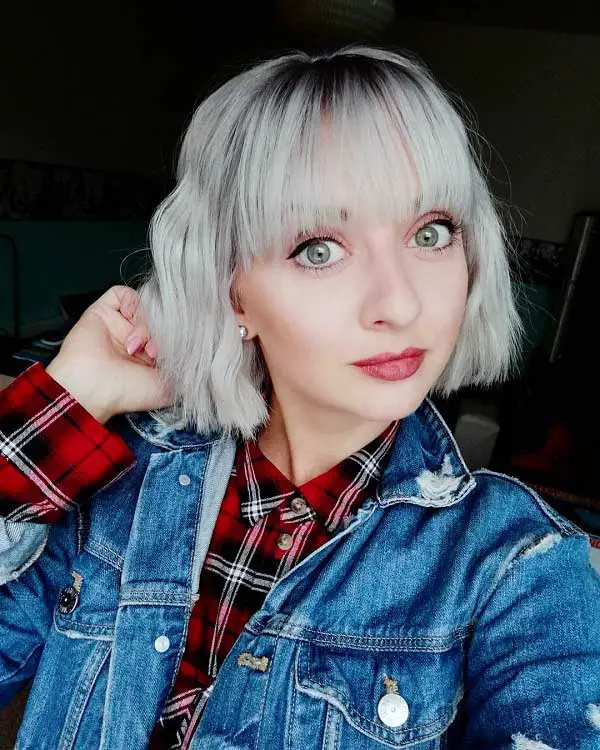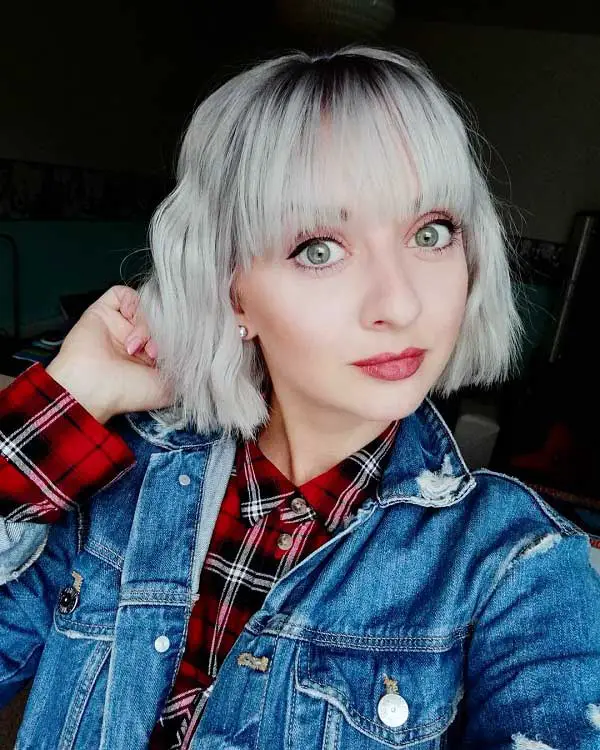 This style is quite short and it doesn't seem to be so messy at first glance. However, with the soft curls, straight bangs, and untamed flyaways it could definitely come off as messy.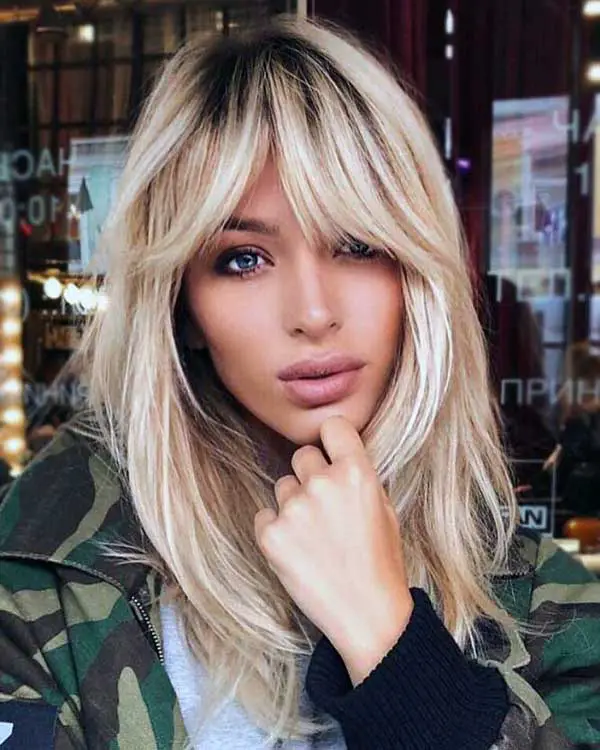 Messy is the new chic and this look is chic-ed out. Everything about this look is very alluring from the bangs to the layered hair texture, the ombre top, and of course the bob nature of the hairstyle.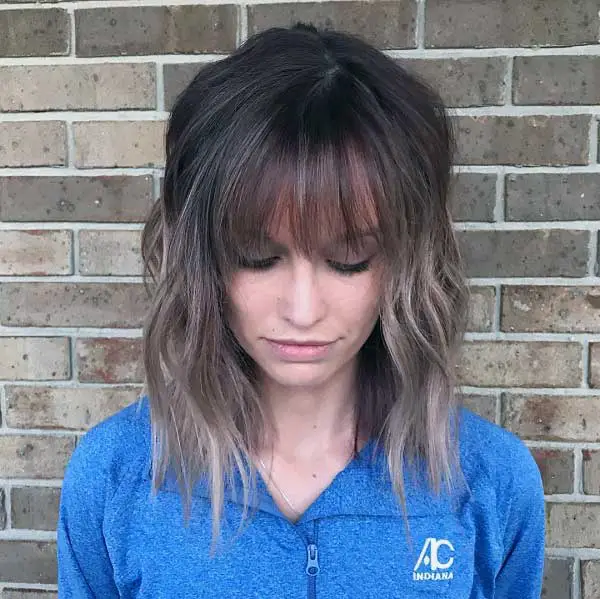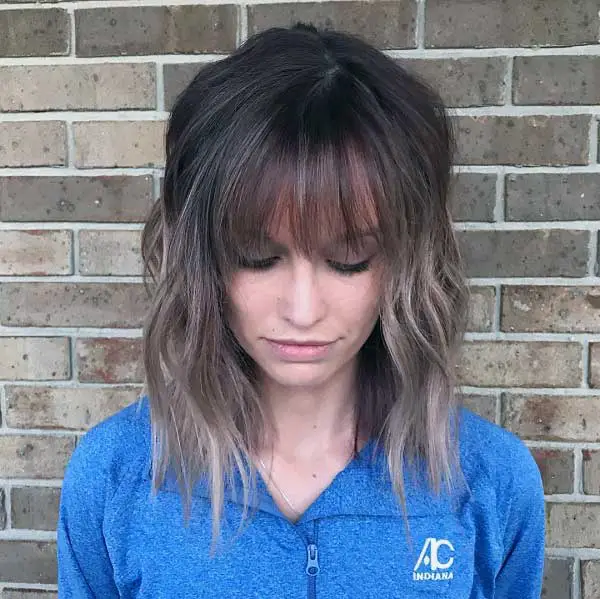 With layers and layers of curly hair of medium length, soft straight bangs which terminate at the eyelids, and an ombre finish, this look is quite the simple show-stopping catch. 
11. Medium Hair With Bangs For Round Face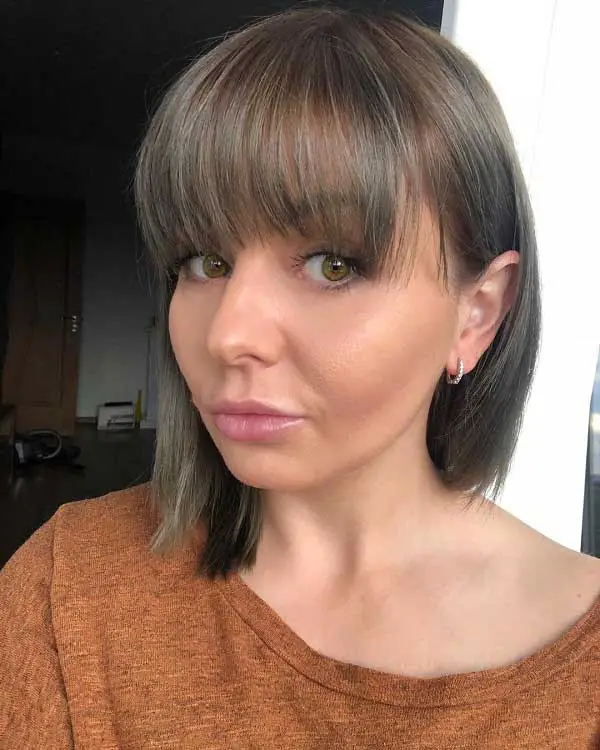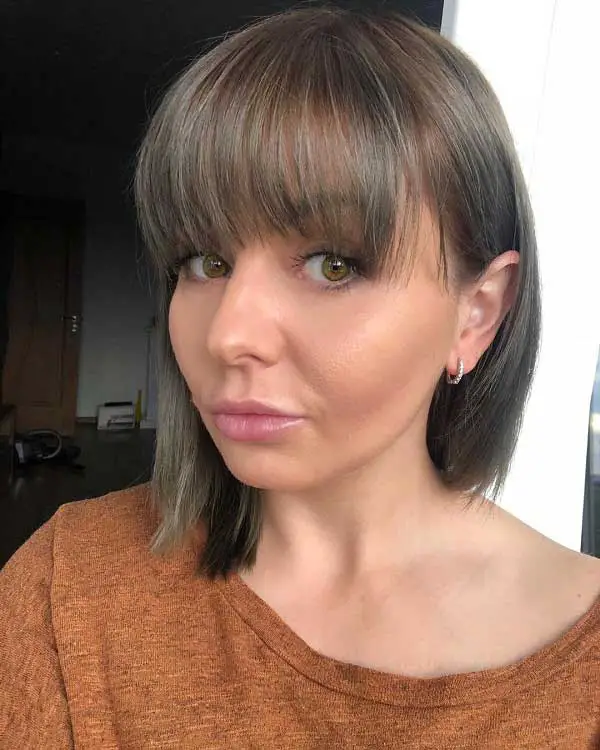 Bangs are great for round faces because it makes it look slimmer. This is evident in the crispness of the jawline. This bangs hairstyle comes with a bob and it's very low maintenance.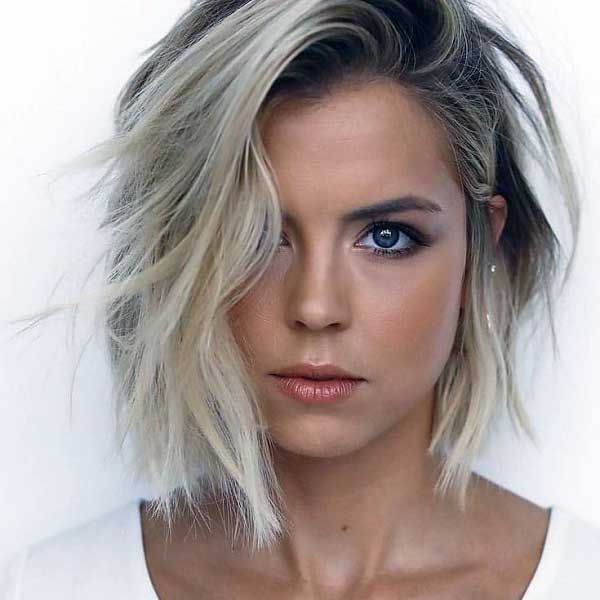 With layers of untamed hair, an ombre color, and long bangs swept to the side this look is a nice blend of casual meets fierce. It's neck-length and loose curls are just a bonus.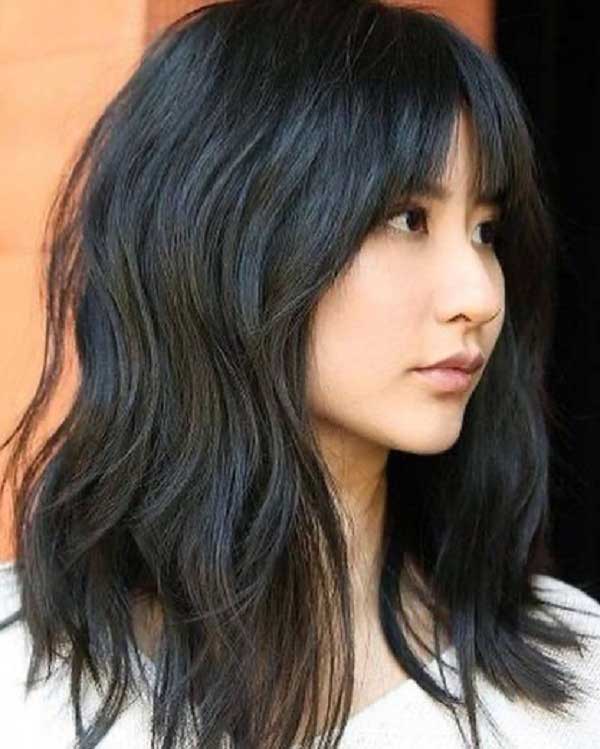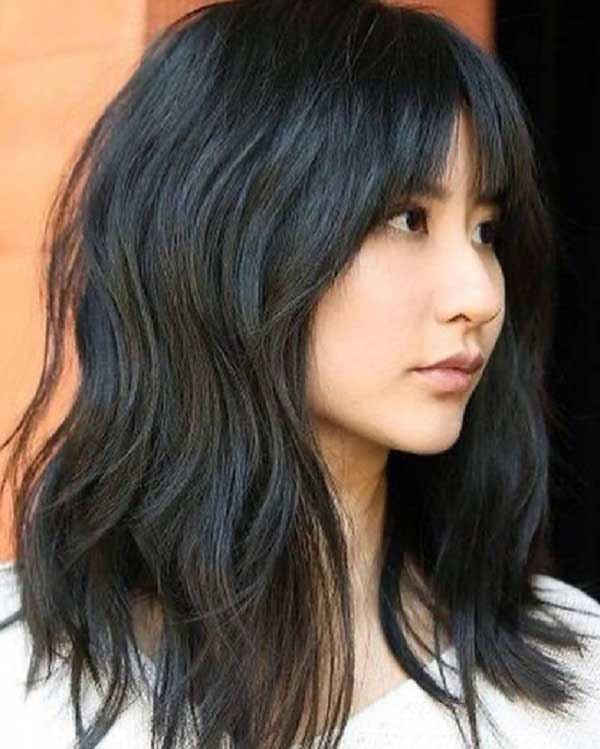 This is quite the mane. This bangs hairstyle has the medium shoulder length, the soft curls, and the soft straight bangs. It's also voluminous and flattering on those facial features. 
12. Medium Hair With Choppy Bangs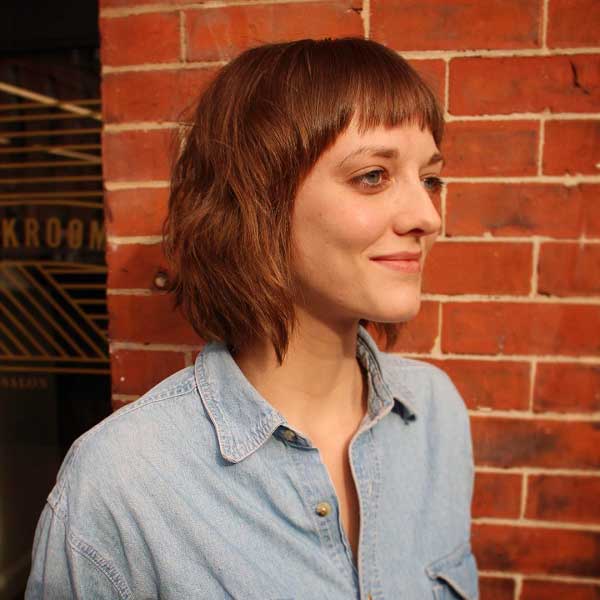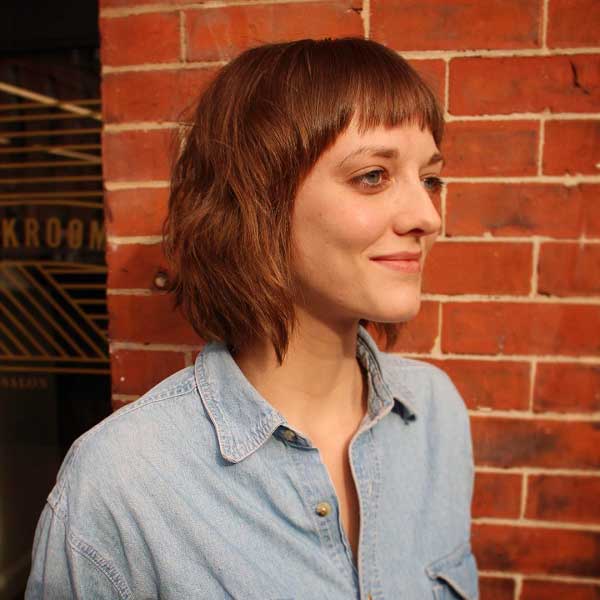 Choppy bangs are always cute. This hairstyle features a neck-length approach to choppy bangs. The length of the bangs makes it possible for one to see about 80% of the face and its features.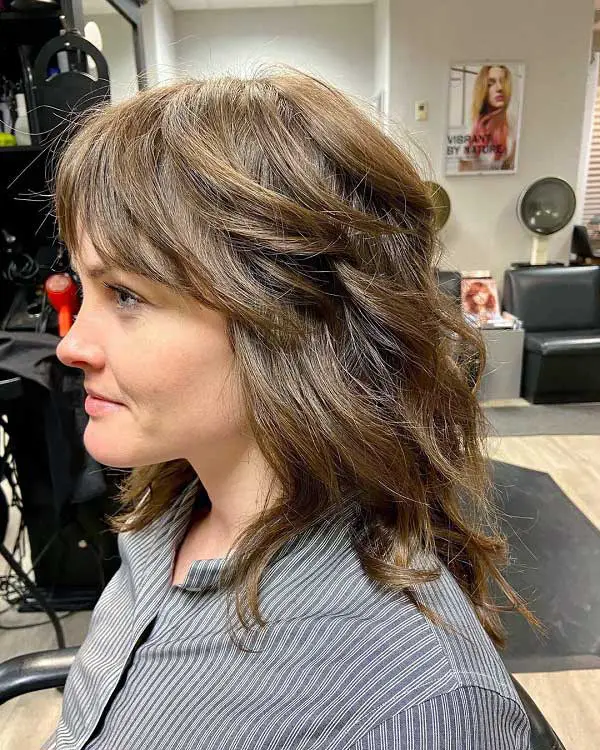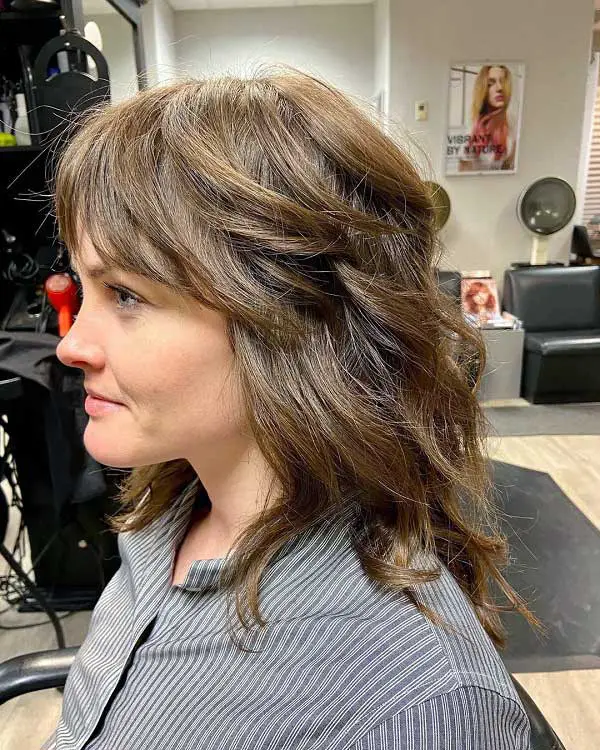 This approach is a little fancier than the previous one. It features full bangs, shoulder-length hair, and layers of fine locks. The bangs are swept to the sides as the style is definitely high maintenance.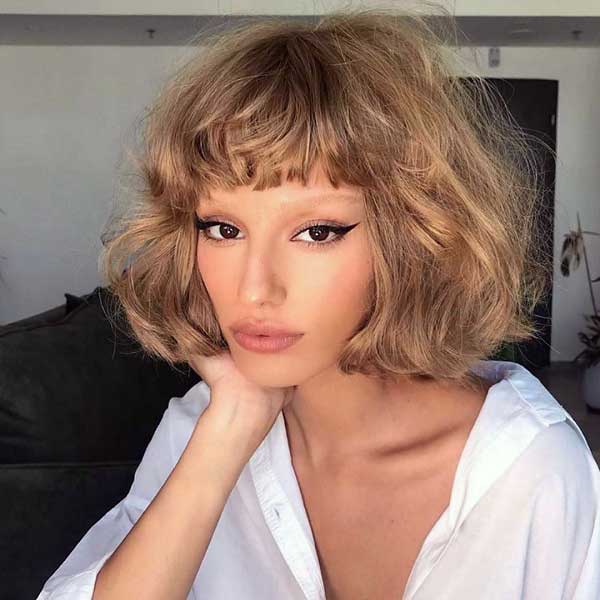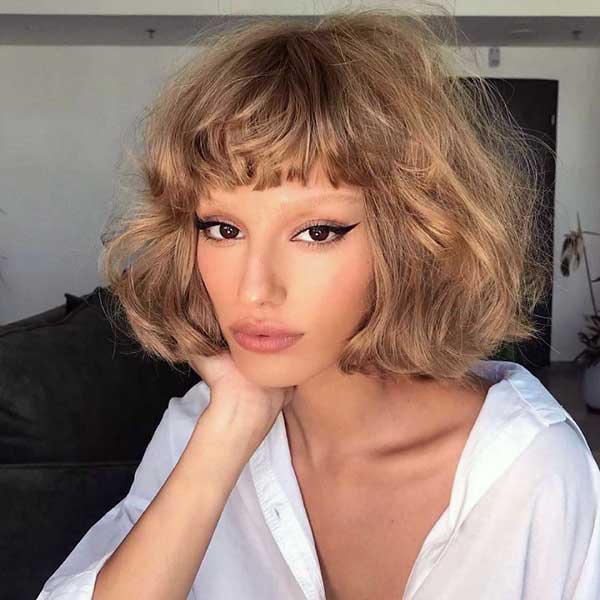 A choppy bangs hairstyle with full hair of loose curls. This style has a messy 'I woke up like this' finish to it and it's absolutely stunning. The bangs sit just above the eyebrows. 
13. Shoulder Length Wedding Hairstyle With Bangs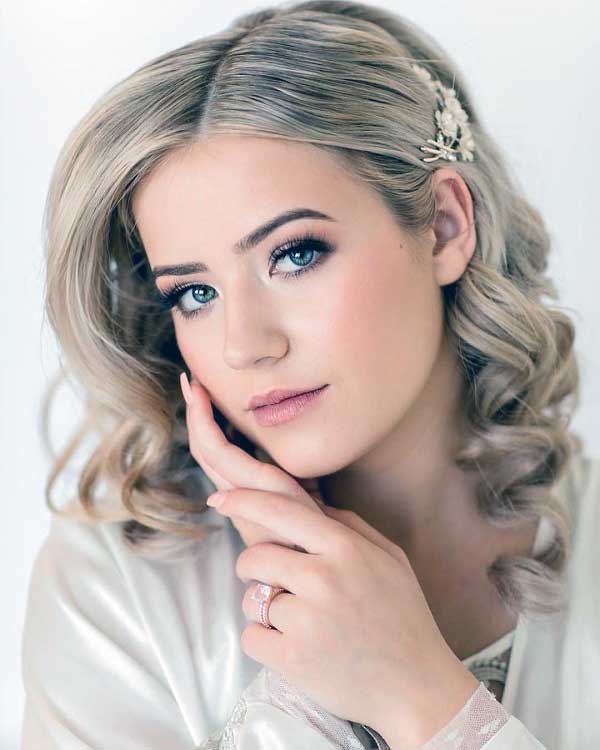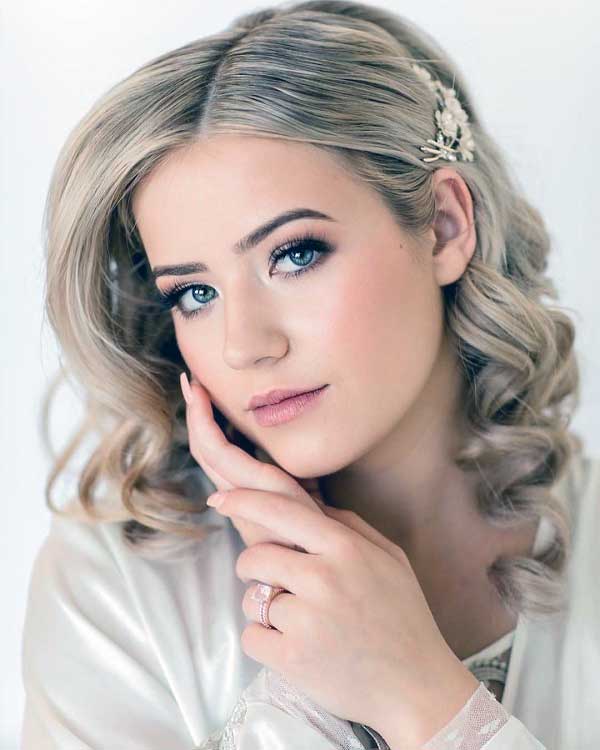 Bangs are always a great choice for weddings. This style is center-parted and clipped on one end. It's achieved with curled hair of shoulder length and it has a dreamy finish to it.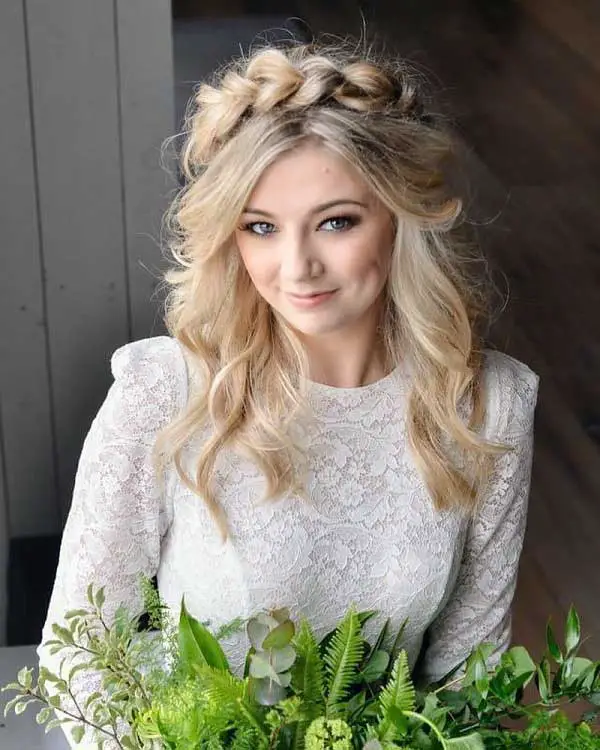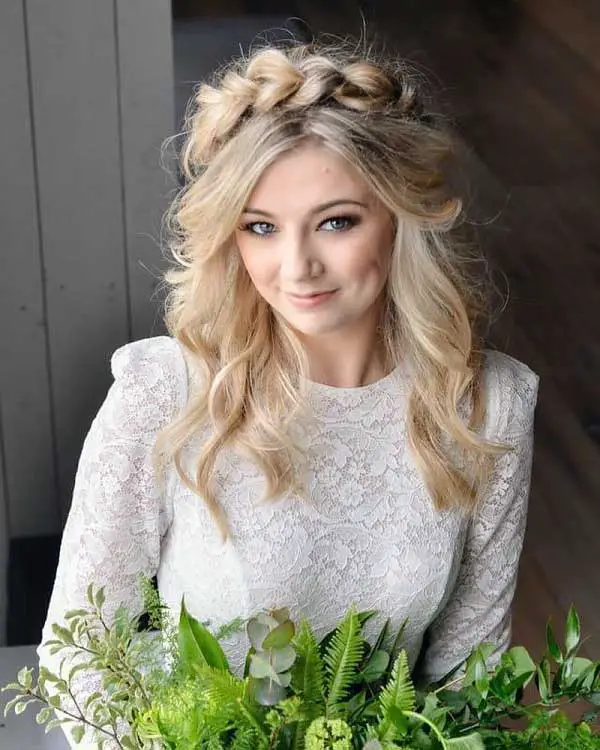 This wedding hairstyle is just gorgeous. The French braids at the top mimic a crown, the bangs are tucked in at the back and the rest of the hair flows elegantly down the shoulders. It's soft, simple, and wedding appropriate.
The bangs in this wedding hairstyle are pretty defined and straight. Achieved with voluminous hair, this look features layers of thick curls descending down the shoulders whilst hugging the face. 
14. Medium Hair With Bangs For School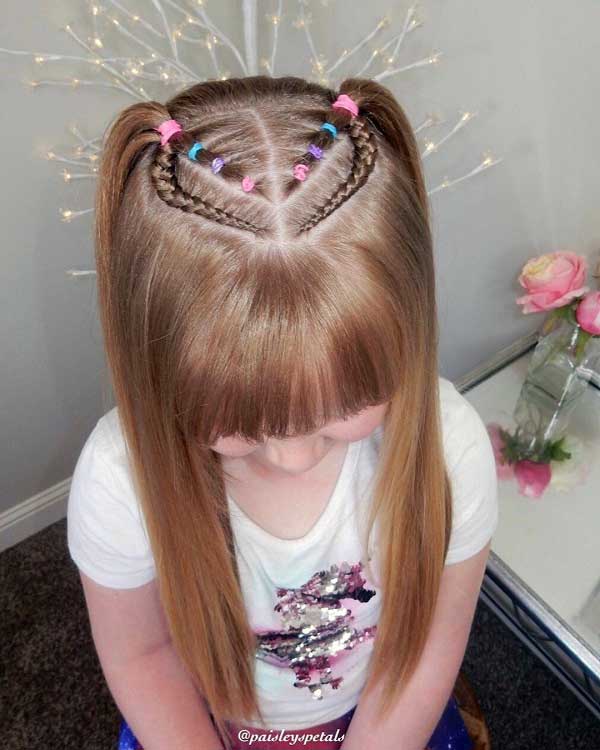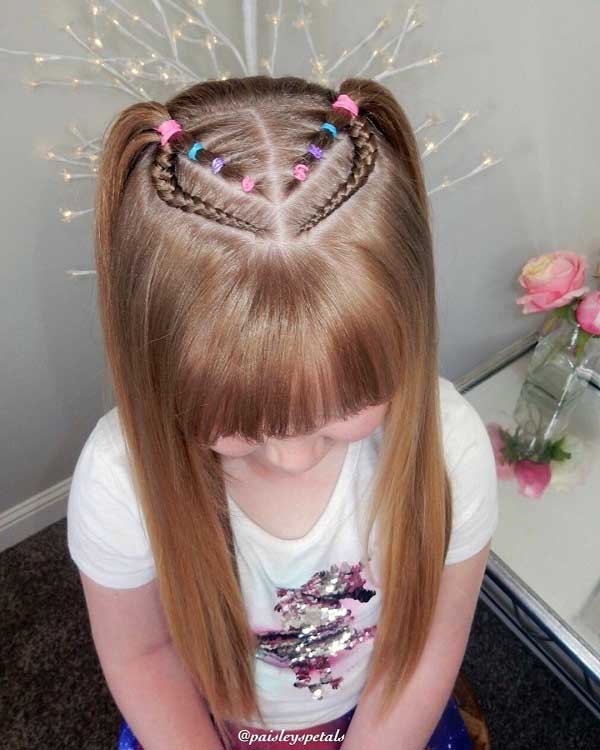 Kids are always cute in bangs and this style features cornrows braided to form pigtails. This is done on straight hair of long length and with full bangs and it's a fun hairstyle for kids. 
15. Shoulder Length Ombre Hair With Bangs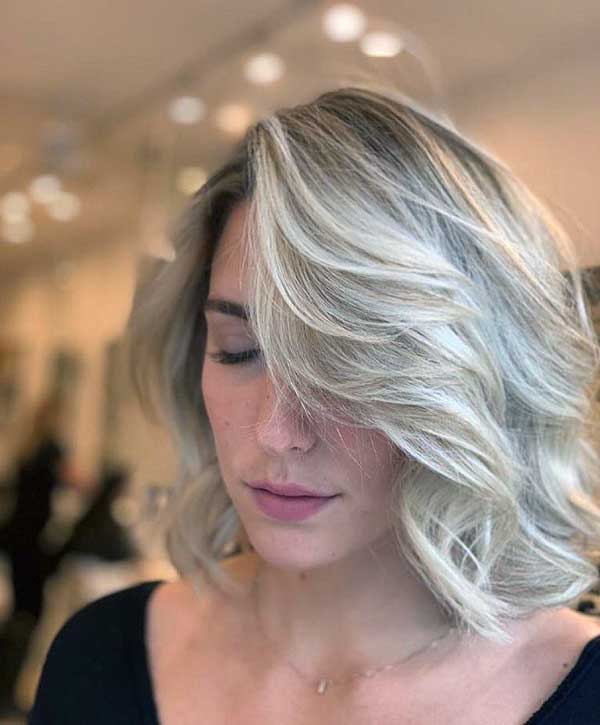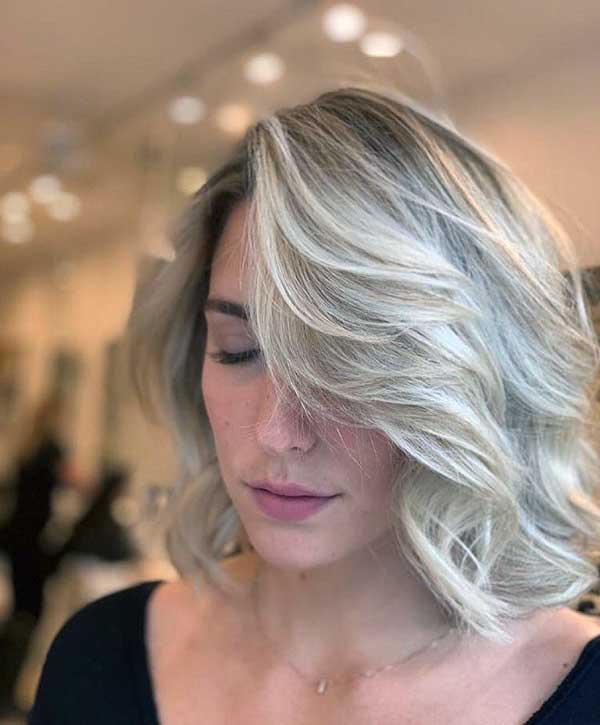 This hairstyle approach has got a little bit of everything. From the feathery bangs which compliment the soft curls whilst adding allure, to the voluminous depths of curls and of course the ombre color.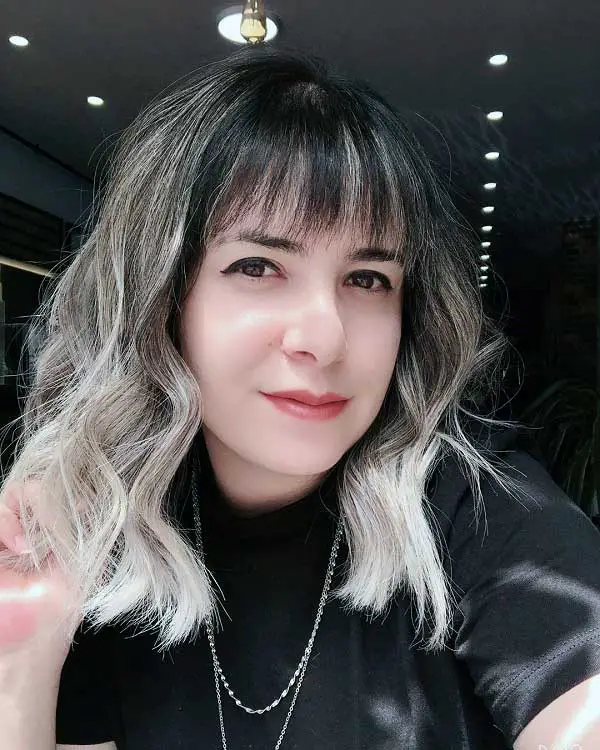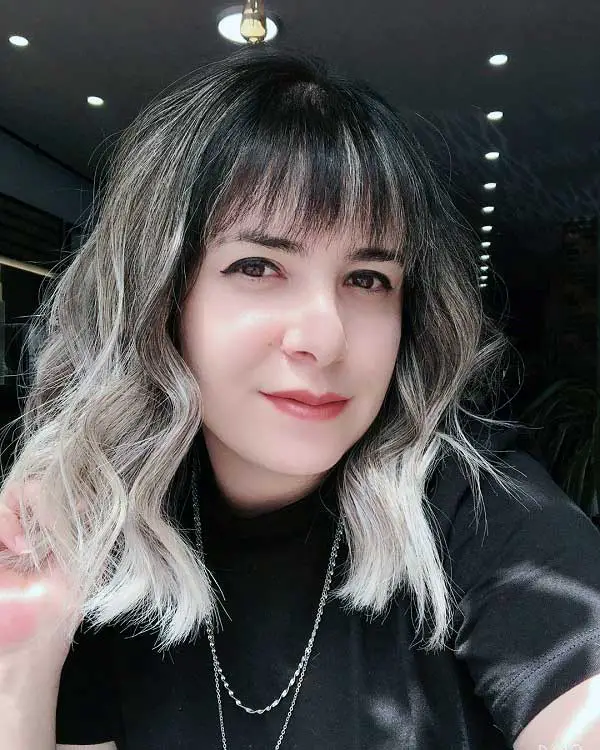 The contrast in color is one feature that really brings this look to limelight. The soft curls, shoulder-length, and straight bangs resting above the eyebrows just add flair.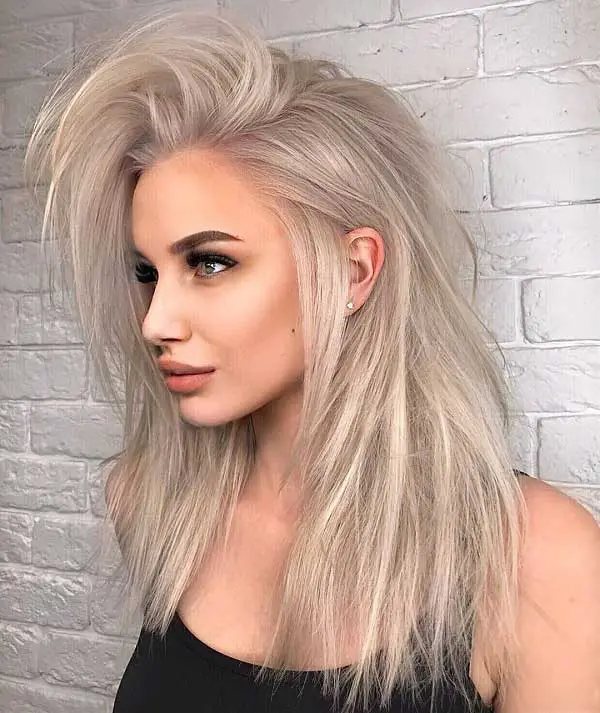 The contrast in colors of this look might not be as potent as the previous, but you've got to admit this is a pretty neat way to style bangs. This look can go from messy chic to stunning in seconds.
16. Medium Hair With Wispy Bangs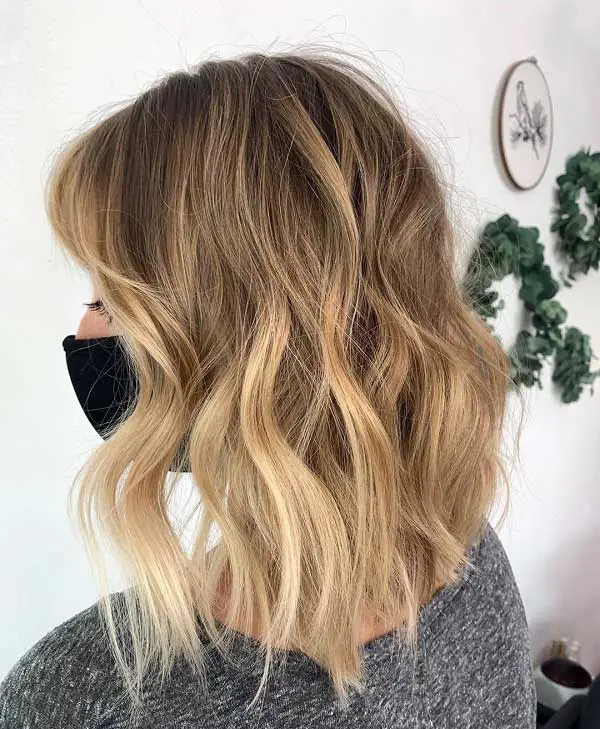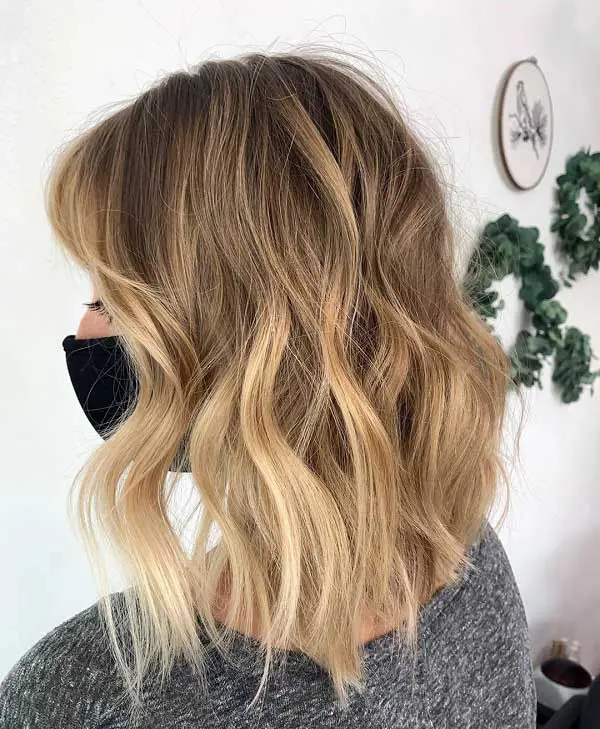 Wispy bangs are so much in style and this approach is one of the ways how. Featuring medium length wavy hair, a center part, and what seems like highlights, this style is golden.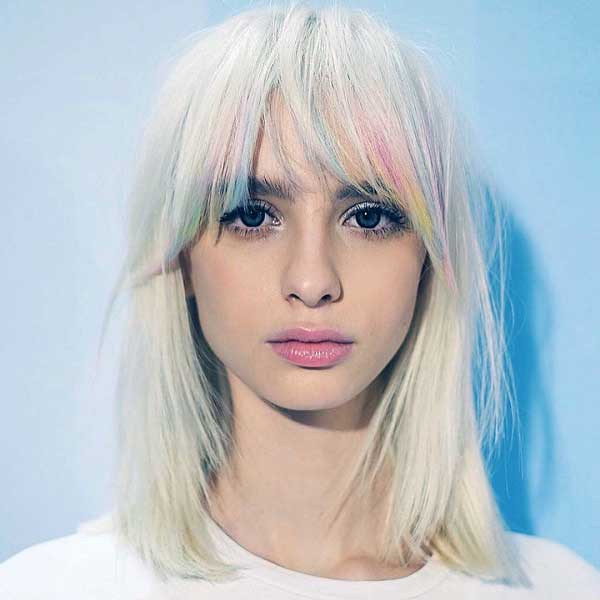 The soft colors, straight bob-like hair, and wispy bangs really gives this look a lot of definition. Apparently the style is low maintenance, but it's still stunning.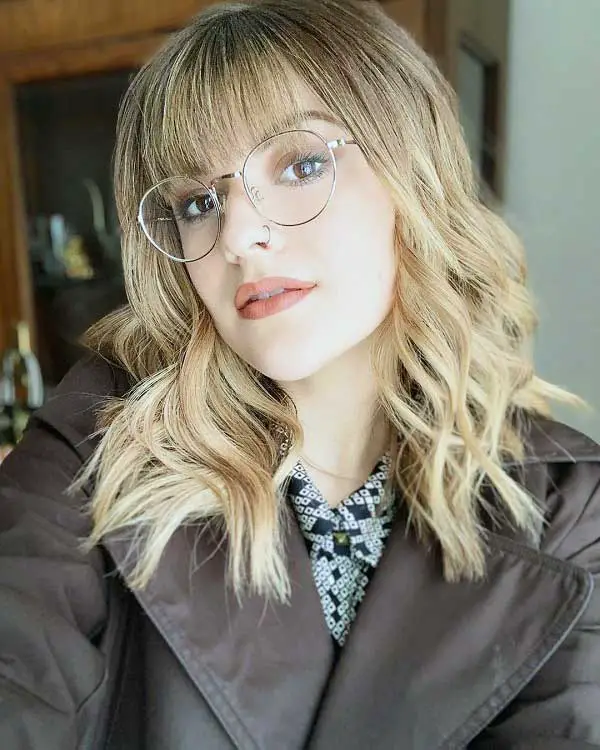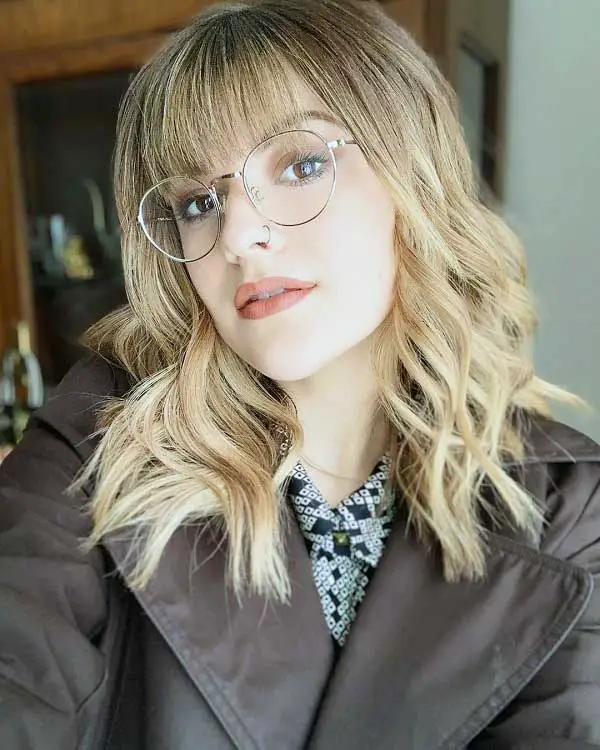 This might seem like Hermione Granger inspired but this look has the curls, the length, the wispy bangs, and of course the color transition. It's stunning and not just in a nerdy way.
17. Updos For Medium Hair With Bangs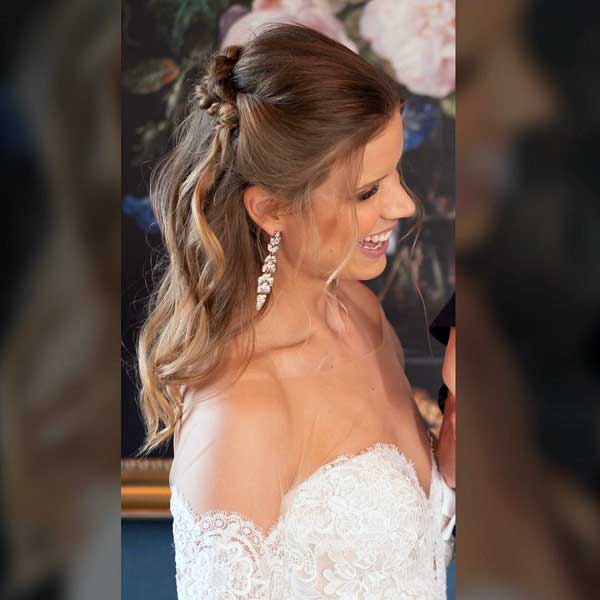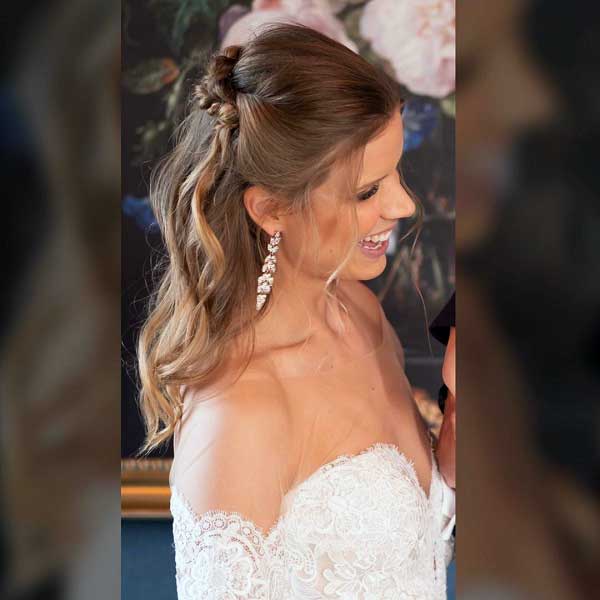 Bangs go great with updos. This look features a low updo held together with a braided bun, curly strands caressing the face, and a little blonde tint. It's wedding-worthy.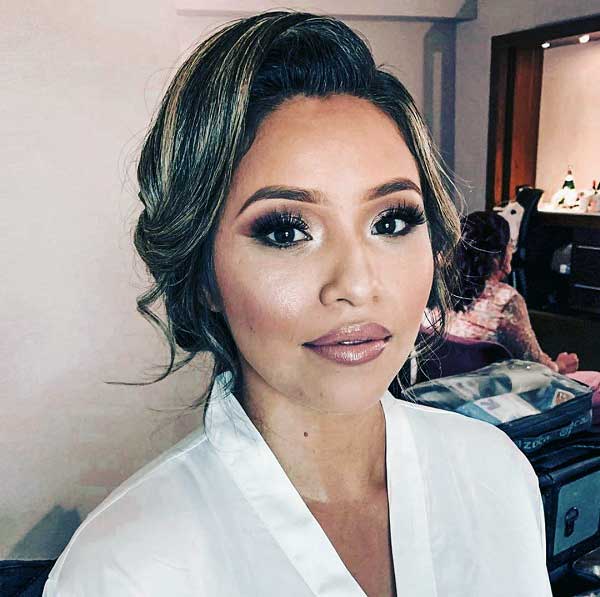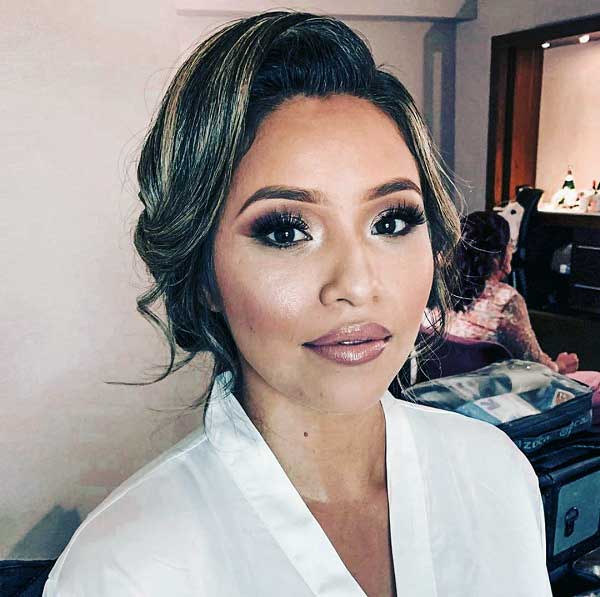 This style is everything a bride would want on her big day. The bangs here are swept into other elements of the style and some strands are left loose to complete the look.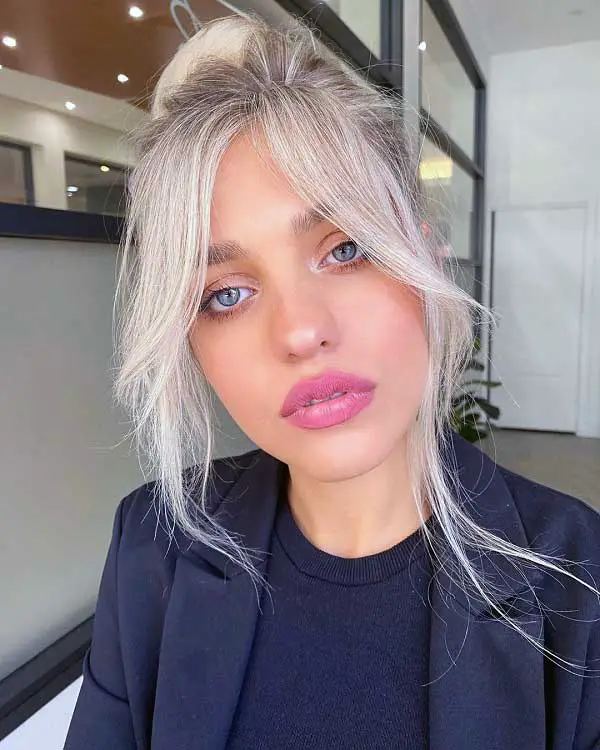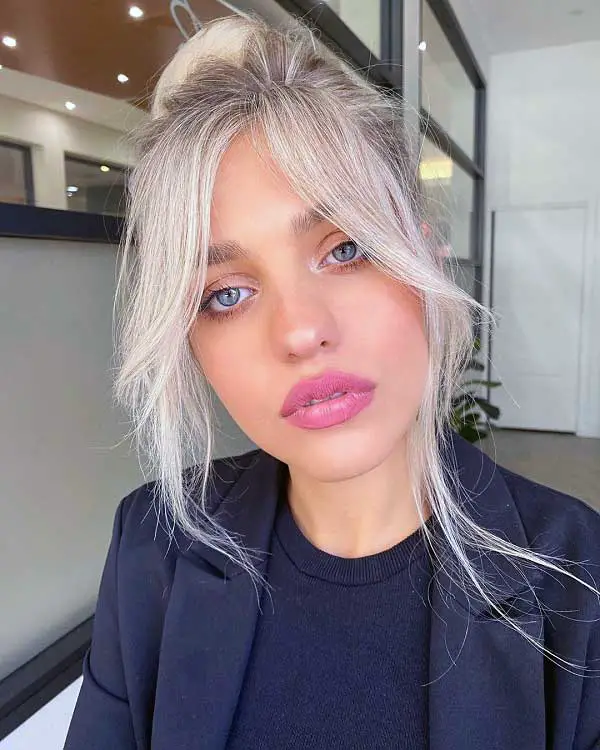 This updo has very long bangs that compliment either side of the face. The hair is secured in a loose bun and the bangs drape down to the shoulders.
18. Medium Hair Ponytail With Bangs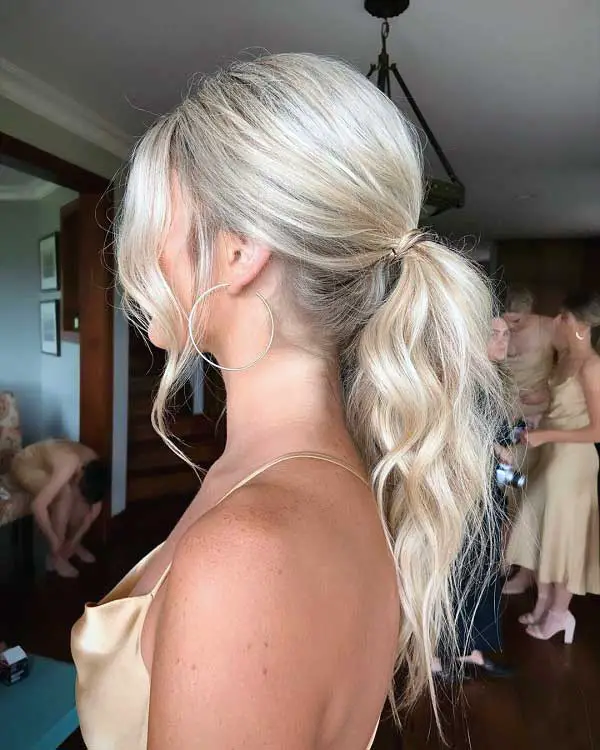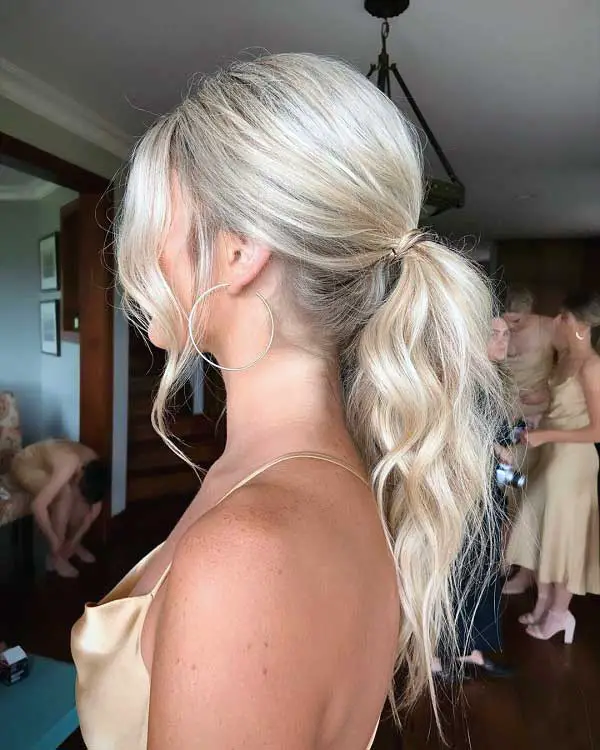 Bangs go great with ponytails and ponytails do come in different styles. This low ponytail style has long bangs with loose waves that caress the face and is done with medium-length hair.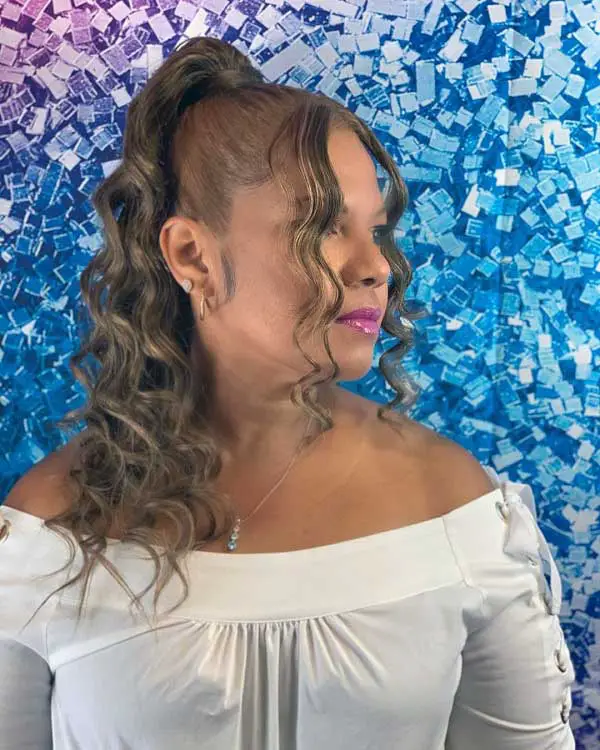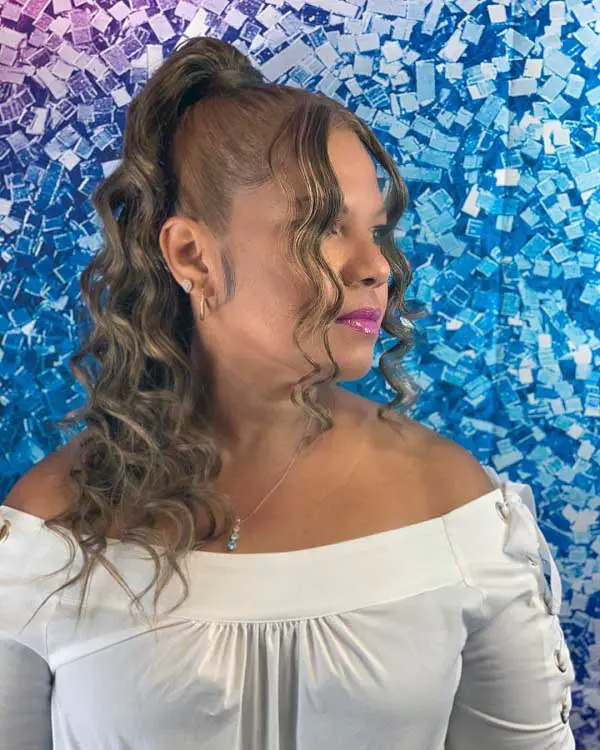 There's something alluring about this look. It could be the long bouncy curls which form the bangs, it could be the slick high ponytail or the rest of the hair. One thing is certain, this look is alluring.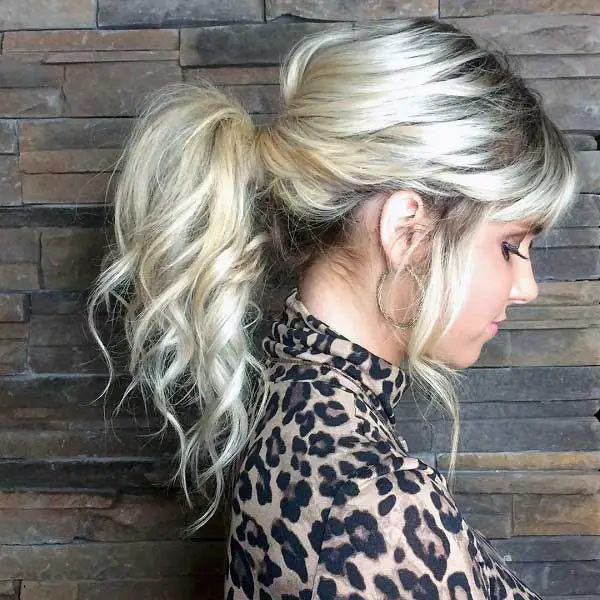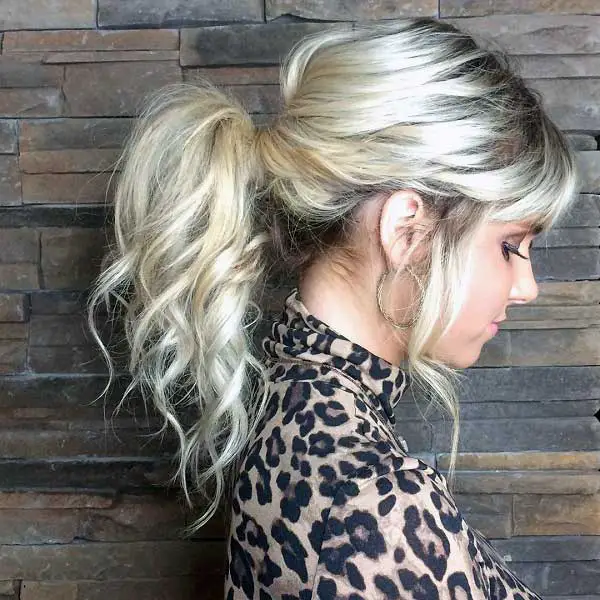 Medium-length ponytails can be curly and have short wispy bangs too. This look portrays just that. Also, the strands which caress the face makes the look somewhat effortless.
19. Medium Hair With Bangs And Glasses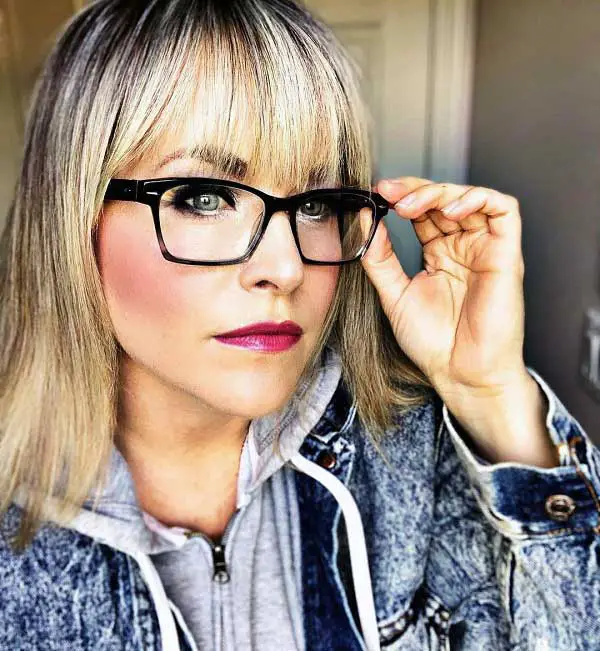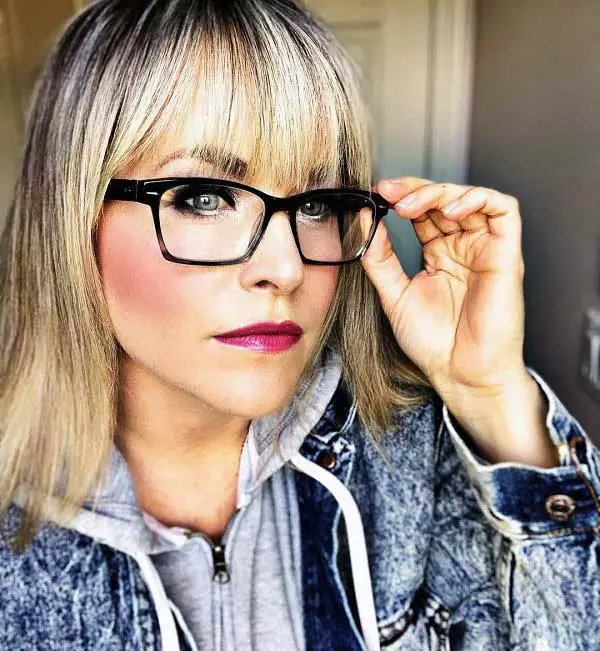 Asides being needed for vision, glasses are like eye candy on the face and this medium-length hairstyle with wispy bangs and straight hair proves that you can still look great with glasses and bangs.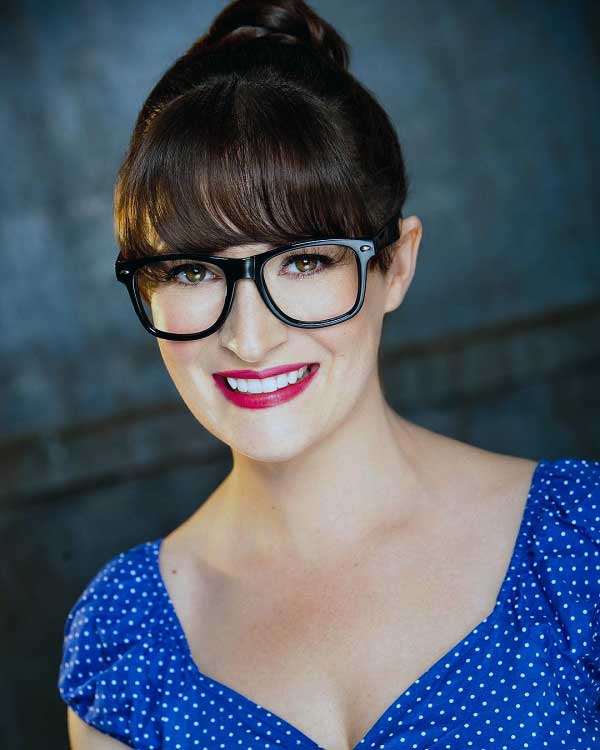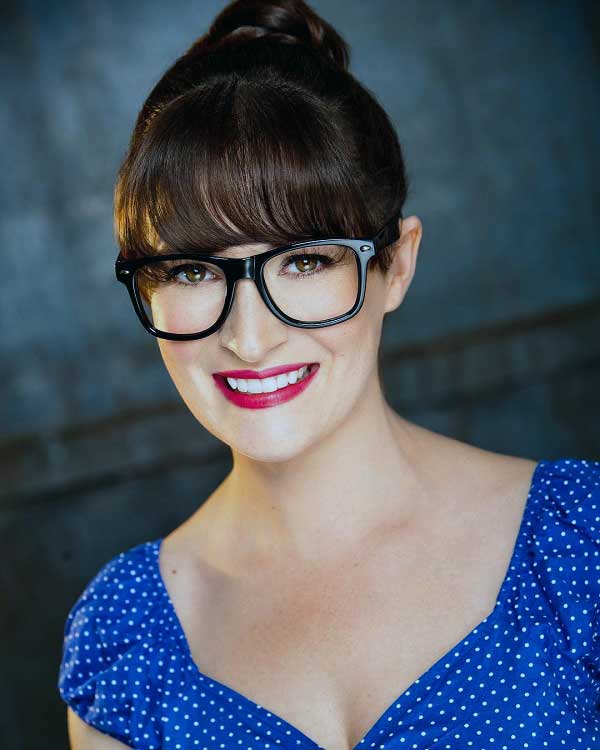 This hairstyle features a bun, thick bangs which curve at the tips and a pair of glasses. It's professional, very low maintenance and perfect for the everyday woman.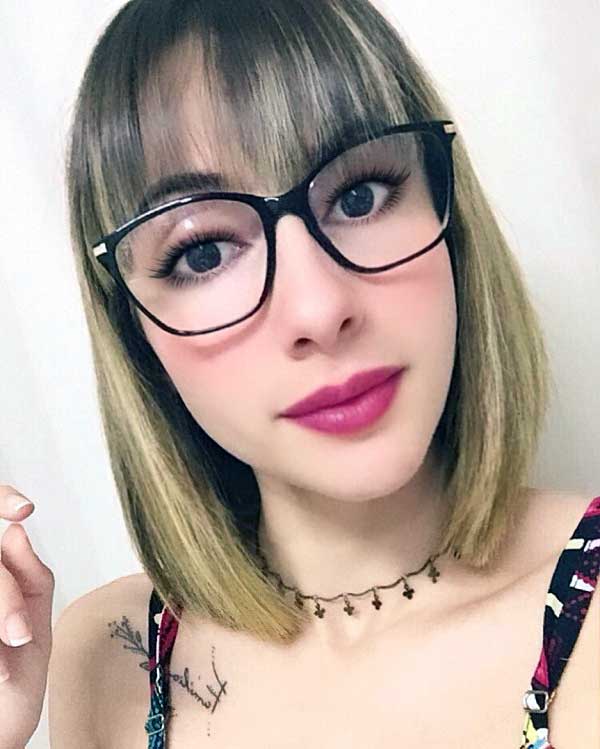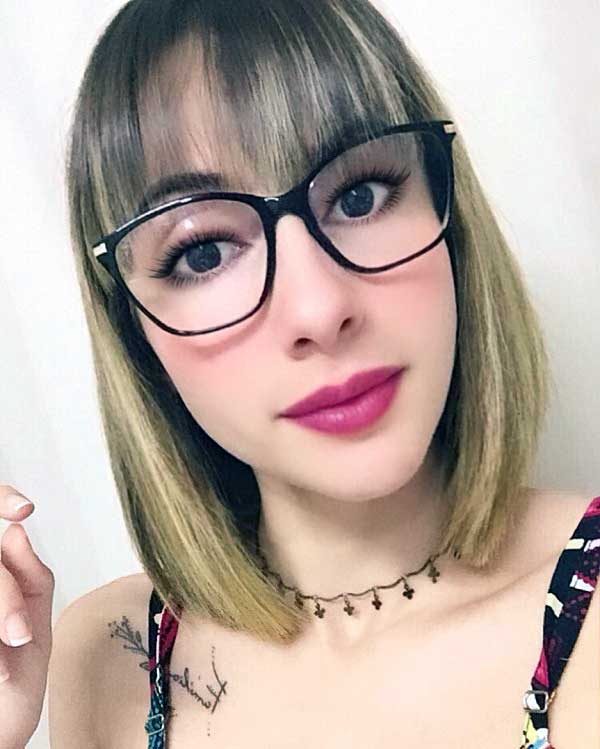 Featuring a bob which terminates at the neck, straight hair, and straight bangs, this look is also very flattering on women who wear glasses. It's easy, low maintenance and very practical.
20. Asian Bangs On Medium Hair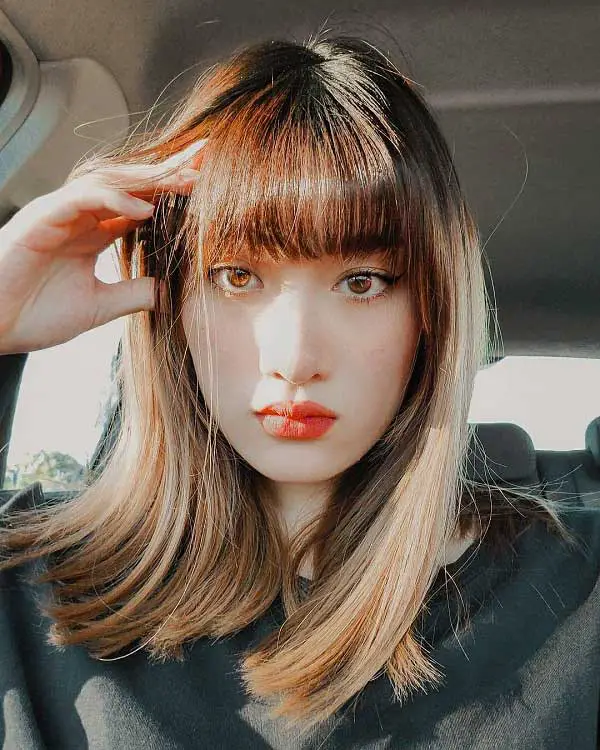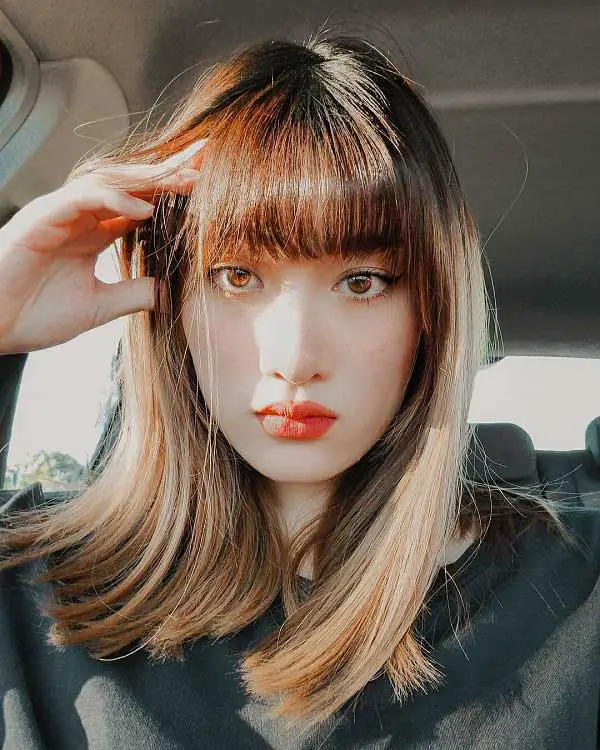 Bangs look great on everyone despite their race. However, this is how most Asian women within this age demographic would look with full bangs and medium-length straight hair.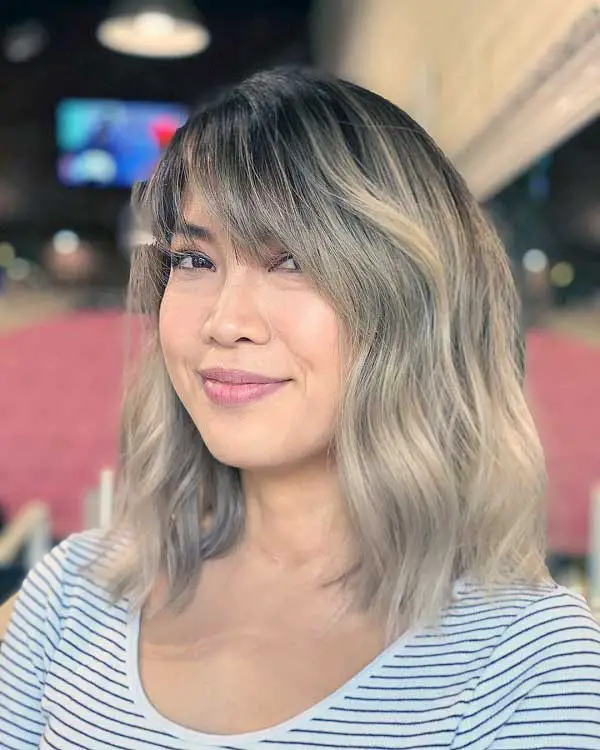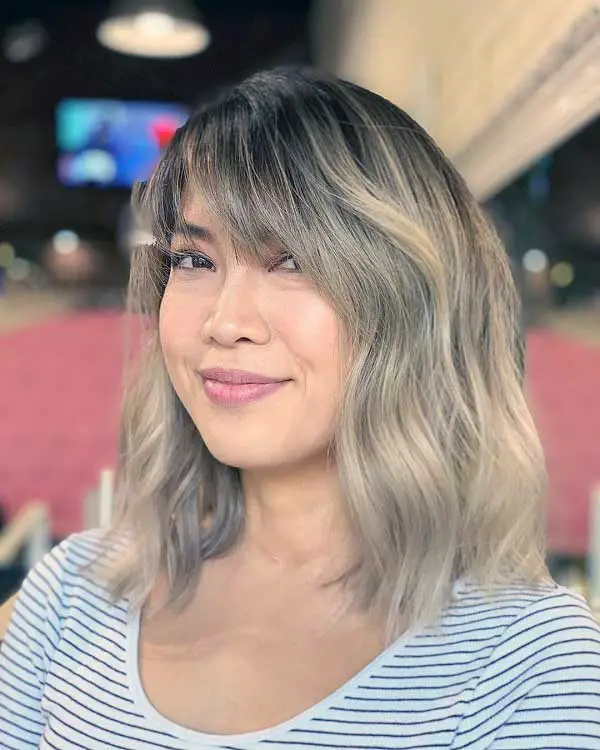 This approach features curly hair of medium length, curly bangs, an ombre color transition, and a nice smile. It would look great on most Asian women as the style compliments the unique facial structure.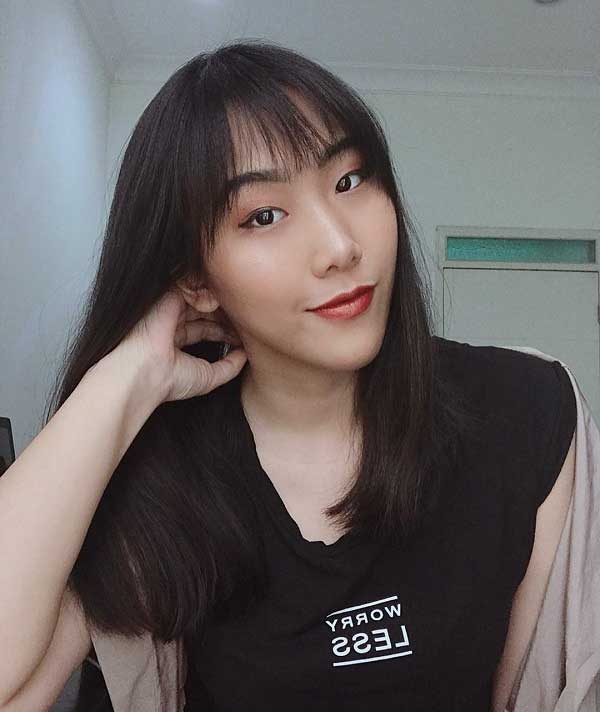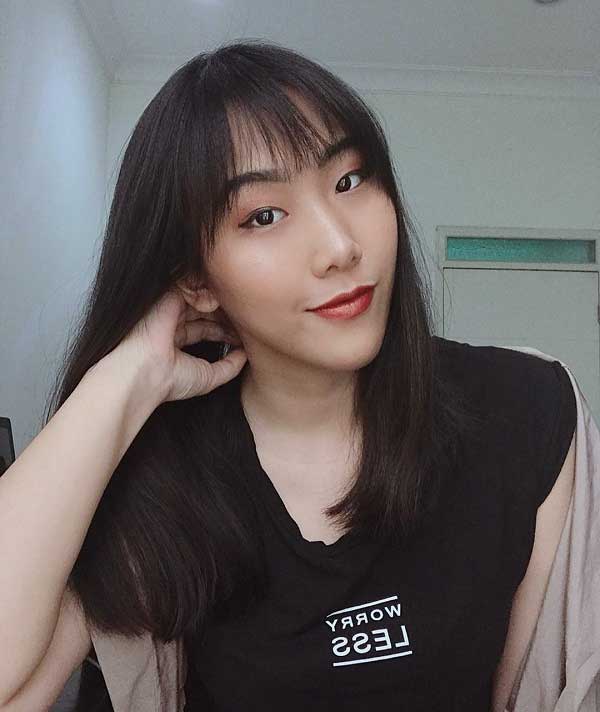 Asian women can also look great with bangs on straight black hair. The hair's length is just below shoulder level, the straight bangs rest on the eyebrows and the hair's volume is just breathtaking.
Recommended : Long Bob With Bangs
21. Medium Hair With Bangs For Women Over 50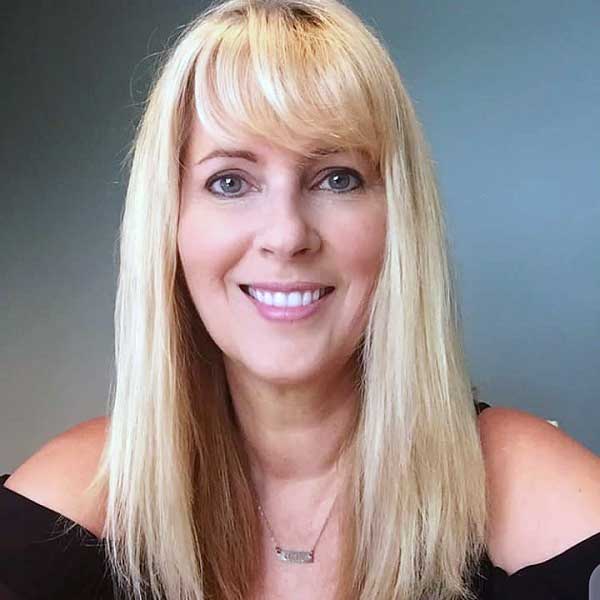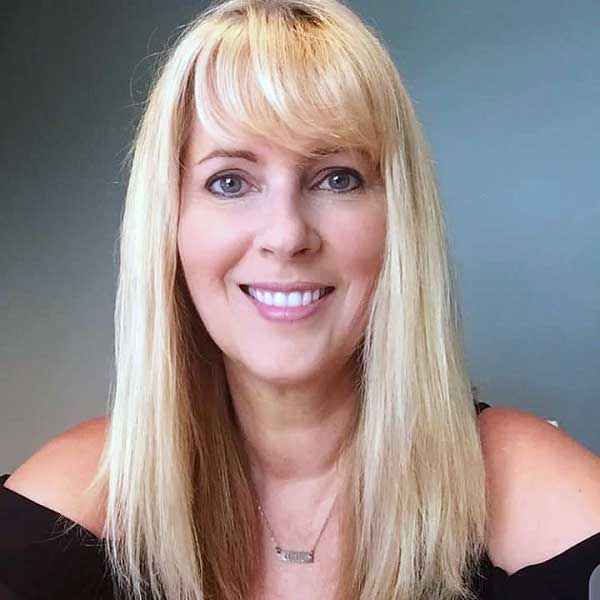 Women over 50 can proudly rock bangs with their medium length straight hair and this is one way how. This style features full bangs that rest on the eyebrows and casually leaning to the side.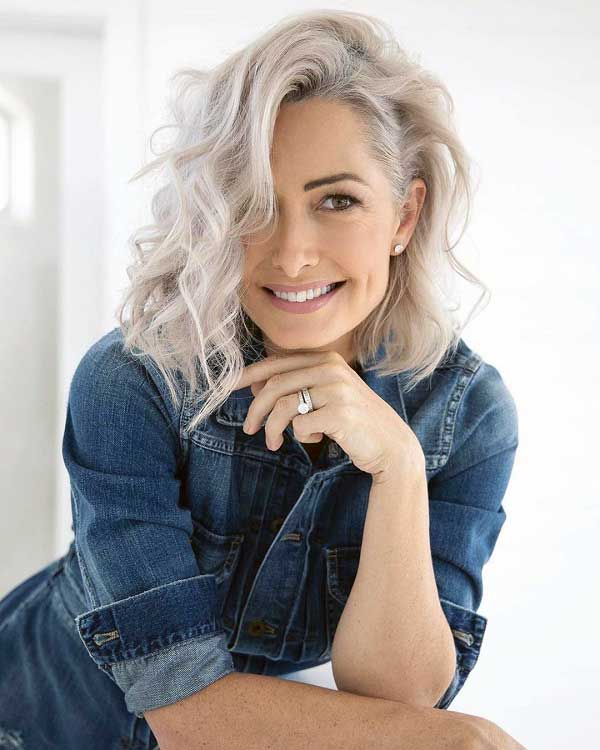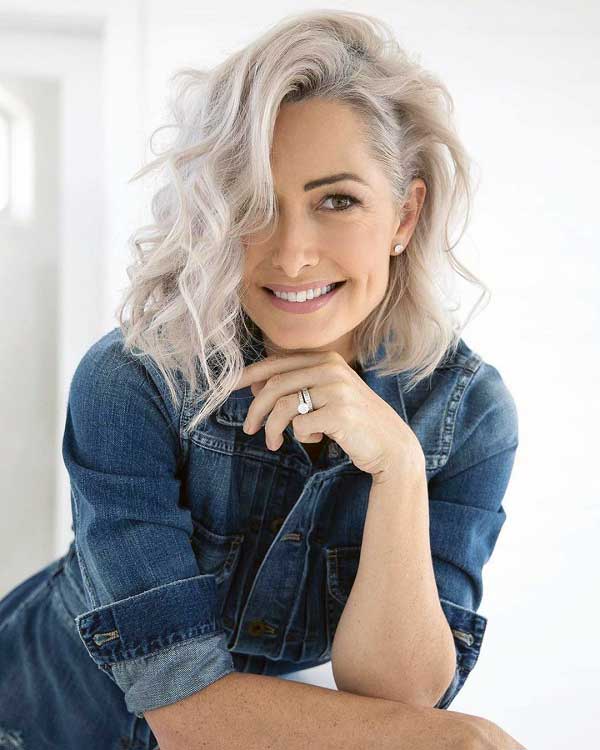 Featuring wavy hair of neck-length, this style is so stunning that it makes the wearer look a day over 40. The gray tones and highlights give the style character, while the bangs are styled to the side.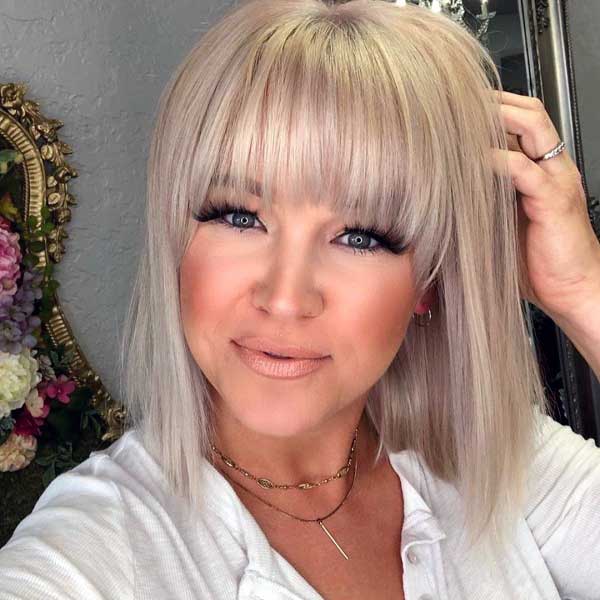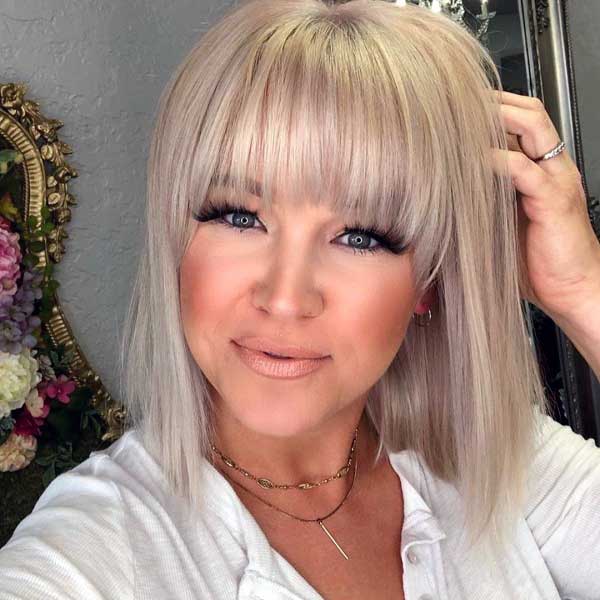 Short hair, don't care. This style features a straight, bob-like hairstyle with long wispy bangs which rest at the eyelids, thus, drawing attention to the eyes. It's practical, ageless and stunning.
22. Medium Wavy Hair With Bangs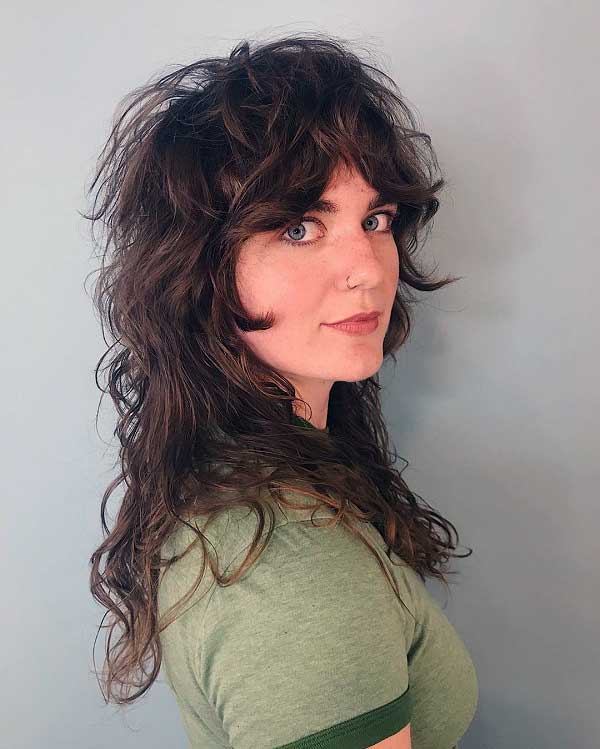 Having wavy hair shouldn't hinder you from any hairstyle, certainly not bangs. The bangs in this style are long and voluminous even as they're styled in a messy nature.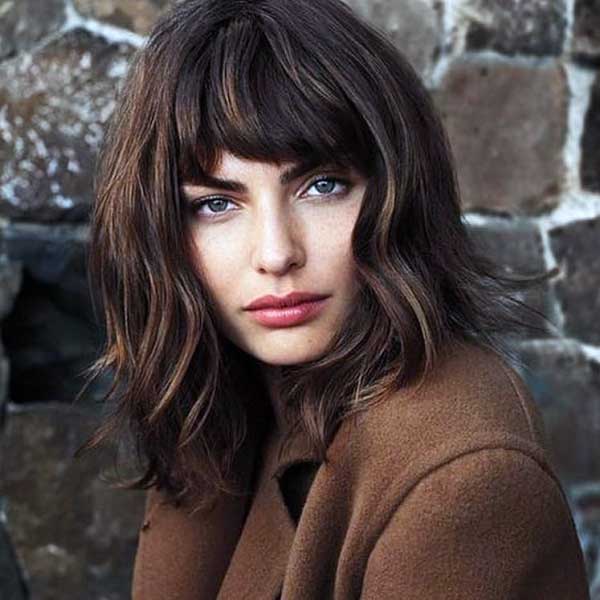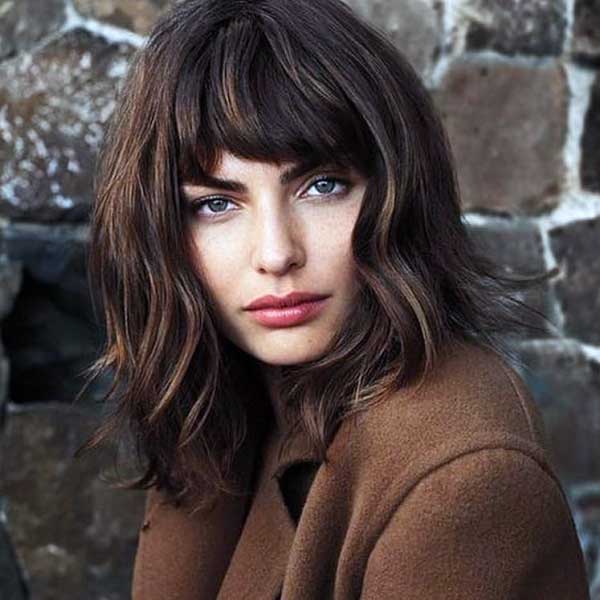 With a mane as thick as this, bangs would look amazing. This style features thick layered hair styled into a short haircut with wavy curls and a full bang.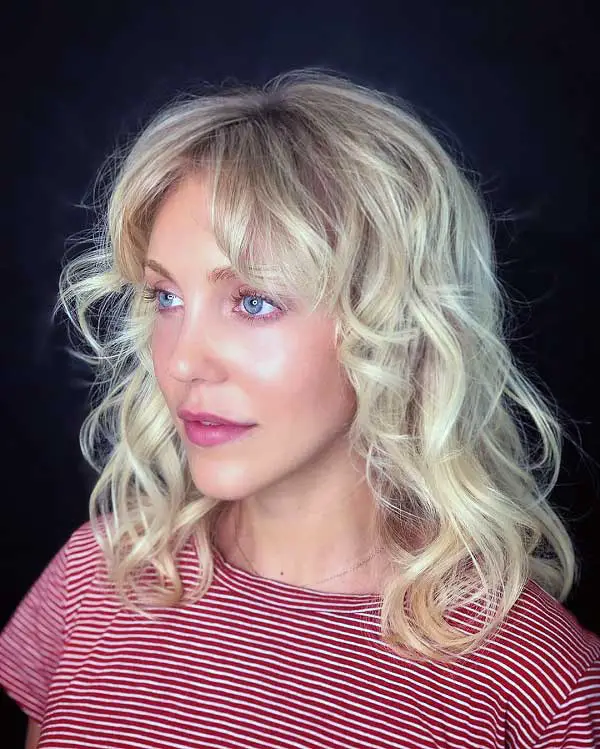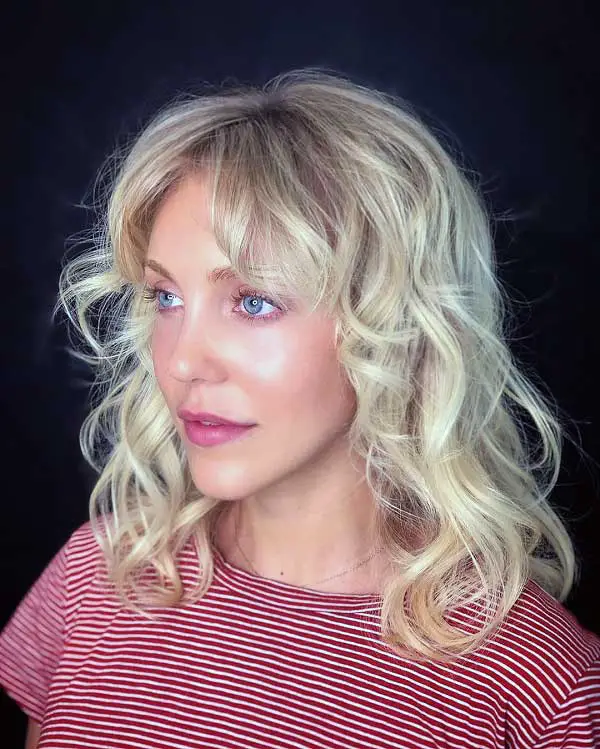 This approach to this hairstyle is less voluminous than the previous. The effortless waves, softly parted bangs, and the shoulder-level length of this hairstyle as well as its alluring color makes it breathtaking.
23. Medium Shaggy Hairstyle With Bangs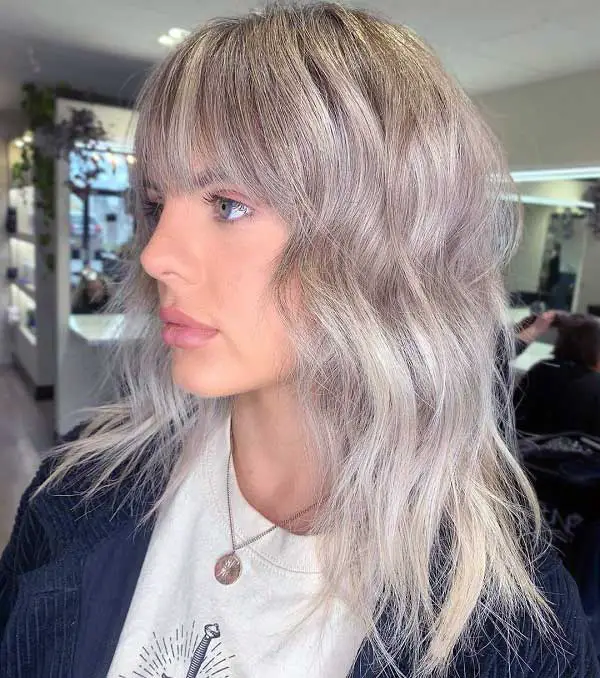 Shaggy is the new messy and this look is killing it. Featuring loose waves, a choppy haircut, and wispy bangs, this is one way to go when seeking out this look.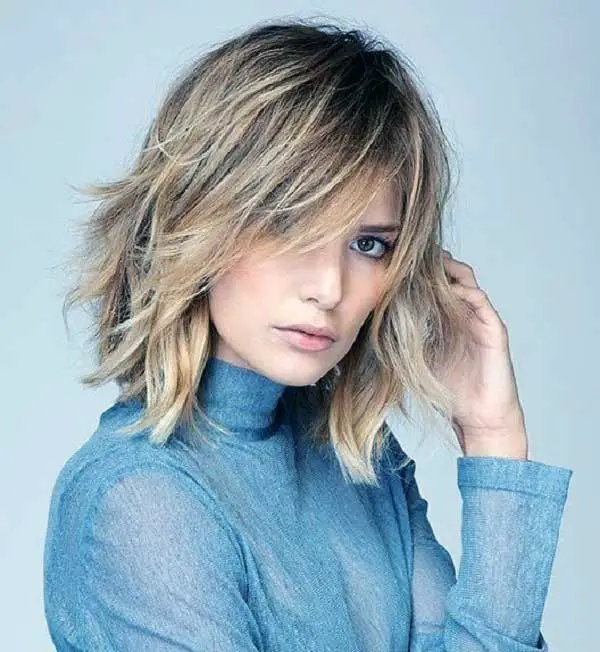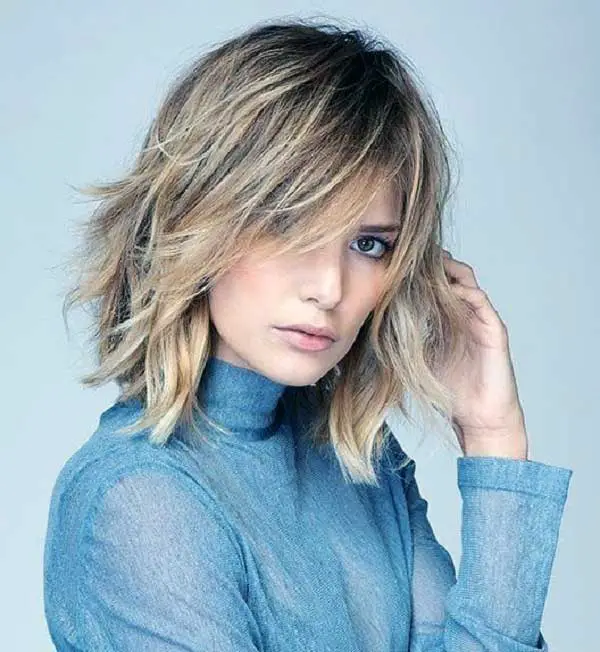 If you prefer full-on shaggy, this look portrays it with finesse. Featuring medium length choppy hair, loose waves, side bangs and a lot of pigment, this style has a little bit of something.
This look is indeed toning down the shaggy. It's a more subtle approach to the hairstyle and it features medium-length hair with wispy bangs swept to the side. Simple and stunning.
24. Shoulder Length Thin Hair With Bangs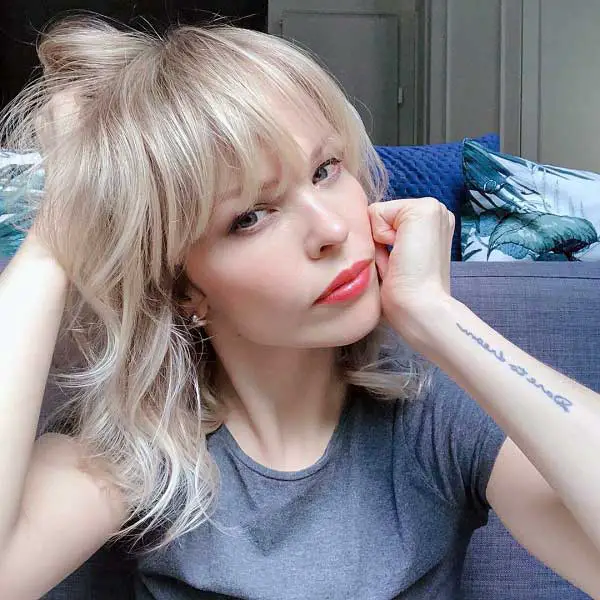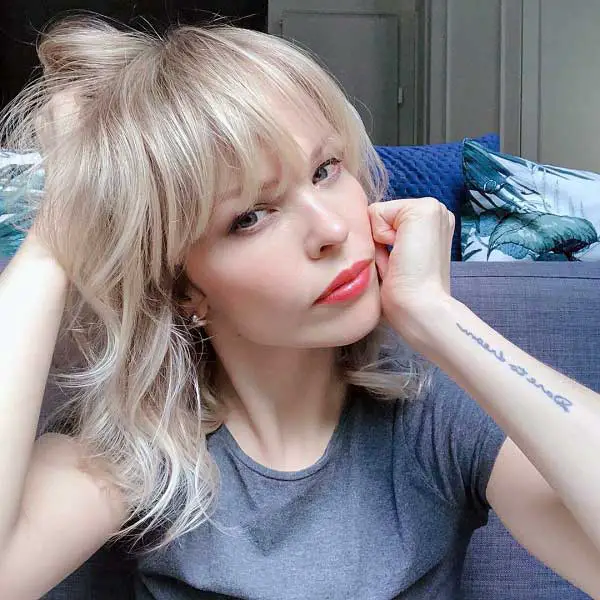 Bangs look great on thin hair and this shoulder-length hairstyle with long choppy bangs is a great example for this deduction. The style looks light as a feather and it's high maintenance too.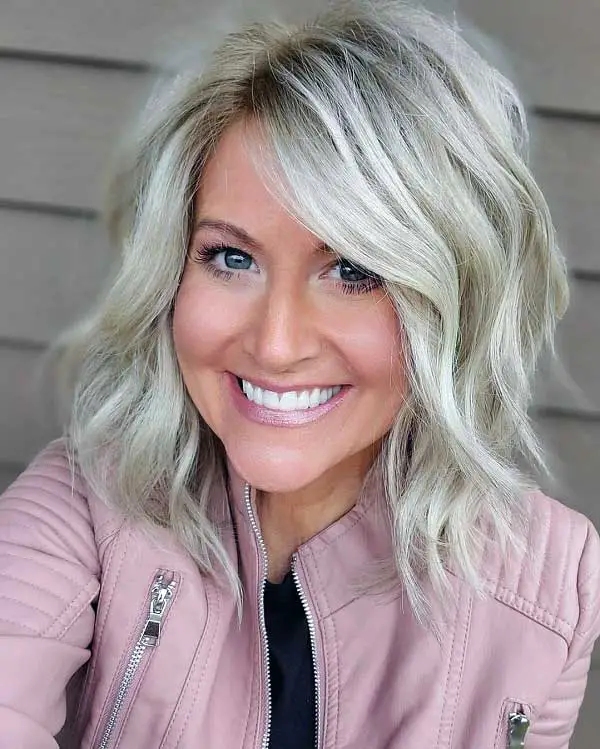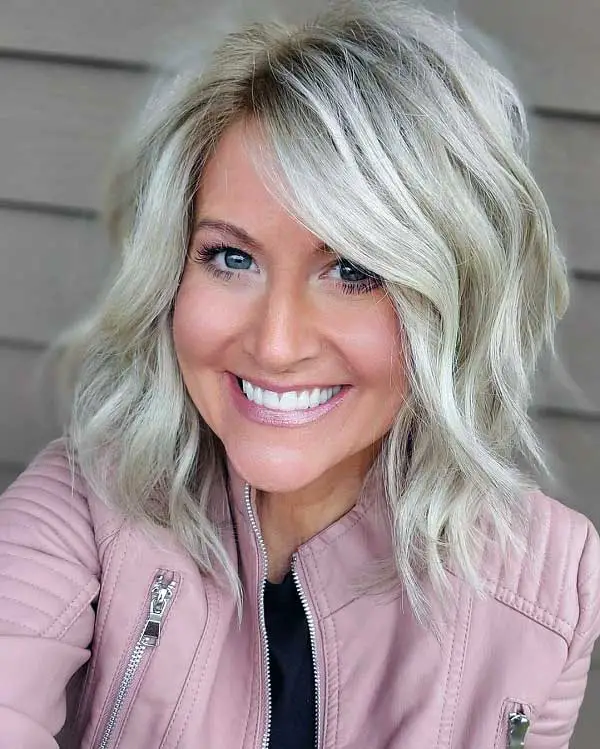 Featuring a side part, side-swept bangs, medium-length wavy hair, and thin density, this hairstyle is pretty great. It's ageless, low maintenance, and very practical for everyday use.
25. Medium Hair Pigtails With Bangs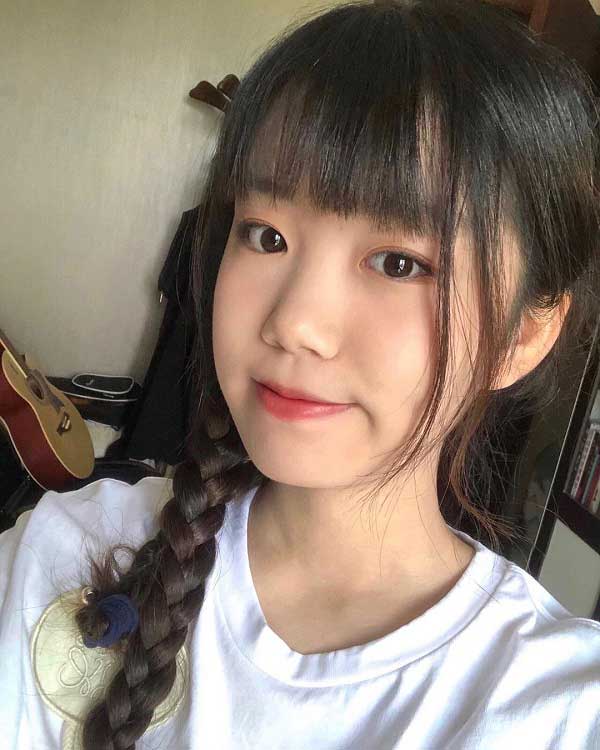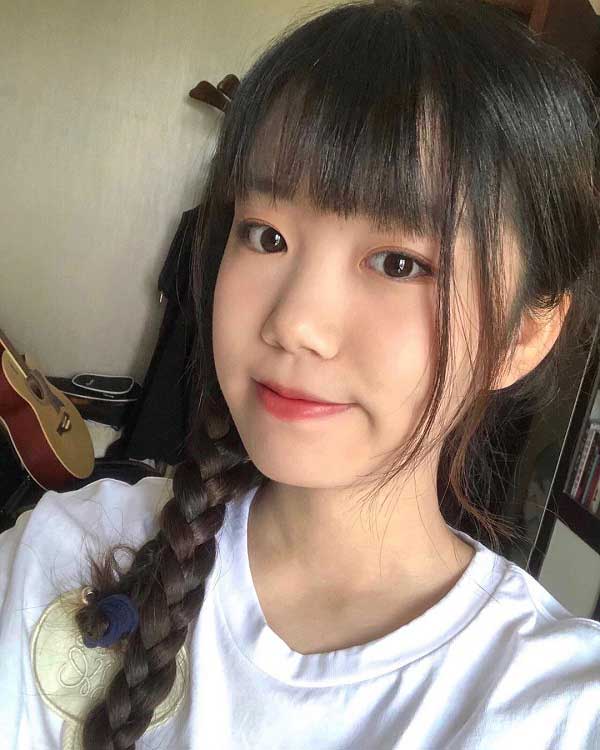 Bangs with pigtails is one combination that has a childish innocence to it. This style is done with straight bangs resting on the eyebrows, loose hair strands cupping the face, and of course, braided pigtails.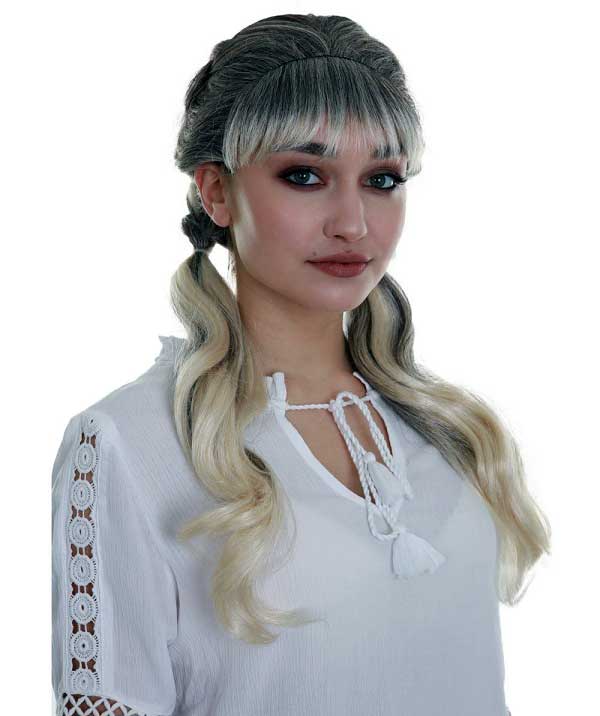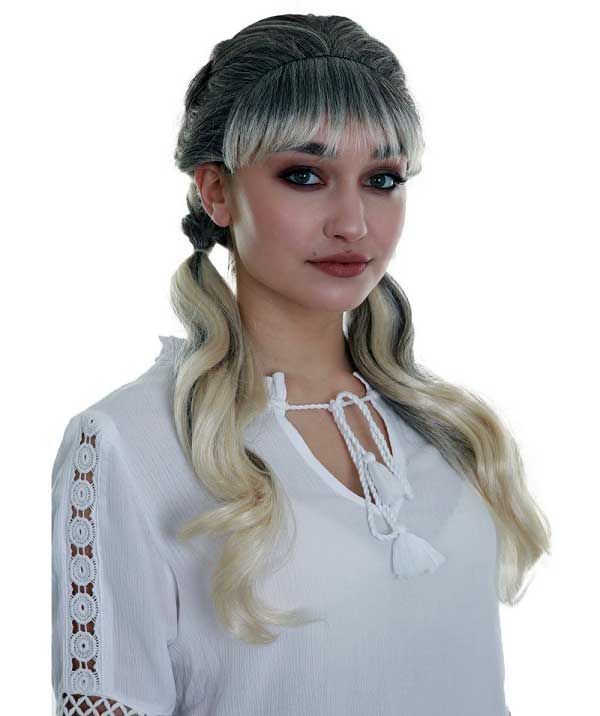 The bangs in this approach is more defined with a thin band. This style is done with longer hair and although the roots of the pigtails are braided, the ends are left in a side ponytail form.
26. Medium Thick Hair With Bangs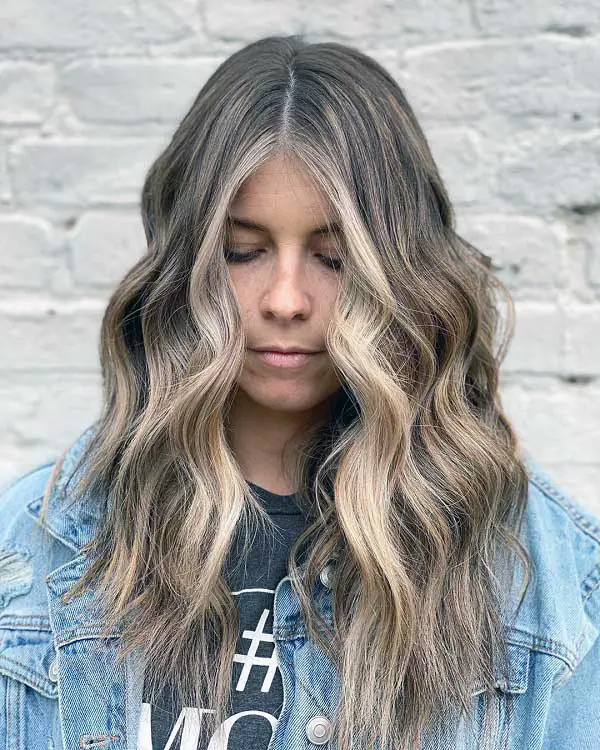 Featuring shoulder-length hair, medium thickness a center part and bangs which merge with the rest of the hair, this hairstyle is definitely a blank canvass because it works with everything.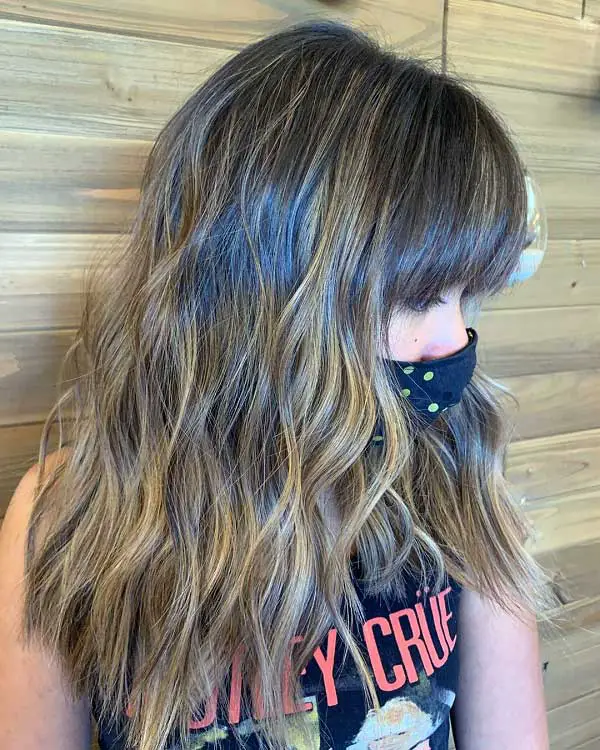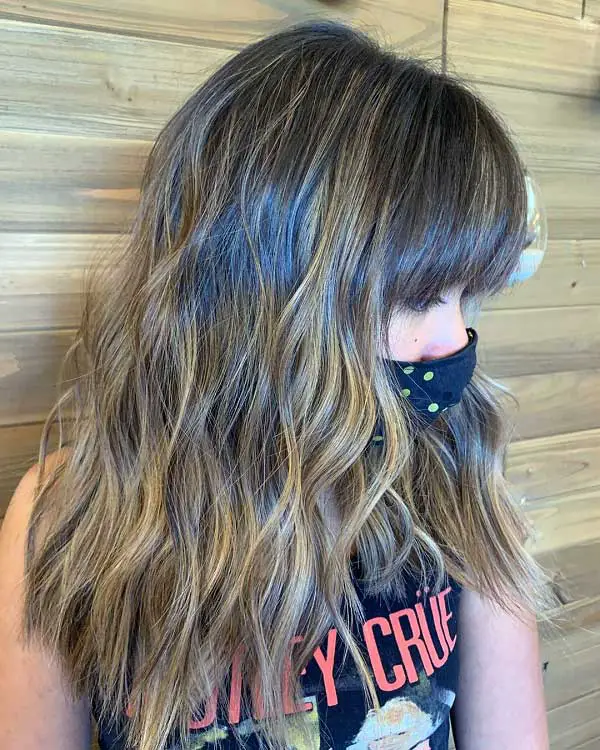 Thick hair, don't care. This hairstyle features long full bangs that rest above the eyelashes. The hairstyle's wispy/choppy nature gives it an edge while the loose waves add character.
27. Shoulder Length Hair With Blunt Bangs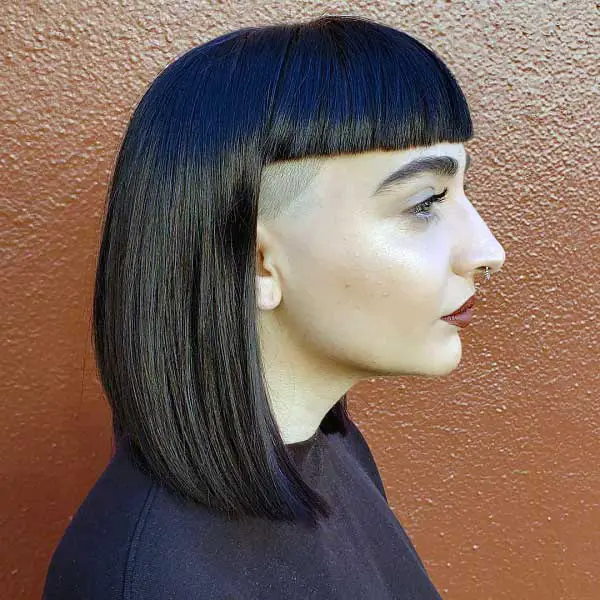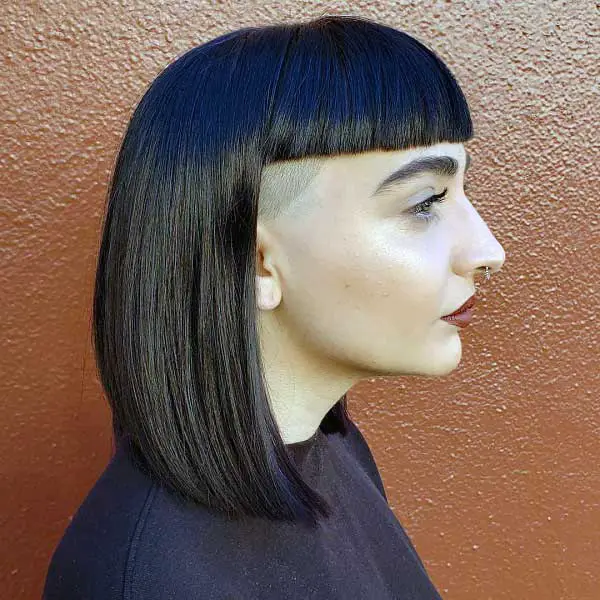 Bangs don't have to be a clean cut to be pretty. These blunt chopped bangs on shoulder-length hair is a real winner. Also, the bob style and the scraped edges gives this a lot more edge.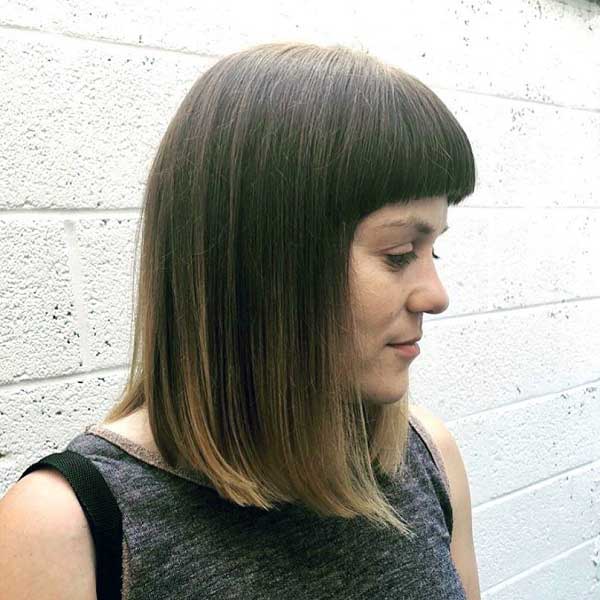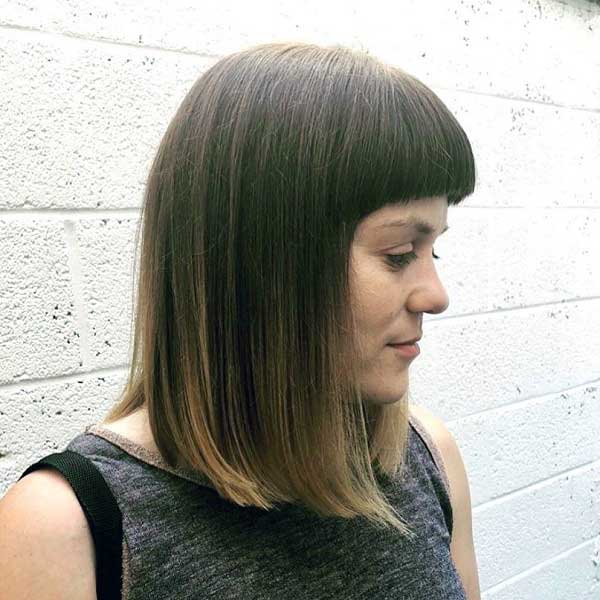 Blunt bangs can also be styled like so. However, this look has no shaved sides and it's styled in an outward bob. The bangs are full and they rest on the forehead, thus leaving room for other facial features.
28. Medium Hairstyle With Curtain Bang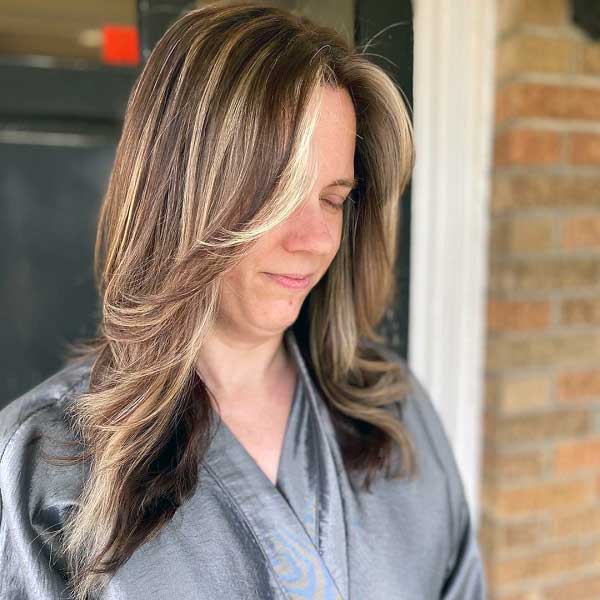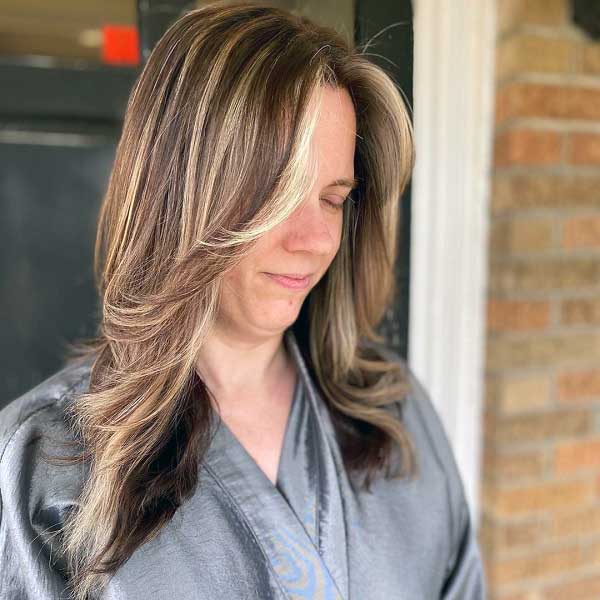 This style features hair of length just beyond the shoulders. It has a feathery-curl thing going on in the ends and the bangs are styled into mini-curtains like so.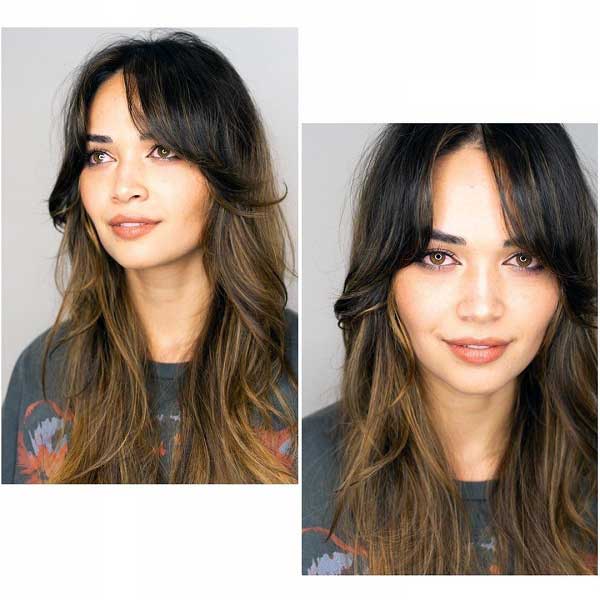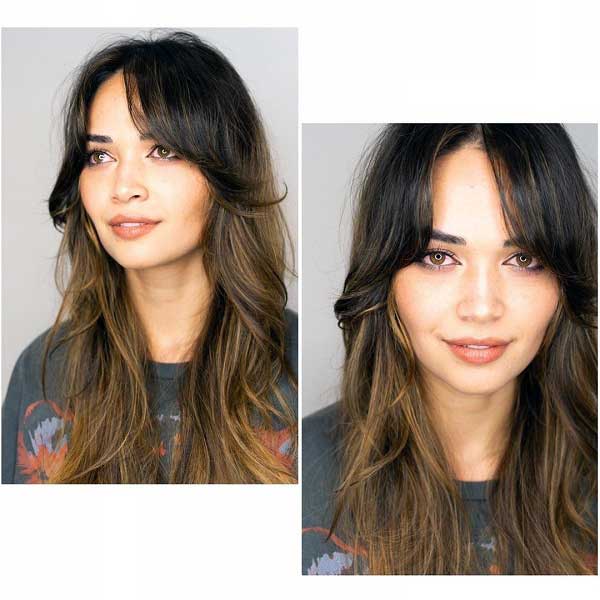 Curtain bangs are so flattering for diverse facial structures and contours. Somehow they get the job done without concealing any major facial feature. This approach features long ombre-colored hair.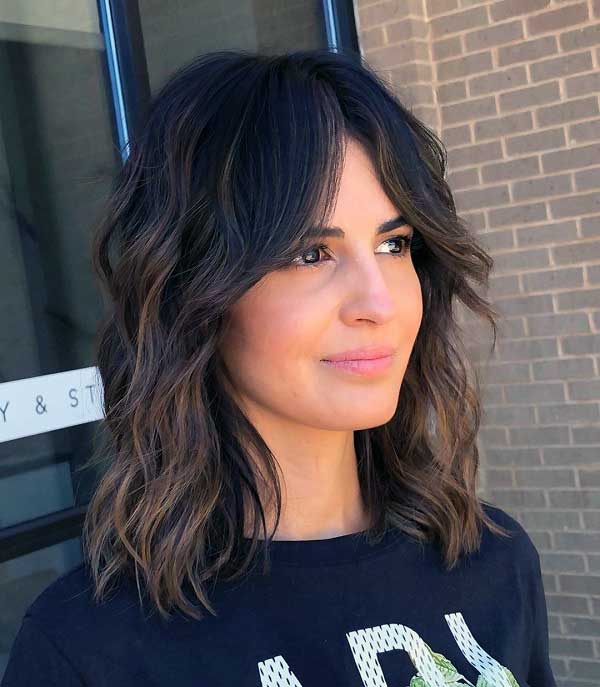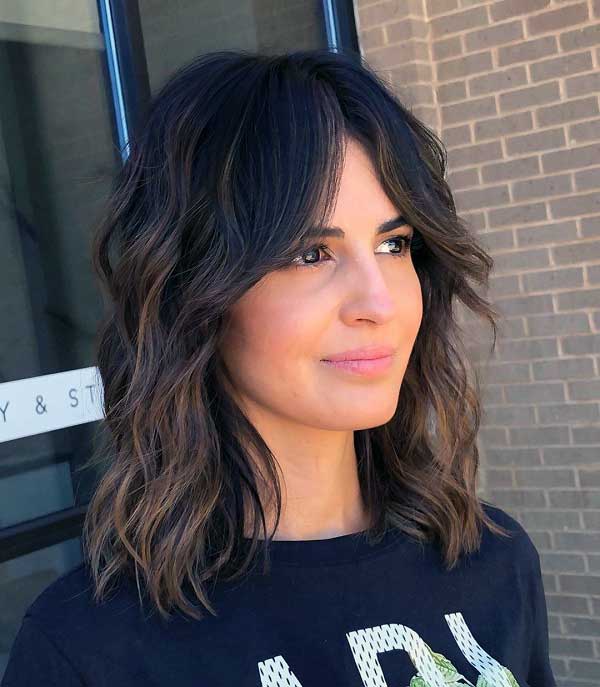 Curtain bangs also go great on neck-length hair. This style features soft curls on choppy hair with curtain bangs on either side of the face. It's flattering and doesn't require so much maintenance.
With the plethora of hairstyle options available to individuals with medium-length hair, bangs is one of the styles that really stand out. This piece highlights some of the multiple ways in which one can combine bangs with their medium length hair. These bangs hairstyles go from practical to cute, stunning to high/low maintenance. Some even possess more than one quality, feel free to derive inspiration from these styles.