If you want a simple, yet sophisticated look without breaking the bank, then a high ponytail would definitely be your best bet. High Ponytails have so much range and versatility that they can be rocked by different people in several different ways.
This piece highlights a handful of these ways which one can rock a high ponytail, just to give you inspiration on your next salon appointment.
1. High Ponytail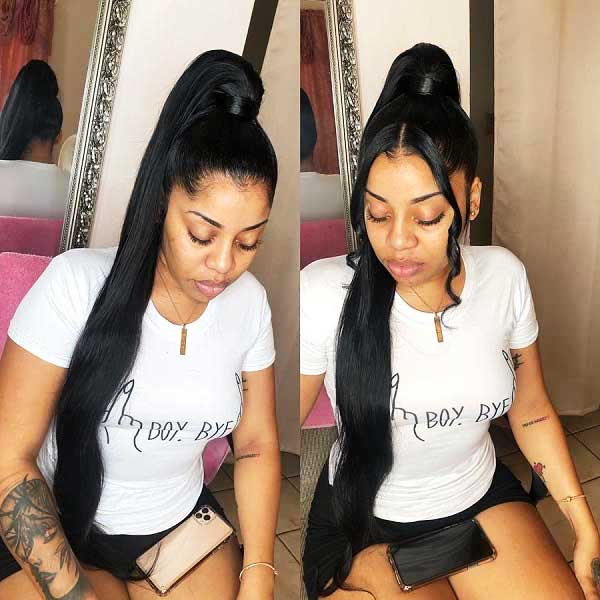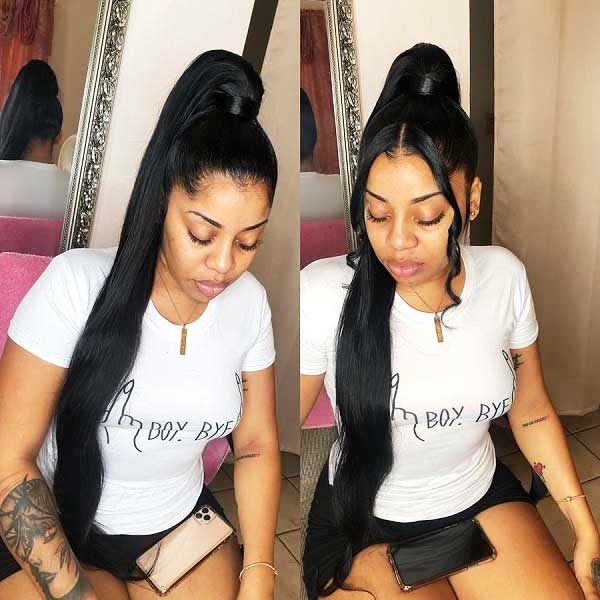 The best high ponytail hairstyle approach could be achieved with a very long weave. This approach comes in two styles as seen. You can do a full sweep or you can do a center part.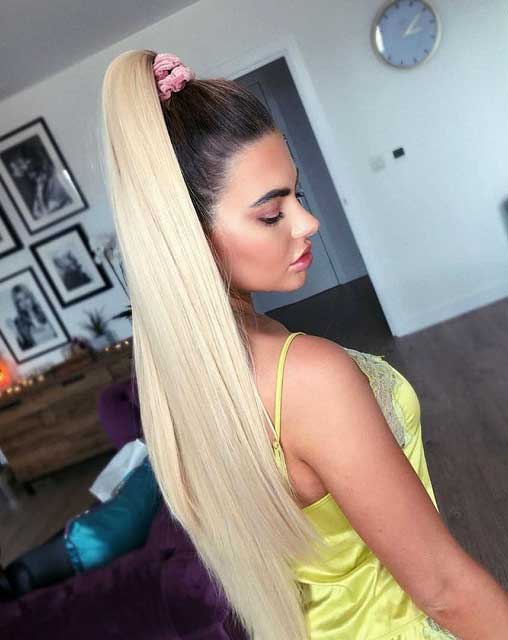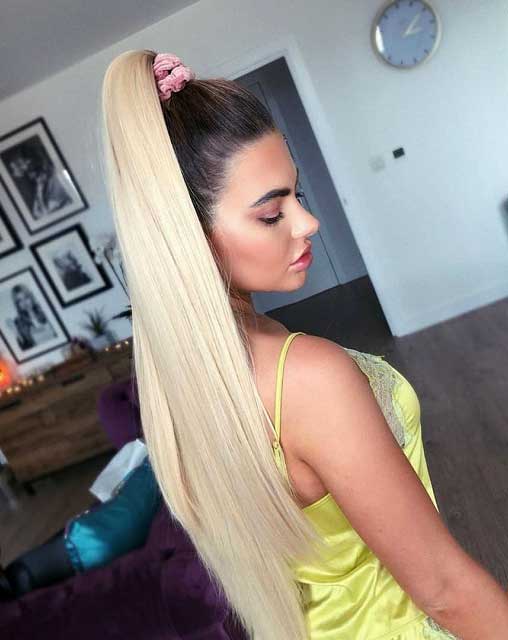 This classic ponytail style is done with a much straighter weave. It's simple and very low maintenance as its only hold is a scrunchie. It also has an ombre-like transition going on.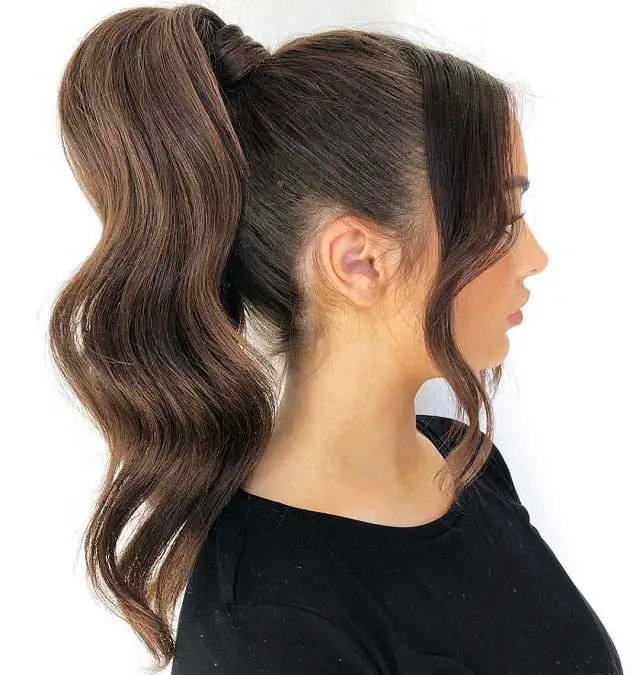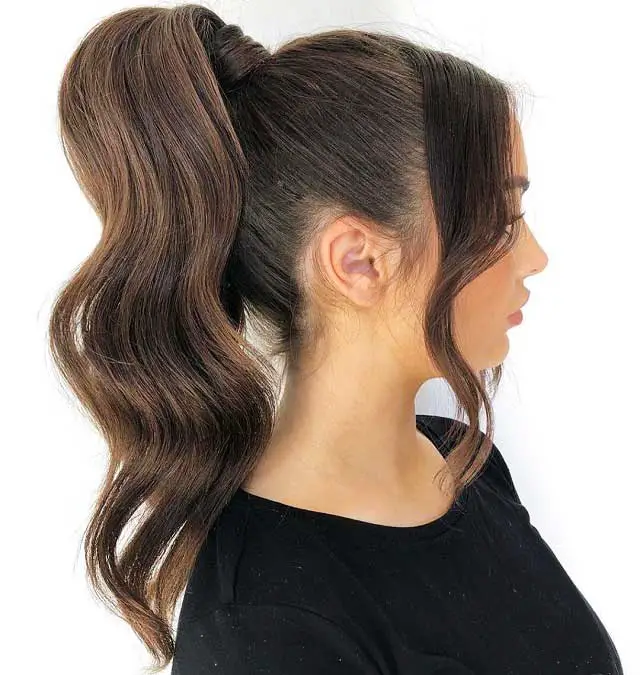 Looking at this high hairstyle with ponytail you can tell it's done with medium-length hair. It's not as simple as the previous as it has a center part with long bangs that cup the face.
2. High Ponytail Braid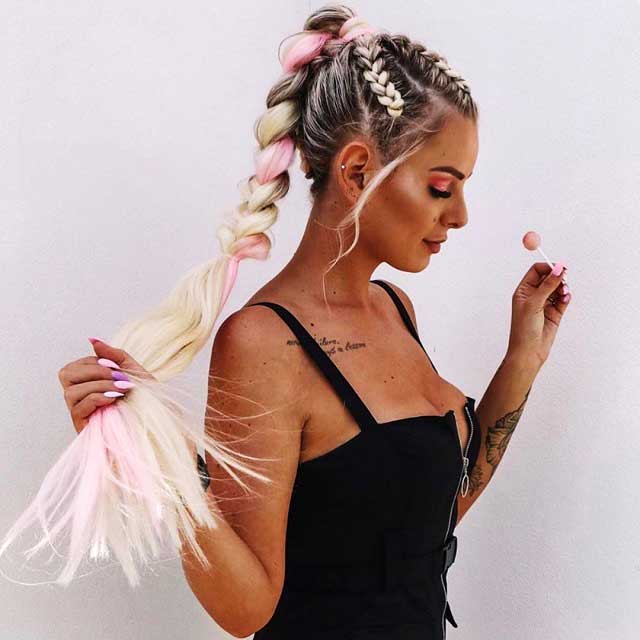 Lots of colorful hair extensions went into this ponytail style. This style is one for long hair and it features loose cornrows braided up to form a long braided ponytail which has loose ends.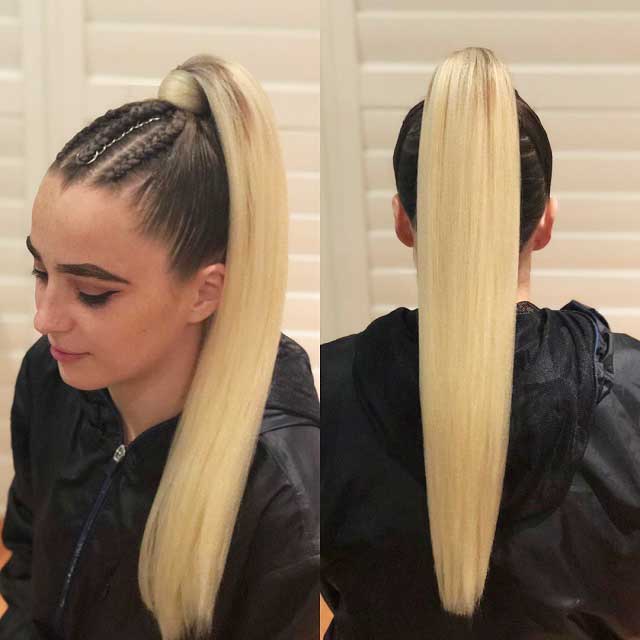 Featuring a combination of tight cornrows and no parts, this formal ponytail style is done with a long weave of a different color. It has a firm grip & natural texture and it looks really tight.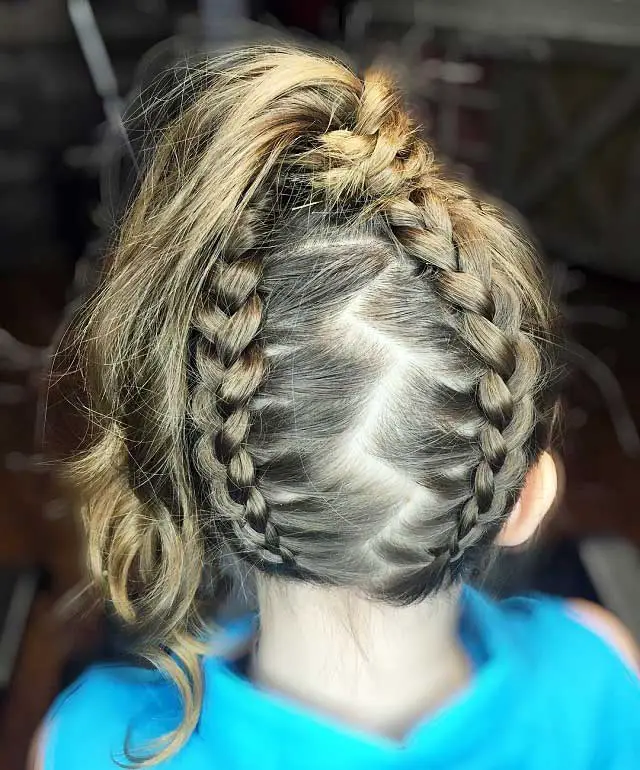 An updo is suitable for a child. It is done with loose cornrows with zig-zag patterns. One can achieve this look with average length hair. It's soft, low maintenance, and easy for any formal event.
3. Sleek High Ponytail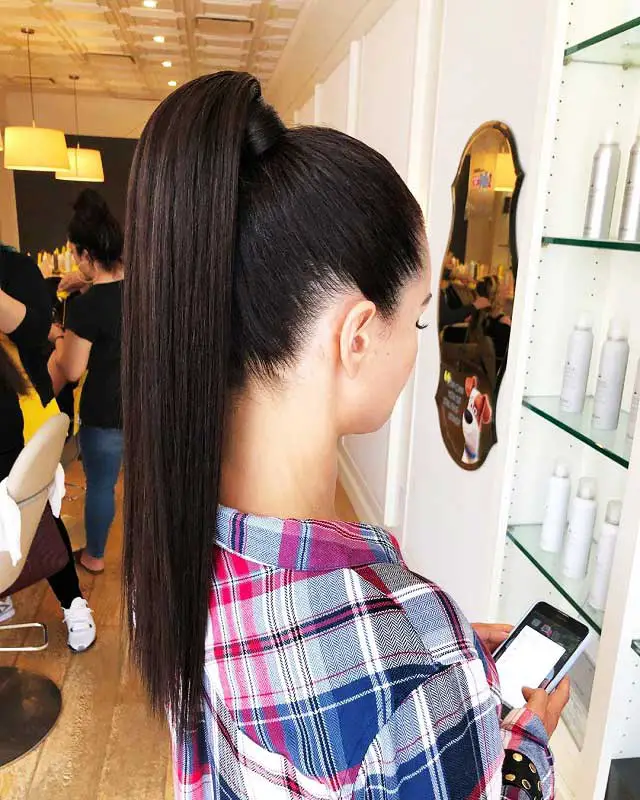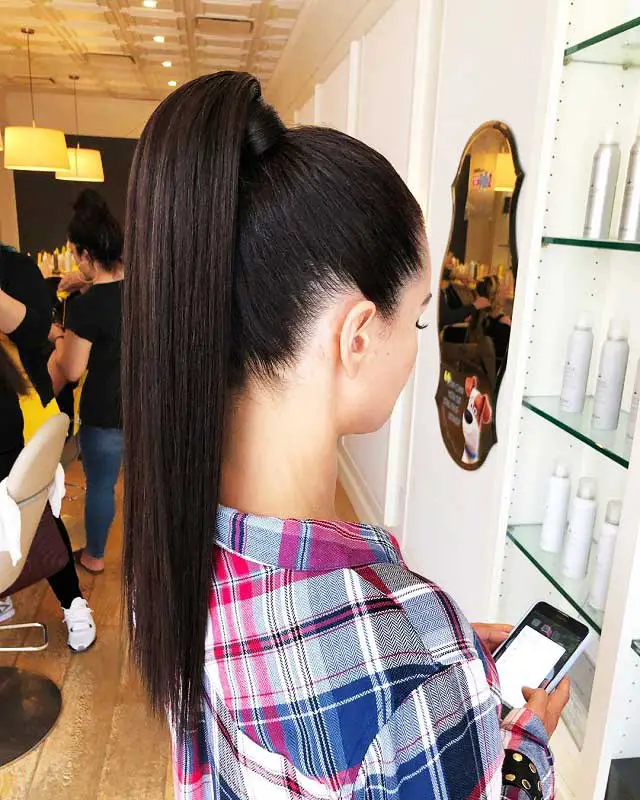 Slicked all the way up is this ponytail style. This approach is sleek, shiny, and very simple. Done with long hair, this high ponytail style really accentuates the facial features.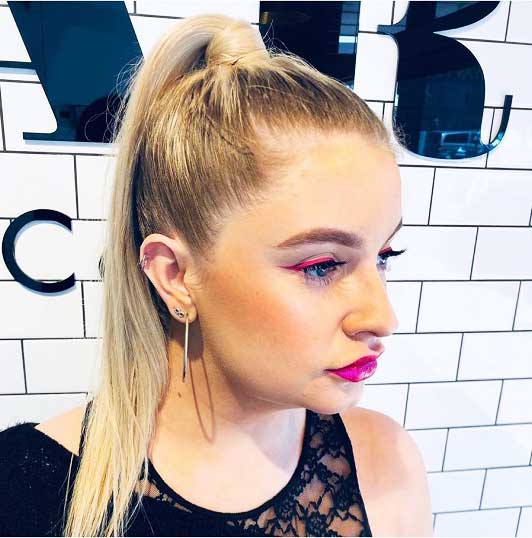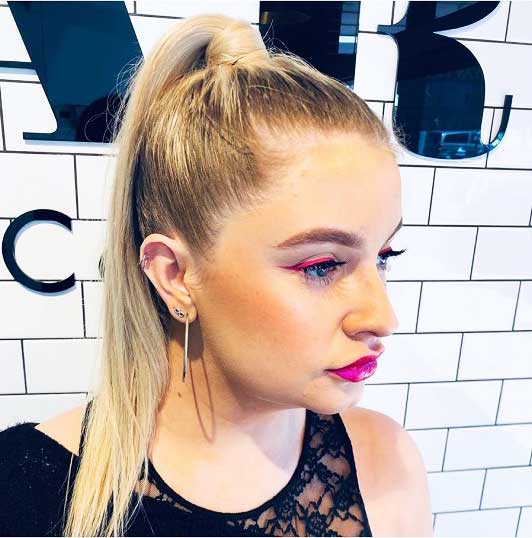 A high sleek ponytail, which is centered a few inches from the hairline. The hair color has an ombre-twist and the style is very low maintenance. This ponytail style draws attention to the face.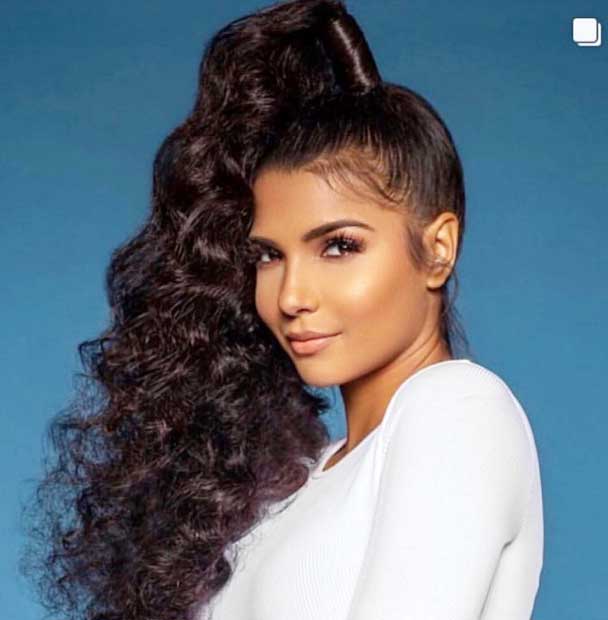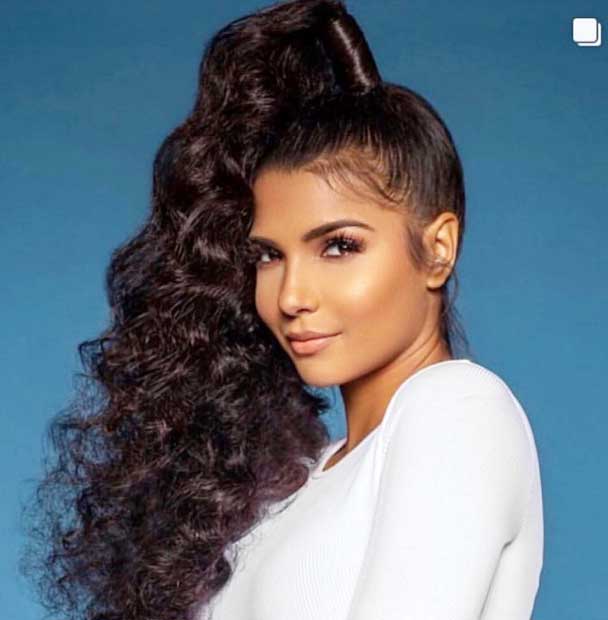 Talk about a complimenting hairstyle. This ponytail has such beautiful elements to it. The length, the curl patterns, the sleekness, baby hairs not to mention the high grip. It's very pretty.
4. High Ponytail For Curly Hair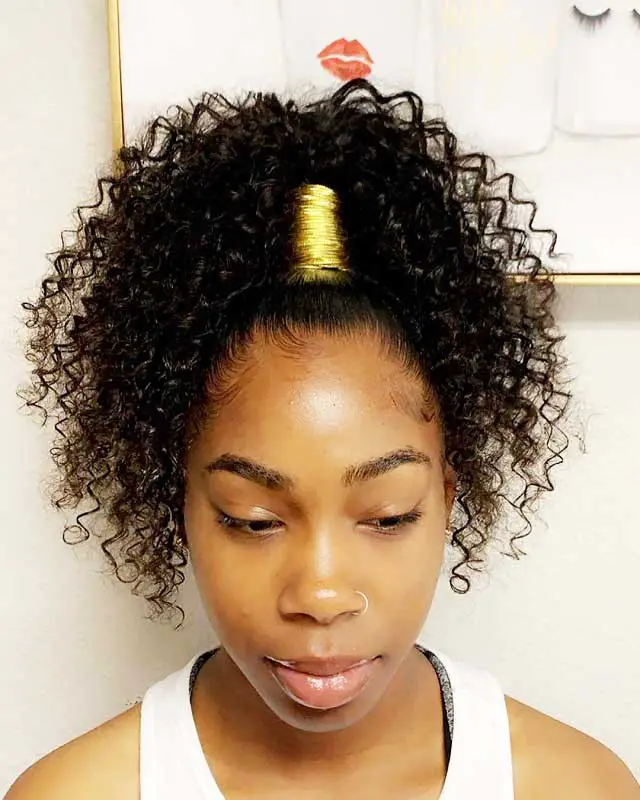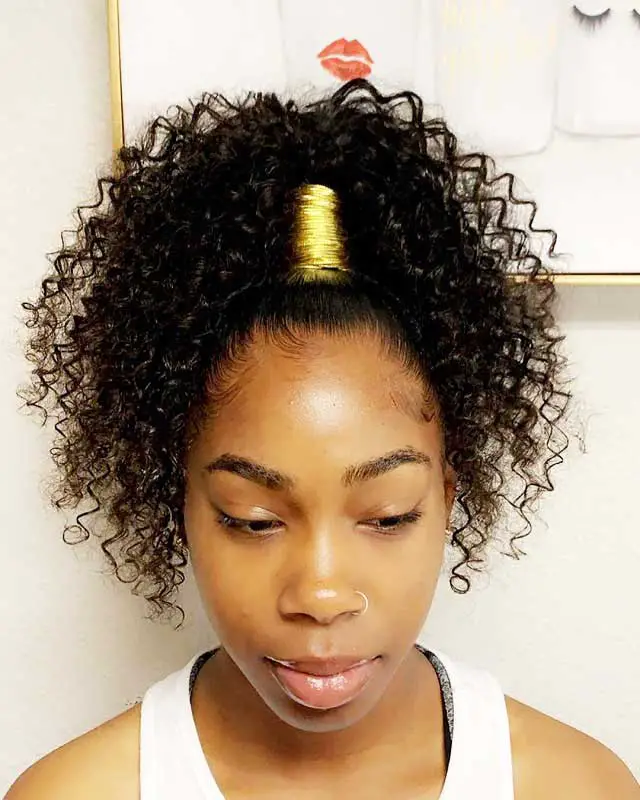 Who said girls with short hair cannot rock a pony? Well, this style proves everyone wrong. This ponytail is so sleek and the tiny hairs give it a goddess impression. Achieved with curly hair, this style is a showstopper.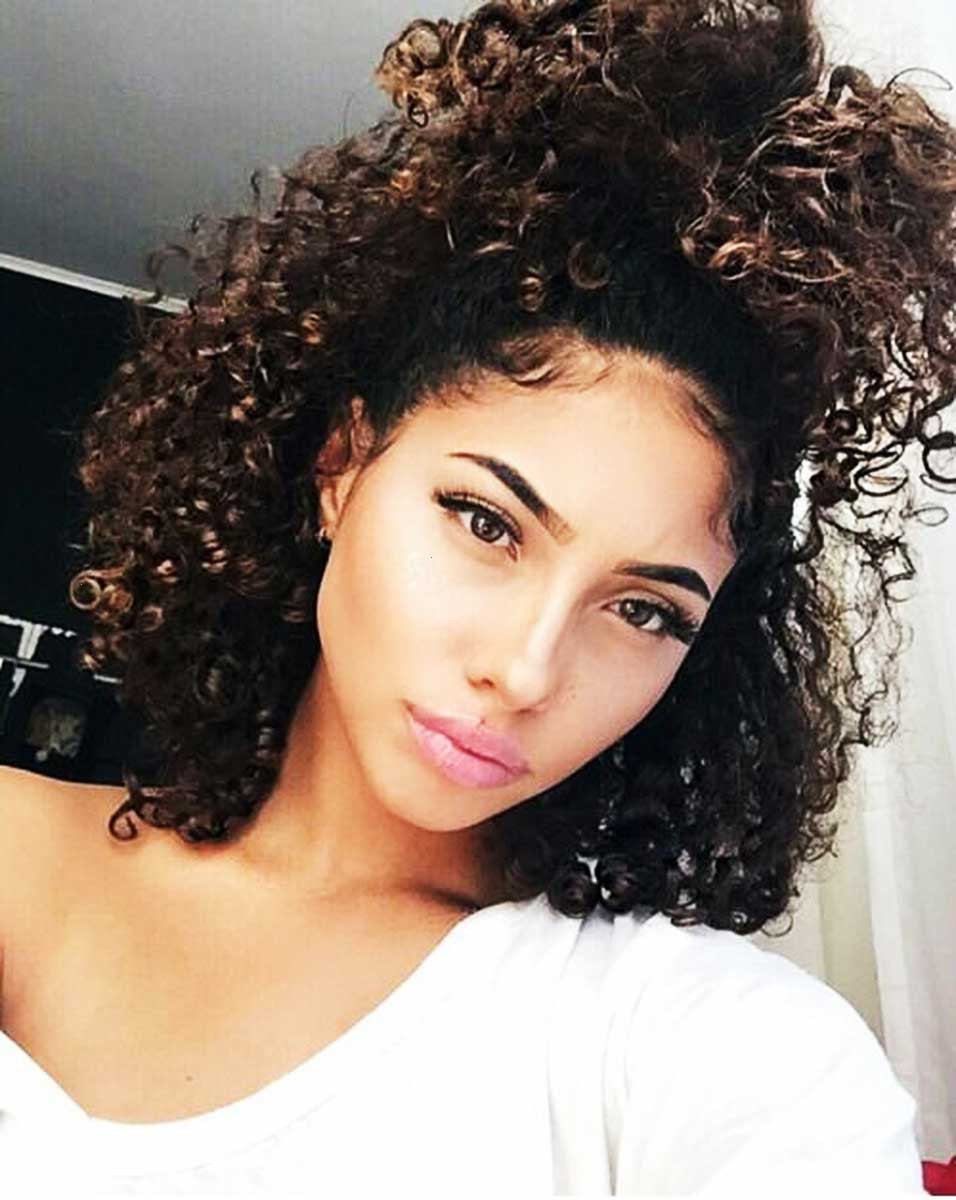 This ponytail style is more of a half-up half-down situation than full ponytail styles. It's achieved with such thick, curly natural hair and it's styled in a way that shows its fullness.
Also Read : 70 Best Top Knot Bun Ideas
5. French Braid into High Ponytail Styles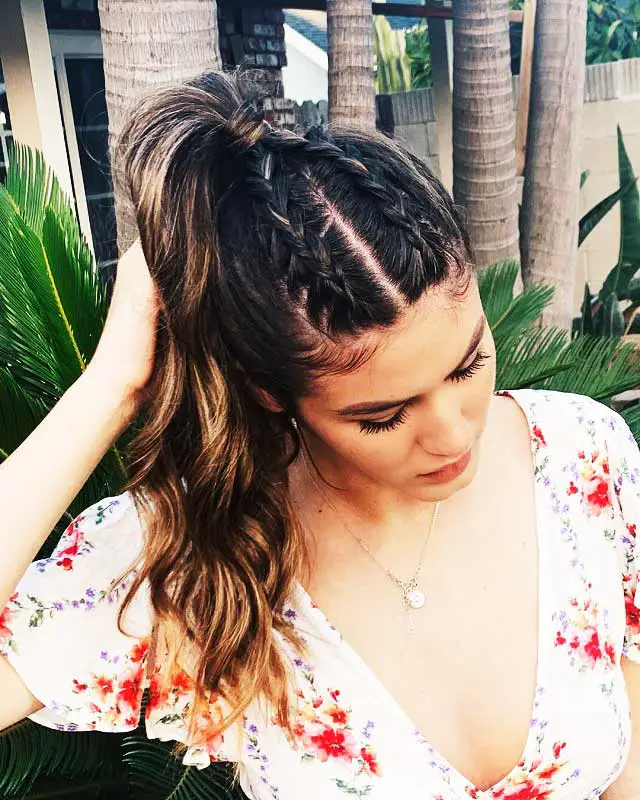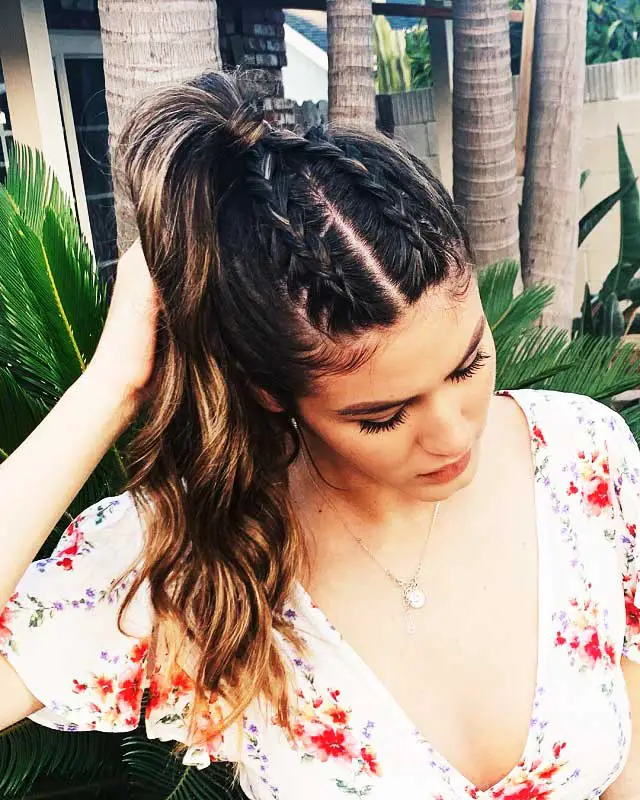 The title of this ponytail style gives most of it away. This soft ponytail features loose french braids weaved into a ponytail which also happens to have loose voluminous curls.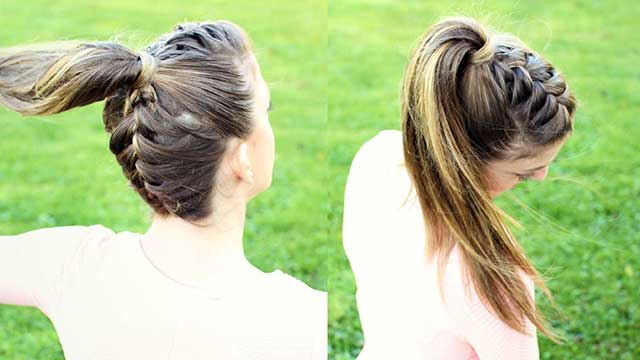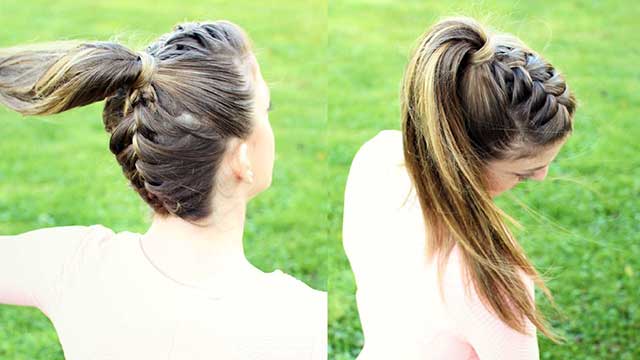 The French braids in this style are sectioned at the front and back of the hair while the leftover hair together with the braids is tucked into a ponytail in a firm grip.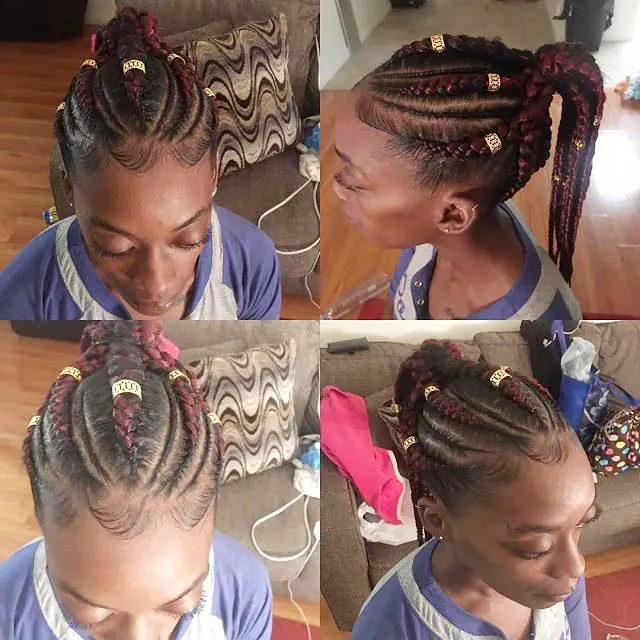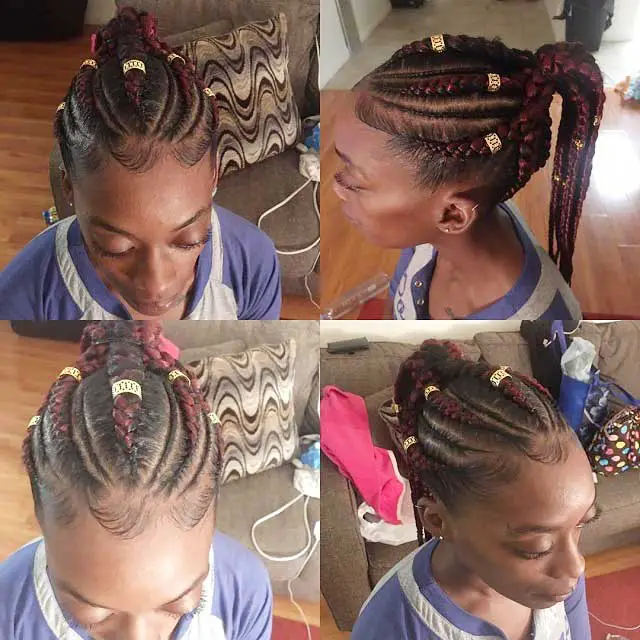 This image depicts a ponytail style achieved with just braids. The hair is weaved to form an updo and the extensions are braided individually. The gold hair accessories add pizzazz to the style. You can use hair elastic here as well if you like.
6. High Ponytail with Bangs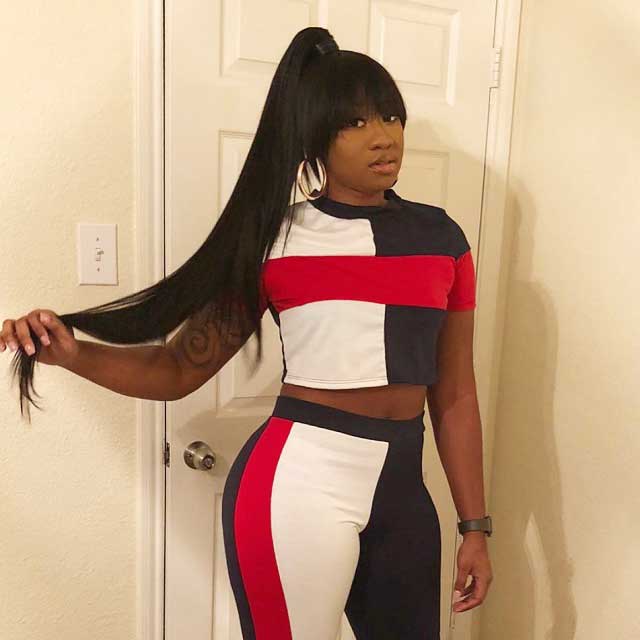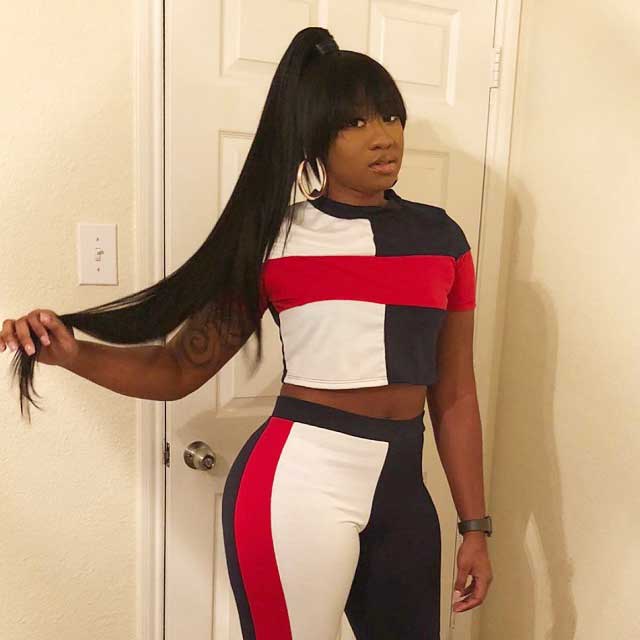 Another approach to the ponytail style is that which is done with full bangs. This style has a straight length and just enough details to transform anyone into a queen.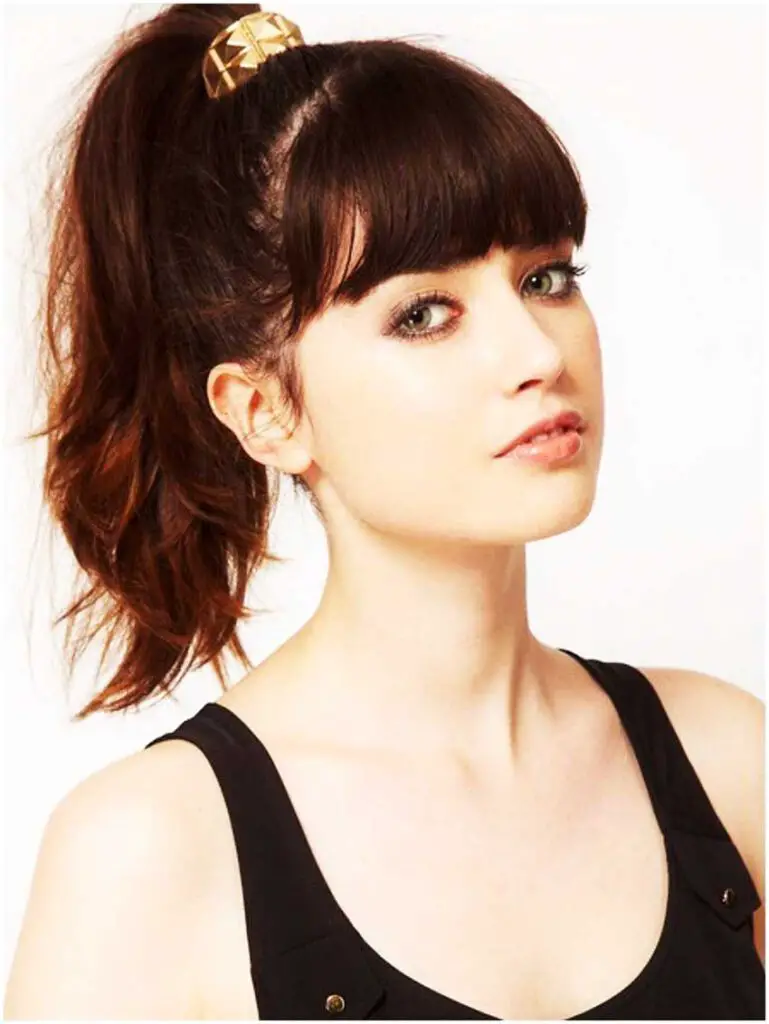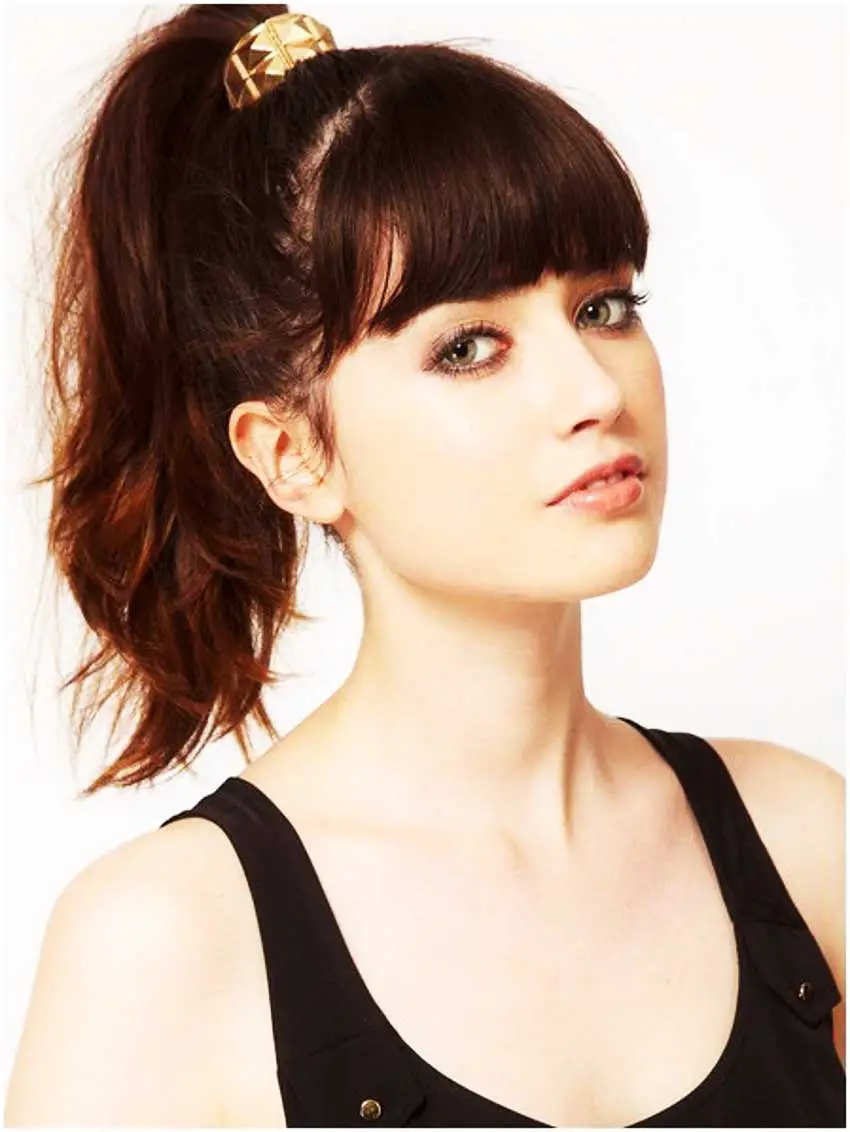 Achieved with much shorter hair than the previous, this high ponytail hairstyle with bangs is low maintenance and only requires a hair tie (or a hair elastic) provided one already has the full bangs.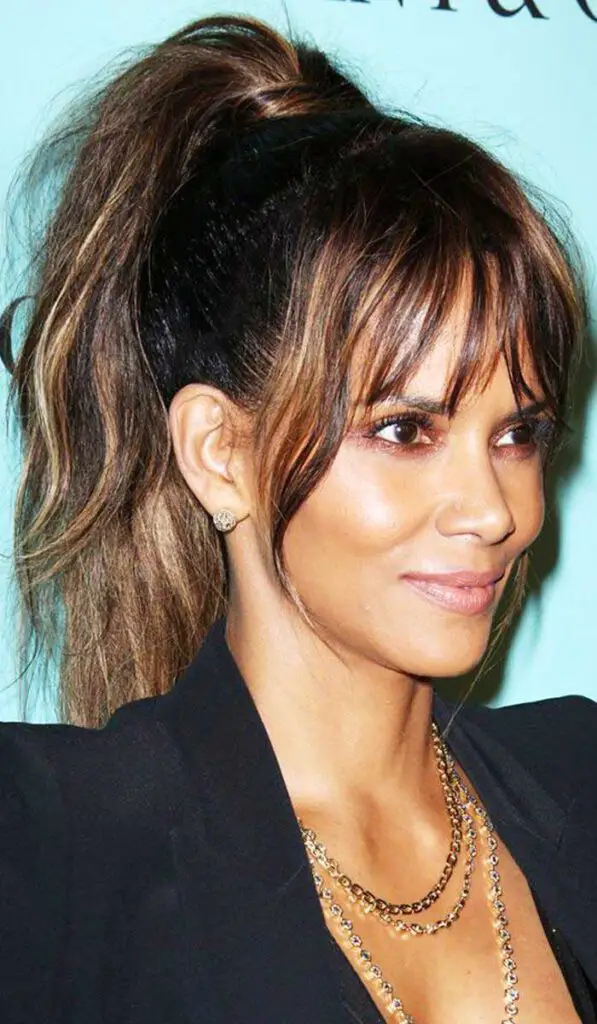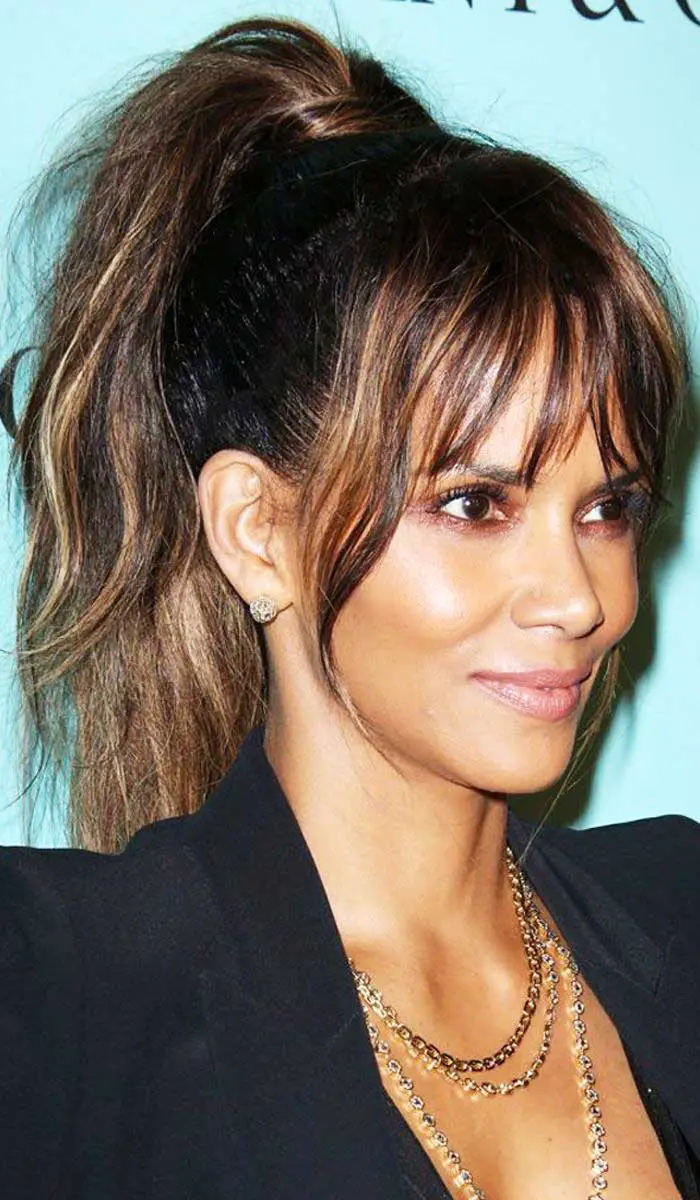 The bangs in this sleeked high ponytail not only cup the forehead, but they are also curly even as they droop down the sides of the face creating a flirty look. This classy style is perfect for a formal event.
7. High Ponytail Black Girl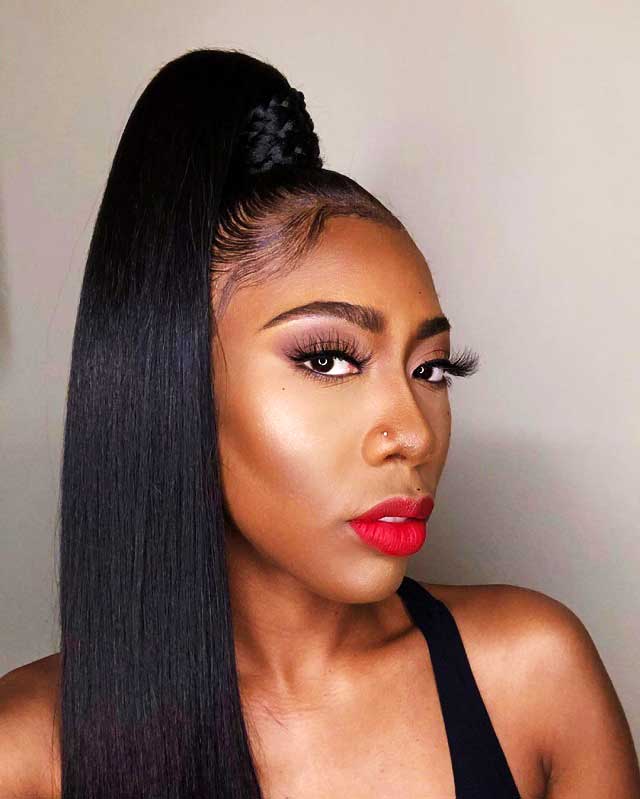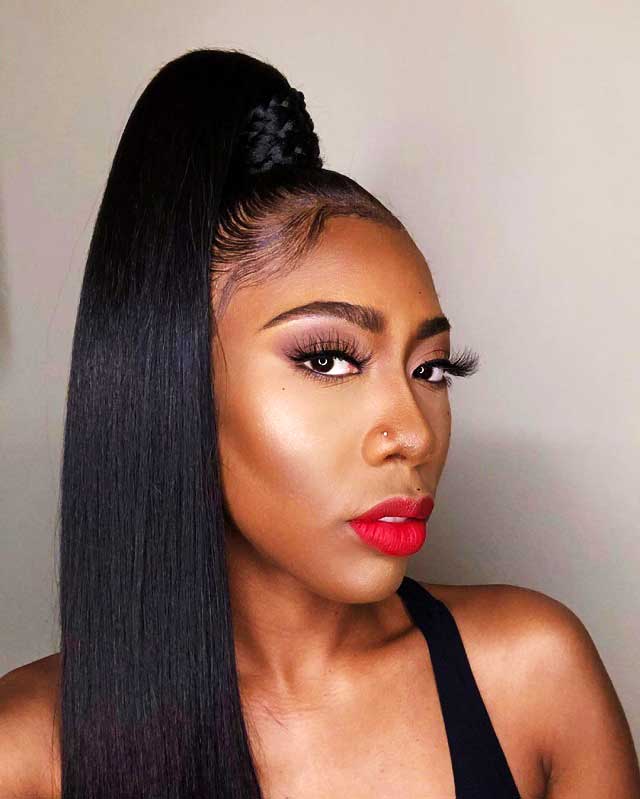 Centered a few inches from the hairline, this ponytail is very much sleeked. The grip has a braided element, the ponytail is long and straight and the edges are laid to perfection.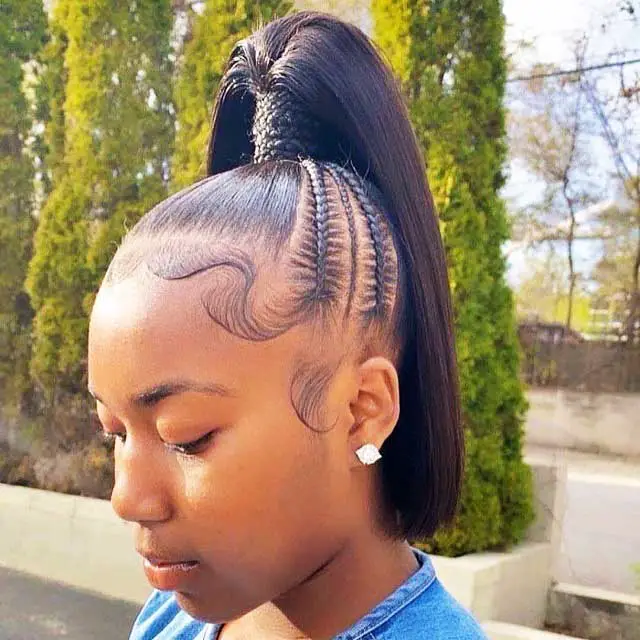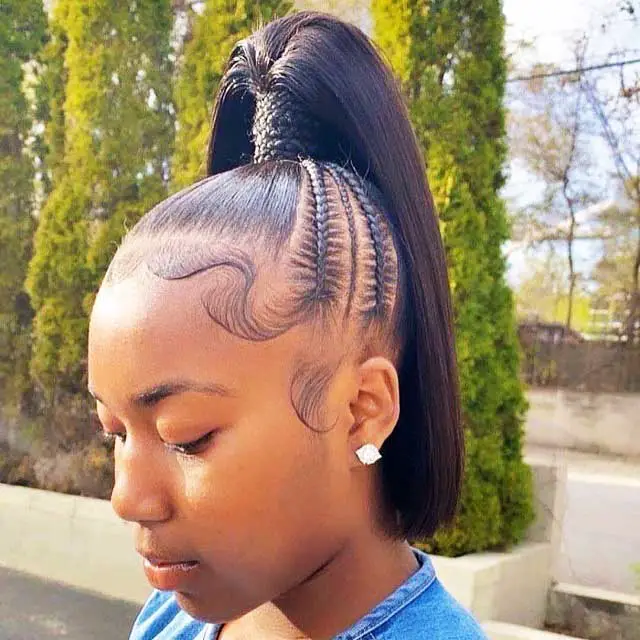 Featuring a tight braided grip, short straight hair, and cornrows, this ponytail style is just beautiful. The way the little hairs are laid in neat waves just gives the look more definition.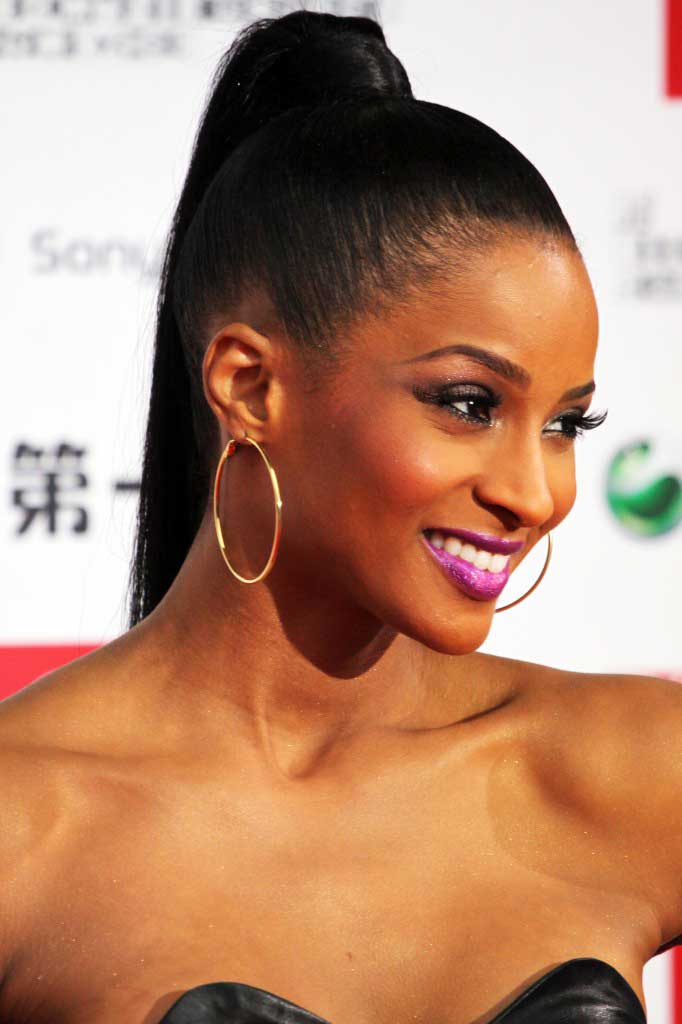 An excellent ponytail for every occasion including a formal event. This ponytail style is the very definition of simplicity and class. It's centered at the midpoint and it's very flattering for this head shape.
8. High Side Ponytail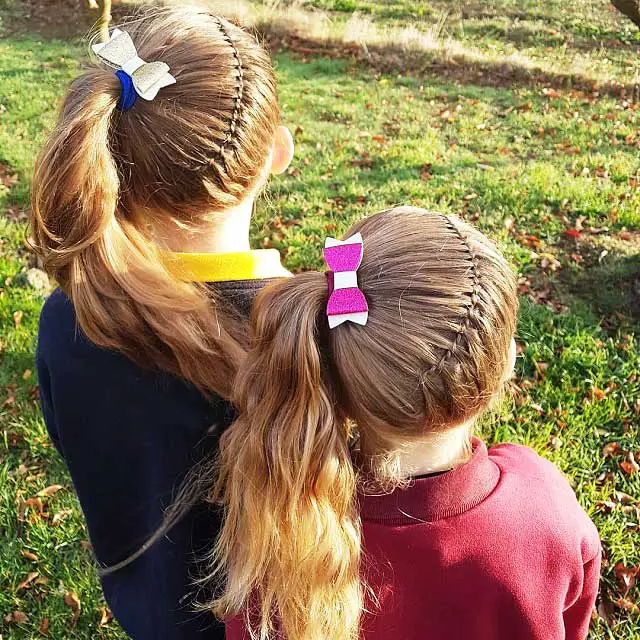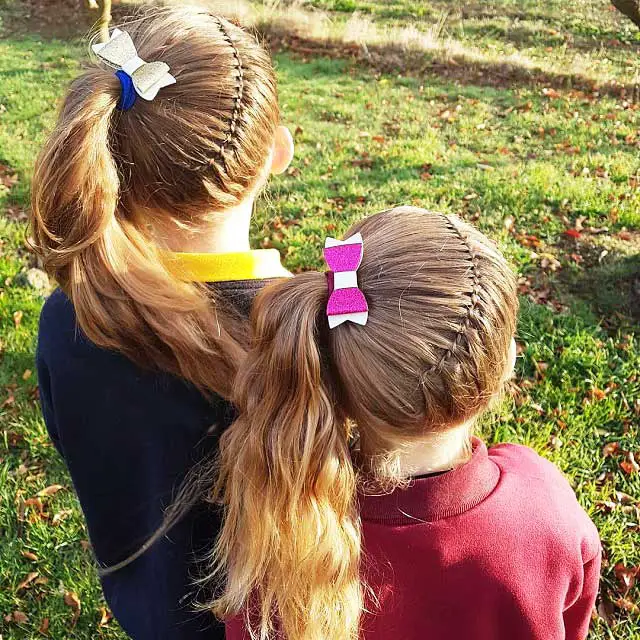 Ponytails can be done to the side too, like so. This style features a flat twist for flair and it's very low maintenance which is why it's perfect for kids. It's flattering and simple at the same time.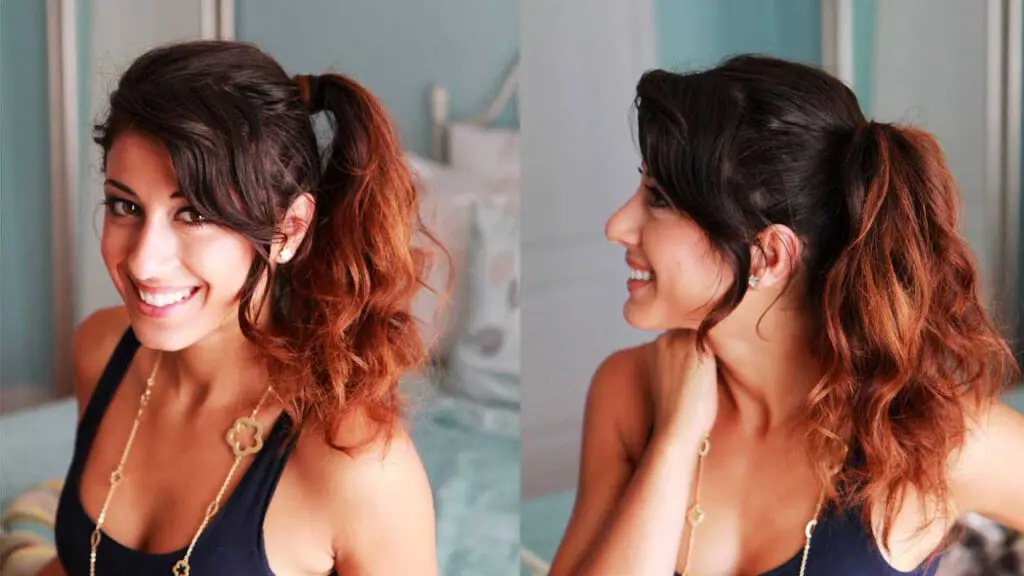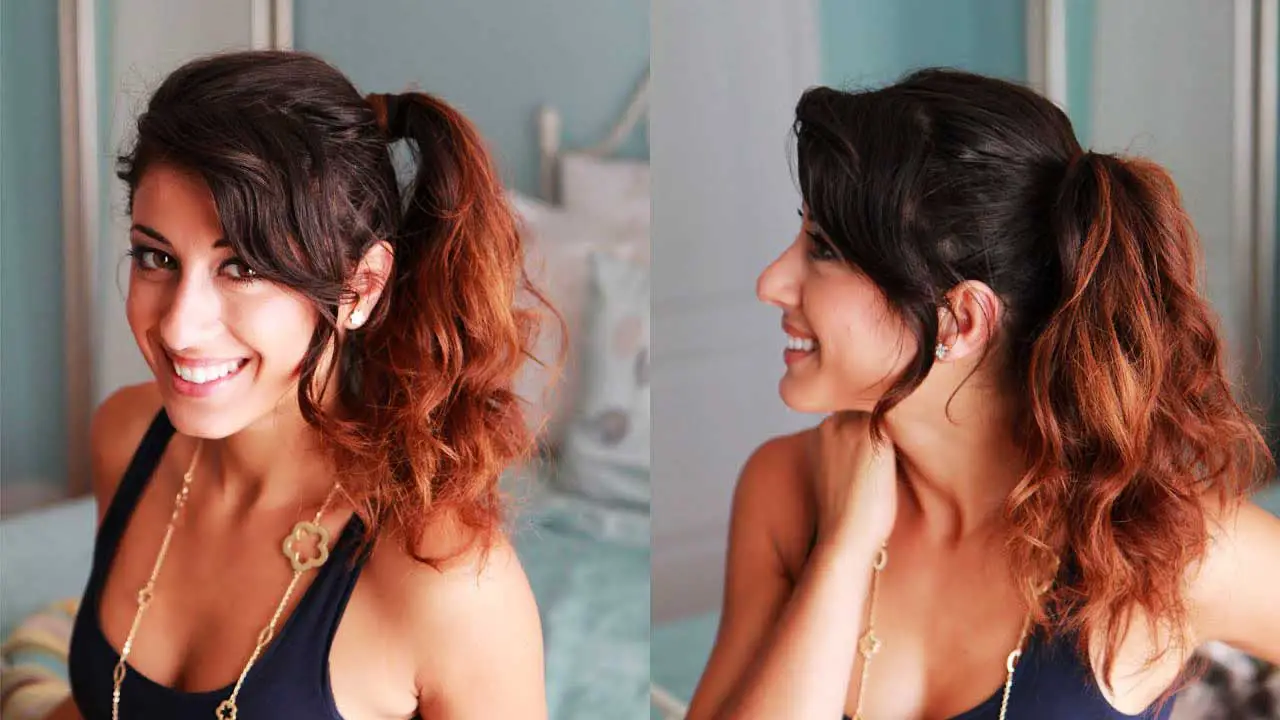 This side ponytail style is done with ombre-colored, medium-length curly hair. The grip is firm and this isn't a tight pony and it features long side bangs that droop down like waterfalls.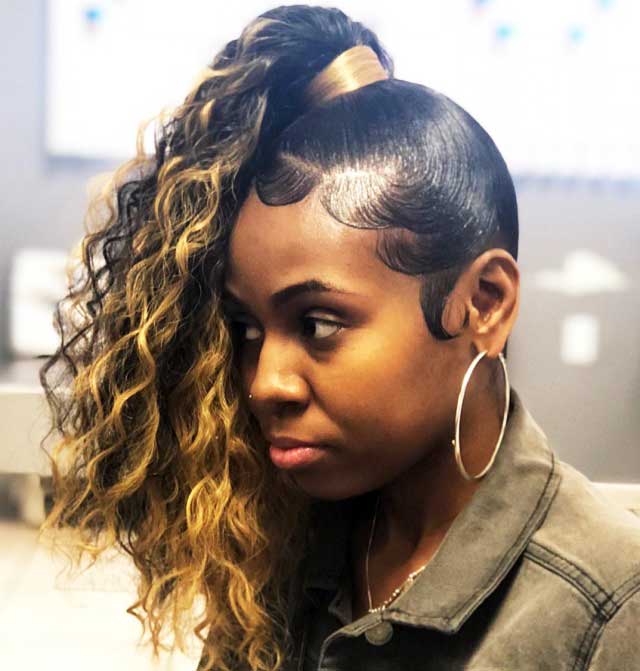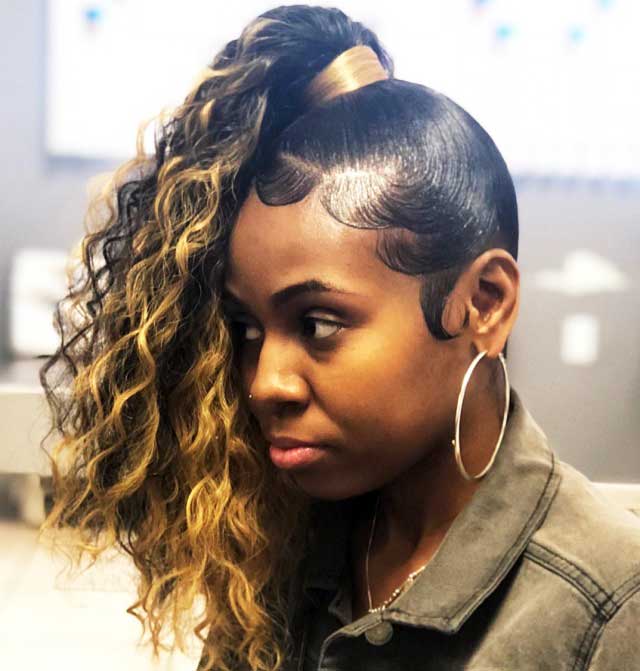 As you can see, this side ponytail style has a firm grip, is slicked very nicely and it features soft curl patterns in ombre-colored hair. The wavy tiny hairs complement the style.
9. High Curly Ponytail With Weave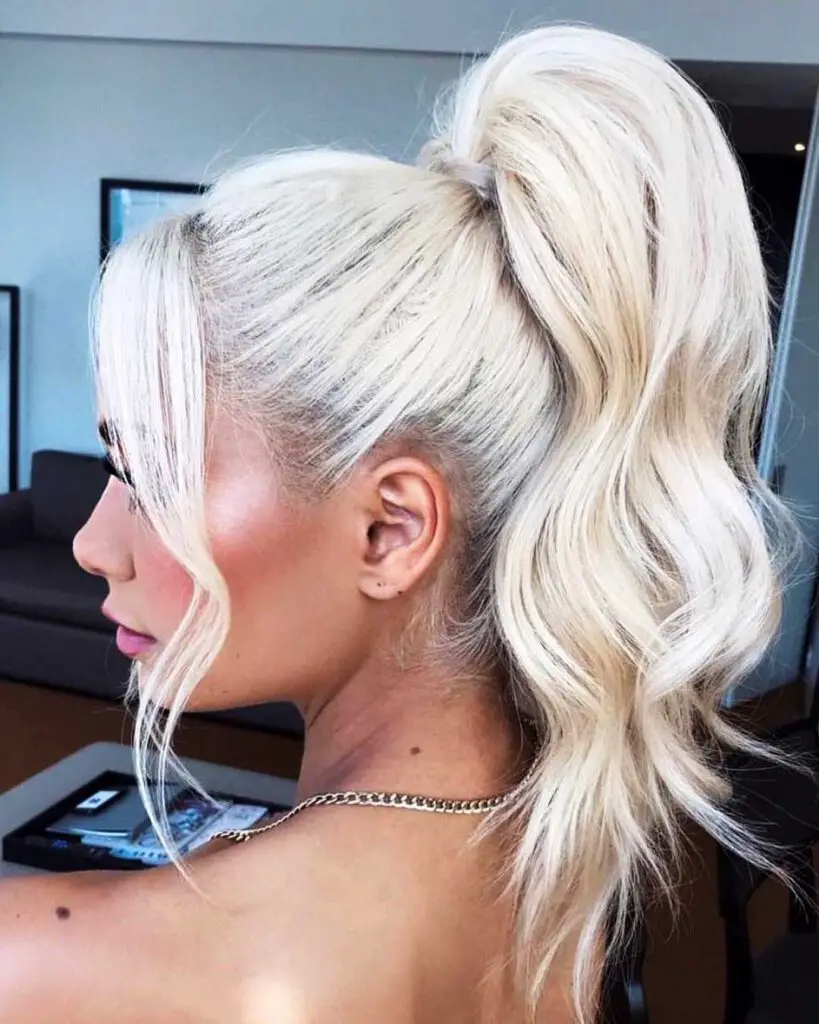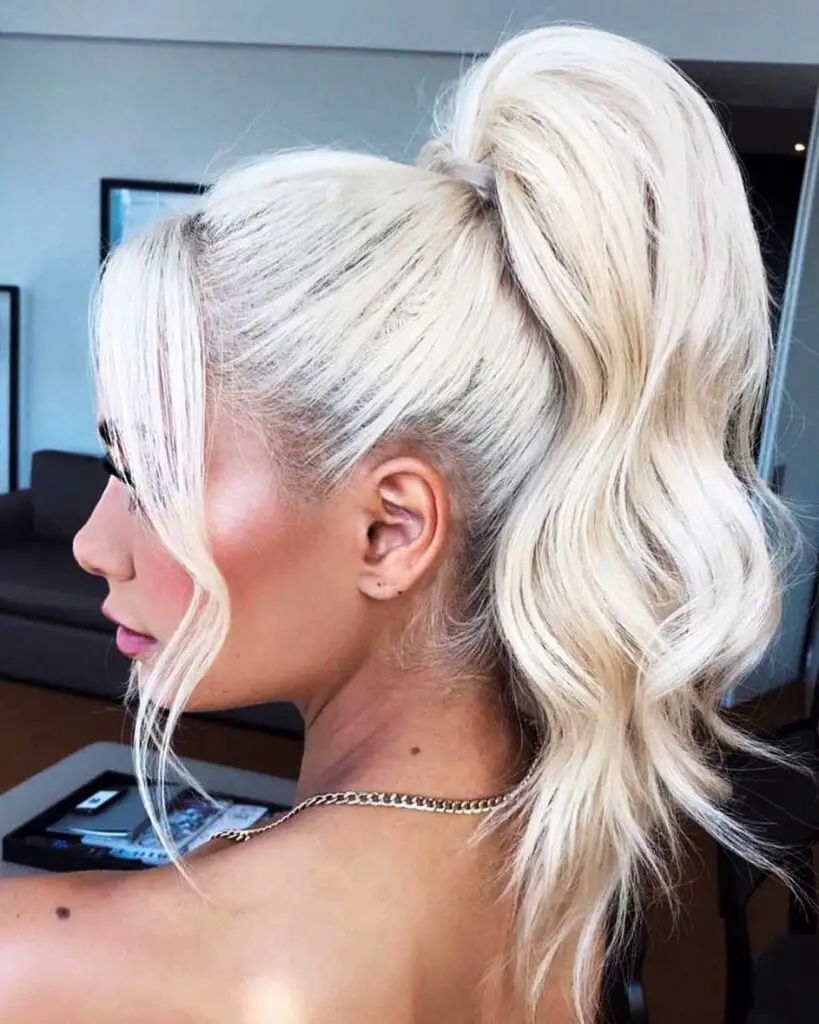 This ponytail hairstyle is achieved with a curly weave of medium length. You might use hair elastic for this grip. The grip isn't so tight and it has a center part that forms long bangs on the sides of the face.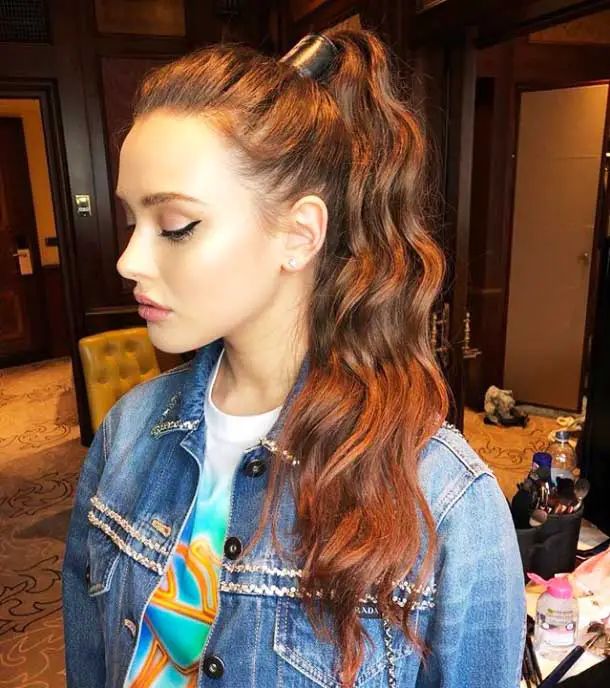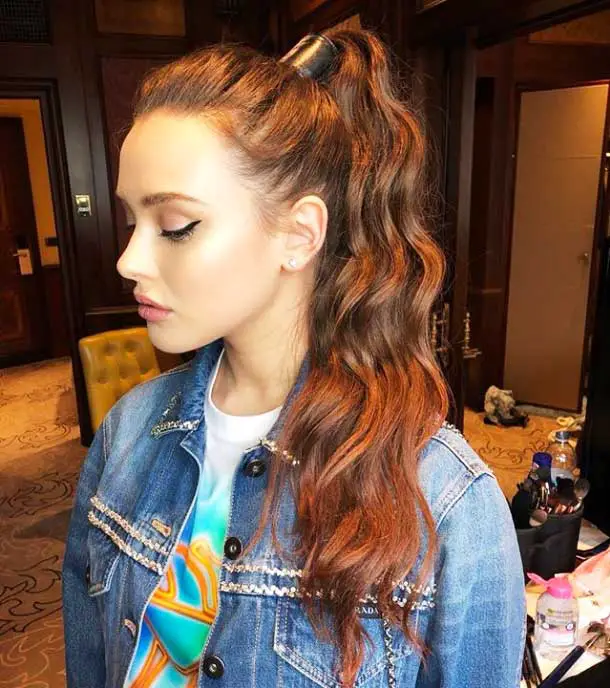 This is what a ponytail would look like on long hair with soft curl patterns. Featuring a loose grip, this style depicts simplicity and the accessory adds elegance to the mix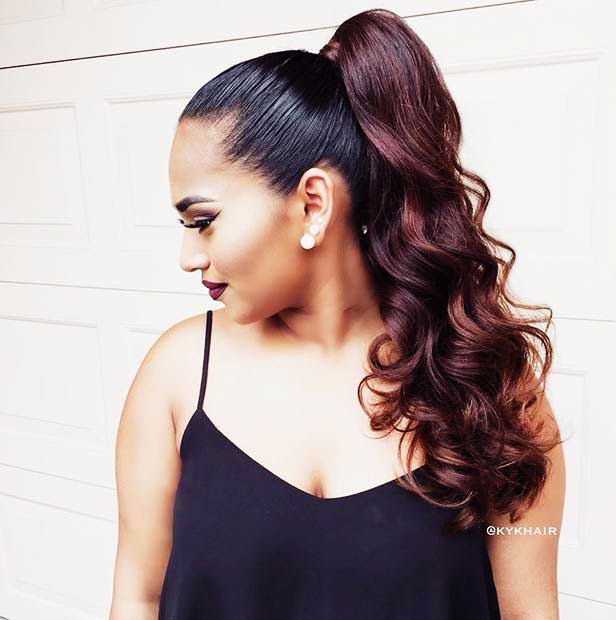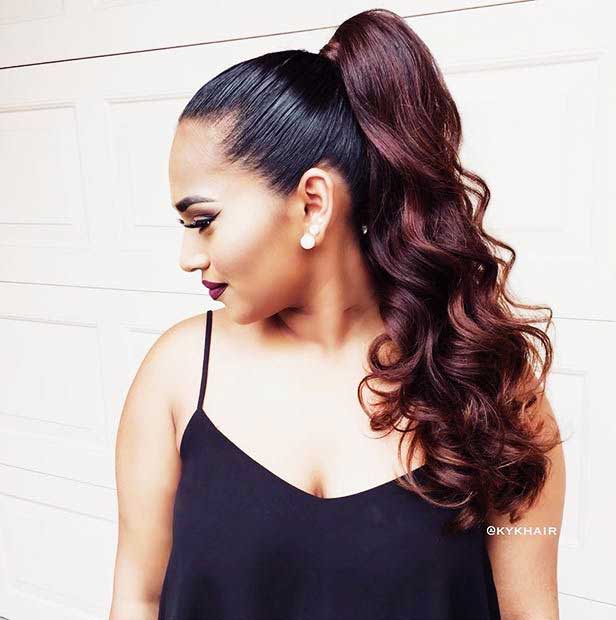 With more defined curl patterns, this ponytail style portrays one as a goddess. Achieved with a long weave, this style features a sleek pony with a firm grip and no parting nor bangs.
10.Messy High Ponytail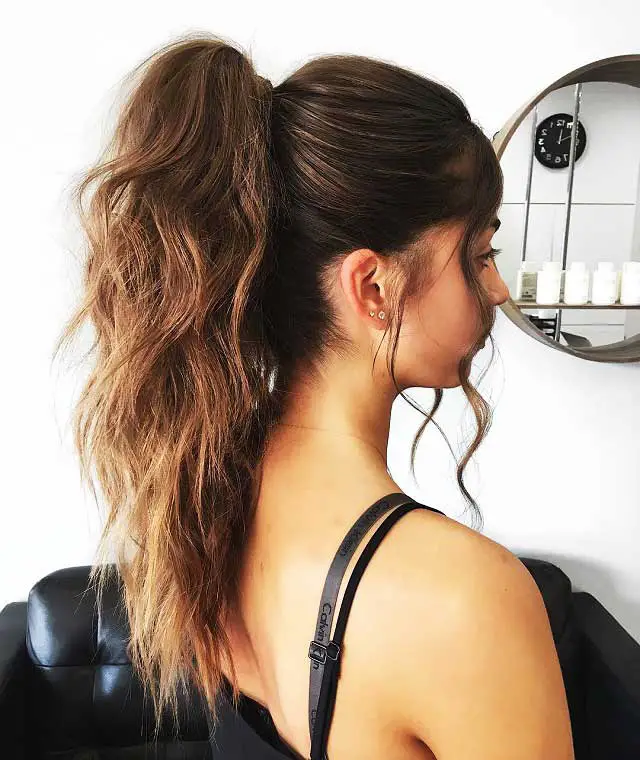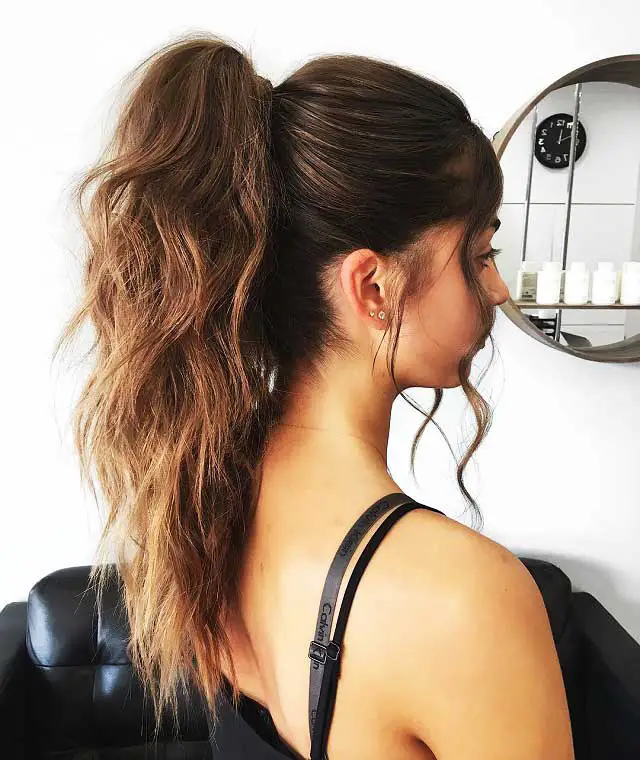 Messy is the new chic and this style portrays just that. It's a style that features layers and layers of lustrous wavy hair caressing the edges of the face. Its messy nature gives it an effortless look.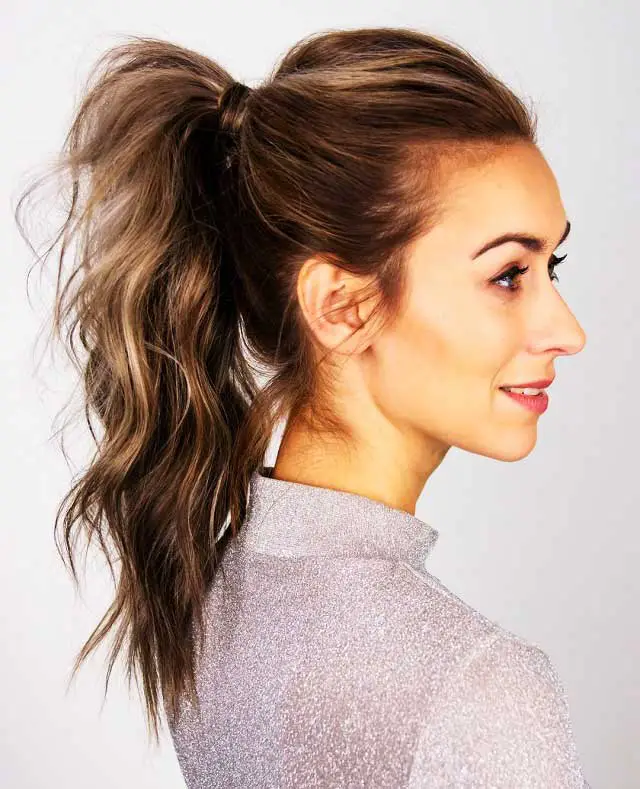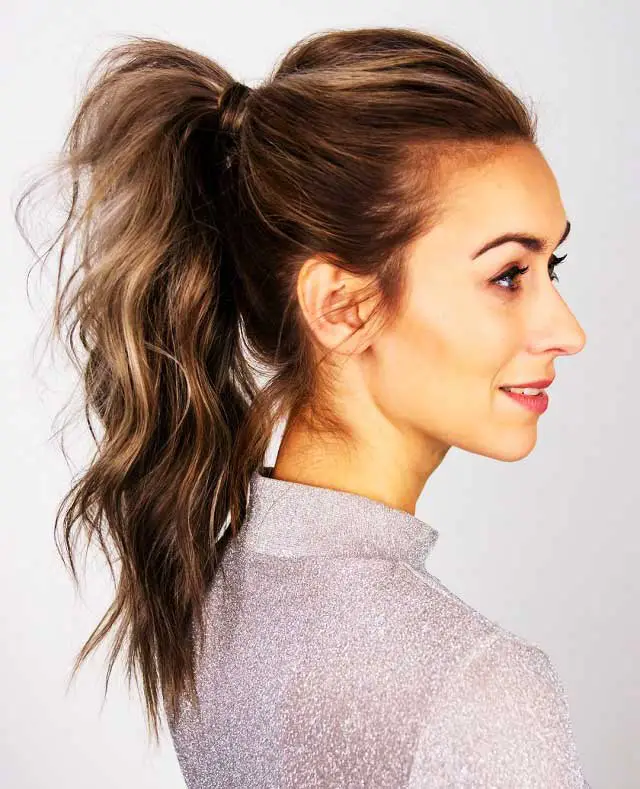 This messy ponytail doesn't have any leftover strands of hair on the face. Everything is tucked in nicely into the updo. However, it's loose grip and loose back strands accentuate the messy look.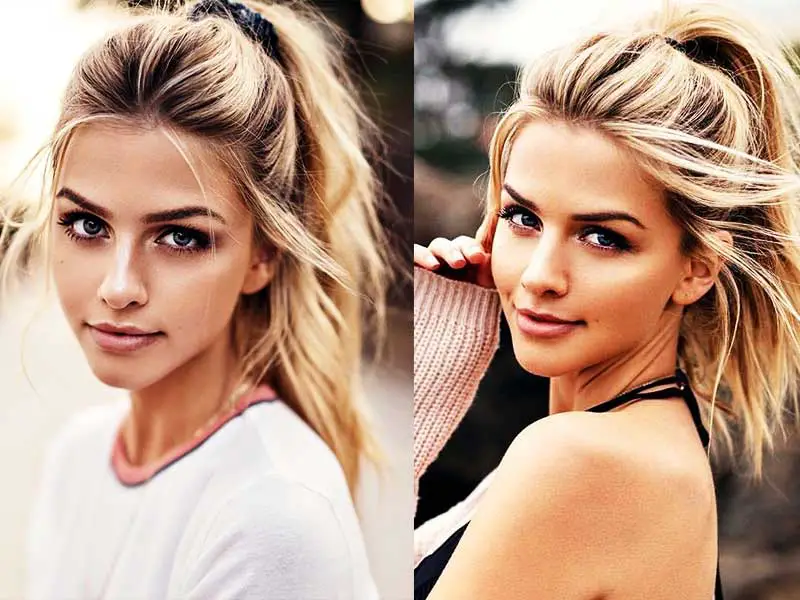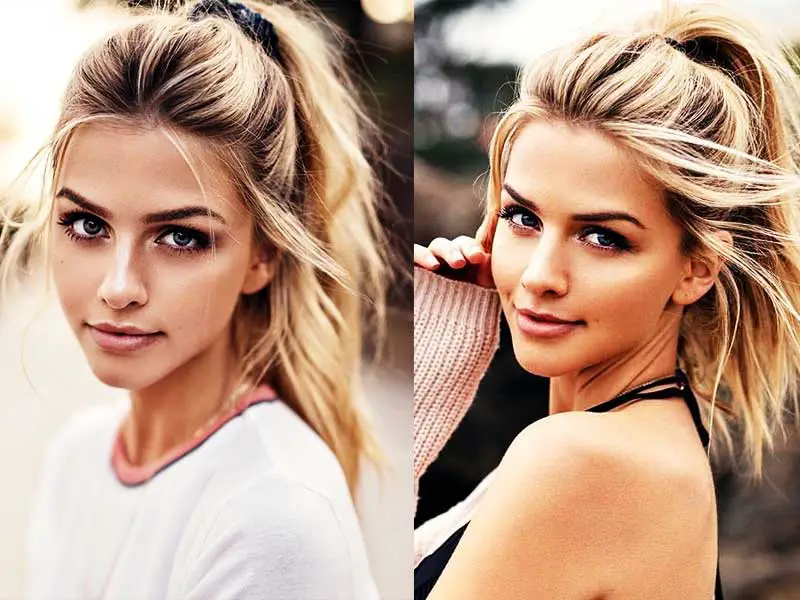 There's so much you can achieve with just a hair tie and this style is just a reflection of that. Not only can a simple messy ponytail give you that 'I woke up like this' glow, but it's also very low maintenance. Perfect for blonde hair.
11. Feed in Braids with High Curly Ponytail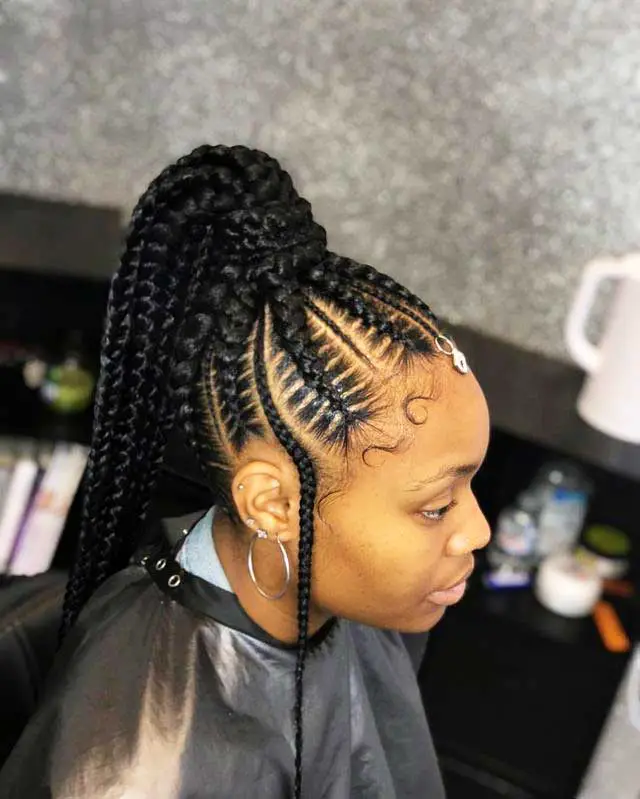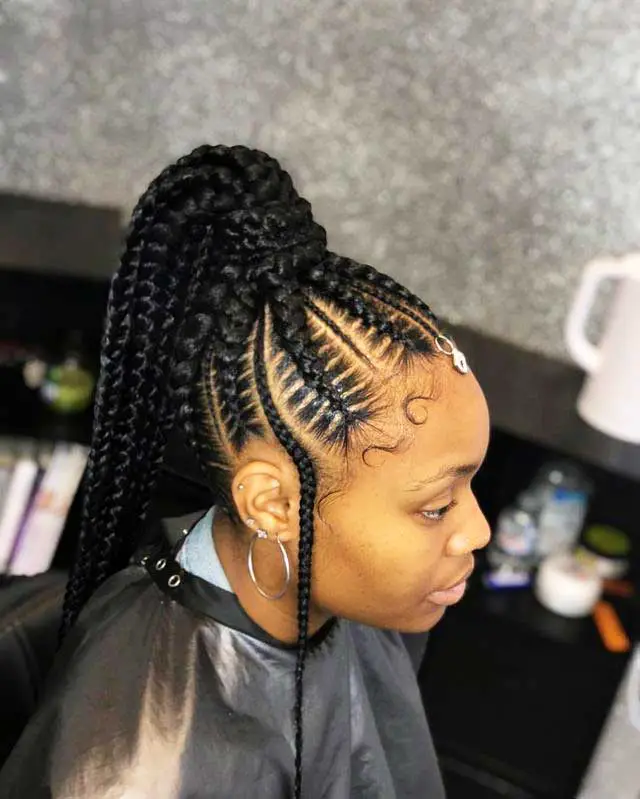 You can also rock a ponytail with feed-in braids. In this style the braids form the grip and the ponytail, thus drawing attention to the accessories and facial features.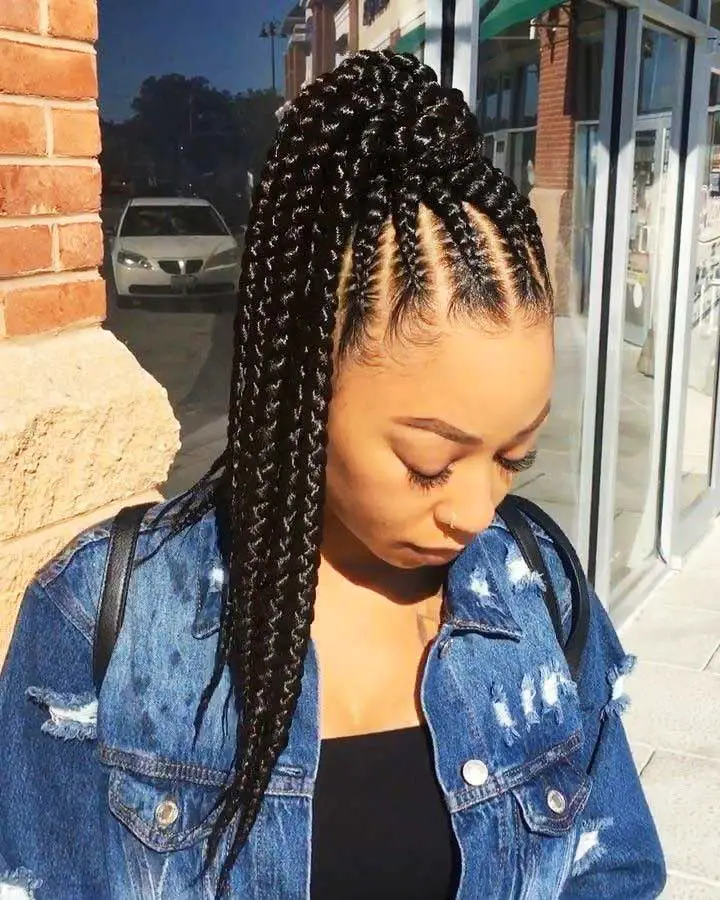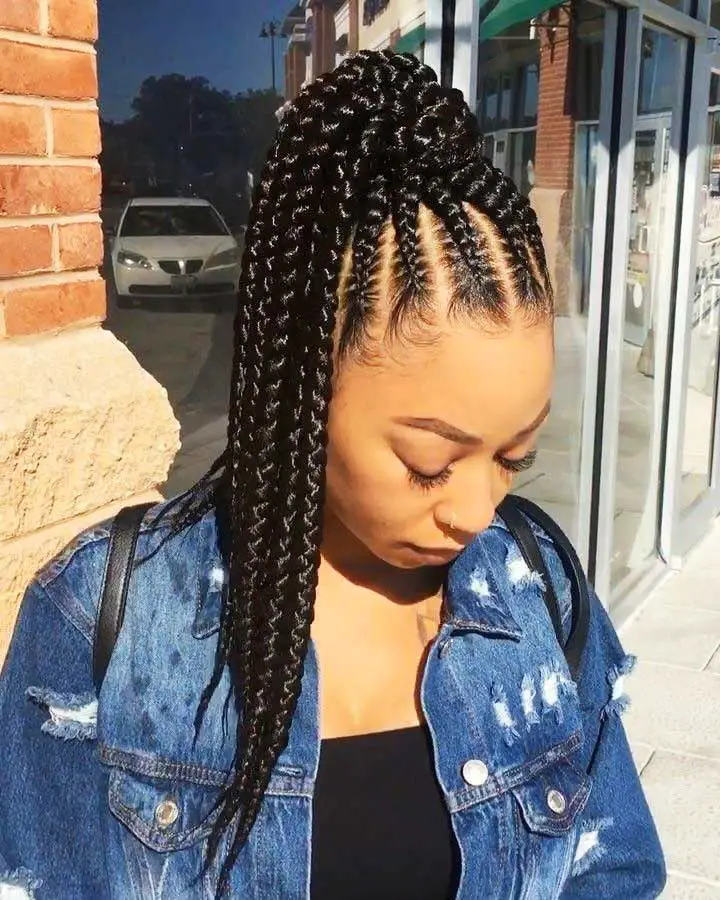 Unlike the previous style, this braided ponytail is much simpler. The hair is sectioned into beautiful parts and then weaved all the way up, like so. Each braid is of equal size and length.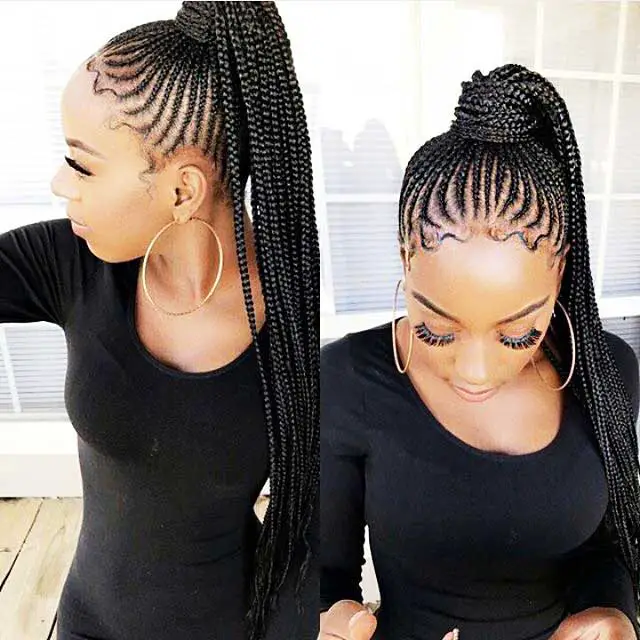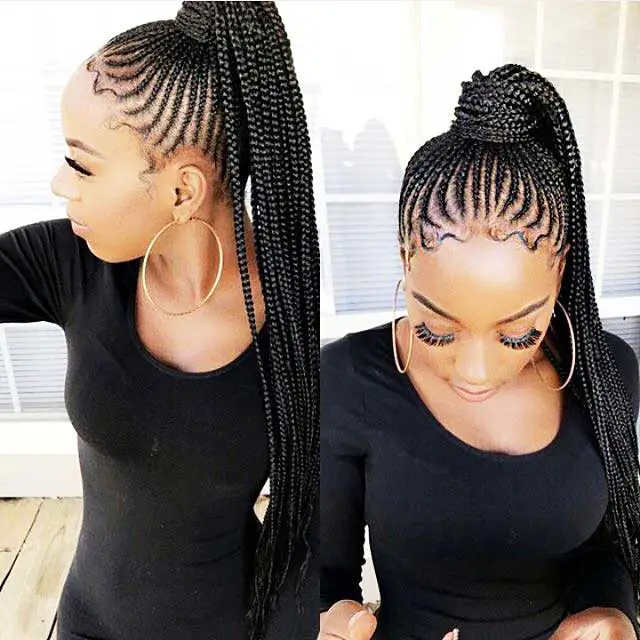 A feed-in braids ponytail with much smaller sections. This style features long braids of the same miniature size and the same length, made into an updo. The braid forms the grip.
12. High Long Ponytail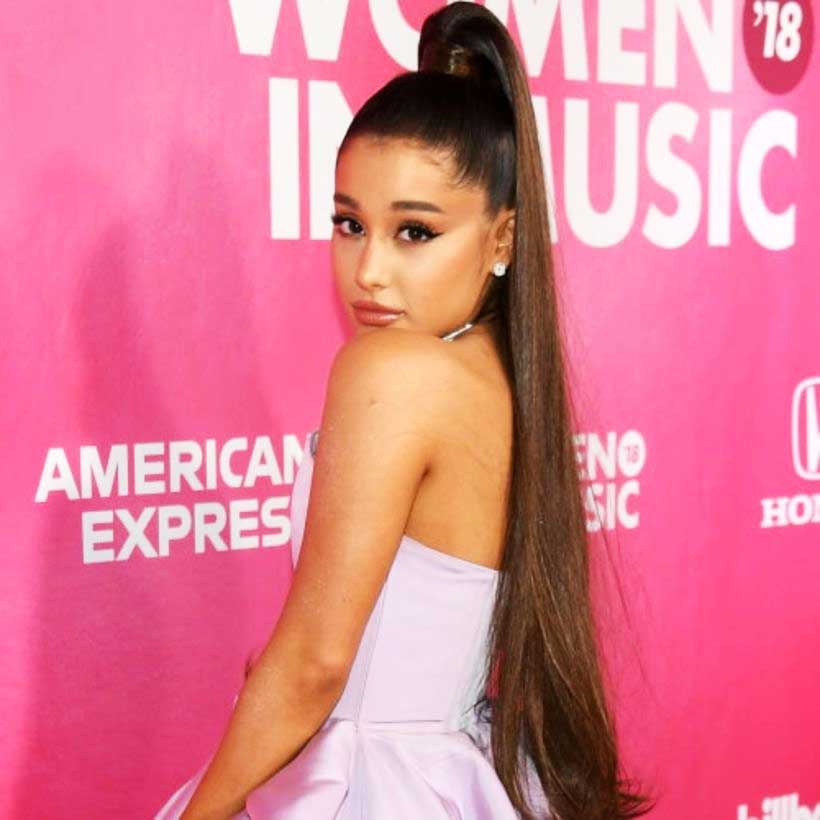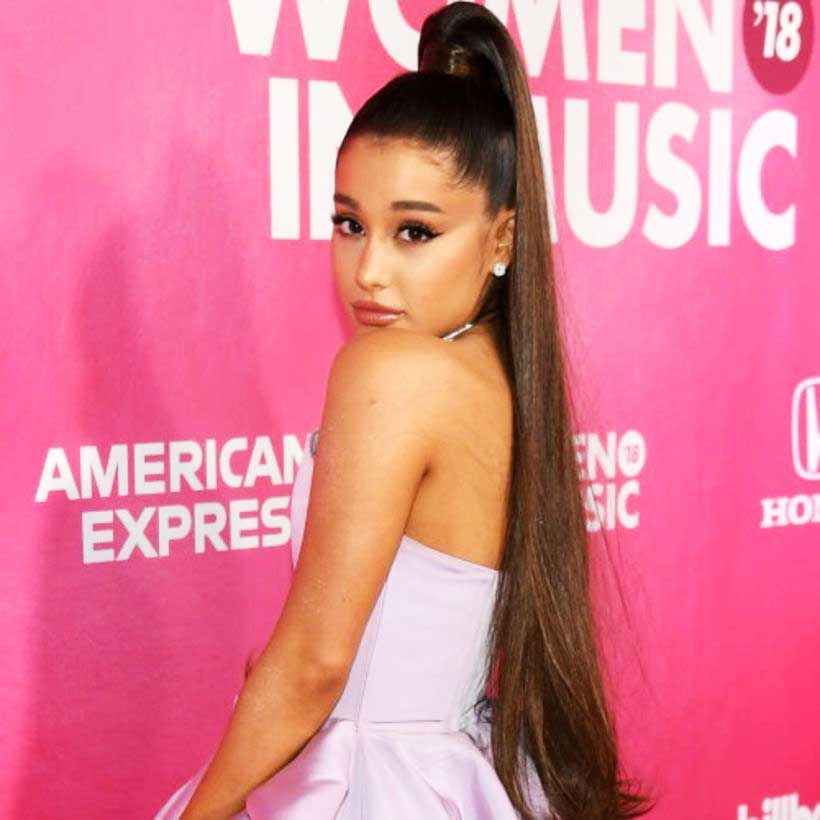 Ariana Grande is known for rocking different ponytail styles but this one is of the high hairstyles. It's a ponytail with a tight grip on long straight hair. Every strand is tucked into this masterpiece and would work for a formal event.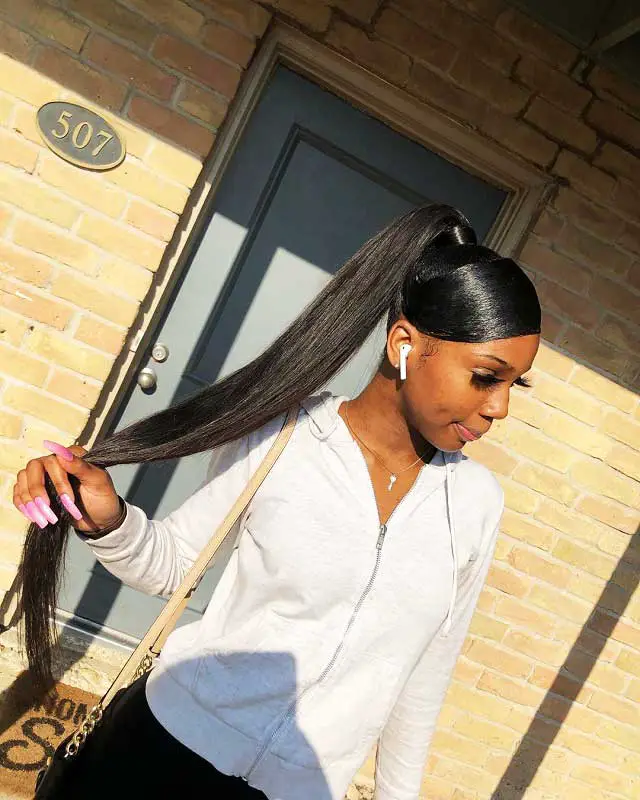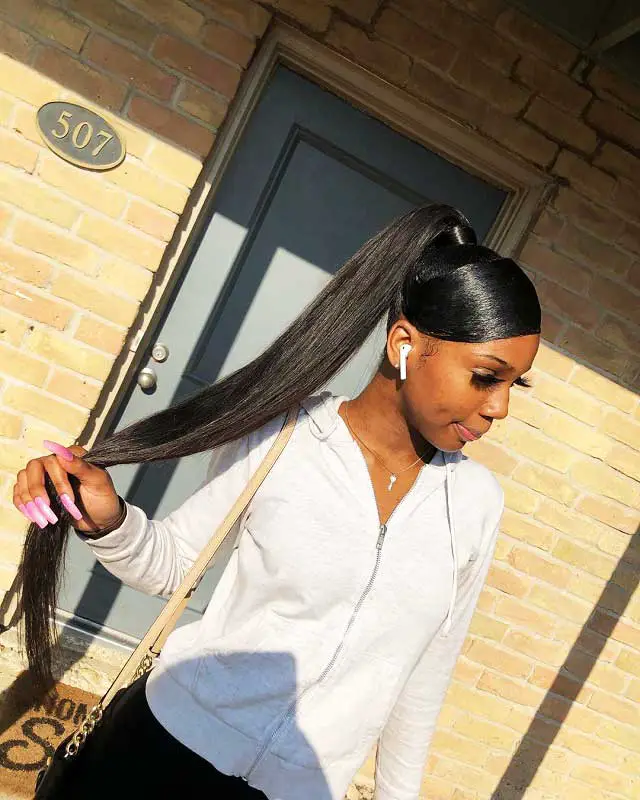 This style features a ponytail achieved with long straight weave, but unlike the previous style, a small section of the hair is swept from the side, all the way back.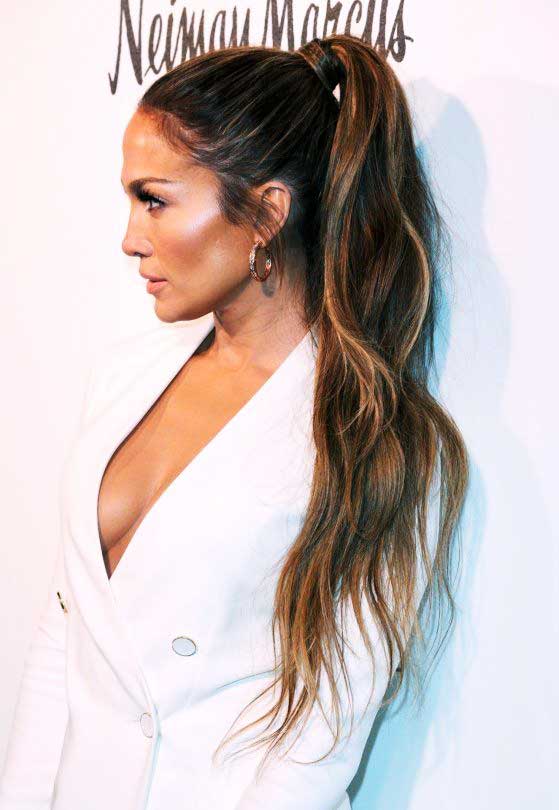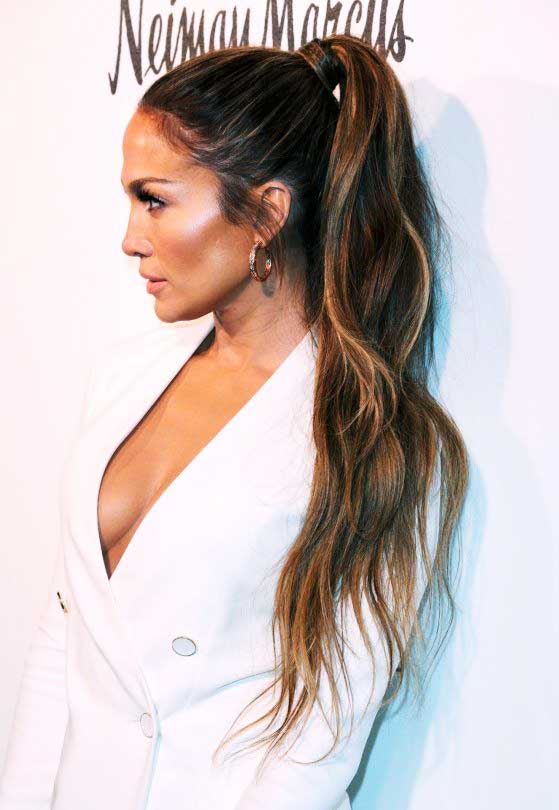 This ponytail style could even pass for the messy kind. Instead of straight hair, this ponytail features long wavy hair. The grip is firm enough, but the loose strands give it a bit of effortlessness.
13. High Ponytail Updo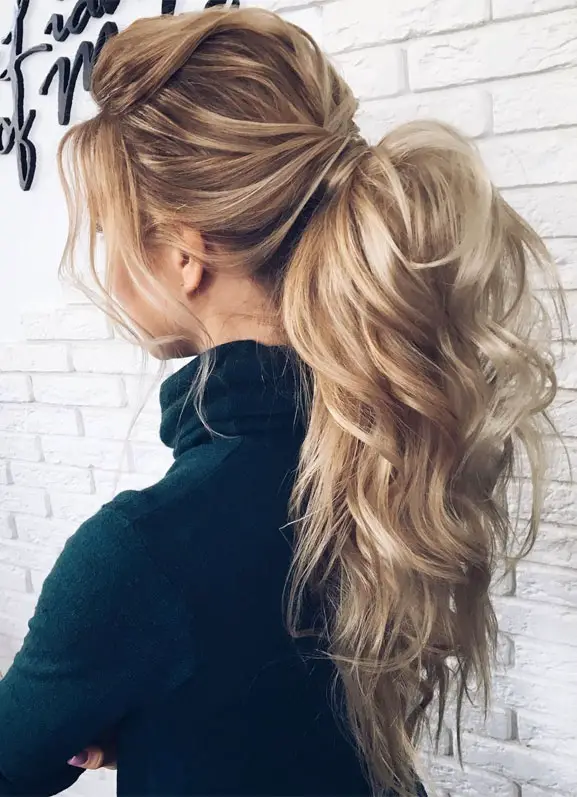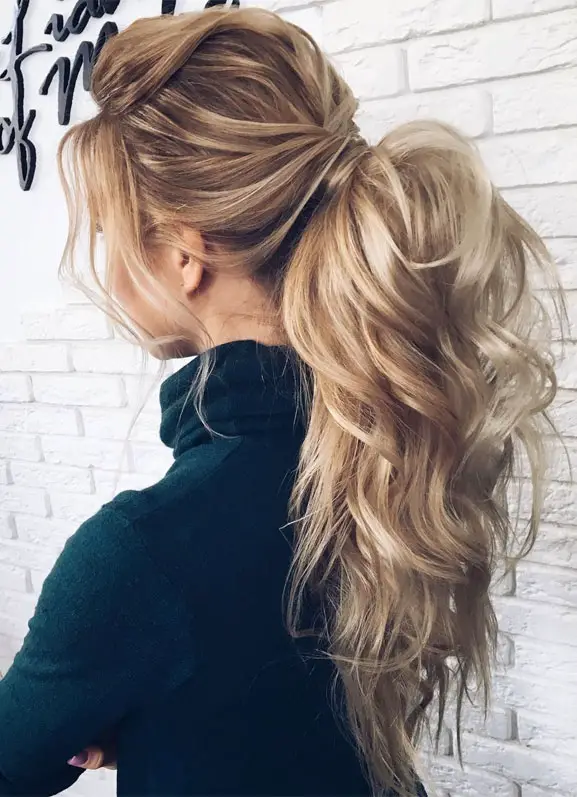 Featuring layers of beautiful curly natural hair, this ponytail is held at the back. The bouncy curls, the loose strands, and the layered finish give it all the pizzazz it needed.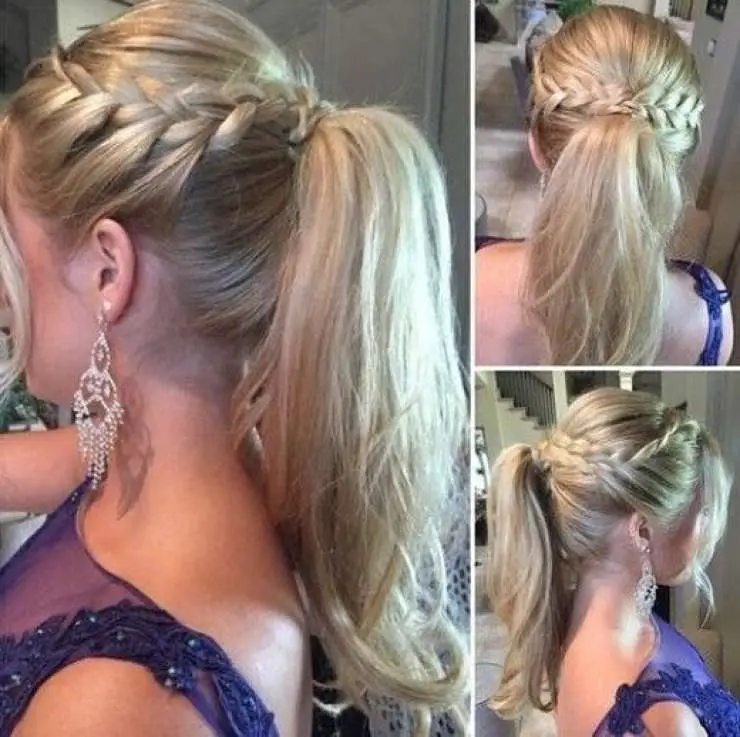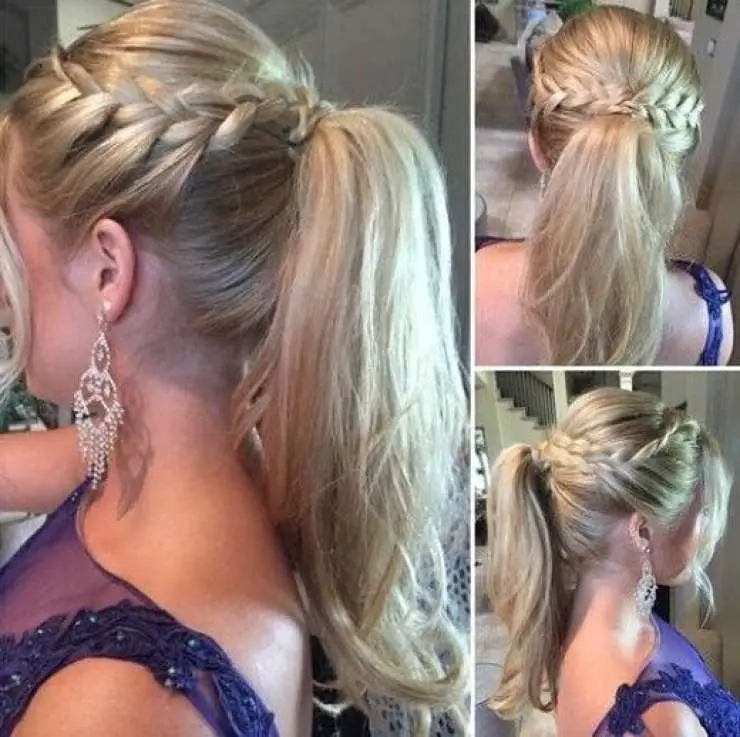 There's a lot to unpack from this ponytail style. It features french infinity braids, a firm grip, medium length wavy hair with little sections at the front. All of which are ingredients for perfection.
14. Box Braids High Ponytail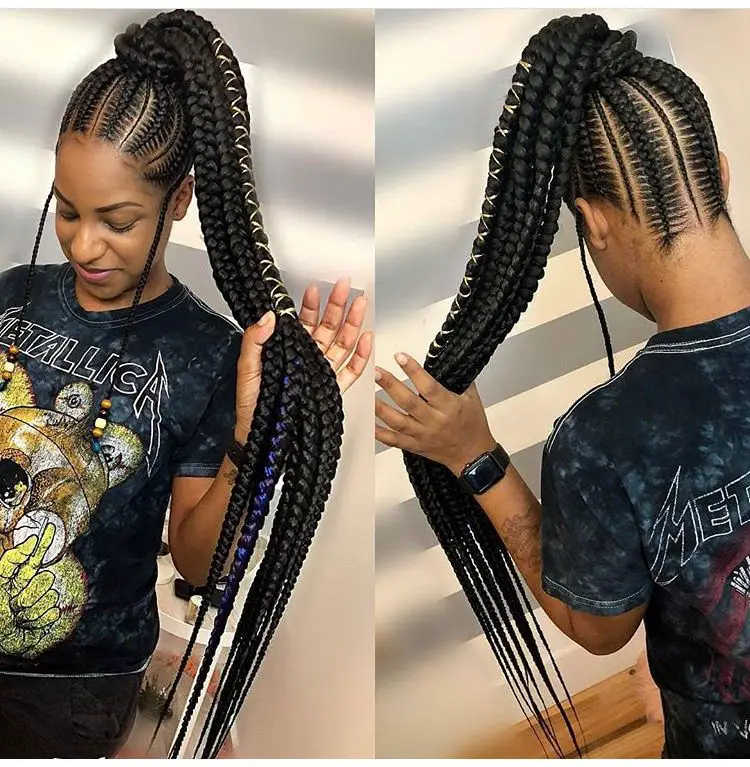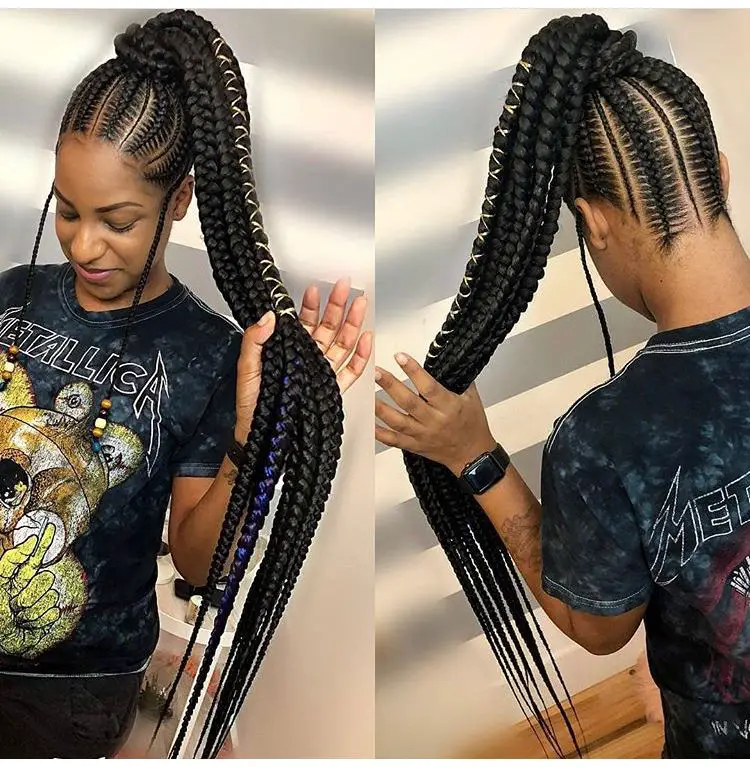 This ponytail features long feed-in braids with a combination of smaller and larger sections. The details to the finish are just beautiful and of course, the braids form the pony's grip.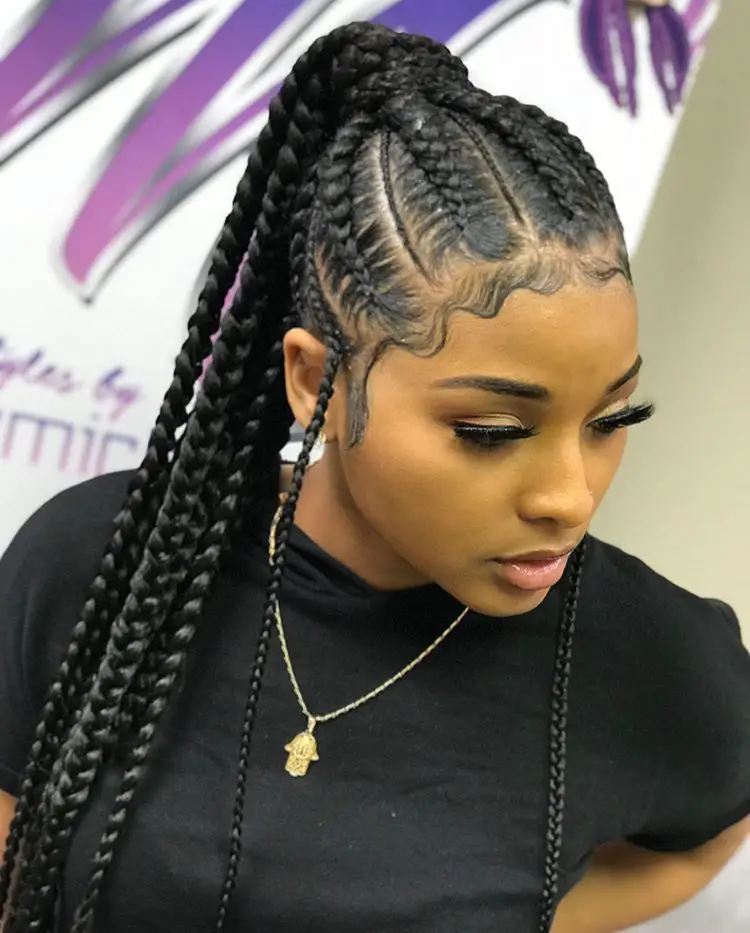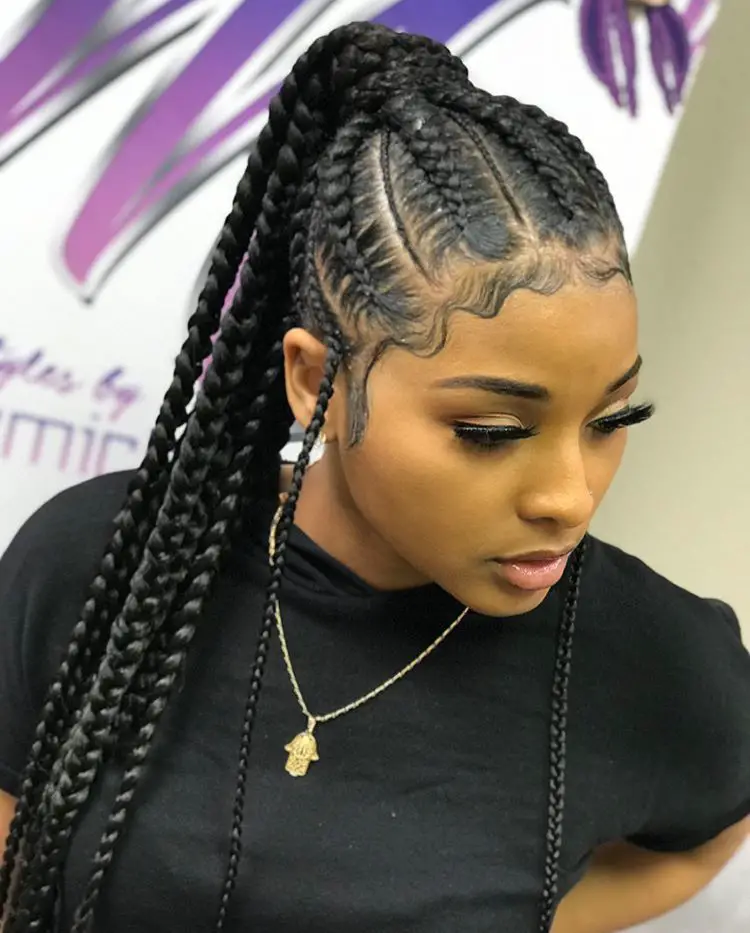 With a slight difference to the previous style, this braided ponytail style has braids that are less tight, but they still form a firm grip. The baby hairs are designed in a wavy-like pattern.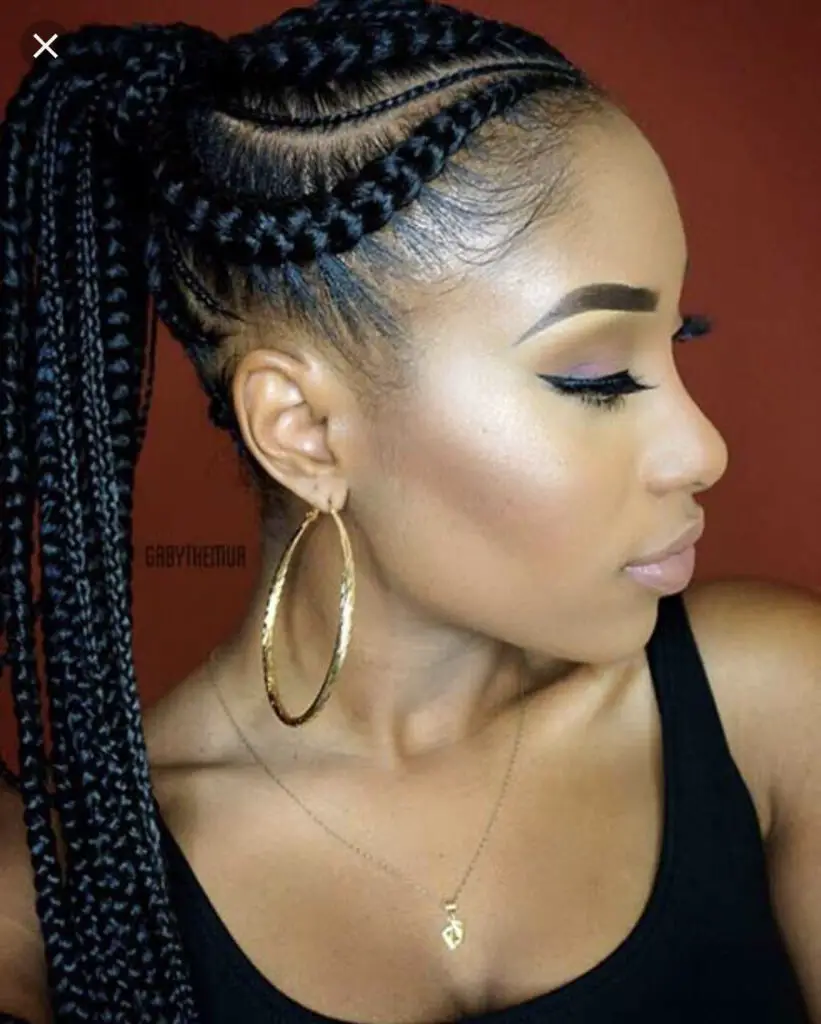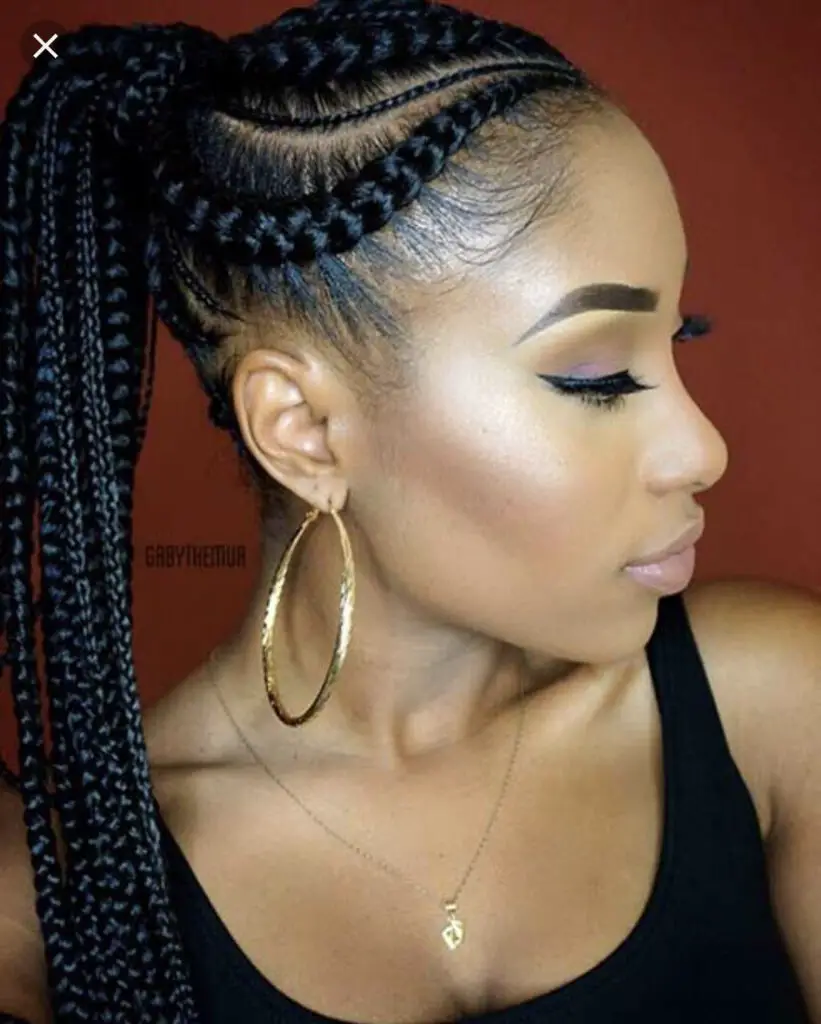 Similar style, different approach. The braids in this ponytail style have curvy patterns. It is much simpler than the others and it's very low-maintenance and highlight's one's best facial features.
Just like there are several ways to tie a knot, there are even more ways to rock a ponytail and each way is more unique than the last. You could go full sweep, you could sleek it down, you can even add braids to it for extra pizzazz or leave it messy. There's really no limit to what you can do with ponytails and this piece really puts that in perspective.