Taking a page from the book of ponytails is the Side Ponytail hairstyle. Surprisingly, even as the hairstyle is confined to one form, the side part, there are dozens of ways in which it can be styled. This piece is highlighting a handful of these ways.
1. Side Part Ponytail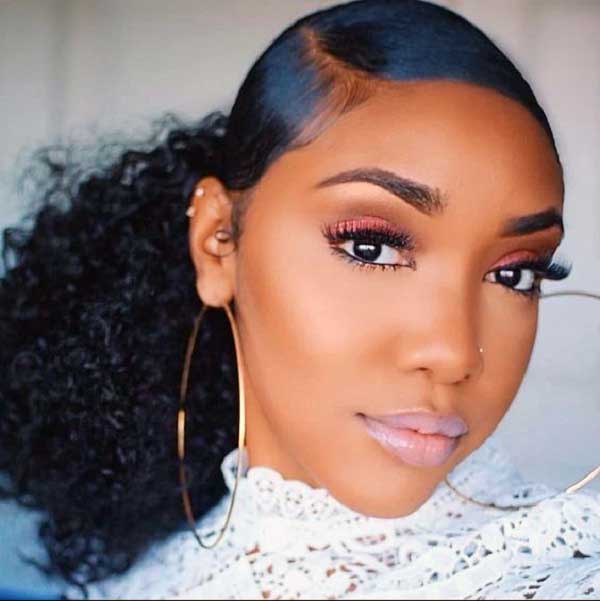 This side part low ponytail look grabs your every attention. From the curly weave to the side part, the laid baby hairs, and of course the slicked back finish, it's absolutely stunning.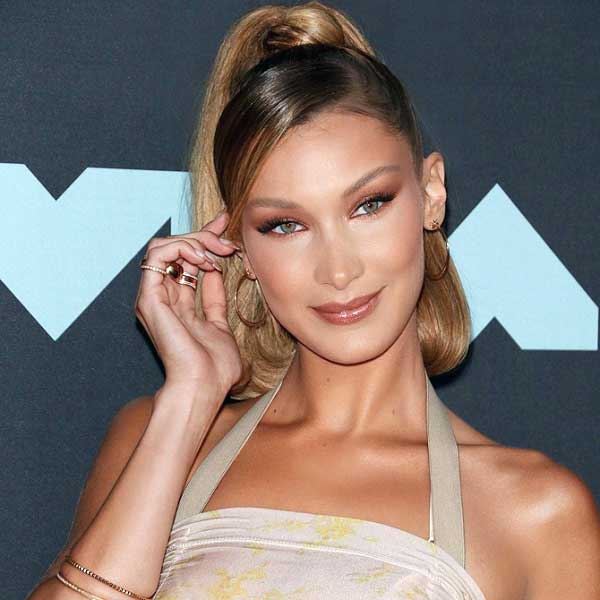 Stunning in every angle, this look features multiple elements of ponytail perfection. With the firm hold, the sleek sweep, a little knot, a side part, and of course, a bob, you cannot go wrong with this style.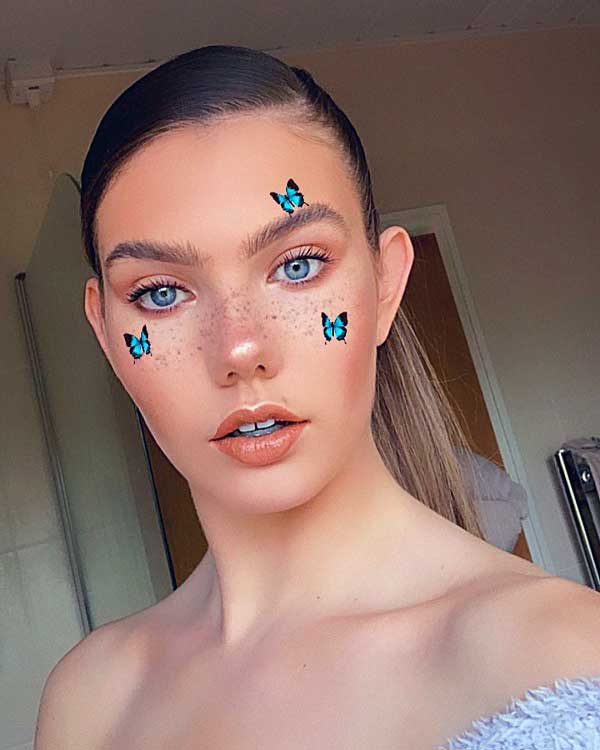 A much simpler approach to the style, but it does get the job done. Featuring a c-shaped side part, long straight hair, and a color duality, this style checks all the boxes.
2. Side Braid Ponytail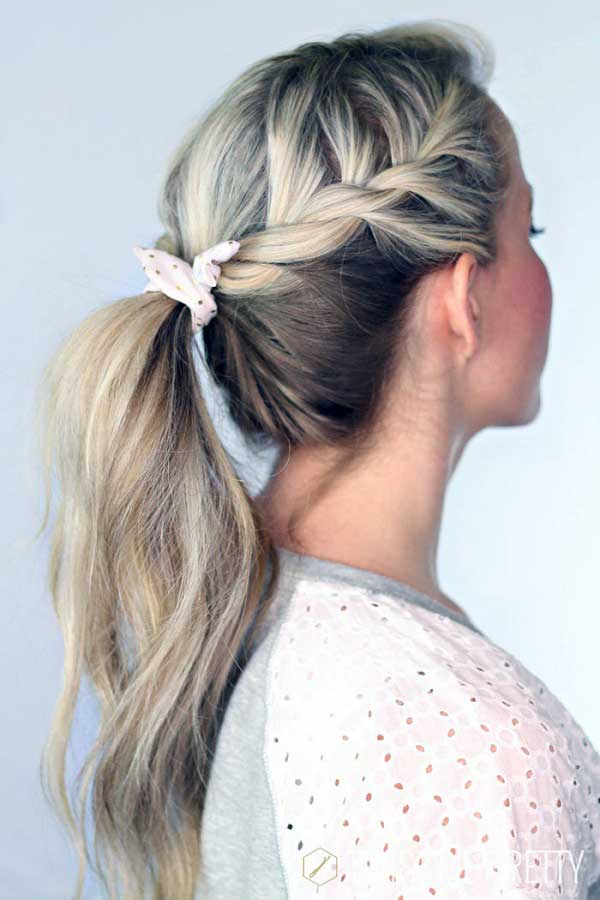 This ponytail style is more on the casual end of things. Portraying flat twists braided down the side which terminates at the loose grip of the ponytail, this look is easy and comfortable.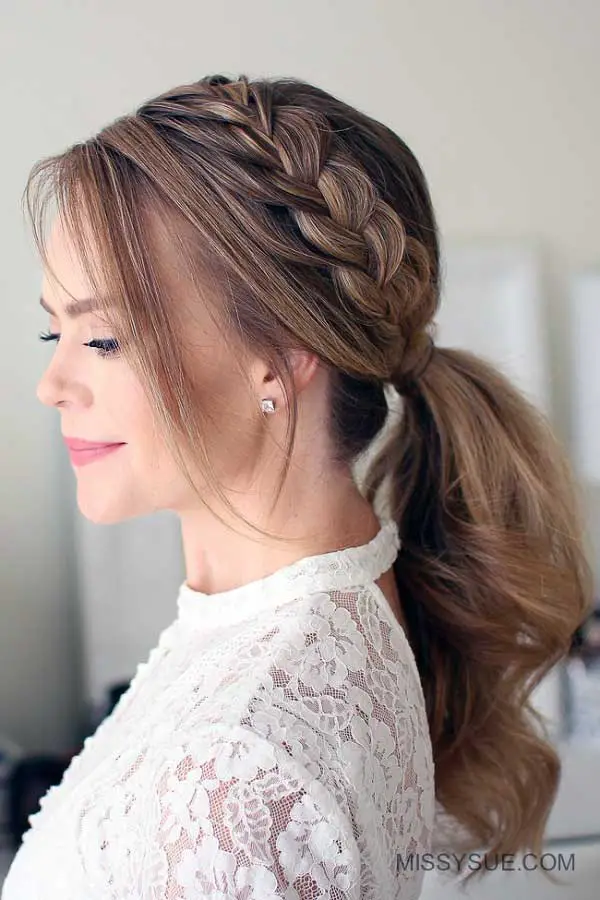 The French braids on this ponytail style give it a classy finish. It has strands of hair draping down the cheeks and a loose grip on the low ponytail. This style is elegant at any time of the day.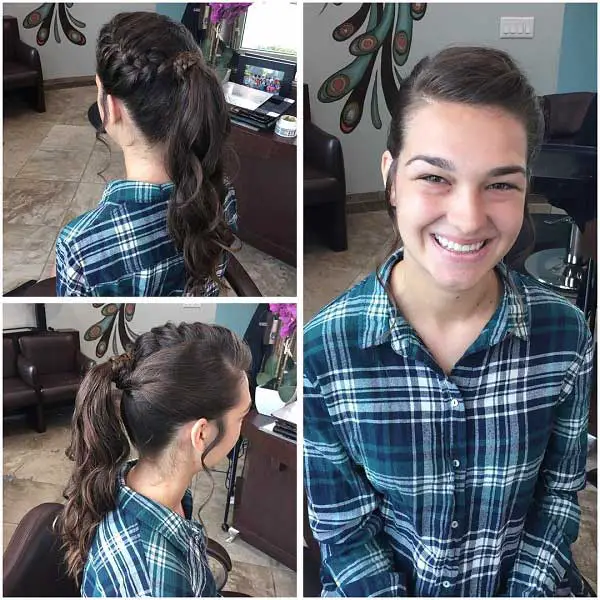 Braids come in very handy when you're going for elegance. This side braid ponytail style features a flat braid that terminates at the grip of the ponytail. It's done on long curly hair with loose strands on the sides.
3. Long Side Ponytail With Weave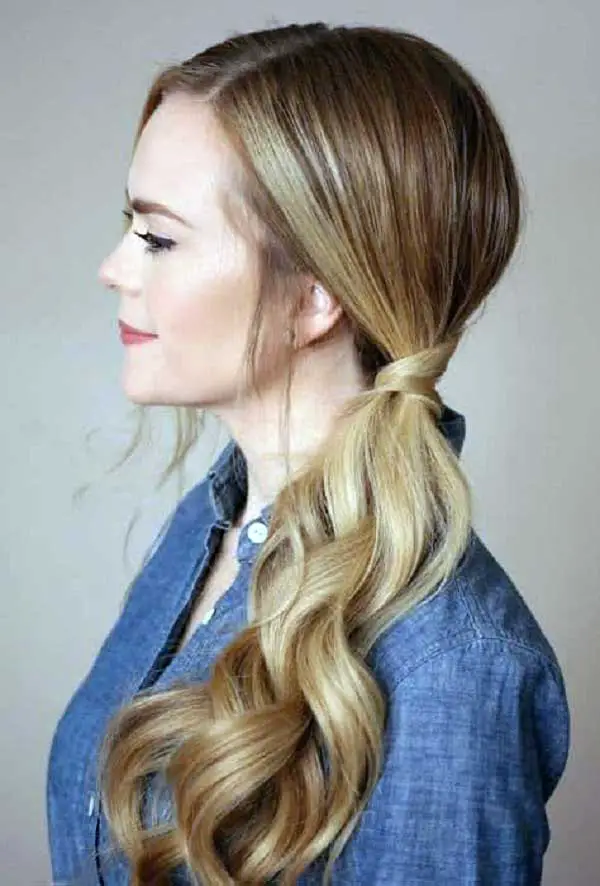 Featuring a straight side part, wavy curls, loose hair, and long hair all swept to the side, this weave ponytail style looks really comfortable. With its loose grip, this style is effortless and chic.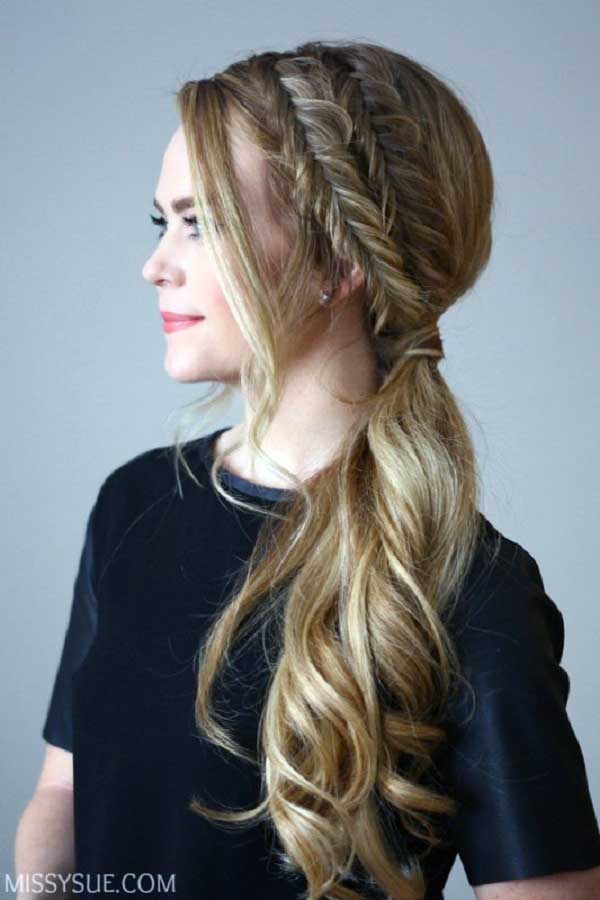 Nothing spells elegance than French braids and luckily this look has several of them. This ponytail style is held low with its soft yet loose curls. It has a bit of a flirtatious look because of the loose strands.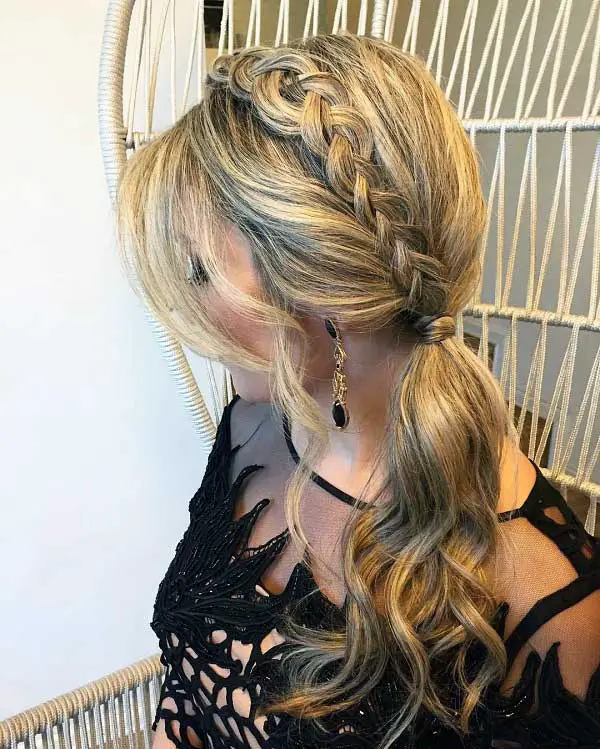 Similar to the previous style, this look also has a French braid, but just the one. Done with medium length curly hair, this ponytail style portrays an effortless elegance that is highly coveted.
4. Ponytail With Side Bangs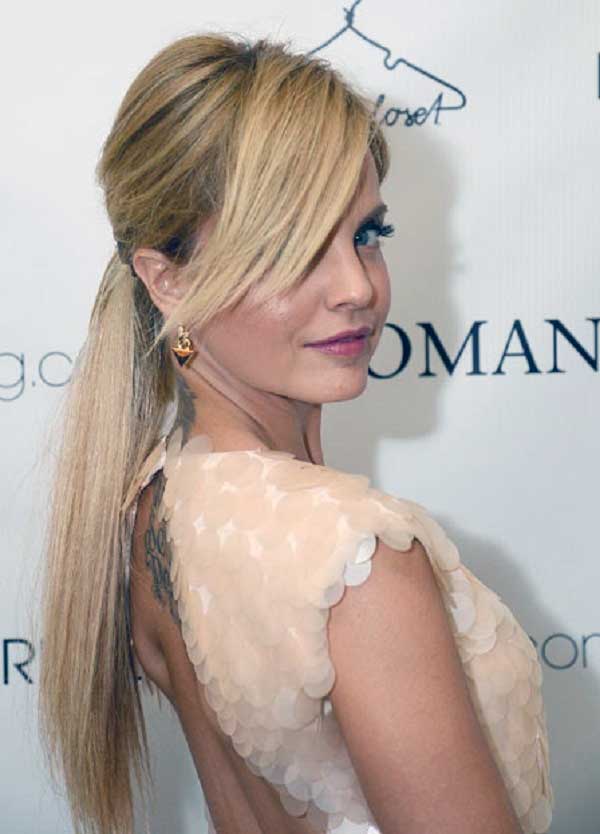 Featuring long straight fine hair, this ponytail style is complete with side straight bangs that conceal one eye in a sultry fashion. Layers are also visible in this ponytail style.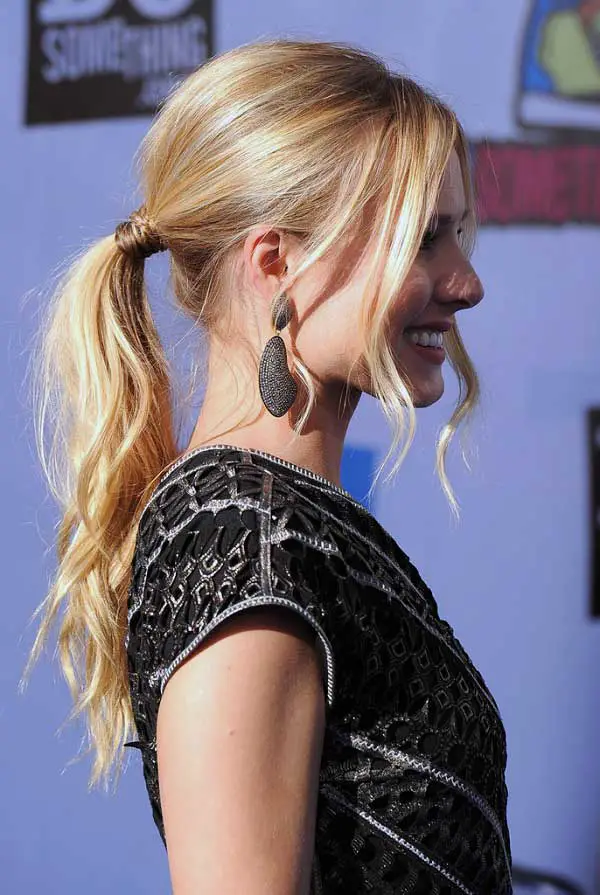 This ponytail with bangs hairstyle is definitely a simple one. Featuring just loose strands of hair which trickle down the face, a loose grip and soft curls, it's one that's low maintenance but still pretty.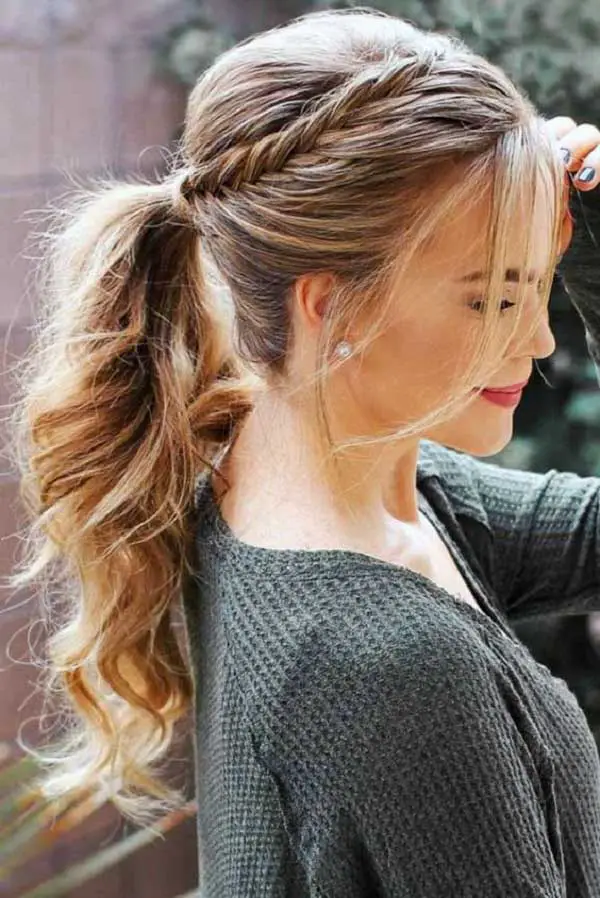 The hair in this ponytail style is tucked in nicely with the flat twist. Exhibiting fine hair, layered curls, and loose strands, this style is one to be reckoned with.
5. Curly Side Swept Ponytail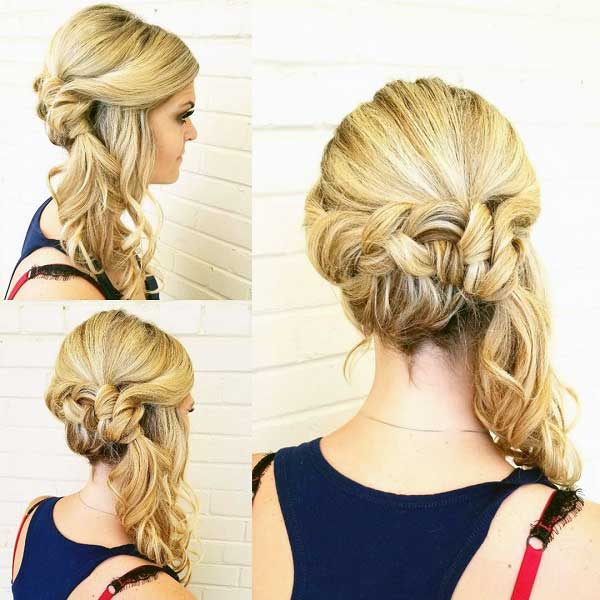 Side curly ponytail style is quite unique. It features side braids commencing at the front hairline. This braid locks in the rest of the hair and its ends form the ponytail at the side.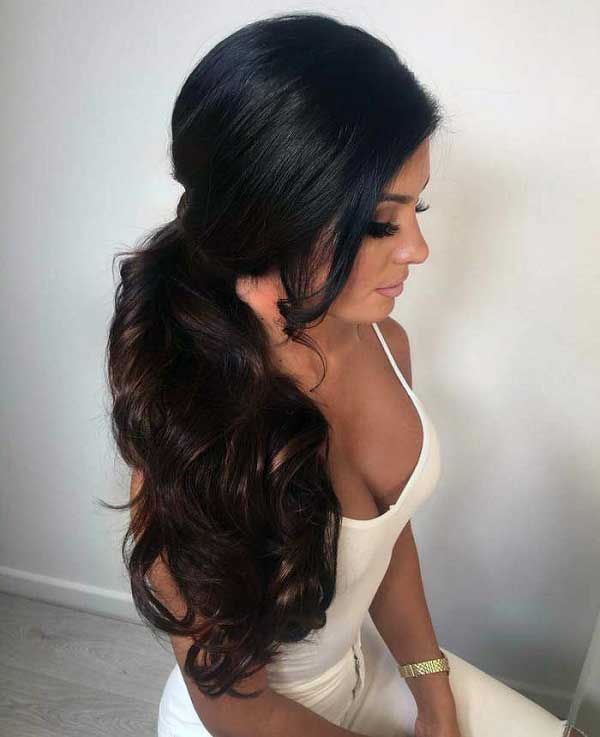 This ponytail look is done with a full, lustrous mane. Featuring layers and layers of thick gorgeous curls, this ponytail is loosely gripped at the side and it has some strands framing the face.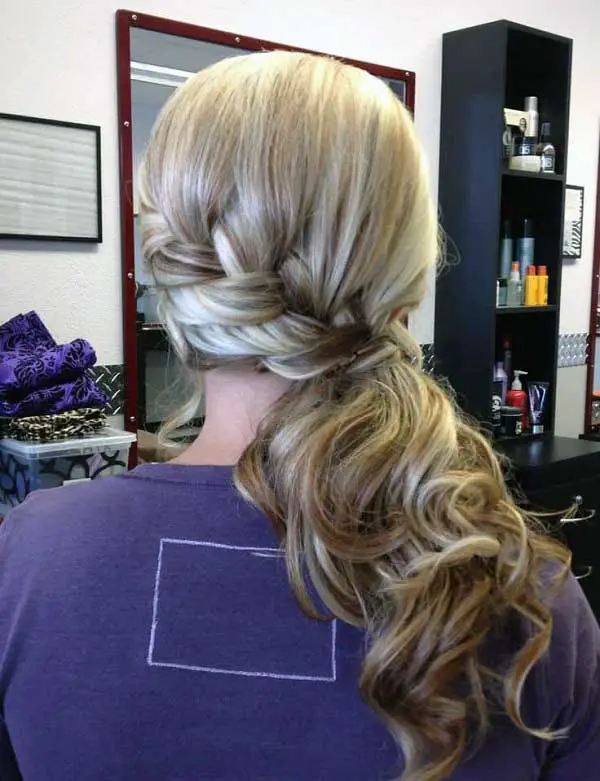 Being tucked into a braid only accentuates the ponytail. This look has quite the elements to look out for. From the thick mane to the beach curls and of course the side sweep.
6. High Side Ponytail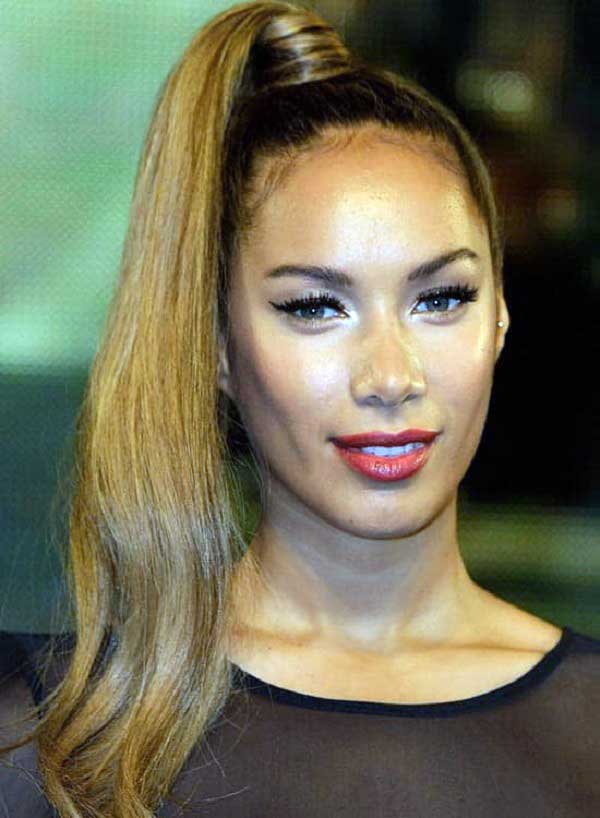 You can definitely say this ponytail is on the high side of things. It has a firm grip, and it's achieved with medium length hair. This style is simple and it draws attention to the face.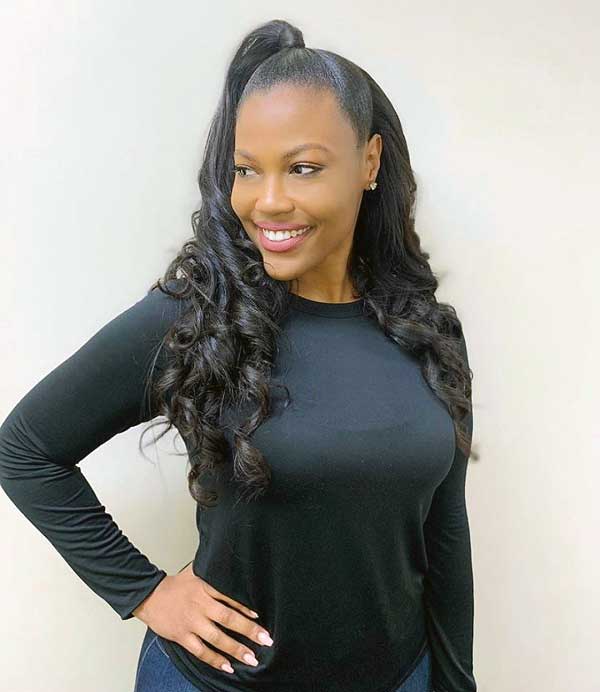 This is more of a half-up half-down ponytail style. It features a long curly weave, a tight grip, and a sleek ponytail swept to the side. This style is not just stylish but equally practical.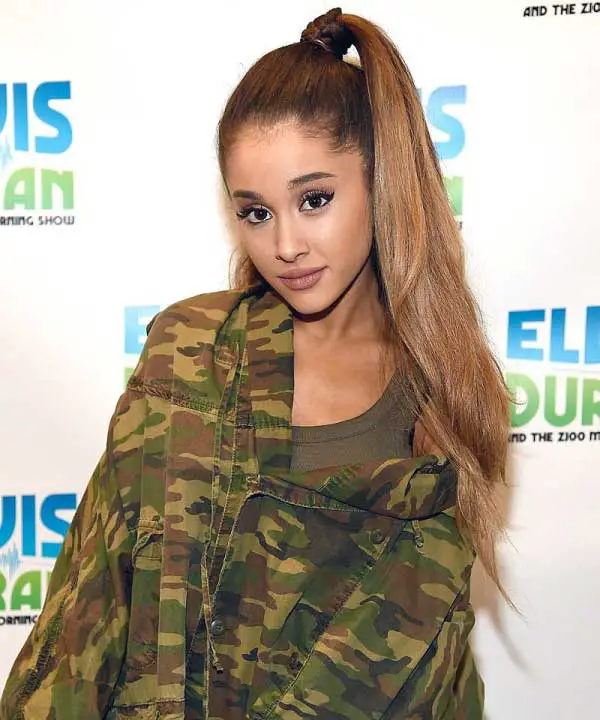 You can say this is a blonde version of the previous style, but this approach is less tight and it's done with much straighter hair. The hair is gripped at the side, thus creating a side high ponytail.
7. Formal Side Ponytail With Slicked Back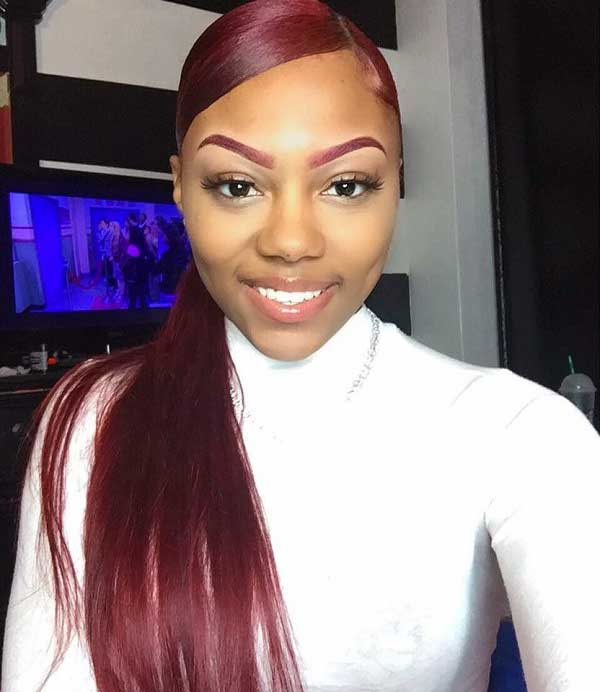 From the color to the length, the texture, and the finish, these are just a few things that make this style special. The grip is firm and the hair is slicked back to perfection.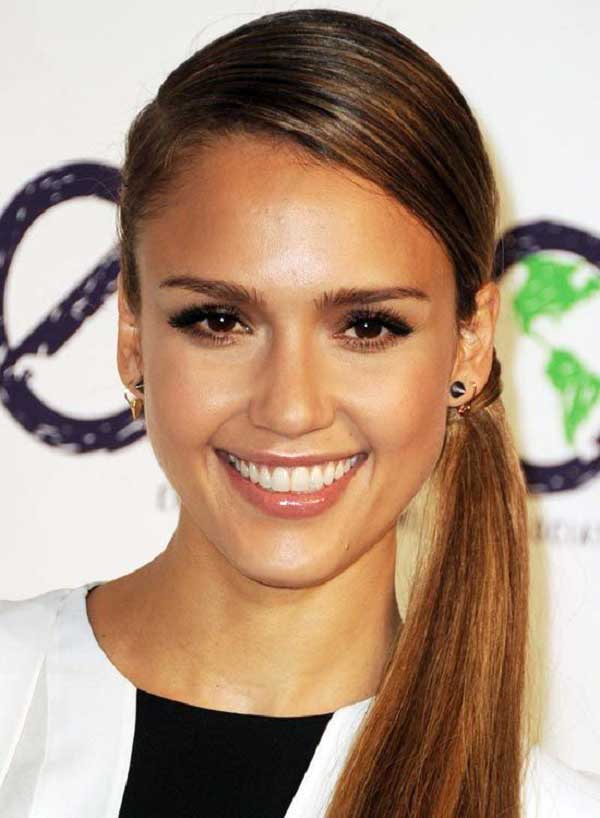 Side ponytail slicked back approach to this look really draws attention to the face, especially the forehead. However, the grip here isn't as tight as the previous, and neither is the finish.
8. Low Side Ponytail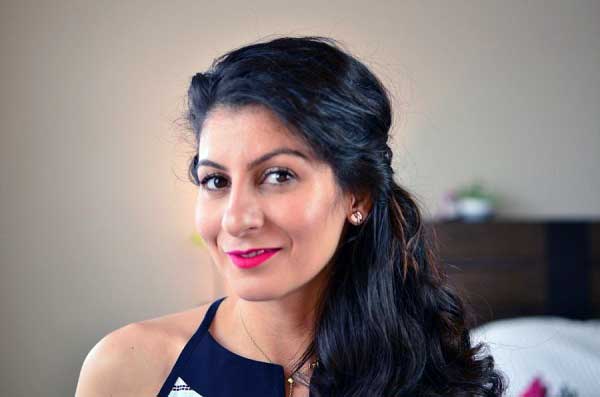 The low side ponytail is one which is perfect for every occasion. From the loose hold to the soft curls and layers of fine hair, this look can go from casual to elegance in a matter of seconds.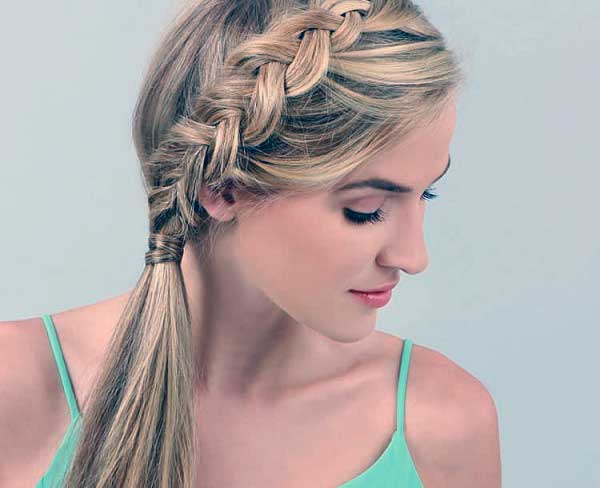 This approach has loose side braids that terminate at the grip which also happens to be loose. It's simple, practical and doesn't take up much styling time. Hence, it's low maintenance.
This side ponytail style so happens to have a center part. Achieved with medium length hair, loose curls, and a scrunchie, this style portrays convenience, even when you're losing time.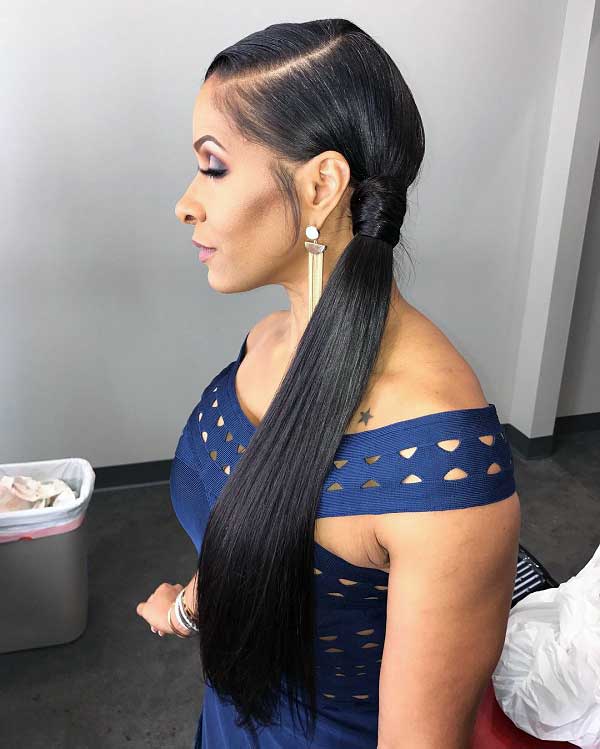 Black girls look fabulous on ponytails and this ponytail style is no exception. Achieved with a deep side part and long straight weave, this look is finessed with laid baby hairs.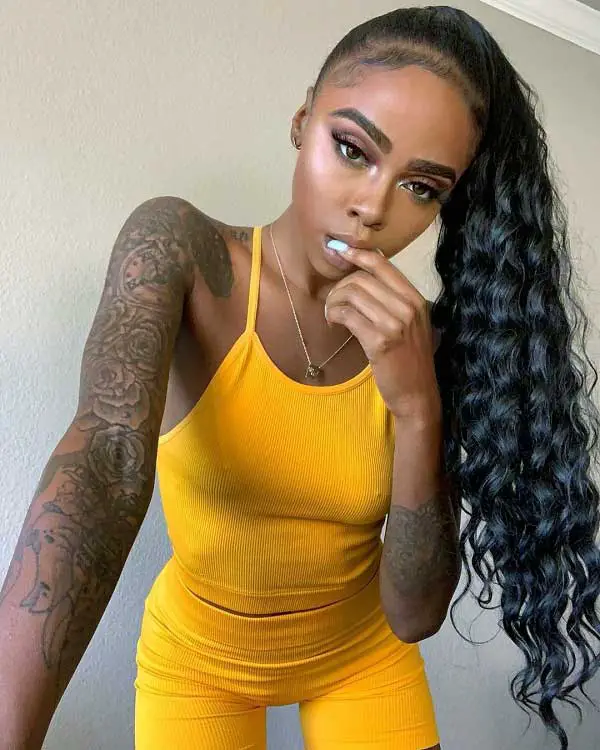 In the absence of a parting, this ponytail style is firmly gripped and held to the side. It features a long curly weave, laid baby hairs, and a lot of hold gel.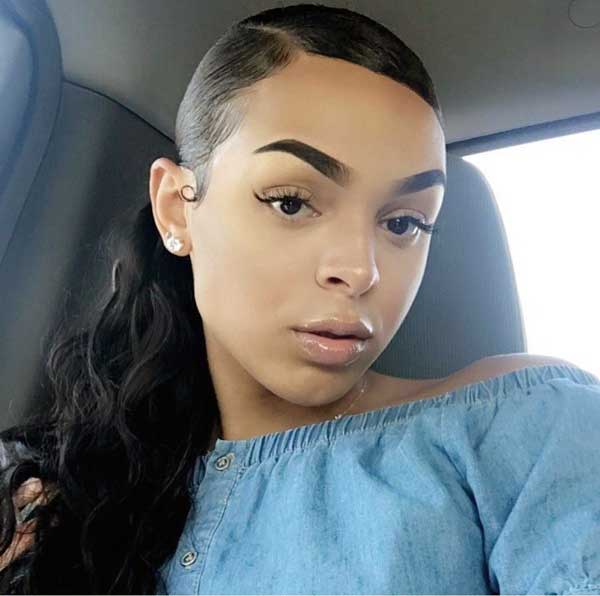 This queen rocks her ponytail with a lot of confidence. The style is achieved with a long curly weave, a tight grip, slicked back with a side part, and of course, wavy baby hairs.
10. Side Swoop Ponytail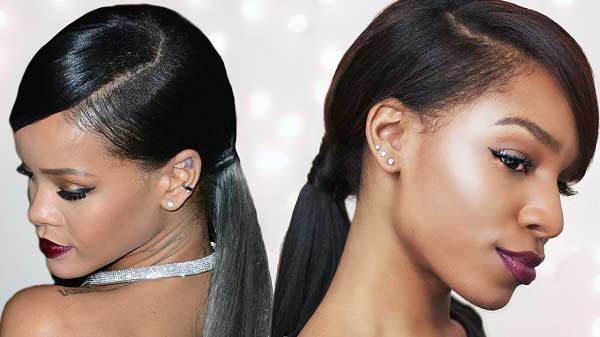 For this ponytail style, the side part is swept from the front to the back and it is tightly held together in the grip. It could be slicked back or loose depending on preference.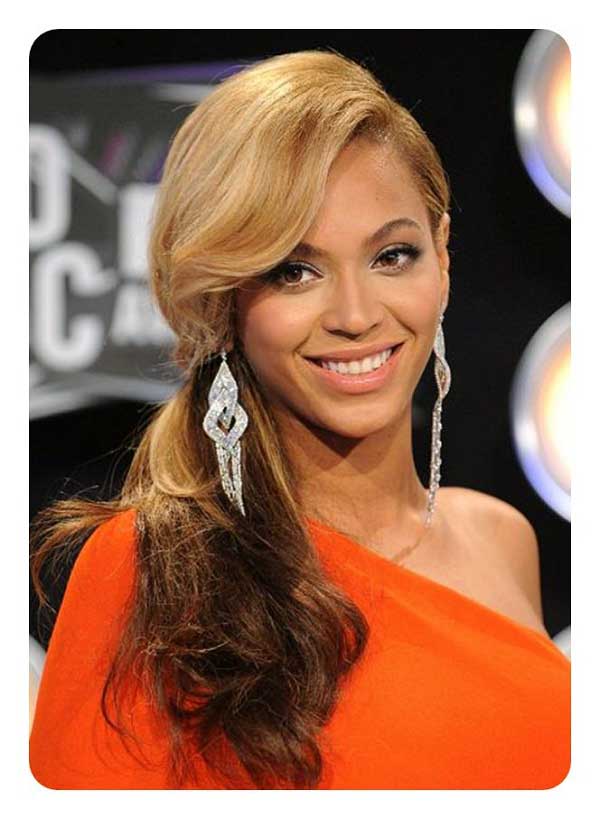 This style features a loose side swoop. With the thick curls and length, one could say it has side bangs, but they're indeed swept into the pony's grip in the most elegant way.
11. Deep Side Part Ponytail
The name really tells it all. this ponytail style has a deep side part which is slicked back to perfection with the baby hairs. The hold is very sleek, the grip is tight and it's done on fine long hair.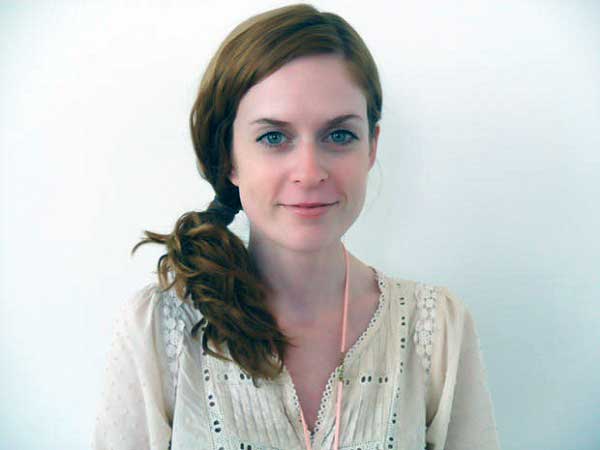 This is a simple, everyday ponytail style with a deep side part. It's very loose and thus, perfect for diverse functions. It's equally low maintenance as the only thing needed is a hair tie.
One might think the sideways approach to ponytails may be unanimous, and contrary to this, there are several unique ways to rock a side ponytail. With each one more stunning and practical than the last, the concept of choice is really difficult with these styles. However, just as an inspiration for your next salon appointment, several styles have been highlighted.