Weave ponytail hairstyles are so diverse and versatile that it's little wonder why one in three women are seen rocking it. The hairstyle is convenient, practical, and even has an elegant side. Here are the different types, styles and colors of weave ponytails.
Styles of Weave Ponytail
1. High Ponytail With Weave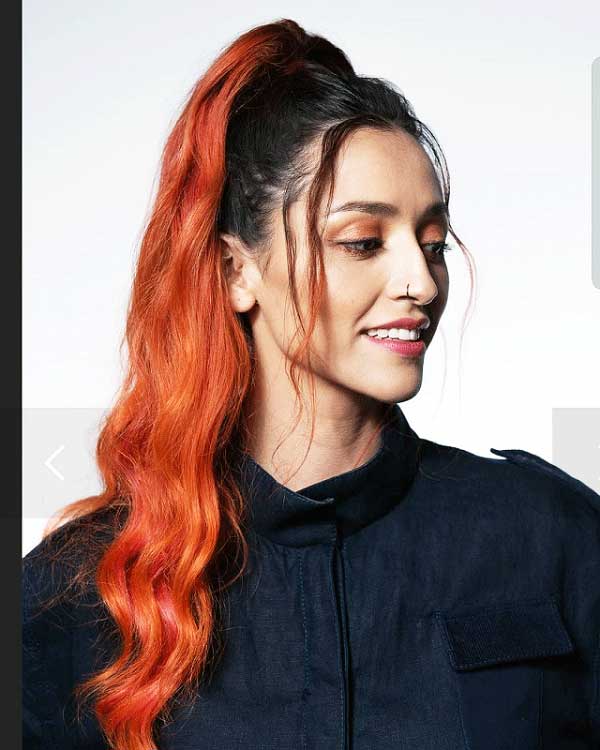 Such a beautiful color transition. This high weave ponytail leans towards the softer side of the pole. The addition of colored strands of hair to the face really drives this look home.
A high ponytail with a lot of pizzazz. From the volume and curls of the weave to the cornrows whose ends are used for the high top and of course the edges. This style is absolutely stunning.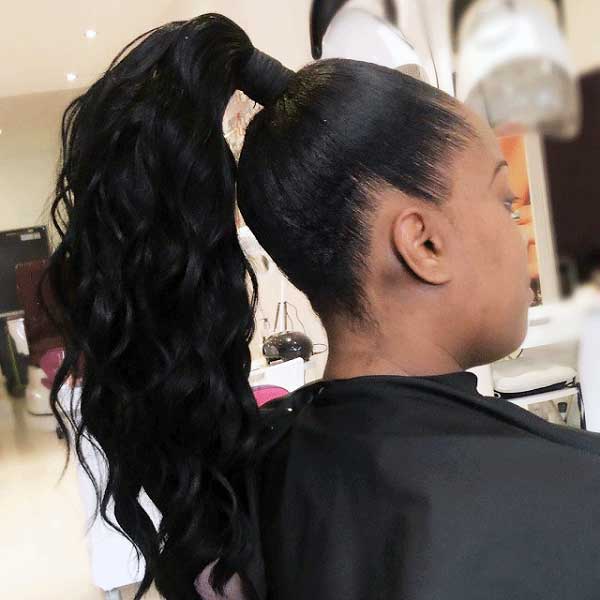 Picture this high sleek ponytail with a curly weave. It's relatively simple and it draws attention to the face and offers no distractions. This style is perfect for a range of occasions.
2. Ponytail Braids With Weave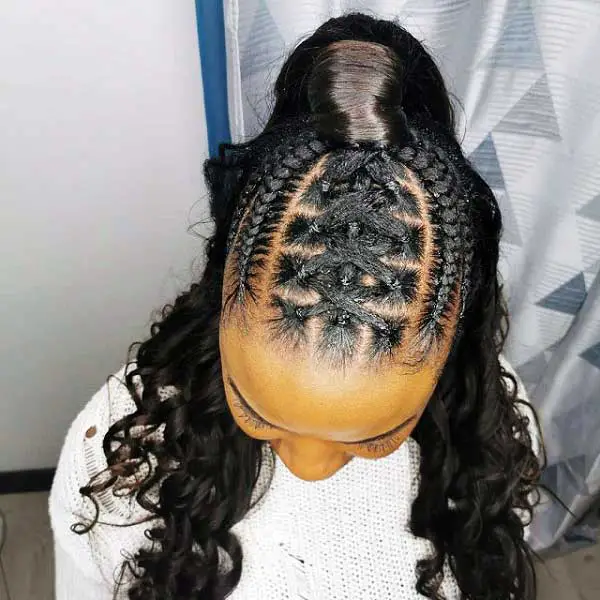 The style is a true representation of its name. This braided ponytail with weave is a real attention grabber. It highlights one's hair growth and texture while alluring facial features.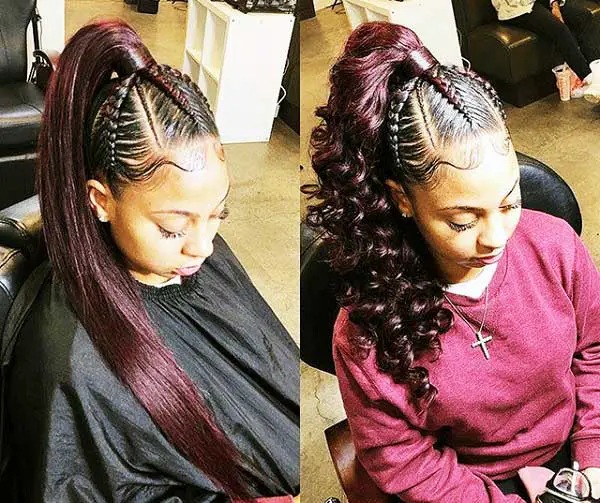 You can agree that this braided high ponytail with weave has a range as it can be styled either straight or with curls. It's definitely an approach that's worth considering as you get two styles in one hairstyle.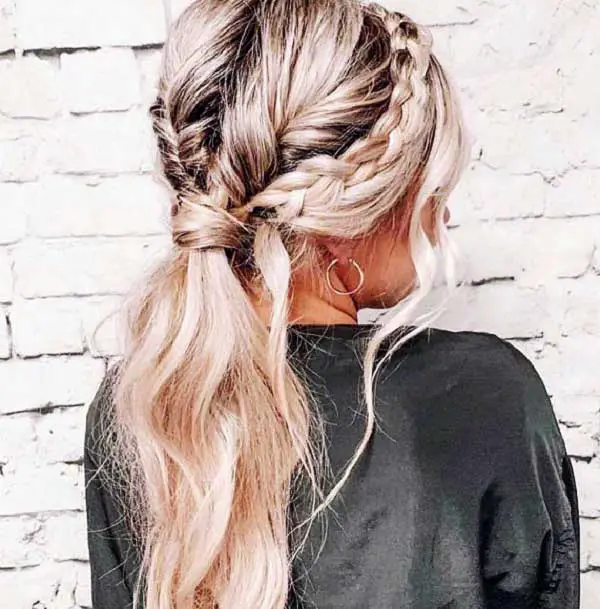 Looking at this style you can tell it's a low ponytail accentuated with braids and hair elements. It's loose, softer, and very casual. This approach may be tedious to maintain but it's very beautiful.
3. Sleek Ponytail With Weave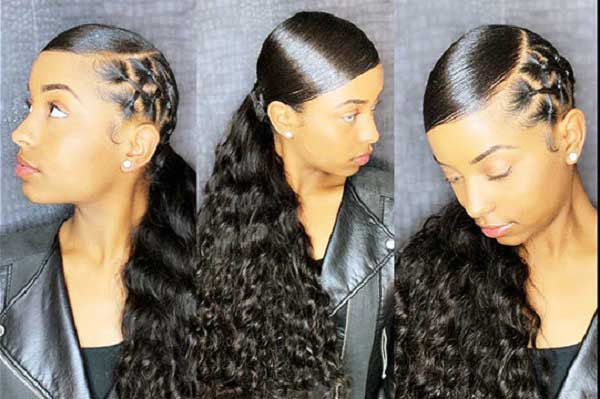 This stunning low ponytail is sleeked to infinity. With flat twists on the side, a side part, volume and curls on the weave, you can definitely do anything in this hairstyle.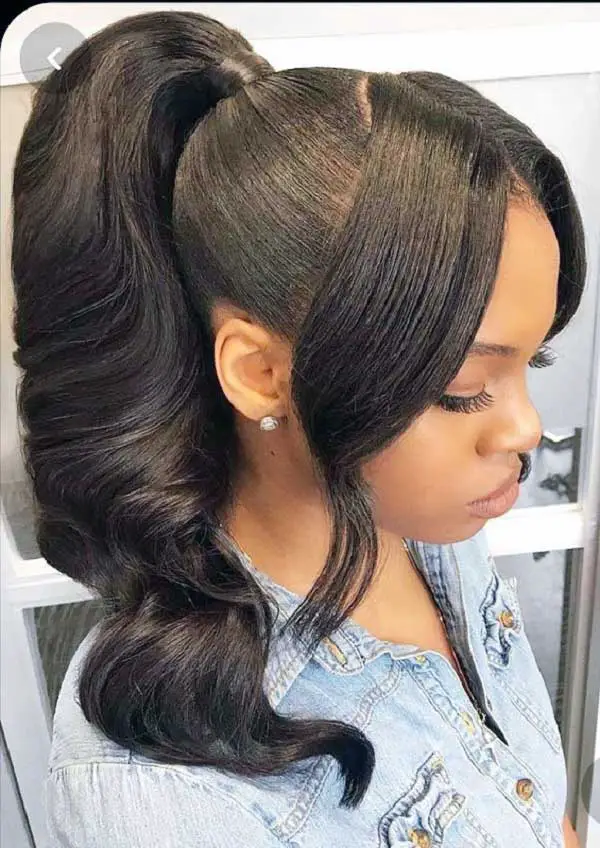 So much volume, definition and sleekness went into this hairstyle. This weave ponytail style will really make you feel like a Disney princess as it gives that baby doll look and it's so pretty too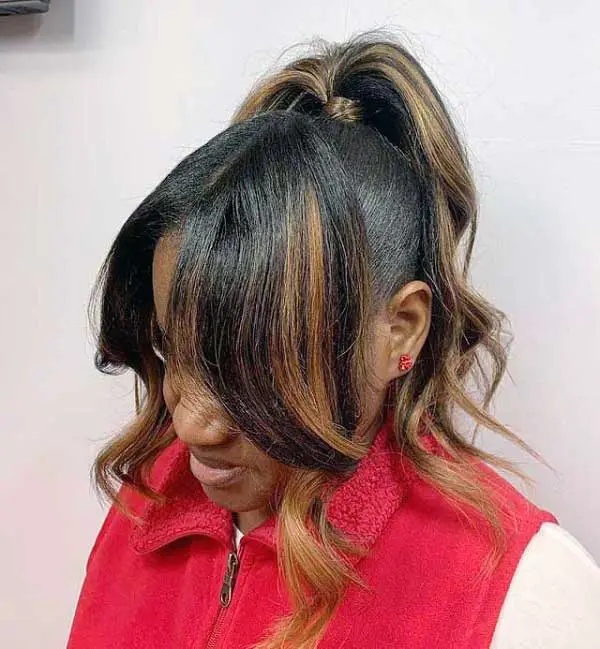 From the smoothness of the hair, you can tell it's a sleek ponytail. This sleek ponytail comes with curled hair sections dropping down the face, while the ponytail remains high and curly as well.
4. Slicked Back Weave Ponytail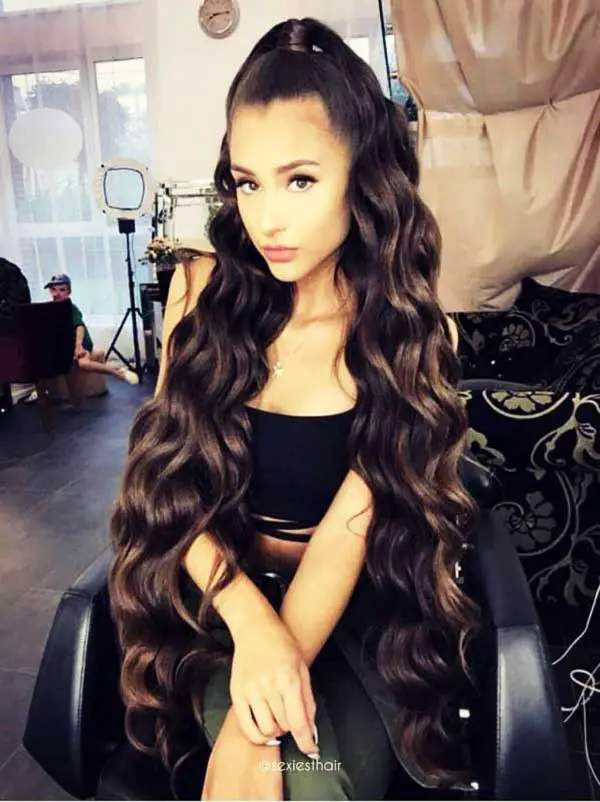 Talk about ponytail Rapunzel. This high slicked back ponytail is a half up half down situation and its length, definition and curls are enough to make you stand out of any crowd.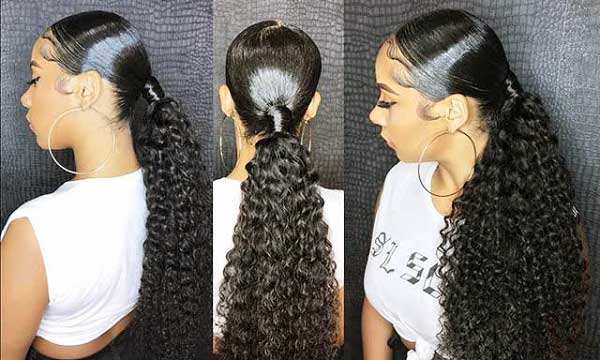 Somewhat similar to the previous style, this slicked back weave ponytail has softer curls and a lot more shine. The hold is tight, there are no loose strands and everything is tucked in nicely with the edges.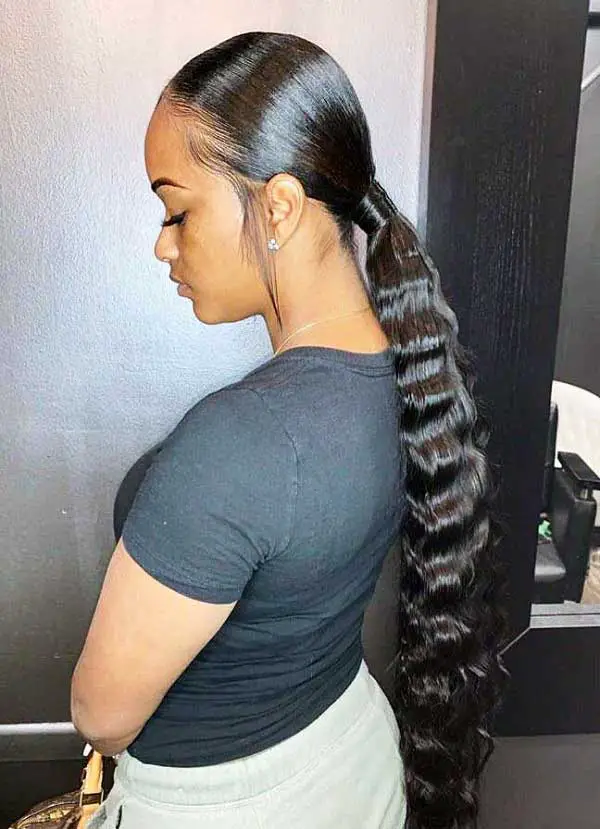 This ponytail is slicked back to the letter. Its smooth shine and beach curls weave give it a distinguishing look from other ponytail styles. The hold is tight but the loose strands make it look soft as well.
5. Curly Weave Ponytail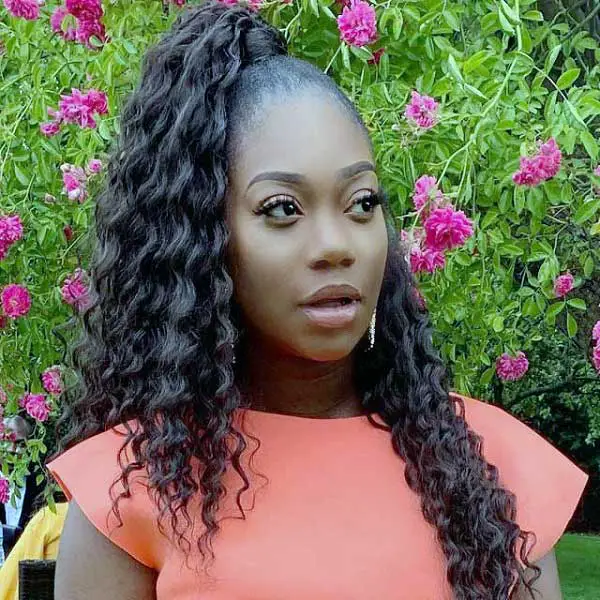 The curl pattern on this curly weave ponytail is very different from the previous one. It's looser and softer but on medium length hair. A high ponytail that doesn't take attention away from the face.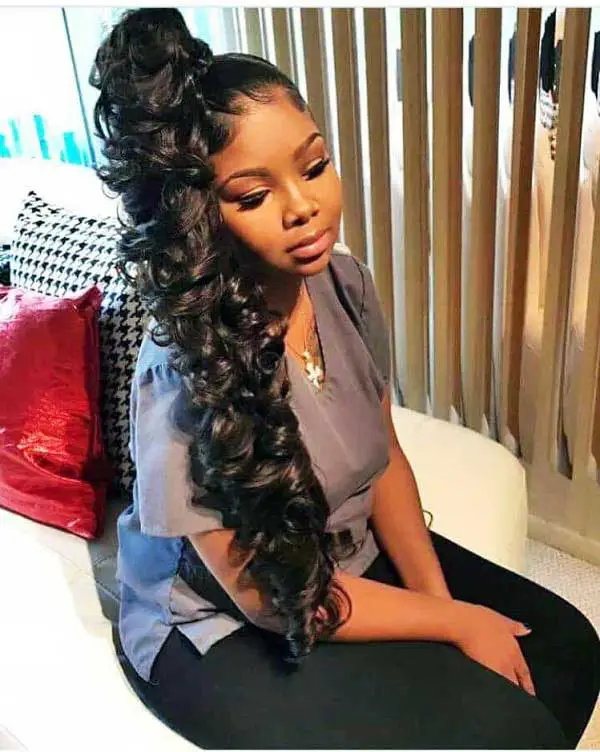 Everything about this high ponytail style makes it unique. The thick curls from the beginning to the weave's tips, the long length, and of course the volume of the weave. It all fuses together to perfection.
6. Little Girl Ponytails With Weave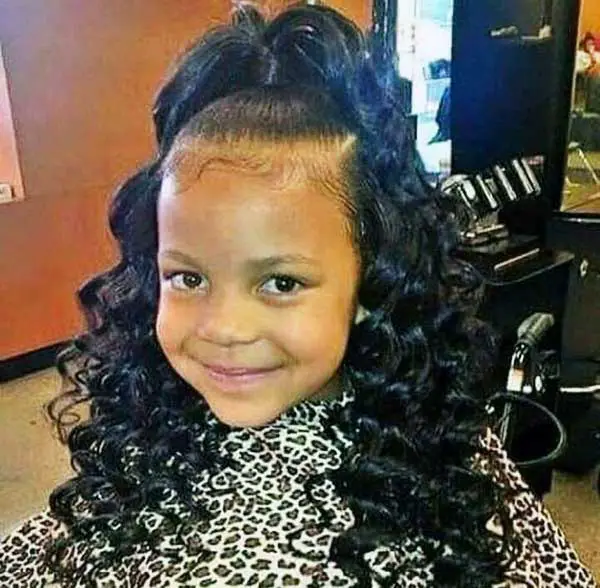 A friendly reminder that high ponytails look great on little girls too. This style features a ponytail sectioned into multiple parts with each part drapes down the shoulders with bouncy curls.
This little girl ponytail is sectioned into two parts, braided back and tucked into a cute bow. Quite innovative we might add. It almost doesn't look like a ponytail, maybe that's because they're two.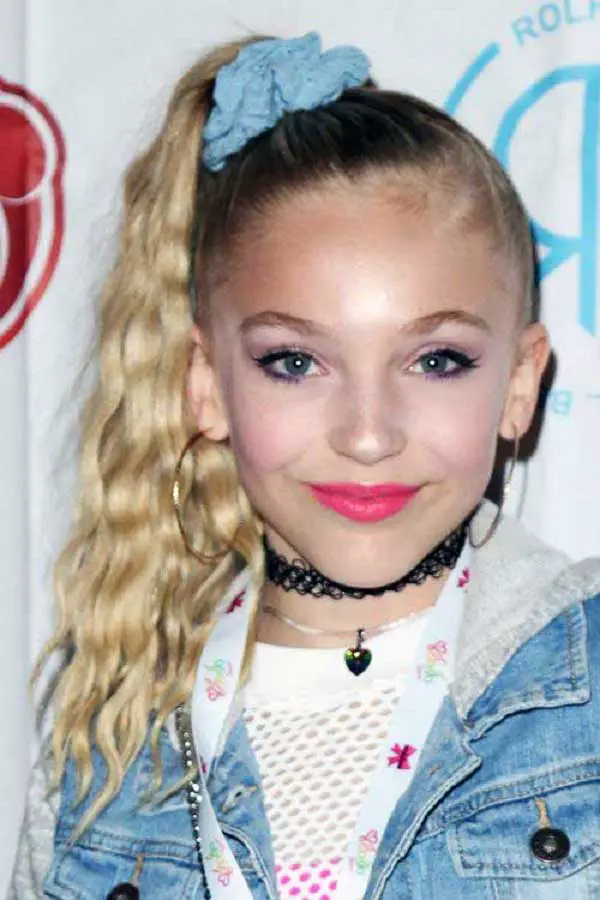 Sometimes all you need for a great ponytail is a scrunchy. This style is very juvenile which makes it great for kids. Not much is going on here, just a simple hold and wrap.
7. Low Ponytail With Weave
Simplicity at its finest. This low ponytail hairstyle has a loose but firm hold. The curls are in uniform both at the front and at the back of the hair.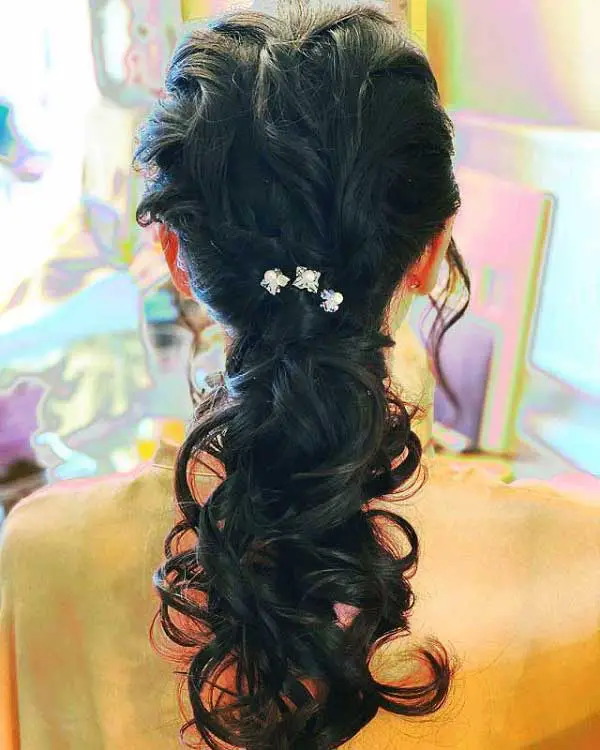 A style so unique and simple that it's bridal appropriate. This hairstyle features a soft low weave ponytail draped backward and tucked in with soft braids, thus creating an elegant hairdo.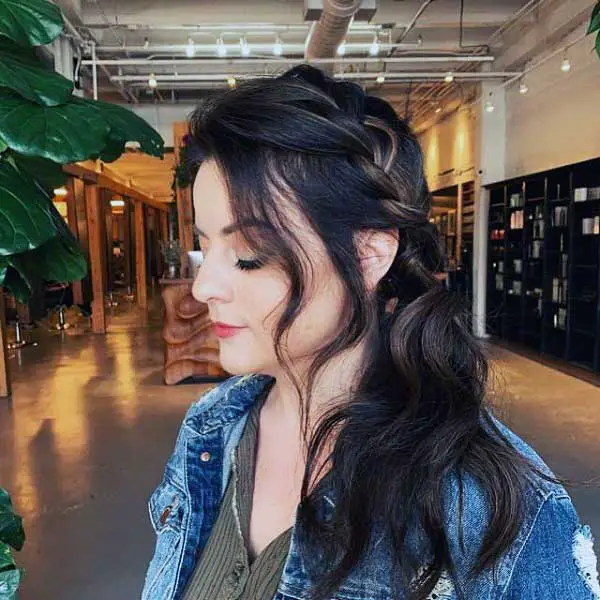 Featuring flat twist braids, hair dropping down the face, light curls and a loosely held ponytail, this approach has a casual and elegant look to it. It works for both scenarios.
8. Weave Ponytail With Bangs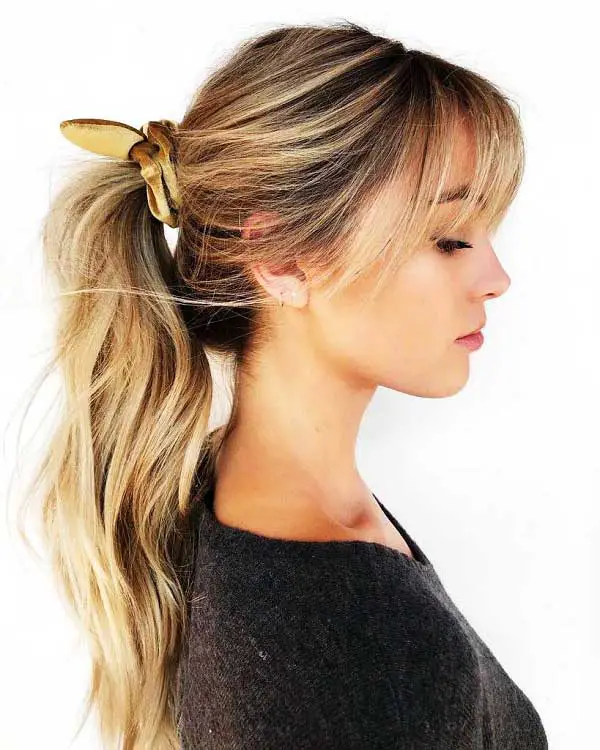 Easy and practical, that's what this ponytail style represents. The grip on the low ponytail is loose, the bangs are scanty and the length is just perfect, thus drawing attention to the actual facial features.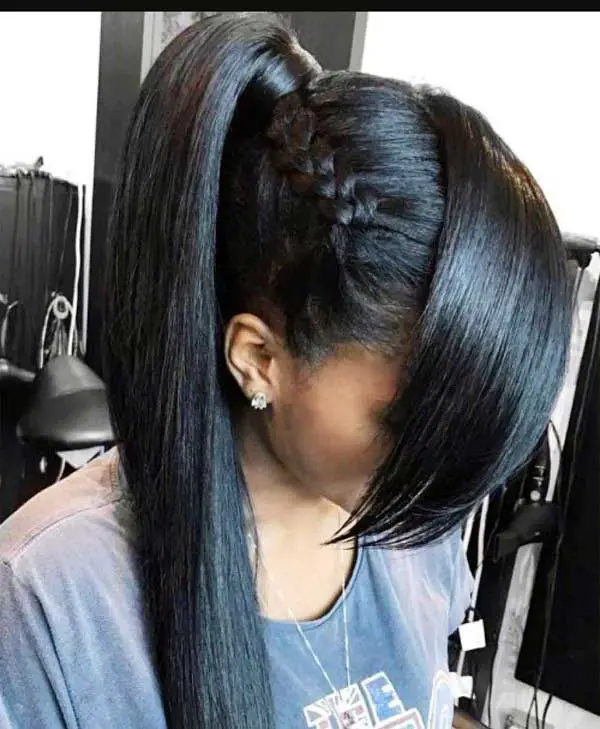 There's a lot going on in this hairstyle. The ponytail is high, the bangs are thick and to the side and the grip is made possible with braids. It's a different approach.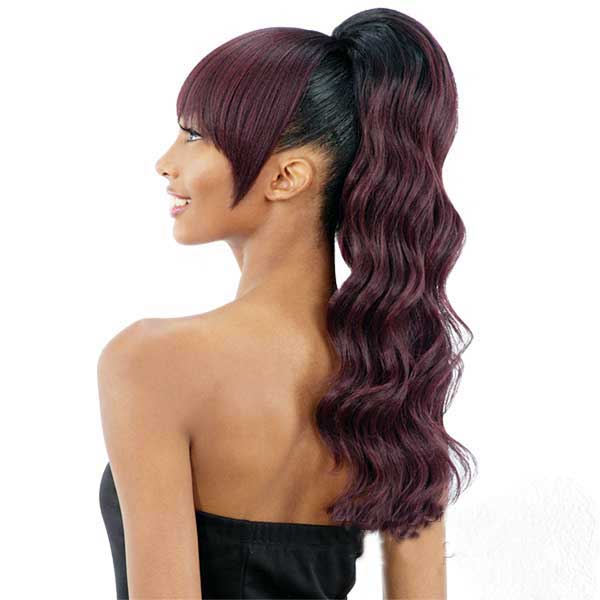 Bangs look great in different hairstyles, ponytail included. This high ponytail style comes with a lot of weaves. The bangs cup the forehead and the weave drape down like soft waterfalls.
9. Long Ponytail Weave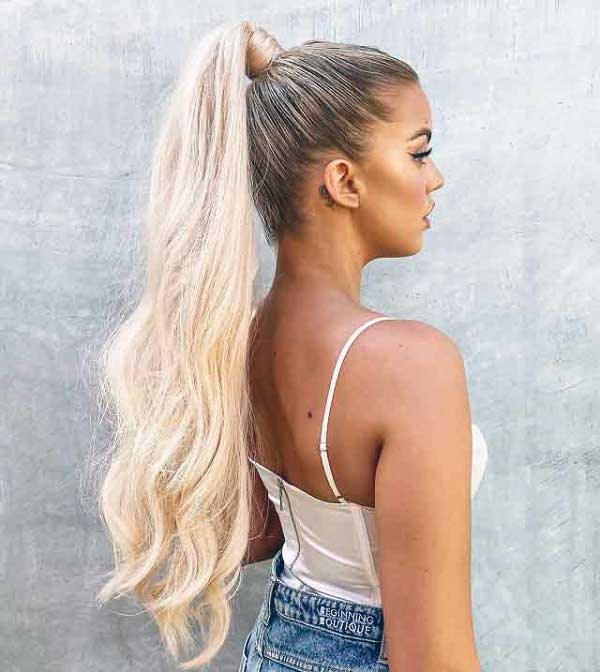 This ponytail style is of the high kind. The grip here is tight, the weave is long and it also curls. The contrast in color really adds to its uniqueness.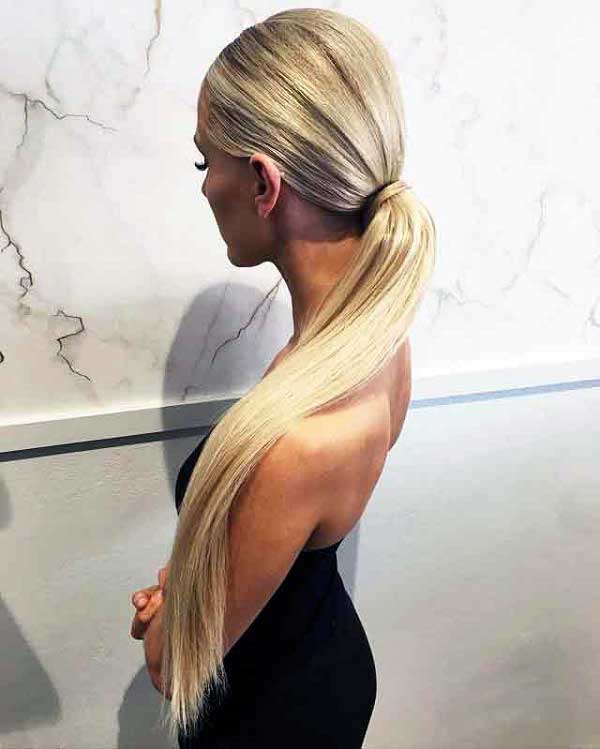 It's all about the length guys. This ponytail style is of the low kind, the weave is long and straight while the hold is loose yet firm. Everything is to the back.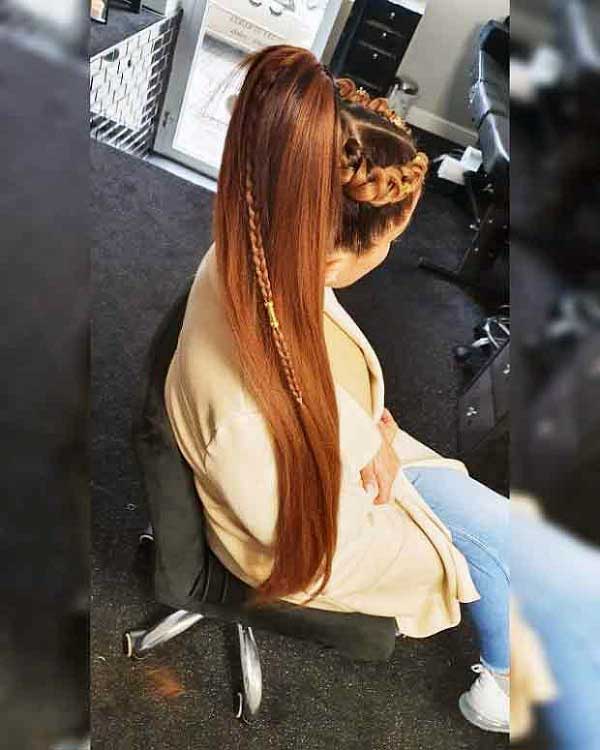 Lustrous voluminous ponytail weave laced with braids and dropping down the nape of the back. This hairstyle will definitely get all the attention in any gathering, all you need to do is show up.
10. High Sleek Ponytail With Weave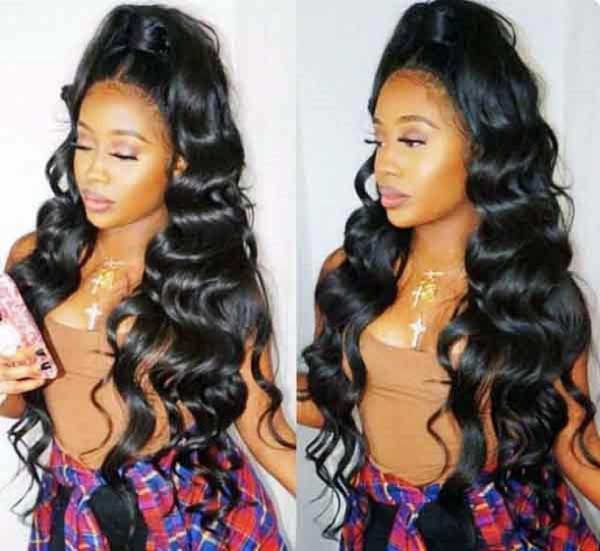 This high sleek ponytail is center-parted. The hold is tight and so is the grip. With a long voluminous mane like so, accentuated with beautiful curl patterns, this look is a keeper.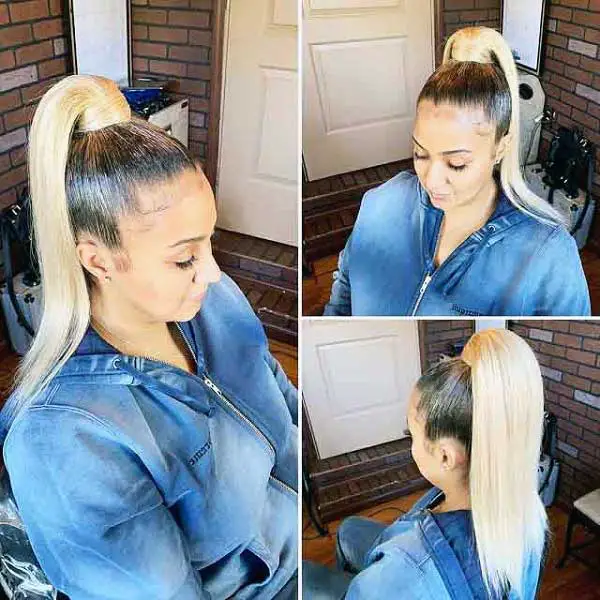 Such a sleek high ponytail. This hairstyle is done with medium length hair and this is a simpler approach as the hair is straight, the style features no parts, bangs or braids.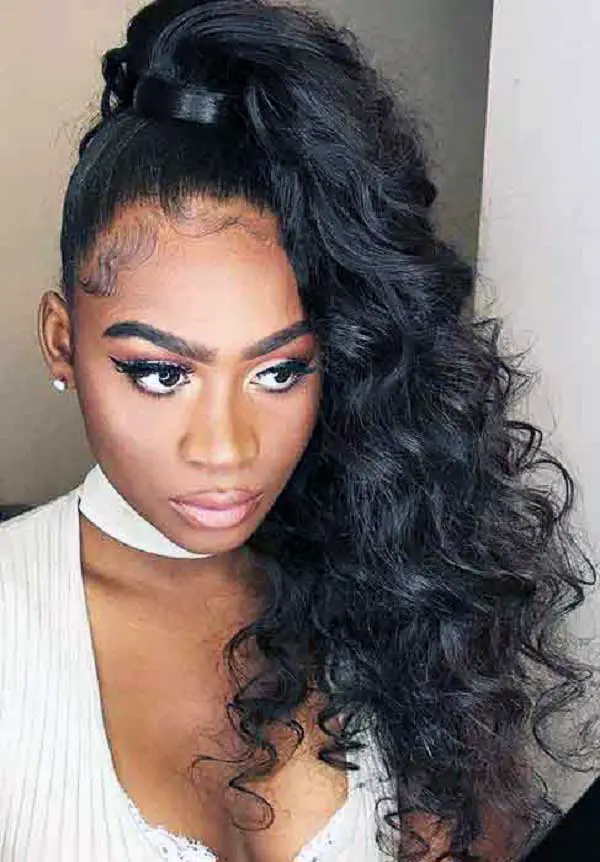 Here the medium length curly weave is swept to the left while the pony stands tall, firm and sleek. This style is also pretty straightforward although the curls will need maintenance.
11. Cute Weave Ponytail Hairstyles For Black Hair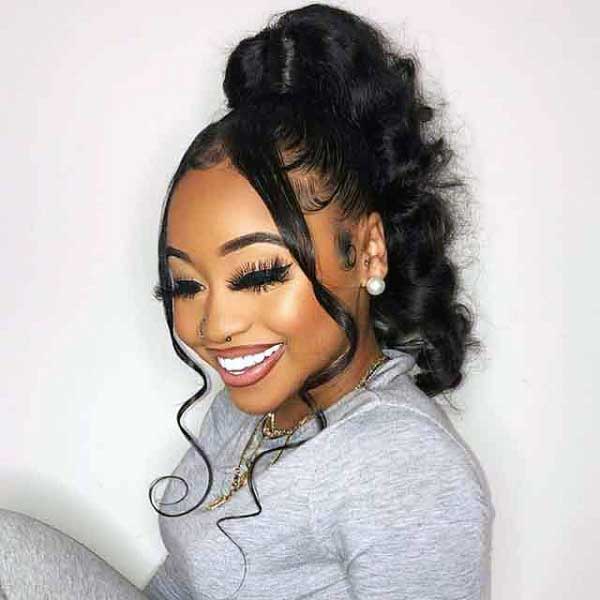 Black hair is so gorgeous and ponytails really make this stand out. With some curled hair partitions sliding down the face and its medium weave curled, this style remains fabulous.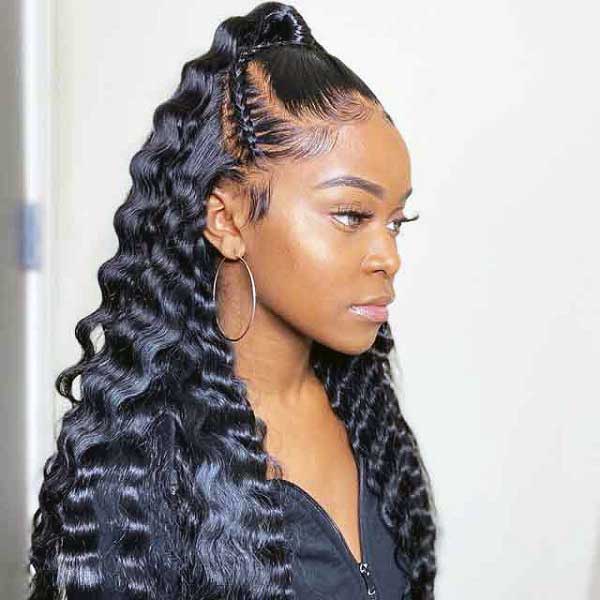 This style features a long mane, slicked half-up ponytail with cornrows on the side. See how it draws attention to the face and even gives it a minor facelift.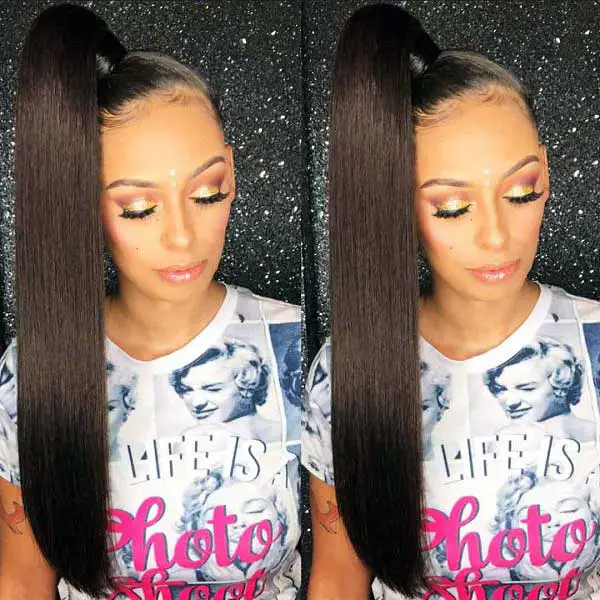 It's so easy to see what's going on with this style. The ponytail is so sleek, the hold is tight, and all the hair drapes down to the side. This is a straight weave approach to this side ponytail.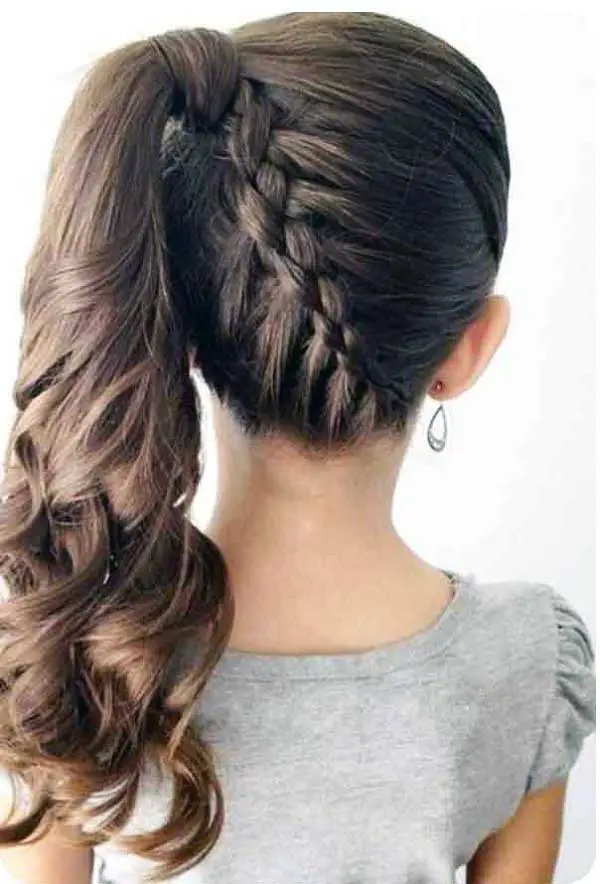 Same approach, just with less hold, a curly weave and a flat back braid. This increases the attractiveness of the side ponytail hairstyle and makes it more captivating.
13. Quick Weave Ponytail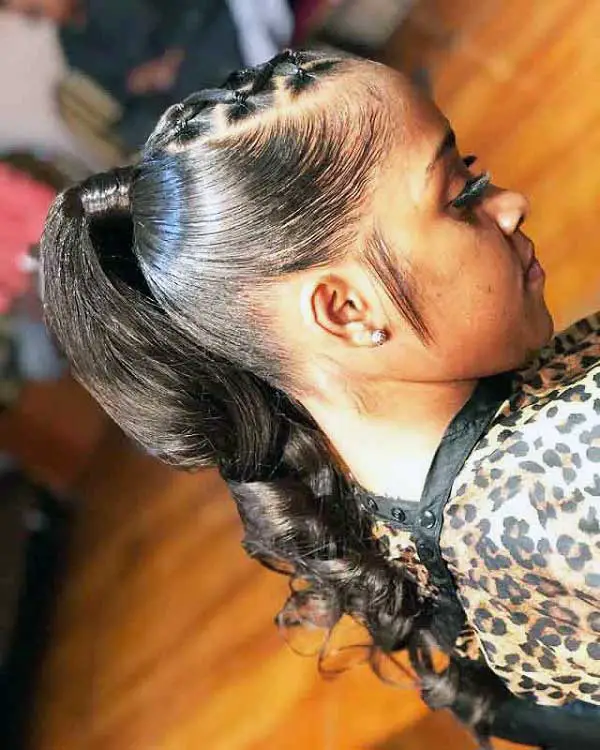 This high ponytail style might not be as quick as it involves twists, however once that is out of the way, the rest is breezy. Just slick it up, curl it down and fix the edges to go.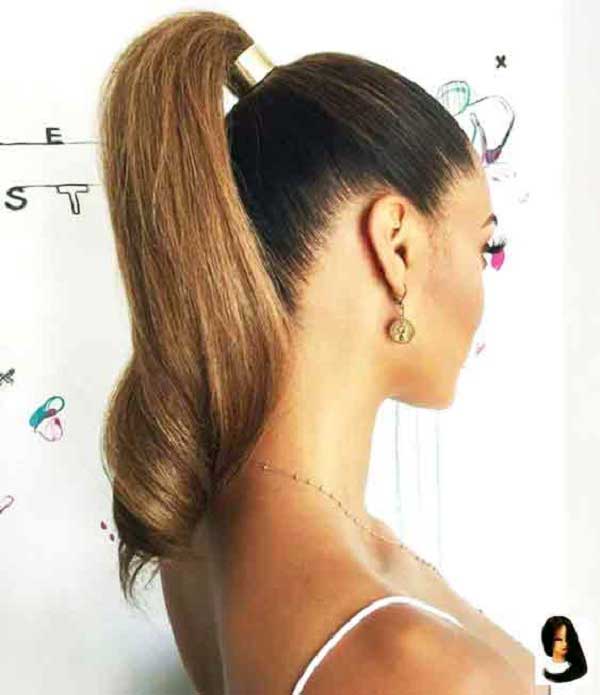 Looking for a ponytail style that is quick and stunning? Well, this should do you justice. This style features a typical weave ponytail in which the grip is accented with gold accessories.
14. Two Ponytails With Weave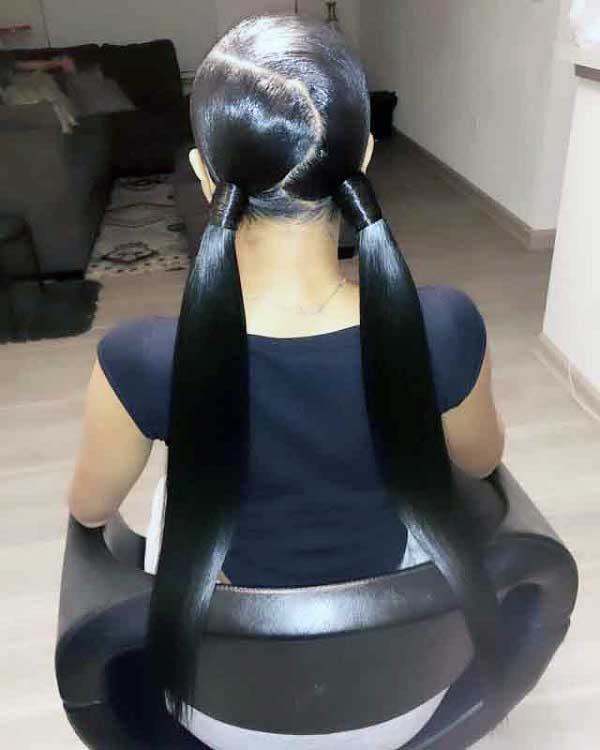 What's better than one ponytail? Two ponytails. This style features two slicked down individual w with firm grips and a long straight weave split in two. The style is simple but unique.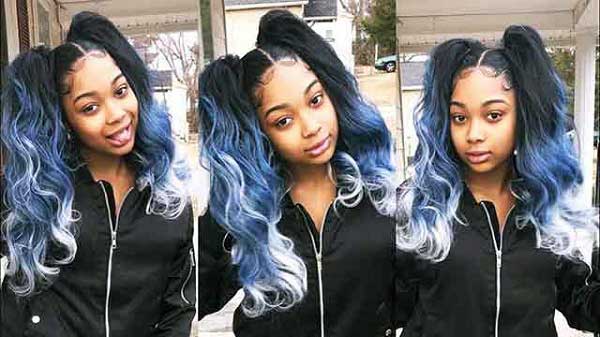 This style is definitely louder than the rest. It features two ponytails with ombré colored weaves. The ponytail is of the high nature and the weaves' curls are very layered.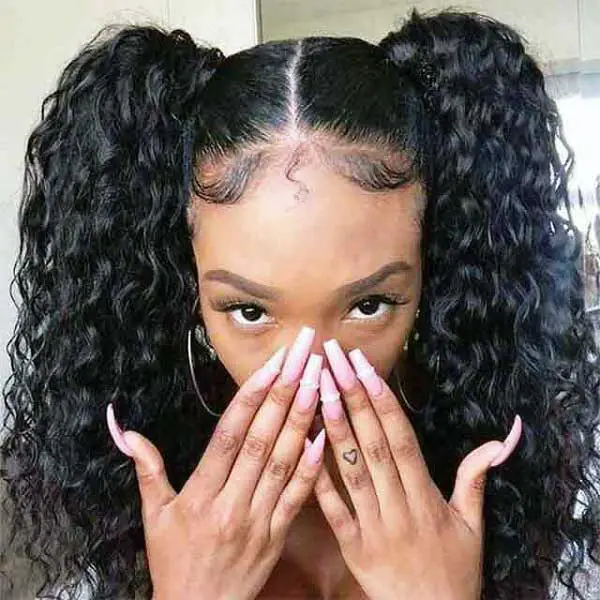 Rather than one high ponytail, why not have two. This hairstyle is center-parted and has two individual ponytails with their weaves. The weaves are of medium length and soft curl patterns.
15. Half Up Half Down Ponytail Weave
The name of this hairstyle really gives it away. This is a high half up half down ponytail style with a straight weave and side parts. The length and precision of this style are just commendable.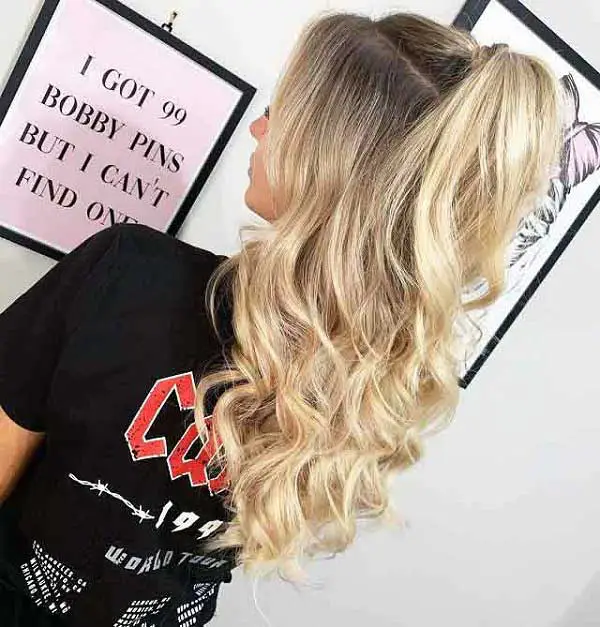 It's not exactly fully half up but you get the picture. This style features a medium-long curly weave of ombré color. It's simple and can be achieved with just a scrunchy.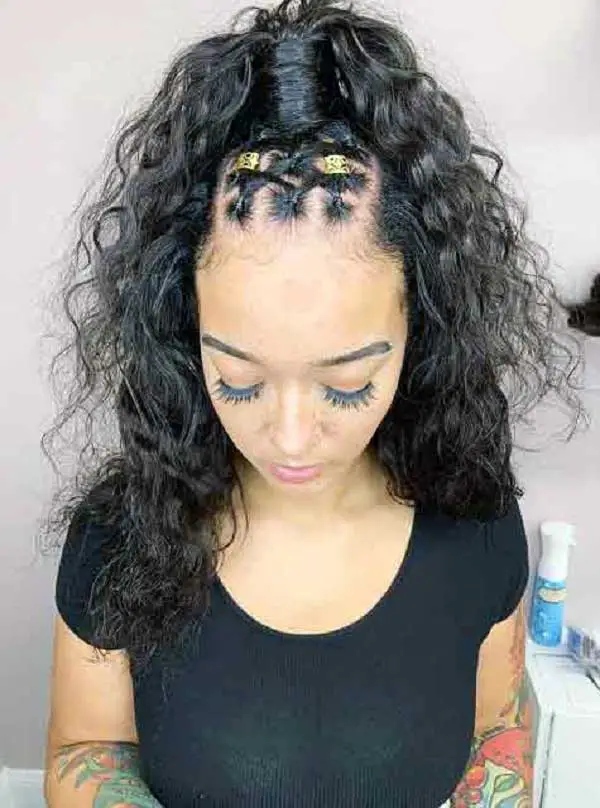 A ponytail style with an edge. This style has it all from the flat twists to the gold accessories, the high top and the curly mane. You can say it's a style for royalty because you'll look like a queen.
16. High Curly Ponytail With Weave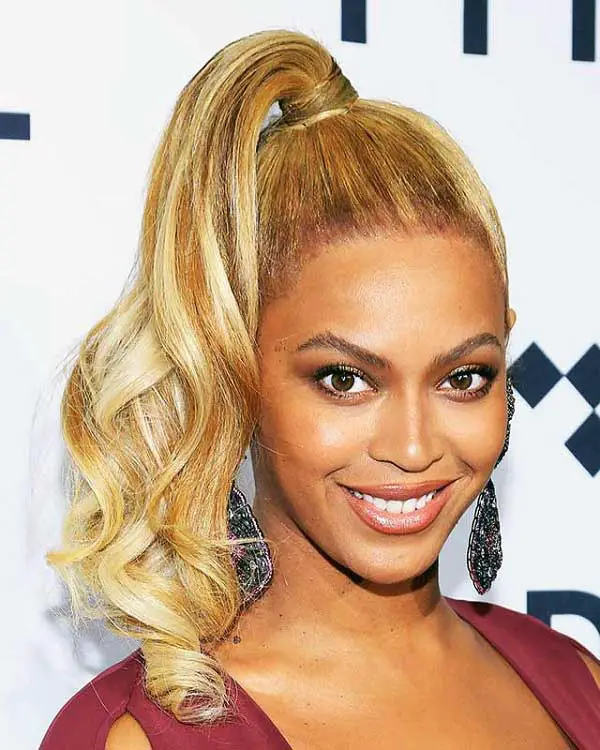 If it's good enough for the Queen, it's good enough for the masses. This high ponytail approach is done with medium length weave and beautiful curl patterns. It's simple yet so very elegant.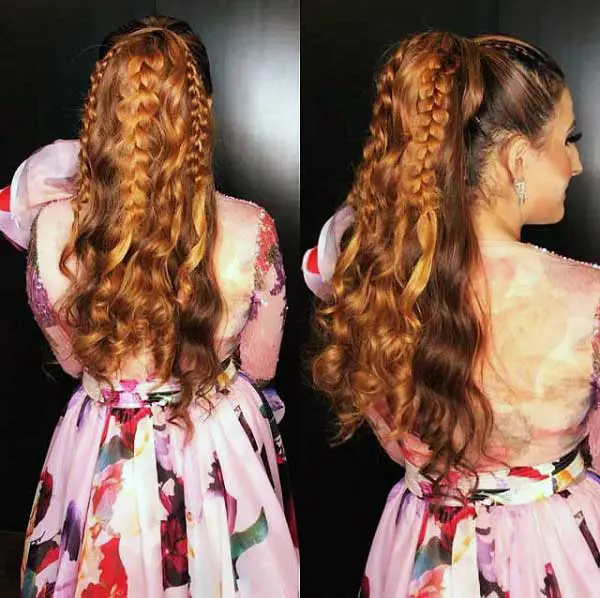 This high ponytail is very voluminous. The color combination, the braids, the thick curls and the weave's length are just a few things that make this high ponytail stand out.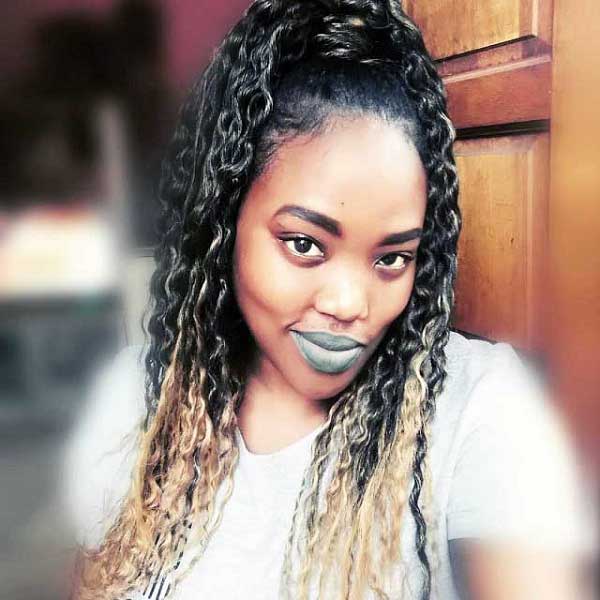 A nice approach to this hairstyle with less voluminous hair, a weave of medium length which has a different curl pattern. It looks like it's comfortable, practical and easy to maintain.
17. Middle Part Ponytail With Weave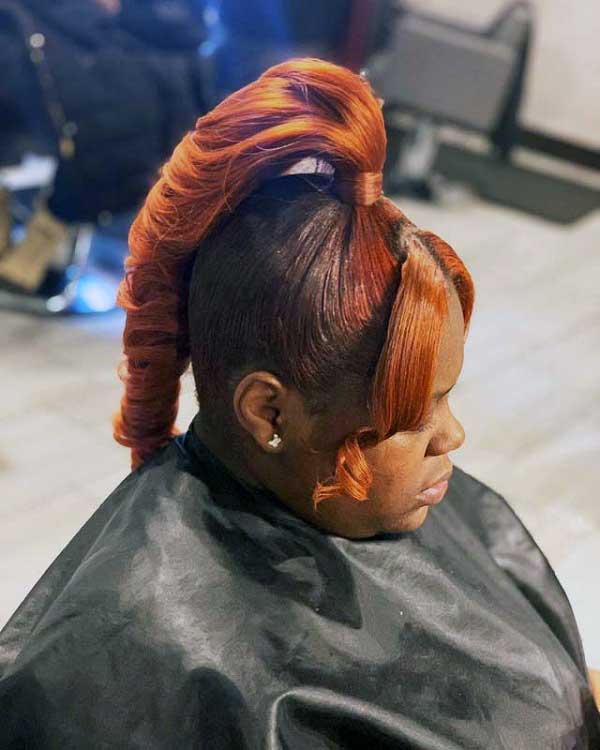 Now, this high ponytail is gripped close to the front hairline. With a center part and two long curly sections of hair cradling the face and of course the curly pony at the back, it's easily unique.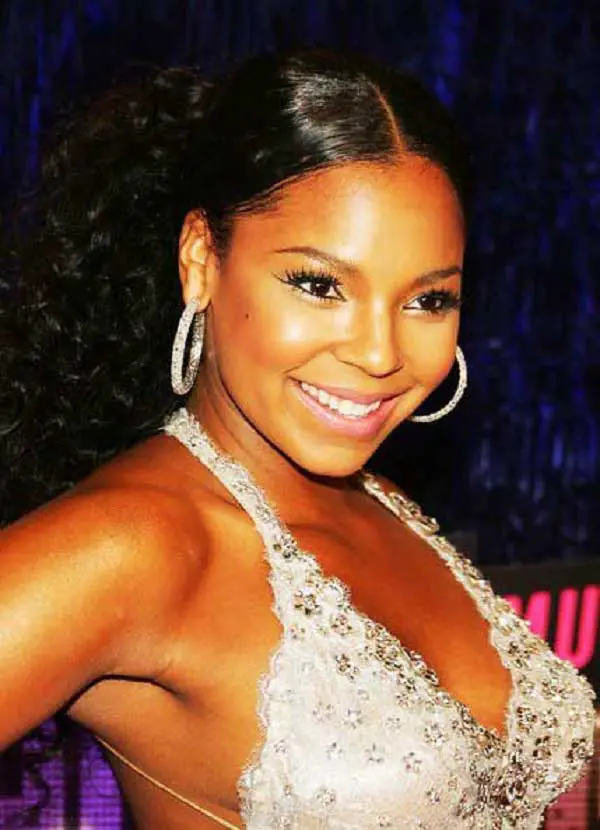 Featuring a medium length thick and curly black weave, this ponytail is slicked back and parted at the center. The volume and thickness of the curls add to the style's glamour.
18. Natural Ponytail Weave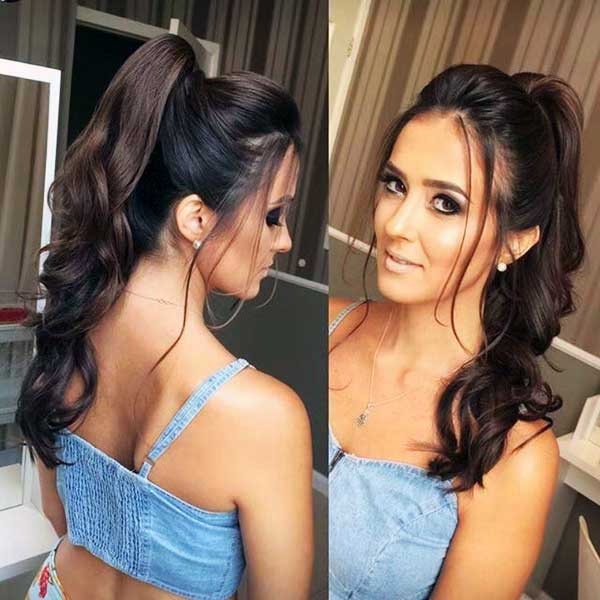 Such a layered ponytail style with a little of an upward bulge. The curls and the strands of hair at the front really add an edge to this medium length ponytail style.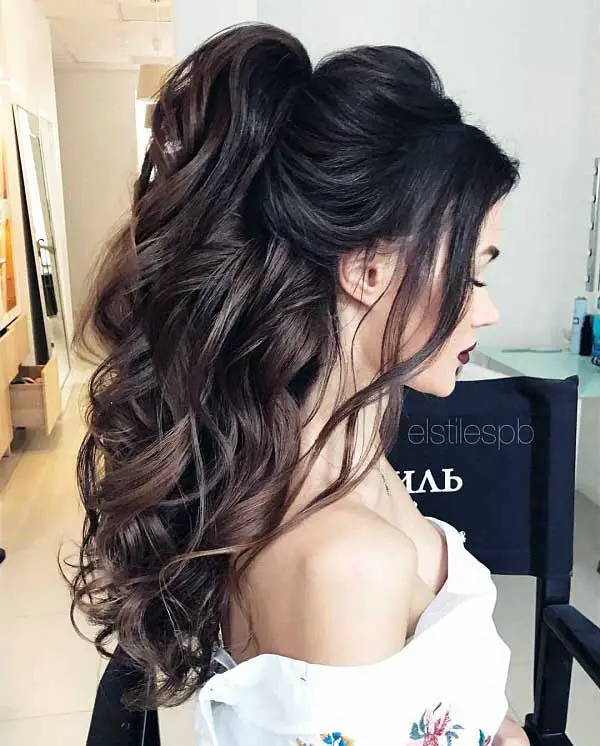 This ponytail flows more naturally than others because the grip is loose. It's a combination of half up half down with a side part and beautiful, voluminous curly hair streaming down the back.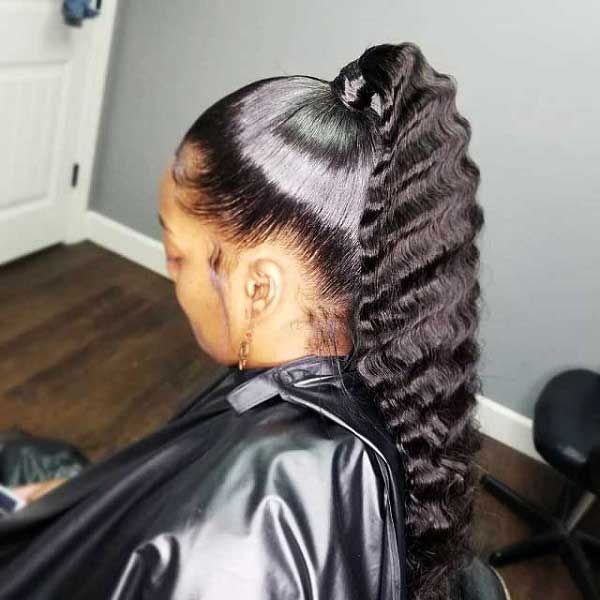 Experience a sleek and shiny high ponytail achieved with a firm grip. The style has no parts, its curl pattern is soft and the look is finished with slicked-back edges. It looks very simple and still beautiful.
19. Cornrow Ponytail With Hair Weave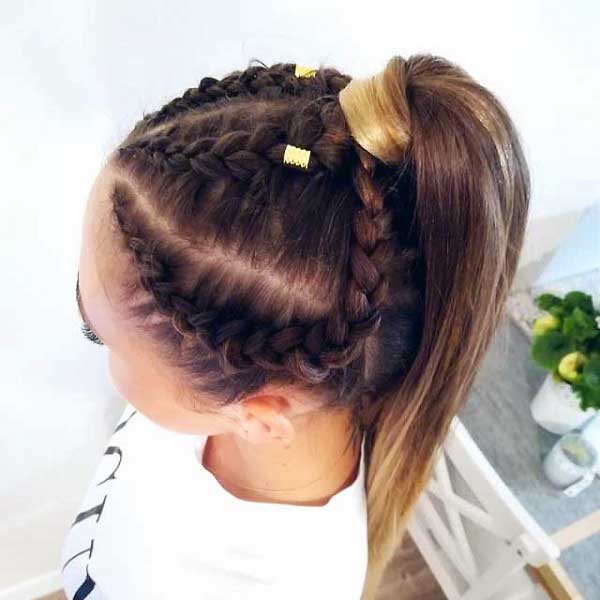 A cornrow ponytail done with fine hair. This approach makes use of a straight weave and has gold accessories on it. It's far simpler than the others and requires less time.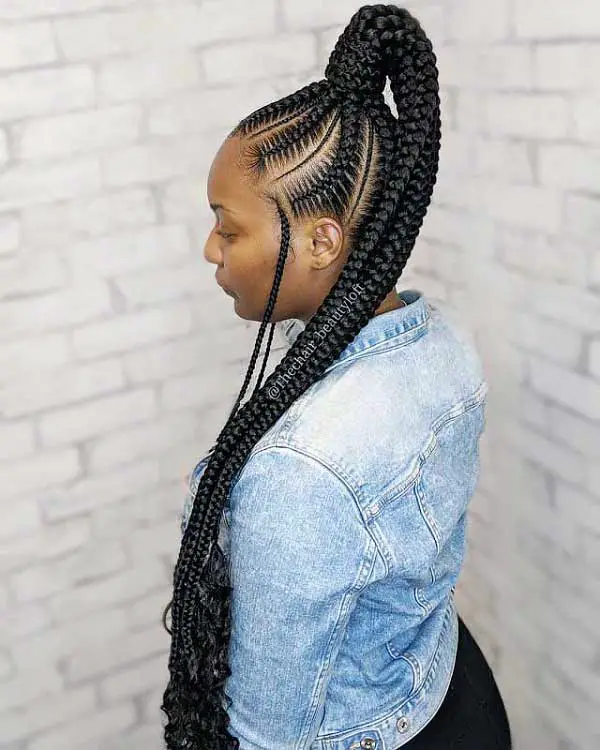 This high ponytail style is made with full large and mini cornrows. The tips of the long braids are curled and there's also braids at the front. It's such a unique fusion of two hairstyles.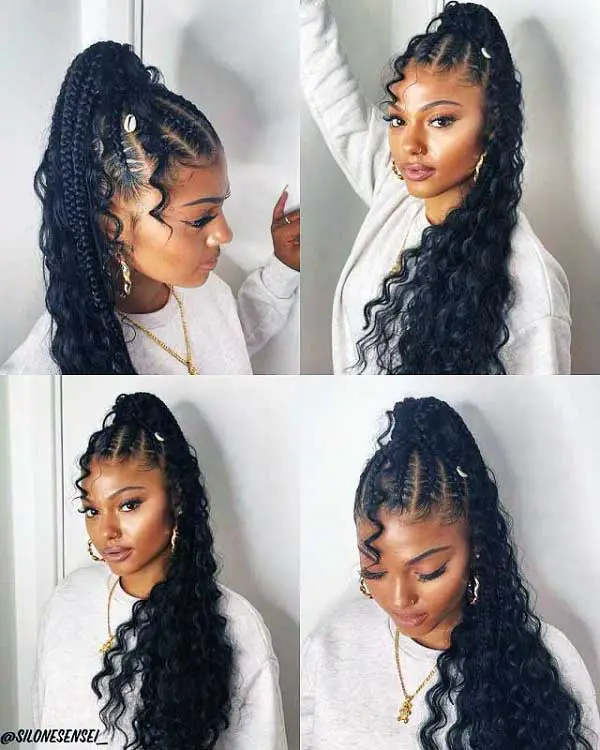 These cornrow braids are still very tight but they're looser and curlier than the previous. It's a high ponytail hairstyle featuring cornrows done up and a curly pony, accessorized with cowries.
Weave ponytail hairstyles have so much diversity and versatility and this piece just prove that there are several ways to rock a ponytail. You could go high, low, braided, straight or curled, there's really no limit and you can think outside the box. Having highlighted a few of these styles, you've seen what it would be like to rock them and hence, channel your inner princess.