Yes, you read that right. Curly hair with bangs looks very feminine and super cute. Whether you have natural curls that are difficult to manage or want to opt for soft spirals to add volume to your locks, you can have both with bangs.
Wonderful Ideas to Rock Bangs with Curly Hair
If you have natural thick curls, it's a boon. With curly bangs, you can frame your face and add a soft touch to your looks. Moreover, it adds hotness to your coiled locks. However, many people think that curly hair with bangs is not manageable and doesn't look good. So for them and for girls who like to enjoy a new look, we have listed a few of the most popular curly hairstyles with bangs.
1. Long Curly Hair With Bangs
The Celebrity Favorite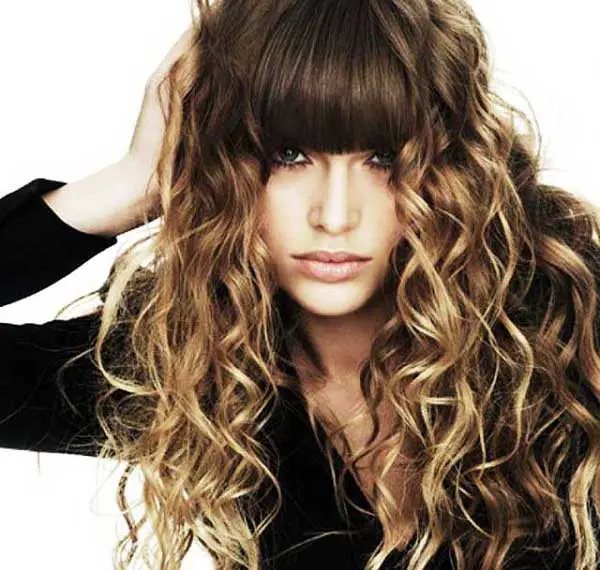 Blunt fringe and long loose waves have always been the favorite of celebrities. From Madonna to Zooey Deschanel, curls and bangs have been rocked by all. If you have long locks, cut to eye-grazing bangs with a two-tone flattering texture for a killer look.
Messy Curls with Fluffy Bob Bangs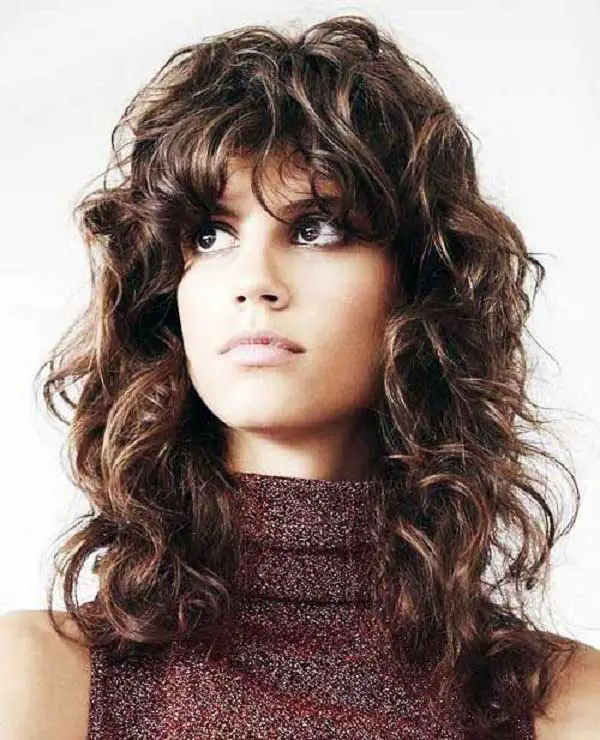 Bangs have always been very popular. This classy bob style with messy curls and fluffy bangs from the 80s is back in trend. Ask your stylist for a messy look that needs no maintenance. Wash them and give a gentle blow-dry for a perfect selfie look.
Half Up-do with Curled Bangs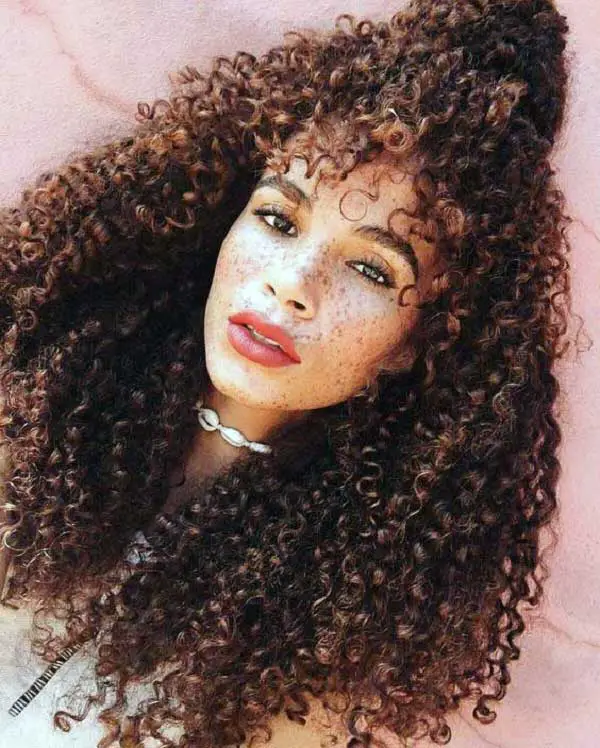 Want a Whitney Huston inspired look? Get bangs with your long curly hair that is nothing less than the spiral macaroni. A half up-do with curled bangs will surely make the look statement-worthy.
2. Short Curly Hair With Bangs
Best Bounce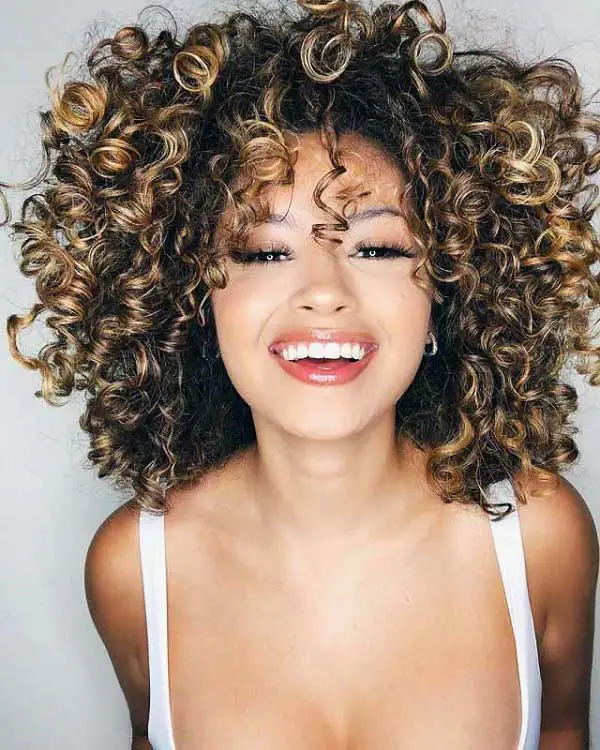 You know girls with thick curls know the beauty of bouncy hair that others only crave for. So as you have it, add some layers and bangs with highlights for a look that instantly elevates your style and mood.
Curly Locks with Asymmetrical Bangs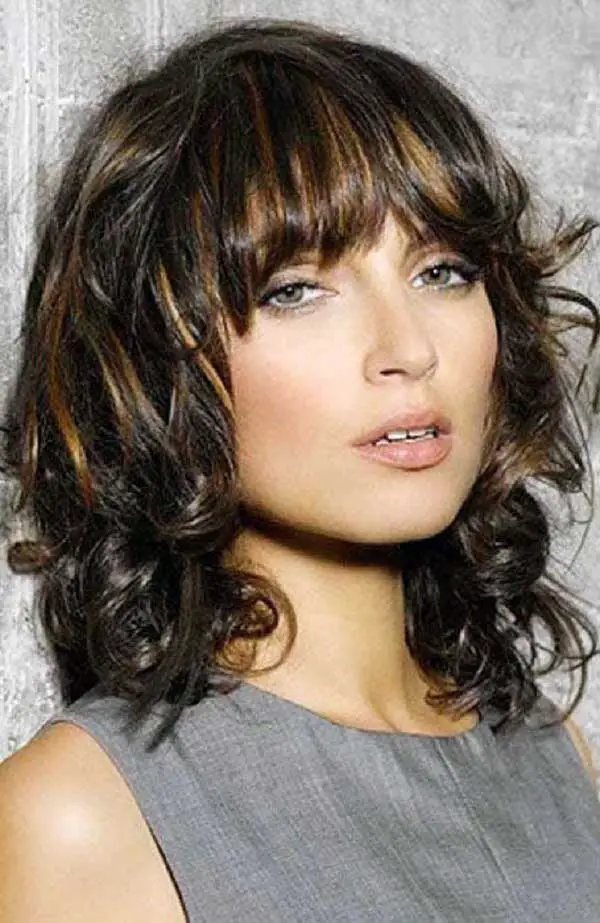 The best thing about short curly hair is that if styles right, you need not do anything with them at home. Just wash your hair and let your hair dry up in their natural way to get that perfect look. Brush your bangs and you are ready for the day.
Soft Curls and Bangs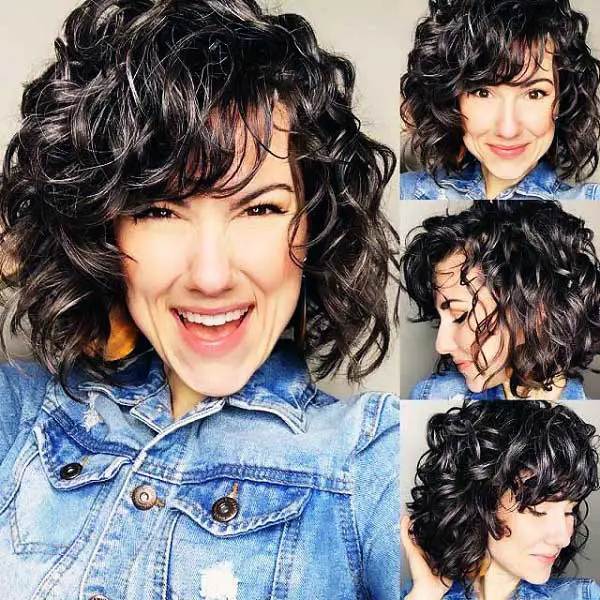 When you choose soft short curls with bangs, you save ample of styling time as they look awesome when left untouched. So if you need a hair cut like this cheeky girl, ask your stylist to cut them in uneven layers with bangs touching the eyes. 
3. Curly Bob With Bangs
The Girl with Spunky Spirals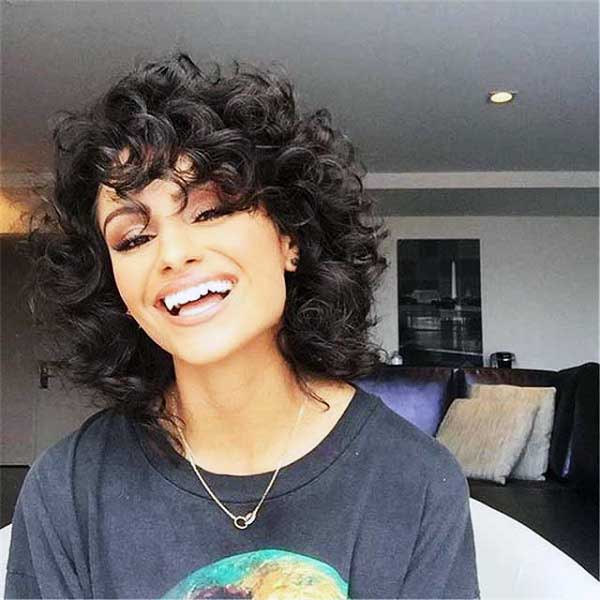 That's what people would compliment you when you will have glossy black curly bob hair cut with a broad smile. Just leave your curls on their own and see how they will keep you up-to-date for any picture-worthy moment. Oh, a bit of mousse can be applied on a stormy day.
Curly Scrunched Hair with Bangs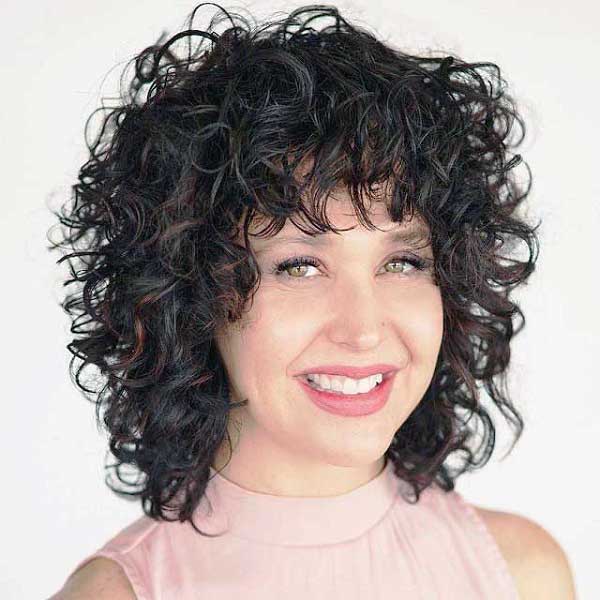 Want to tame your frizzy curls? Try a layered, scrunched hairstyle and add a tint of copper hue to them just like this girl. You unruly and wild curls will look sexy as they will softly frame the face and neck area. 
Stacked Curly Bob with Chocolate Bangs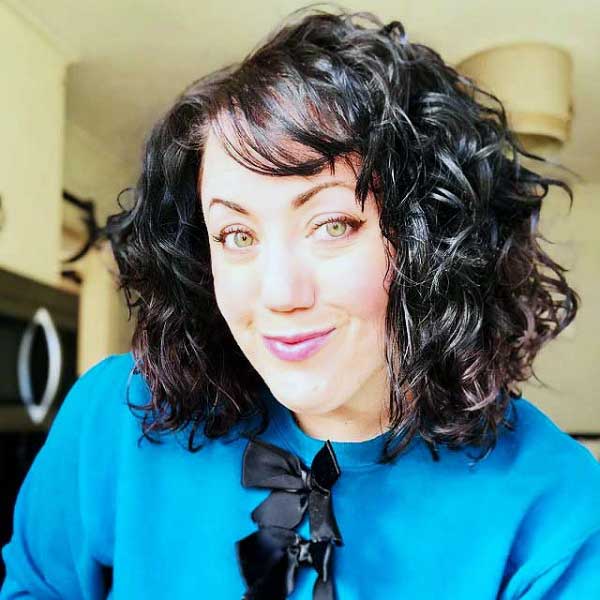 Short stacked curls with highlights at the back and on the bangs create a natural balance. If you have thick curls, choose an asymmetrical stacked style for more volume and a manageable look. You may choose for the shades of copper or chocolate hues for the flattering highlights.
4. Curly Hair With Straight Bangs
Long Soft Curls with Straight Bangs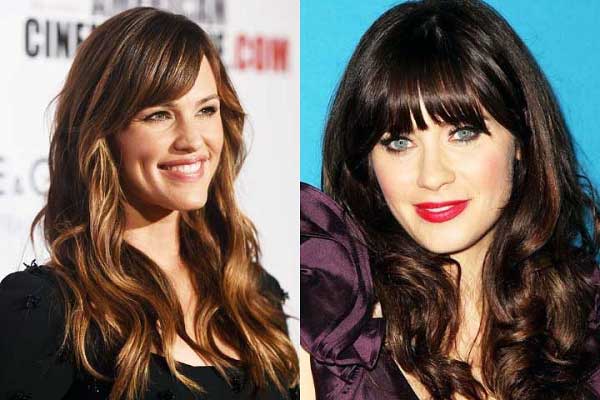 If you have long locks that look a bit dull, switch to a new hairstyle with soft layered curls and blunt bangs. Coloring the hair would give the additional sheen that you have been looking for so long. 
Inverted Curly Hair with Straight Bangs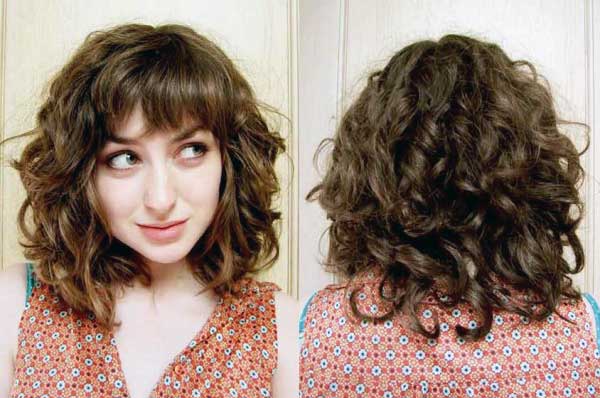 Make the most out of your long thick curls by chopping them into a v-shaped style that falls to the collar bone in the front and hang around the shoulders at the back. You may choose for the ebony shade or opt for a blonde look for a remarkable change.
Feathered Curls with Zebra Bangs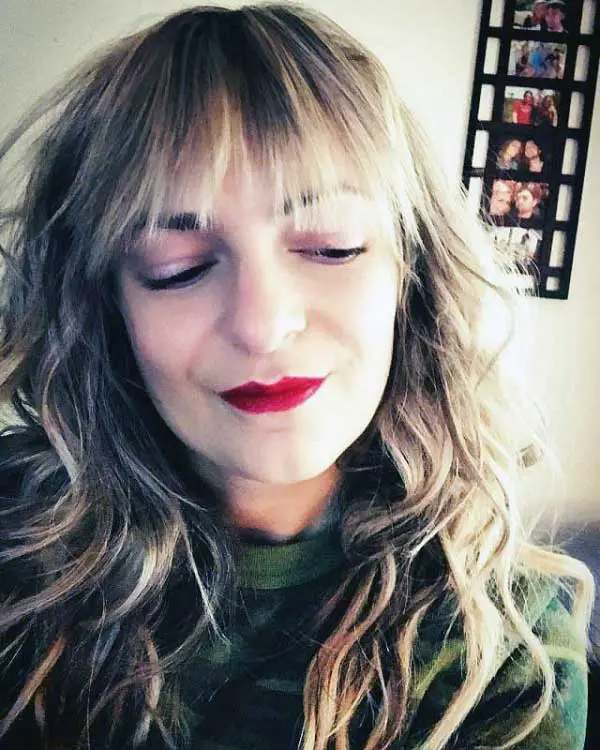 How about a face-framing and fancy look? Go for front straight bangs that vary in length like short and long. Choose for very soft curls at the end with half a length straight and finally highlight them with shades of white for a zebra style.
5. Natural Curly Hair With Bangs
Natural Mid-length Curls with Bangs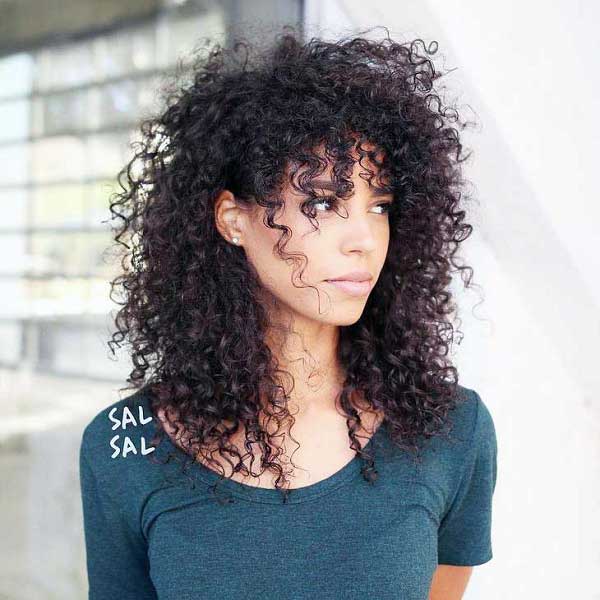 Smaller ringlets or medium springy curls match perfectly with mid-length haircuts. Ask your stylist to cut the bangs in a dry state. This will help you see the actual length of the bangs. You may keep loose and untamed or tie them in a half up-do for a manicured look.
Angled Bob Curls with Bangs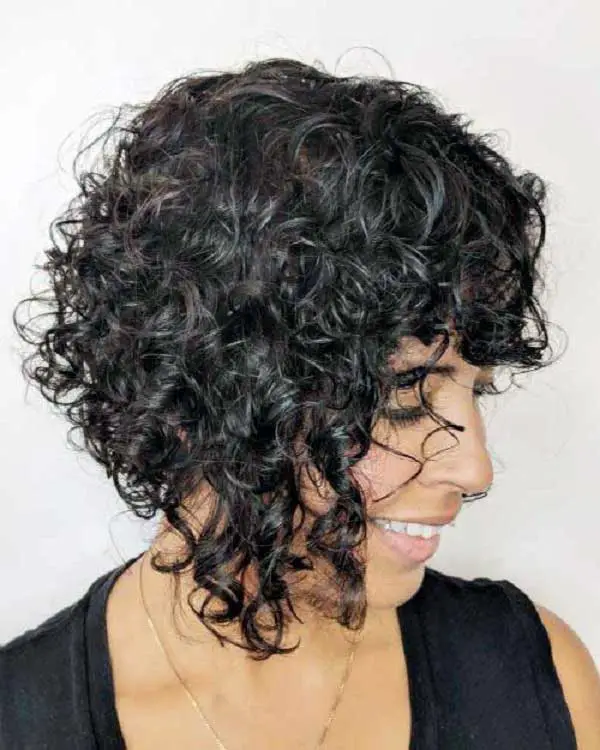 Want a punk-inspired hairstyle with messy curls? This angled bob style with flat iron bangs is just rocking. You can choose to keep your curls wavy and loose with burgundy highlights to enhance the texture. 
Natural Curly Bob with Bangs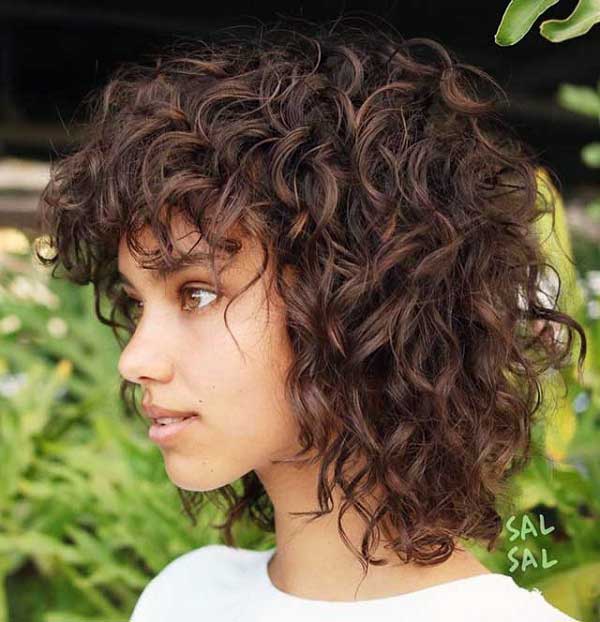 Many of the girls with natural curls are not sure if bob hairstyle with bangs would suit them. But the fact is that natural curly hair looks fabulous as well as voluminous in short haircuts. You can ask your stylist to add layers to enhance the organic texture of your hair and produce more volume at roots. 
6. Short Curly Bob With Bangs
Classic Curly Bob with Bangs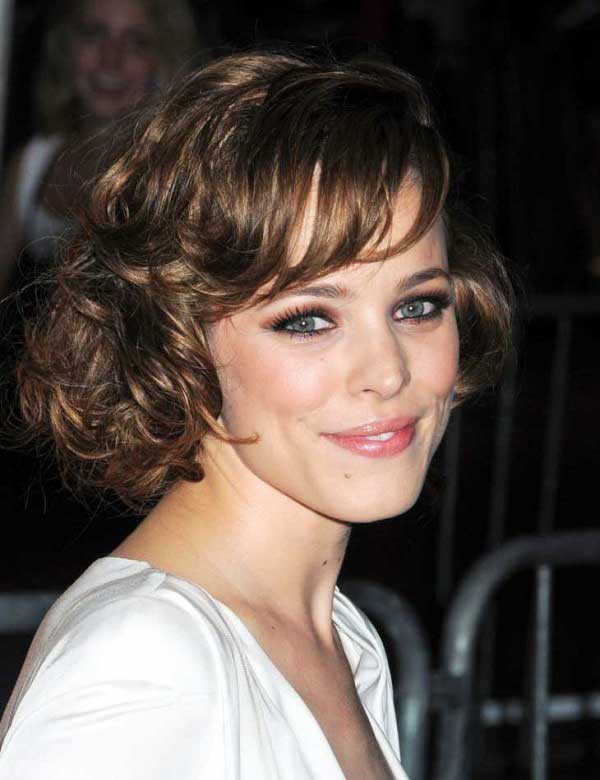 If you are not certain about the post-haircut look but want a carefree style to manage easily then short curly bob with bangs is just for you. Even better is to choose a classic bob with side-swept straight bangs like our Rachel McAdams. Add layers only at the length to limit the bounce.
Golden Hues Curly Bob and Bangs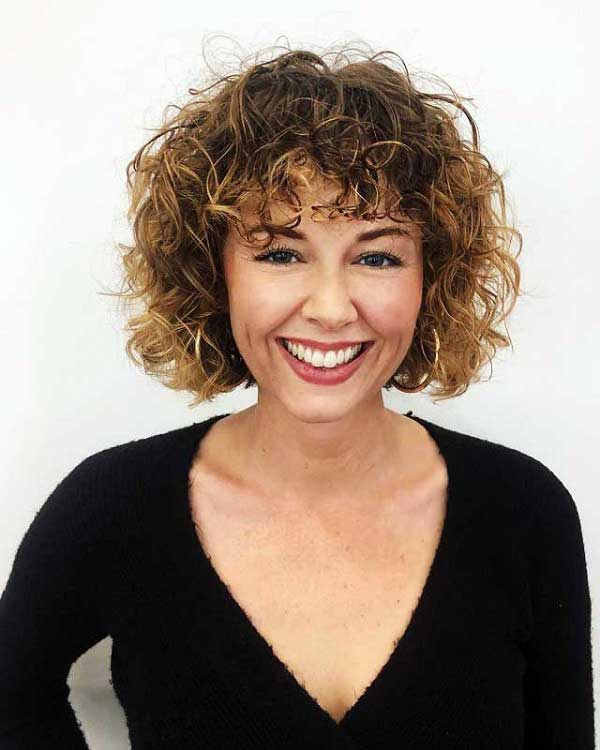 Golden hued bob with baby curls frames your face in a very promising way. If you have thin hair, this style will give you more volume. It is also a good option to manage frizzy hair. Apply some mousse to your curls and always let them dry naturally to have this look.
Short Inverted Curly Bob and Bangs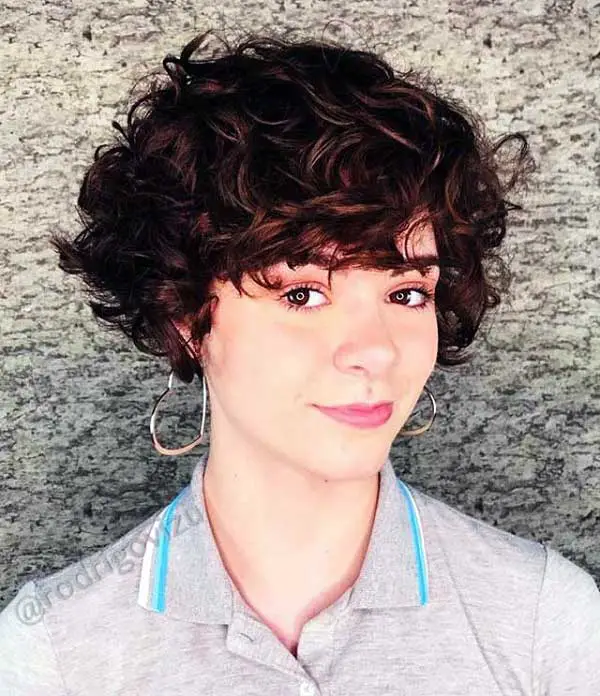 Short hairs are better to manage and look very sexy. So if you want to add volume to your locks choose a short inverted curly bob with bangs like this. You may add highlights of burgundy or chocolate shades for a shiny and sophisticated look.
7. Side Bangs Curly Hair
Curly Hair with Side Bangs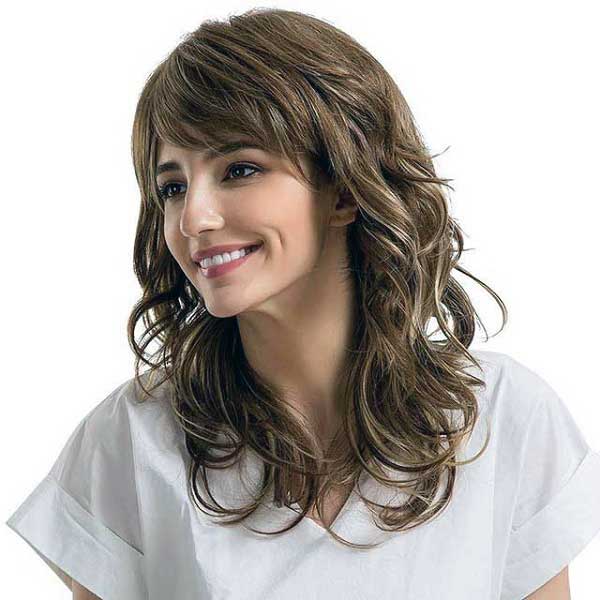 Cut your long locks in layers and deeply part one-sided bangs to give your wavy hair a classy appeal. For thick waves at the ends, use an oval brush and make small sections to style.
Long Half Curled Up Hair with Side Bangs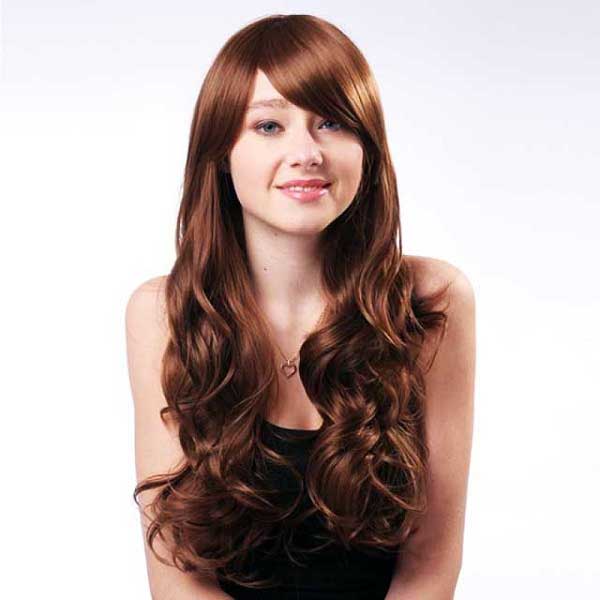 Glossy, long, and thick hairs are a boon and a responsibility too. If you want to style your locks without reducing the length, then go for thick curls in layers up to the half of the hair length. Blow-dry for the curls and iron the bangs straight.
8. Curly Hair With Bangs And Layers
Tight Layered Curls with Wavy Bangs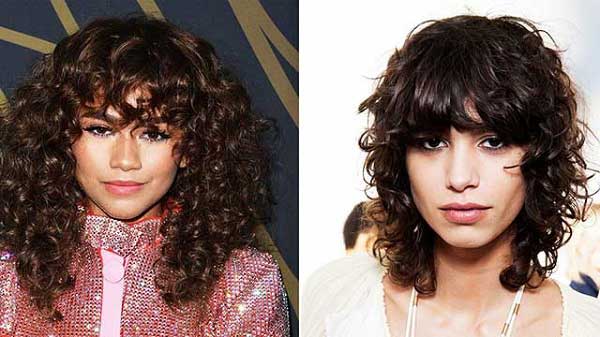 Though spiral curls can overshadow layers, the former will add more bounce and structure. Keep the bangs wavy to frame your face. If you have short frizzy hair, layers with inverted curls and messy bangs will create a statement look.
Wavy Layered Curls and Bangs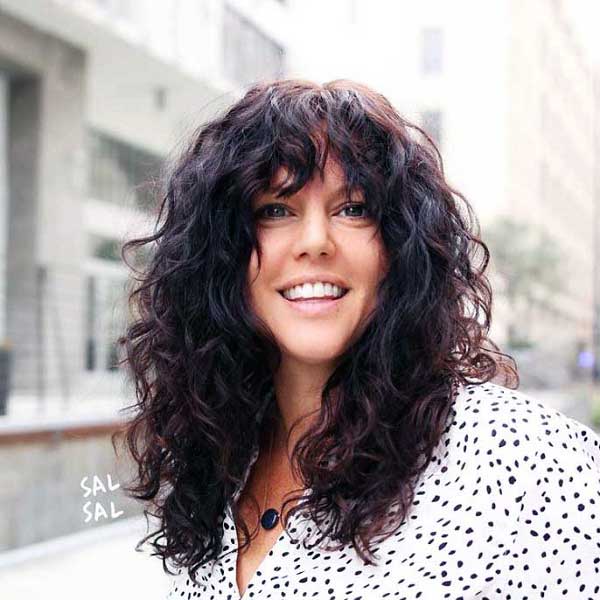 Curls cut in layers like this gives a chick bohemian look. Better to cut them off when dry so that you exactly know how they will look, especially the bangs. Also, to keep your locks safe from frizz, apply some moisturizer before going out.
Retro Style Curly Hair with Blunt Bangs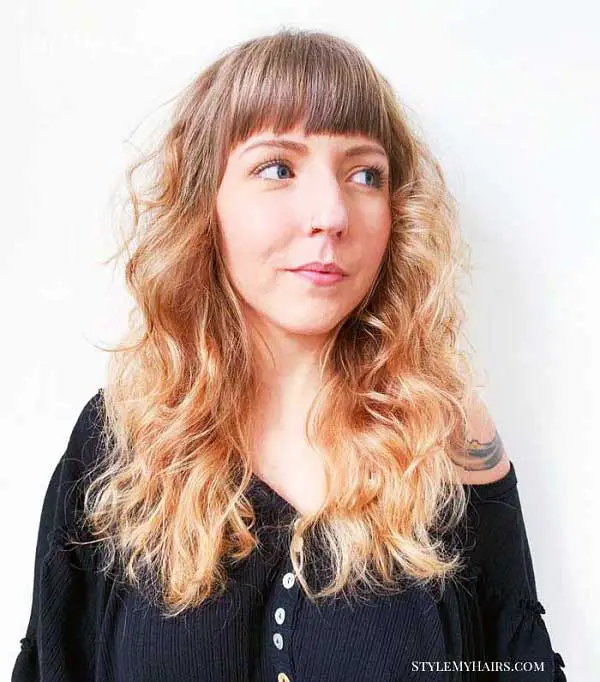 Do you love the refined retro look? Try this sun-kissed two-tone hairstyle with blunt bangs to revive the timeless era look. Try to comb your hair with your fingers or a thick brush to aerate the strands for a sugar candy effect.  
9. Curly Ponytail With Bangs
Curled up Puffy Pony with Bangs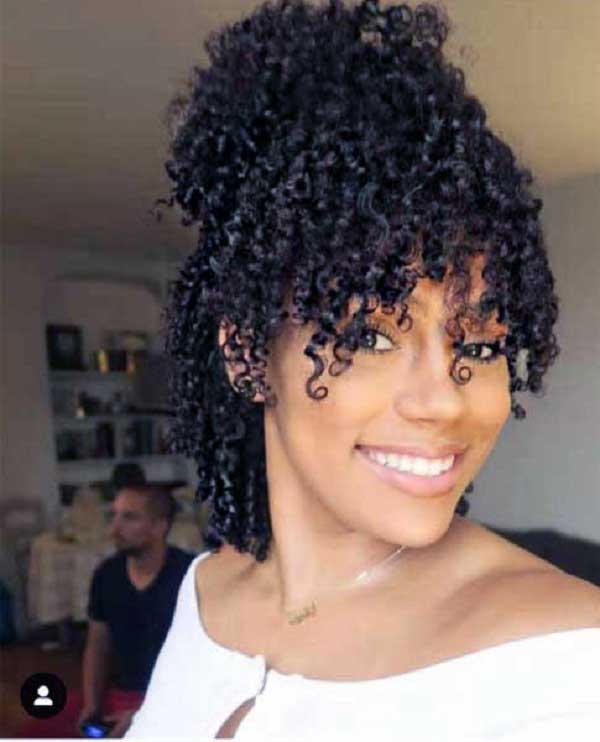 A curly ponytail can make a statement. Make loose wavy curls and tie the hair in a puffed up pony wrapped around with side bangs. Formal or casual, this is an easy to manage style that looks incredibly awesome.
Half Up Afro Curly Pony with Bangs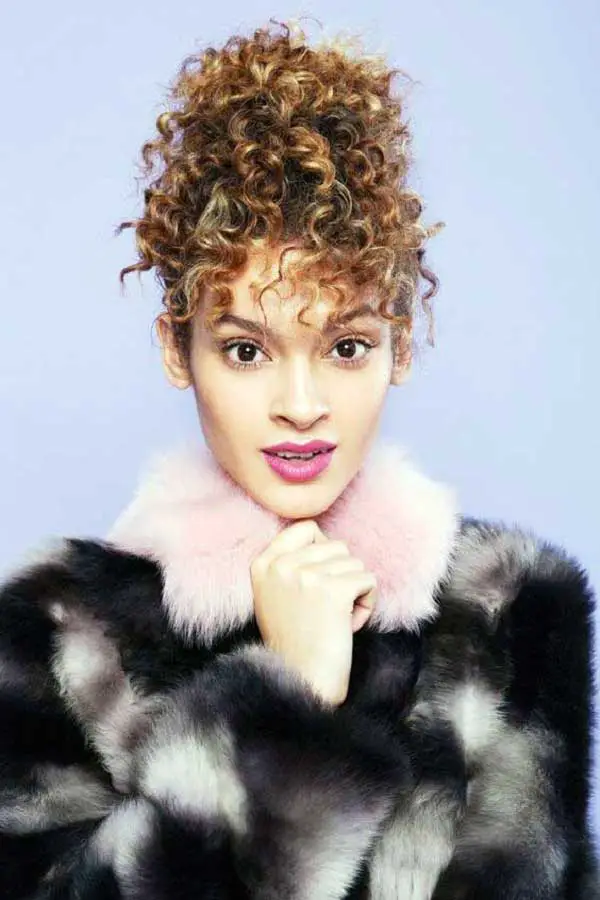 Natural spiral curls can be styled in numerous ways. But when you need a kinky hairstyle, tie your curls half up with those unevenly cut divine bangs. Make sure not to tie them too tightly. This can damage your hair.
Highlighted Curly Ponytail with Faux Bangs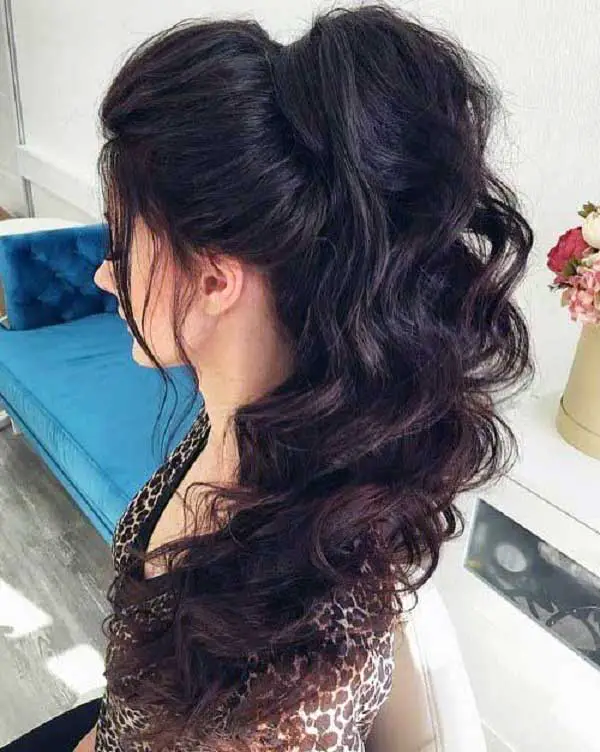 You know if you have naturally spiraled curls, you don't need to spend hours styling them. A quick up-do is easiest and super cute. Make sure you tie the hair high and then flip them forward to create faux bangs for a sizzling hot look.
10. Curly Hair Front Bangs
Soft Curly Hair with Front Bangs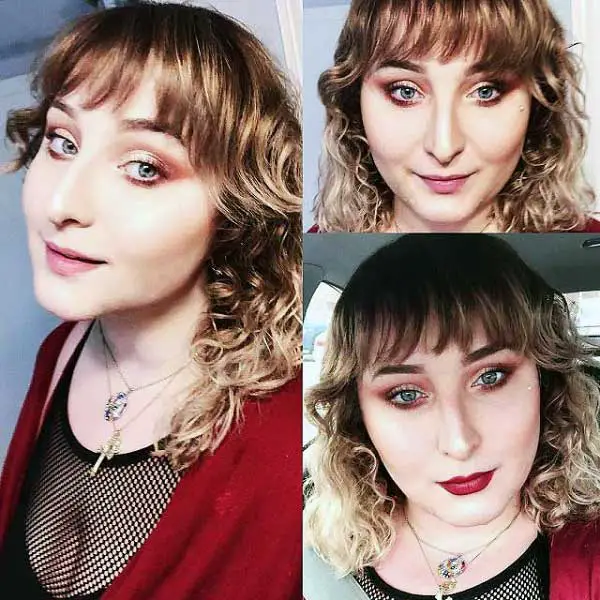 It's never hard to add bangs whether you have soft or tight curls. In case you want a slight shift from the curls, straighten your locks from roots until half the hair length, razor cut the bangs and color in two shades.
Wavy Blonde Curls and Front Bangs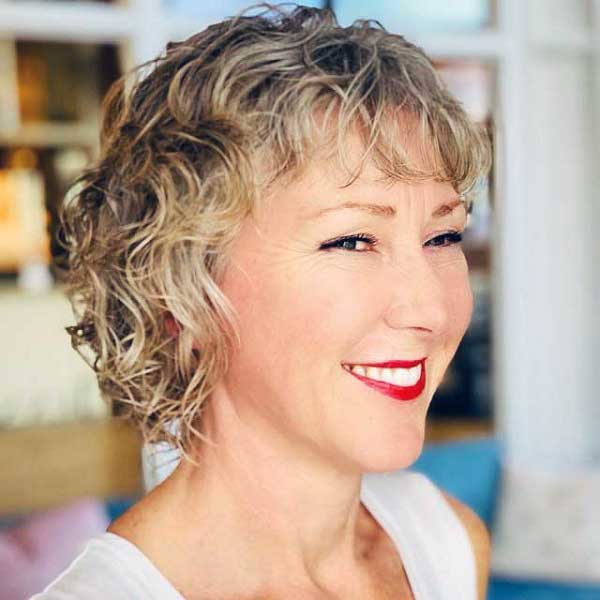 That's a pretty way to shine! Aren't those wavy hair look so effortless and lovely? If you also want a breathtaking and timeless look, try a shiny blonde shade with highlights. 
Medium Curly Blonde Shag and Front Bangs with Golden Highlights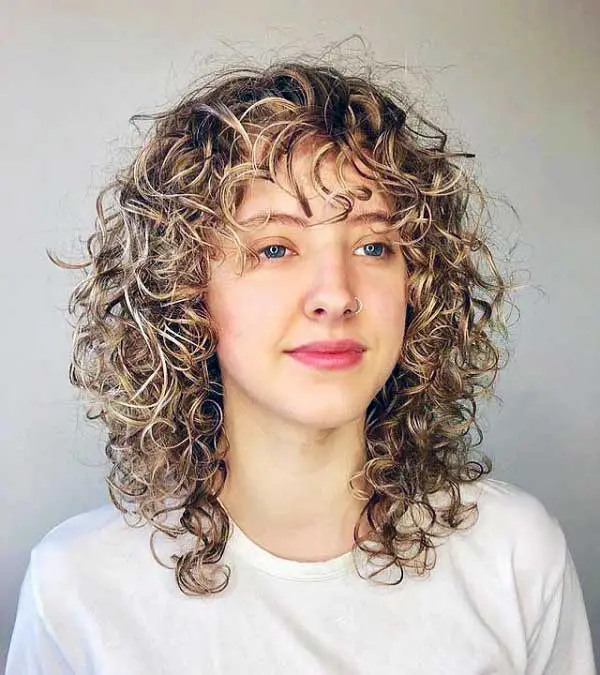 You can enjoy a curly hairstyle in a variety of ways and all seasons. One good idea is to layer-cut your hair into mid-length shag and highlights them in golden shade. You can enjoy this face-framing look with the least efforts.
11. Medium Curly Hair With Bangs
Messy Layered Curly Hair and Bangs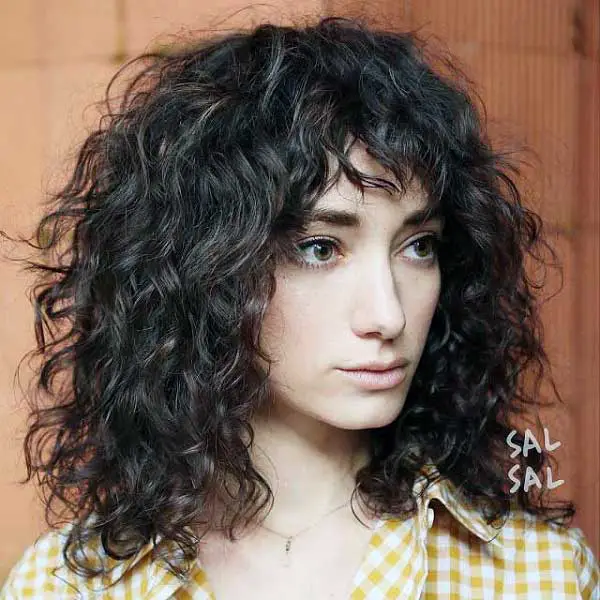 Chop off your hair in various layers to make them look fluffy. This messy look with eye-grazing front bangs can be carried with ease and offer a perfect ramp style to turn heads. You may choose to add highlights for added glamor.
Razor Cut Front Bangs with Highlighted Layered Curls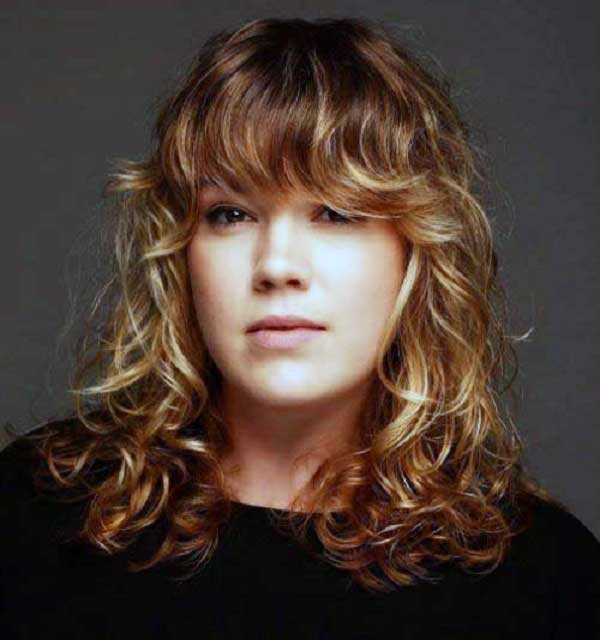 Natural curly hair is as beautiful as it is. And with aptly done layer cut and subtle highlights with front bangs, you can create an effortless look to rock day in and day out. You can add extensions to increase the volume.
Edgy Layered Curls and Bangs with Highlights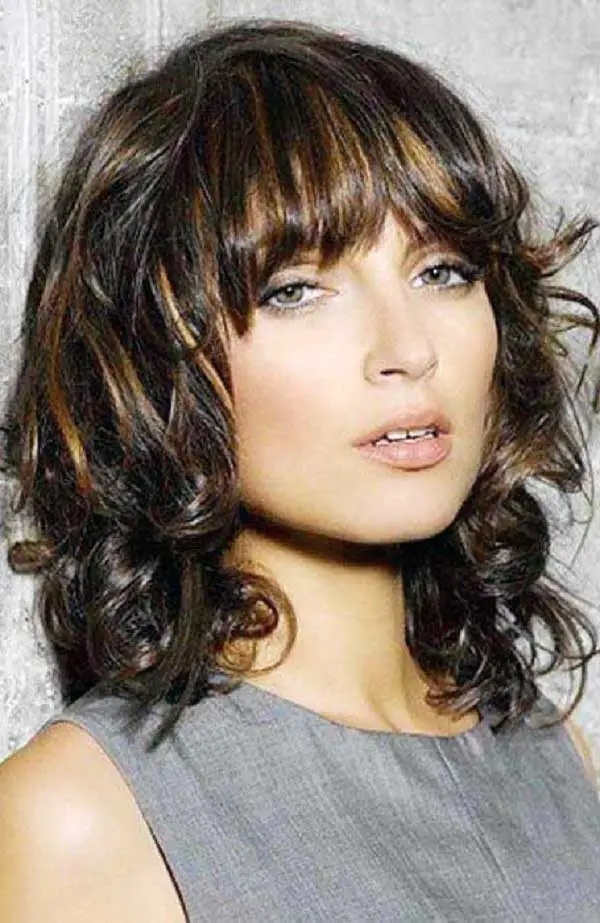 This highlighted style with uneven front bangs is incredible on mid-length locks. Your first step to liven it up is to give a healthy dose of golden highlights. Then cut the bangs in an inverted U shape and keep them straight and curl up the ends using an iron rod or a hairdryer.
12. Curly Afro With Bangs
Highlighted Afro Curly Bob and Bangs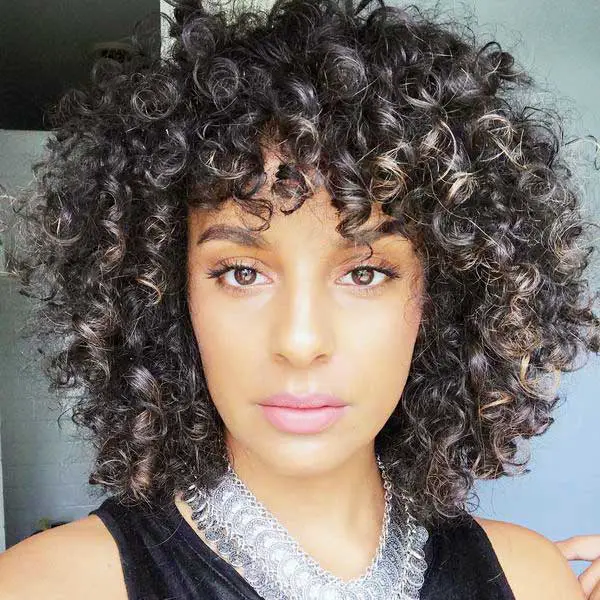 The credit for this incredible Afro bob goes the beautiful ringlets, brightening white highlights, and fabulous texture. Just moisturize your coils to maintain them when you have such classy bob with parted bangs.
Corkscrew Curls with Mid Parted Bangs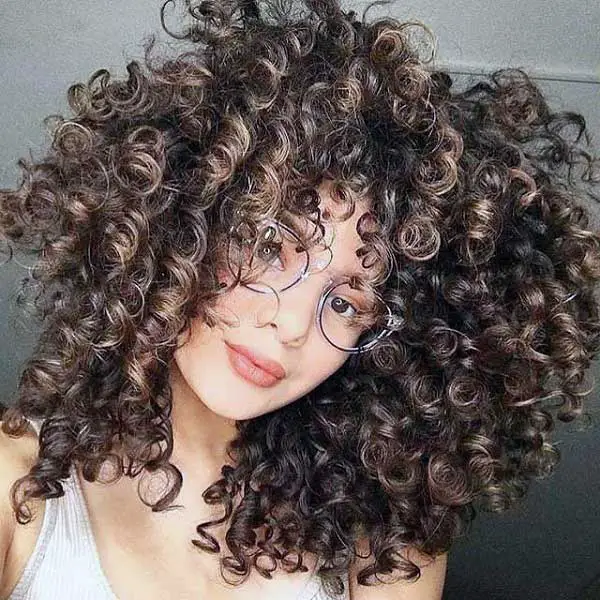 Modern, elegant, and astonishing! Super coiled tendrils and a standout hair color solution can deliver this classy look with zest. These corkscrew curls need no styling and can make any look a head-turner.
13. Curly Pixie Cut With Bangs
Sassy Pixie Cut Curls and Bangs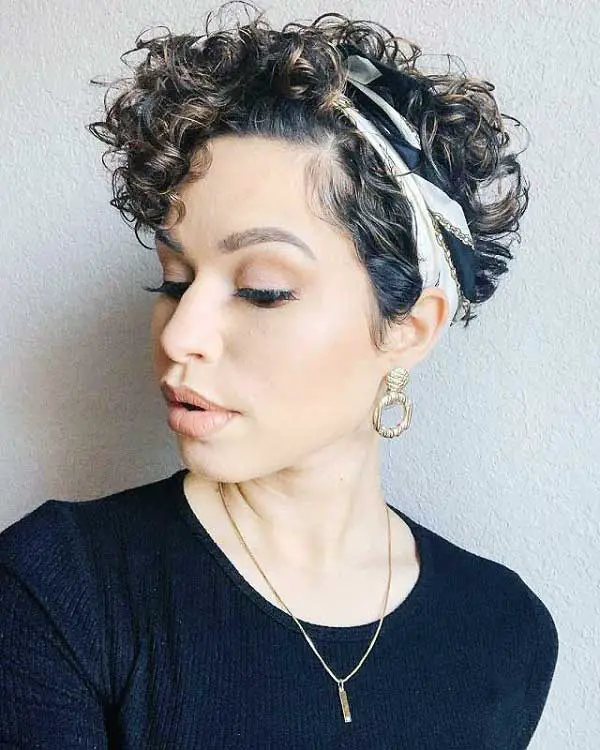 Do you want a short haircut but think that your curls won't let you flaunt it? Check this super-cute pixie cut with side-bangs to turn the heads. You can highlight the hair and tie a ribbon for a perfect bohemian appeal.
Side Swept Thick Curls and Bangs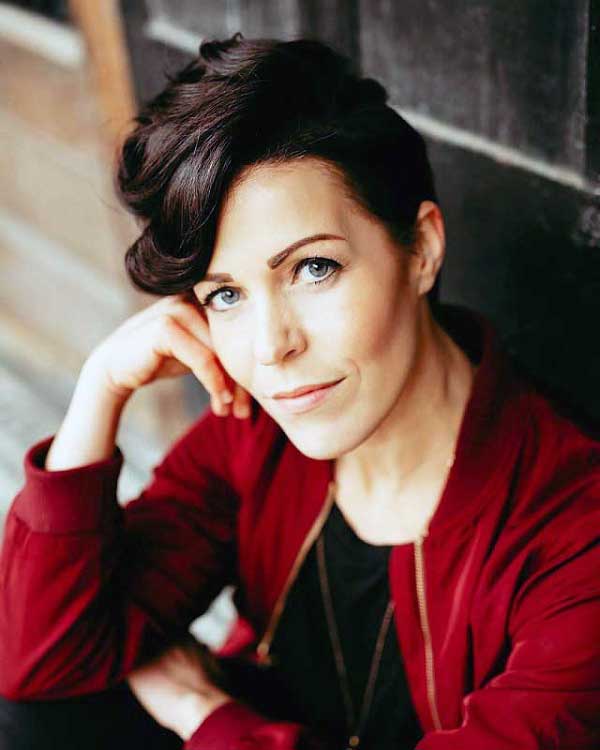 If you have thicker hair, you can enjoy a professional and timeless pixie cut. Roll your tendrils in thick sections and use a good quality styling product to keep your hair into a side-swept style for a longer period.
Pixie Cut with Wavy Highlighted Bangs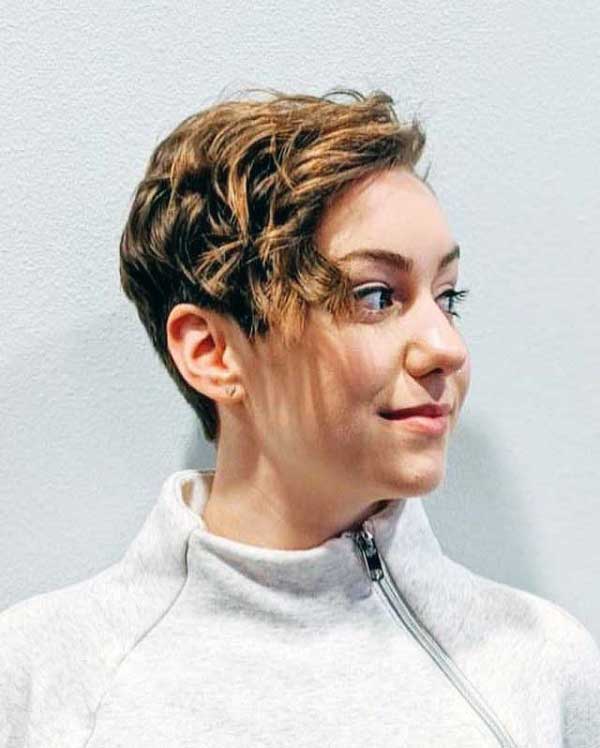 Relaxed yet stylish, this pixie hair cut is to enjoy a cool look that combines straight locks and soft waves. Chop your hair short, use a good highlighting color, and side-swept the bangs to rock this ready-to-go look.
14. Layered Curly Hair With Bangs
Layered Wavy Hair and Bangs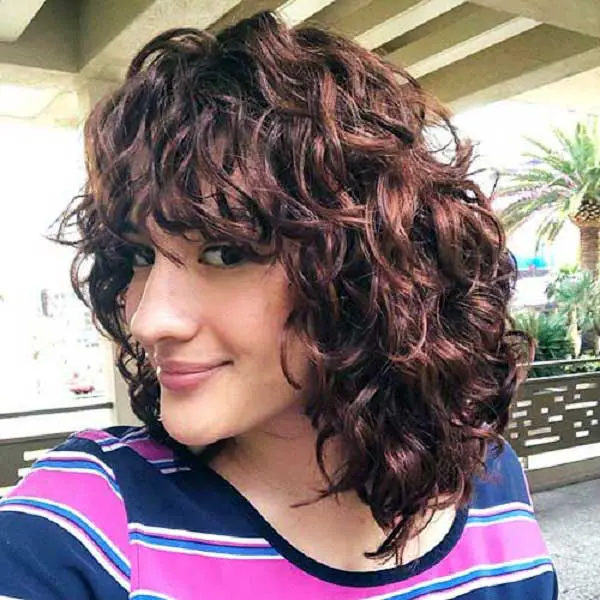 Hair cut in multiple layers adds bounce and volume to curly or wavy locks. You can choose the medium length and long bob bangs for a structured hairstyle. 
Highlighted Layered Curls with Bangs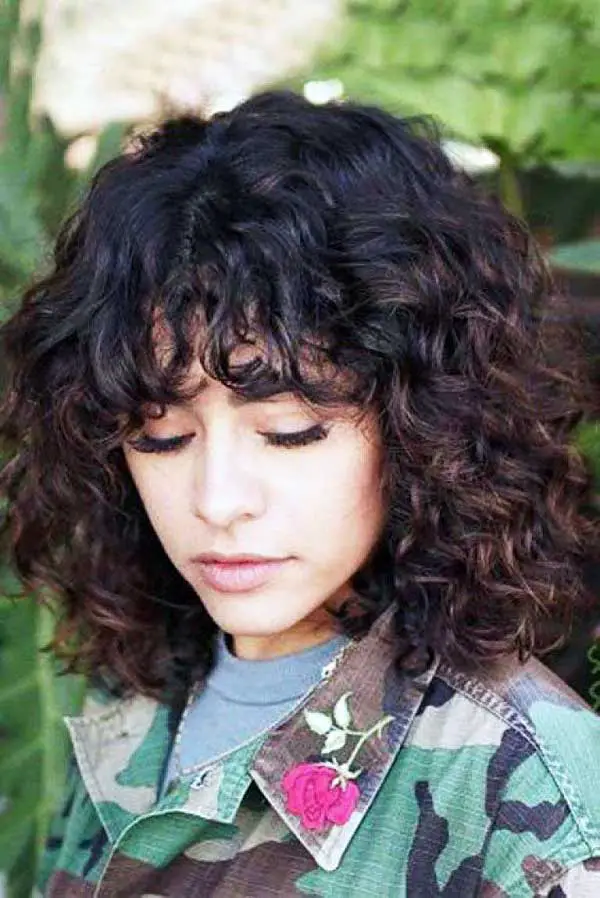 Wavy hair is difficult to manage as they are prone to damage and often get frizzy. A good idea is to cut them in layers and use a high-quality moisturizing solution to avoid breakage. 
15. Curly Bun With Bangs Weave
Messy Bun with Curly Bangs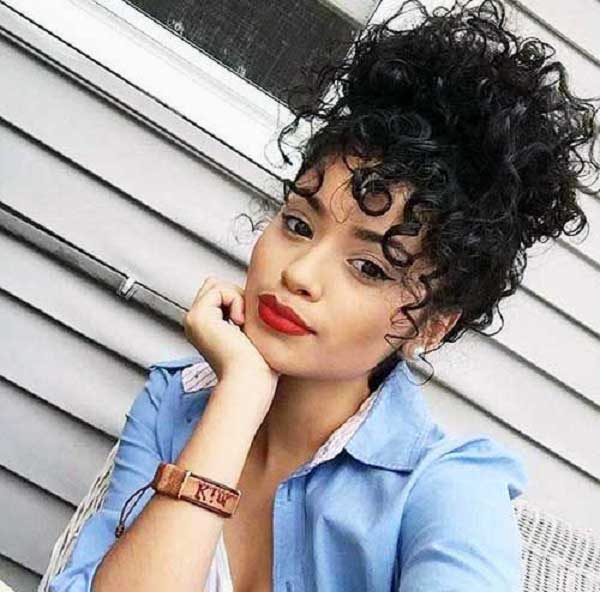 High up-dos are always the preferred choice of girls with thick ringlets. So use a lot of bobby pins to tie the tendrils high on your head. But before that leave a few curls out all around the front and sides of the head to create this messy curly bun.
Curly Bun with Faux Bangs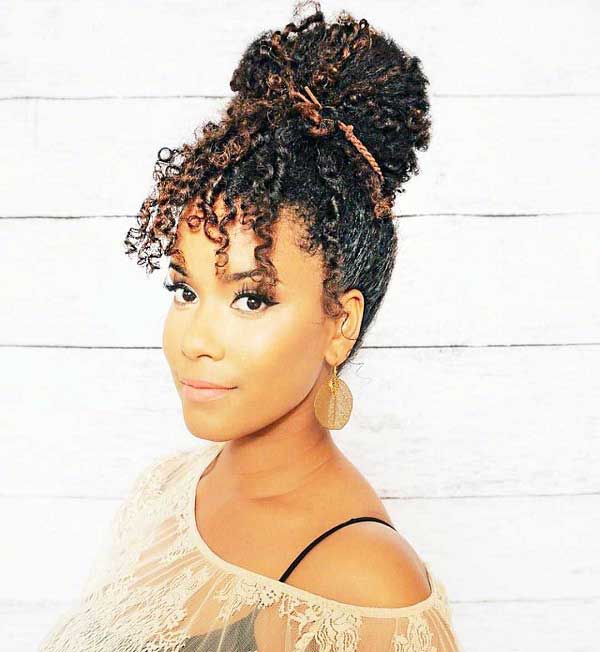 This is a more collected look which you can flaunt by highlighting the corkscrew curls and then tying them up in a high bun. For the bangs, you may leave a few curls out in front. 
Whatever hair texture or length you have, you can rock a fabulous curly hairstyle with bangs that will be noticed and praised. However, curls need a little extra care to stay in shape. So remember to use good quality hair products that can keep your tendrils in shape and well placed.