Once reserved for bad hair days or as the go-to style for times when you are running late, curly ponytails are now a statement style to flaunt. With added twists and braids, ponytail styles can range from tousled to soft and sexy to romantic. In case of doubts, we have sorted a cool list of pony styles with interesting details for customizing a curly ponytail hairstyle. 
Ponytail Upgrade Options for Curly Hair
1. High Curly Ponytail
High Pony for Natural Curls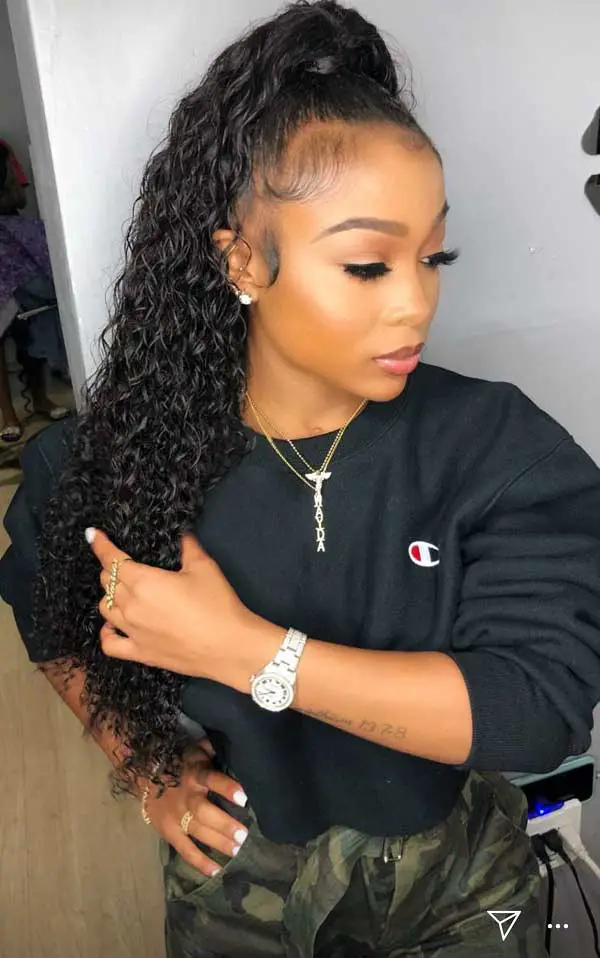 Long natural curls aren't easy to manage. But that doesn't mean you tie them in boring buns. Use a soft elastic band to tie up a pony that sits high over the head. You can iron the roots for a clean look. Make sure the back section should not weigh down the front section of your hair. Keep the strings in place with some gel or hair spray.
High Ponytail with Weaves and Bangs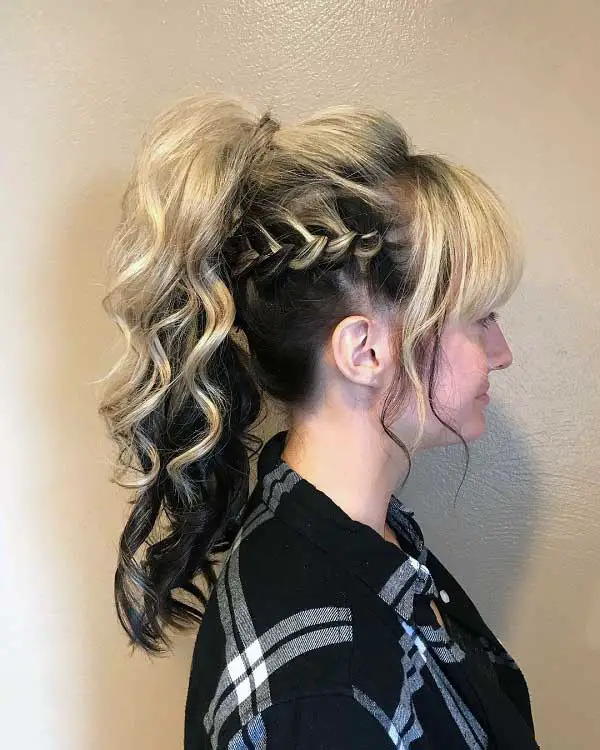 It's another great style for a head-turning look! Give your hair a salt and pepper color tone and tie your hair in loose high pony while leaving sections on sides. Now weave these leftover locks in a wavy braid and tie them underneath the pony in a half tiara form. The curled in bangs will add a perfect finishing touch.
High Pony with Curly Locks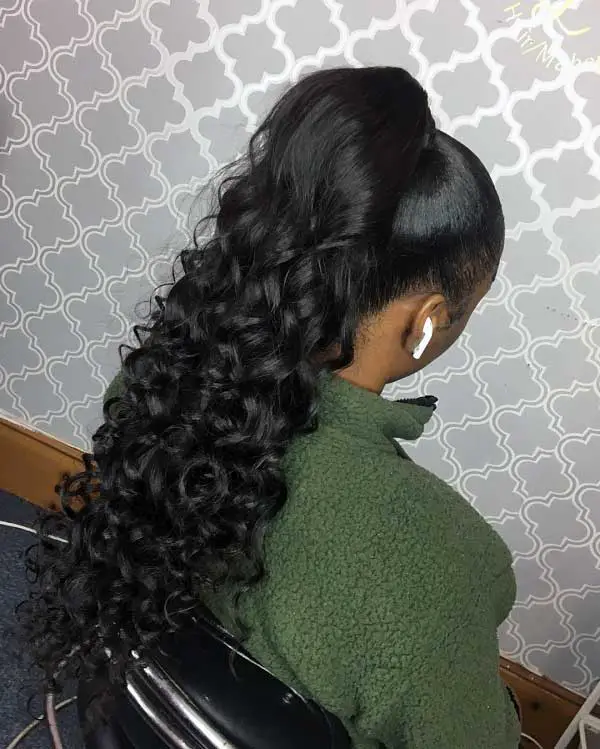 Instead of tying up on top, you can tie the pony slightly at the back of the head. Straighten the hair from roots to one-fourth of the length for a clean swiped up look. Gel sprays are always good to keep the curls untangled and in place.
2. Curly Drawstring Ponytail
Signature Ultra Long Drawstring Ponytail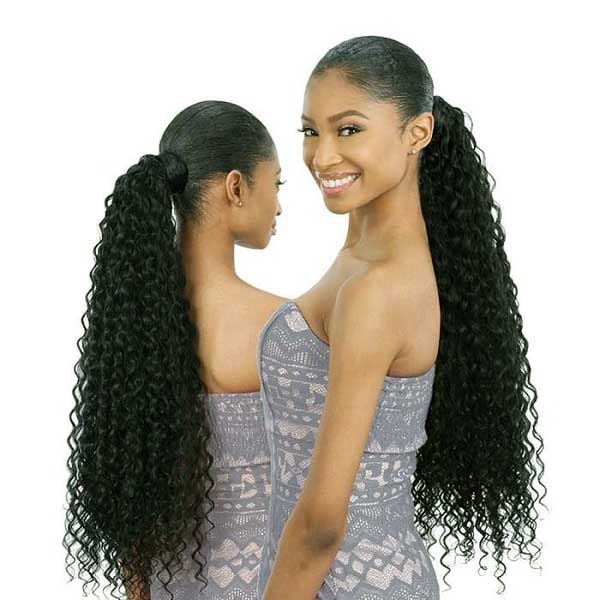 If you are obsessed with the long, thick curls but don't want any maintenance mess, try drawstring ponytails. They are great to enjoy the spring ringlet curls that last for long. Just moisturize generously to keep the spirals in place.
Weaving Hairstyle with Drawstring Ponytail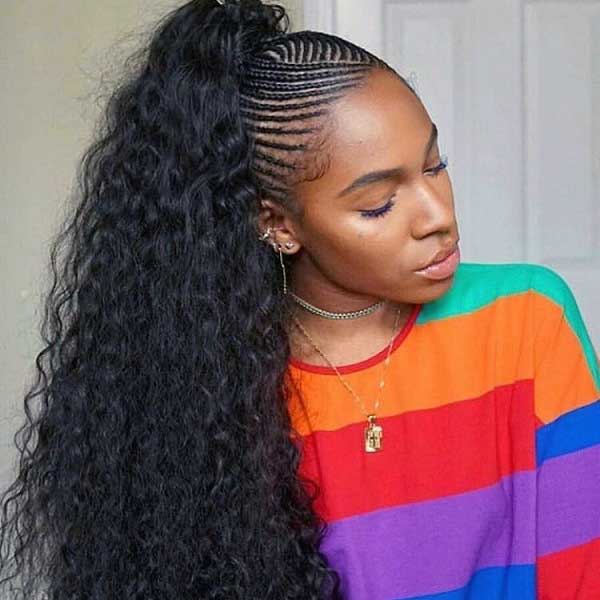 Small feed-in braids in remarkable patterns like this can create a stunning look with drawstring curly ponytail. It can be a bit time-consuming but the results are always awesome. Make sure you moisturize your hair for the best results.
Voluminous Drawstring Ponytail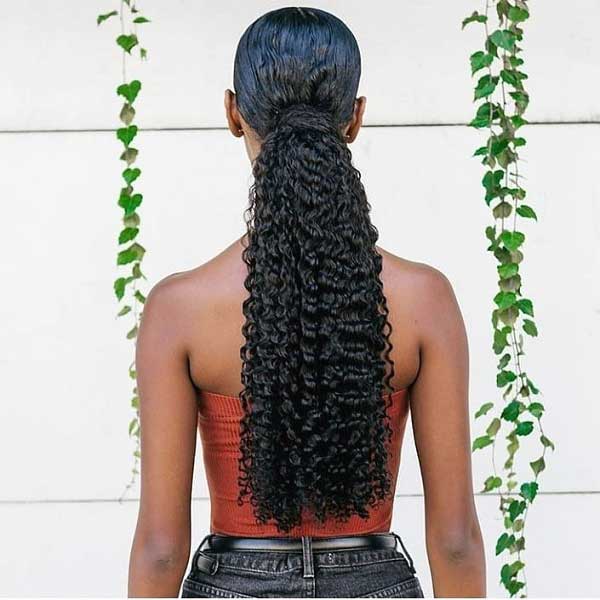 Volume is what gives curls a more beautiful look. To get a thickness like this, drawstring ponies are the best. If you have long, strong hair, you can enjoy natural spring ringlets curls else extensions are also available in the market for such a heavy ponytail look.
3. Curly Weave Ponytail
High Curly Weaved Ponytail
Here are two ways you can do this style. First is a weaved look where the top is pulled back. The second one has hair divided into two parts right from the top so that the hair will not gravitate at the back. You can also include braid to the curls for a tailored look.
Trendy Weave Ponytail with Connects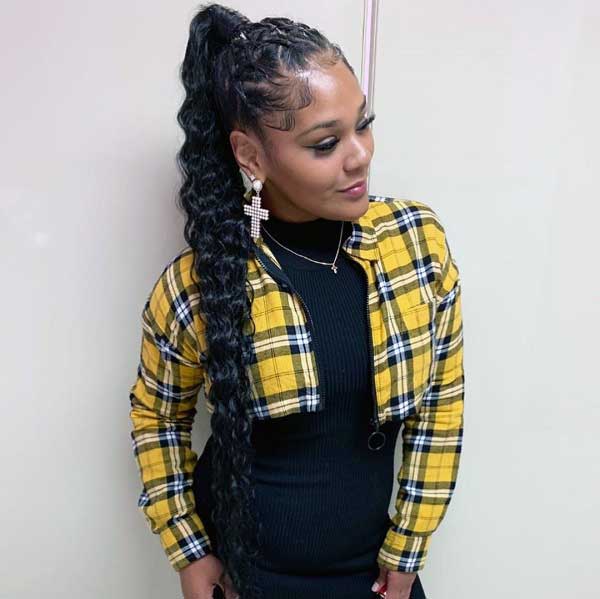 This is a funky weave ponytail style you must try. It has a long wavy ponytail and the hairs on the head are weaved into an interesting connected pattern. You can also add beads on the head for a sparkling look.
Curly Low Side Weaved Ponytail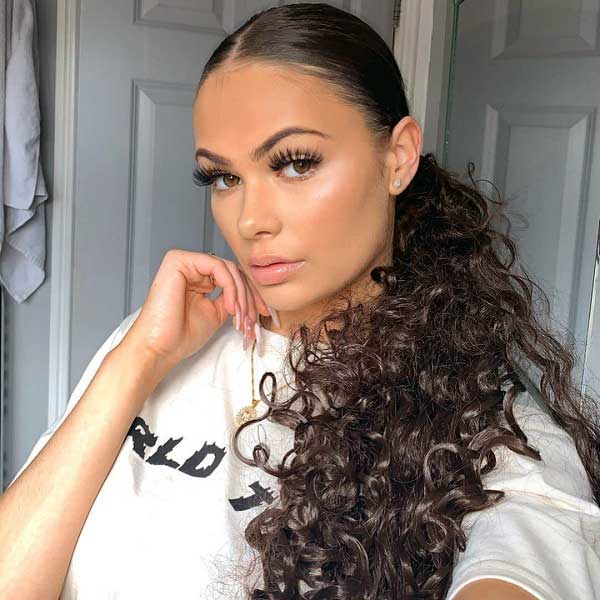 This is a gorgeous low ponytail style if you like the sleek, side-swept look. Comb your hair sleek on the head and keep the length curly. You can choose for unmanaged soft curls or can try thick spiral curls for frizz-free styling.
4. Long Curly Ponytail
Gorgeous Long Curly Ponytail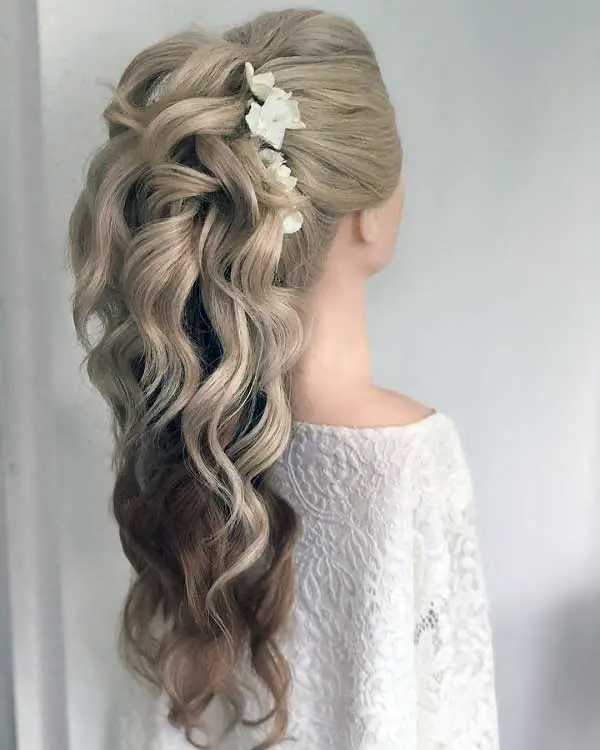 If you want a hairstyle for a special event, this is it. Ask your stylist for puffed-up, thick layers of soft curls that are twisted at different angles and pinned together in a ponytail. Blonde hair color with brown highlights and a few decorative flowers can create an unexpectedly fancy style.
Long Curly Ponytail with Bangs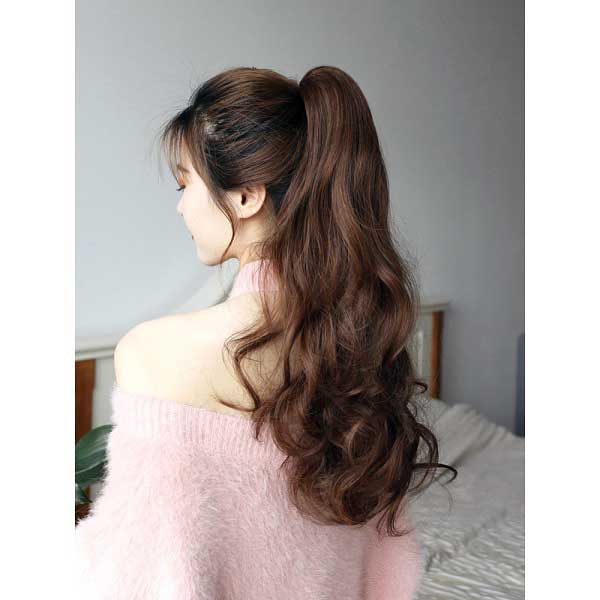 Your curly hair ponytail can be as glamorous as this. Blow-dry your hair and curl up half the length in soft waves. Peek-boo bangs with long curly strands on sides will frame the face while the different highlights of hair on the head and throughout the length will oomph up the glamour.
High Spiral Ponytail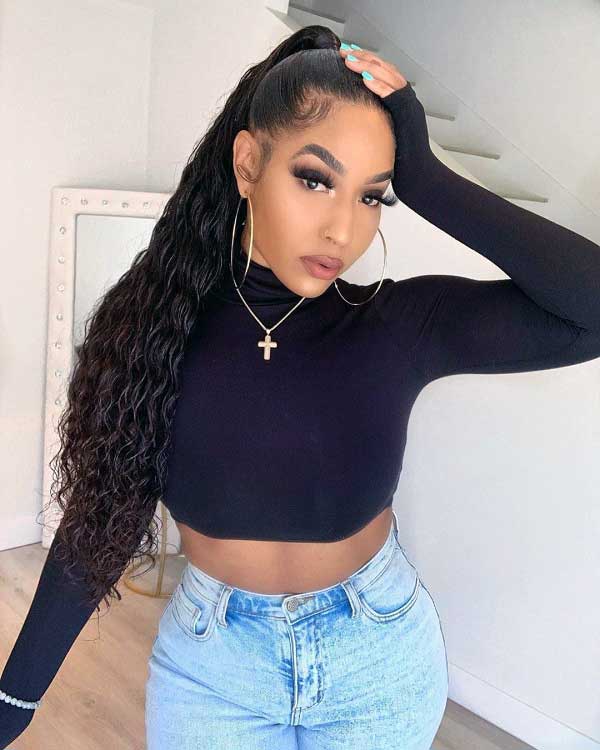 Our next idea features a long black spiral ponytail. The hair is sleek, to begin with, and then the high-knotted pony has soft curls. The overall wet look is very sassy. Recreate this style or try your version and do share it with us.
5. Short Curly Ponytail
Simple Short Wavy Ponytail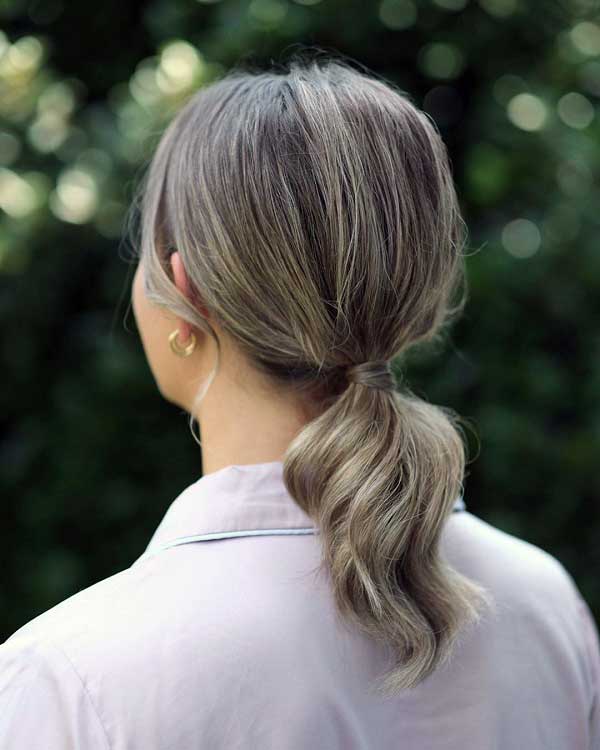 That's a quick way to manage your hair. If your hair length is short or medium, try salt and pepper look with a wavy low ponytail. It's an everyday look that goes well from day to night.
Twisted Short Wavy Ponytail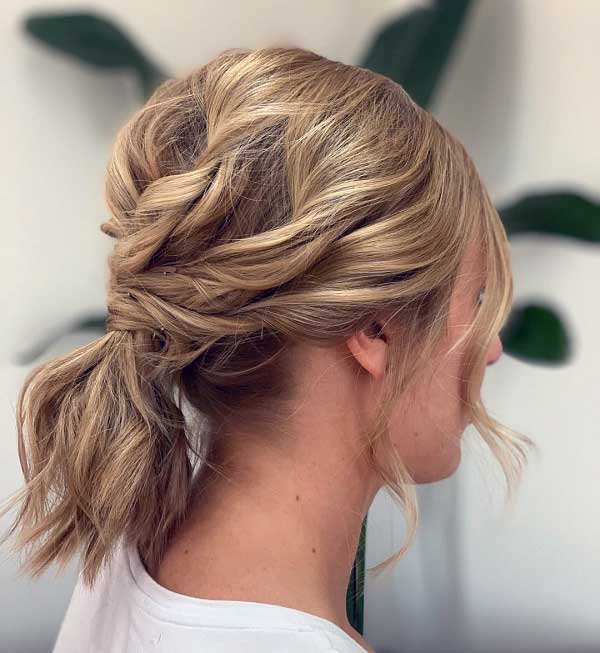 This is an example that stylish ponytails are even possible with short hair. Use a hair-straightener for the similar gentle waves. Part the hair in small sections that are twisted in different ways. Now pin up each section in a common pony and let a few strands flow freely around your face.
Short Blonde Pony with Curly Ends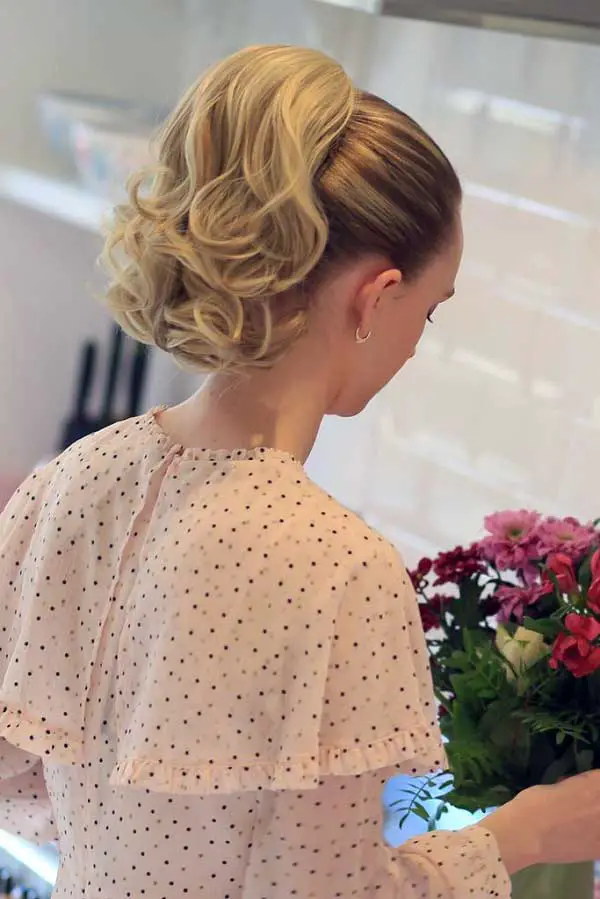 We love the highlights and the way they have been combed to create a blonde peek-a-boo look that opens up in a neatly done curly ponytail. You can enjoy a similar look by curling up the ends in big, gentle curls and tying the hair in a sleek pony.
Recommended : Varying Styles of Top Knot Bun
6. Curly Side Ponytail
Blonde Ponytail with Braided Element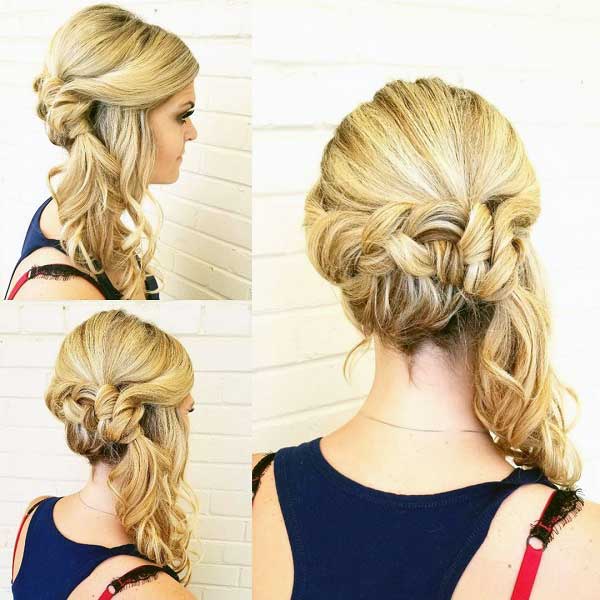 If you like a messy yet combed look, combine a stylized braid with a curly ponytail. Start braiding the hair from one side and take a new section from the top and bottom in each fold. As you reach the other side, leave the remaining hair, and tie the braid in a pony. This look is easy to achieve when loosely braid.
Messy Side Swept Ponytail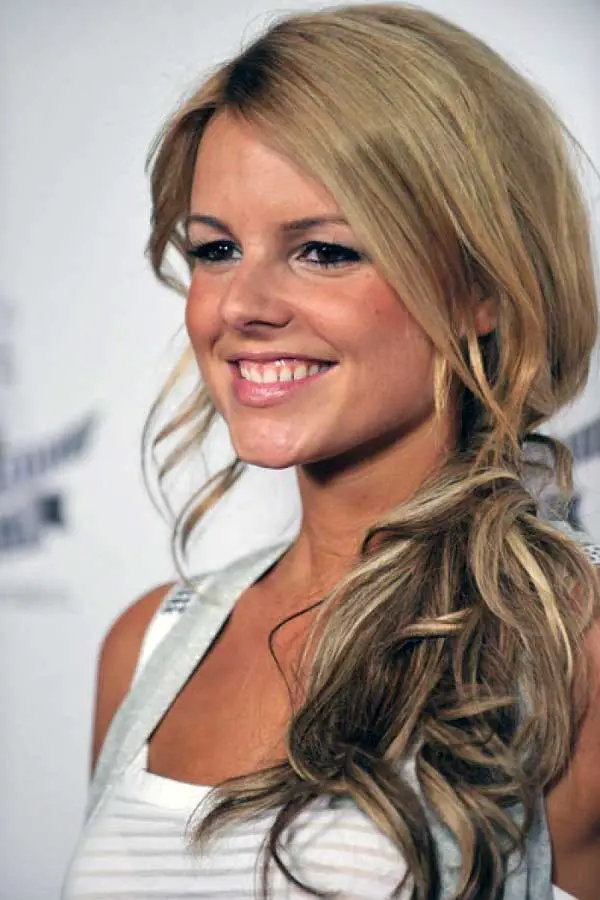 This hairdo can be your last-minute style savior. It is so easy to do and manage that it can even become your staple look. All you need is sweep your hair into a very low ponytail and let a few strands fallout from here and there. It's even better when you wish to show off the hair highlights more profoundly.
Tousled Side Ponytail for Brunettes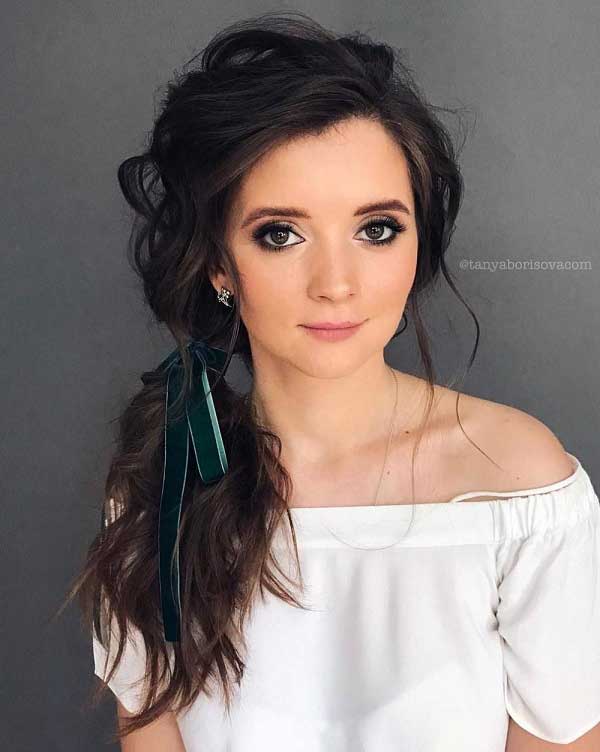 Want to enjoy a carefree styling? Here's what you should do: find a ribbon, side-part your hair, and gather them in a low casual side ponytail. For this rumpled look, comb with fingers and leave the ends as they are. Let a few strands enjoy the freedom as you use a light hold hair spray to tame the ponytail.
7. Kinky Curly With Ponytail
Side Swept Low Kinky Ponytail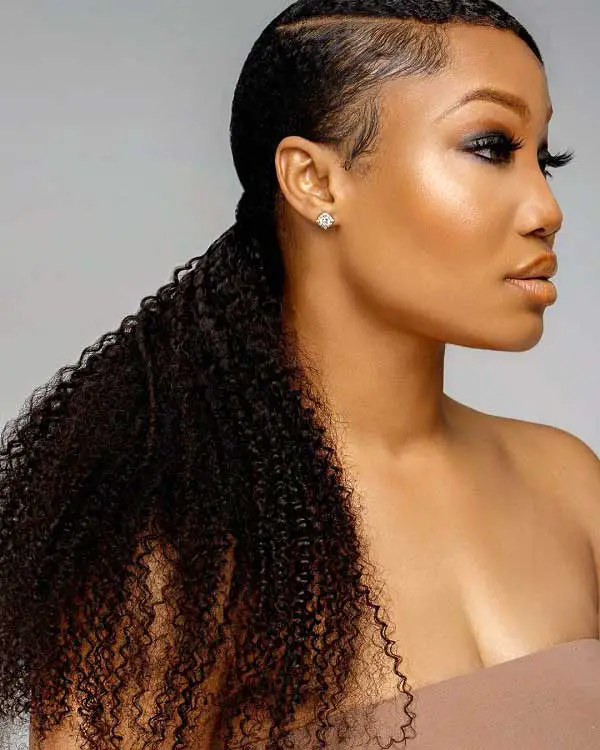 Here is a style that compliments any fashion and occasion. This drawstring ponytail begins with sleek hair and it gives you a classy Afro look.
Afro Curly Ponytail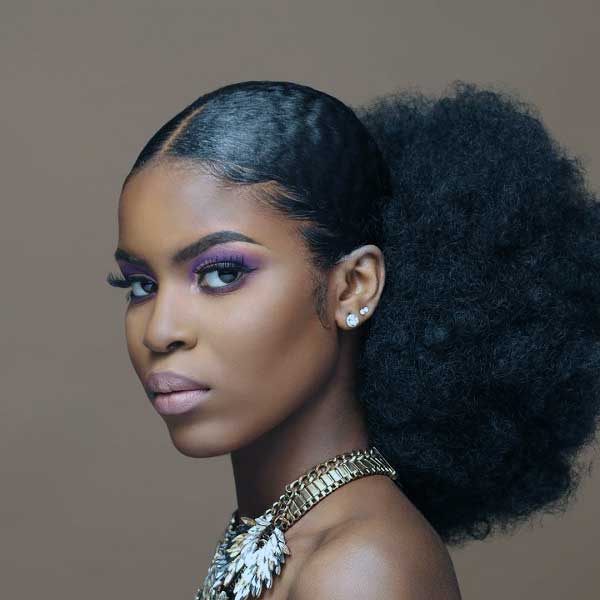 The thick bushy hairs are not easy to manage but these look super sexy. You may use a natural wig or choose to spend a good amount of time with your stylist to achieve this look.
Cute Kinky Low Ponytail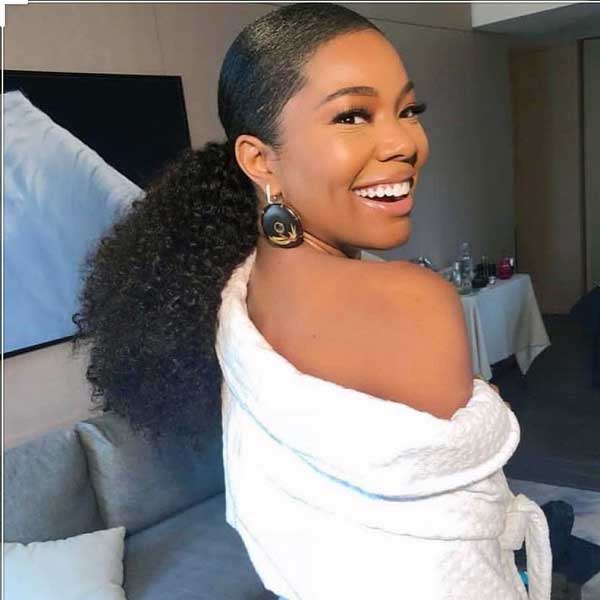 This is indeed a cute look that is equally good for office and outings. It will take a few minutes, a tail comb, and some good hair products. Apply the leave-in conditioner with hair softener for soft and shiny hair.  
8. Low Curly Ponytail
With Faux Braid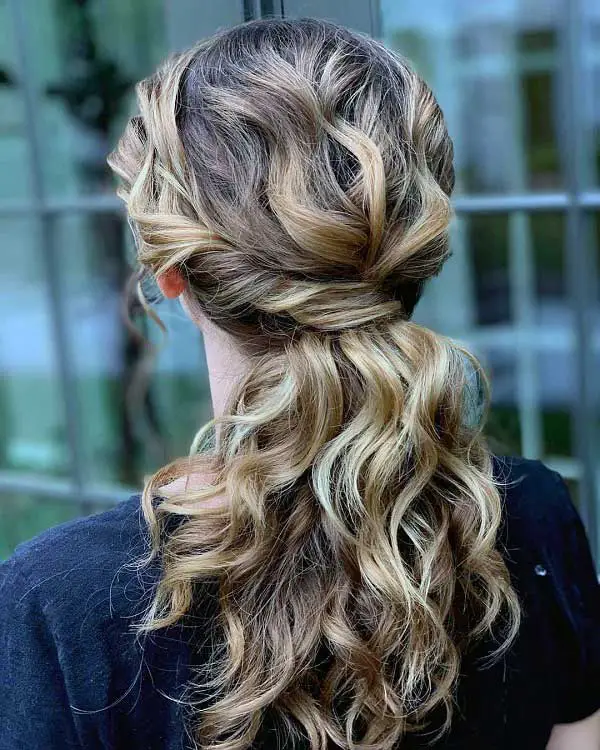 First, we love the blonde highlights on grey hair. And second, this is a gorgeous look that takes only a few minutes to style. So we suggest that you should try it this weekend. Create soft curls using a straightener and then twist in a braided pattern. Now tuck in low in a pony using bobby pins.
Classy Low Wavy Ponytail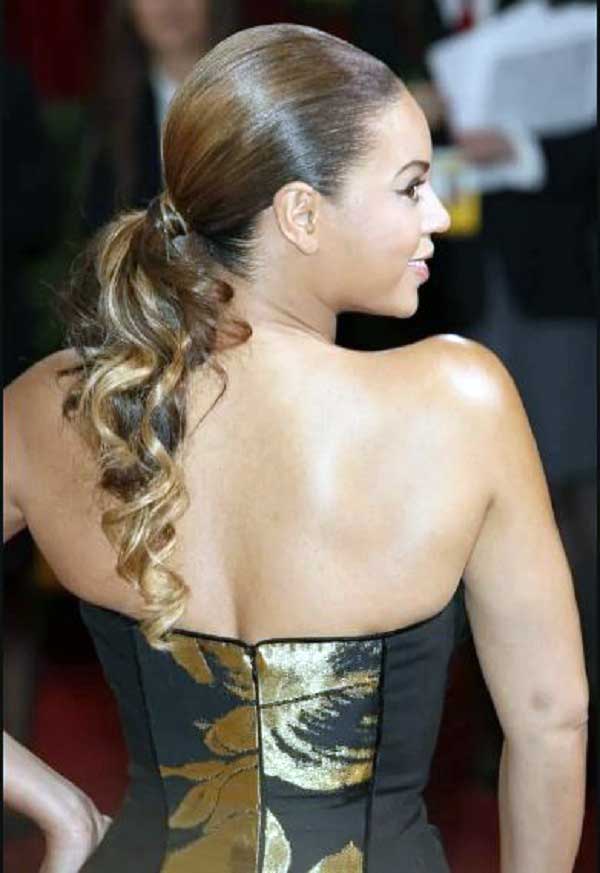 Here is a quick hairstyle to choose from for any occasion. Apply a hair softener and a leave-in conditioner on your golden tresses. Begin with sleek hair and tie in a low ponytail with wavy curls at the ends. It is good for short and long hair.
Mid Parting Voluminous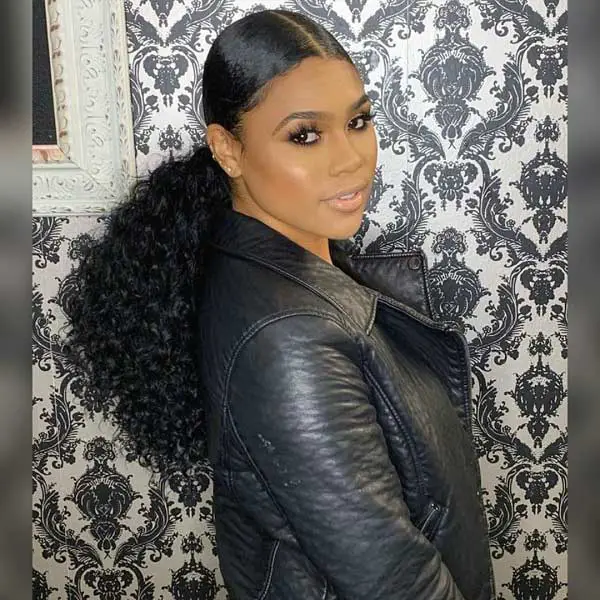 If your long curls are difficult to tame, try this low ponytail for a manageable look. Start with sleek hair on the head and a mid parting. Tie the hair with a soft band and let the curls do the talking. For girls with thin hair, curl extensions are great to add volume.
9. Curly Ponytail With Bangs
The Red Carpet Ponytail with Bangs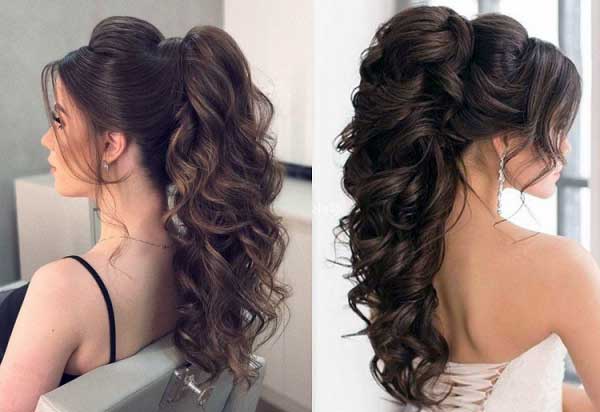 This stunning ponytail is sure to steal the show! If you wish to flaunt this ultra-gorgeous look, then use a good leave-on conditioner and choose the right highlights. Thick soft curls with a messy styling and long bangs perfectly complement the high-puffed ponytail.
Celebrity Style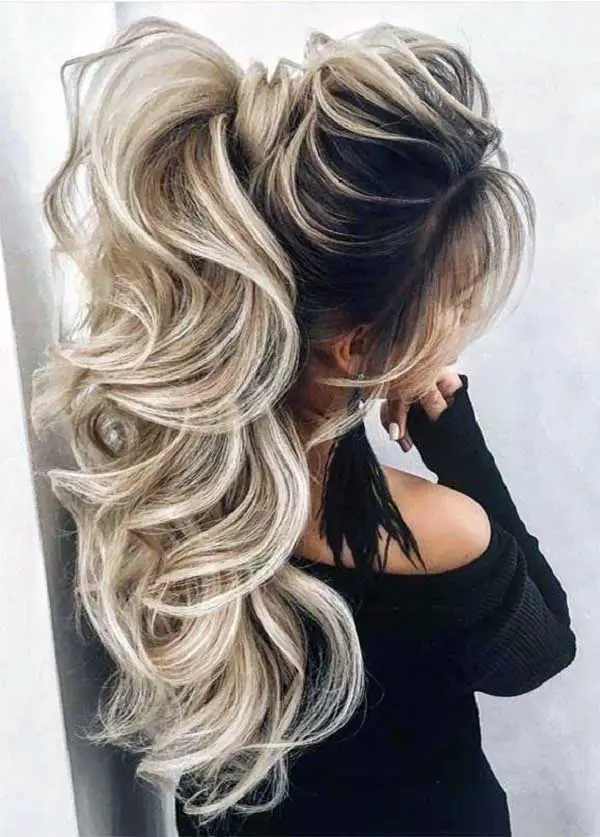 Your favorite celebrity must have flaunted this style. With a monochrome effect and side bangs, the thick bold curls and the overall messy look make this hairstyle so admiring and worth trying. You may choose to add extensions for a voluminous effect.
Gorgeous Curly Ponytail with Side Bangs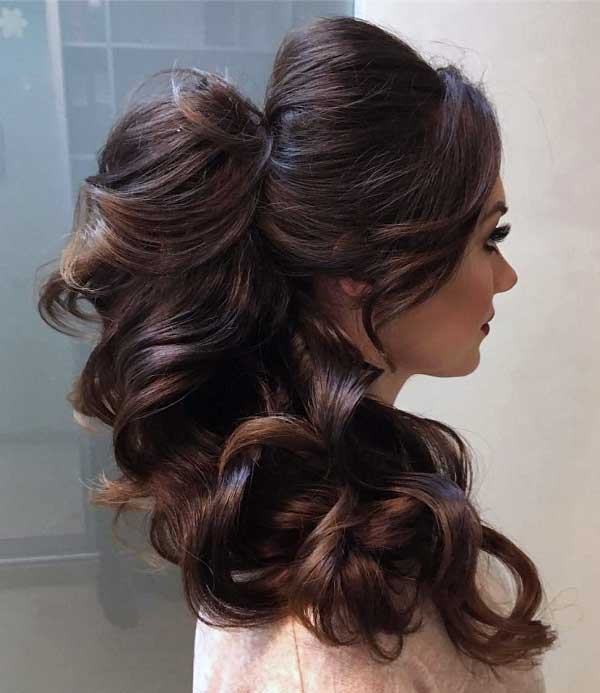 Going for a wedding? Try this glamorous ponytail hairdo to turn the heads. When choosing such styles, always try to add extensions that can increase the hair volume because such curly ponytails with bangs look more desirable with thick long curls and well-done highlights.
10. 2 Feed In Braids With Curly Ponytail
2 Feed-In Braids with Highlighted Curly Ponytails
If you love ponytails with braids and loose curls, then this is the hairstyle for you. Make two sleek feed-in braids that stop midway. Gently tie the braids and then roll up highlighted hair strands for added glamour. Color half the length of your hair so you can achieve the textured long, loose, and curly hair.
Brunette Curly Ponytails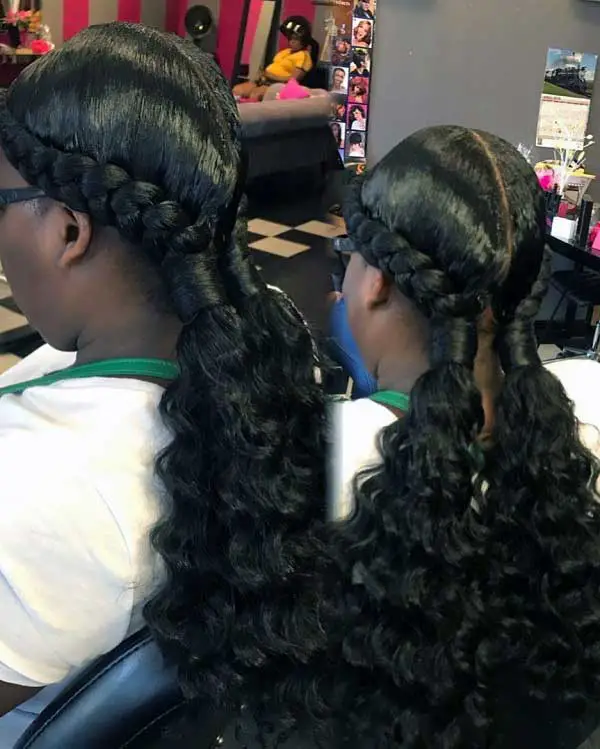 Want to try a new hairstyle? If you have long thick curly hairs, then create a similar look by weaving your hair in feed-in braids that ultimately showcase your long black curly hair. You can recreate a similar look or can choose a different pattern.
Loose Feed in Braids with Highlighted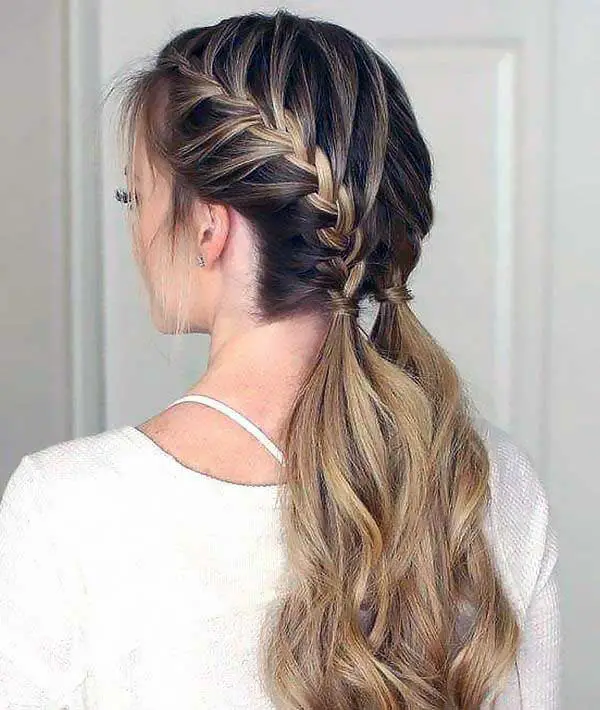 We are smitten by hair color and texture. Every pleat in the braid is carefully picked up to create such a classy look. Ask your stylist for blonde highlights to achieve this look. Or you may choose any other shade for a custom appeal.
11. Ponytail For Natural Curly
Natural Spiral Curls with Cornrow Braid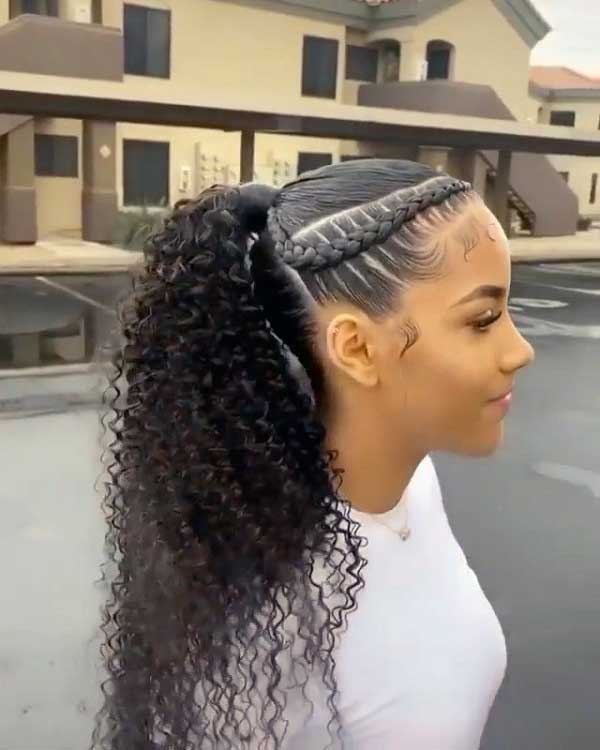 Enjoy this versatile look when you have natural curls. You can make a single braid with curly high ponytails or create your own version with one cornrow braid on each side that merges in a fluffy curly ponytail.
Naturally Coiled Low Ponytail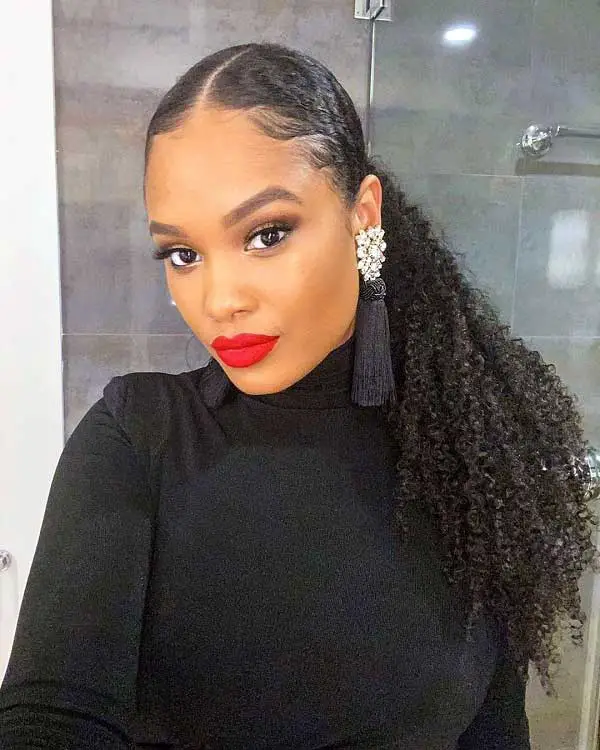 Here is another curly idea you can achieve in a few minutes. If your hairs are supercoiled or have very fine twists, begin with sleek hair on the head and tie them in a low pony. Use a mousse to manage the frizz.
Curly Ponytail with Beaded Accessories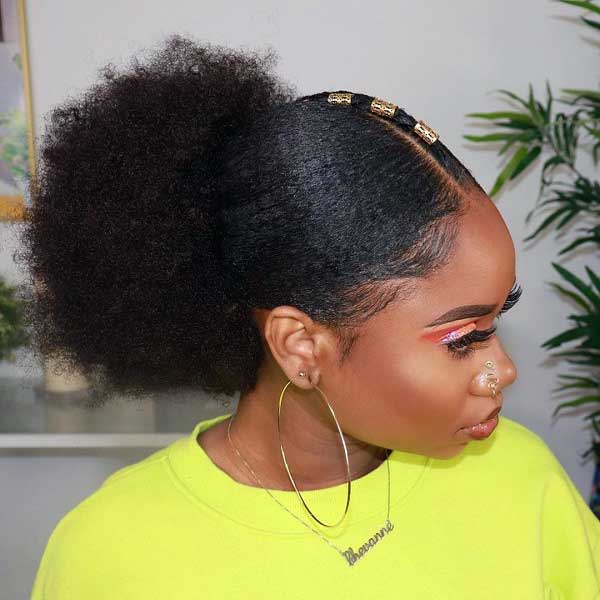 Adding hair accessories such as beads, cuff and bejeweled pins is another interesting and easy way to switch up the style. You can make a puff or a pony and start with a twist that is accessorized with beads.
12. Middle Part Curly Ponytail
High Ponytail with Middle Twist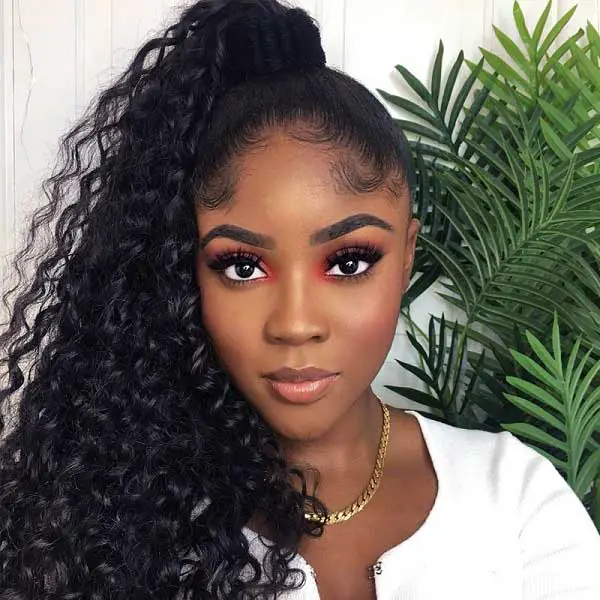 If long thick curls make your crazy in summers, try this high ponytail with a middle part. When needed curl up the pony in a bun for an instant change of style.
Ponytail with Middle Parting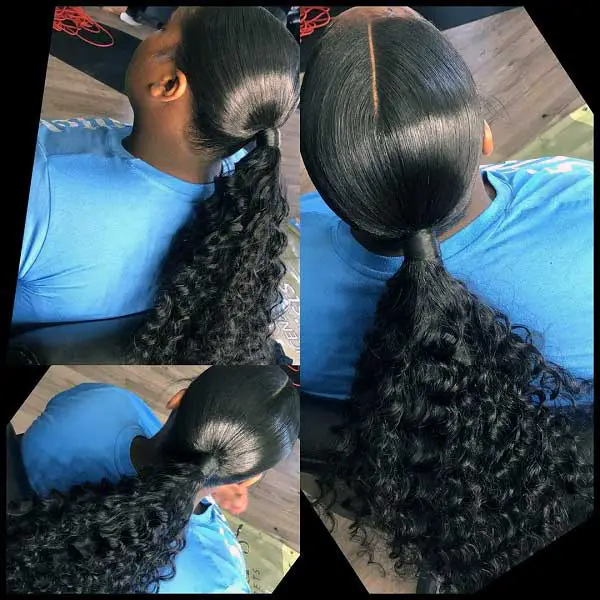 It's a sleek and fuss-free hairstyle to manage your natural curls. And it is even the celebrity favorite for red-carpet moments. You only need a quality leave-in conditioner to manage the hair roots and to get the smoothness on the head. Let the curly ponytail bounce and turn heads.
Accessorized Middle Part Curly Ponytail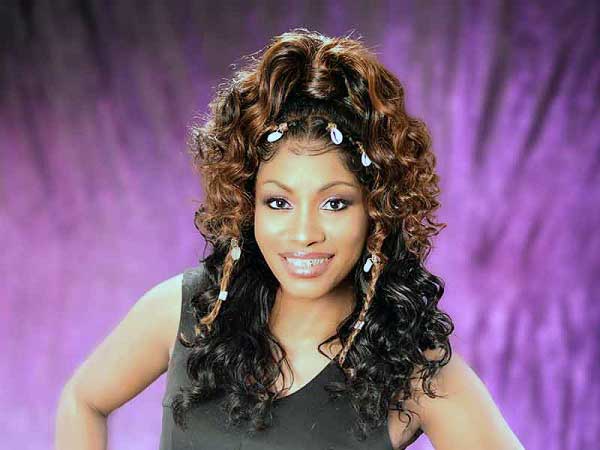 This is a funky hairdo for the perfect Bohemian gal. Part coloring and lots of accessories such as beads, conch, and others make it so tribal. You can add more layers and tendrils to increase volume.
Curly Ponytails are easy, effortless, and super-stylish. There are limitless ways to try them and even when you go through the tutorials, you still have the scope to create your own version of a curly ponytail. So try it now and share your jazzy look with us.