Black ponytail hairstyles are a classic in the fashion world. Curly or straight, whatever hair texture you have, a ponytail is an easy way to handle your hair. Moreover, it oozes glamor and beauty at best. While the hairstyle options are infinite, we have selected a few of the most gorgeous and do-it-yourself options for a perfectly complementing style.
How to Rock Classy Black Ponytail Styles?
1. Ponytail Hairstyles For Black Women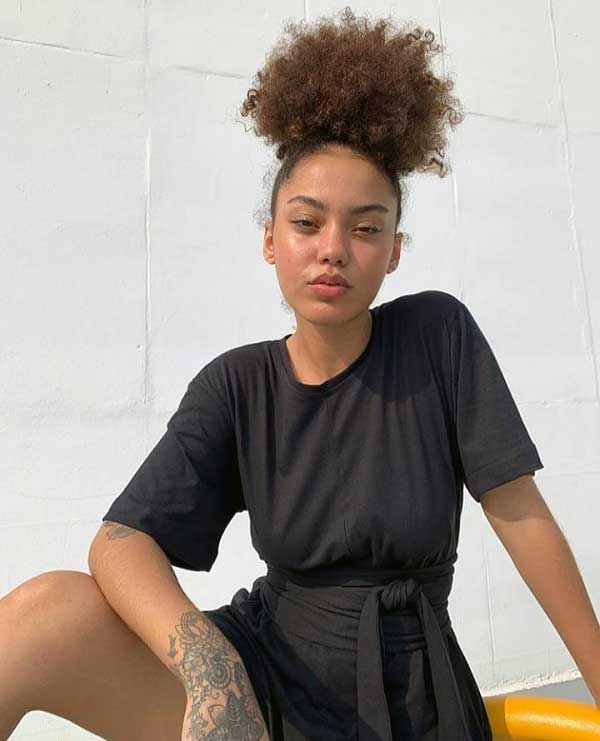 If you love to color your curls then try this Afro hairdo. Up-do your natural coils into a fluffy puff that will make managing hair very easy. Remember to use a low-tension hair tie to reduce the breakage.
Wavy Ponytail with Cornrow Braids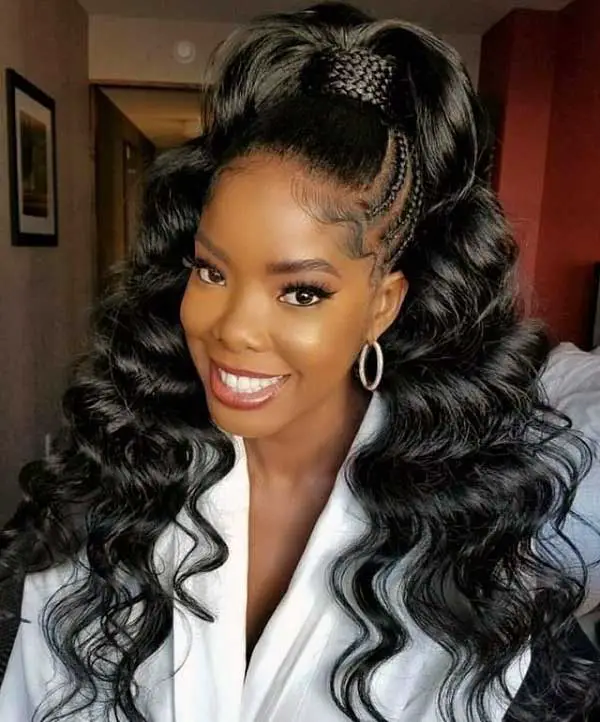 A bit of twist on sides would create a crazy new look like this hairdo. You can choose for one-sided cornrows or on both sides. Use the braids to tie the black ponytail. With a high up-do, you can better manage your long locks.
High Brunette Black Ponytail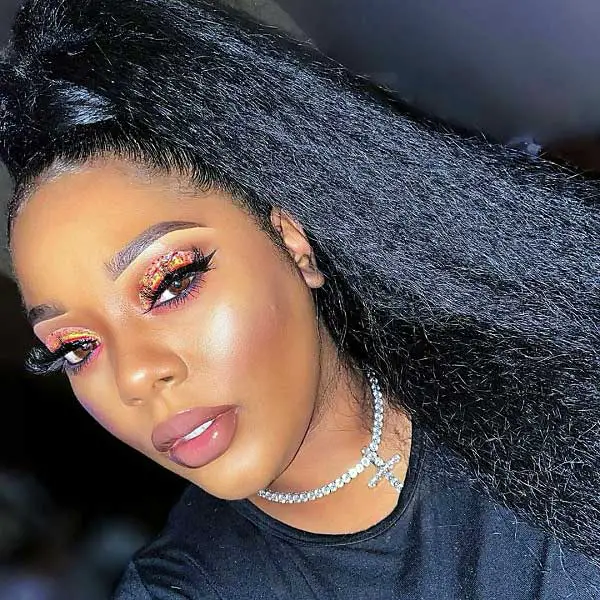 To nail this black ponytail hairstyle you need to add some grit and texture to your hair. Using a dry shampoo with a leave-on conditioner would add the spritz to your slippery hair. Tie the ponytail high and split into two sections to divide the hair weight for a perfect look.
2. Black Ponytail For Women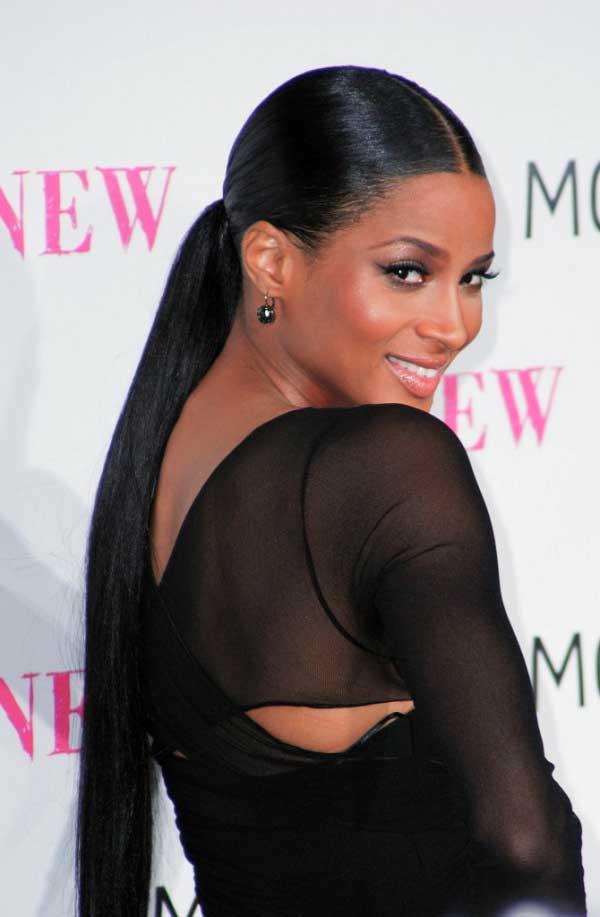 Isn't this a simple yet elegant style? You can enjoy this red-carpet look anytime with just a few items. Pick a good quality hair mousse, a leave-in conditioner, and a straightener. Straighten the hair and part the locks from the middle. Tie them low with a soft band.
Sleek High Ponytail with Braids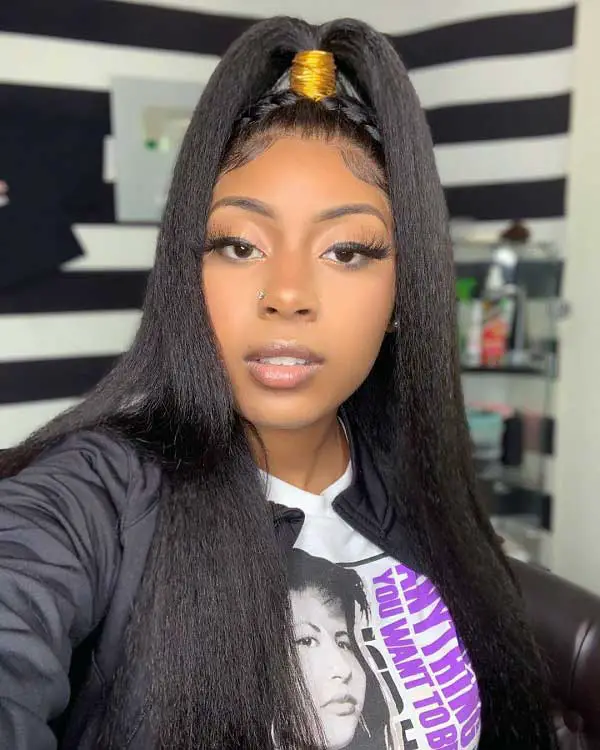 If you have a little more time, combine a high ponytail with front braids. Begin with braids on both sides and club them with straight hair. Using a silk thread is a good idea to tie the ponytail as it reduces the breakage.
Low Sleek Ponytail with Accent Braid and Cornrows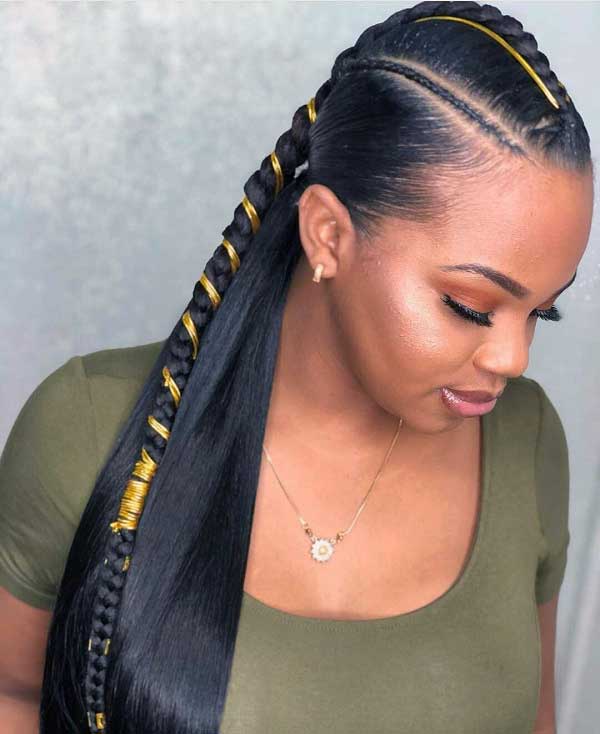 Braids and cornrows are stunning options to enliven a hairdo. If you want to add some height or want to enhance the sleek allure, try an accent braid like this with cornrows. This will add texture, height, and edgy touch to your chic style.
3. Black Braid Ponytail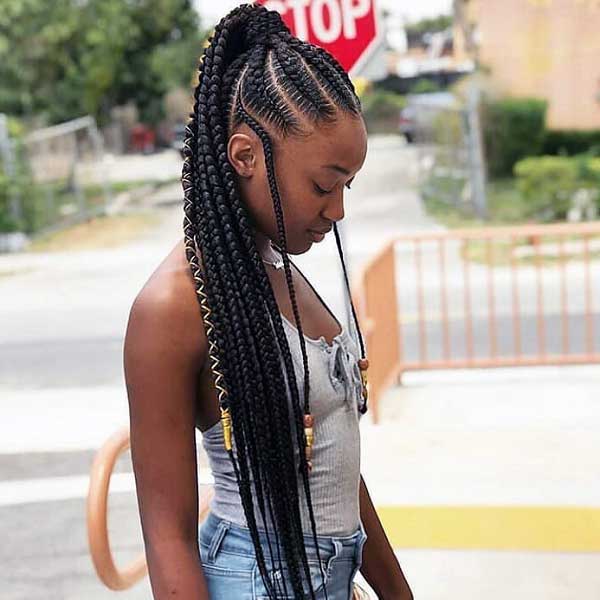 The braided black ponytail is a great choice to protect your natural hair. You can skip the traditional single braid style with multiple braids that are ultimately tied up in a ponytail. This cute and classy look saves a lot of styling time. Just remember to keep your scalp moisturized to protect your hair from any damage.
Ponytail with Side Cornrows, Braids, and Accessories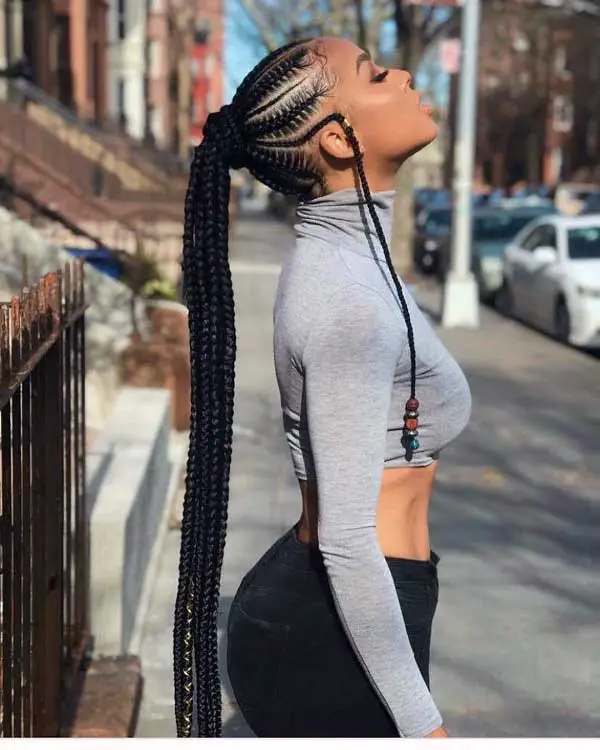 Side cornrows are a great style for natural untreated hair. Jazz up the strings with some classy dangling accessories. For the braids, begin from the roots to create a gorgeous pattern and ultimately tying the braids in a middle ponytail.
Bronze Curly Black Ponytail with Thick Braids
Color half the length with bronze shade and use the same to highlight a few strands up to the roots. Part hair from the middle and braid them from the front roots. Properly moisturize your hair for the desired shine and best hair care.
4. Ponytail Braids For Black Hair
The braided ponytail is a protective and gorgeous style for natural Afro hair. Though it takes hours to achieve the desired style, the efforts are worth the time that you save in the following weeks.
Ponytail with Black Ghana Braids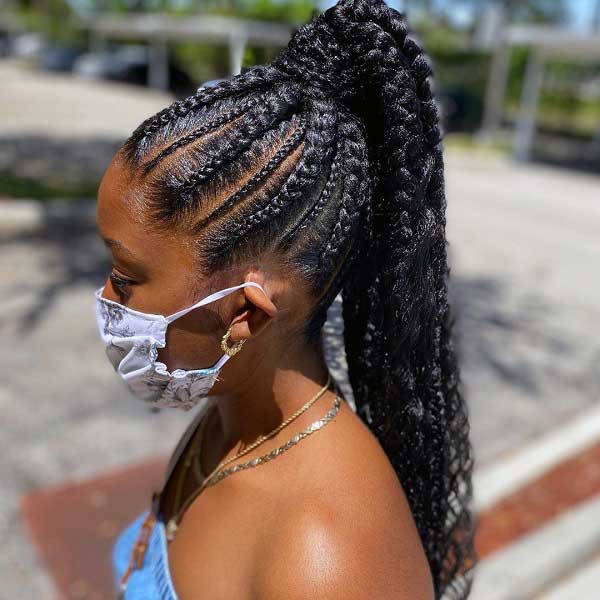 Ghana braids are the traditional go-to for black hair. It's a manageable and striking style that saves you from the stress of rising early to get a perfect hair-do. What's more, you can change up the coif using hair accessories such as beads and ribbons.
5. Weave Ponytail Hairstyles For Black Hair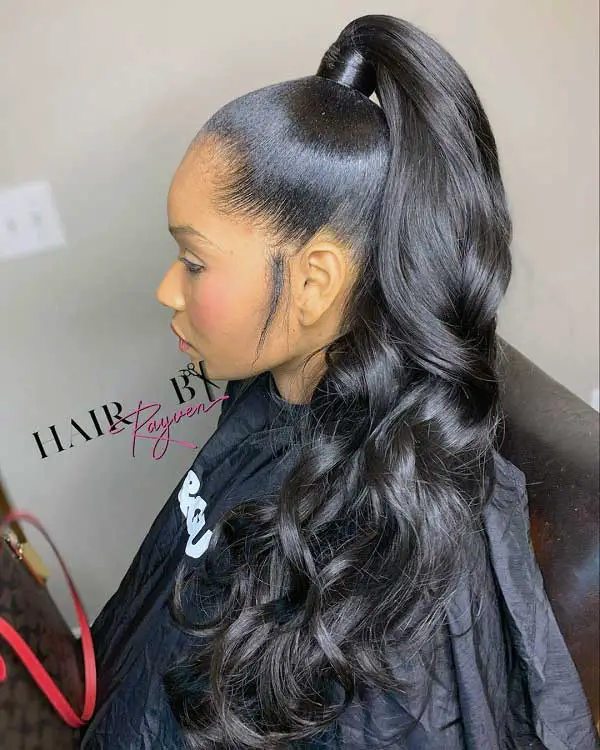 If you have naturally long black hair, this lustrous high ponytail can be a striking styling idea. Curl up the locks in thick waves up to half the length and use glossy conditioner for the lasting glow.
Voluminous Weave Ponytail for Black Women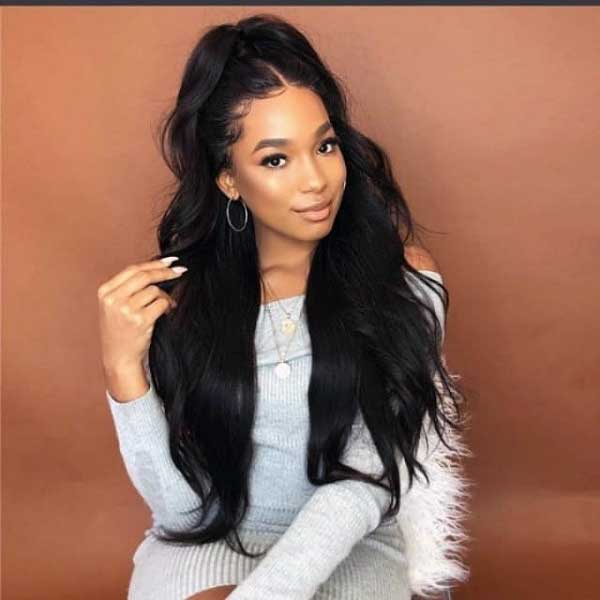 Want to try a weave look then try this mid-parted high ponytail. You can also add hair extensions for this stunning brunette look.
6. Black Ponytail Updos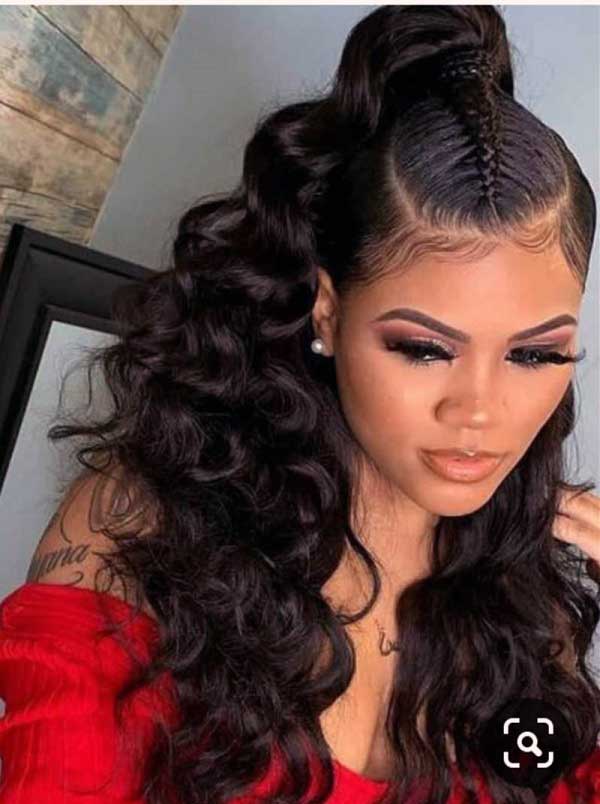 Cornrow is one of the most on-trend styling options for black hair. There are numerous ways you can infuse this style with a ponytail. For instance, try this Mohawk style cornrow that merges into a curly ponytail and creates a stunning updo.
Sleek Glossy Ponytail Updo with Braid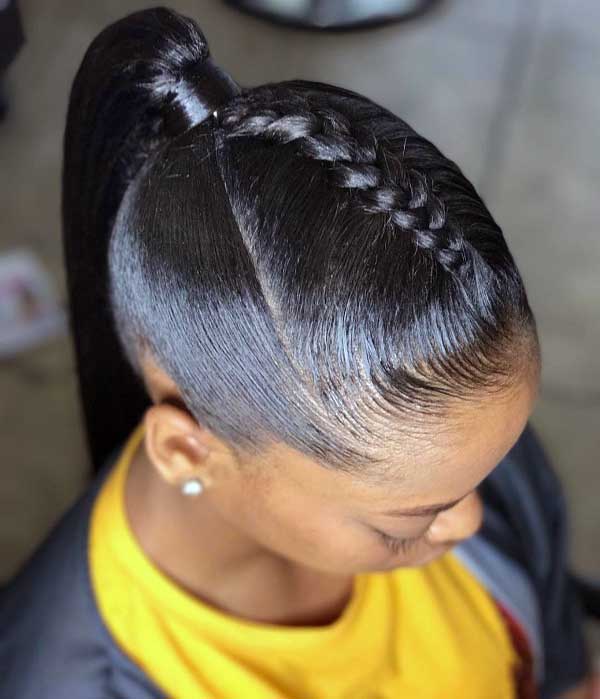 Another classic black ponytail updo with ample of shine! It is easy to do by yourself and takes just a few minutes. Just ensure your hairs are well-moisturized and conditioned. Part your hairs from the sides and make a braid in the center. With slight overlapping, merge the sectioned hair in the ponytail and enjoy a red-carpet hairstyle anytime.
Ponytail Bun with Braids for Short Hair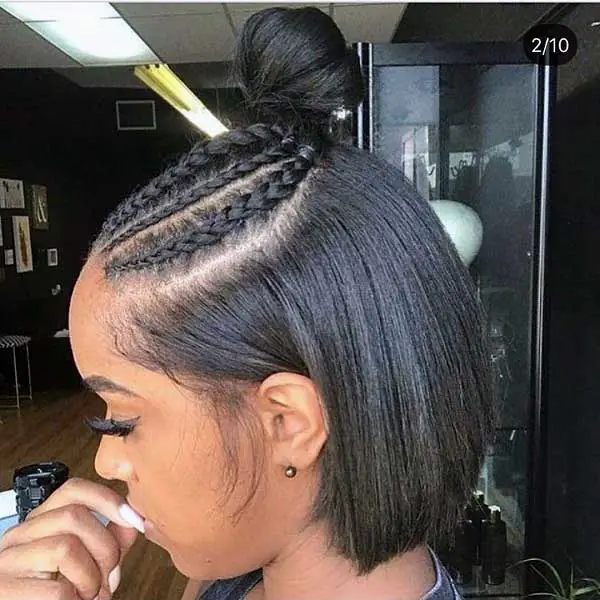 If you have short blunt-cut hair and want to rock a chic ponytail updo, then try this hairstyle. Divide your locks into equal halves and make braids from the front section. Curl them up in a top knot bun and leave the back hair straight.
7. Curly Ponytail Hairstyles For Black Hair With Weave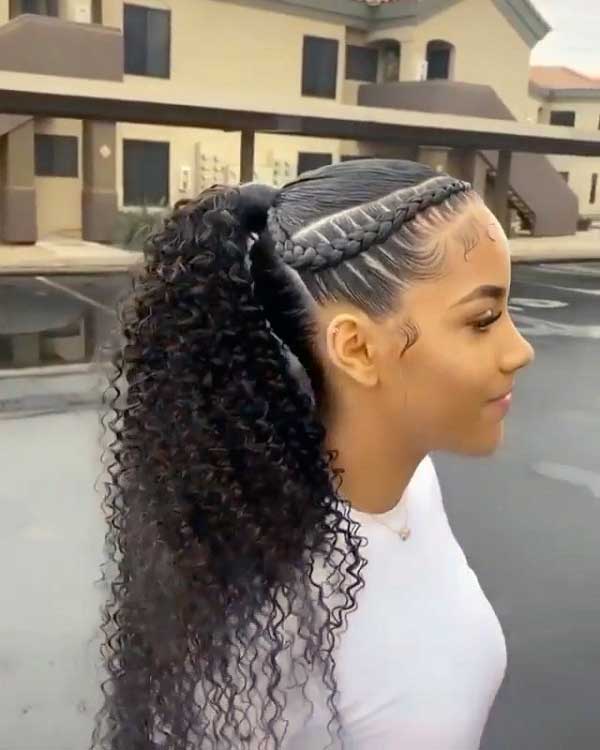 Girls love curls. So try a look that is smart, elegant, and easy to manage. Start with conditioning your hair, then make braids out of the sleek black hair and weave it into a pony that flaunts thick loose curls. You can add highlights of bronze or copper color for your version of this curly ponytail hairstyle.
Weave Style Ringlet Ponytail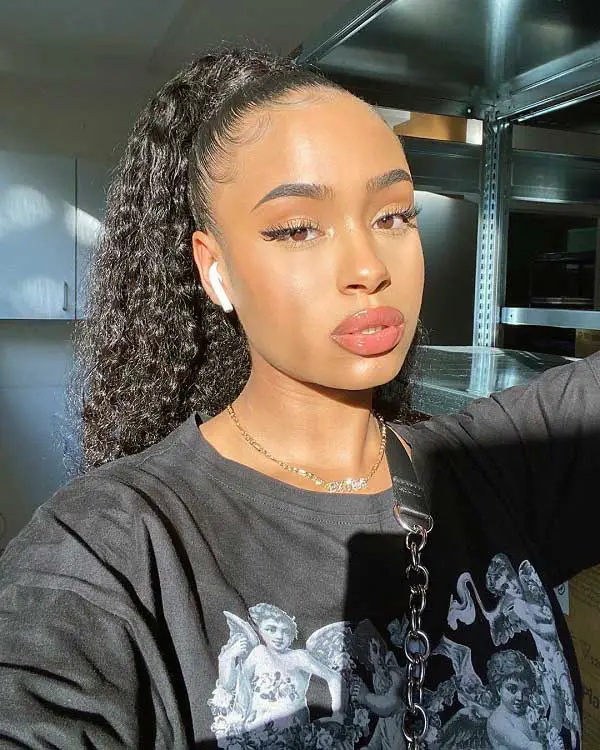 Whether you have natural curls or you choose for extensions, this hairstyle is sure to rock. A good idea is to keep your hair hydrated so you can enjoy a frizz-free ponytail with weave. With quality hair care products, you can better manage your tendrils and avoid damage or breakage.
Spiral Curl Black Ponytail with Weave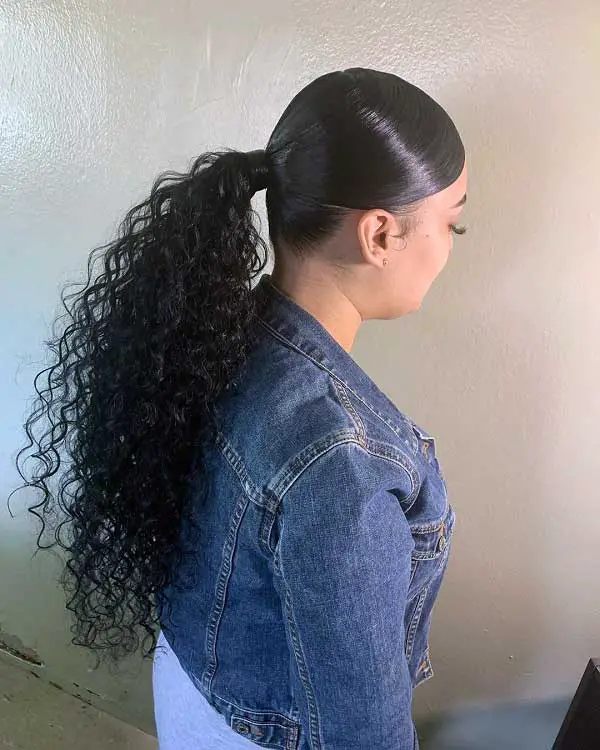 This low curly black ponytail is done by straightening the hair from the roots to the length from where the ponytail begins. The rest of the length will remain curly. Comb your hair at an angle with a side part and neatly tie using a soft band. Manage the spirals and the shine with hair moisturizer and mousse.
8. Black High Ponytail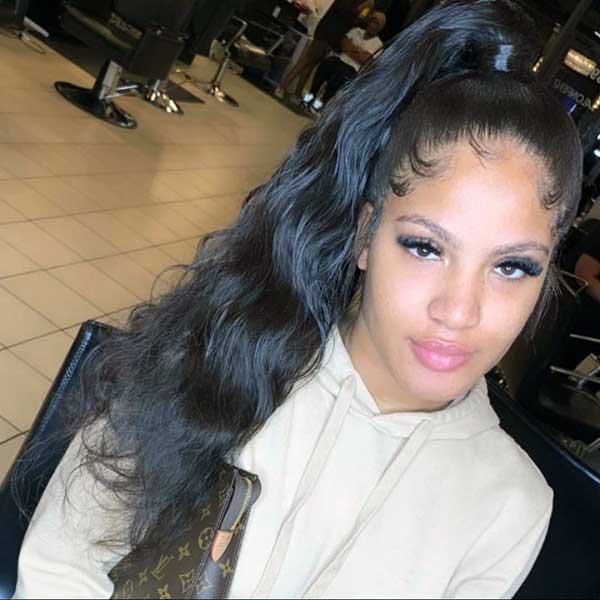 You don't always require a complicated hairstyle to look cool and classy. For example, this simple high ponytail with slightly wavy locks is perfect to flaunt day and night. Just a bit of hair mousse is all you need to manage the length of the hair.
Sleek High Ponytail for Black Women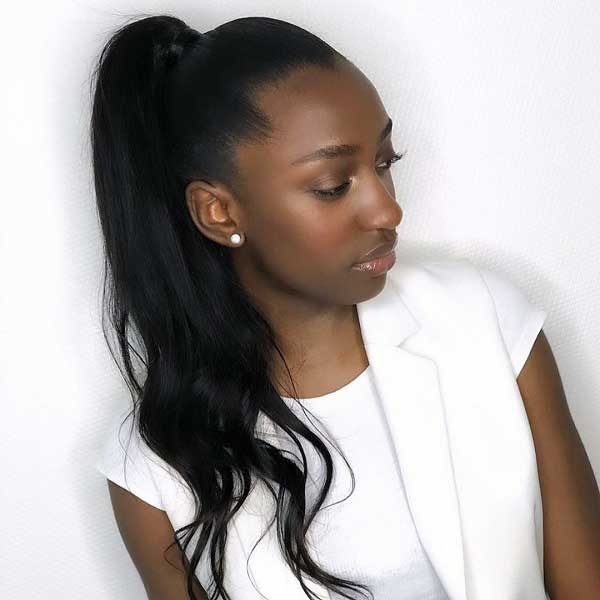 Black hairs are admirable and when tied up in a high ponytail, they look fabulous and effortless. If you have thin hair, you may add extensions for a voluminous and bouncy feel.
The Jennie Style Ponytail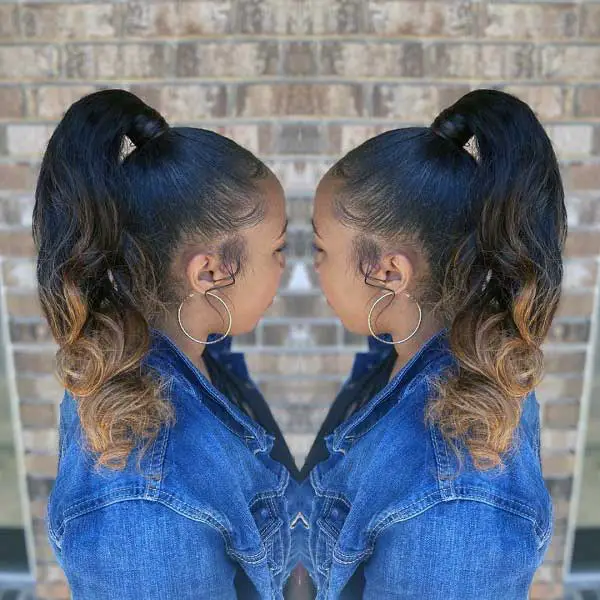 It isn't easy to ace and maintains the famous Jennie hairstyle. However, Will Smith nailed it, and so be you. Finely comb your hair in a high pony and tie up using a ponytail wraparound or any of the available bands. The focus should be on heightening the tied up section. Slight curls at the end with blonde shade will heat the look.
9. Black Ponytail With Bangs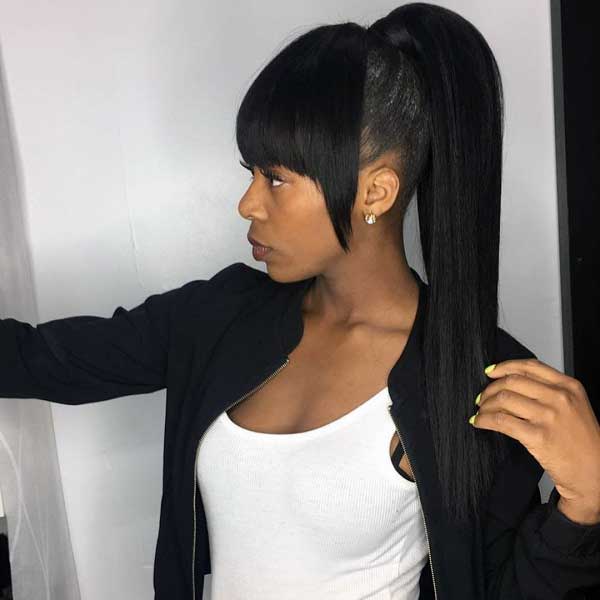 That's one of the favorite styles of celebrities. However, this black ponytail style is versatile and can be customized to suit your fashion. You can cut the bangs evenly or razor cut with sharp, uneven ends. We love the slightly shaved back that is creating a peek-boo effect under the shining long ponytail.
Half-Up Half-Down Curly Ponytail with Bangs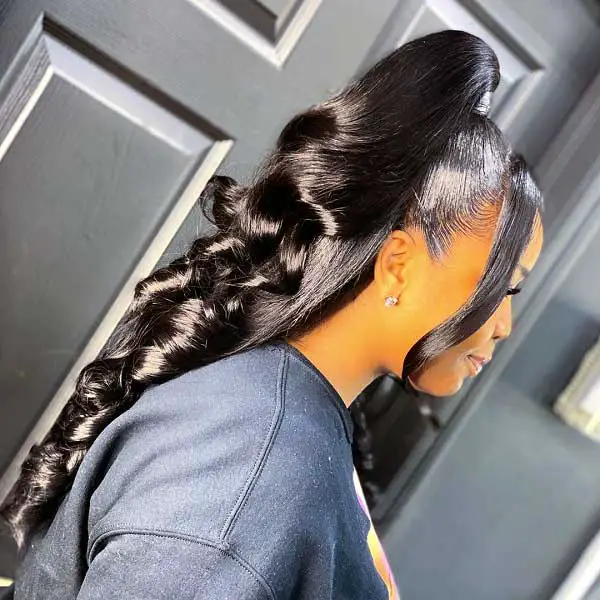 Taking its cues from the Kardashians, this half-up curly ponytail style with bangs is svelte and alluring. Ponytails with weave are gorgeous but with a bit of twists like this half straight loose hair and half curly tied up, it's a hairdo to try now. For the impeccable sheen, moisturize your hair regularly and sleep in a silk pillow.
Curly Pony and Bangs for black Women
If you want to rock the 90s wavy bangs style with ponytails, begin with a straight cut. Chop the bangs and then use an iron rod for a bit of twist. This high ponytail can be accessorized with beads or other stuff for a glamorous touch.
10. Slicked Back Ponytail Black Girl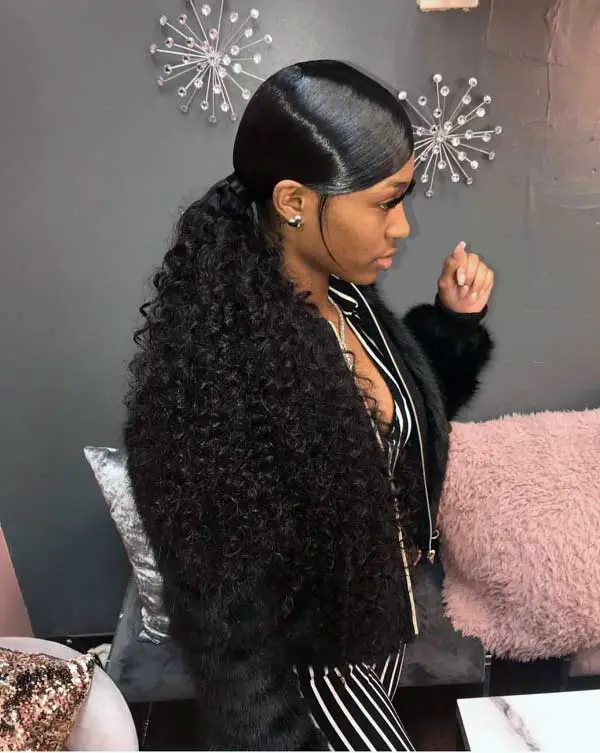 Curly hairs are unmatched. But if they are super-coiled, the best way to tame them is a low ponytail. This style serves as a staple for fast styling and can be customized with your choice of parting and length.
The Old-School Slicked Curly Ponytail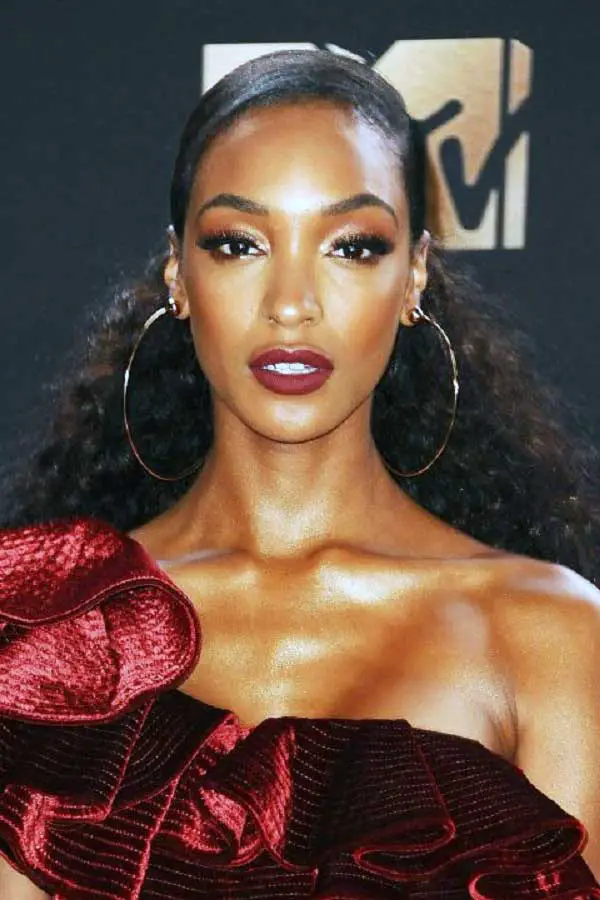 Remember the traditional old-school look of the 90s? That was so effortless and pretty. To ace, the style, comb your hair from the roots to the point where you want to tie the pony in a curl-free sleek manner. And use a wide clip to tie the pony.
Drawstring Ponytail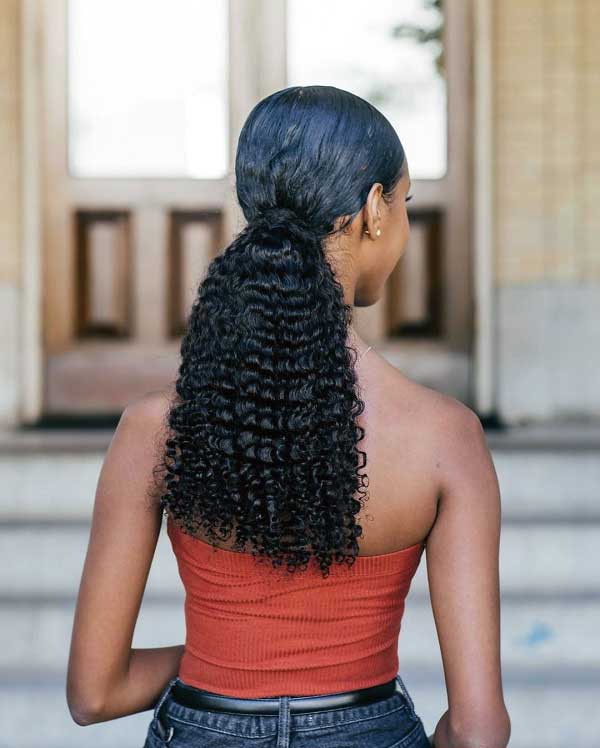 One of the most desired curly ponytails looks is this drawstring style. You can choose to style your natural style like a drawstring or may use extensions for the desired voluminous look.
11. Two Braids Into A Ponytail Black Hair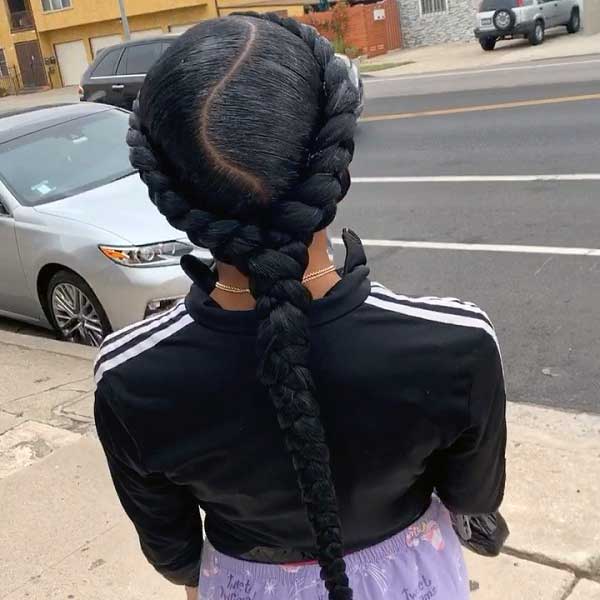 If you naturally have such thick hair, this two braids style braided ponytail is a stunner. Start with mid-parting. You can choose a parting style such as straight, spiral, or zigzag. Start braiding the sections from the front and as you go down, merge both braids into one long braid.
Blonde Braids into a Side Ponytail
If you have blonde highlights, try this double braids style for a classy salt-n-pepper look. You may add extensions for more volume.
12. French Braid Black Ponytail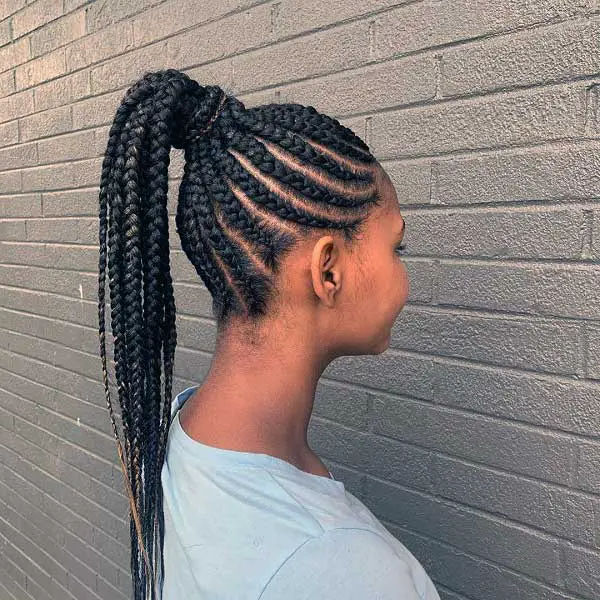 This is a cool and comfy look loved by many Black Women. The reasons are clear. It looks dramatic and when done completely, it saves a lot of styling time and effort. Moreover, you can tie the braids into a ponytail or a bun. Always remember to moisturize the scalp for a breakage-free hairstyle.
Ponytail with French Braids and Zigzag Parting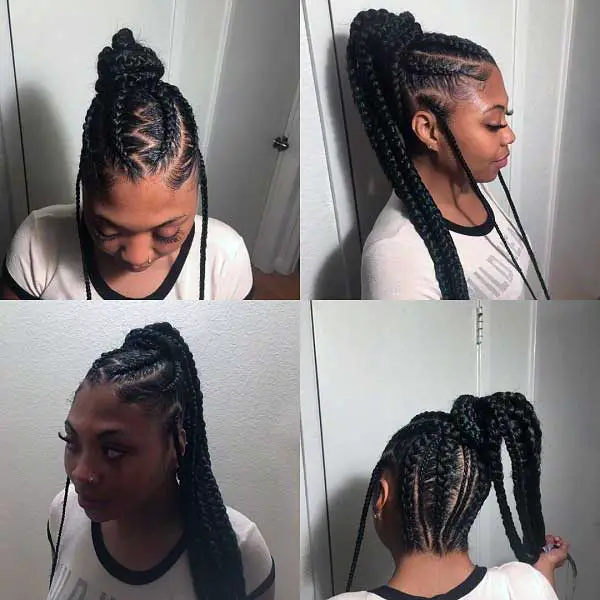 Ask your stylist to carefully work with the parting and braids. Once the braiding is done to the hair length, you can choose to leave them loose, tie them in a ponytail or roll up in a bun. A mix of the two is also easily achievable.
Braids in Ponytail with Highlights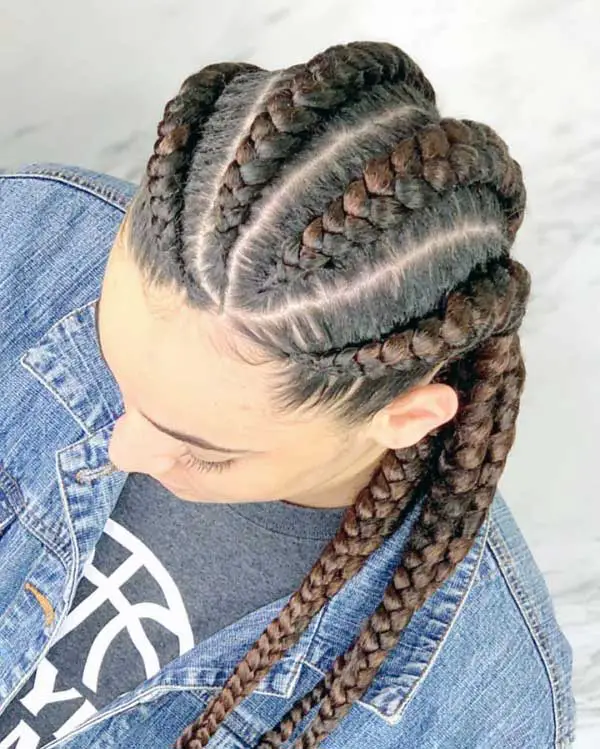 For more controlled and custom style, focus on braiding small rows that start from the hairline towards the crown. Once done the braids till the hair tip, tie them up in a ponytail. Don't hesitate to try the colors and shades for highlighting.
13. Twist Ponytail For Black Hair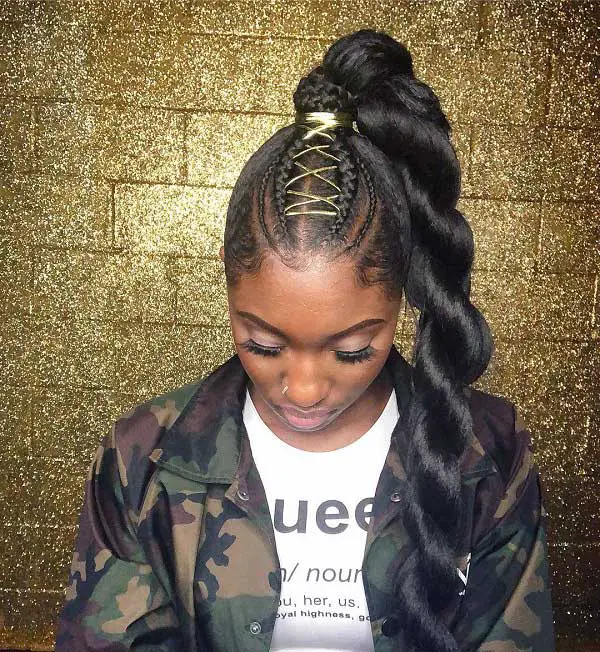 This is proof that a ponytail can look like a work of art for black hair. The thick twist will remain in place with shine spray and flyaway tamer. You can weave in the golden ribbon like this or try your own version for a custom look.
Twisted Braids Ponytail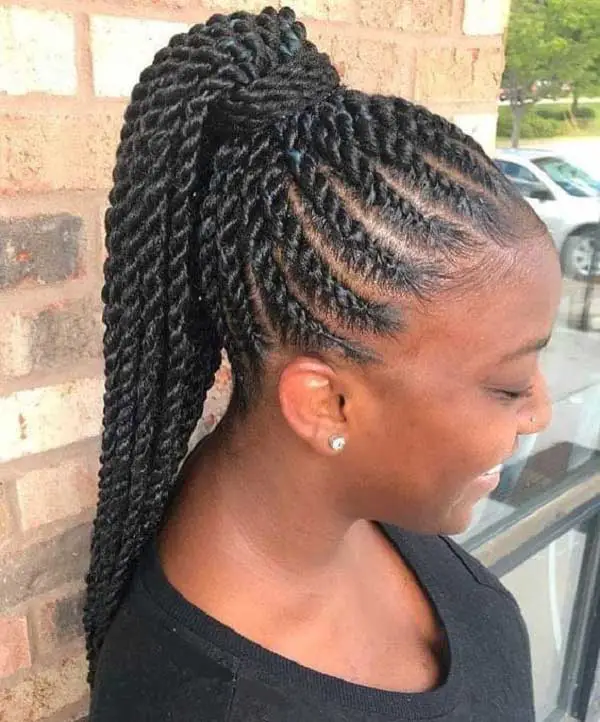 There are endless ways to create black hair ponytails. You can try these multiple cornrow braids that are accurately braided closely to the scalp and goes down into a cute ponytail with a braided wrap. It's a perfect style for warm weather and vacations.
Black Ponytail with Senegalese Braids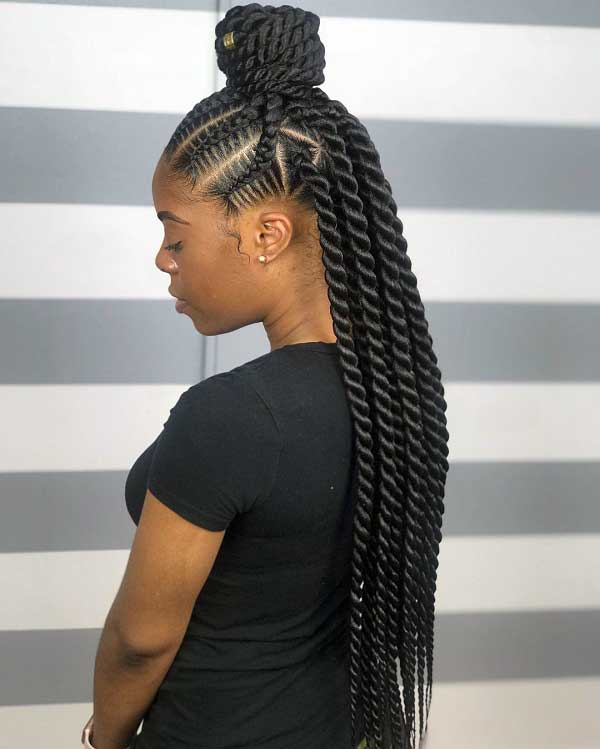 Senegalese twists are loved by Afro American women. Though it takes hours to ace the style, it helps you save a lot of time in the following weeks. Start with long individual braids from the hairline. Now divide the braids into two parts – use the upper part to create a bun and leave the lower part loose.
Black Ponytail hairstyle can be a great styling idea for women. If your hair texture is naturally thick and strong, you should try for more coiled styles. Including color, highlights is always a bonus for added charm. However, remember to use good quality hair products and maintain good hair hygiene for naturally healthy hair that lets you enjoy more experiments.