"The shorter the hair, the harder they stare." Popularized by Audrey Hepburn almost 65 years ago, pixie haircuts have bounced back to the modern era with a twist named "Undercut Pixie." This fantastic haircut has the power to stun people with its edge and style.
A pixie undercut is a haircut where the back or sides are trimmed detached from the short hair on top. This cut integrates two bold haircuts. First, it's the ultimate comfortable haircut.
Second, it's practical, extremely easy to maintain, versatile, modern, cool, and definitely reserved for women who want to express their contemporary and stylish personalities. 
Coolest Undercut Pixie Haircut that You Must Try
If you desire a savvy look straight out from the red carpet, a pixie with an undercut is just the thing for you. It boosts your style, confidence and gives you the nudge to freely express yourself.
So, ditch your outdated haircut and shine with finesse with our list of stylish undercut pixies. Keep reading to know more.
1. Undercut Edgy Pixie Cut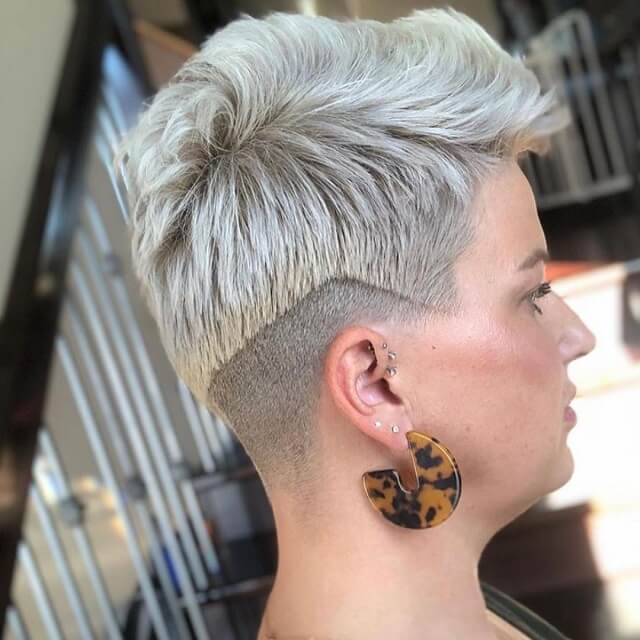 An edgy pixie undercut screams poise and sass. Shave your silver-blonde hair in a patterned undercut and let the top of your short hair sway the world. Nothing can go wrong with this chic look.
Suitable for:
Short styles look impeccable in oblong faces. So this haircut peaks when it is in oblong faces.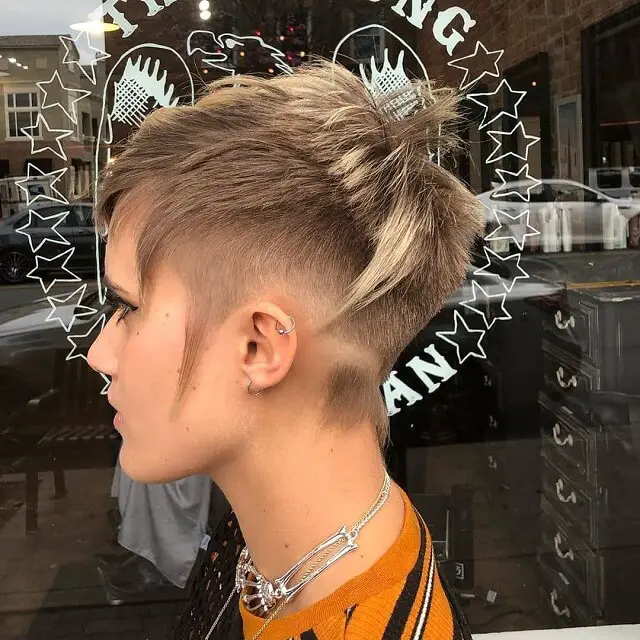 Allow your hair to thrive with this edgy pixie cut. Trim a line through your undercut along with the ruffled and unique arrangement of short hair on top. This cut conveys your fearlessness and daunting persona.
Suitable for:
Heart-shaped faces look flawless in this haircut. Your jawlines will be highlighted due to the shaved sides.
2. Undercut Pixie Cuts For Thick Hair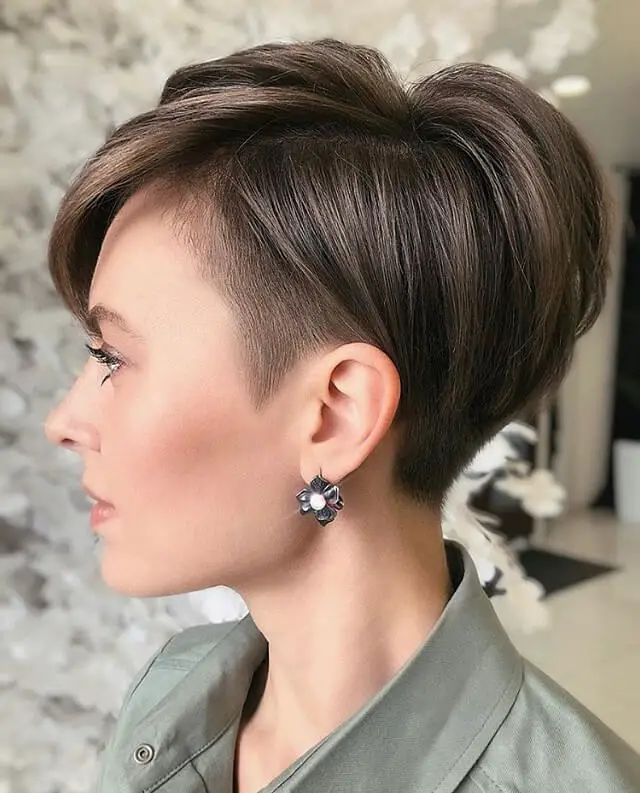 A thick pixie undercut is unmatched when it's about a professional yet comfortable for your thick hair. Stack layers on the crown of your head with a neat side part trimming the short front end to flaunt the thickness of your hair.
Suitable for:
This thick pixie cut is apt for diamond-shaped faces. The high cheekbones look incomparable in this style.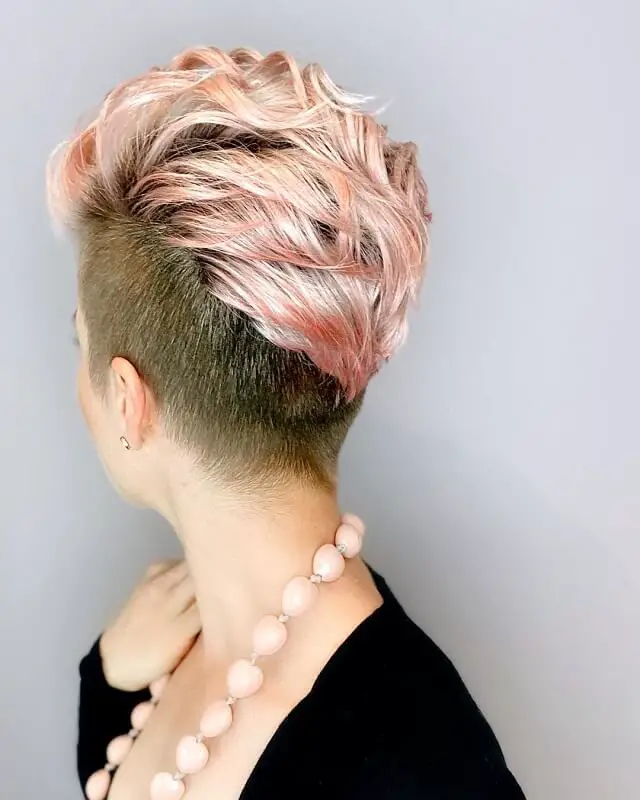 Add some flair to your pixie cut by toning it in a pinkish hue. Create beachy waves in your hair for a refined and sophisticated look. This haircut also emerges a new fresh side of you.
Suitable for:
Oval-shaped faces give optimal grace to this haircut. It's a pristine look that has no chance of failing.
3. Messy Undercut Pixie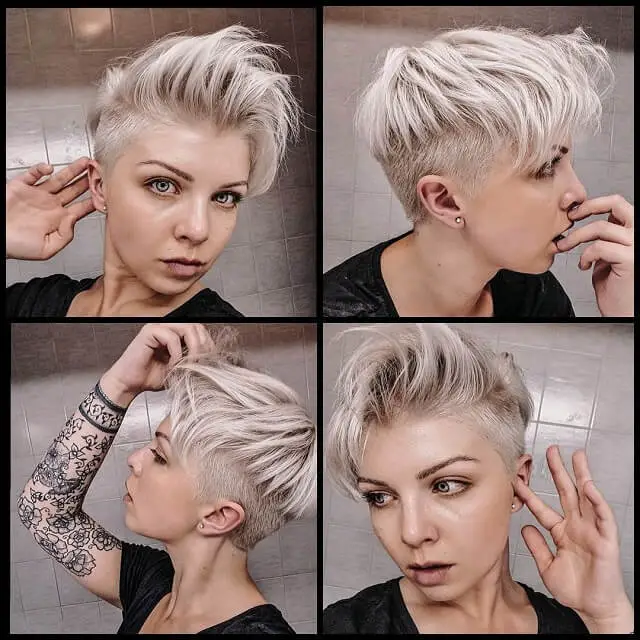 Shave the sides along with the back in a clean-cut to make your hair appear like gracefully cluttered feathers in your glorious silver short hair. It'll blend with any attire you try.
Suitable for:
Women with oval faces come off as spotless in this haircut. It's truly an unequaled look.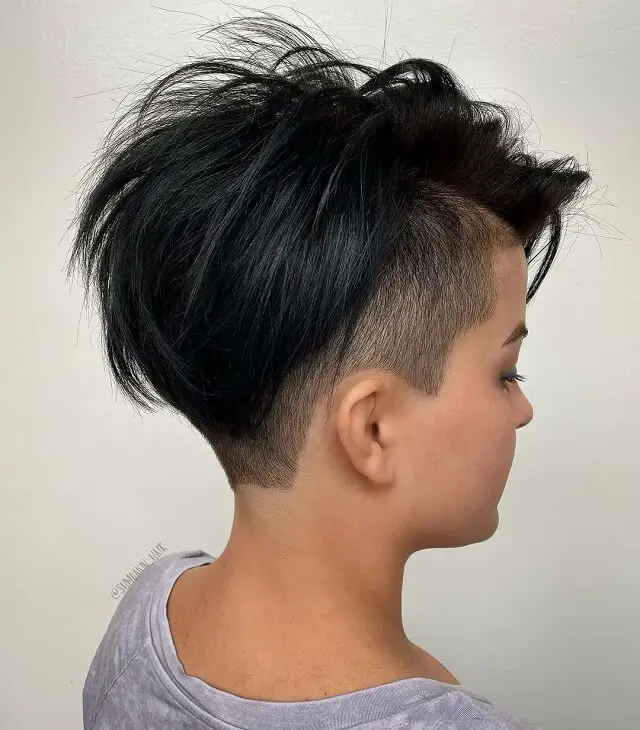 Look awe-inspiring in a messy undercut pixie haircut. Disarray your short hair on the top alongside trimming your undercut to display a tremendous out-of-this-world appearance. You should certainly try out this fun and bold haircut.
Suitable for:
Longer faces are more appropriate for this style. This haircut makes you seem outstanding.
4. Curly Pixie Cut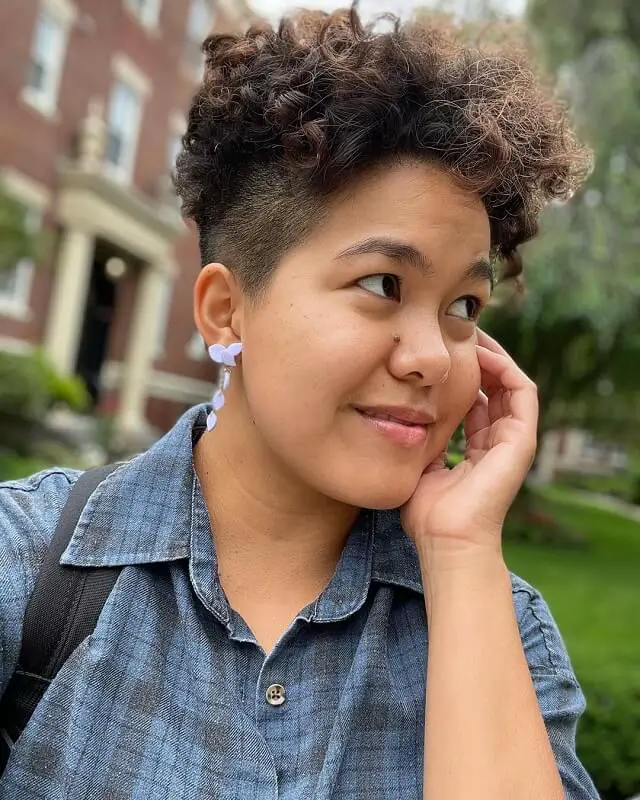 An undercut with a pixie excels in all the curly queens out there. Make sure there's enough volume created by curls in your pixie while cropping your hair in an undercut. The copper hues in your short dark top are just spectacular.
Suitable for:
Oblong faces are fitting for this look. Your curl's volume will make it strike as immaculate.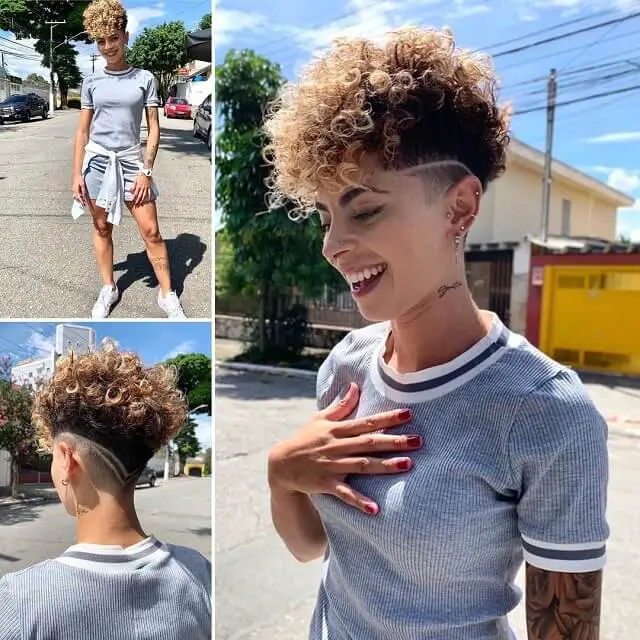 Get your alluring afro curls on trend with a dope curly pixie cut. Trim a subtle yet neat straight line on your undercut branching it in two prim lines at the back. Then, highlight your marvelous derby brown hair using a golden blonde tone.
Suitable for:
Women who have heart-shaped faces look absolutely seamless in this look. It accentuates your attention to your eyes.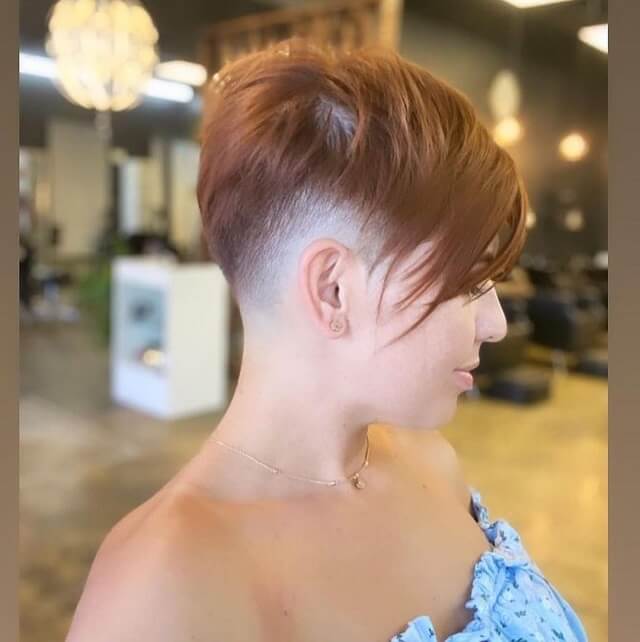 Auburn Hair is frequently seen embellishing long hair. But they appear cracking in pixie cuts. Crop your hair thoroughly on the back with longer ends on the front, ensuring that there are no short roots left in your undercut.
Suitable for:
This haircut suits oblong faces extremely. Also, the swept bangs at the front make it look polished.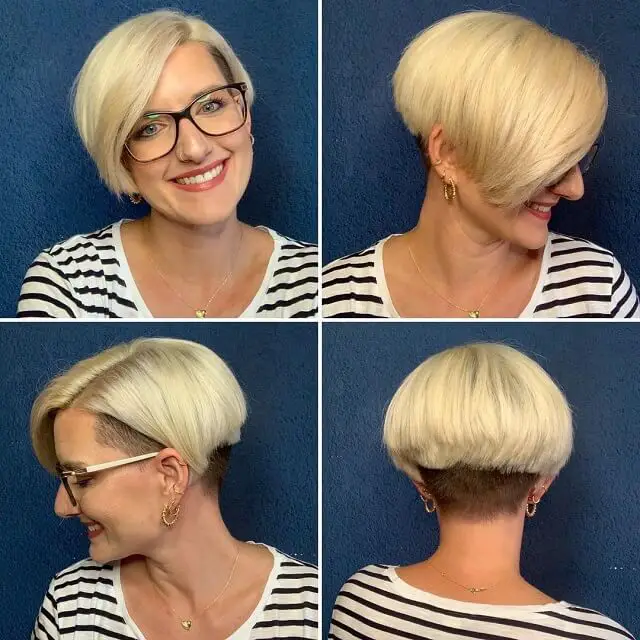 Turn your hair into something refreshing via an undercut low-maintenance pixie cut. Cut your pixie in an angled way, slightly elongating the height from back to front. The polished look attained through this cut in your beguiling blonde hair can not look any more majestic.
Suitable for:
Diamond-shaped faces appear extraordinary in this look. Be the very definition of picture-perfect with this divine haircut.
6. Undercut Pixie With Bob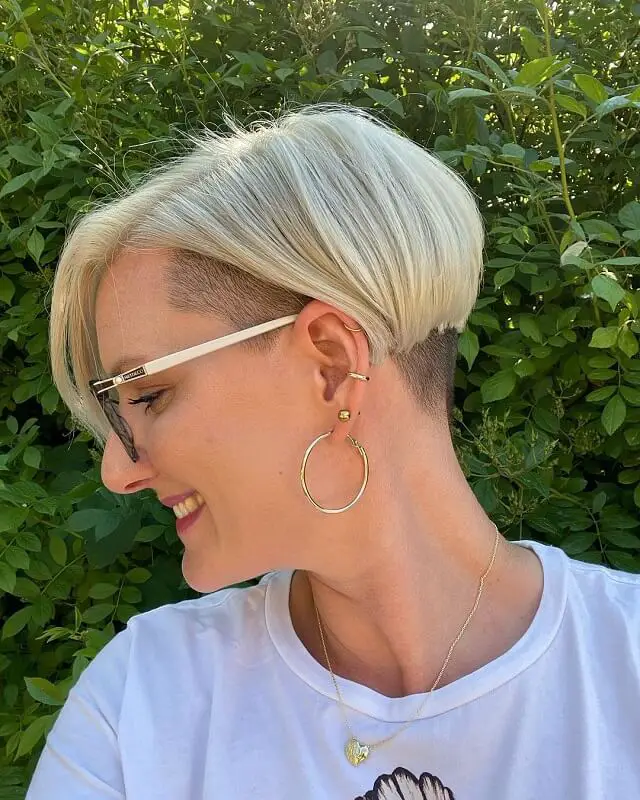 Pop your hair's beauty and delicacy with the help of an undercut pixie bob haircut. Chop your undercut to short roots, create an even cut on the back and make a slick side part. The graceful look that this haircut holds, is genuinely fascinating.
Suitable for:
If you have a diamond-shaped face, you can't afford to miss out on this look. You will look spectacular in this haircut.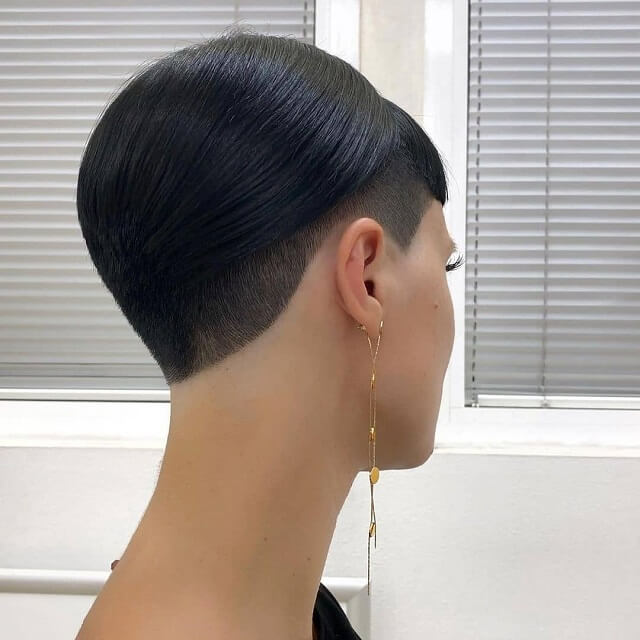 Take your hair to a la mode with this look. Give your pixie a neat round cut that will appear smooth. You could also go for short bangs at the front. This shiny and voguish look will attain the attention of your eyes that you deserve.
Suitable for:
Oblong faces look tasteful in this haircut. You will look faultlessly incredible in this neat, chic look.
7. Asymmetrical Pixie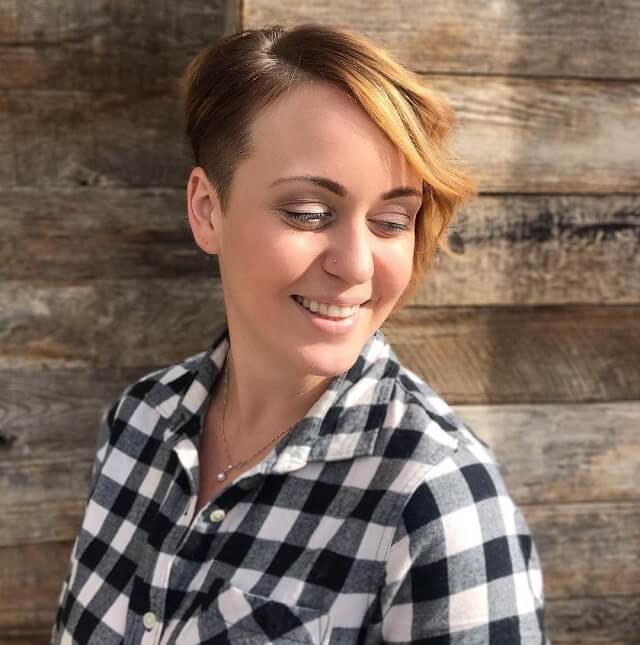 An asymmetrical pixie undercut flawlessly shows off your stellar face's features. Produce a disproportionate look by shortening your hair on one side. The subtle waves added at the front of your long side make it come across as glorious and hypnotic.
Suitable for:
Diamond faces appear graceful in this haircut. This pretty look is hard to miss.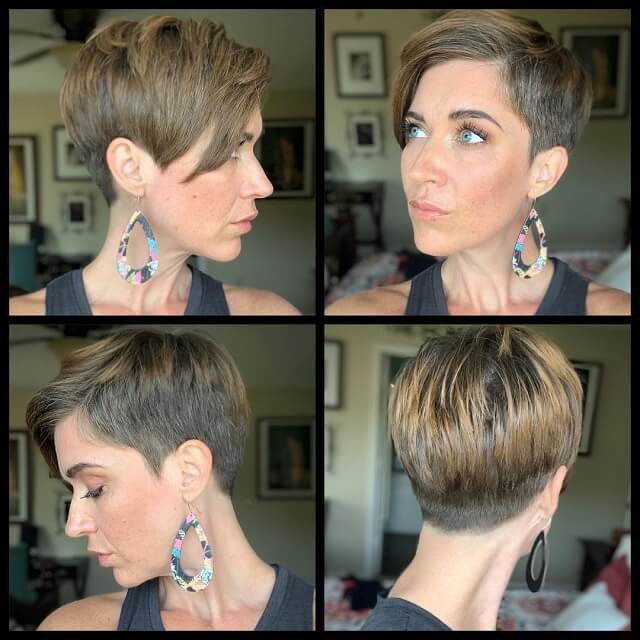 This mod look manifests your audacious and sophisticated charisma. Tone the top of your pixie in a faded brown slowly descending into a greyish hue. Make a cool side part to accentuate all the tiny and intricate details of your groovy and feisty hair.
Suitable for:
Long faces are suitable for this haircut. You will see a significant fresh change in you with this look.
8. Long Pixie Undercut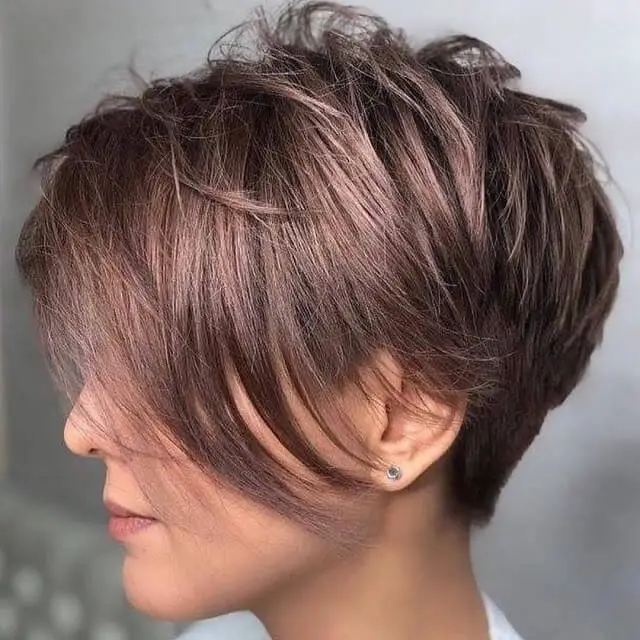 Not wanting to crop your hair a little too short? Then Long Pixie Haircut is precisely made for you. For this haircut, take a small amount of your hair into an undercut to make your pixie longer, shuffling your pixie on top.
Suitable for:
This haircut will fulfill all your expectations if you wear it on your heart-shaped face. It comes off as superb and transcendent.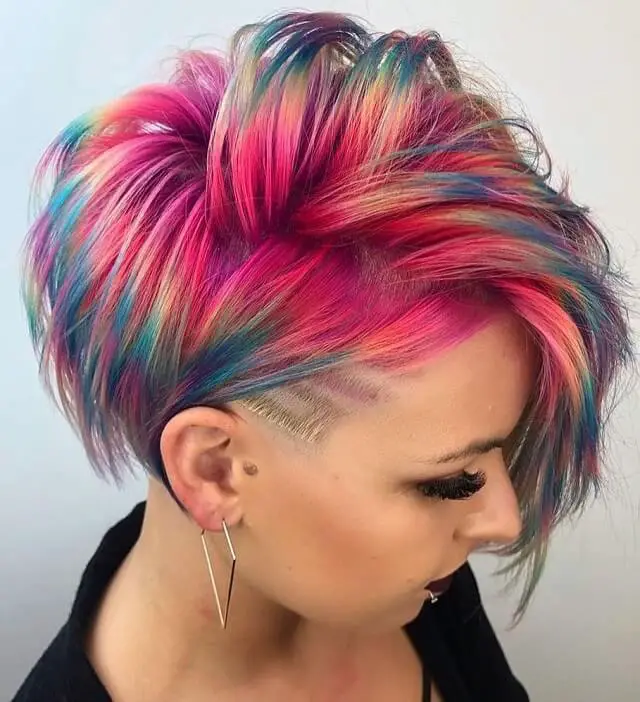 Liven your hair up with some vibrant tones in your swinging long pixie. Here you can see the usage of a lively pink in addition to blue, golden, and purple shades at the end making you state your appeal and exquisiteness.
Suitable for:
Take your haircut up a notch with this haircut in your oval face. It appears flattering in the shape of the face.
9. Undercut Pixie For Short Hair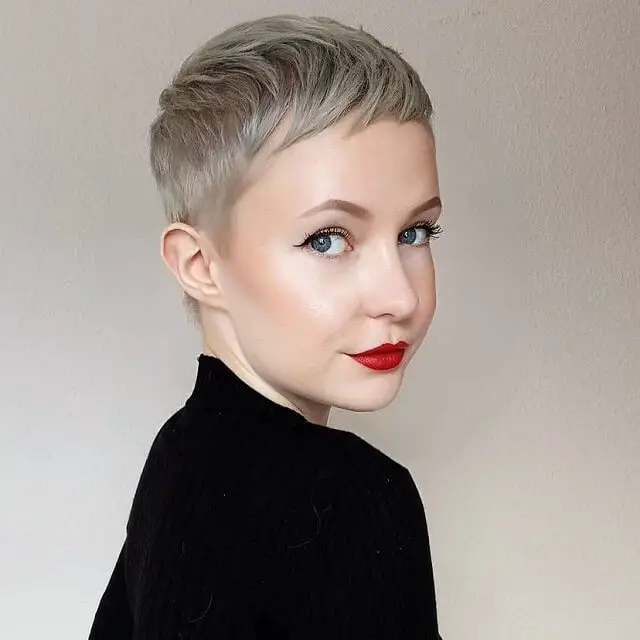 Bloom with an innocent and dreamlike visage with a short undercut pixie. It's a super simple pixie that features a round cut showing off your forehead. Sway your hair to the side to draw attention to your sharp facial features.
Suitable for:
Women with square-shaped faces appear goddess-like in this haircut. It has a soft and subtle aura that fills your aura.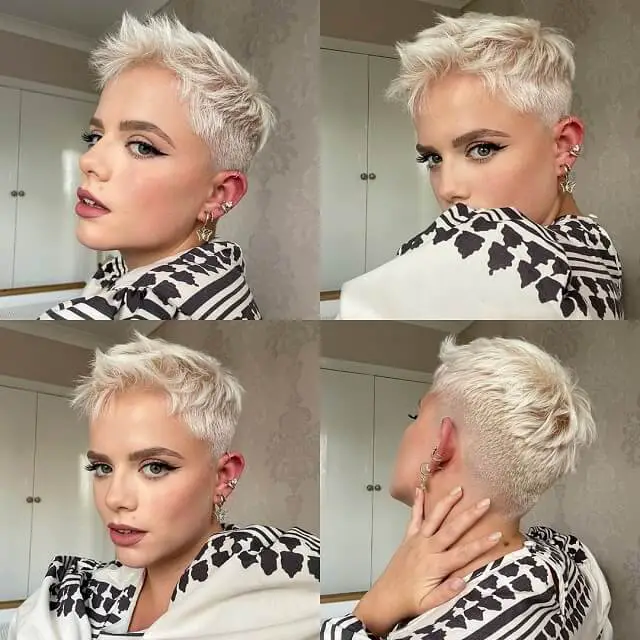 Shuffle your short pixie a little to come off as striking and playful. Color your refined hair in a platinum blonde shade for a hint of elegance. This haircut lets you appear posh and dainty. 
Suitable for:
A diamond-shaped face will rock this look effortlessly. It has a sophisticated touch to it.
10. Pixie With Nape Undercut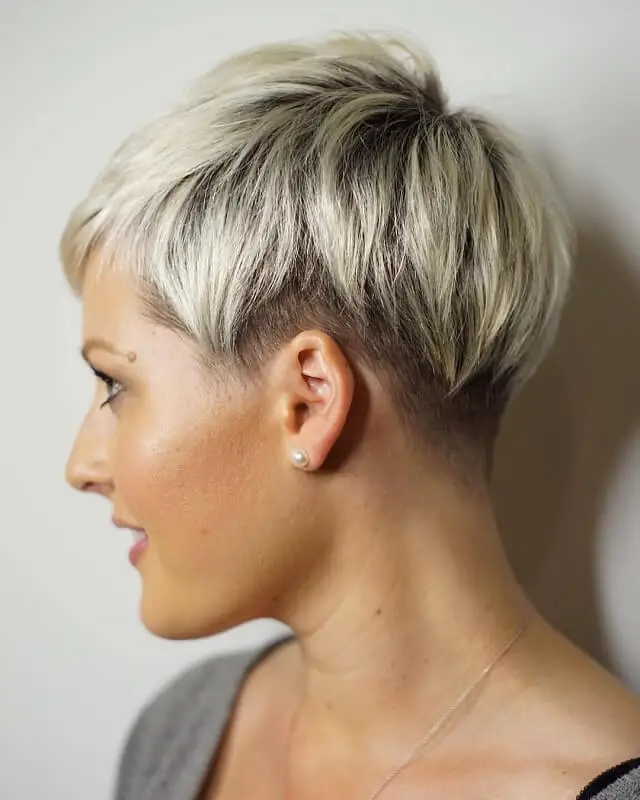 Women with fetching napes wear the pixie with nape undercut haircut like a crown. Highlight your hair in a silvery platinum tone keeping the roots in their natural black color. This style appears spiffy and emerges with comeliness in you.
Suitable for:
Oblong faces look striking in this haircut. This upstanding haircut is to die for.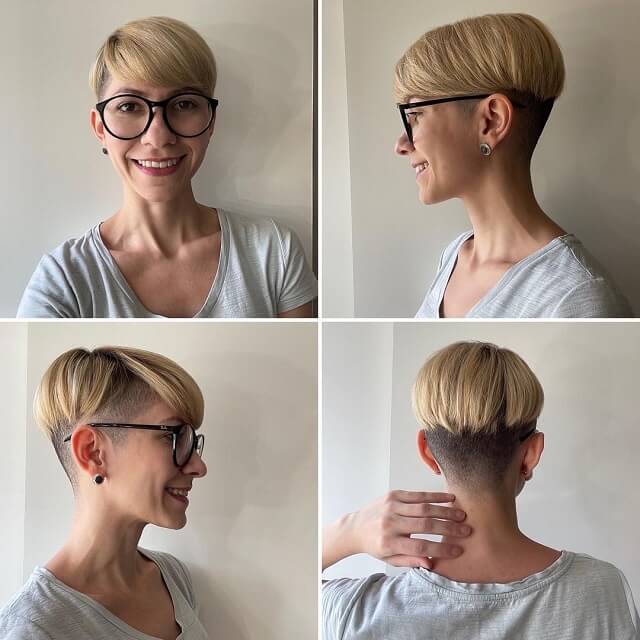 A classy pixie with a nape undercut is a look to kill for. Cut your pixie in a bowl cut trimming the rest of it in an undercut. The trimmed undercut adds a chic and modern vibe to this haircut.
Suitable for:
Oblong faces are able to give this haircut the perfect look it deserves. It's impressive and snazzy.
11. Pixie With Bangs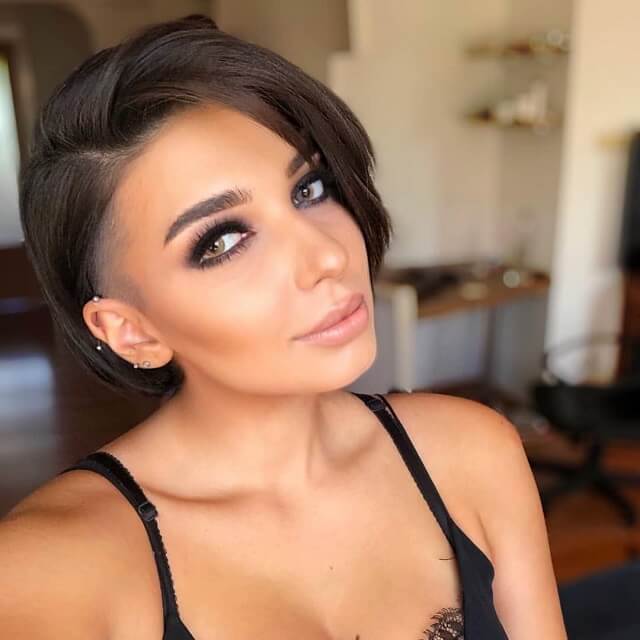 Bangs are all-rounder when it comes to hairstyles. They can elevate any look effortlessly. For this pixie undercut with bangs, you can chop your hair up in neat side bangs while sweeping the other side of your hair back.
Suitable for:
This haircut has dense volume on the sides and swept bangs which compliments a heart-shaped face highly. You will seem discerning in this haircut.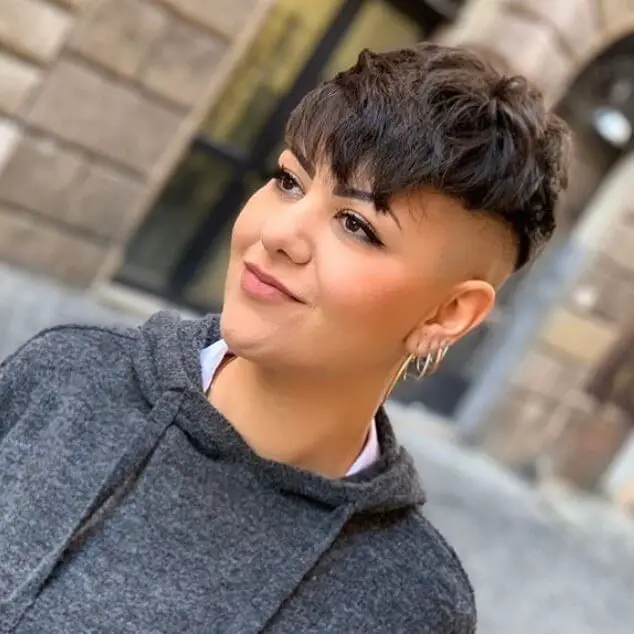 Take your pixie undercut into a short mohawk style trimming all the sides and back completely. The messy choppy bangs at the front make it more captivating. This sassy prim look is definitely worth a try.   
Suitable for:
Bangs are a great addition to oblong faces. It balances out the longness of your face.
12. For Round Face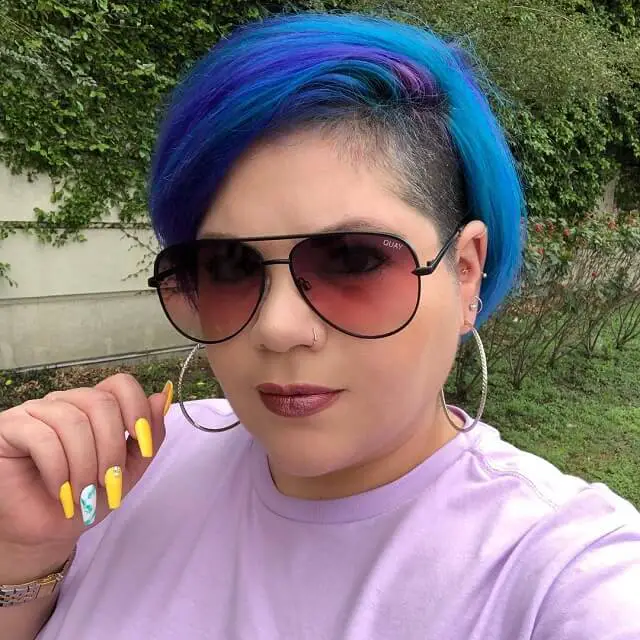 Women with round faces have a unique magnetism distinctive to them when they cut their hair in a pixie. Color your hair in a vibrant blue with purple tints in it to boost this magnificent look.
Suitable for:
As the name suggests, this Undercut pixie haircut is reserved explicitly for round faces. However, it will undoubtedly make you exhibit your appeal in a refined way.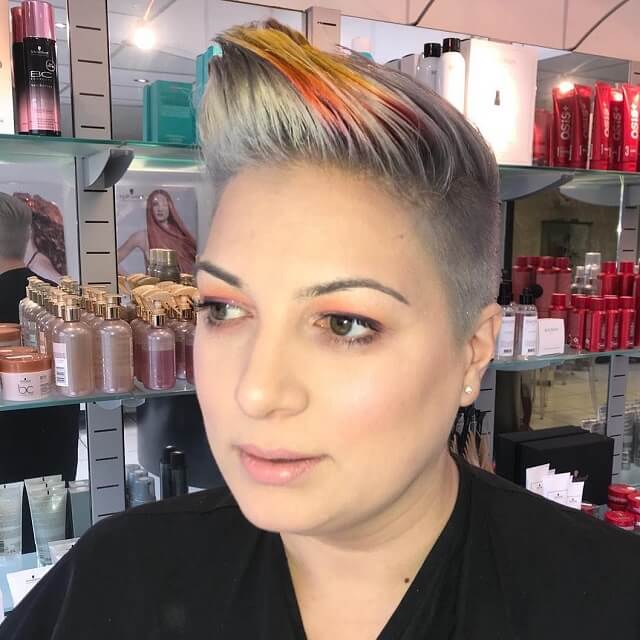 Spike your pixie cut up in a pointed tip while keeping the undercut untouched to make it appear swell and sublime. Highlight a slight part of your platinum blonde pixie in orange and yellow shades to seem more eye-catching.
Suitable for:
Round faces appear funky in this look. It's a perfect look for this modern era.
13. Shaved Undercut Pixie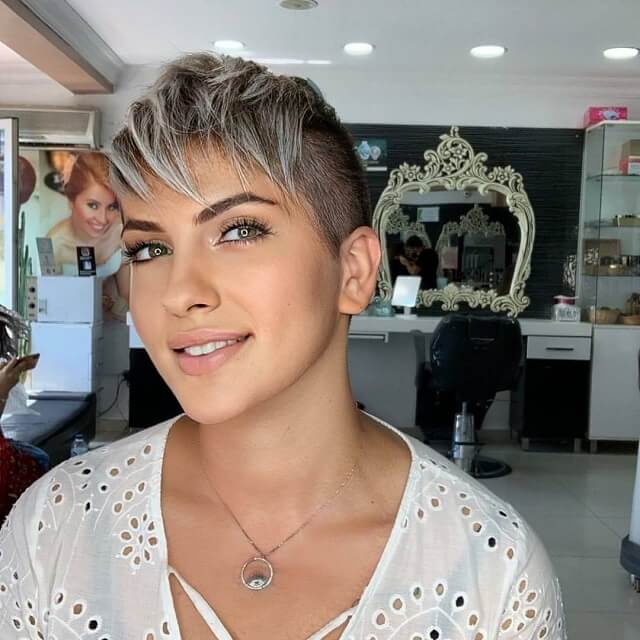 A shaved undercut with a pixie haircut certainly has a distinguished reputation of coming off as engaging and stylish. Deposit your hair in a radiant silver-grey maintaining the authentic dark roots for this voguish look. 
Suitable for:
A diamond-shaped face is befitting for this cut. It looks exceptional in such a haircut.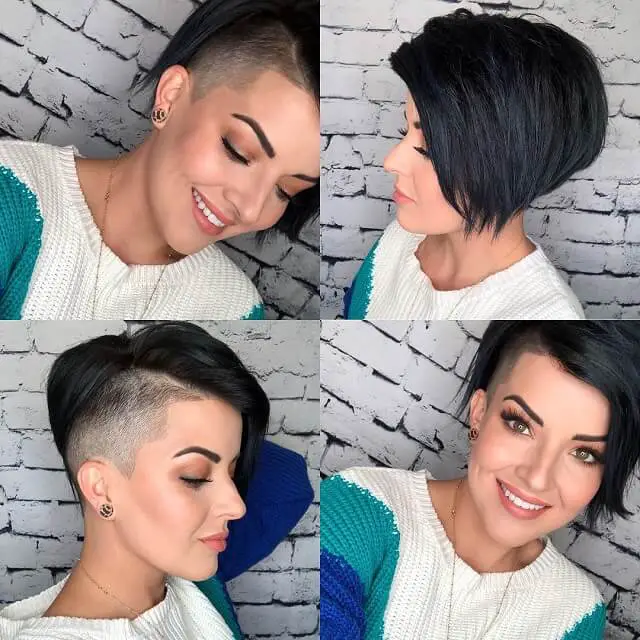 Let your naturally dark hair shine with embezzlement through a shaved pixie cut. Shave only one side of your hair, keeping the back of your hair shorter than the other side to appear stunning and terrific.
Suitable for:
Square faces look fantabulous in this cut. You show off your impeccable angular jawlines in this look.
14. Undercut Pixie For Fine Hair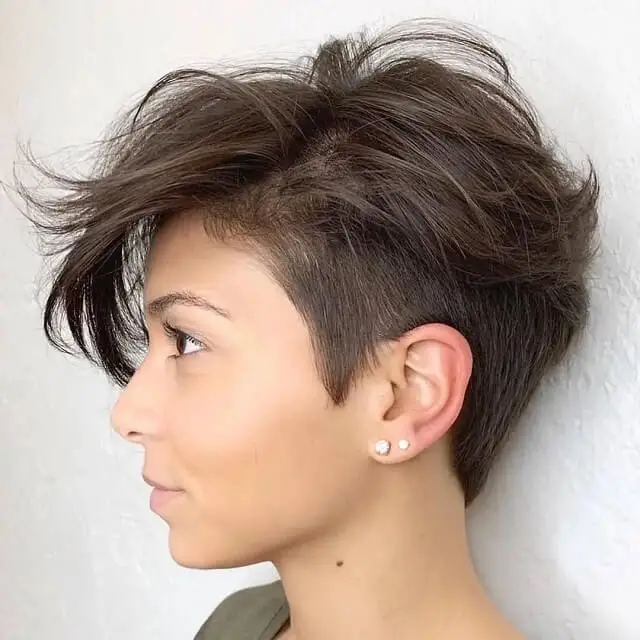 Fine hair possesses an enchanting look that has an uncommon delicacy. This enchanting look gets heightened in an undercut pixie for fine hair. Create an untidy look on top and keep the roots in your undercut longer than usual for this look.
Suitable for:
This haircut reaches its peak in diamond-shaped faces. It has a stellar feel to it.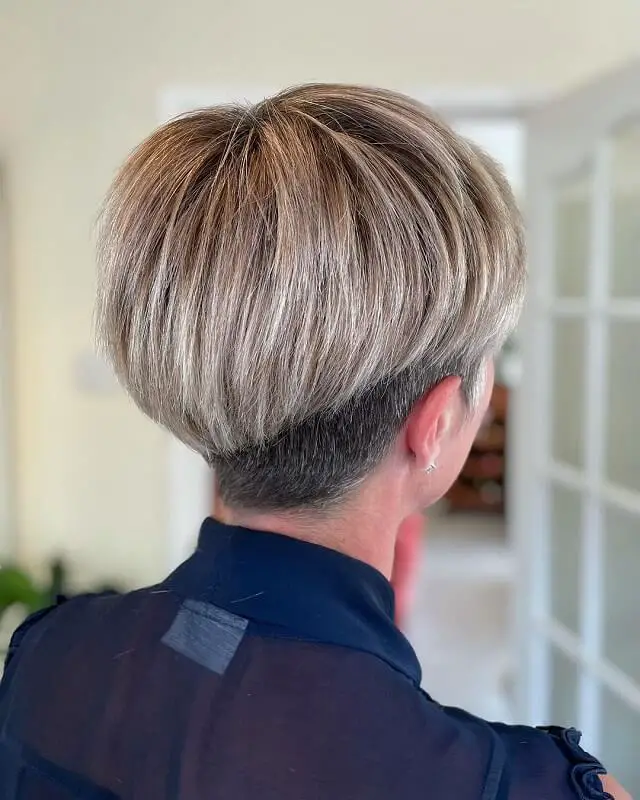 Give your pixie a round trimmed undercut for a neat pixie look. Maintain a darker blonde on top which slowly alters into a lighter tone. The fine blonde hair flaunts its higher volume and density in this style.
Suitable for:
Oval faces can pull off any haircuts easily. So a pixie undercut for fine hair is no big deal to it.
15. Undercut Pixie Over 50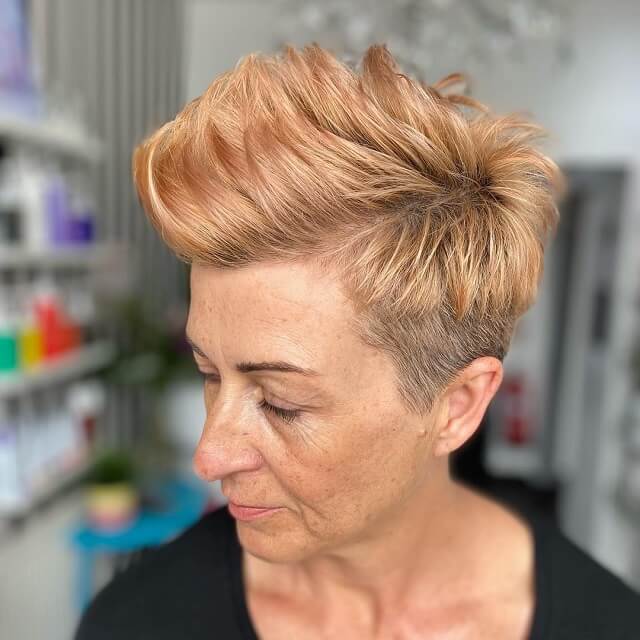 Your edge doesn't fade with your age. So keep up with this fun and dynamic world with a pixie. Spike one side of your up, letting the other side rest. Color it in an orangish blonde to stand out.
Suitable for:
Let your extraordinary oblong face shine with this undercut pixie over 50. This short style flatters this face shape highly.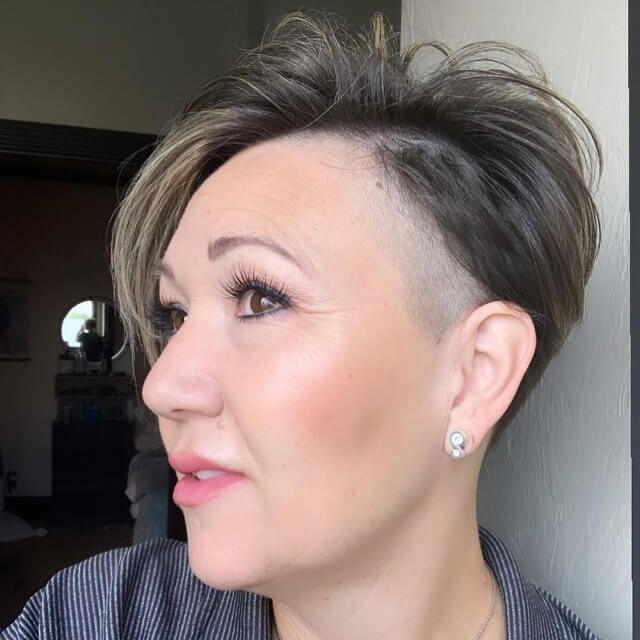 Impress the world with your pixie cut at the age of 50. Sweep your fine hair back on one corner, allowing the other to fly and highlighting your dark hair with silver hues. This is undoubtedly a heavenly look.
Suitable for:
A heart-shaped face can capture the charm of the haircut adequately. It uniquely expresses your elegance.
16. Pixie Undercut For Older Women
Older women can rock a chic pixie undercut haircut as much as the youngsters. Chop your hair in an asymmetrical cut to appear outstanding in your smooth, delicate blonde hair. This look radiates a modern, fashionable vibe that keeps up with the time.
Suitable for:
Mesmerize the world with your oblong face in this haircut. You will look lovely and swell in it.
17. Platinum Undercut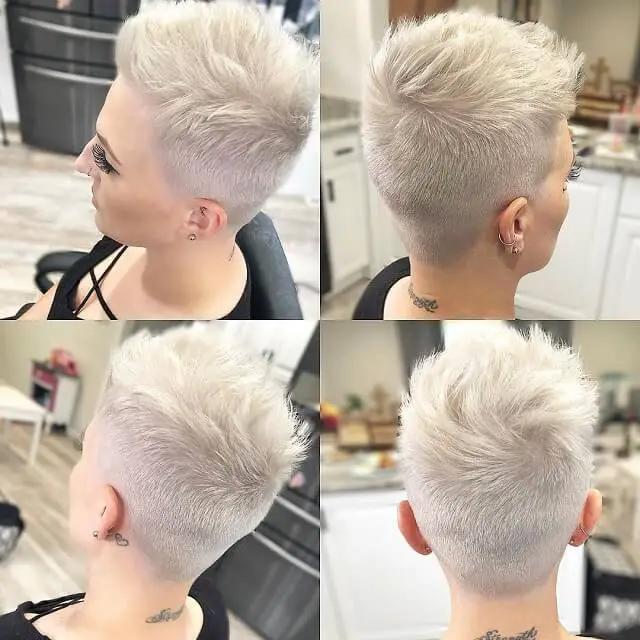 Want your pixie to come off as sensational with an undercut? A platinum pixie undercut will faithfully be up for the job. Trim your hair in an undercut, spiking it up slightly and finally toning it in a platinum blonde to complete this look.
Suitable for:
The square face is perfect for such a style. It brings out the boldness of your strong jawlines.
18. Funky Pixie Undercut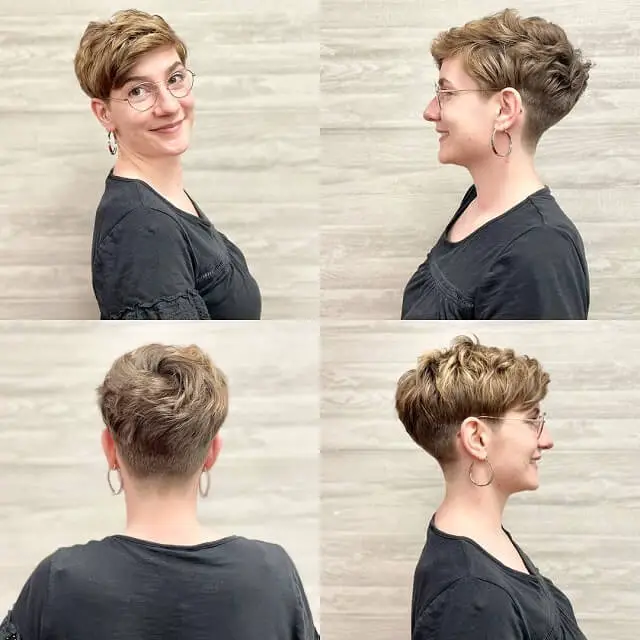 Sway everyone with a creative funky pixie undercut. For this look the undercut should be subtle, letting the pixie have the spotlight. Mess your blonde pixie a little to appear terrific. This simple yet chic look easily wins the heart of many with its charm. 
Suitable for:
Funky pixie undercut suits square faces the most. It takes a stunning form in such faces.
19. Pixie Haircut With Undercut Back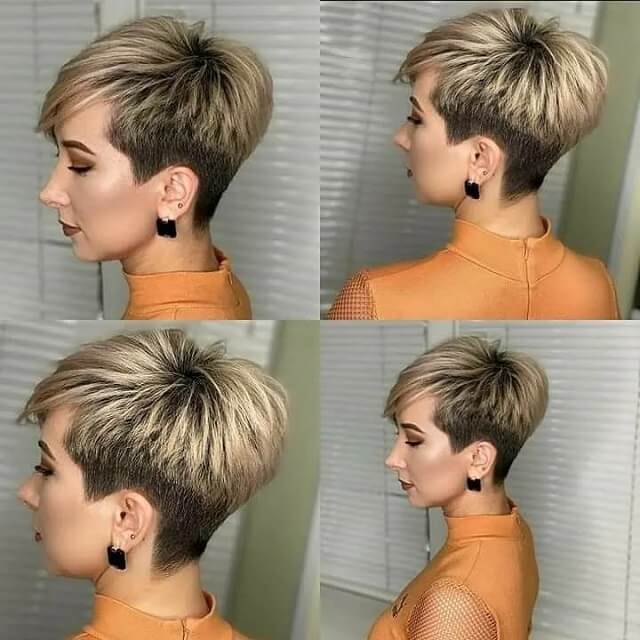 Pixie haircuts have adorned a lot of stylish-haired women with elegance and modernity. Fashioning it with an undercut back only upgrades the look. Keep your dark roots intact for the undercut and tone the pixie in a light blonde shade. 
Suitable for:
Your heart-shaped face will be able to catch the essence of this curt. This haircut is undoubtedly a crowd-pleaser.
20. Undercut For Short Wavy Hair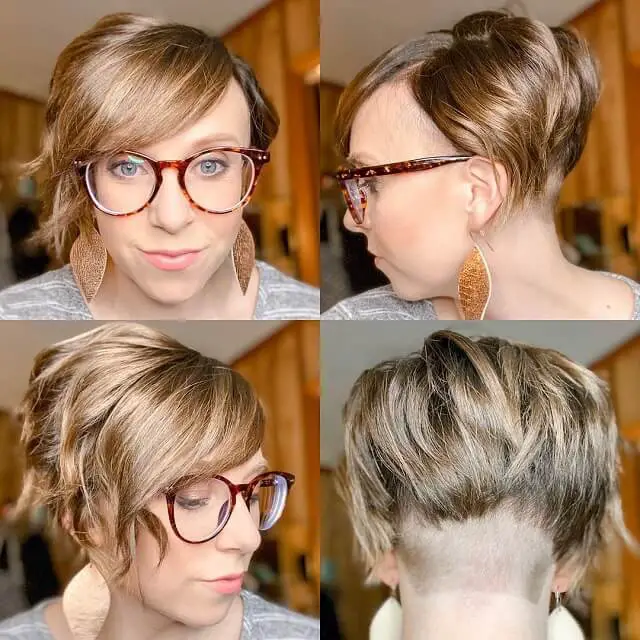 Give your wavy hair the extra nudge to seem trendsetting and superb through a pixie undercut short wavy hair. Trim the back of your hair thoroughly but not entirely and let your waves flow. Your beautiful brown waves get highly accentuated in this haircut.
Suitable for:
Short styles are interconnected with oblong faces. That's why this haircut will suit oblong faces the most.
21. Grey Pixie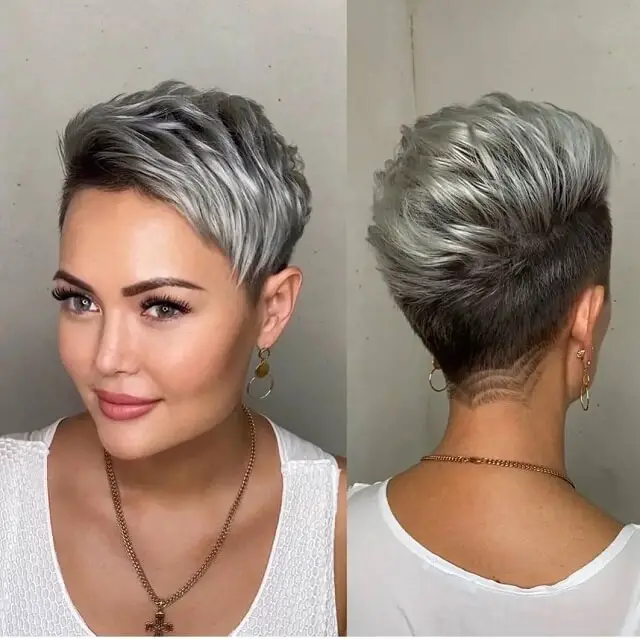 Convey your fashionable persona and sassiness by chopping your hair with a grey undercut pixie. Shave the back in a distinctive design to make it stand out. Tone your hair with blonde highlights to pull off this look.
Suitable for:
Square faces can properly portray this haircut's solidity. It's a stunner look that's unavoidable.
22. Layered Pixie Cut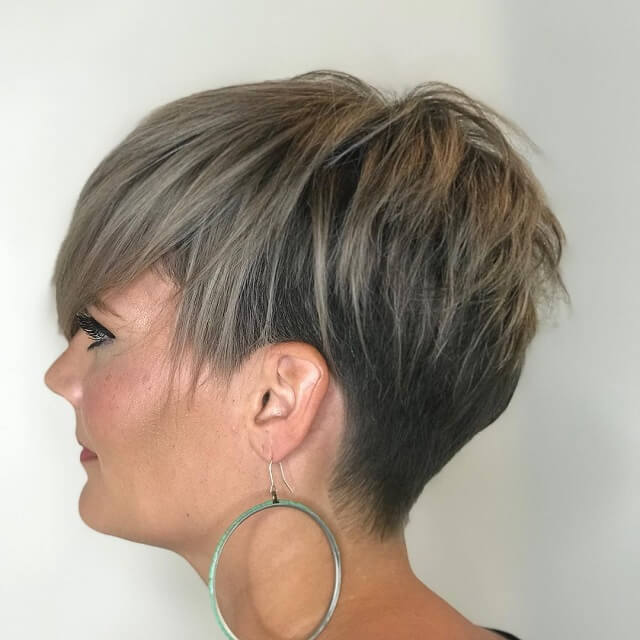 Raise your trendy pixie cut higher to a fresh level with a layered pixie cut. Add a heap of layers to the pixie and long bangs at the front to complement your gorgeous hair with elegance and take it to utter and complete perfection.
Suitable for:
Need something for your oblong face? This haircut is appropriate for such a face.
23. Disconnected Undercut With Pixie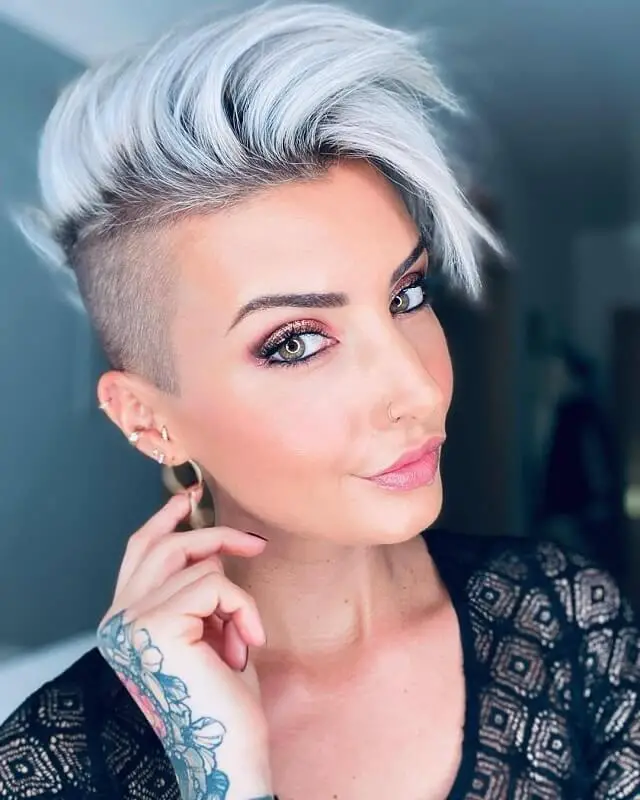 Appear daring and bold with a disconnected undercut pixie. Puff your hair up in a side section, shaving the shorter section. Finally, tone your hair into a neat silver hue to appear staggering and out of this world.
Suitable for:
Heart-shaped faces can express the beauty of this haircut to perfection. It looks chic and bold in such a face.
24. Classic Undercut Pixie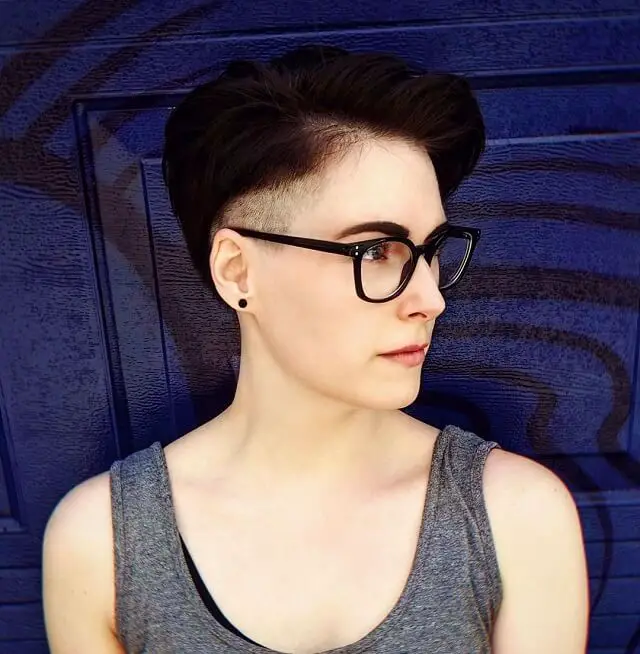 Nothing can beat the classic pixie. It is true to its authenticity, making you appear in style and class. Do a side part where the wider part is puffed up for an awe-striking appearance that makes you stick out.
Suitable for:
As always, women with oval-shaped faces can easily execute this look. They will look dainty and modern in this cut.
25. Multi Colored Undercut Pixie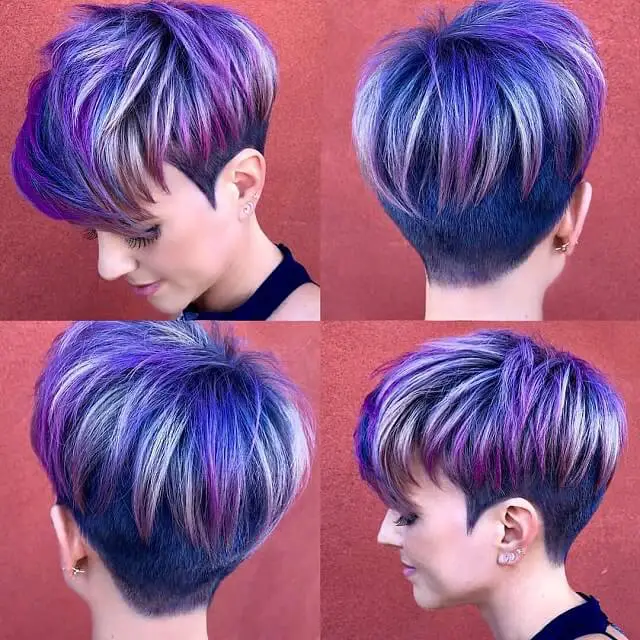 Let your marvelous vibrant personality strive through a multi-colored undercut pixie. To pull off this look, you can tone your hair in a diverse spectrum of blue and purple tinges decorating the undercut with style and sophistication. This is undoubtedly a kicker look.
Suitable for:
Capture the pure essence of your diamond-shaped face with this haircut. It makes you appear sharp and snappy.
Undercut pixies are the epitome of modern chic hairstyles which combine two fashionable haircuts. The appeal of this haircut is its adaptability and ease, as well as its unrivaled excellent appearance.
This haircut will make you -"Shine bright like a diamond"- as Rihanna suggested. This haircut is something you can't miss if you're a fan of short haircuts.
So check the list of the most exceptional haircuts for you and get to the salon right away!