Not every short hairstyle is good for a round face, but these pixie cuts for round faces seen below are so cute that you simply can't resist trying them for a change. You can wear them in different interesting hues and they add finesse to your hair collection. Try a pixie cut today!
Versatile Round Face Pixie cut to Try
Pixie cuts are great on round faces. They complement the curves effortlessly while reducing the width with charm and grace.
1. Round Face Pixie Cut
Take a look at those gorgeous silver tips! This round face pixie style boasts darker roots and is a beautiful blend of side-swept hair at the top with a smooth undercut, giving you a timeless look. The color-contrast gives this style a sassy edge.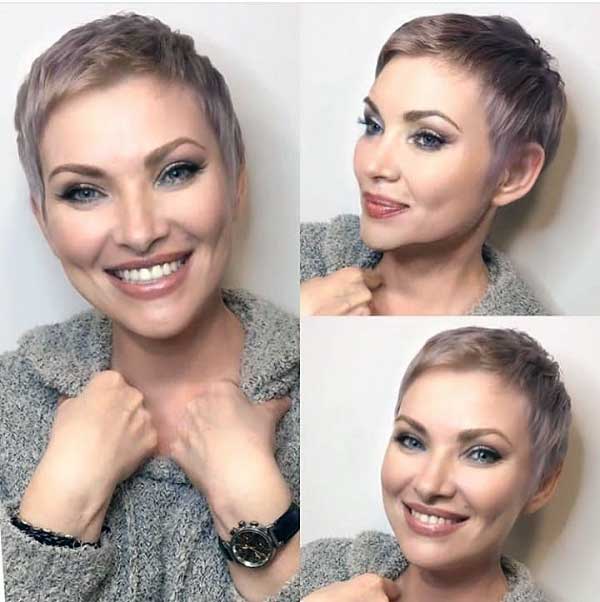 There is something very vibrant and youthful about a low cut pixie style on a round face. Short and cropped hair cuts look fantastic on round-faced women and are especially preferred by stylists for slimming down a client's face.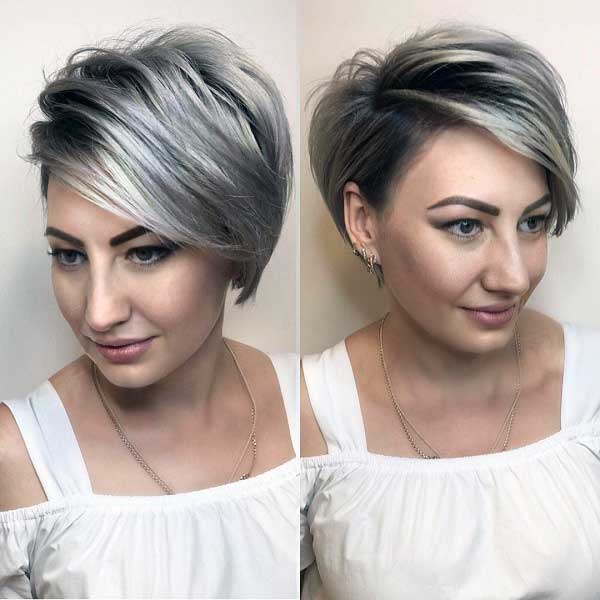 This tousled pixie cut comes in an alluring grey hue with brilliant highlights and a side part adding extra dimension to this cut. You can add texture with hairspray and it is perfect for a night out with the girls.
2. Edgy Pixie Cuts For Round Faces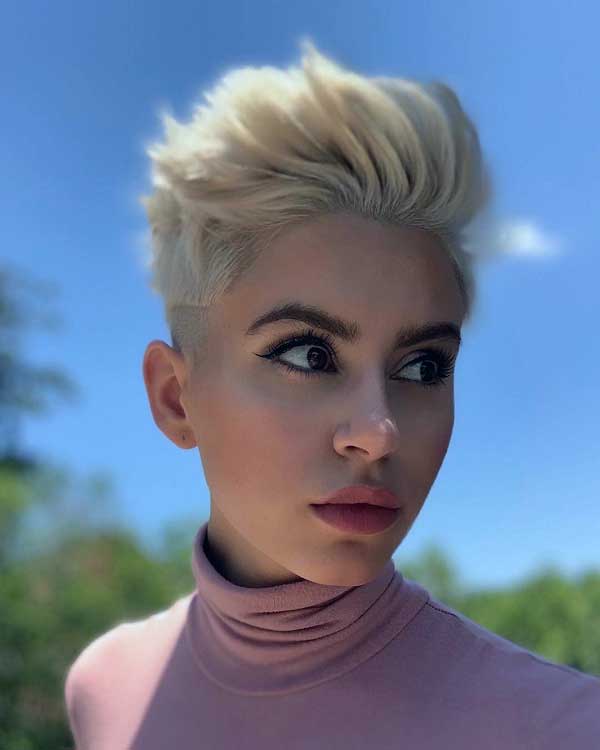 Nothing draws attention to your round face than a short pixie cut. This cream-colored, short quiff adds height above the forehead and is an easy option that lengthens your face instantly. It is suitable for women with round and heart-shaped faces.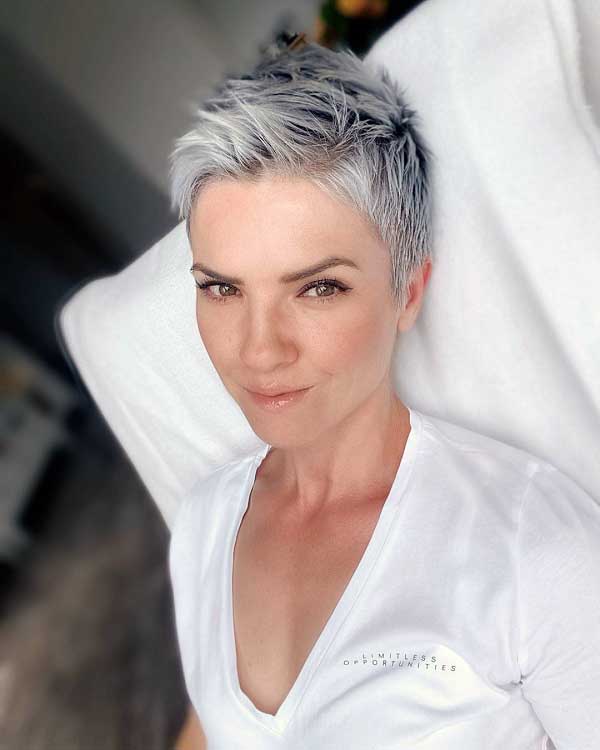 Dark roots are a sure way to add extra contrast and glam to your style. This pixie cut is designed edgy with uneven feathered layers and contrasting lengths and an amazing silver hue, making it a chic and sassy choice for round face.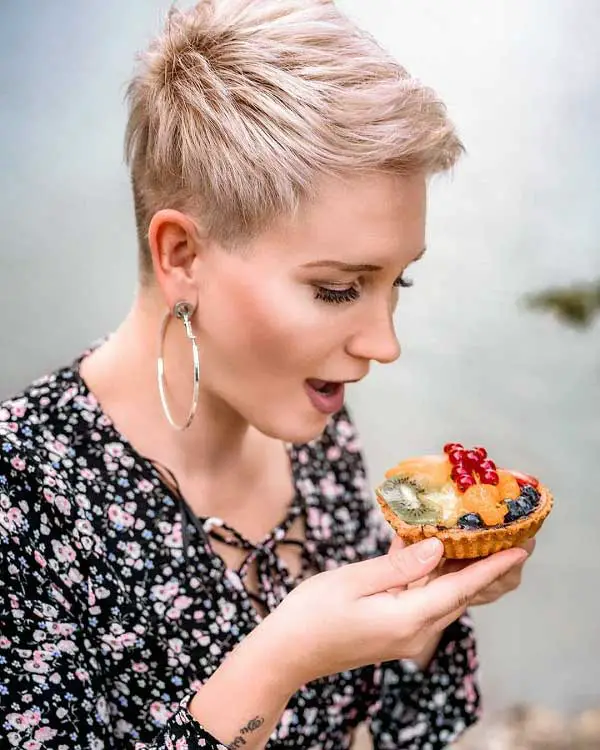 Soft spikes and sleek bangs give this classic pixie a modern appeal. The haircut is perfect for experimenting with new shades because it grows out quickly and requires little maintenance. It perfectly shapes and adds dynamism to your round face.
3. Round Face Pixie Cut Plus Size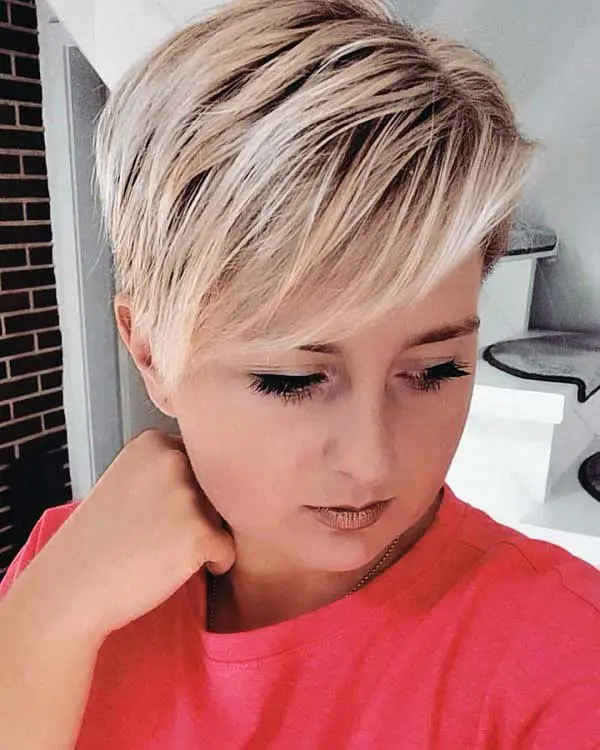 Being plus size is not an excuse to pass up this gorgeous pixie cut. The blonde highlights and darker undertones jazz up your look, with the side-swept bangs accentuating your facial features. You can't go wrong rocking this cut!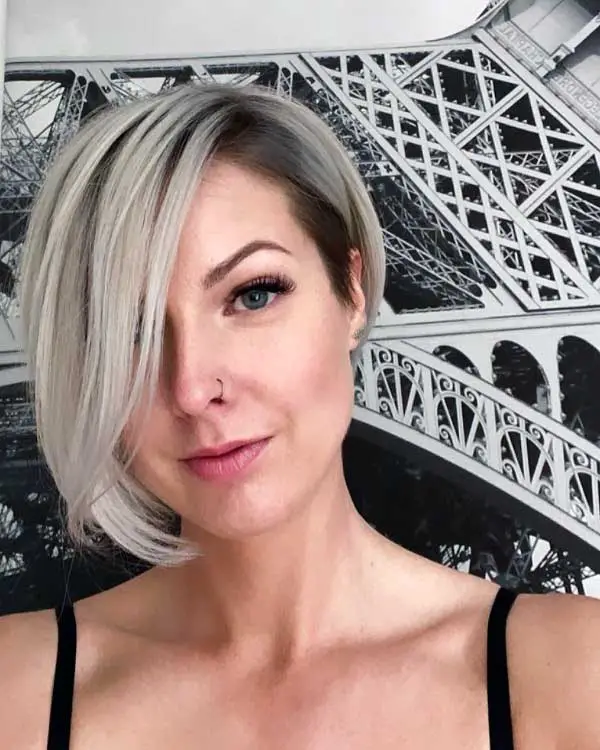 This pixie cut has a stunning silver, long fringe that beautifully flatters your round face. It boasts dark-colored cropped sides and a side parting that enhances the elegance of this cut. It is a great fit for an evening date.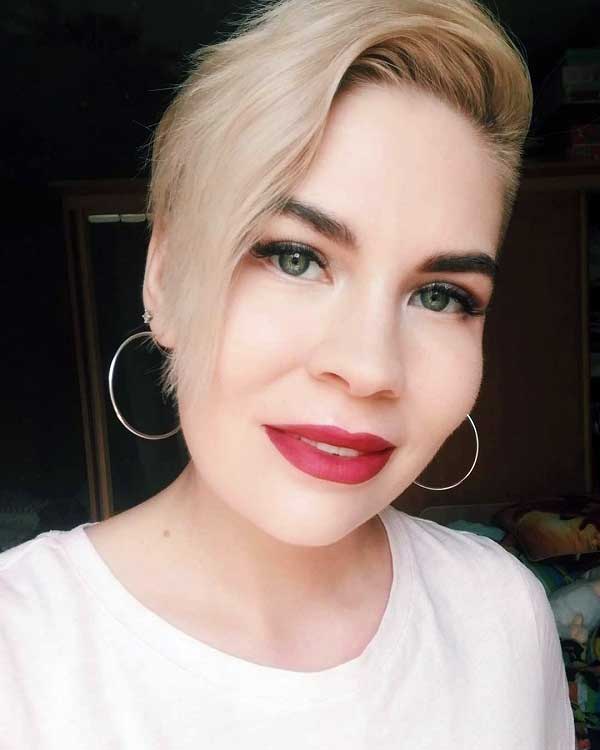 You can't help but fall in love with this round face pixie hairstyle! It is edgy and textured with side-swept bangs that highlight and lengthen the face. The contrasting undercut sides and lovely golden hue give it a spectacular urban essence.
4. Long Pixie Cut Round Face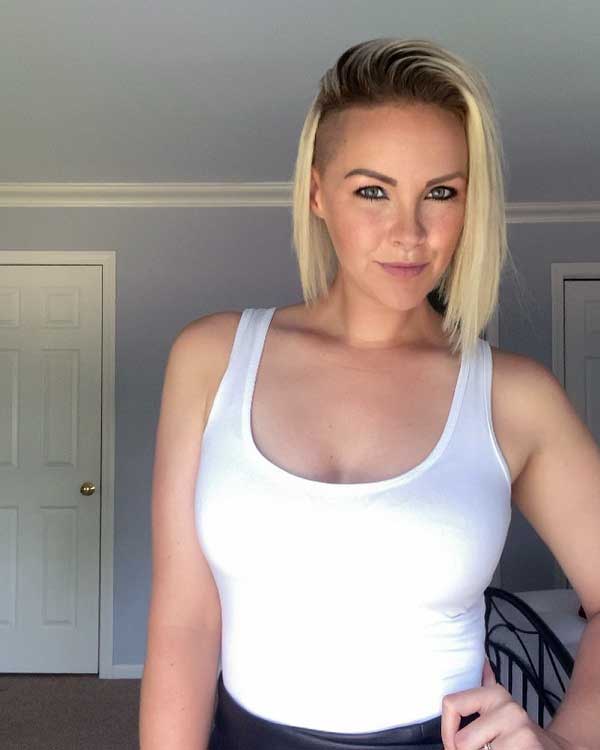 This is an unconventional variation to the pixie cut. Its side-swept long bangs transition from dark roots to blonde straight hair, with an undercut side that gives it extra dimension and finesse. It is sure to show your creative side.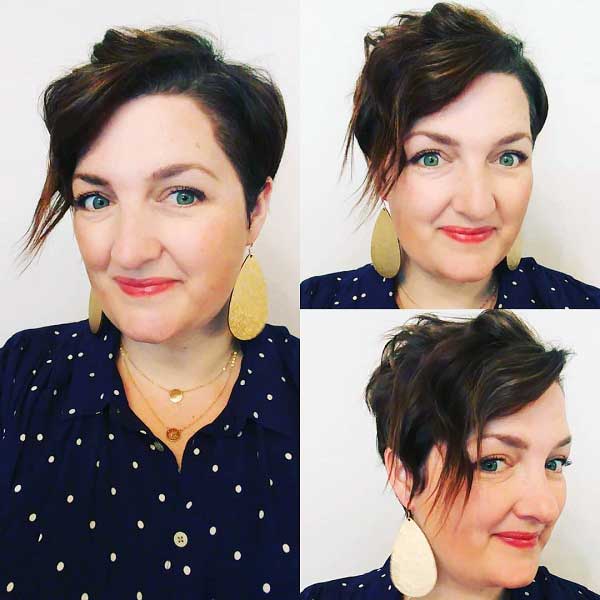 Pixie cuts are always in vogue and bear an intriguing charm. This style has soft, golden highlights, with tousled top, side-part, and jagged edges. The chubby rosy cheeks and matching red lips make the look as girly as can be.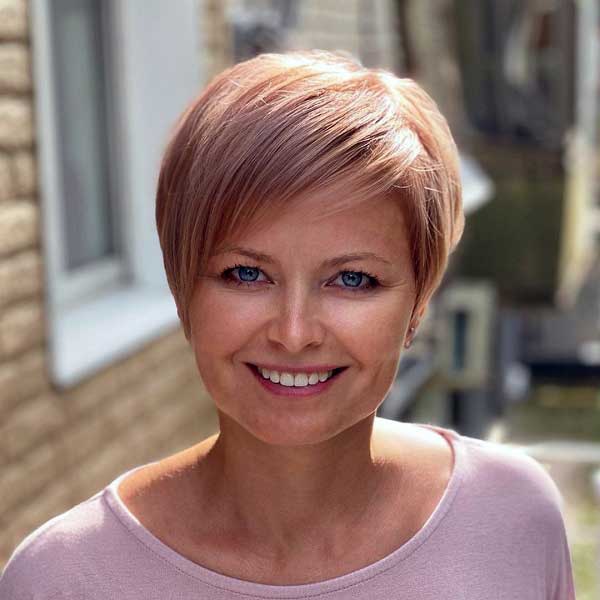 This stunning style hugs her round cheeks, with bangs accentuating her eyes and other facial features. There is more volume towards the front of the cut and the deep side part adds a beautiful transition from low to voluminous hair.
5. Pixie For Round Chubby Face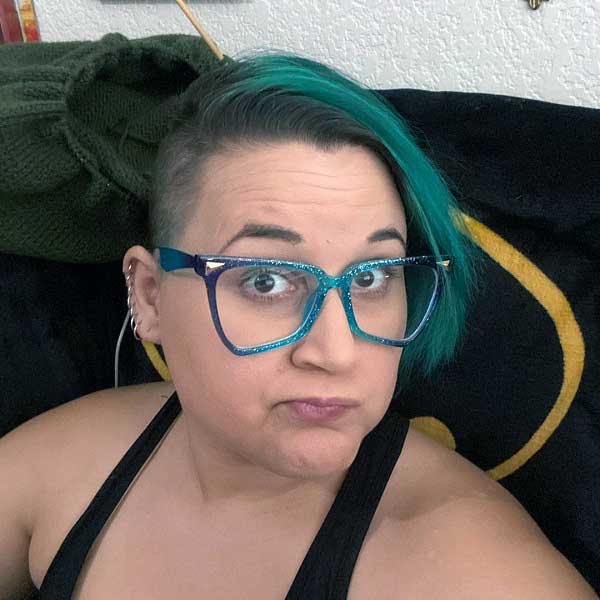 Here's another pixie cut that makes your round face appear oval. The layers in the swept-over section create volume while the shaved side adds extra bite to the look. Its side bangs are colored green to create an interesting finish.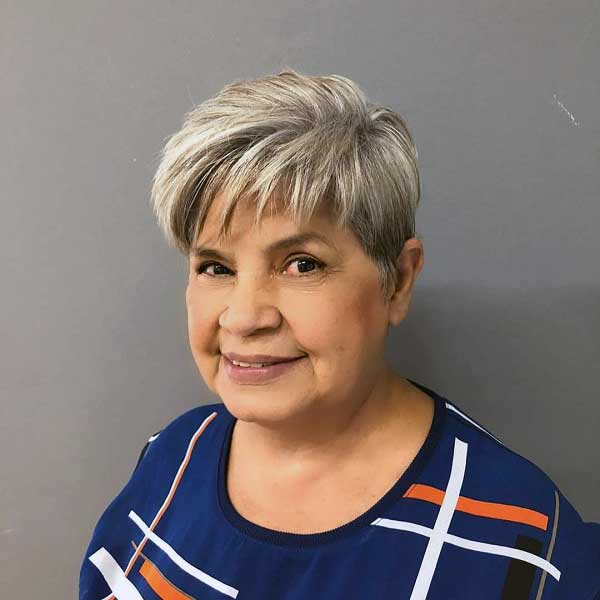 Highlight the upper part of your face with a smoothly styled fringe that draws attention away from any extra thickness around your chin! This cut beautifully frames your face and is well suited for any occasion – casual or formal.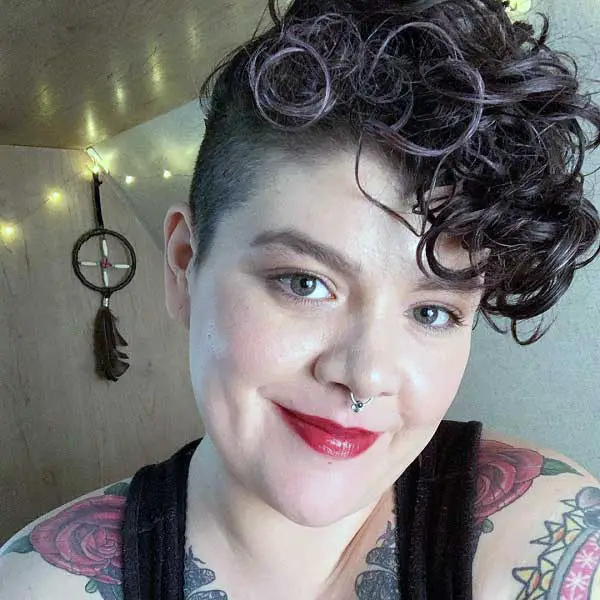 Curls! Curls! And more curls! This round face style is an amazing addition to your hair collection for any season. The classic undercut sides transition smoothly into remarkable wavy locks at the top, falling above the eye to give a "bang" effect.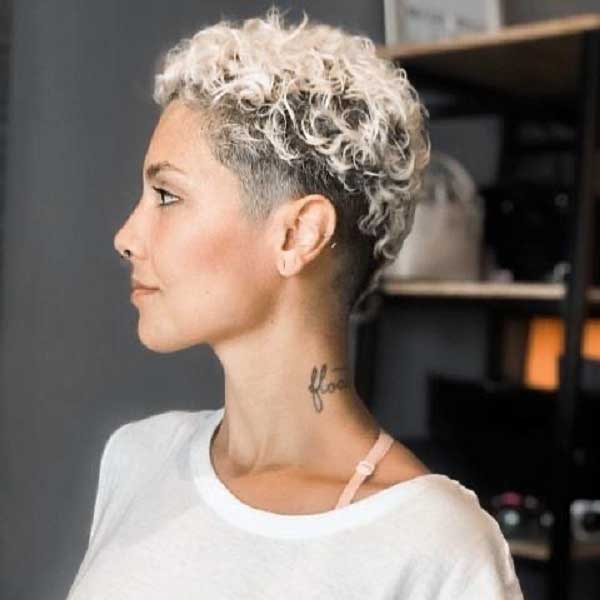 Blonde is such a beautiful color, especially for short hair. Sporting undercuts and darker roots, this pixie cut highlights your features and is perfect for a fun outing. It is easy to maintain and a great option for round-faced women.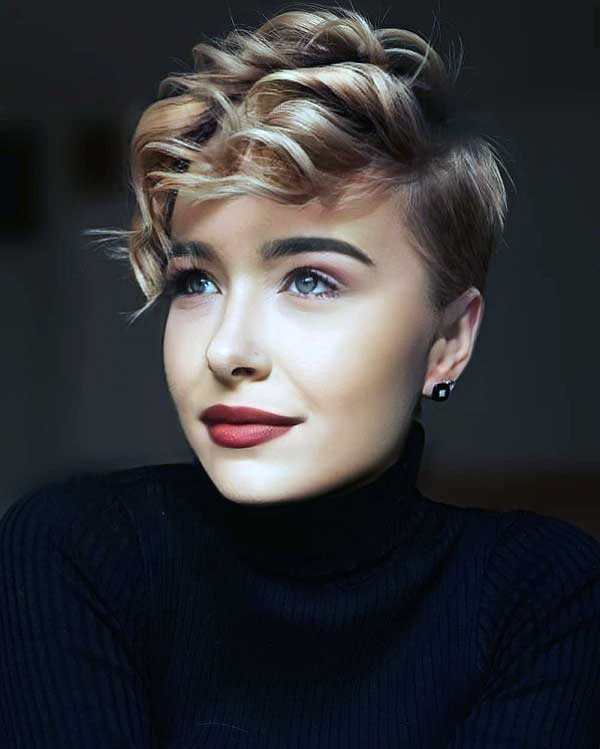 This unique round face pixie cut features cropped sides with messy waves at the top that frame the face and outstanding highlights that make your hair pop. It is a modern reinvention of a retro look and would surely make you stand out.
7. Round Face Layered Pixie Cut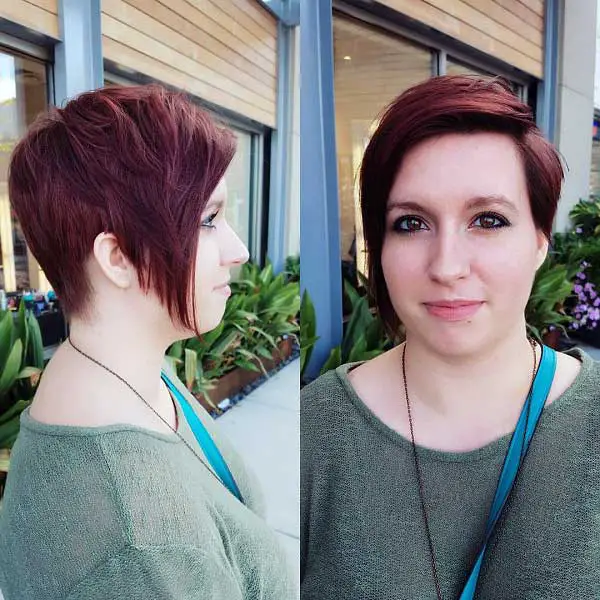 Why not try interesting colors with your hair? This wine-colored spectacle is a trend-setter in the fashion sphere. It has a deep side part that breaks the symmetry of a round face with extra layers for a more voluminous look.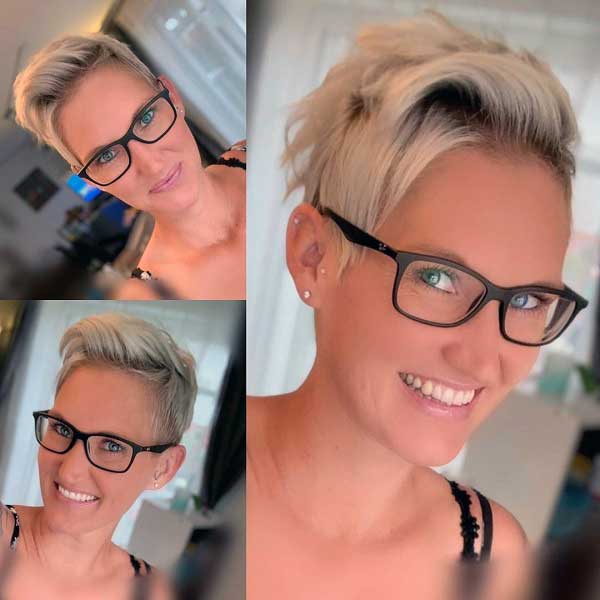 Introducing angles is a must when styling your pixie cut. The combed-over hair creates an asymmetrical twist that follows the angle of your bone structure, elongating and defining your face, despite plump cheeks. It comes in a heart-warming blonde hue.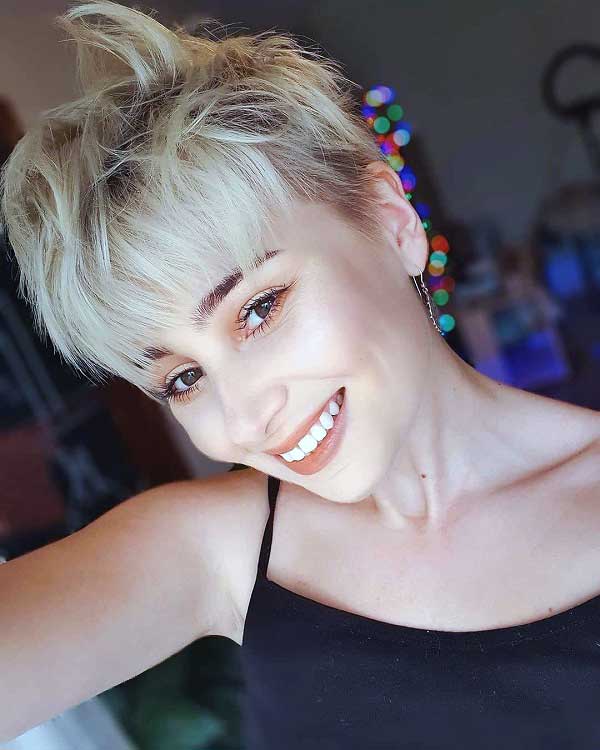 This choppy pixie hairstyle is full of life, with messy tresses that exude a lively and carefree nature. It stops right above the ears, highlighting and drawing attention to the eyes, giving you a youthful and refreshing overall style.
8. Pixie Cuts For Round Faces Over 50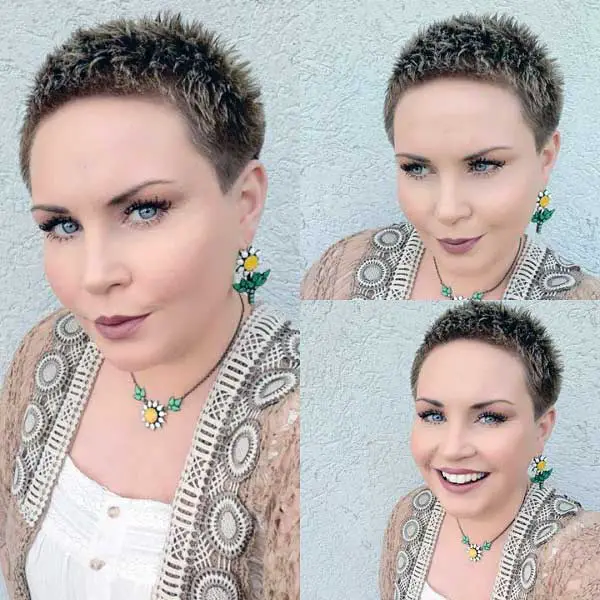 This style shows off your hairline, distracting attention from your beautiful round face. The short, pointy dark quiff adds height, which balances out the angle of the jawline. This really suits sporty or busy women with fine or medium hair!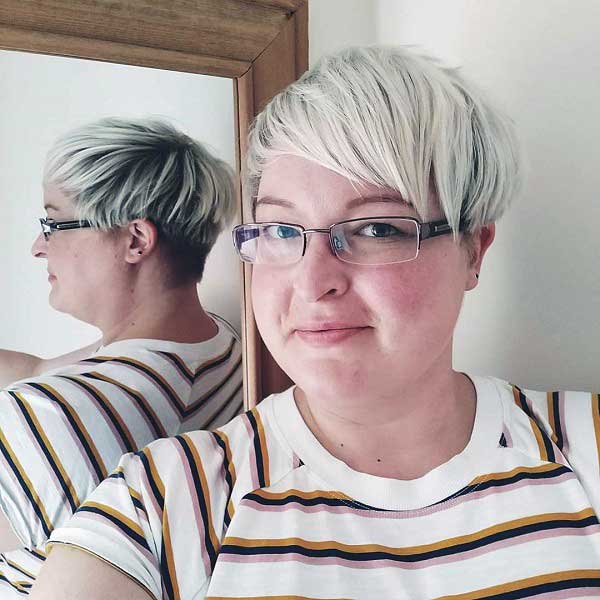 This is a new trend of pixie cuts that sports a nape and side undercut. It comes in a flawless silver color with dark undertones and is perfect for warm weather. This cut is great for fun-loving women in their 50s.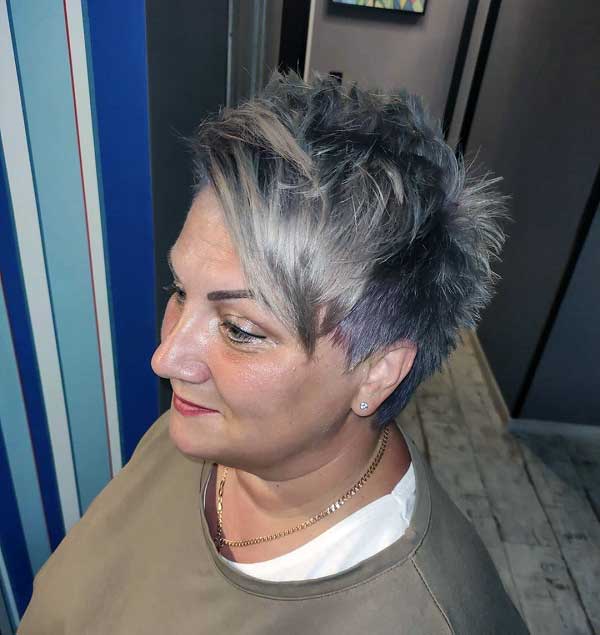 Isn't this just stunning? It has no hair falling along the face, hereby displaying her beautiful features. The top is tousled to give a messy and spiky finish. It is a simple yet chic cut for a 50-year-old.
9. Short Haircuts For Round Faces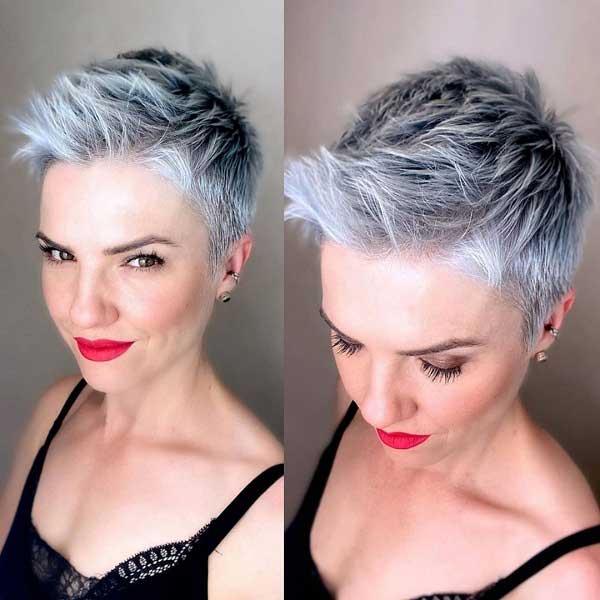 Looking for a convenient, yet super-hot day to day look? This short pixie cut for round face has pastel silver tresses and an upward quiff, with a shaggy outline that breaks up the circular form of the face in a stylish, high-fashion style.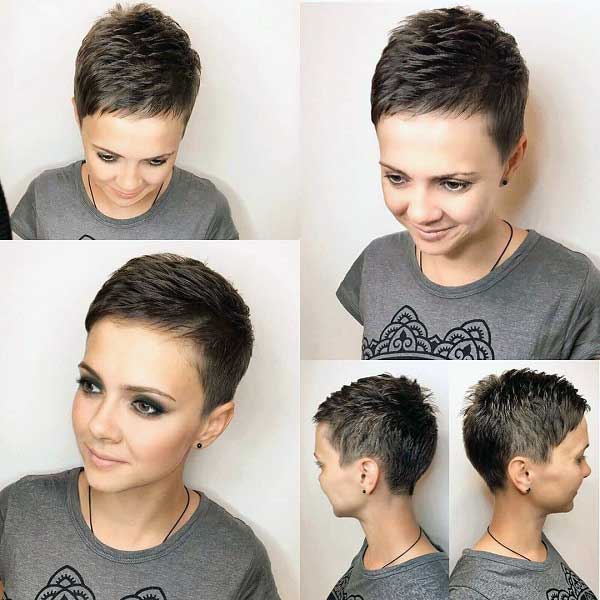 This is a wavy pixie cut that isn't over the top yet classy. The hair is cut very short and hugs the round facial features while donning nape and side undercuts for a dramatic edge. It requires minimal daily maintenance.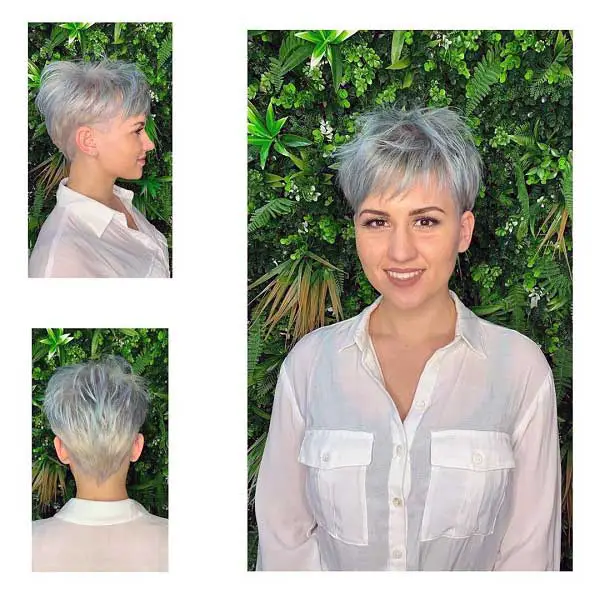 This grey pixie shows off your stunning sense of fashion. The closely cropped back is graduated upwards to below the crown while the length is tousled to add texture and volume. The short side-burns maintain focus on the upper face.
Read: Flattering Short Bob with Bangs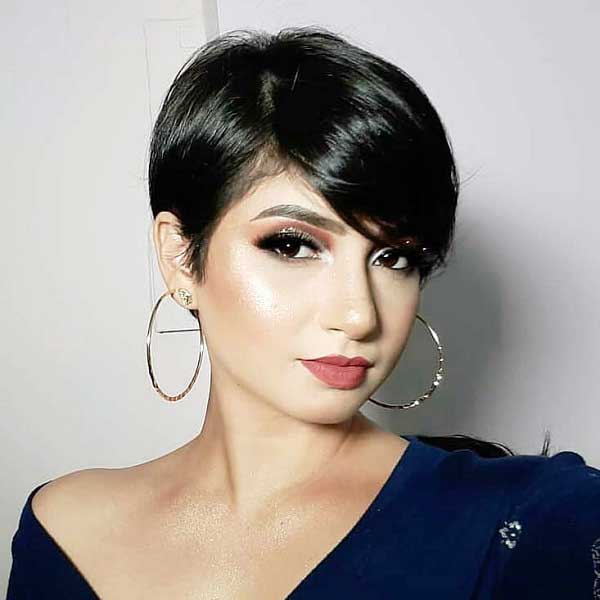 Jet black is an amazing color option for pixie hairstyles. This cut highlights your upper face with a smoothly styled asymmetric fringe that draws attention away from any double chin and slightly covers the left eye for a peek-a-boo feel.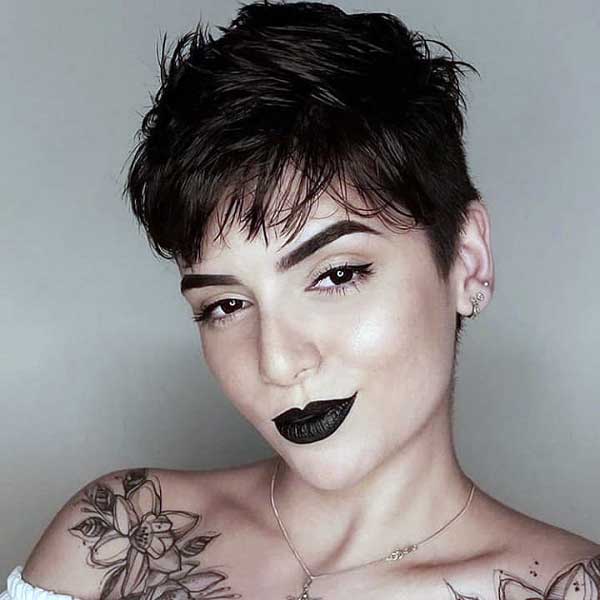 Layering pixies at the top give it volume while the short, scanty fringes beautifully frame your round face, enhancing the eyes as well as high cheekbones. You can get this cut in black, adding matching lipstick for a Goth-themed effect.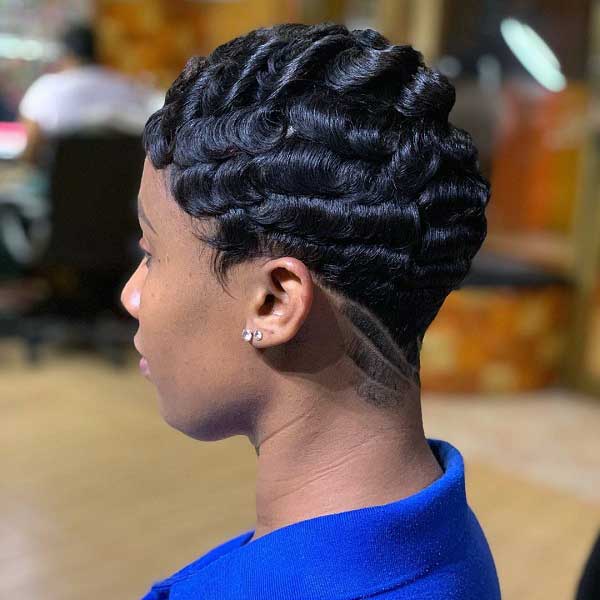 Rolling or tonging your black hair is definitely an option. This style displays an intricate arrangement and angling of the rolled coif with a stylish, nape undercut. It might take time to make but best believe it's worth every second.
11. Pixie Cut For Round Face Thin Hair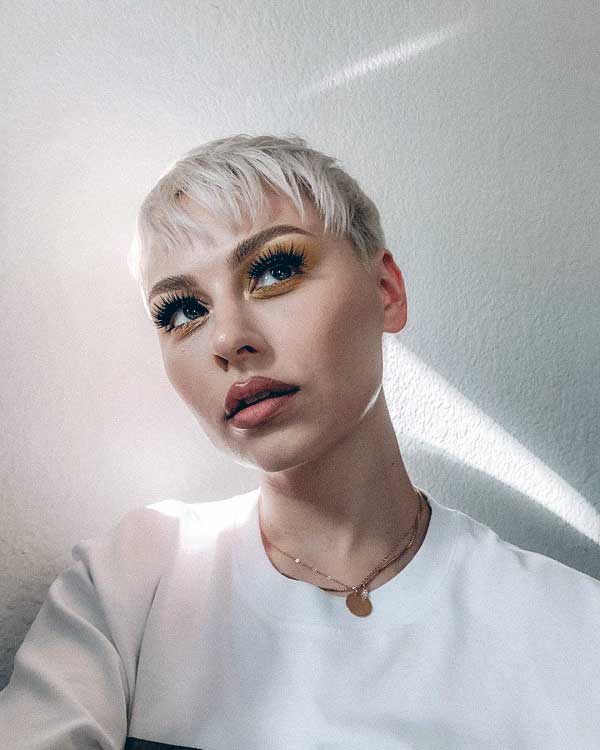 This is a short hairstyle achievable on a long pixie cut. The diagonal line of the long, asymmetrical silver side bangs tapers into a curve and draws the eye in towards the mouth, reducing the width of the round face.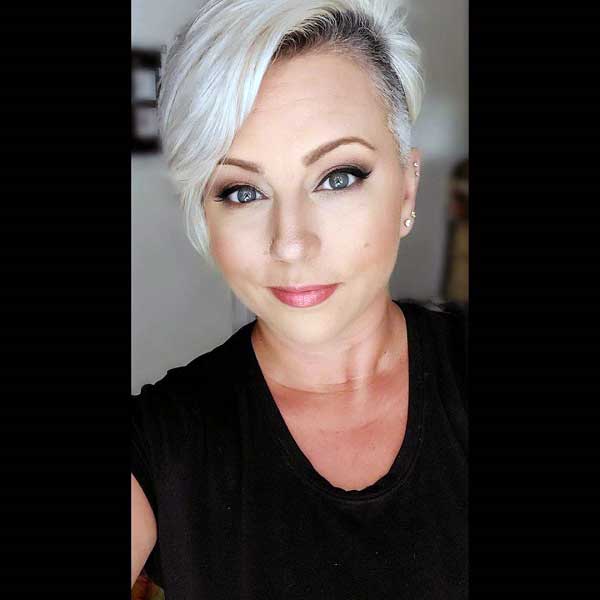 If you like bangs and fringes but still love short hair, this is for you. The bangs gracefully lie across the forehead with different layers while the fringe is short yet bold, complementing the overall style of this pixie cut.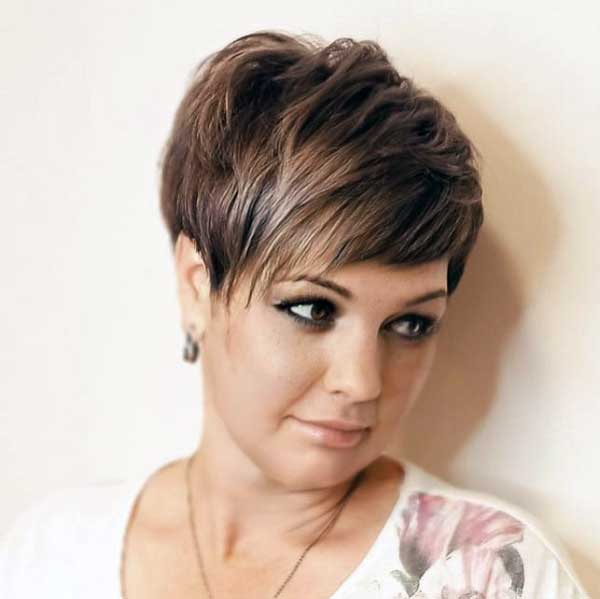 If you like bangs and fringes but still love short hair, this is for you. The bangs gracefully lie across the forehead with different layers while the fringe is short yet bold, complementing the overall style of this pixie cut.
12. Thick Hair And Round Faces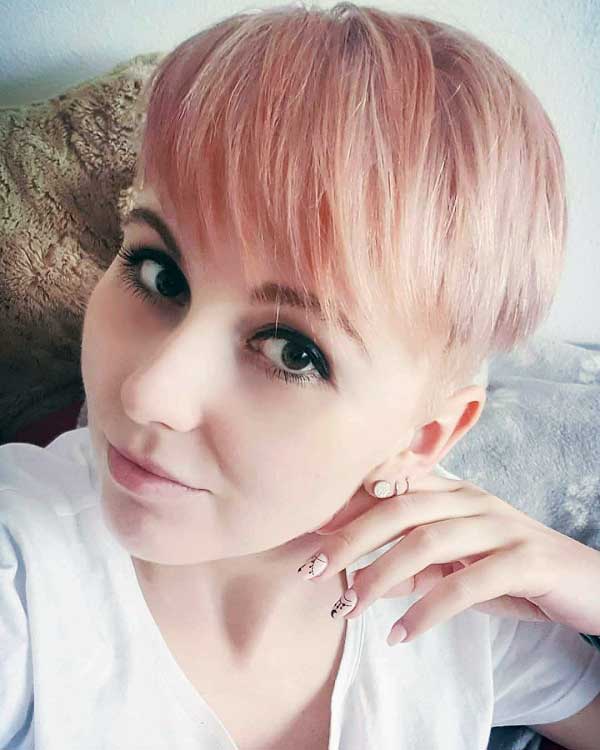 Fringes are a cool and unique way to add some flair to your pixie hairstyle. This cut comes in a pink-tinged blonde hue with the hair at the back kept low. It however requires a little more maintenance than most.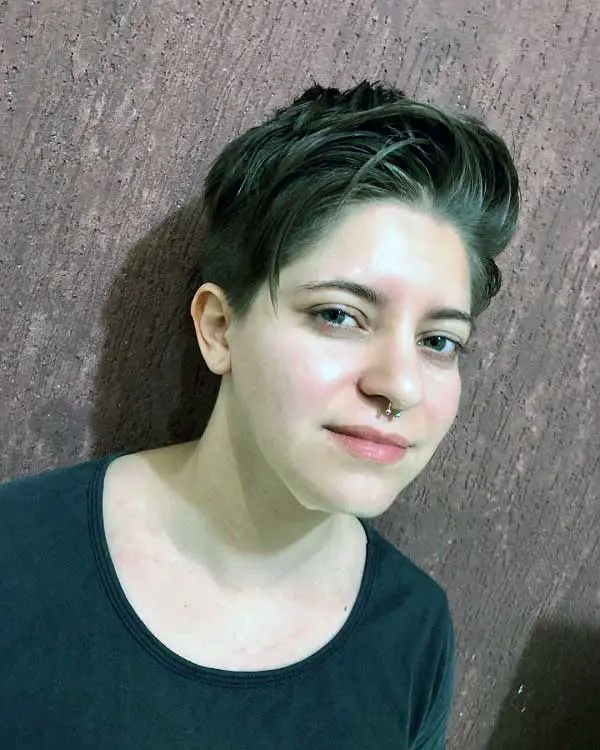 This is another pixie cut for round faces. The front is combed to the side which adds texture and volume to the hairstyle. It is chic yet urban style and can also be rocked by women with heart-shaped faces.
Nothing gets your creative juices flowing than this cut! It has beautiful blonde side bangs that cover an eye, with a deep part adding some dimension and darker brown roots for contrast. The hairstyle is perfect for any casual event.
13. Pixie Cut for Round Face With Bangs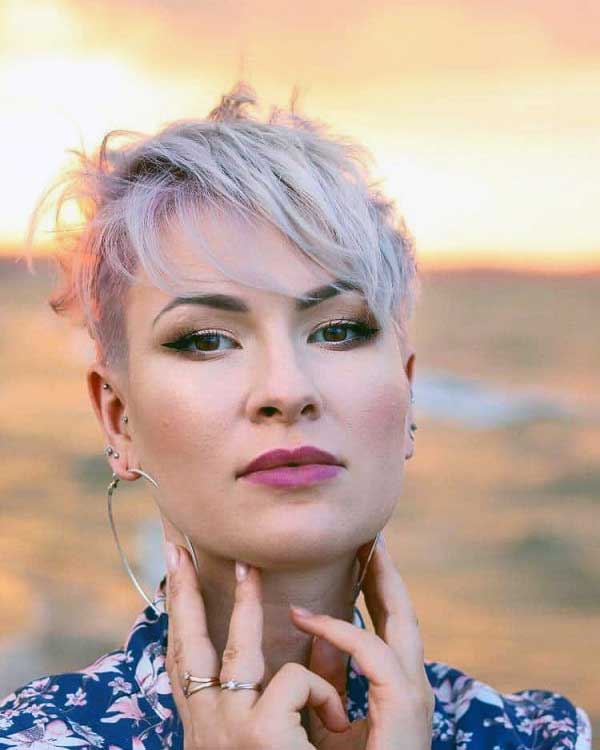 This ash pixie cut with layered bangs, is the ultimate style to try this season. The messy bangs help frame the forehead while its cropped sides accentuate the feminine allure of the cut, giving you a new lease of confidence.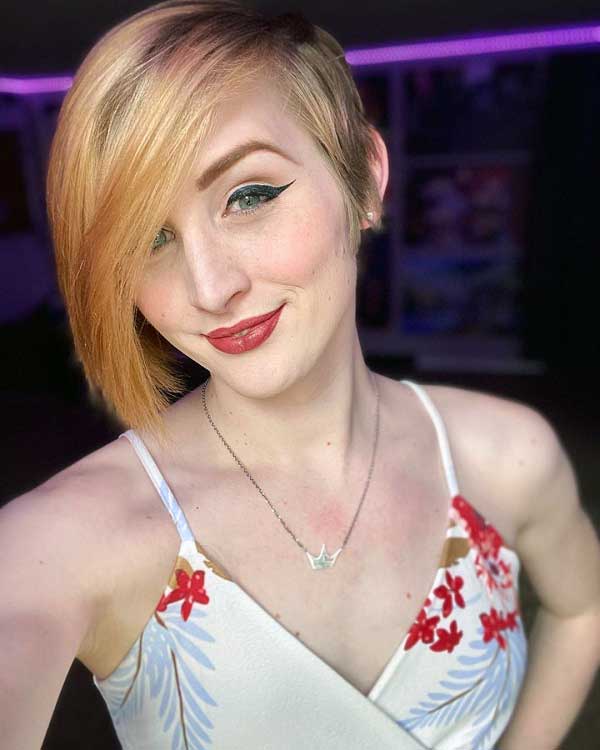 Bangs are just so lovely! This pixie cut for round face has a long diagonal side bang that helps tweak your fairly symmetrical round face to achieve a perfect oval face shape! It comes in an attractive light brown hue with darker cropped sides.
14. For Round Face Black Women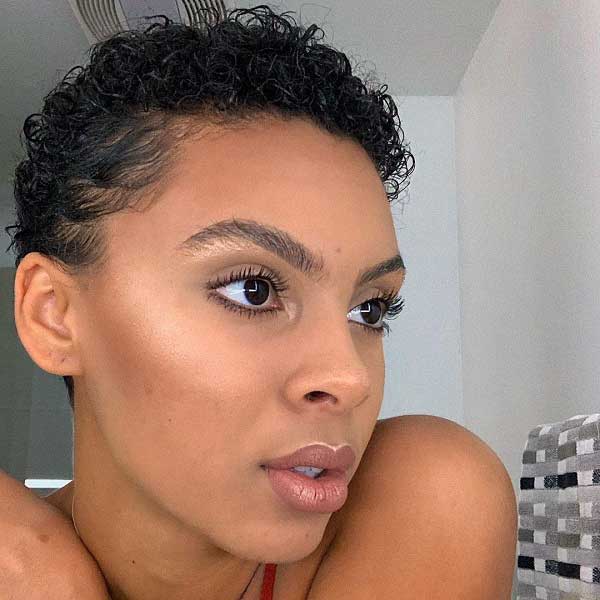 This pixie haircut is simple and lovely, relying on the beauty of your natural hair and a distinct sense of style. If you have been considering chopping your long locks, this is a good cut to try. Add curls for finesse.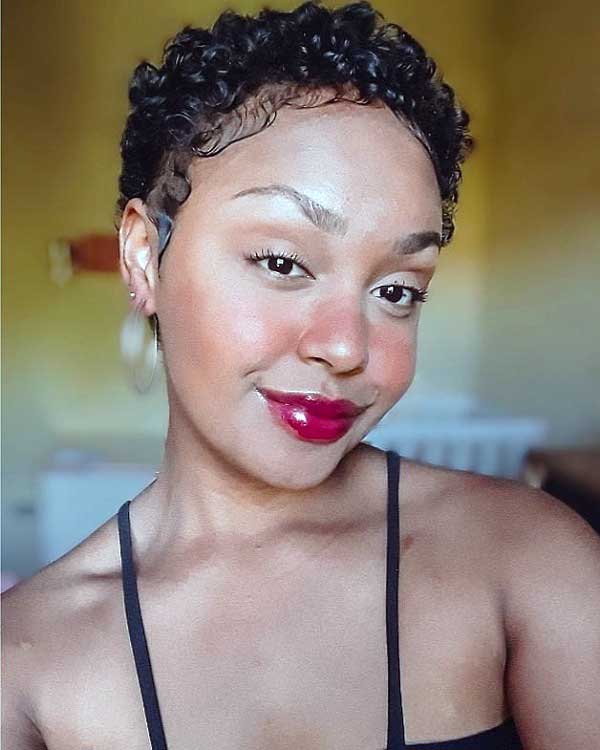 Round-faced women with beautiful facial features can pull off this short pixie haircut. African American women in particular, do well with this, thanks to their hair's natural texture and volume. The cut also sports amazing curly baby edges.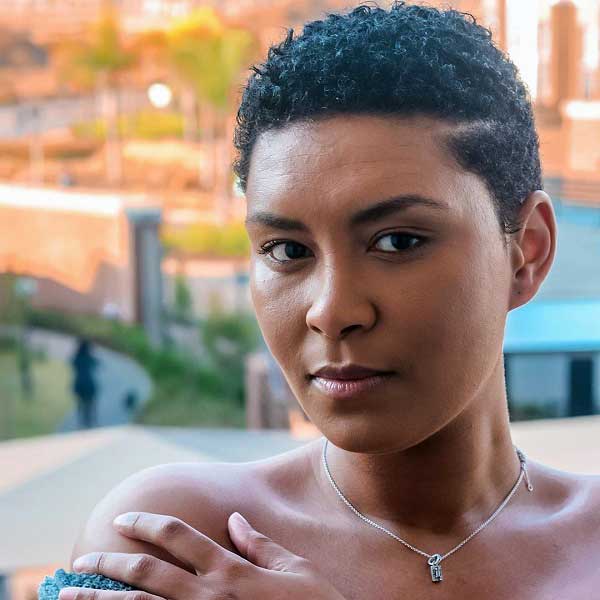 Black hair is often very thick, which makes styling difficult. However, with this short haircut, the sides are clipped extra short above the ear line, while the top hair curls beautifully. You can divide the two sections with shaved lines.
15. Undercut Pixie Cut for Round Face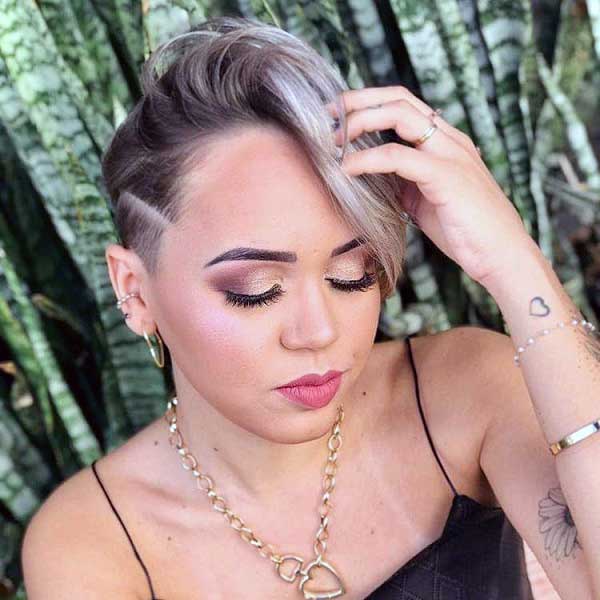 Short pixie cuts are fun! Adding bangs to this not only keeps the style ladylike, but also brings balance to the cut when paired with a fuller face. It has a side undercut that gives off an extra glam look.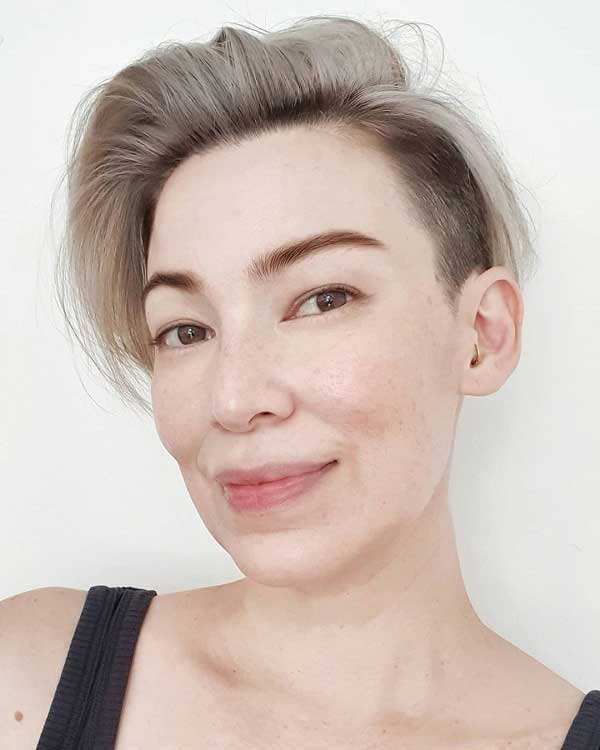 Undercuts are a sexy addition to any cut. This style comes in an ash hue mixed with a darker grey to make the hair pop. The combed-over hair breaks the symmetry of the round face, giving you a flattering look.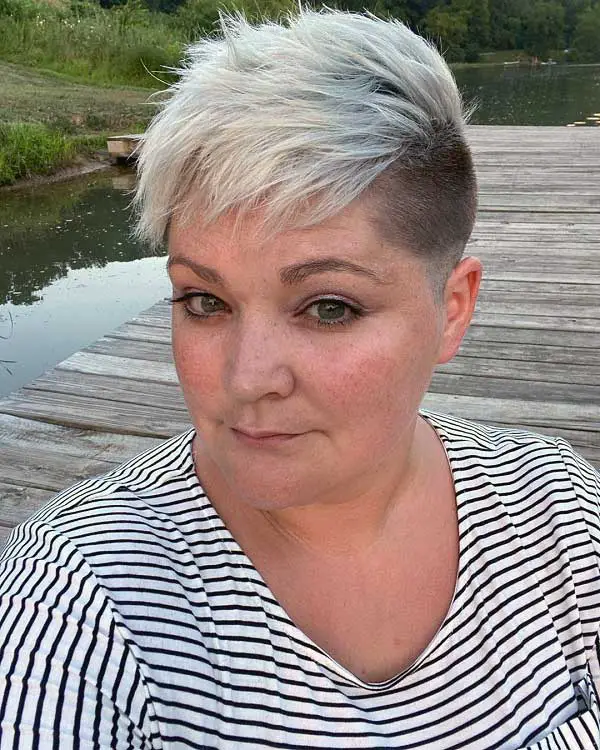 This pixie cut boasts a side-swept fringe that creates strongly angled lines to break up the round outline while the layers on top add volume to your hair. It has clean undercuts and is popular among women of all ages!
16. Asian Round Face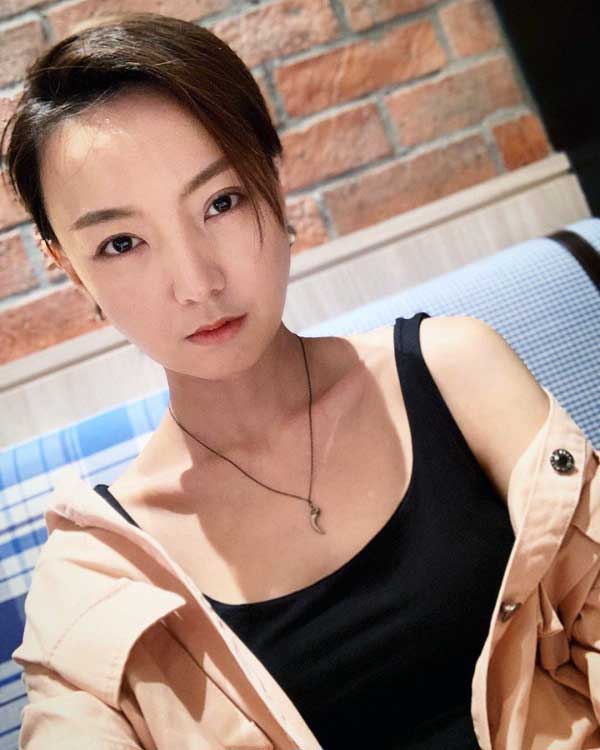 A pixie cut is a very common style among Asian women with a round face. The bang hugs the side of the face tightly, drawing attention away from your facial roundness while still looking chic. If you are eager for a makeover, try this.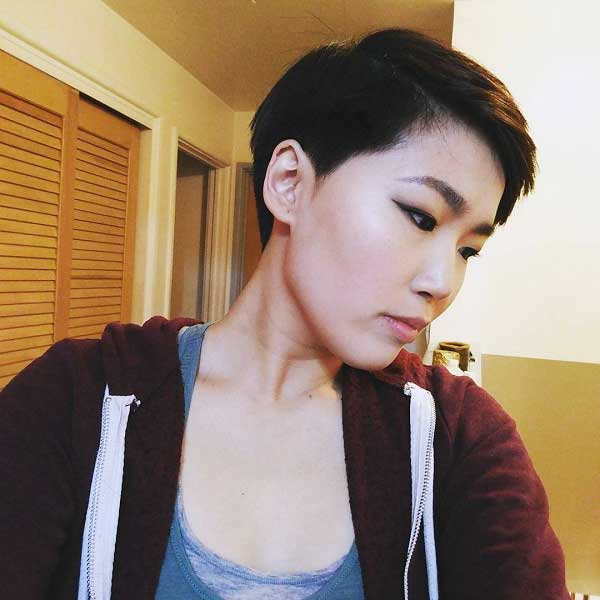 You don't have to be Asian to try this lovely cut. It has a side part that introduces perspective and cropped sides for an overall slimming effect. There is no better way to attend your official event than this.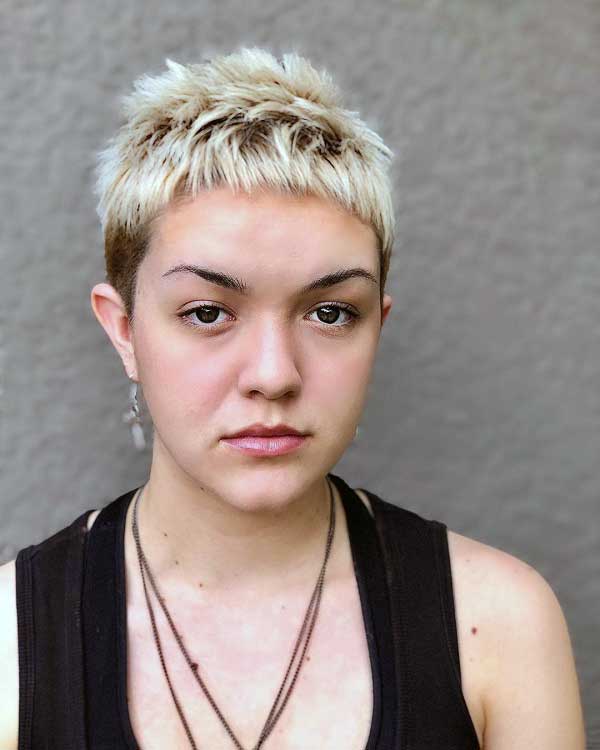 Having a round face is a 'good thing', and does not have to mean a fat face. This beautiful blonde cut has a heavy fringe with undercuts of a darker shade. Layers are added at the top giving it fullness.
17. Round Face Pixie Cut With Glasses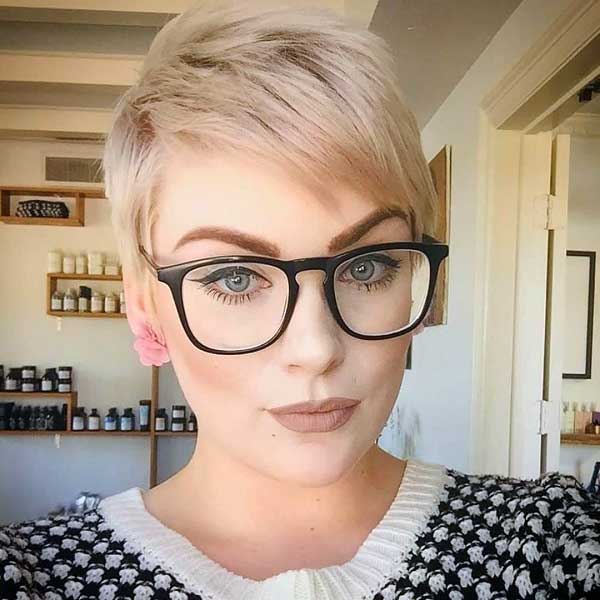 Pixie cut with bangs looks great on women who wear glasses instead of contact lenses. Glasses are stylish accessories that assist the cut in slimming down the roundness of the face. Try this look for a nerdy and cute appeal.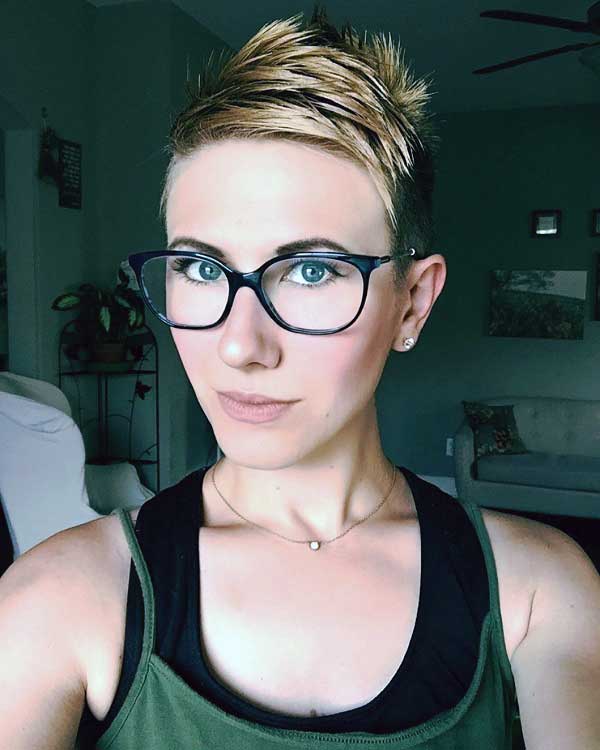 If you are a confident woman with glasses, you will adore this sassy pixie with short, wavy locks. The cropped sides are edgy yet neat, and the interspersed golden highlights provide texture, depth, and volume. Go for this today!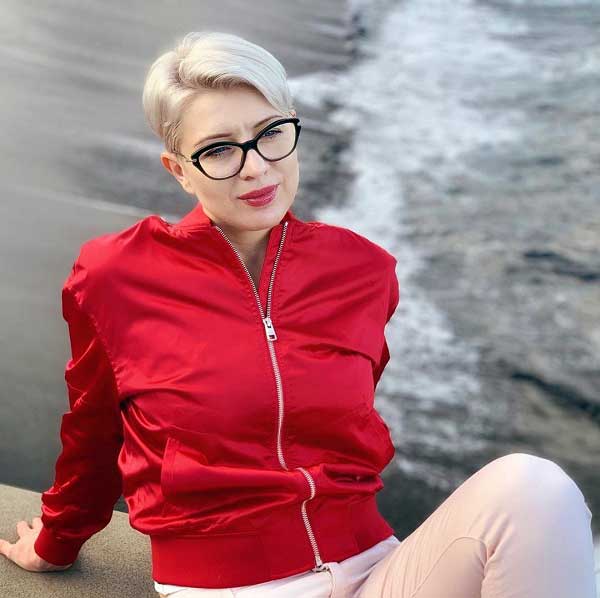 See how refreshing this style looks! It is unbelievably stunning with its unique silver color and a deep part that adds movement to this pixie cut round face with glasses. By the way, the glasses add an extra smartness and you can't go wrong rocking this look.
Pixie cut for round face is an absolute no-brainer for women. It helps reduce the width and add verve to your daily look. You can try these cuts with different styling and in a variety of colors. If you are looking to shake things up, these are definitely for you.