A pixie cut is always beautiful with curly hair. It adds verve to your look and is guaranteed to give you an outstanding glow. You can vary your curly pixie cut based on hair color and length, complexion and face shape. For your next look, you should try a pixie.
1. Pixie Cut Curly Hair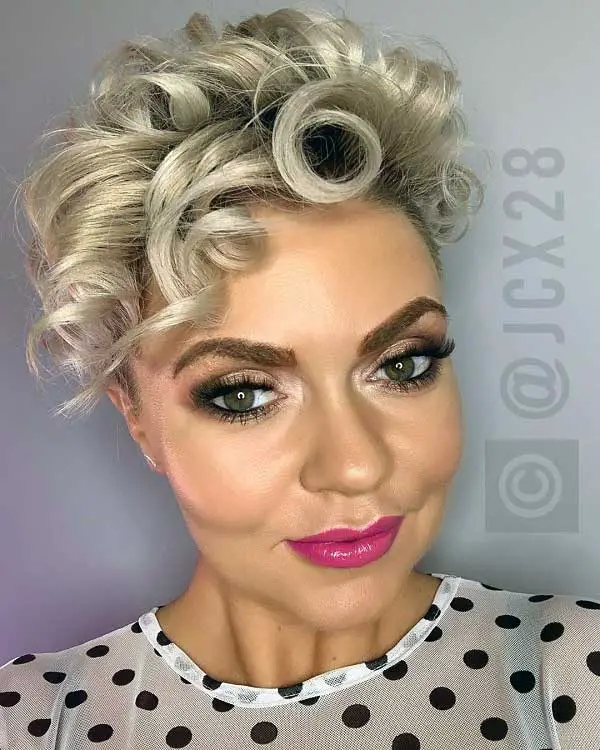 Nothing beats a pixie cut with curls. This hairstyle easily wins you over with its amazing hue and wavy but delicate tresses. It is cut short giving a bolder appearance to your facial features. Perfect for any face shapes.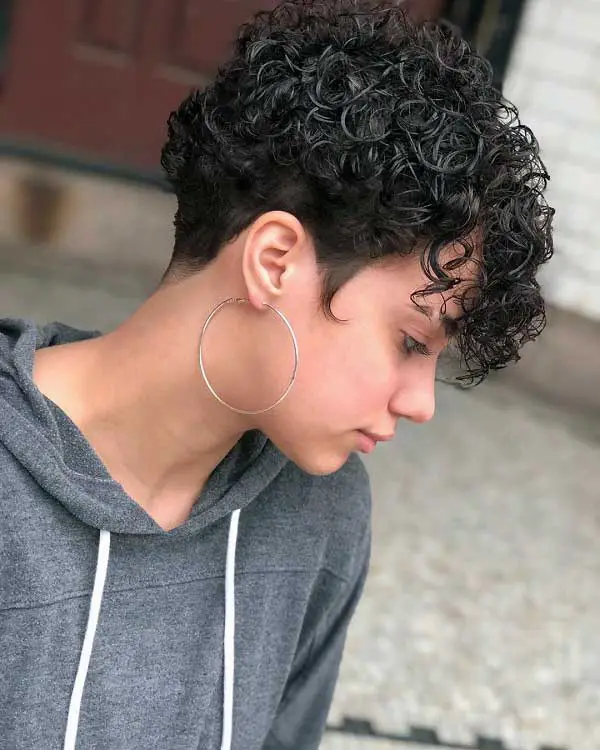 This sexy hair looks soft, effortless, and makes you want to run your fingers through it. It is cut low by the sides and at the back with the layered curls casually falling and framing your face. Try this today!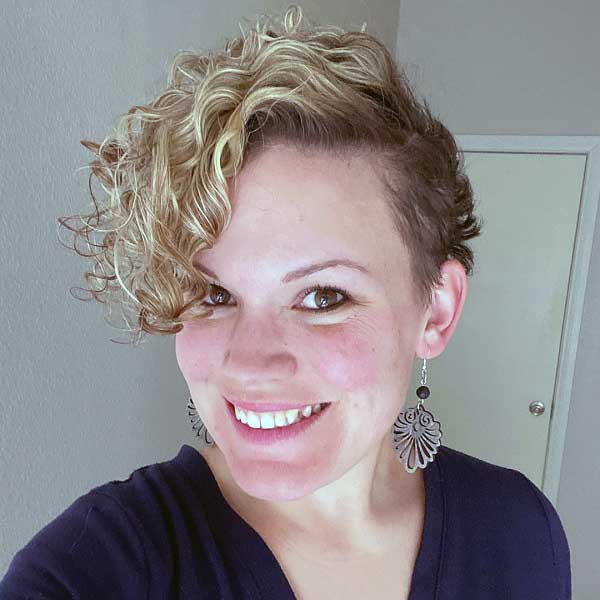 What's a pixie cut without dramatic side swept bangs? This hair is a variation of the pixie cut with its curly bangs falling to the front, boasting highlights and a balayage effect. This gives you an edgy and expressive look.
2. Short Curly Pixie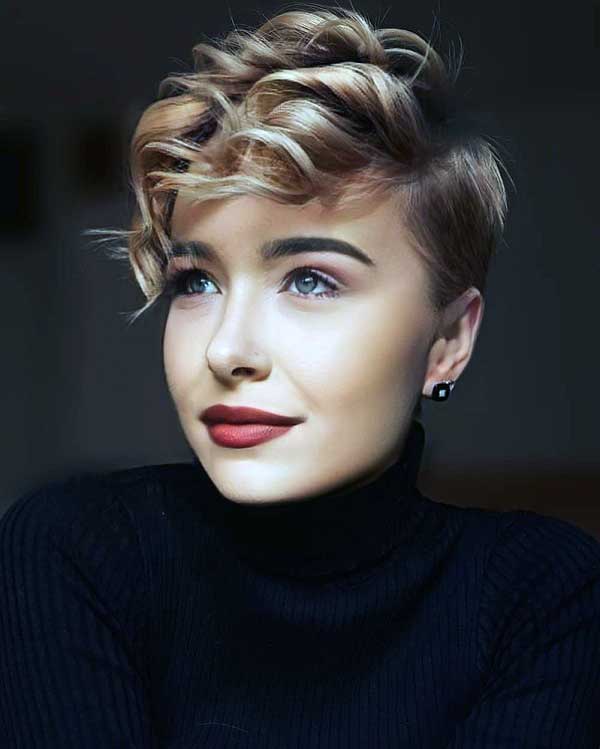 This vintage style is a perfect addition to your hairstyles list. It has low sides with wavy, tousled tendrils at the top. The colors are a beautiful blend with golden highlights and this is perfect for any face shapes and complexion.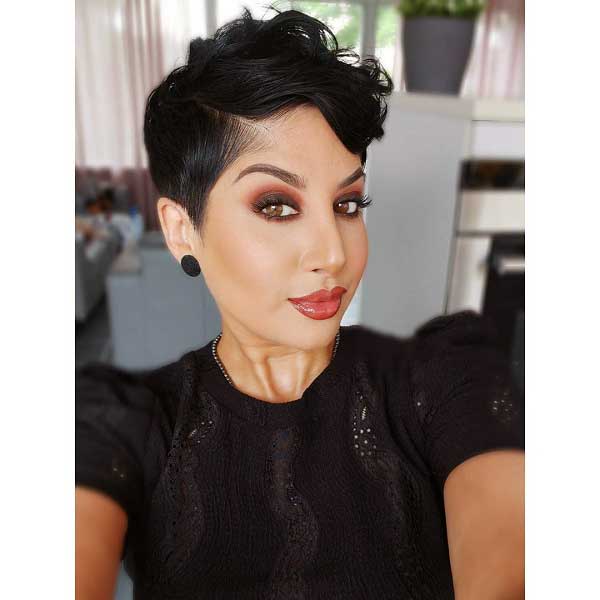 This jet black hair is trendy and features casual waves to the side. It frames the top part of the face, accentuating your eyes. So, whether you are going for a casual or formal event, this works perfectly for you.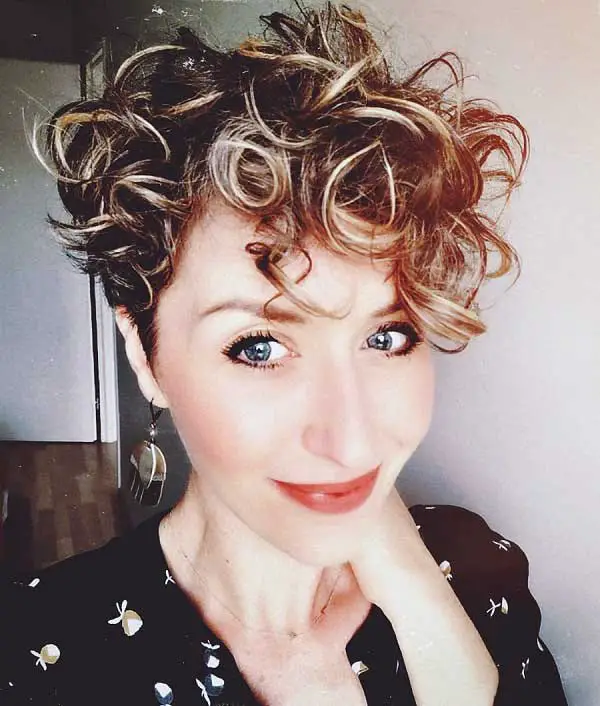 Messy waves add a bit of sass and unpredictability to your look. This style shows off stunning highlights and a sweet mix of black and brown hair. It is a great way of expressing your creative edge while still looking sexy.
3. Long Curly Pixie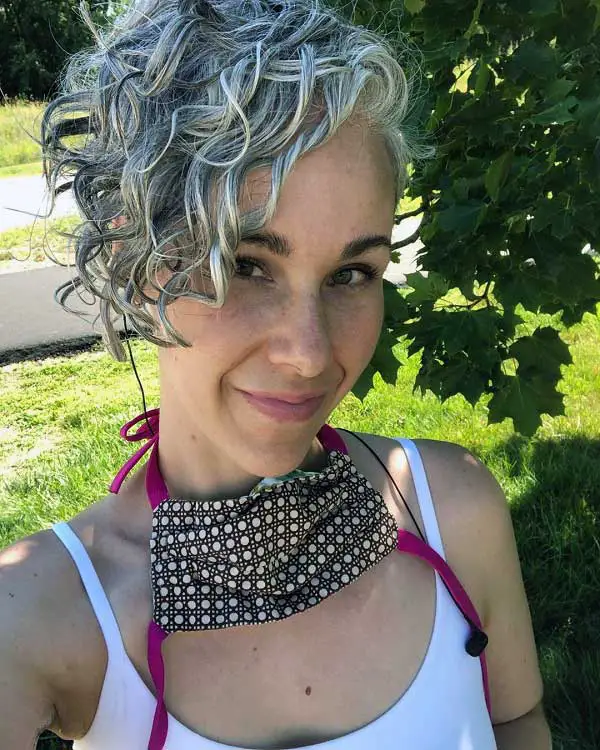 Thinking of cutting your long locks? This hair has side-swept curls that slightly fall over the eye and a greyish balayage that produces a totally modern finish. It is a great style for long, round, oval and heart shaped faces.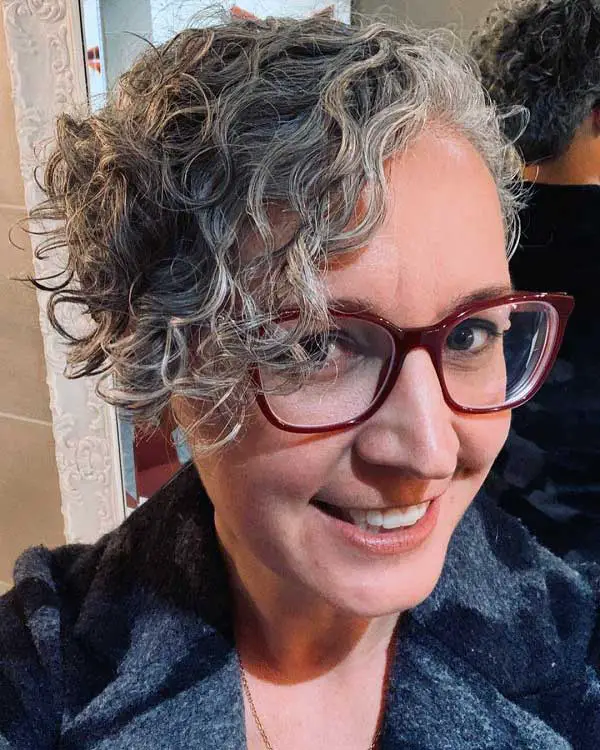 A longer pixie cut gives off a sophisticated and feminine appeal especially if it is wavy. This just out-of-bed style has messy waves and spectacular grey highlights. You can leave some locks over your forehead to give it a fuller look.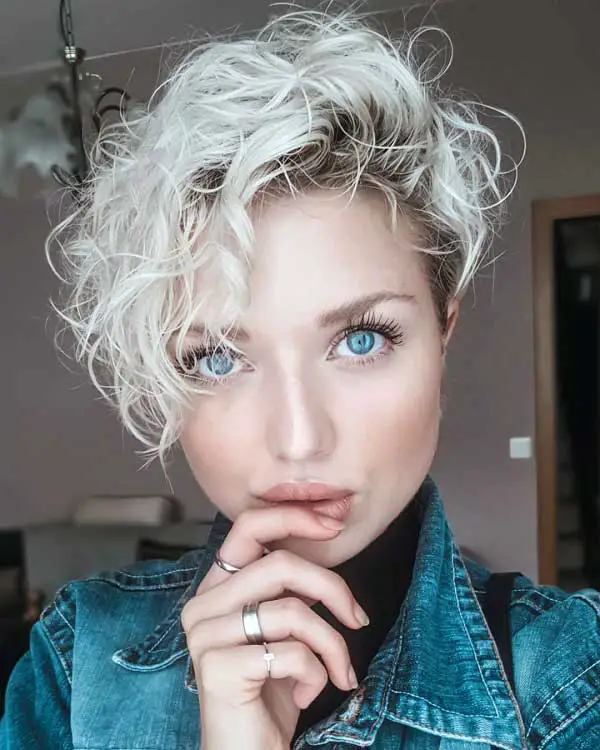 Don't you just love it? This pixie cut hairstyle is a play on shadow roots as the roots of the curly hair are in a dark shade while the top is a brilliant pastel-silver hue. For a spontaneously glamorous look, try this.
4. Natural Pixie Cut For Curly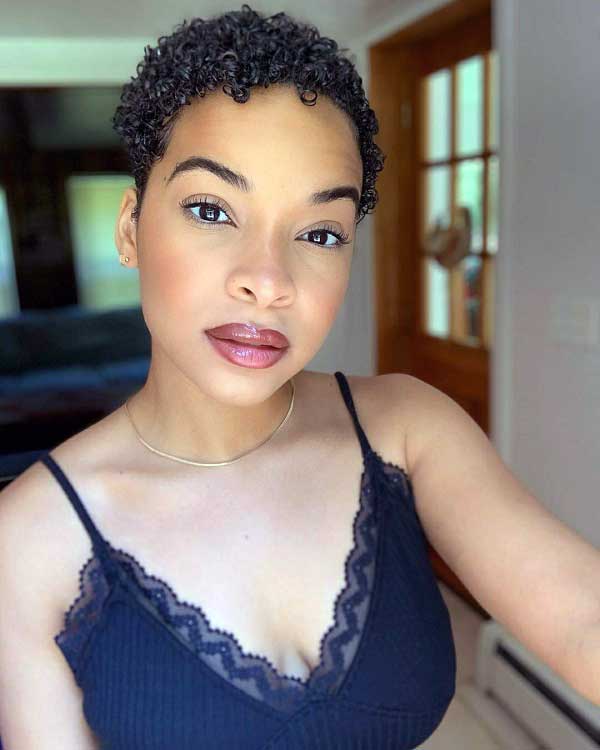 This is a sassy, low maintenance style and you can comfortably get your desired 'big chop' with this beautiful natural curly pixie cut. The bare forehead is great for showing off a nicely rounded brow and wavy hairline, framing the face.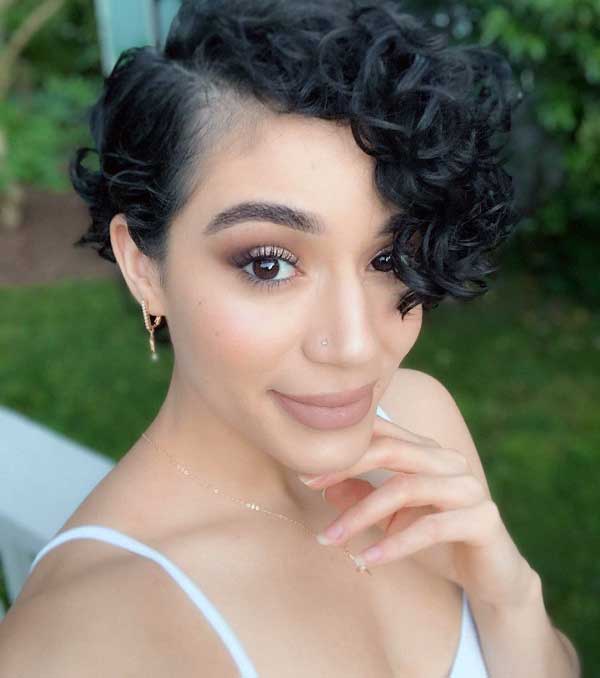 Your natural curls look absolutely hot and stunning when made into a pixie cut. This is a style that requires little maintenance and styling as you simply keep the sides short and the top longer and curly.
5. Pixie Cut With Bangs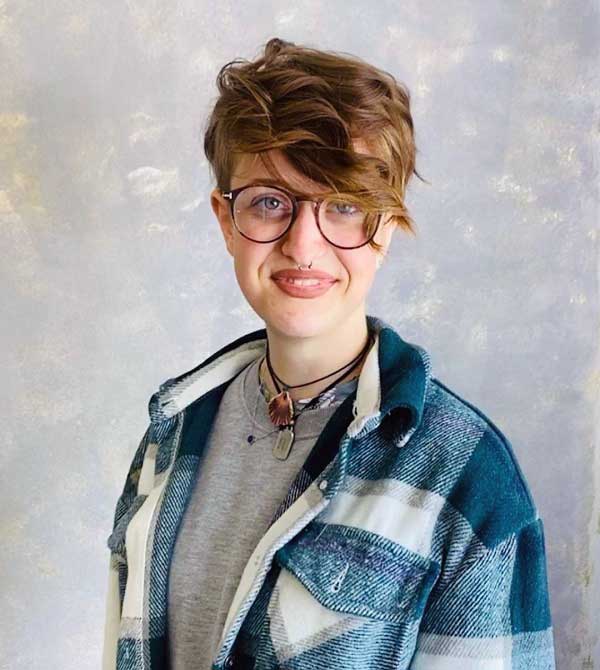 This messy and seemingly unruly pixie cut is just simply wonderful on anyone with curly hair. It is great for a nerdy, carefree look and works well with thin and thick hair. Its honey brown hue makes it suited for most complexions.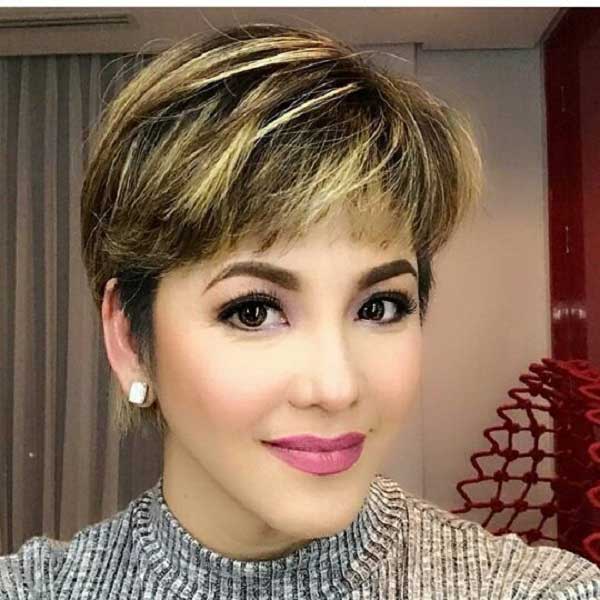 Bangs are a foolproof way of adding dynamism to your hairstyle. This short curly bob-like cut with bangs beautifully frames your face and is a modern, classy variation of the pixie cut. Golden yellow highlights are blended in for that extra spark.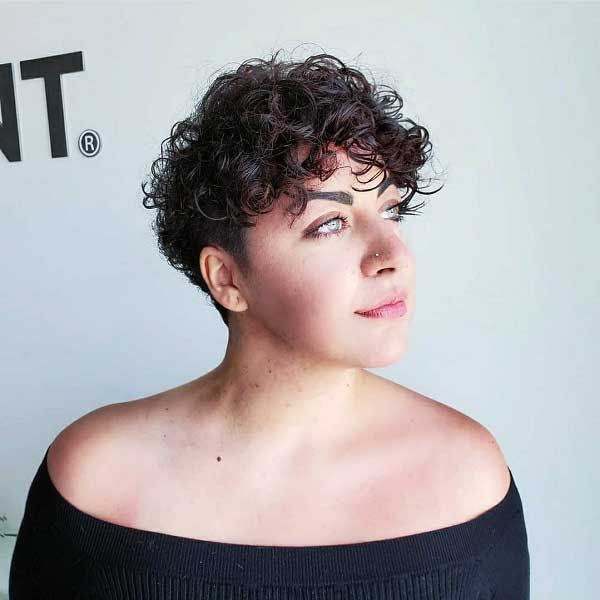 This style gives off a really natural and soft look. It sports shaved sides and you do not necessarily need super curly hair for this – just let it fall around your face and spell out your features beautifully.
6. Pixie Cut For Thick Curly Hair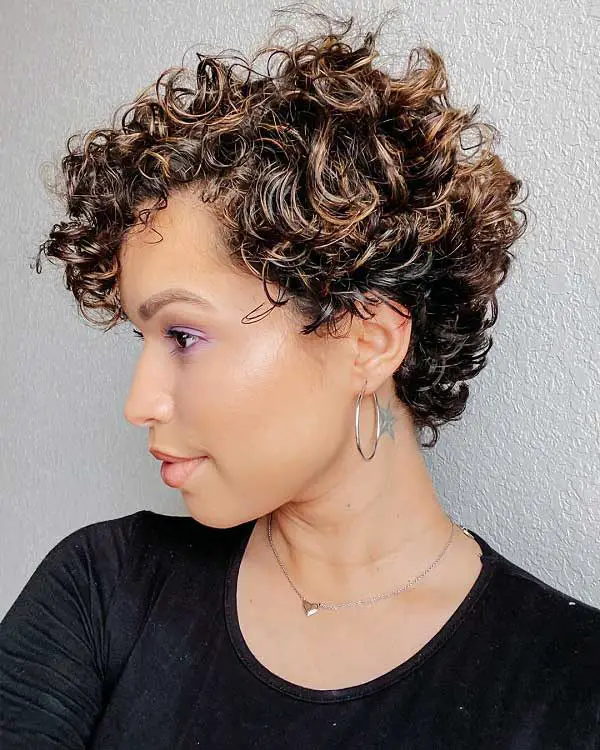 Any short hairstyle for thick hair looks good if well shaped whether straight, wavy or curly. This pixie cut is a play on textures and the subtle caramel highlights help boost its dynamism, accentuating the curls. It is well suited for oval-shaped faces.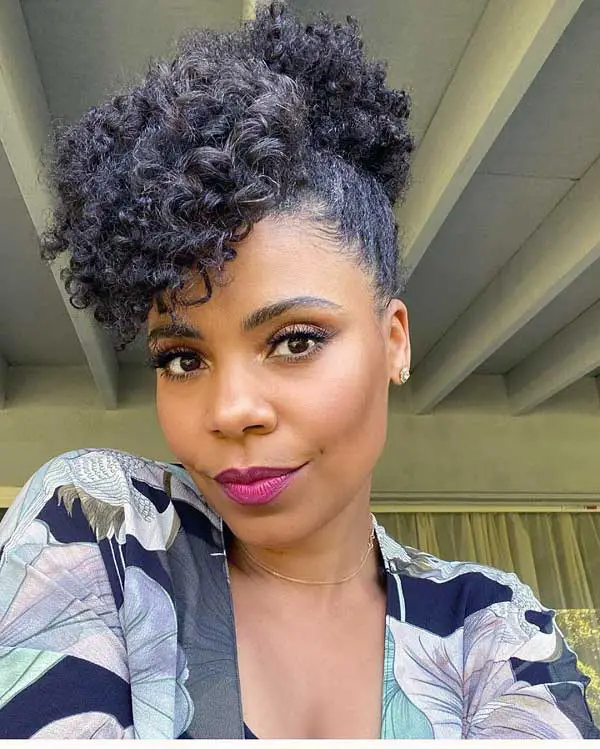 Who else to rock this amazing look if not Sanaa Lathan? This is a hairstyle with an extremely laid-back elegance which would have your thick coarse hair looking fashionable and healthy in no time! It easily complements any face shape.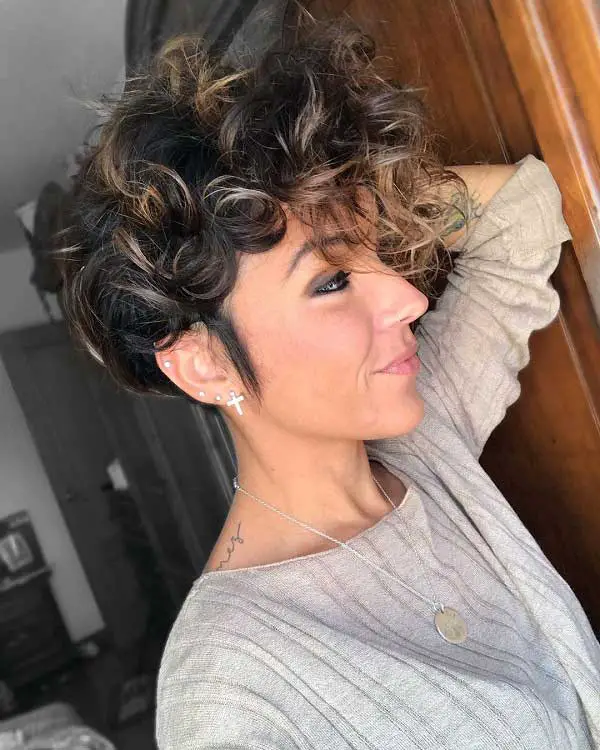 This is your go-to style in case you want to add an edgy spin to your curly pixie hairstyle. You can achieve this tousled look by adding loads of texture. The angles and highlights make it really stylish and chic.
7. Round Face Curly Pixie Cut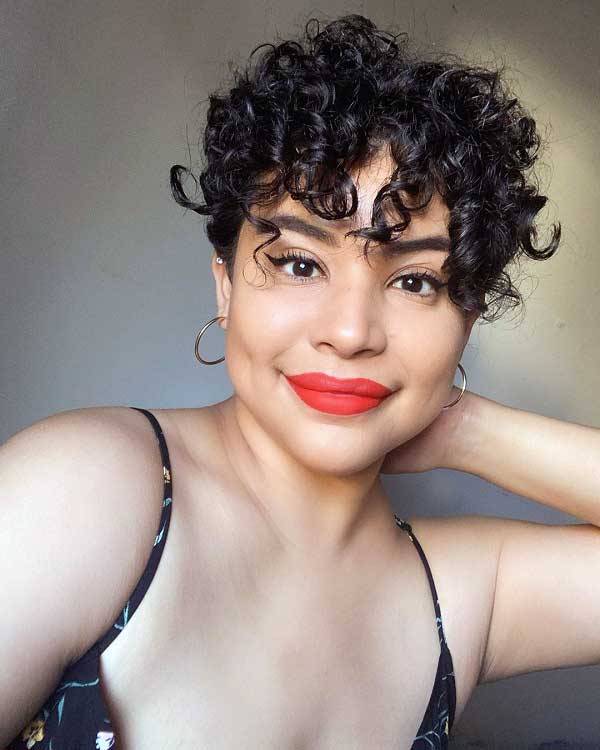 Short curly pixie cut gives you a more creative edge than the standard short pixie. It has loose curls hanging in front and tumbling into longer sections on top. It is perfect for a night out with the girls.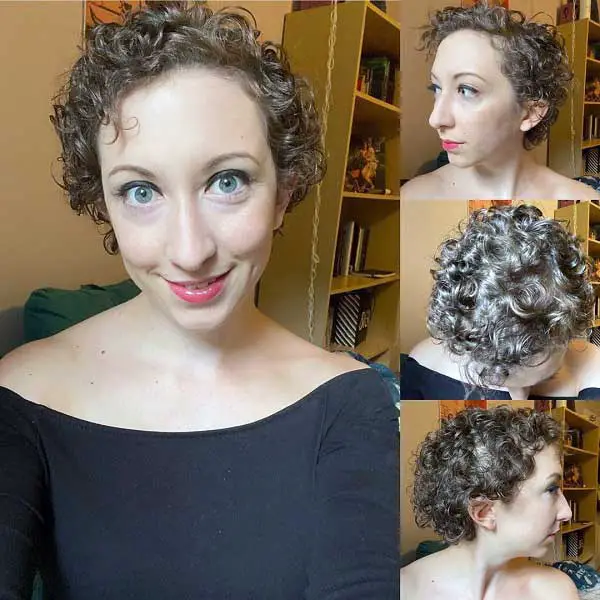 Round faced beauties have a ton of styles to choose from but this one stands out. With a vibrant dark grey hue, it has somewhat swept back short, curly locks that reveal your facial features. Every strand speaks comfort and class.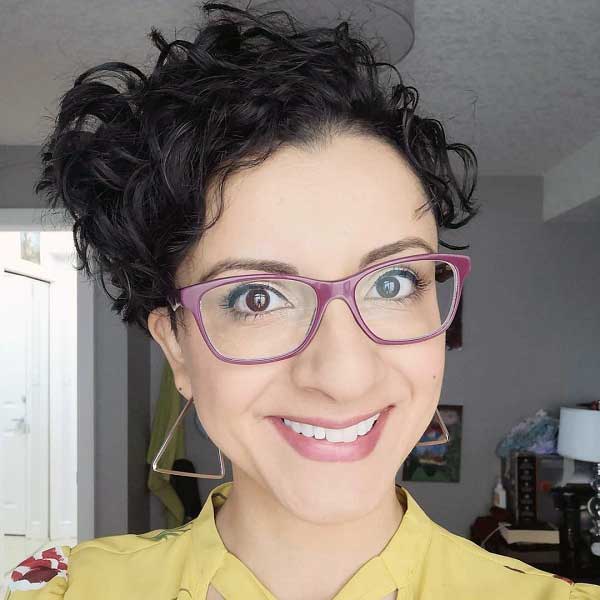 Pixie cuts are known to give an edgy, bad girl look but this depends on the styling. A curly hair can look really elegant if styled in a natural, wavy look. Glasses add an extra dimension to this.
8. Pixie Cut Black Hair for Curly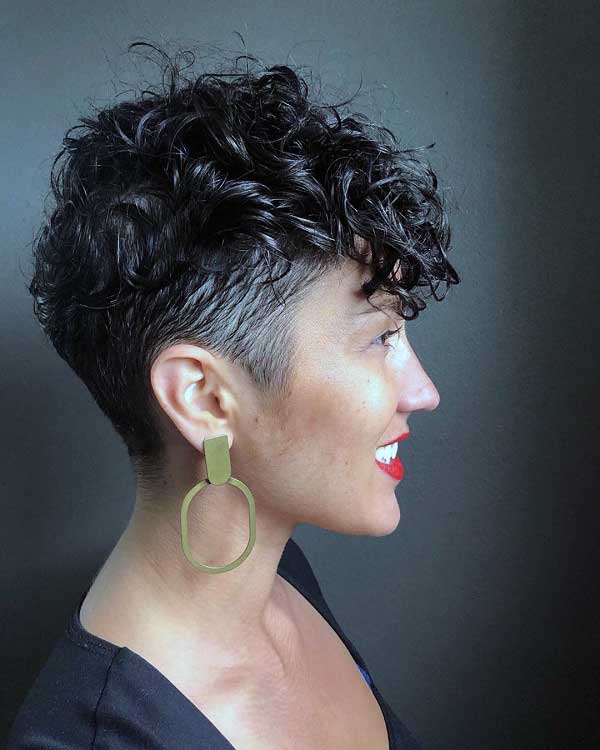 To add some more finesse to your pixie hairstyle, shave the sides to create a beautiful undercut. Leaving the top curls longer gives it a feminine appeal and you can let your locks fall across your forehead in a Mohawk-like manner.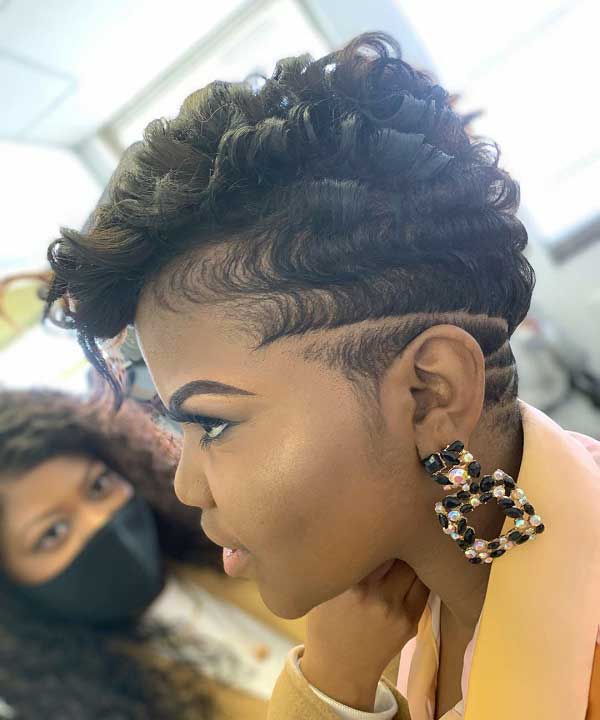 Nothing speaks sophistication than jet black curly hair. While the top part makes the most of those delightfully messy curls, the nape and sides of the head are closely cropped and shaved to make the rest stand out!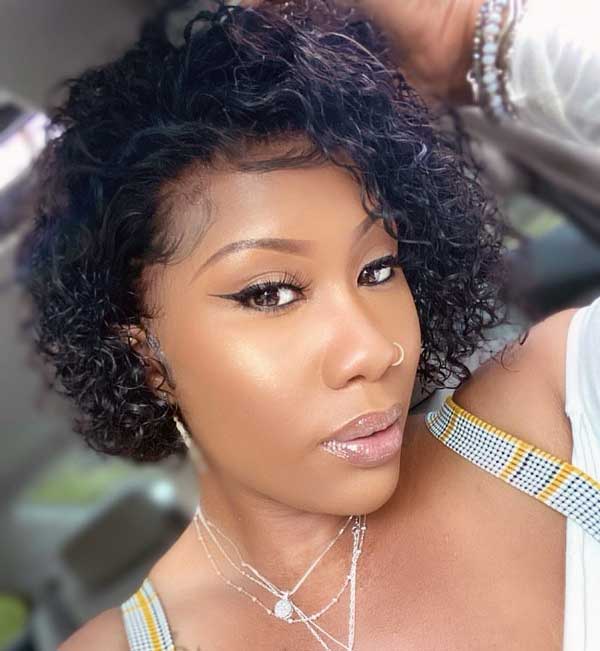 A little bit of texture goes a long way. While a black pixie cut with long side bangs is nothing new, this curly hairstyle gives it a modern and refreshing spin by incorporating soft and sexy curls into this beautiful black hair.
9. African American Pixie Cut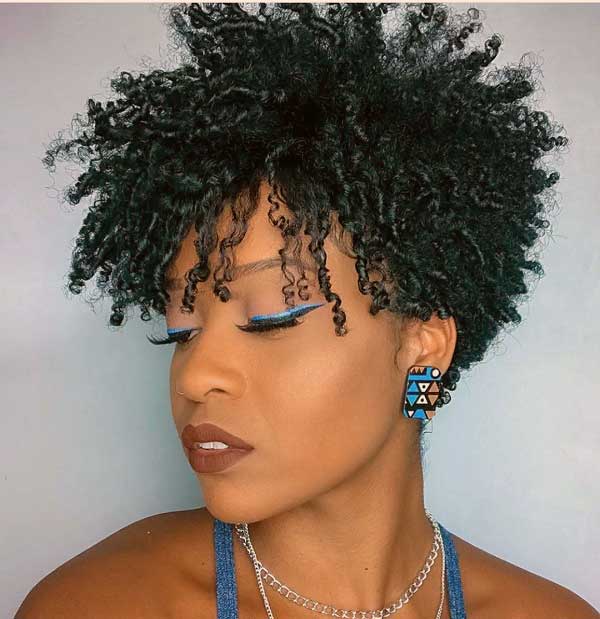 Curls add a lively vibe to any pixie cut. This hair has lots of texture and its curl pattern makes it naturally bounce around, so you worry less about additional styling. It is a flattering style for most face shapes.
Cut the under layer of hair and fade it around the ear line, but leave some honey-blond curls to be wild up top. This is an expressive look, which needs little daily maintenance. It is suited for a round face.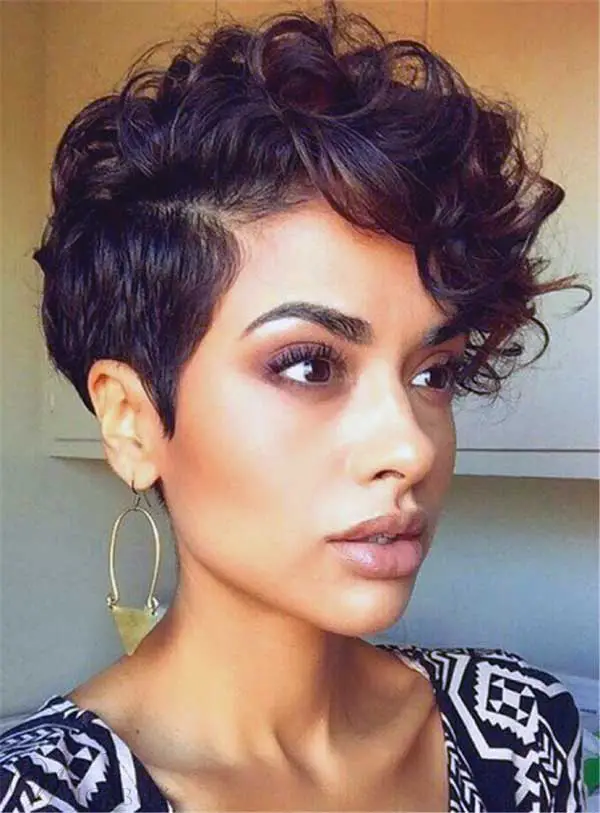 What a magnificent sight! This style has a long top that is teased for volume and bangs with messy curls that fall on the face, drawing attention to your eyes. It is a perfect look for a party.
10. Undercut Curly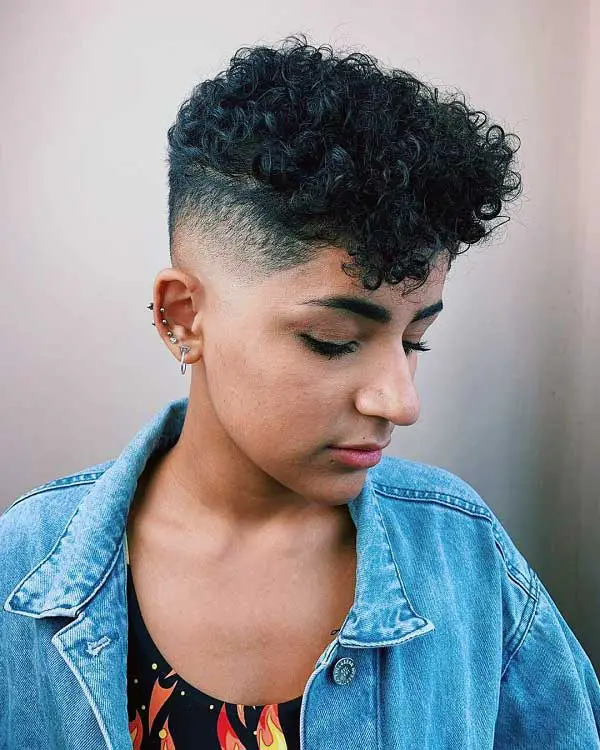 If you will do it like a dude, then do it in style! Pixie cuts can be styled to look either really feminine or boyish. This wavy style with clean-shaven sides, however, offers a great combination of both.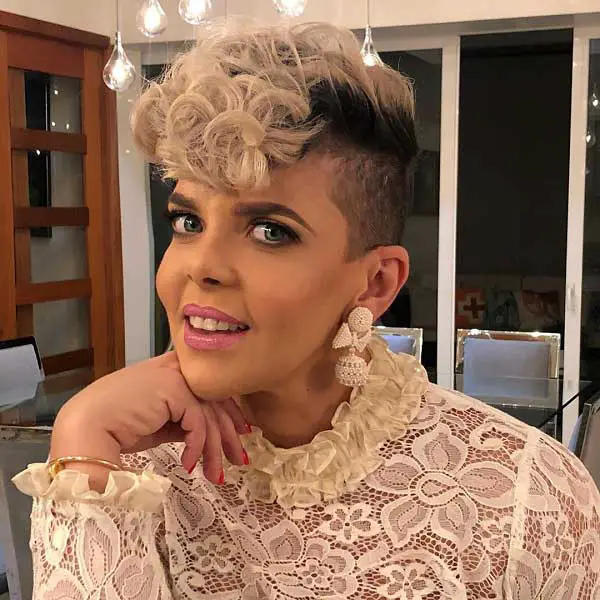 Although pixie haircuts are usually associated with having a rebellious edge, this style can also be extremely elegant. It smoothly combines dark roots with blonde messy curls at the top with the undercut as a plus, adding a rock'n'roll glam.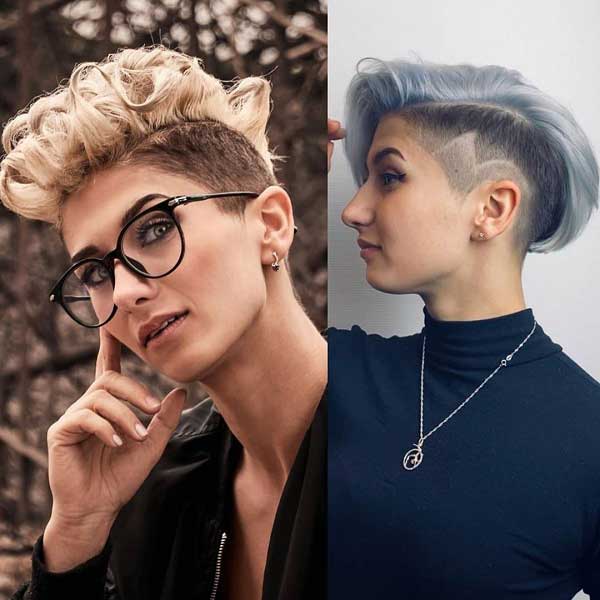 Undercuts are a cool and modern way to add some panache to your pixie cuts. Whether you sport blonde curly locks or silver-grey hair swept sideways at the top, this is a great hairstyle to rock for any casual event.
11. Asymmetrical Curly Pixie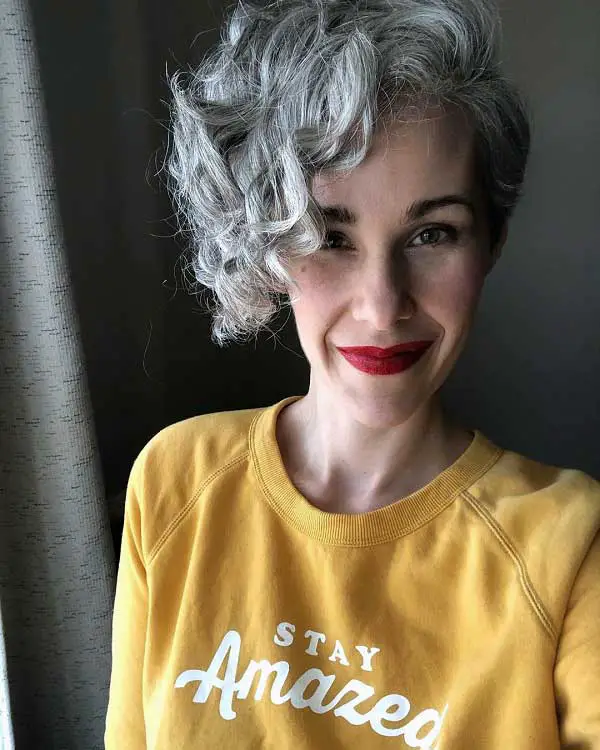 A pixie cut with asymmetrical angles is ideal for thin and thick hair. It comes in a shiny dark grey hue with wavy tresses serving as side bangs. Simple and highly sophisticated, this style fits a heart-shaped face beautifully.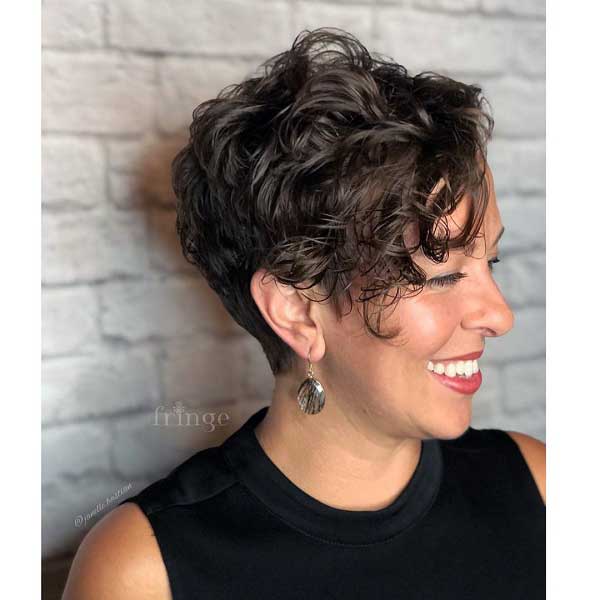 Dorning adorable wild curls, this is an easy-to-do asymmetrical pixie cut style which brings out the fun and creative side of you. Although the shorter sides help keep things straight, its longer front waves are allowed to roam free.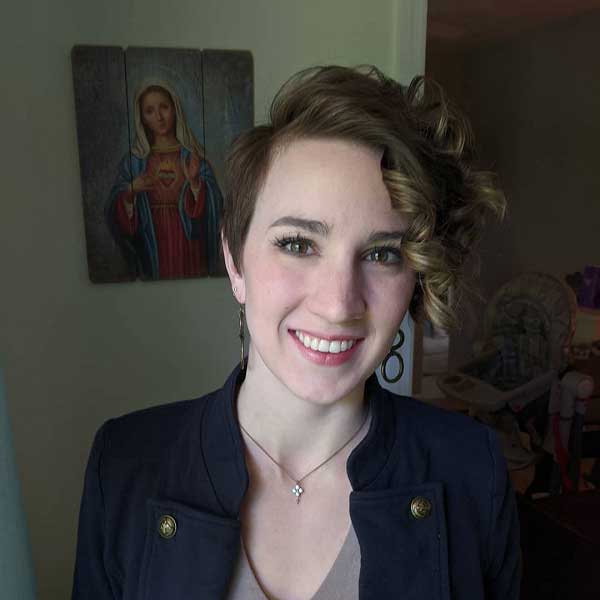 Stay chic and fashionable by trying a different color everytime you make a new style. With its cropped sides and longer side-swept wavy locks on top, this style flatters an oval-shaped face hereby enhancing your gorgeous facial features.
12. Curly Pixie Cut Black Girl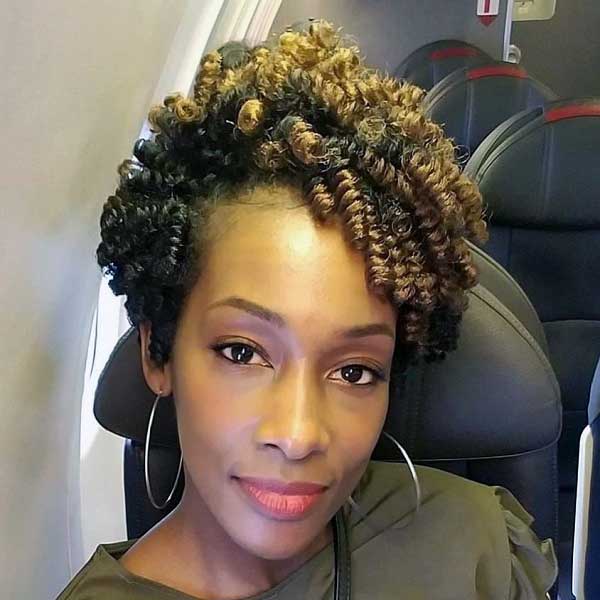 Aren't these springy curls just lovely? This pixie style features golden yellow highlights that complement the curls, which hang neatly over the forehead. It is best for special occasions or a smart-professional look, giving you the ultimate confidence boost.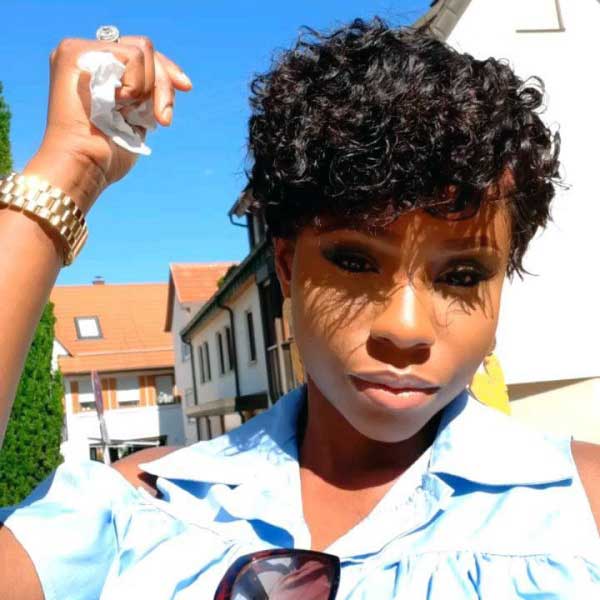 Get more texture with curls on top of curls! These beautiful spiral curls add so much body and volume to short pixie cut hairstyles. The hair still maintains its slight sheen and amazing sleekness despite the fullness of the coif.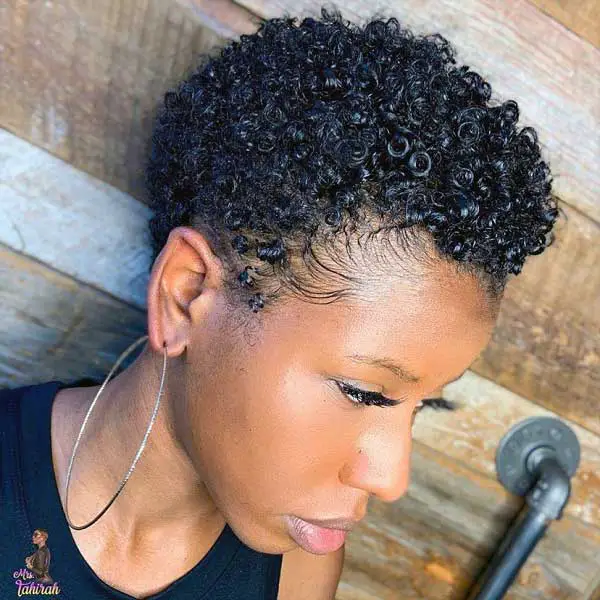 This is another cute and curly pixie style for natural hair. The perfectly coiled curls produce lots of light-reflecting texture and lively movement that give off a girly and urban vibe. This looks splendid on oval and round-shaped faces.
13. Mixed Curly Pixie Cut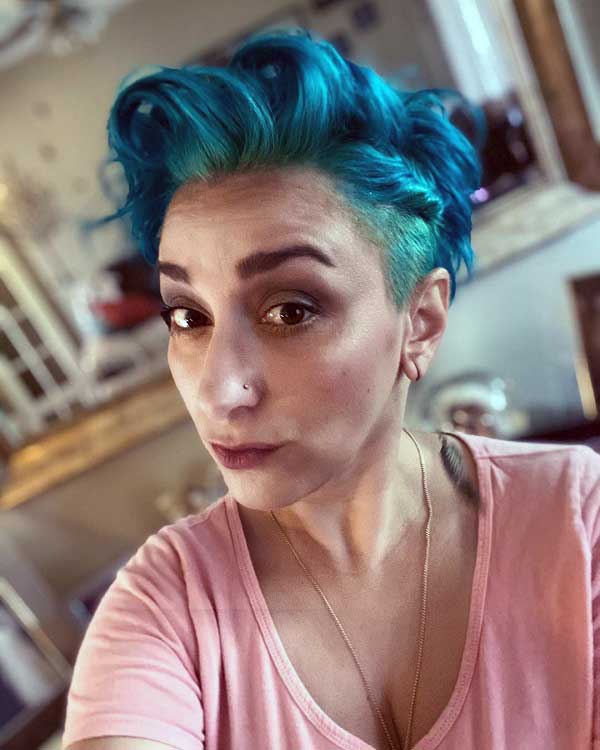 Let your naturally curly hair shine through by cutting it to short hairstyle and dyeing it a new color. See how pretty a curly pixie with undercut can look, as the steel blue color makes this hair look unique and exquisite.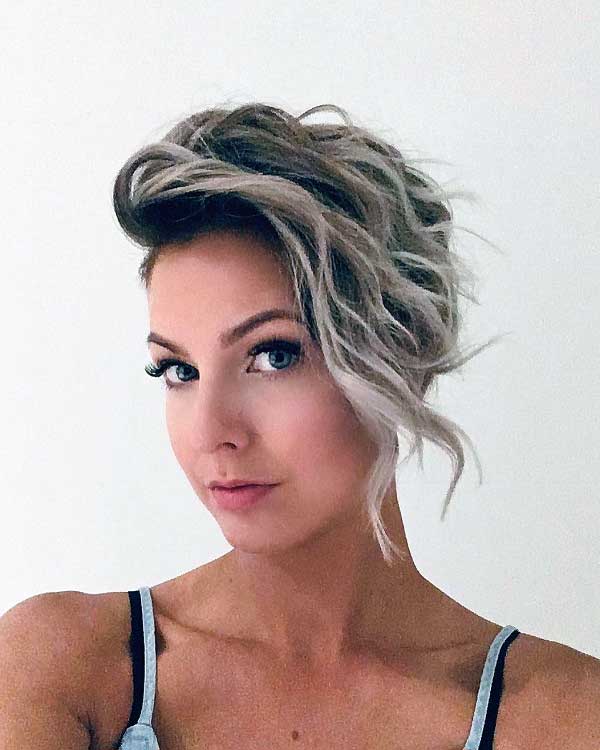 If you are tired of the same old short haircuts, kick your style up a notch with this vibrant and funky look. The hair has dark roots with grey messy curls that add angles to it, creating some drama.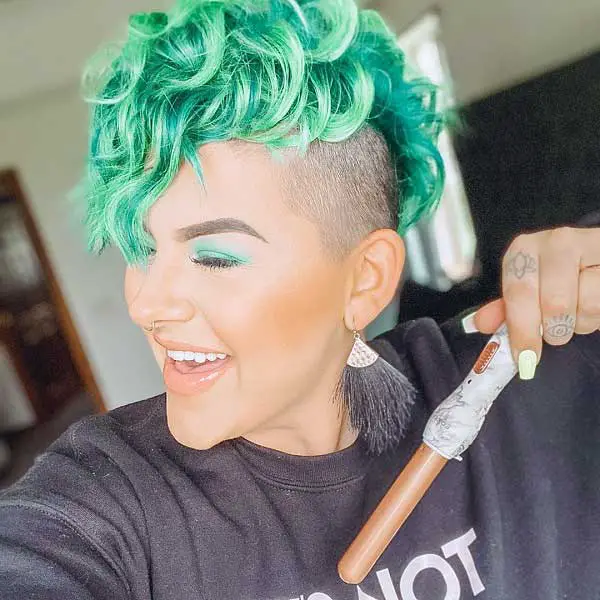 You can never go wrong with green! This is a sparky look that combines undercut sides with a bright-green, wavy and glamorous Mohawk. You can rock matching make-up for that full-on glam look and it is perfect for all face shapes.
14. Curly Pixie Cut Over 50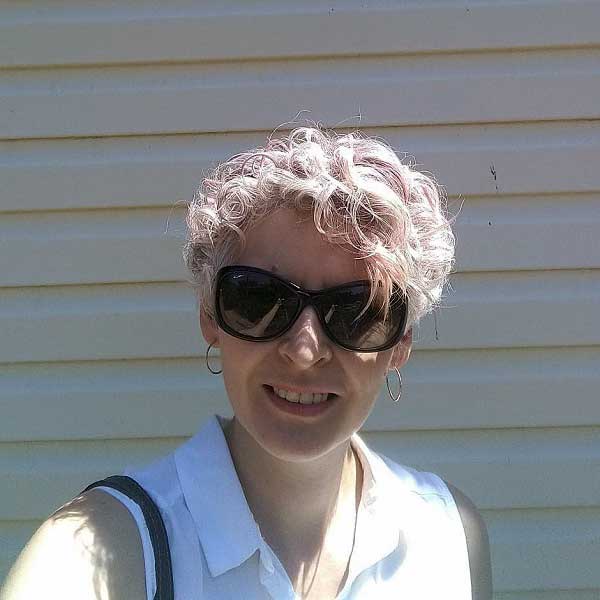 There are a lot of pixie haircuts for women over 50. It is simply a matter of choosing which one fits best. This cut has outstanding highlights and soft baby pink overtones, making it a superb option for curly hair.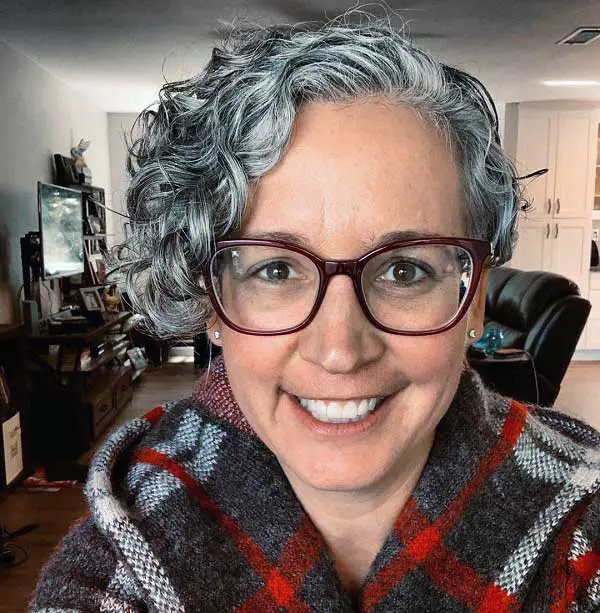 You want to be 50 but still look trendy? Say no more! This enigmatic pixie style is guaranteed to have you looking 20 years younger than your age. It makes a strong case with its balayage finish and full-bodied curly tresses.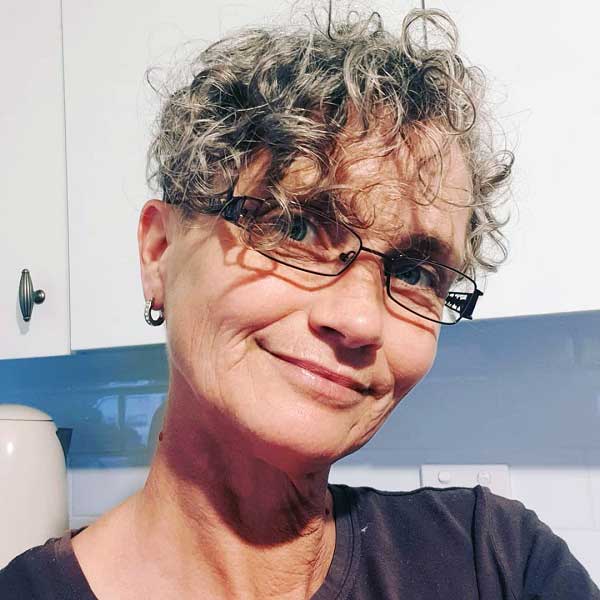 In the mood for laid-back short haircuts for your curly hair? This is one of the reasons you would love this pixie cut. On lazy days, simply smooth your curls back with some gel and you're good to go.
15. Blonde Curly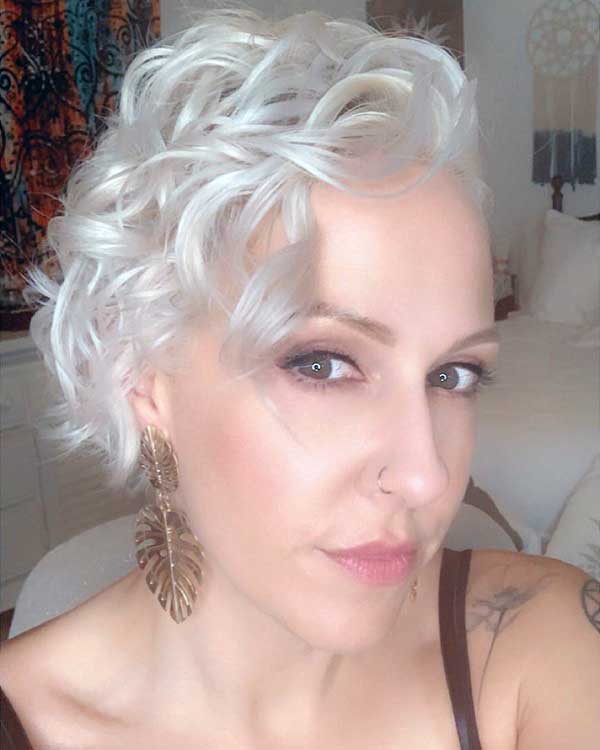 Platinum hues never go out of fashion. This hairstyle is a really creative option and its curly side-swept long bangs are cute and playful. You should go for this striking blonde look on your next pixie cut.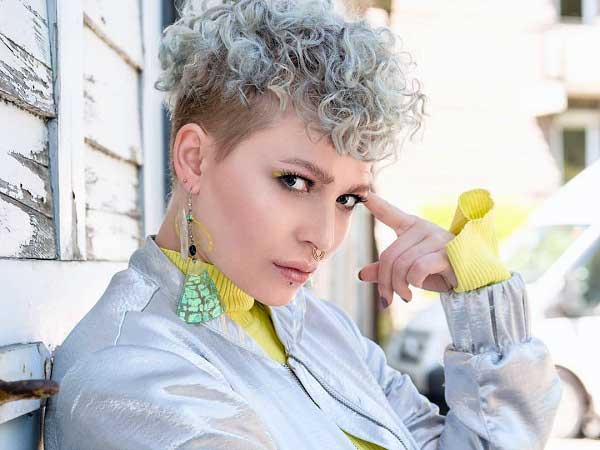 Curly pixie cuts look especially remarkable when enhanced with some beautiful accessories – be it hairpieces or jewelry. The neat undercut and wavy top curls are chic. Without doubt, this cut would have you looking like a model in an instant.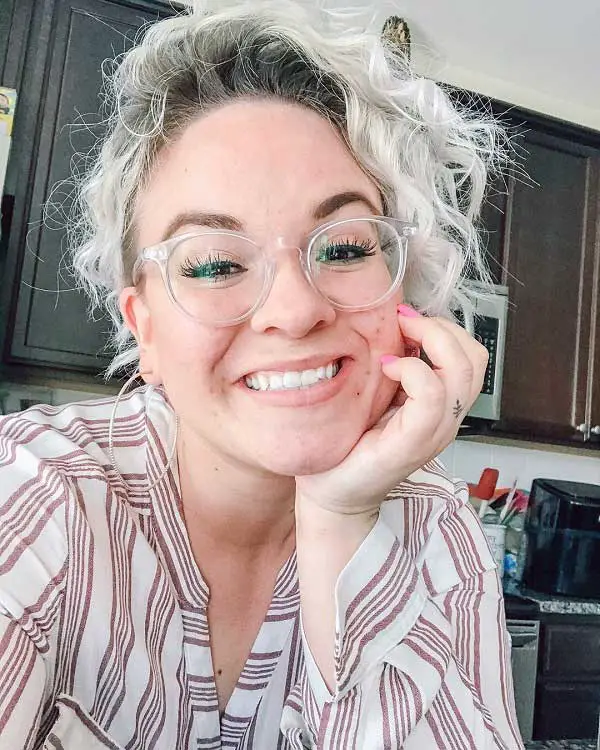 Blonde hair can transform your everyday look and create an instant allure. The shadow roots smoothly contrast the blonde waves giving you a relaxed and refreshing glow. This trendy style is well suited to oval and heart- shaped faces.
16. Curly Pixie Cut For Square Face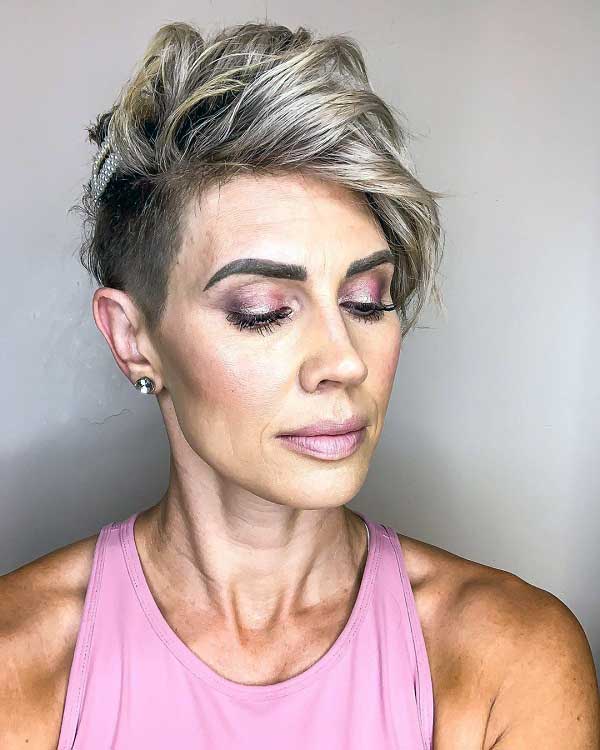 A perfect pixie cut shifts attention away from wide face shapes, by creating interests around the top of the head. The sleek side-parting creates asymmetry, breaking the square face shape while curly bangs help cut-off the corner-width of the forehead.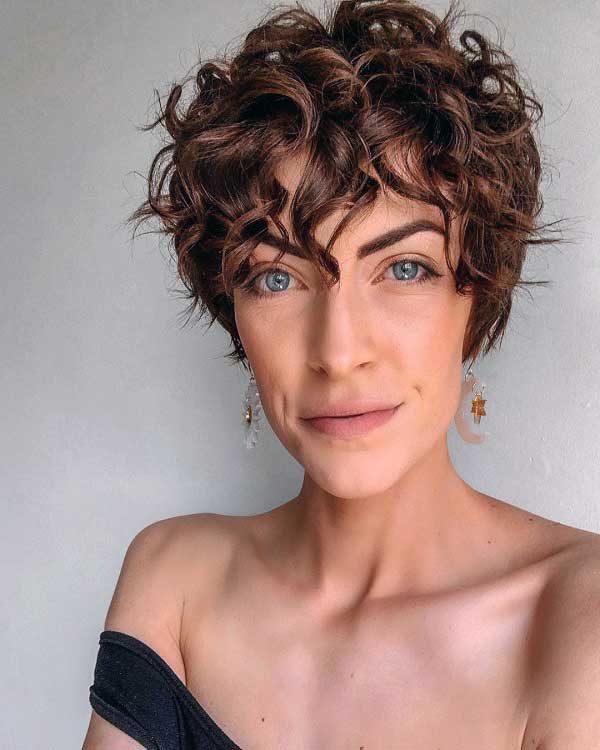 Square faced? Here is some pixie dust for you! This coffee-brown delight is the right style to frame your forehead with gorgeous wavy curls while showing off your tremendous jawline. The highlights give a twinkly essence to this beautiful cut.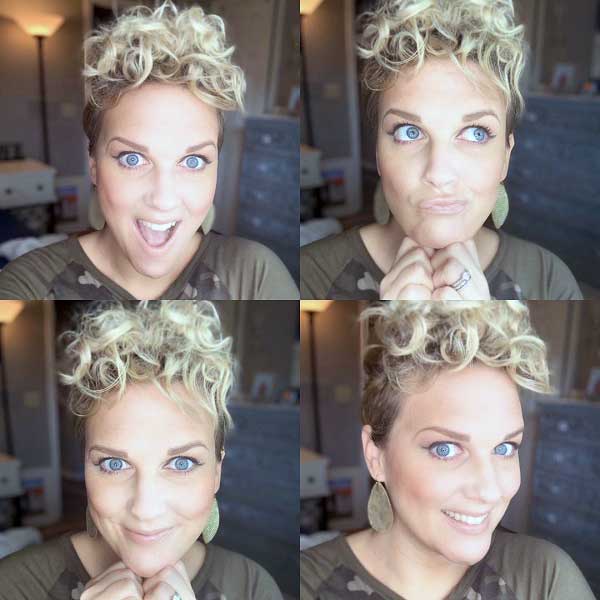 Short curly pixie cuts are a joy to look at – especially on a square face shape. Try this style with its cropped sides and cream-coloured tousled curls for a fresh look that is a great fit for every season.
17. Curly Pixie Cut With Highlights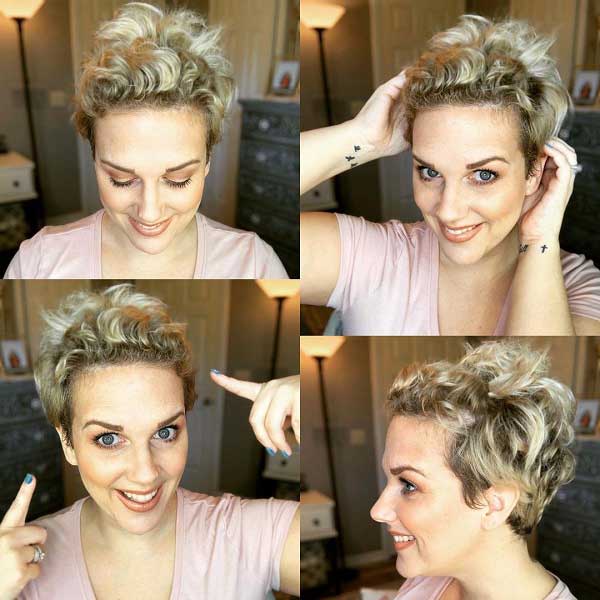 This haircut brings height and dimension. It works with a variety of hair types but is best done on medium to thick hair. The cream highlights stand out from the surrounding brown hair giving it an extra pop.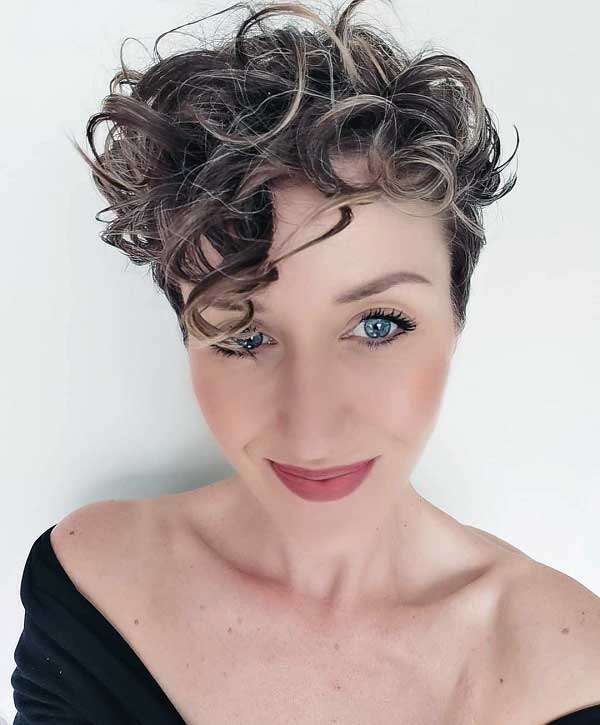 Keeping your curly pixie cut trendy is as simple as just adding more texture, or infusing it with highlights. The darker curls interweave perfectly with the cream highlights and this is a highly fashionable look for round and heart faces!
Curly Pixie cuts are a great addition to your hairstyle collections for any season. This haircut with bangs is becoming increasingly in fashion but you can choose any other option based on your preferences. Nothing should stop you from trying these styles to add some flavor to your look.