Having short hair isn't a blessing for all women. It's like stumbling blocks every day when it's about trendy styling waves or styles. But, time to say goodbye to your worries!
Short crochet hairstyles are the perfect shot for you, and a unique hairstyle that requires guts to flaunt. The interesting fact is they're famed with a "protective styling" title as they won't bring any damage to your natural hair, even though they're extensions.
Starting from braids to tight twists, including waves with volumes, you can carry it all out without stretching much. In general, it'll take around 90 minutes to three hours to get a fabulous crochet hairstyle.
SO, ready to get one? Hop in.
Stunning Short Crochet Hairstyles
Crochet hairstyles for short hair are derived from the art technique called crocheting which was used to make garments. There're many types of hairstyles with crochets with short hair below. You can try them on each day.
1. Short Crochet Braids Hairstyles
Braids themselves are fantastic, and adding crochets with braids is perfection. This hipster hairstyle can be done with thick braids while crafting a stylish middle section. Different colored hairbands can add extra flair to your new short crochet look.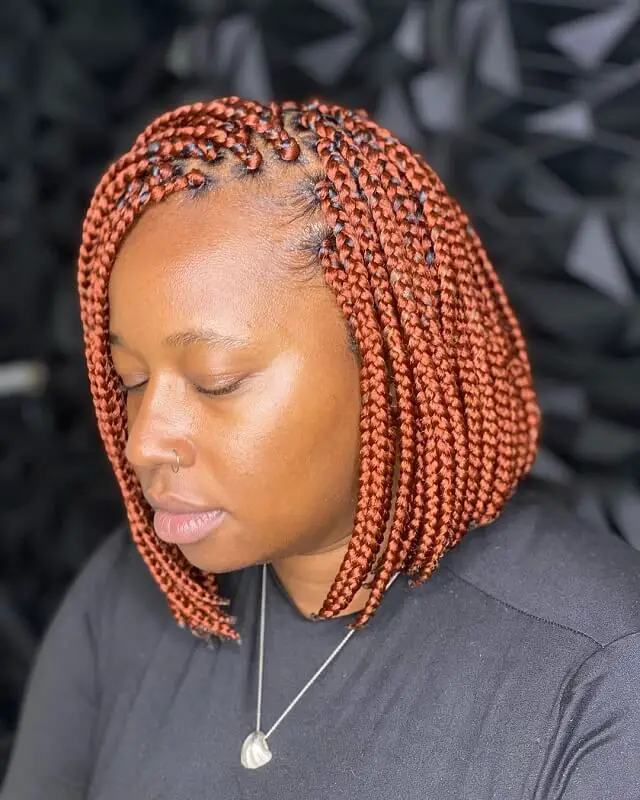 The crochet's side section with braids looks killer with thinner braids. Using thinner braids instead of thick like the previous one changes the whole hairstyle. Which one works for you, thick or thin?
2. Short Crochet Hairstyles With Mohawk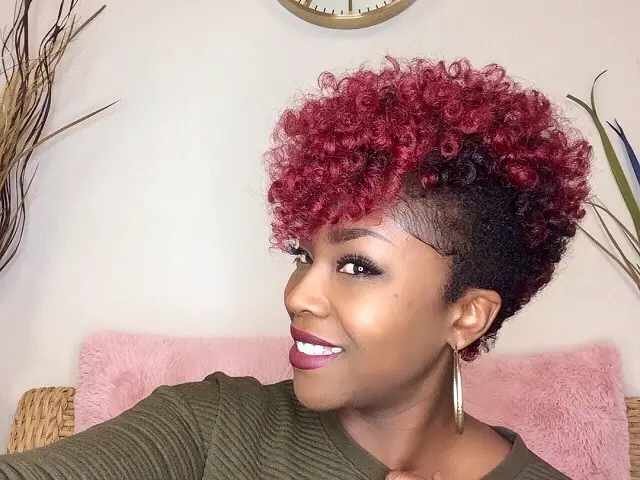 Mohawk hairstyles have been going strong for ages. Even with short hairs and crochets, pulling up your hair in a mohawk makes you look exotic. Try out red like the example below while keeping a low profile on the sides.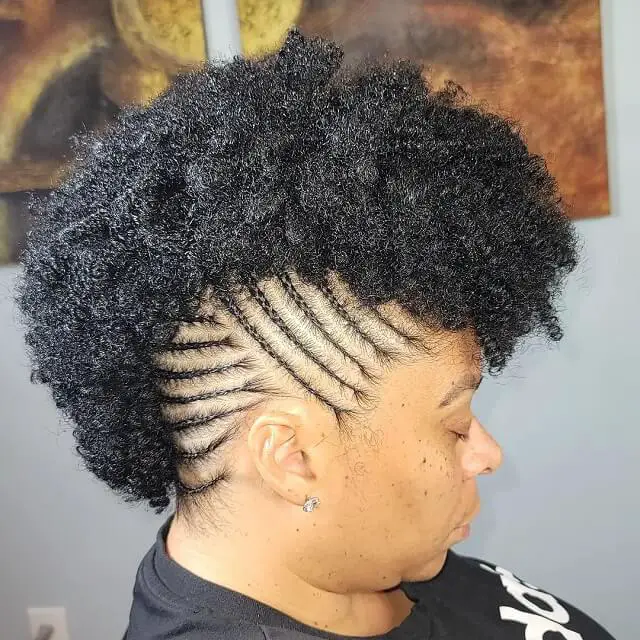 This mohawk crochet hairstyle is an intricate one. You can turn heads by cornrow braids on the sides even without shading your mohawk for short crochet hair. Adding a braiding layer brings more nuance to the hairstyle.
3. Short Bob Crochet Braids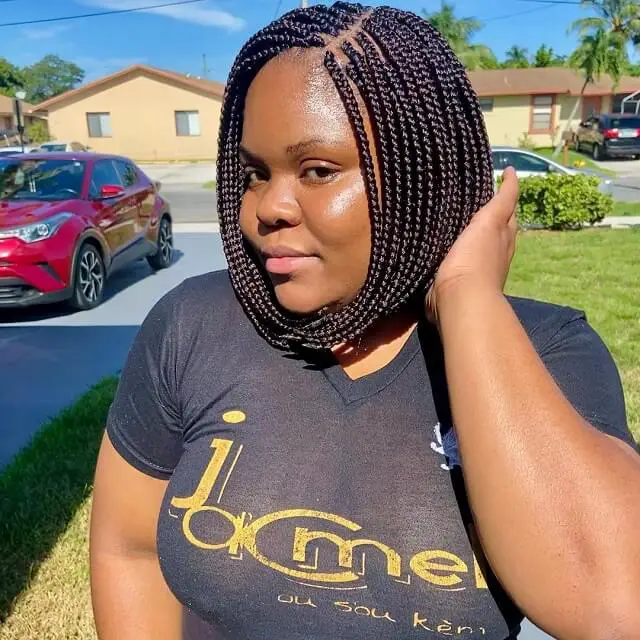 Unlike braids, bobs are straighter and easier to pull off. You can try thick or thin crochets, but the primary attention here's to put on the box braid in a bob fashion. Amazing how simple hairstyles can look so mind-blowing to turn a few heads.
For an even cooler look, you can make the crochet braids even thinner. The thinnest you can get, the cooler you look. It makes your hair looks slim and brings the eye to your face structure more.
4. Short Gray Crochet Hairstyles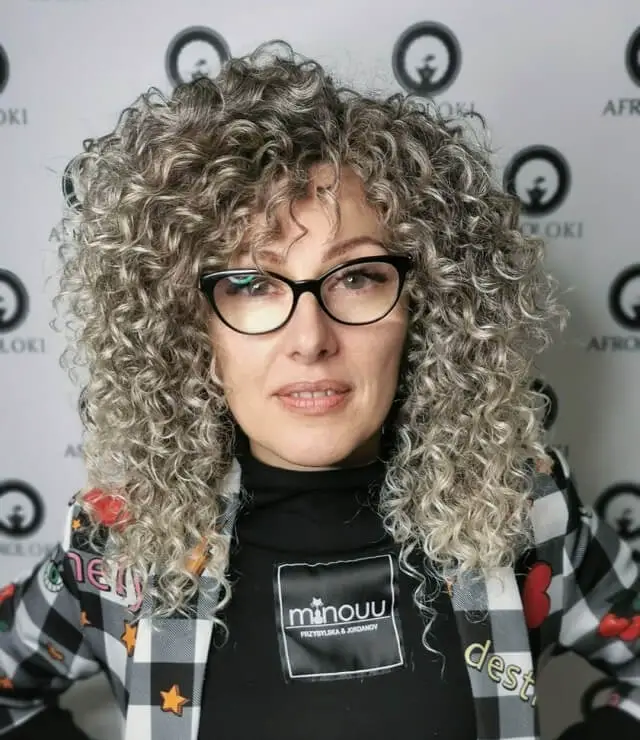 Even with your short gray hair, attaching a few crochets will look stunning. Using crochets can bring out more volume to your hair. The trouble's worth it because curly hair looks even better in this hairstyle. You don't have to do cornrow or box braids either.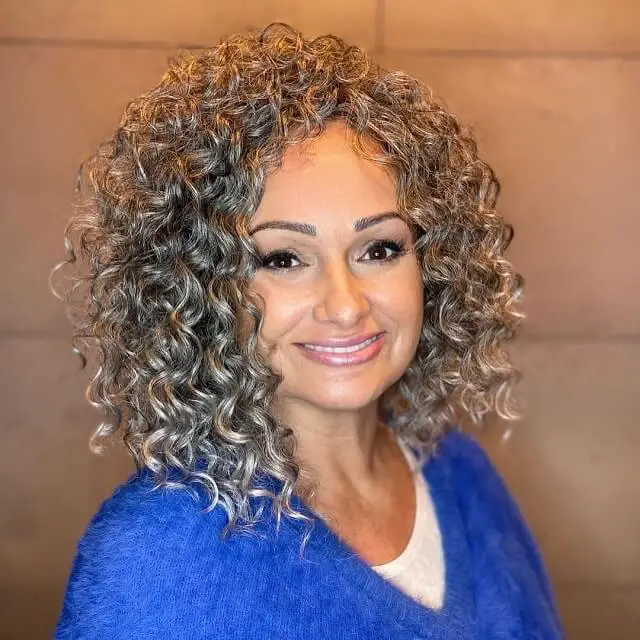 Even sides can make your hair look nice, but one side looks longer than the other adds another dimension to the style. Use crochets to make your hair look longer on one side and flaunt it.
5. Short Crochet With Weave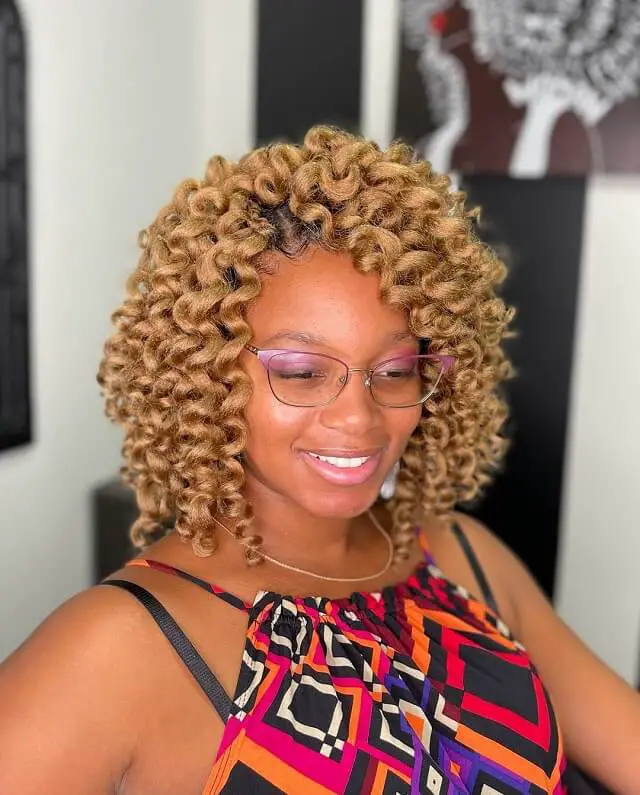 Weave, a glamorous-looking hairstyle, is one to try with your short crochets. This wavy hairstyle can be achieved with hair drying a bunch of hair strands in a curl. You'll get fuller and thicker hair this way. To be precise, weave crochet brings about a more of a celebrity or influencer feeling.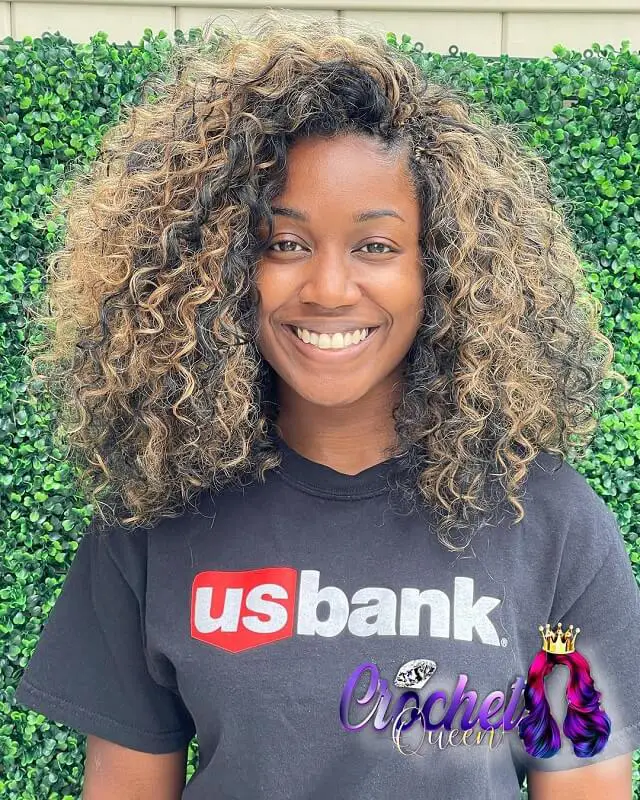 Unlike the previous one, you can try out hair drying with individual strands. It'll take longer, though. Honestly, if some of your hair strands have shading that adds more texture. This increases your hair volume to look 2x times bigger.
6. African American Short Crochet Hairstyles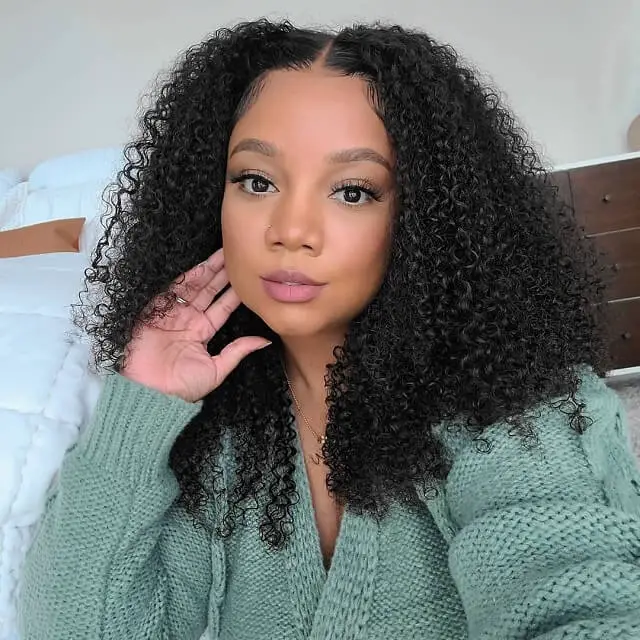 Now for Afro-American gals, this versatile look can bring a revolution to your short hair. Doing a middle section and adding crochets will bring a layer of freshness. You can use the mid part of your hair to bring more attention to your facial structure.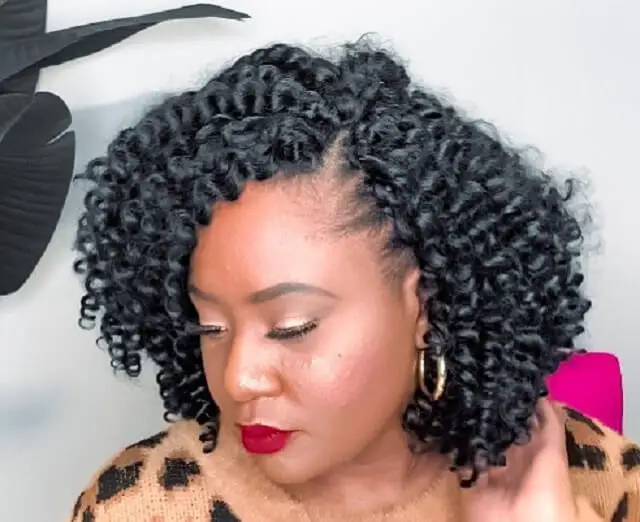 For thick and curly hairs, the side section can bring more attention to your profile. Flaunting with your African-American hairstyle can look fantastic. For a perfect finishing, attach crochets to your sides. Voila! You look dashing.
7. Short Bohemian Crochet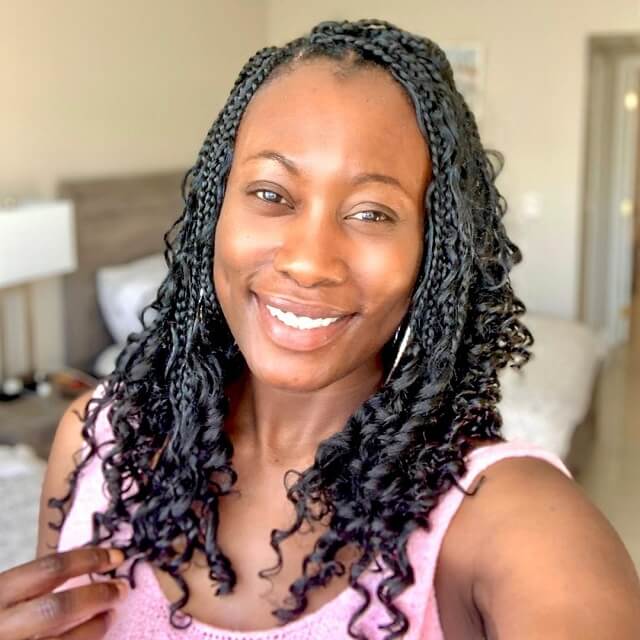 An intricate among many crochet hairstyles for short hair would be the bohemian crochet with short hair. Adding curls of crochets to your micro braids will make your hair look longer. "Dashing" would be the right word to describe it.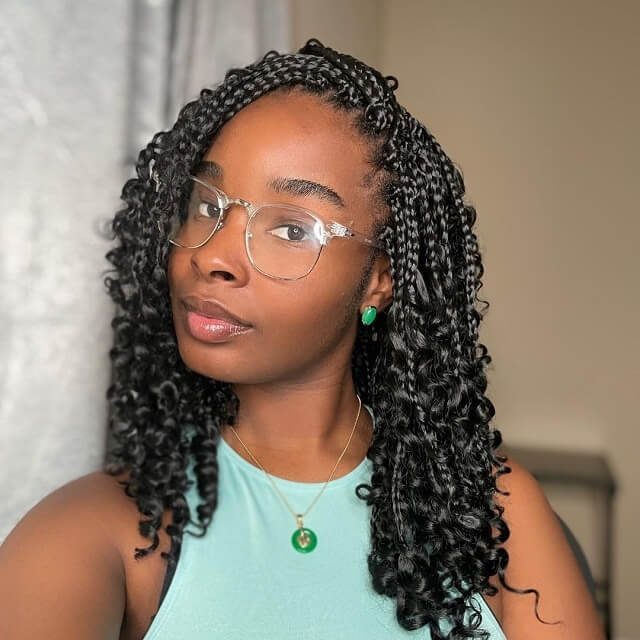 For more natural-looking hair combining crochet with your micro braids looks staggering. This brings a more modern look to your class braids and makes them look longer and more stylish. Without a doubt, the transition is to die for.
8. Twist Short Hairstyles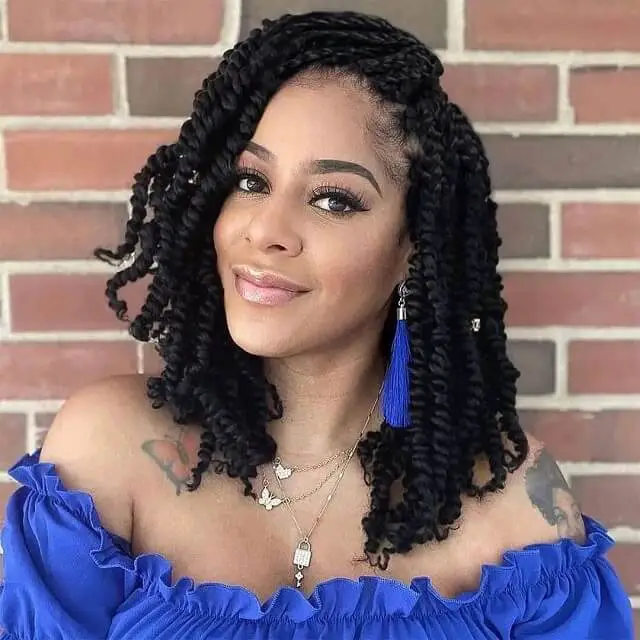 For your beautiful black, dark hair, try out this twist of crochets on your short hair. Try out a side section with your spiral crochets. Black hair with twists of crochet adds variety to your hairstyle.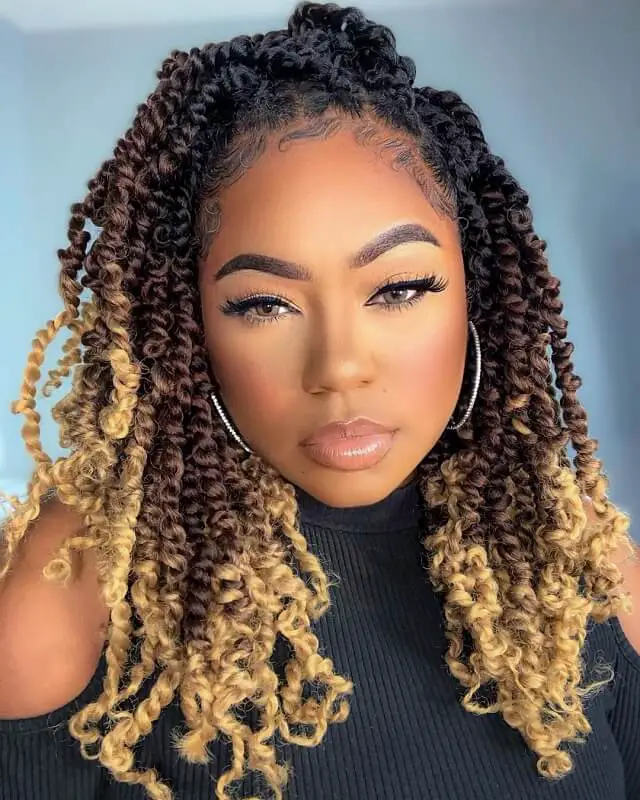 Black to red to blonde shade. This is another spiral crochet hairstyle. You can add different shaded spiral crochets to bloom this style. Try different shades according to your tastes.
9. Short Crochet Hairstyles With Curly Hair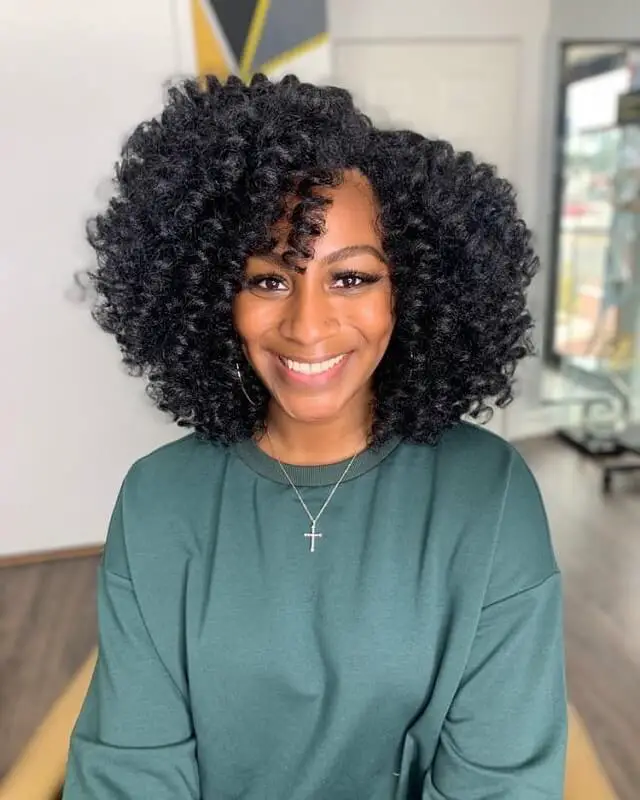 Adding twists to your curls can sway the bystanders when they see this dashing look. Instead of using crochet for braiding, do curls with them, making them fluffy because of the added twist to your curls. This makes your hair look springy – a fascinating hairstyle, indeed.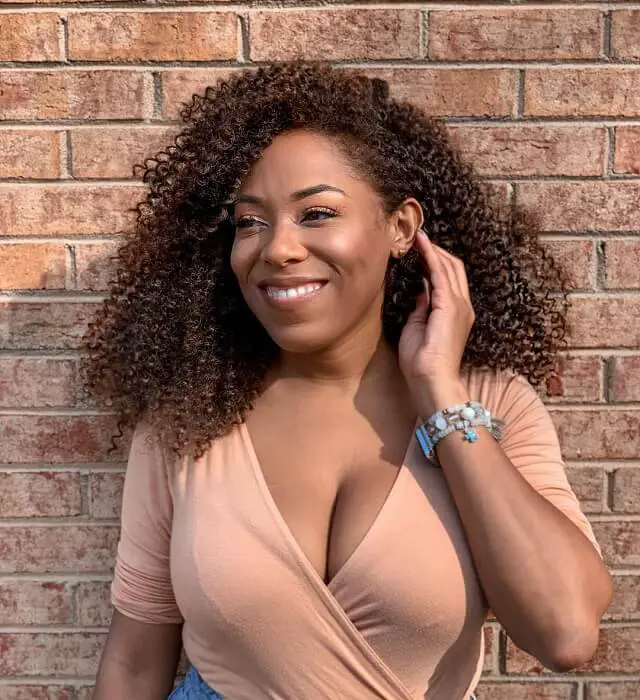 Unlike the last one, you can add more twists to the curls, bringing a fluffy vibe to your hair. This one makes your hair strands look thinner yet full. Style your hair to expose more of your side profile.
10. Short Crochet Hairstyles For Black Women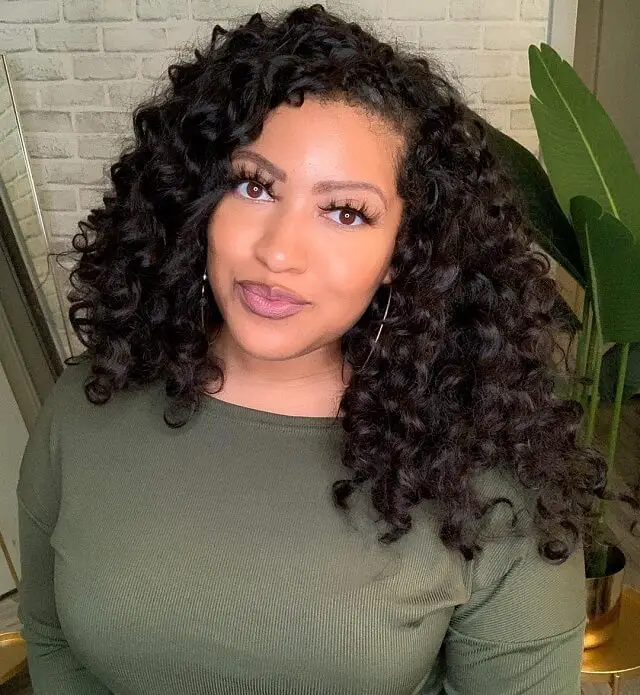 All the black women out there, try out this hairstyle, wavy and curly. The crochets seem hidden to bring about more mystery to the style. Only, you can reveal that crochet is the answer to your beauty.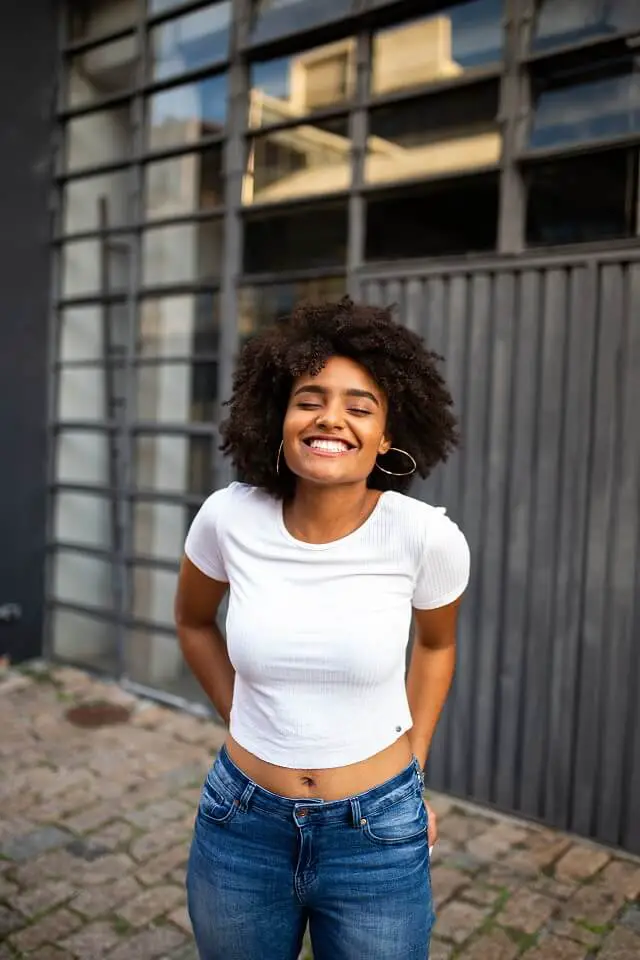 This is a tricky one to pull off. Natural fluffy hair with the addition of crochets and a kinky hairstyle can bring about a staggering look. As easy as it may sound, for flaunting this, you need guts.
11. Short Crochet Box Braids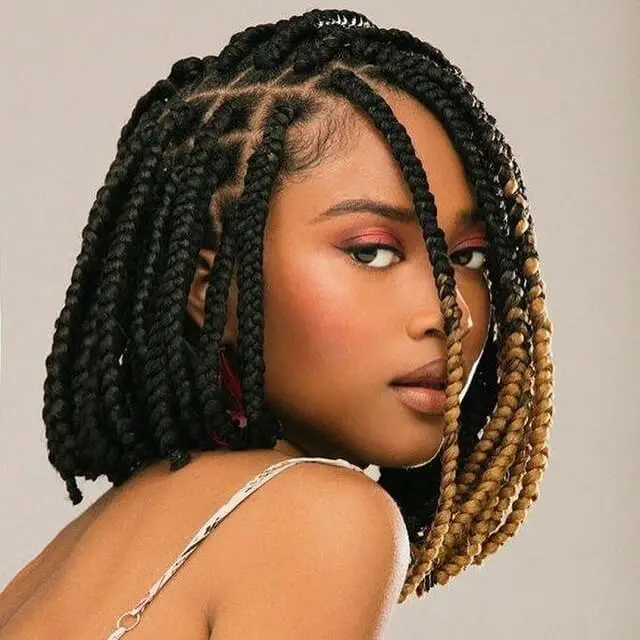 Box braid crochet with short hair's a killer look to try out. Do box braid in your crochets to achieve this hairstyle. Adding shades to your crochet adds another layer of style, making it unique and individual.
12. Deep Red Short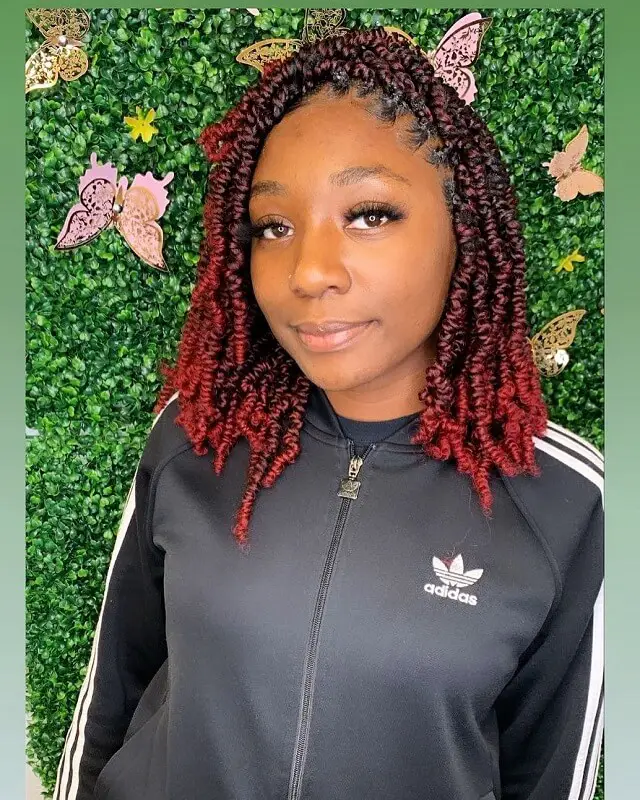 Shading, without a doubt, is fantastic. Color suitability matters according to styles, red short crochet never goes wrong, though. Try it out in this new year and bring a new makeover surprising everyone out of their wits.
13. Blonde Highlights On Short Crochet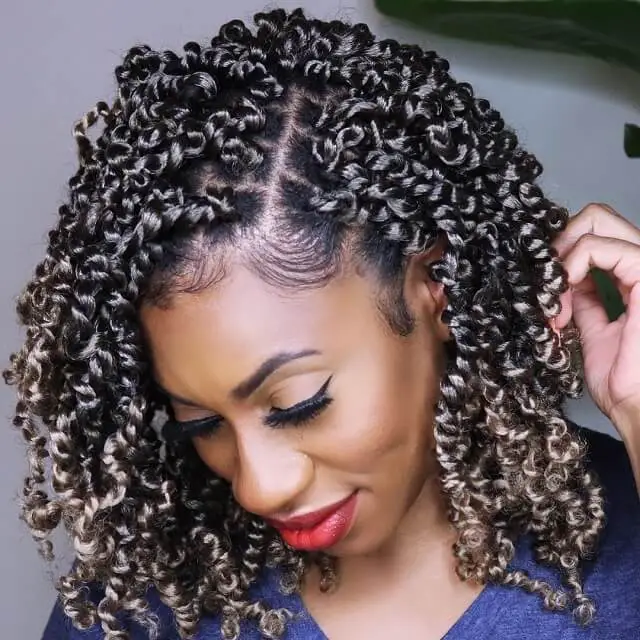 You can never go wrong with blonde shades among many other crochet hairstyles for short hair. Using crochets of blonde color with the middle section can look stunning. Knotting from the core of your head adds another layer of style. Don't be afraid to try it out.
14. Chunky Crochet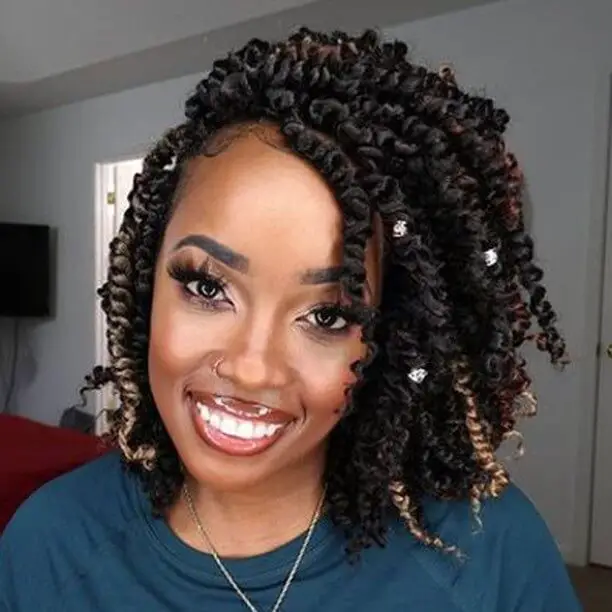 For thick-looking hair, try out the short crochet in a chunky way. Grabbing all hairs on one side adds more volume for a fuller and lively look – an easy-to-try killer look. Make your neighbors skip a beat with a stunner hairstyle.
15. Two-Toned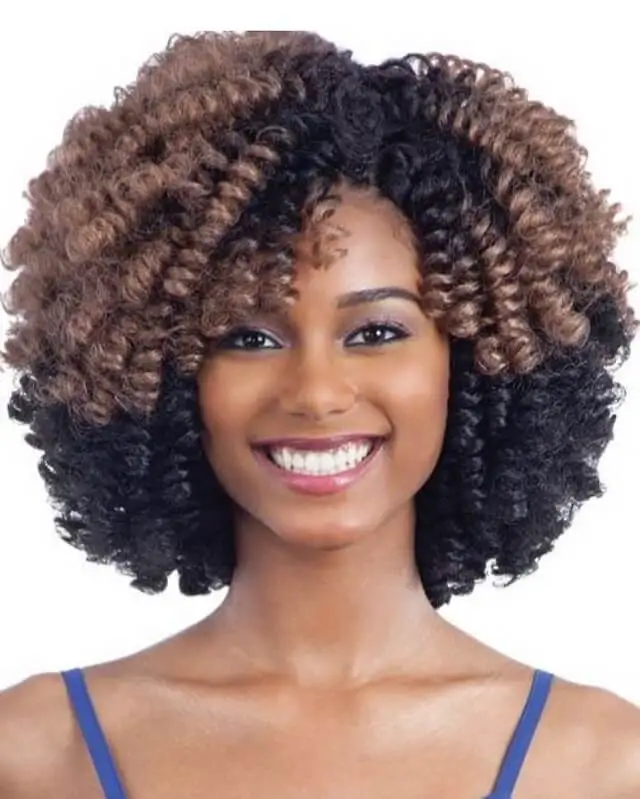 Till now, you saw using one shade of crochet with your short hair. How about using a second tone? It'll pack more liveliness to your character. You can go black and blonde or even red and dark black. For a feathery spring vibe, try to keep the twists loose and big.
16. Short Asymmetrical Bob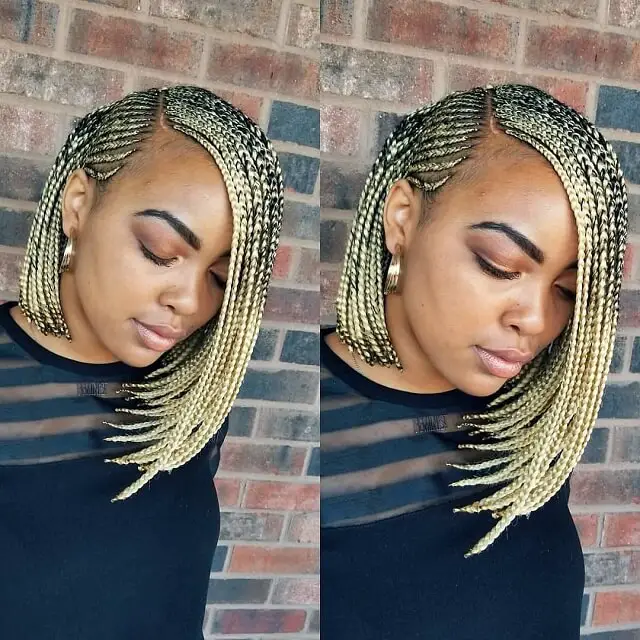 Symmetry is tedious. Why struggle when you can be awesome with your asymmetrical bob crochet? Keep one side longer than the other when doing a bob hairstyle; easy! This crocheting is easy and smart. A piece of cake to look stunning.
17. Short Crochet Hairstyle With Bangs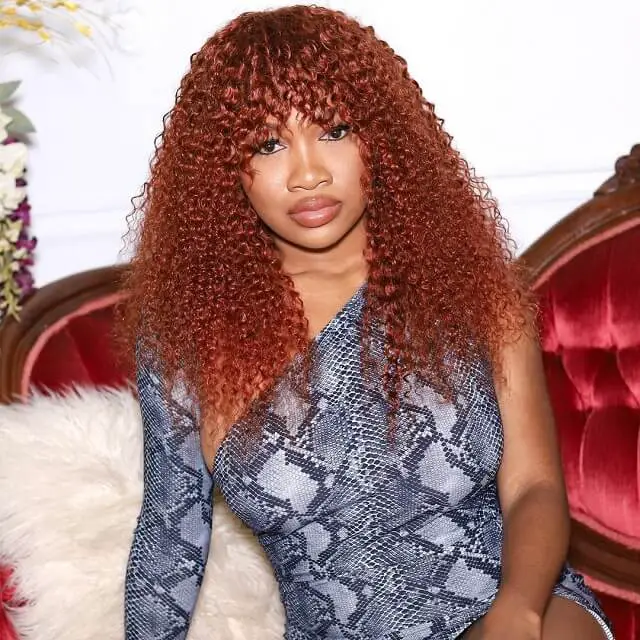 Bangs are widespread yet flawless hairstyles. But have you thought about bangs with short hair crochet? They can bring a fresh look even with new hairstyles. Use crochet to cover your forehead like bangs.
18. Side Swept Short Crochet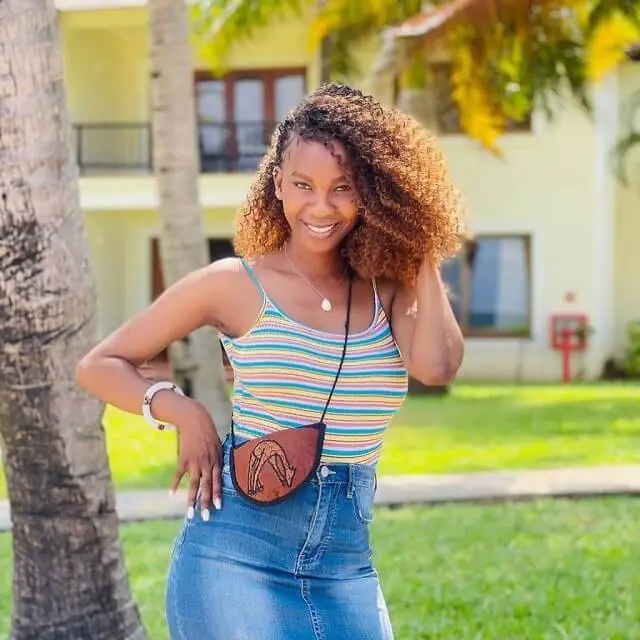 Wanna focus more on a side profile? Then side sweeping your hair to the other side and attach crochets to your short hairs. Choose the side that looks better on camera cause the bystanders will be busy clicking photos.
19. High Top Short Crochet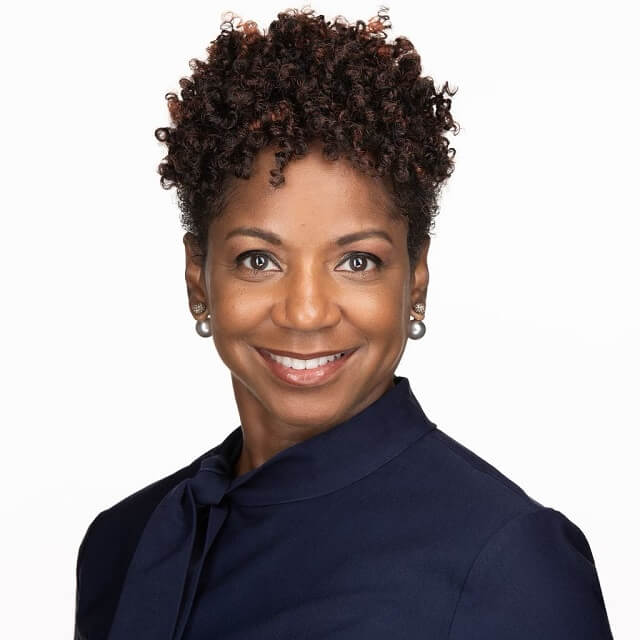 Instead of sweeping your hair to one side, you can try a high top and focus on the whole facial structure. The shorter your hair, the better it works. Try not to keep your hair hanging to one side.
20. Layered + Short Crochet Braid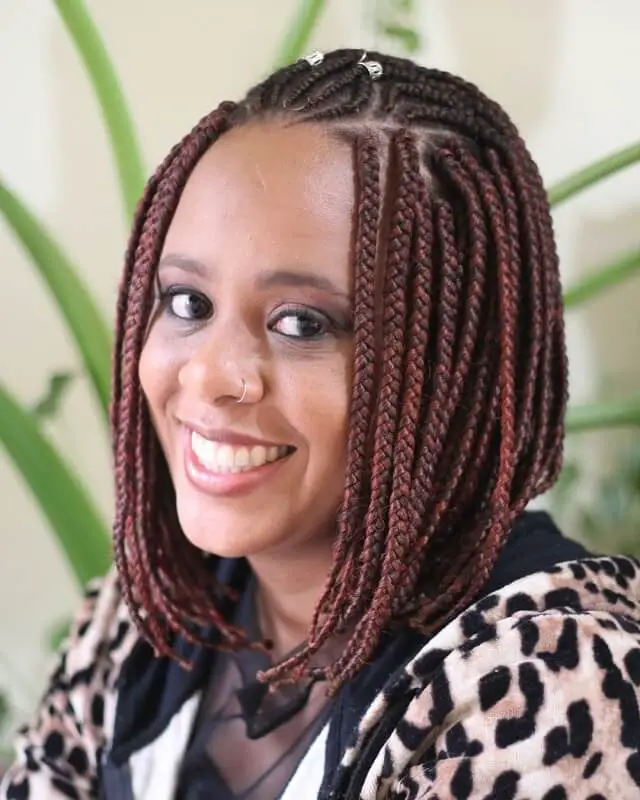 Layers bring total uniqueness to this hairstyle. Adding layers to your ponytail hair strands brings a sophisticated look. Have three distinct sections, two side sections, and one middle section for this hairstyle. Try out this elegant yet killing look.
21. Short Crochet With Highlights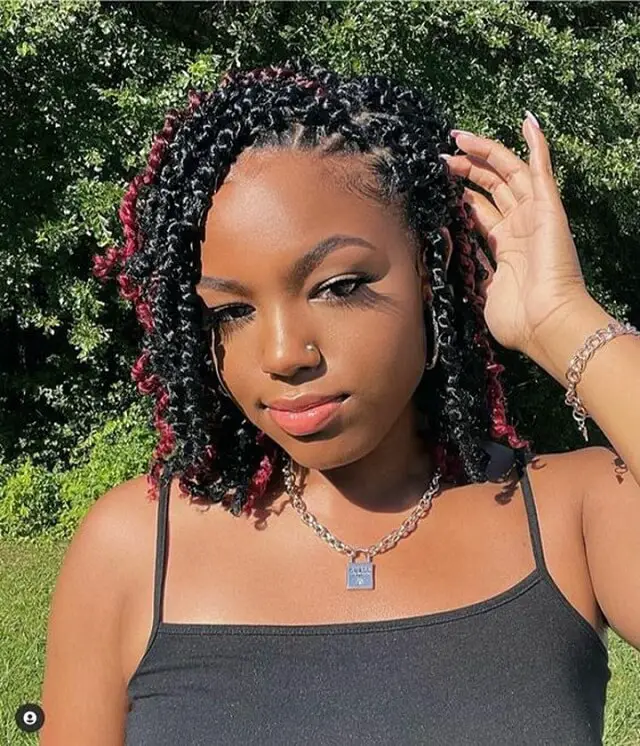 If you're new to shading and unsure of which color to try, you can use highlights. As only a few of the strands of your hair will have color. This way, you don't have to worry too much and even enjoy short crochet with the highlights.
22. Silver On Short Crochet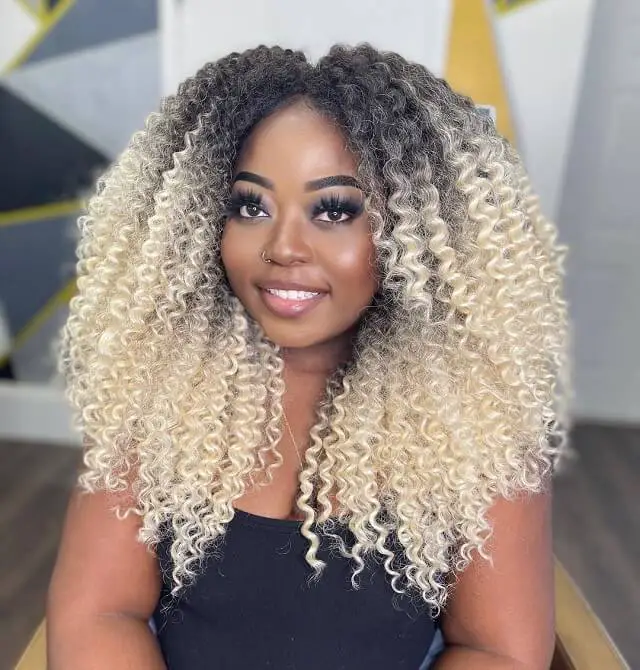 Silver, the color of reflection and illumination can bring out your feminine energy and look stunning as well. This depends heavily on the middle section of your hair with fluffy crochets. You walk by while the bystanders look mesmerized by the mix of silver crochets with short hair.
23. Ombre + Crochet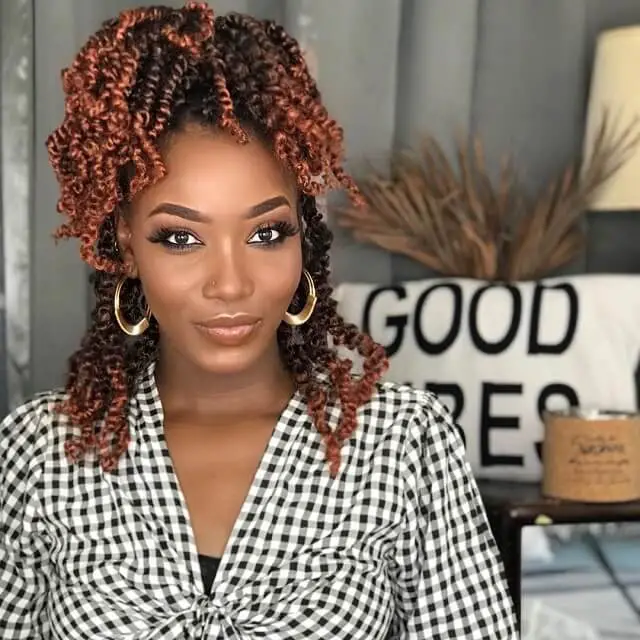 Ombre or blending your hair color with another adds a dramatic style. This highlights the hairs very well. Make two ponytails on the back of your hair while the crochet hangs in front. Reddish hue blended with dark black hair can be a staggering look to pull off in this new year.
24. Loose Curly Short Crochet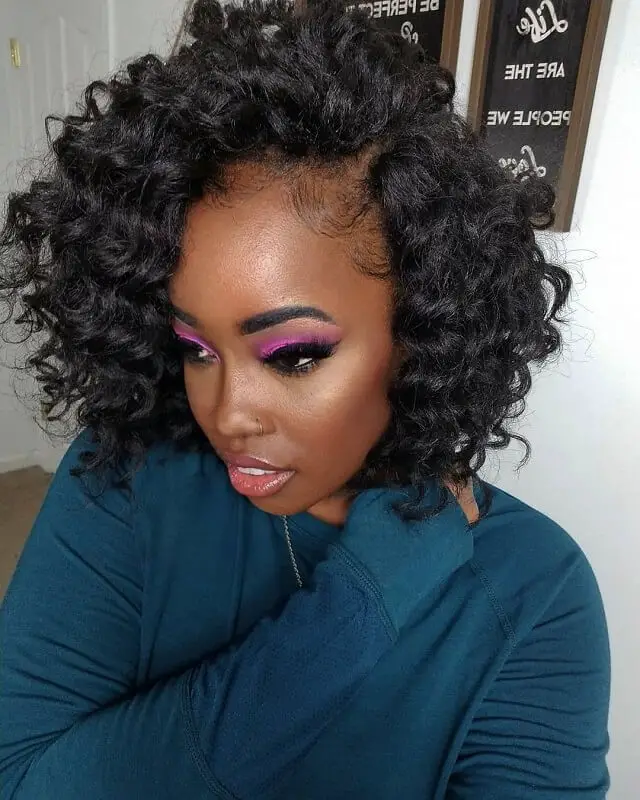 Till now, all the hairstyles were keeping the crochets tight. It can be tricky to try a crochet hairstyle with loose hair. Do your crocheting a bit loosely for this look. To look casual and carefree, this one can be a perfect choice for that.
25. Purple Short Crochet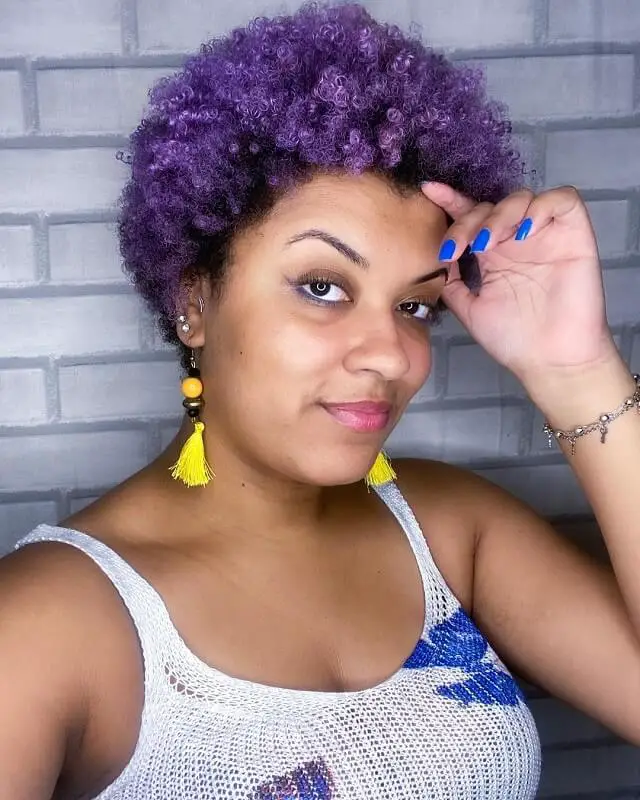 One of the striking colors to pull off with crochet hairstyles for short hair is purple. Do a high top with your short crochet for extra attention to detail. You'll pop off like no other, without a doubt.
28. Grey Crochet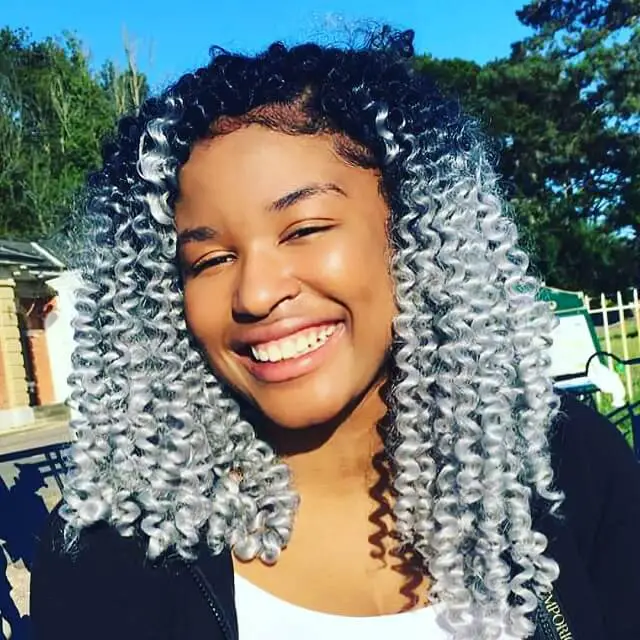 Gray shading can be eye-catching as it's a rare shade to try out. Bold enough to try this? Then be ready to get some "looks". But if you're confident, this one is perfect for throwing your haters off.
29. Blonde Highlight With Box Braids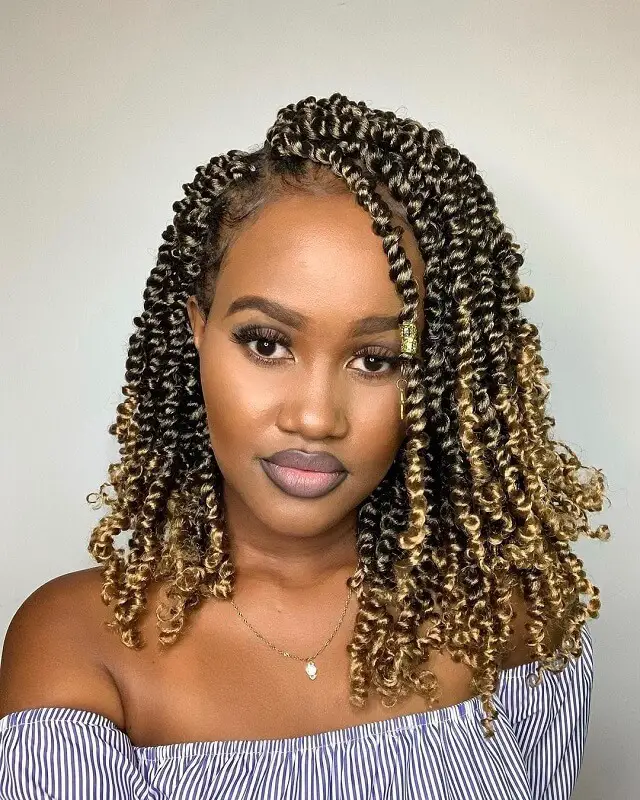 30. Side Swept Crochet For Short Hair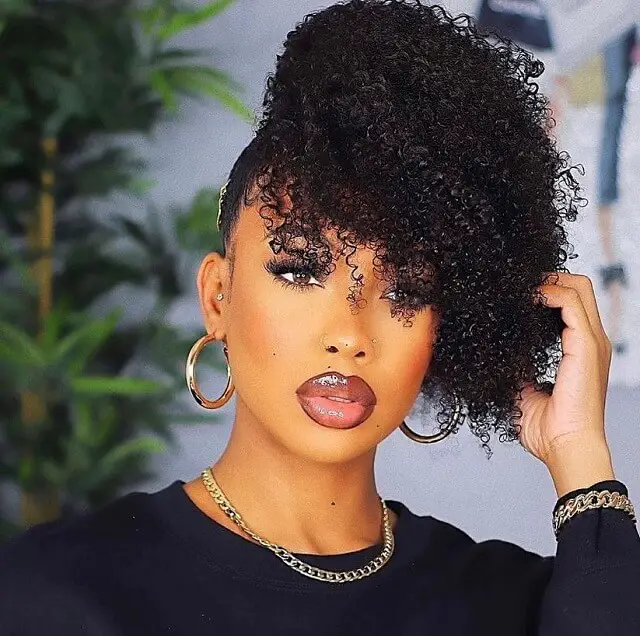 31. High Bun With Short Hair Crochet
32. Side Braids with Back Crochets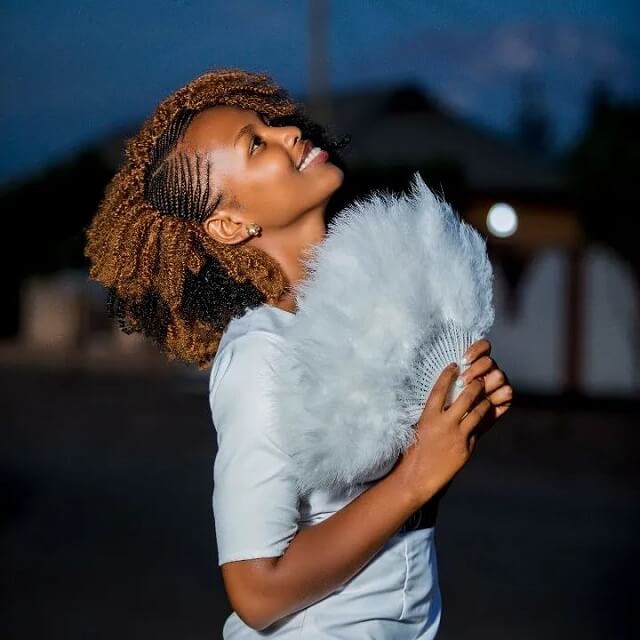 33. Single Highlight With Thick Braided Crochet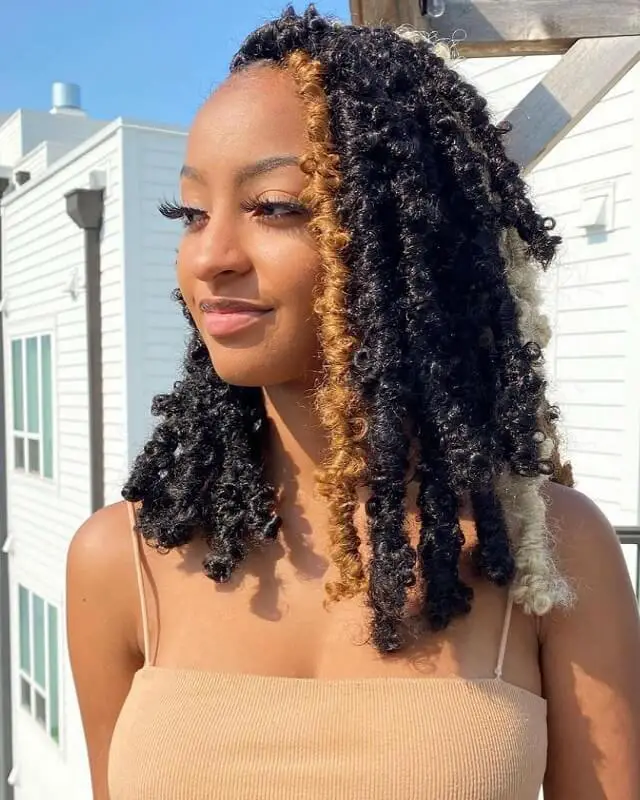 34. Fluffy Blonde + Short Crochet
33. Brown Ombre In Short Crochet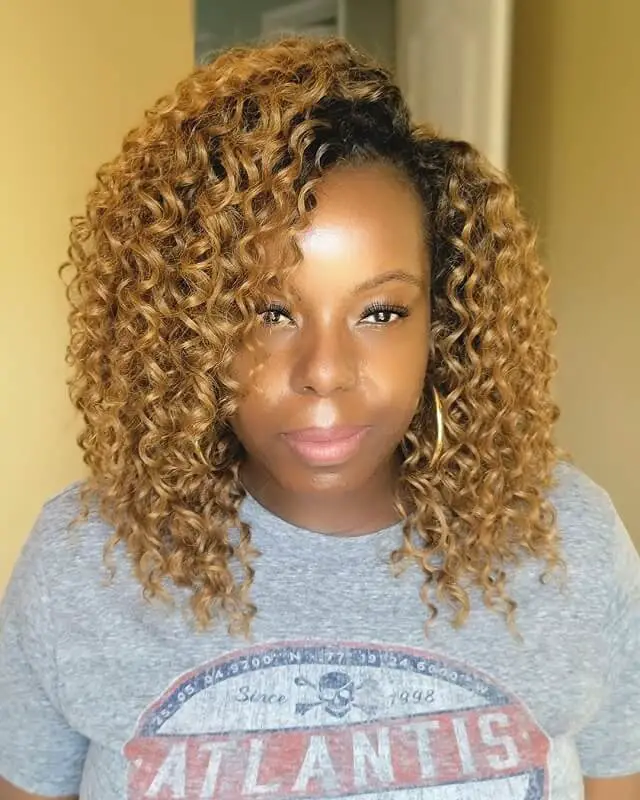 34. Triangle Braid With Crochet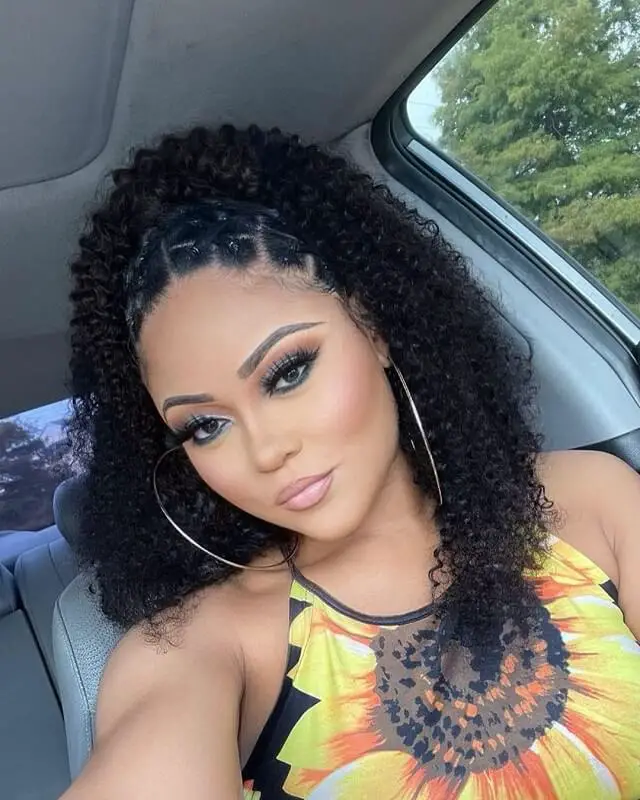 35. Mixed Shades With Short Hair Crochet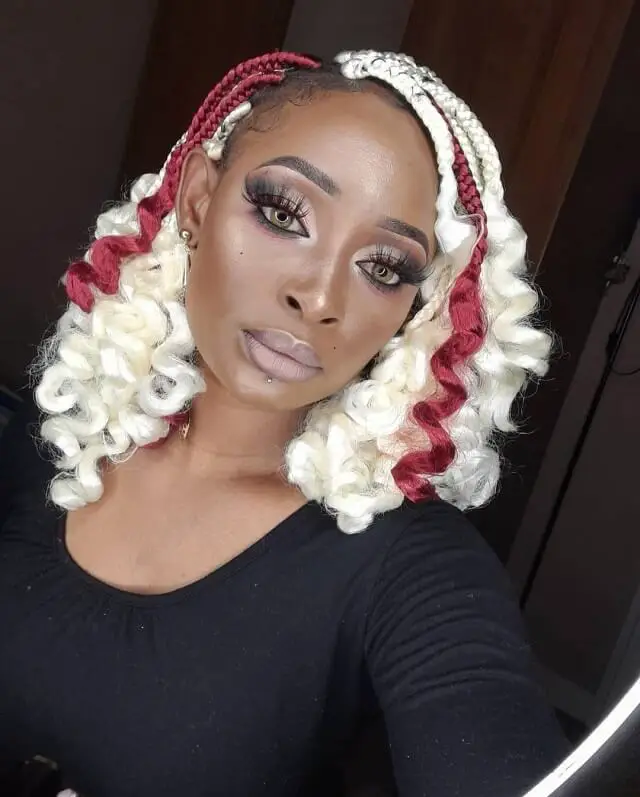 36. Thick Crochet For Black Women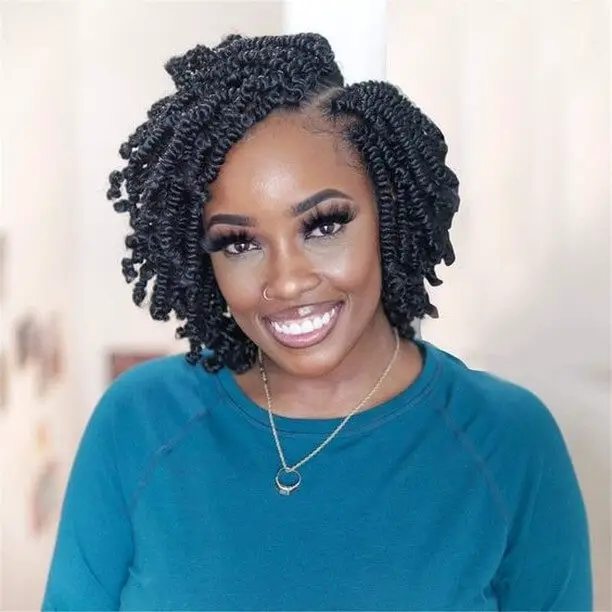 37. Chunky For Both Sides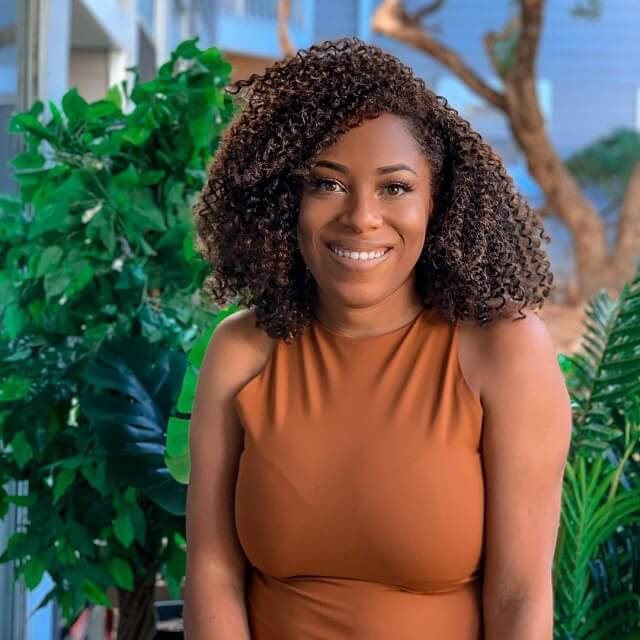 38. Curly Short Crochet With Orange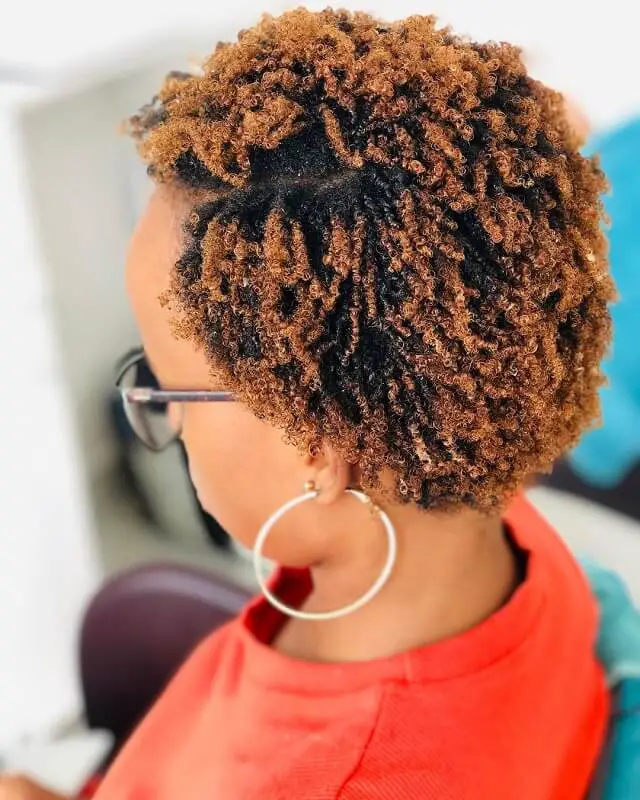 39. Short Crochet For Wavy Hair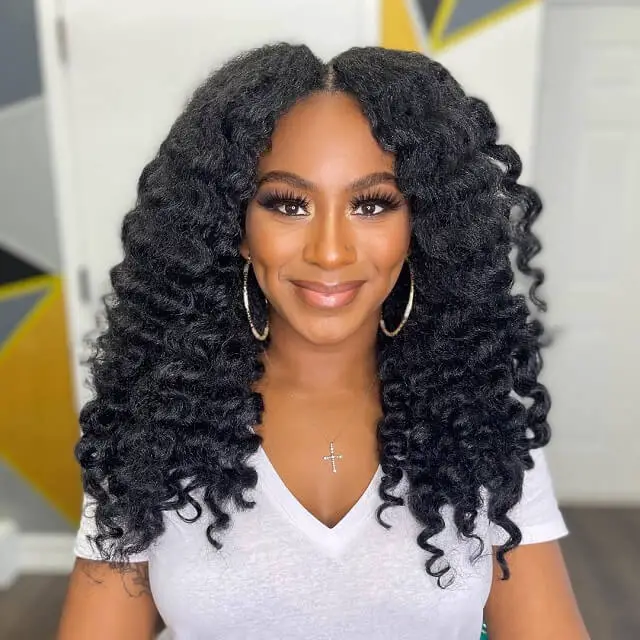 By now, you should be able to find your next best hairstyle to flaunt in all its glory. Crochets are unique hairstyles. With short hair, they become surreal and hard to pull off – but once completed, they rock everyone off their seats.
All of the above short crochet hairstyles are going glow on your face. Without a doubt, try one or maybe two, maybe even all. The sky's the limit. There's no stopping you today. Ciao!