A shaggy pixie cut is EXPRESSIVE, PRACTICAL, and FASHIONABLE. From supermodels to movie stars and even the girl walking next to you, anyone and everyone is sporting a shaggy pixie in the new millennium, and that too for legit reasons!
Even after being shorty short, this sexy, chic haircut still rules the fashion circuit because it oozes style and glamour and is also low-maintenance and easy to style. Be it fine, thick, straight, curly, or even wavy hair, the signature features of a shaggy pixie would never miss adding the right bit of swagger and power to your look. You would stand tall and powerful everywhere you go!
30 Fabolous Shaggy Pixie Cut for Your Hair
If you think a shaggy pixie haircut lacks versatility and chicness, it's a MYTH! Check out our top 30 list to find out the one that suits your vibe and personality, regardless of your hair type and texture.
1. Feminine Shaggy Pixie Cut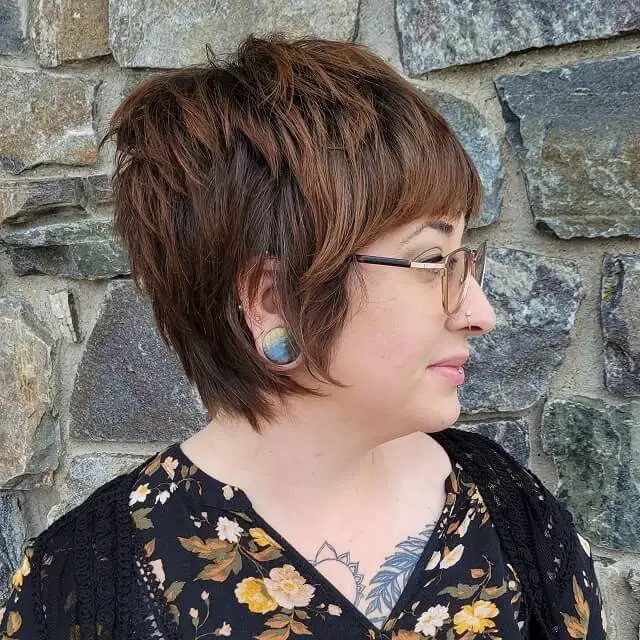 As the name suggests, a feminine shaggy pixie cut is subtle and feminine. It creates incredible softness in your whole look and greatly highlights your features to look as youthful and gorgeous as ever. Be it curly, natural or straight, this "do" is suitable for any hair type and face shape and seamlessly goes with almost all personalities.
2. Shaggy Choppy Pixie Cut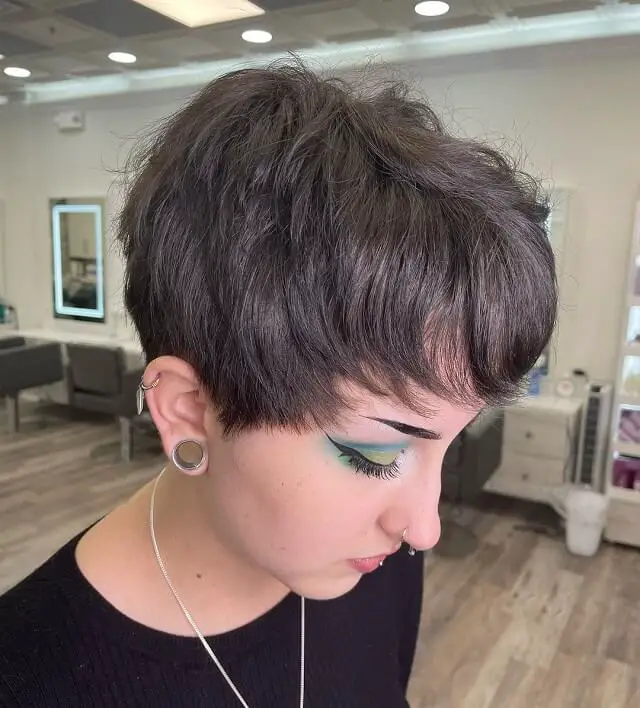 Sexy yet comfortable- a choppy shaggy pixie haircut cannot be described any better. The jerky, texturized layers all over the head frame the face perfectly and easily suits any face type and personality. Try this cut on straight hair or curly ones, the result would be "oh-so-amazing."
3. Shaggy Pixie Cut For Fine Hair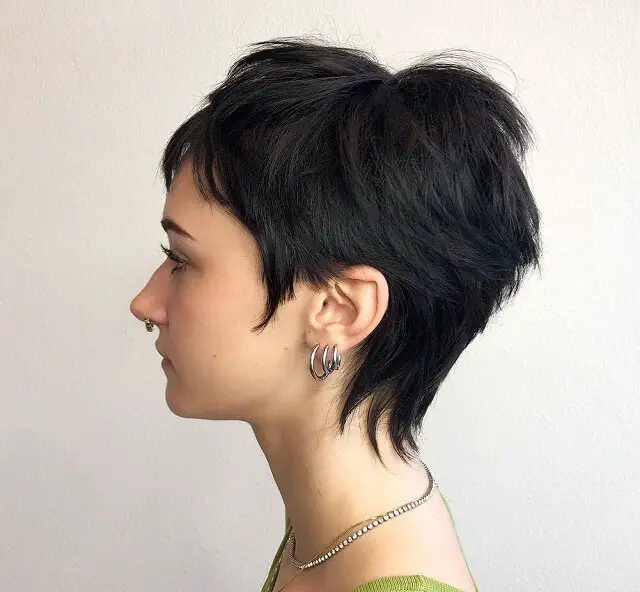 The texturized layers and the separate pieces of a pixie cut create an incredible illusion of volume and body in your fine hair. This amazing cut ensures that your tresses don't look flat and lifeless anymore. Style this "do" with your favorite volumizing spray for more dimension and edge!
4. Long Shaggy Pixie Cut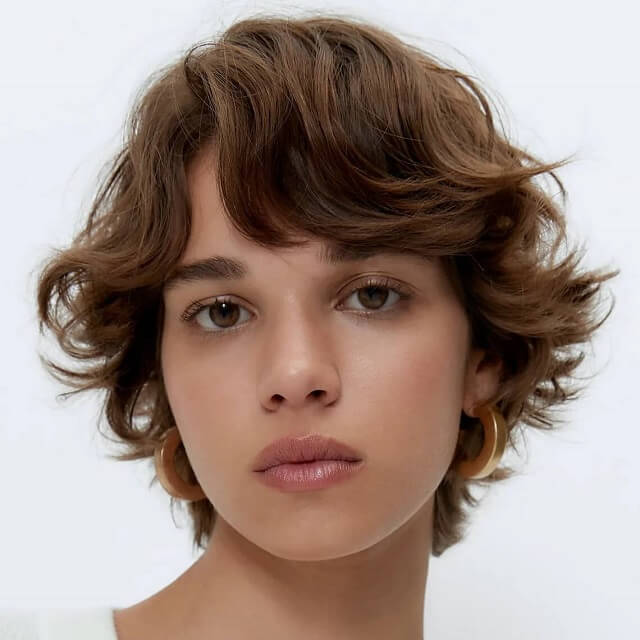 The long shaggy pixie cut is an excellent option if you are looking for a feminine yet stylish look for your tresses. Its subtle, face-framing layers at the front provide amazing movement and make your tresses look even fuller and bouncier.
5. Edgy Messy With Pixie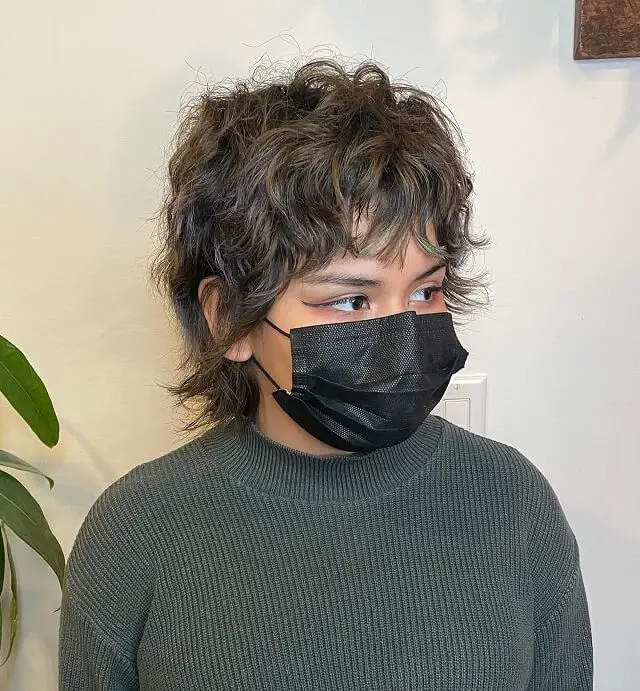 Add fun and flair to your appearance with an edgy pixie cut. With several texturized layers on the top of your head and sides, this incredible haircut provides movement and definition to your short tresses while still comfortable.  
6. For Thick Hair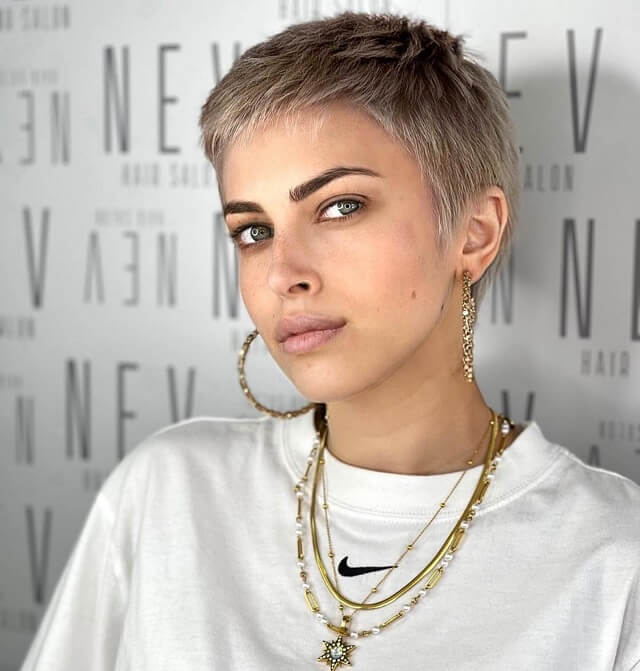 Thick hair and a shaggy pixie haircut are a match made in heaven. The cropped front paired with the choppy sides takes down a lot of hair-weight from your head and makes the tresses more manageable and stylish!
7. Shaggy Pixie Cut With Bangs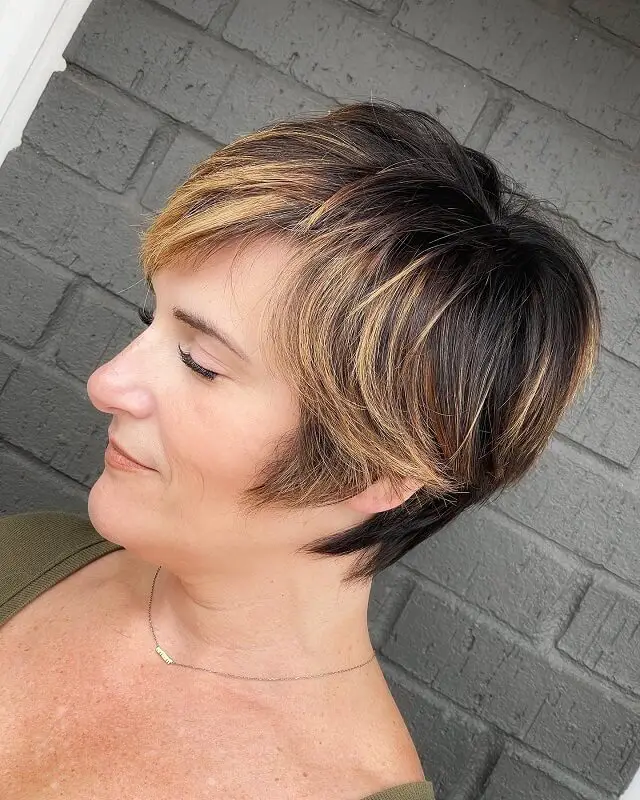 A super modern shaggy with bangs will not only cover your forehead but will also define your features for a stronger, edgier appearance. The perfectly imperfect fringes combined with a short pixie would draw all the attention to your face while still being subtle and not "over the top."
8. Low Maintenance Shaggy Pixie Cut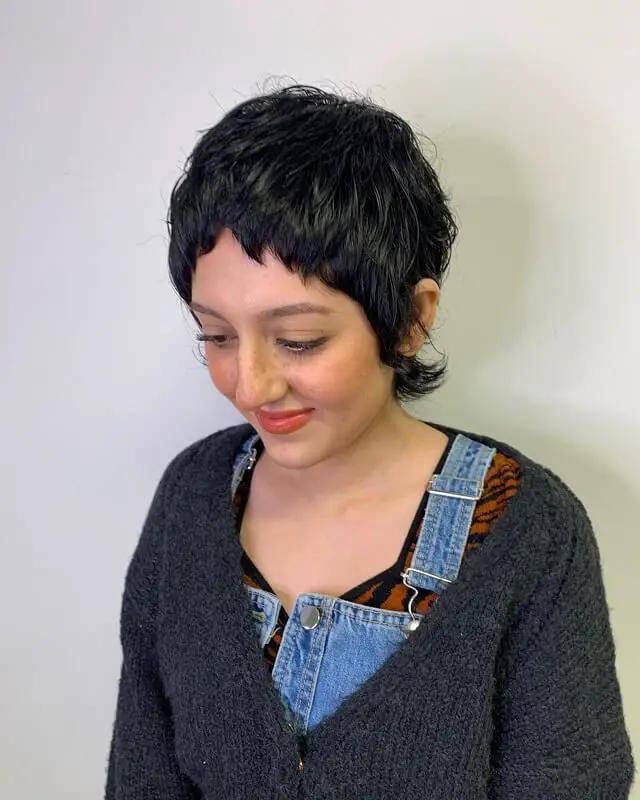 As the name implies, this interesting shaggy with pixie haircut wouldn't require much time and effort to style or maintain. Moreover, as it features super short strands all over the head, you can even take time between appointments at the hair salon without looking clumsy or "not-so-beautiful."
9. Shaggy Pixie Cut For Thin Hair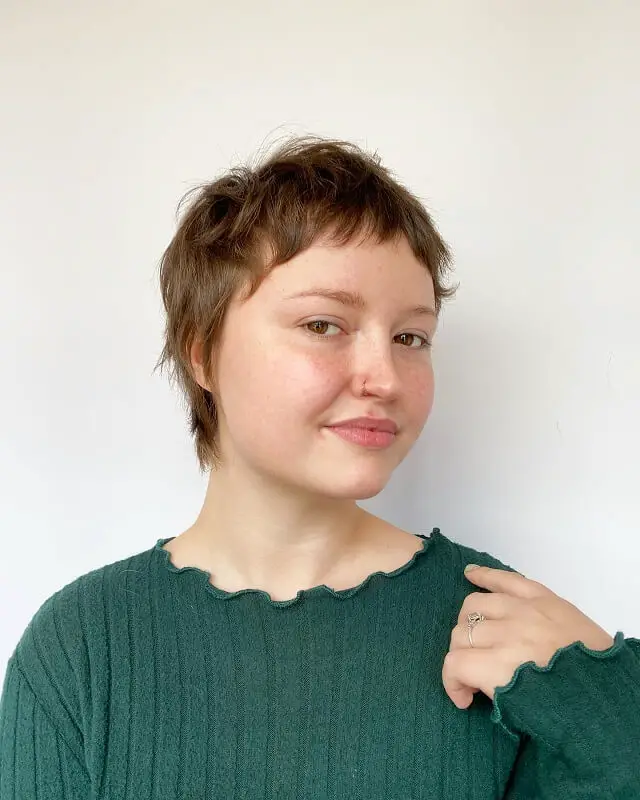 Create an illusion of fullness and volume in your fine hair with a super glam shaggy pixie haircut. The shorter strands combined with the texturized layers offer just the right touch of visual interest in your manes. And also helps you to make a statement easily even without trying.
10. Short Shaggy Pixie Cut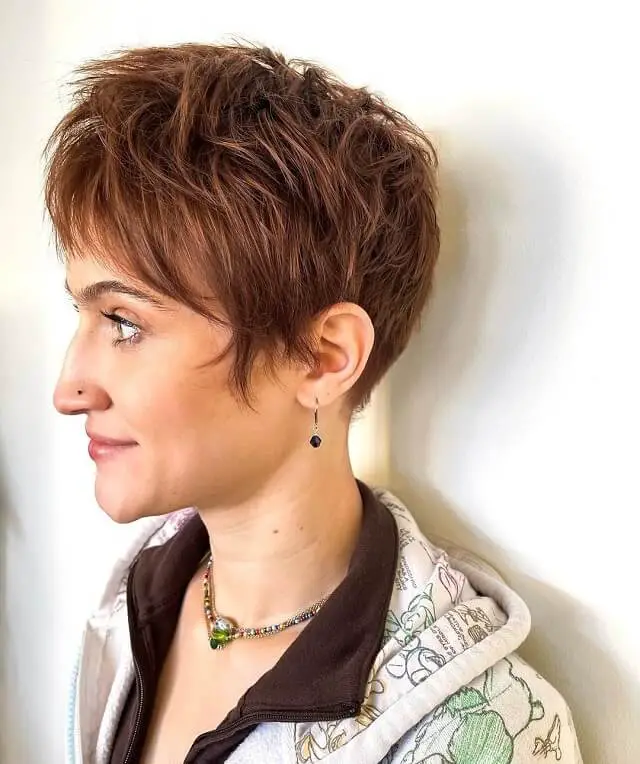 This classic short shag haircut is a timeless outlook that you can don with almost any face shape. Featuring a shorter undercut at the back with messy textured layers, this sexy hairstyle never misses to make a bold statement, regardless of the outfit you wear!
11. Shaggy Pixie Cut For Oval Face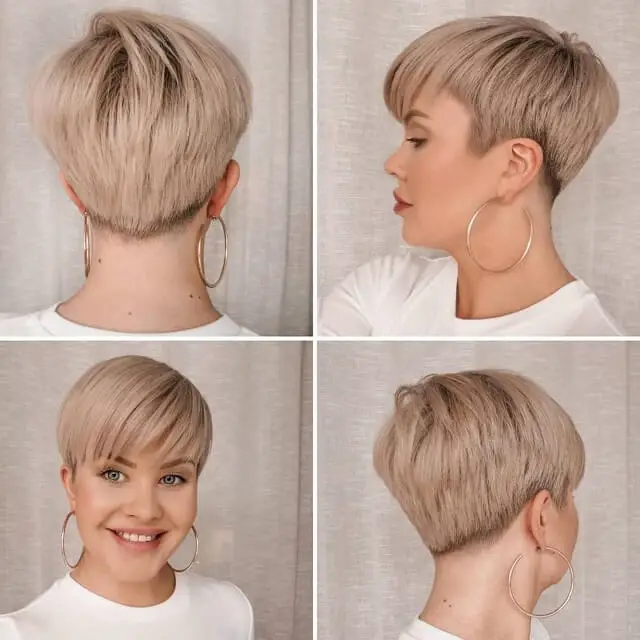 An oval face is incredibly versatile and a shaggy pixie cut suits it like a glove. It doesn't matter if you are trying a super short pixie or prefer a face-framing one with bangs, a pixie haircut would never fail to create balance and symmetry in your overall outlook.
12. Shaggy Pixie Cut With Long Bangs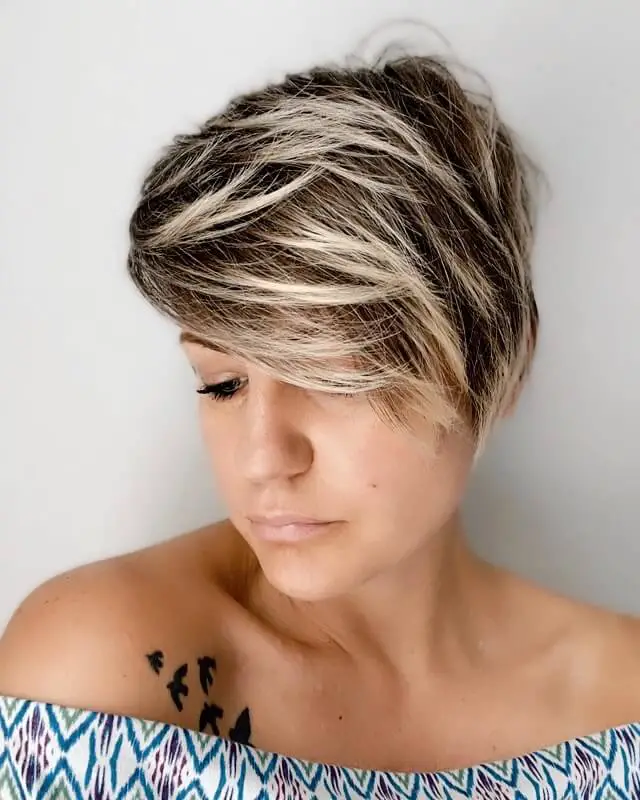 A shaggy pixie with long bangs can instantly provide versatility and freshness to your hairdo. The longer strands at the front successfully hide the imperfections in your face and offer a touch of femininity to your overall outlook. Play with the length of the fringe for a more customized result.
13. Shaggy Layered Pixie Cut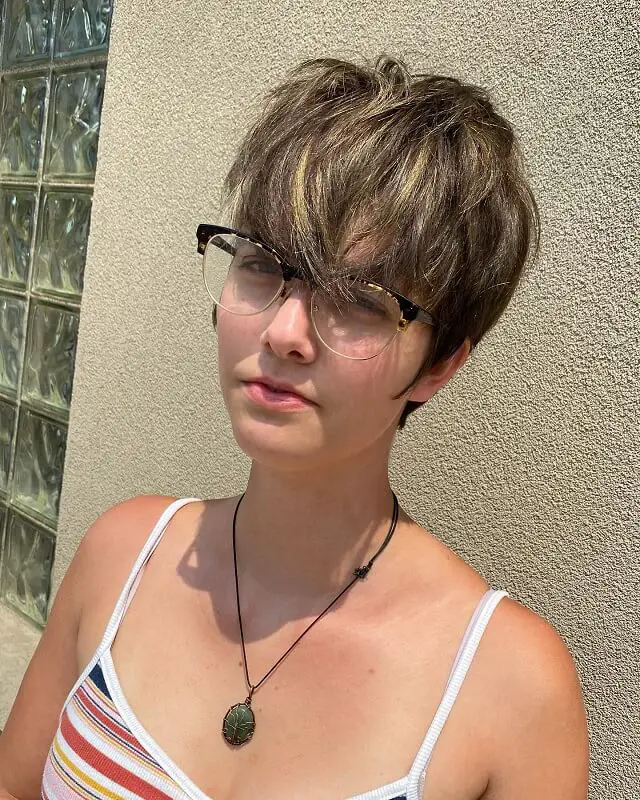 If you are an avid lover of layers in your hair yet looking for a comfortable haircut, the shaggy pixie with layers is the ONE for you. Featuring layers around the face to frame it with shorter sides and back, this gorgeous haircut will "up" your style quint greatly.
14. Shaggy Pixie Cut With Fringe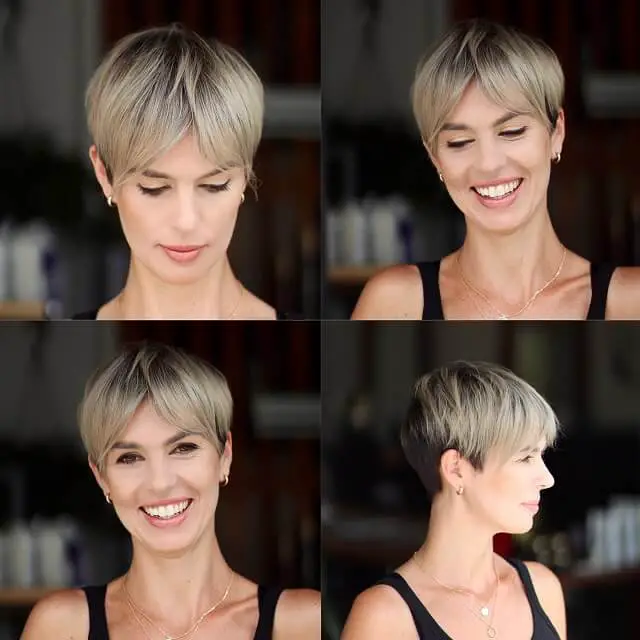 The softer fringe in your sharper shaggy pixie helps tone down the cut's fierceness and brings a very subtle, delicate vibe to your appearance. Style these bangs on either side of your forehead or create a middle part to highlight your beautiful facial features.
15. Short Shaggy Spiky Edgy Pixie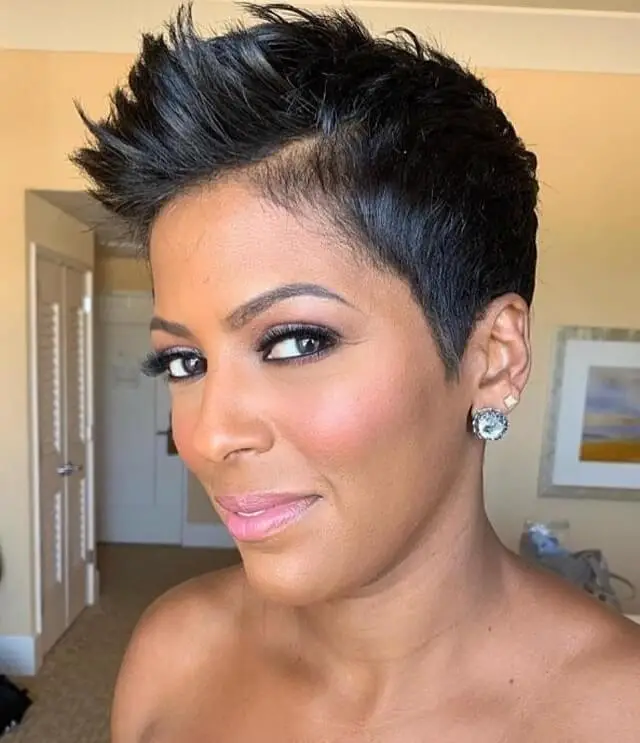 This spiky shaggy pixie haircut is perfect for women who aren't frightened to be bold and stand out in the crowd. The perfectly formed sharp lines and angles formed on your hair create an interesting pattern on the top of your head and bring in a lot of attention. You can spray on some funky color for some extra spotlight!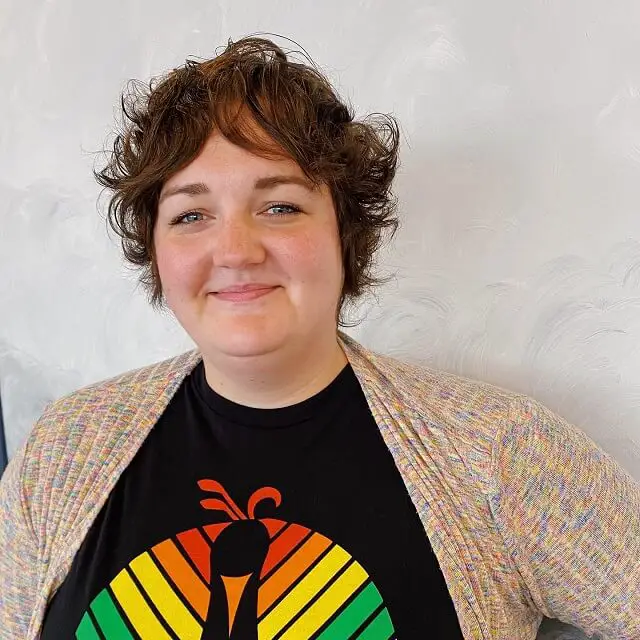 Pair your curly hair with a short shaggy to achieve a super versatile and chic outlook. The shorter ringlets and the choppy layers allow you to play with textures and proportions and achieve a look that is entirely yours!
17. With Asymmetrical Curls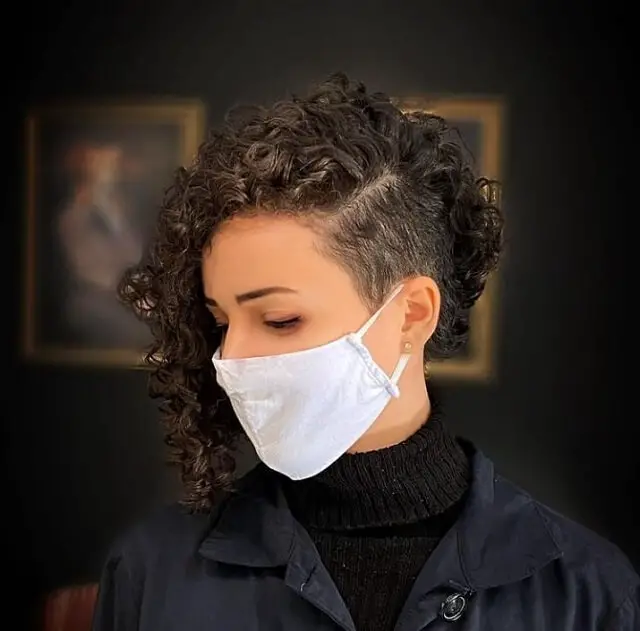 Want something iconic yet modern in your hair? Try the pixie with asymmetrical curls. The glamorous long ringlets on one side paired with an undercut on the other offer enough drama and edge to your overall look. It would also draw all the attention towards you even without trying.
18. Stacked Shaggy Pixie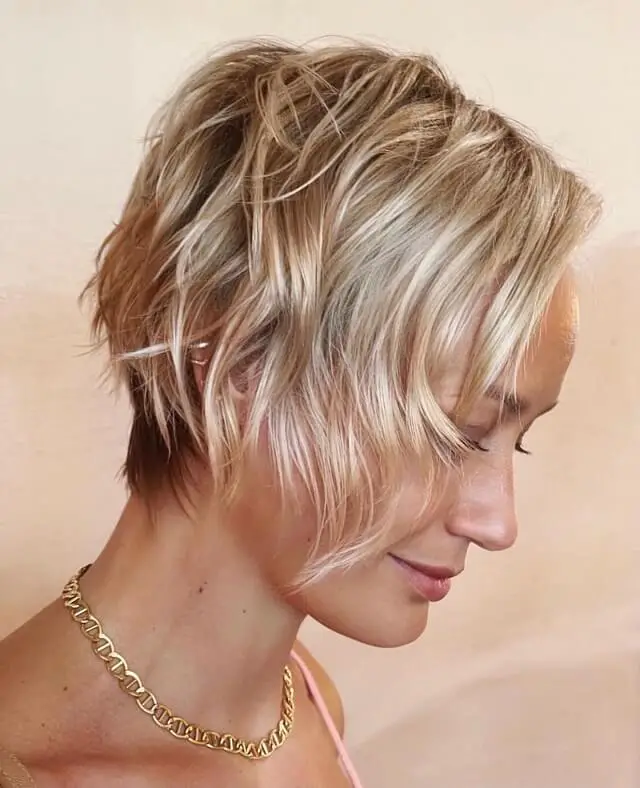 A shaggy pixie with stacked layers would never fail to amaze you! The perfectly trimmed layers on one another compliment each other and create volume, dimension, and texture in your sexy short tresses. Adorn them with a few waves here and there for a more decked-up appearance.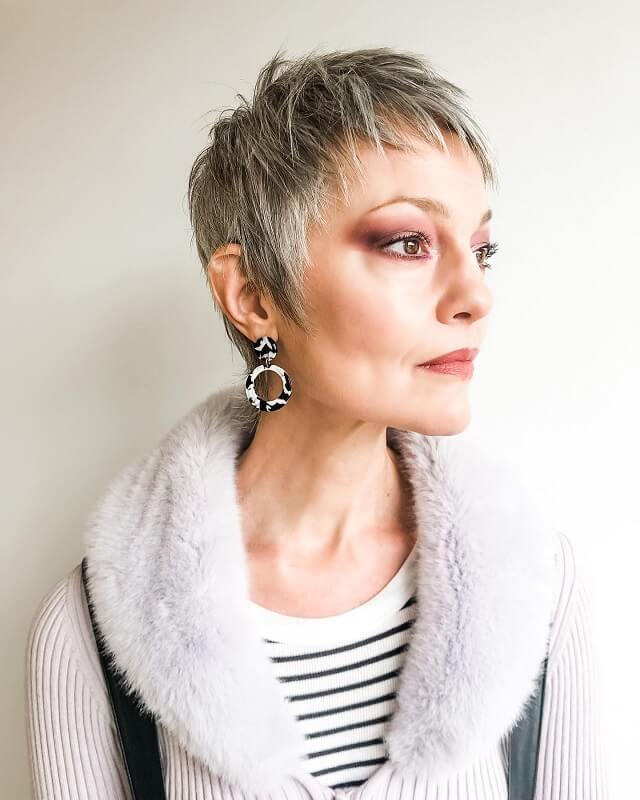 The layers and texture of a shaggy pixie cut would add volume and body to your old thinning hair and make it look more lively and fuller. Plus, as this incredible over 50 haircut is low-maintenance, you wouldn't have to spend much time styling it for a glamorous look.
20. For Women Over 60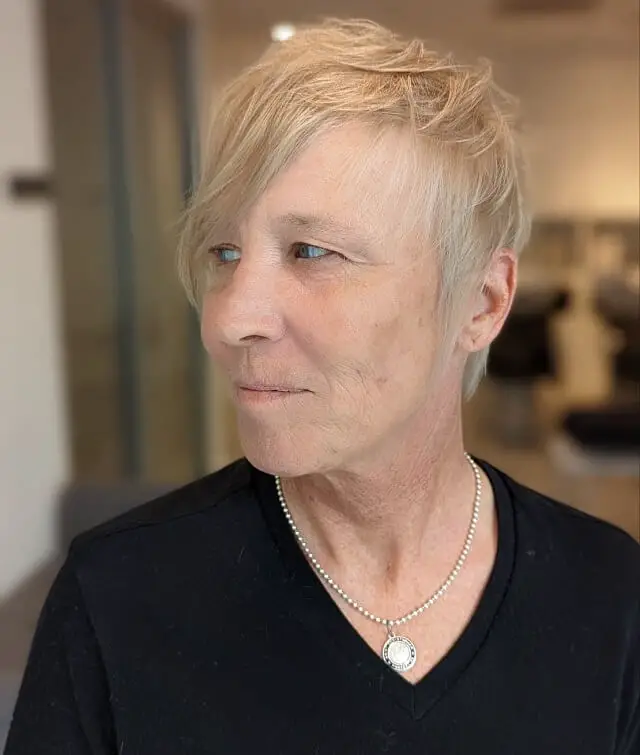 Chop off your wiry, dry hair for a more fashionable and comfortable shaggy pixie haircut. It will create a youthful appearance and look incredibly flattering even with your aged personality. Style it with volumizing products for extra "oomph" and "edge."
21. Strawberry Blonde With Shaggy Pixie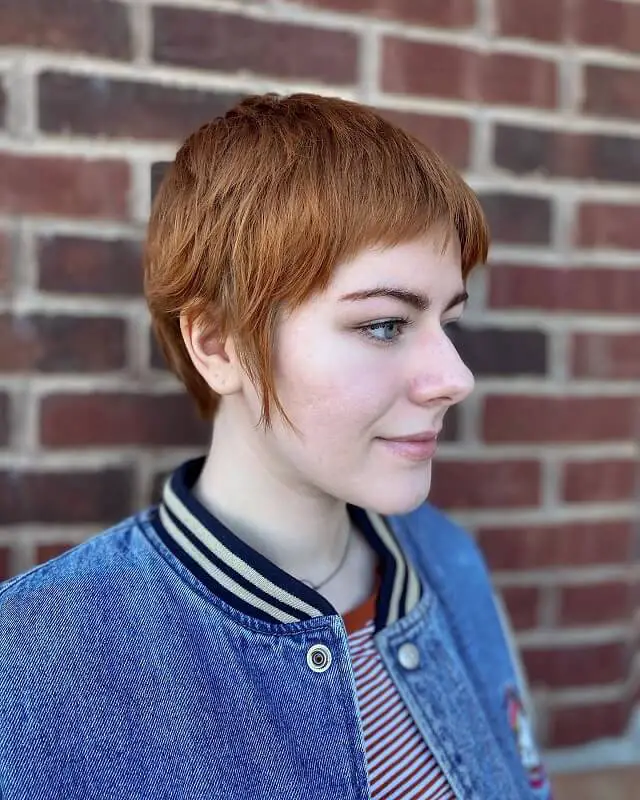 Even if you adopt the simplest of this haircut in your hair, a gorgeous strawberry blonde would never fail to make it stand out in the crowd!
Featuring a combination of blonde and red tones, this hair color complements almost all skin tones and shades. It also shows off the angles and textures of your pixie better than ever.
22. Shaggy Pixie with Pastel Colors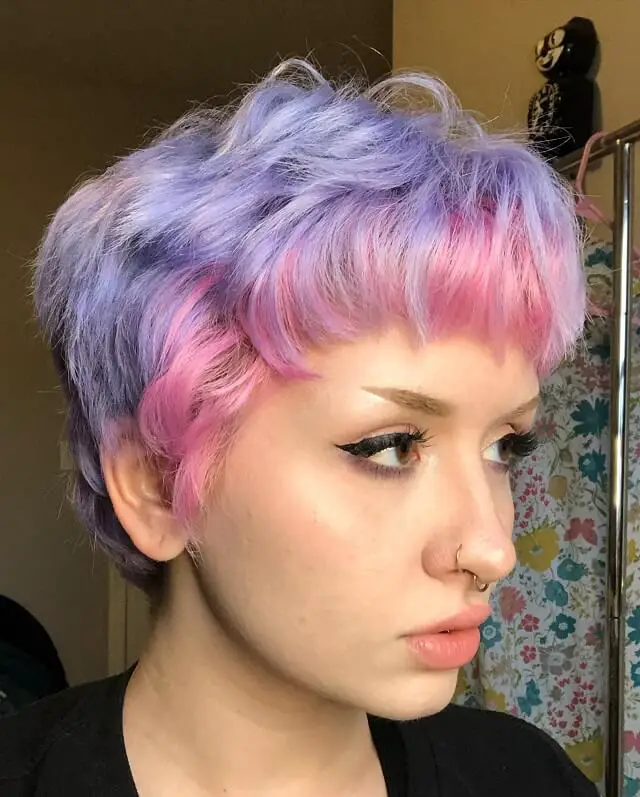 Add a splash of pastel hues to your haircut to instantly create a drastic and dramatic change in your appearance. The combination of such subtle color palates makes for a great transition from your usual hair colors and doesn't look harsh or out of place in any shape or form.
23. Micro Bangs Shaggy Pixie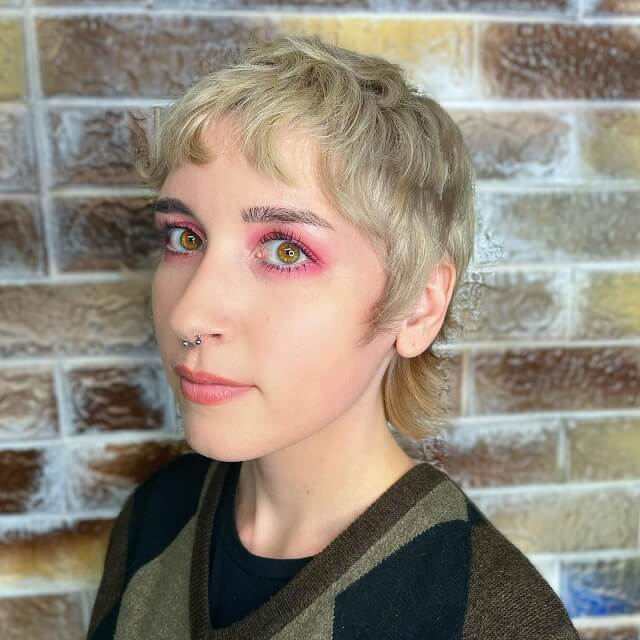 Get a shaggy pixie with a micro fringe RIGHT NOW for a cuter yet more structured vibe! Suitable for almost all face shapes and hair textures, these teeny-tiny bangs are surprisingly flattering. These also add softness and charm to your "do."  
24. Temple Shaved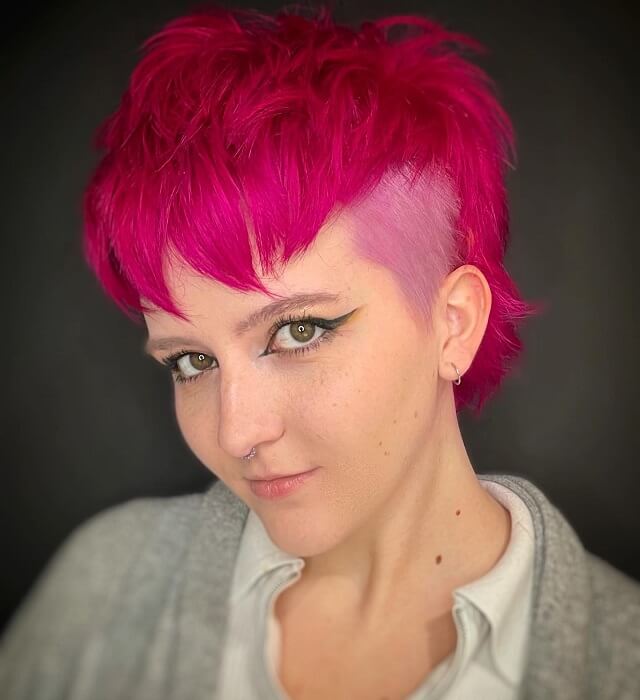 Want attitude and edge in your hair? Try the temple-shaved shaggy pixie haircut!
The shaved temples, along with the shorty short layers, make for a fresh and modern hairstyle and give you a very rebellious and carefree vibe. Pair it with some really fun hair colors for an even dramatic outlook.
25. Shaggy Pixie with Highlights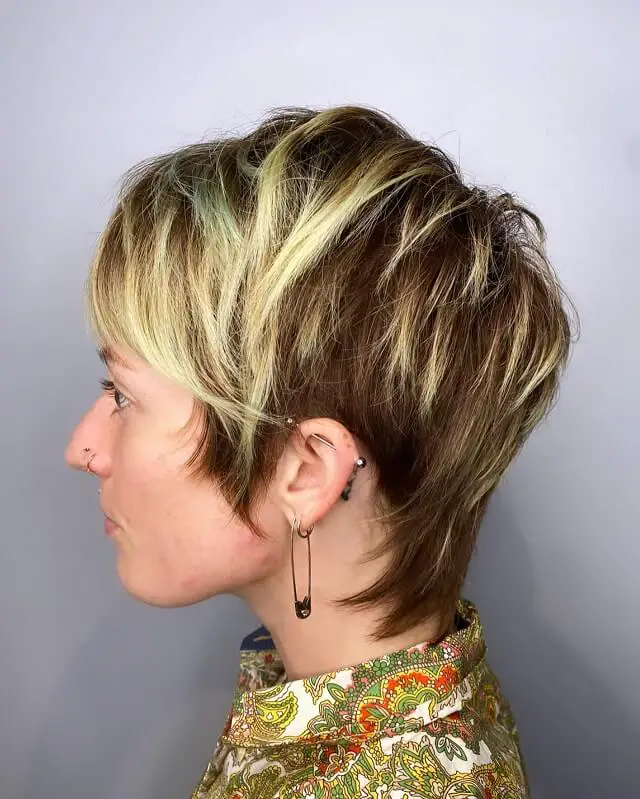 A nicely done highlight is bound to bring a lot of drama and dimension to your stylish pixie hair! If you are unwilling to dye your tresses completely, try an on-trend highlight on your manes that compliments your complexion and personality. The outcome will never fail to amaze you!
26. Electric Blue Shaggy Pixie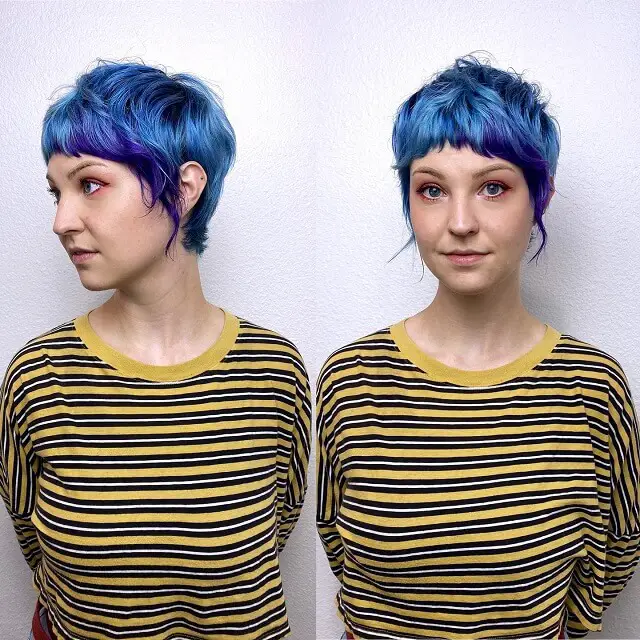 If you don't mind extra attention and want to stand out in the crowd, don't hesitate to get an electric blue shaggy pixie cut in your hair. When the chic structured pixie is paired with the bright, electric color, it not only brings out your inner punk personality but is also bound to grab the crowd's attention.
27. Green Shaggy Pixie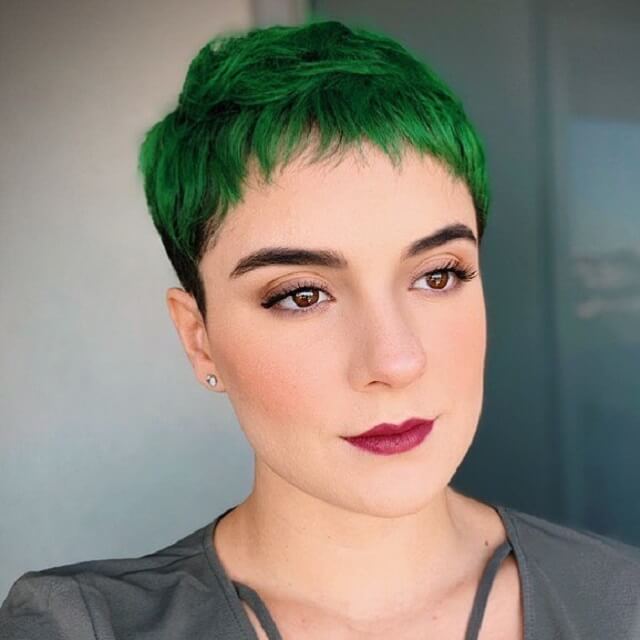 Draw all the attention towards you with an electric green shaggy pixie haircut. Even though this hairdo is not one for the faint-hearted, this bold hair color definitely compliments the posh pixie. It also rarely misses to give you a STAR vibe.
28. Angled Shaggy Pixie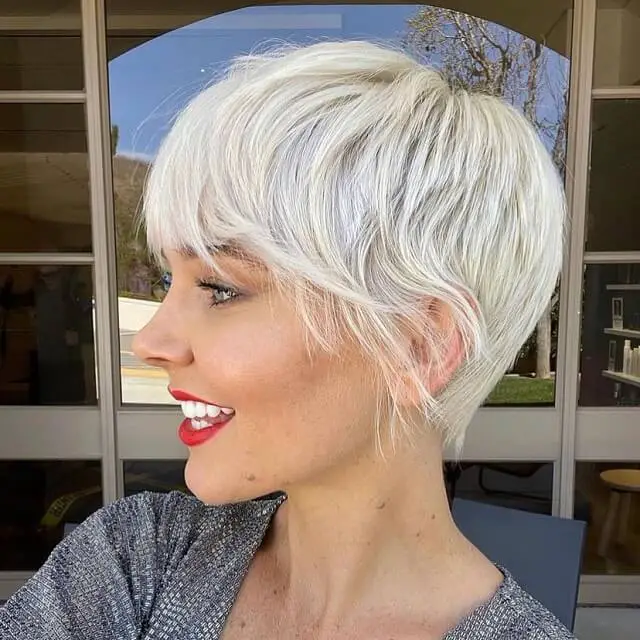 An angled haircut provides sharpness and fierceness to your look. Best suited for straighter hairs, the appeal of the razor angles enhances your facial features and makes them look more structured and less casual.
29. Middle Part Shaggy Pixie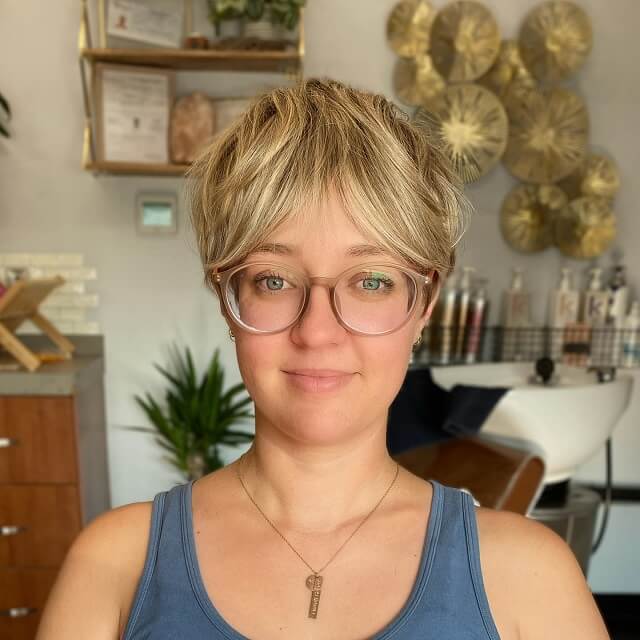 Style your fringed shaggy with a middle part to create versatility and a visually attractive in your appearance. It is a practical and stylish way to wear your hair if you have a bit longer bangs that you have no plans to chop off.
30. Feathered Shaggy Pixie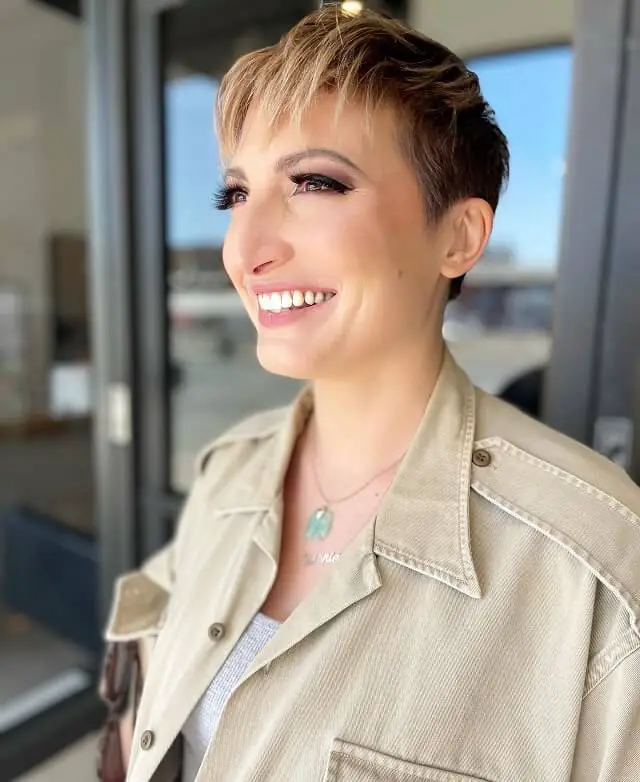 Feathering is an excellent method of adding layers to your precious hair. And when you combine a shaggy pixie with a feathered cut, the outcome is voluminous and versatile. If you have super fine or thin hair, it would be the ideal cut for you.
Shaggy pixie cuts are timeless, fashionable, and loved by fashionistas of all ages and ethnicity. From natural hair to older ladies- this hairstyle suits anyone and everyone out there. And with such a variety of pixies to choose from, we are sure it wouldn't take much time for you to pick one for your tresses.
Sport this haircut, ladies! And own the world like never before!!