Getting ready for a party, the Christmas or the new year of school is starting, and you want a new way to welcome it, maybe a makeover? A new hairstyle can be the next best option for making a mesmerizing appearance.
A hairstyle like that is the pixie cut with bangs that have been flaunted by celebrities like Halle Berry, Emma Watson, Rihanna, and so on. This makeover might be the thing that makes you this year's prom queen!
Then what is keeping you from diving below to find out about the 60 hairstyles of this category and get the one that speaks YOU!
Tremendous Pixie Cut With Bangs to Apt
Pixie bangs are never getting old since ancient times, and to date, women are carrying out their legacies with pixie hairstyles and expressing themselves in a sophisticated style. So, buckle up, and let yourself be dressed in a new haircut
1. Pixie Cut With Long Bangs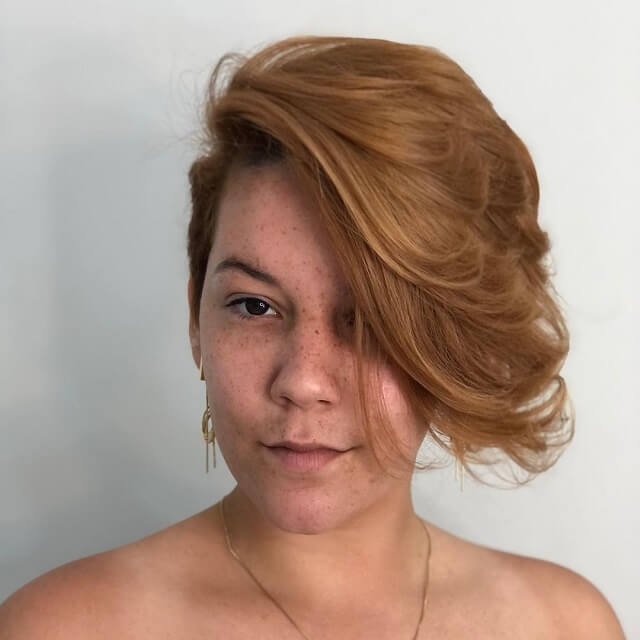 With your long hair and slight curl, you can do some eye-catching hairstyles. A pixie cut with long bangs on one side and smaller on the other end can make a great profile to flaunt at your next party.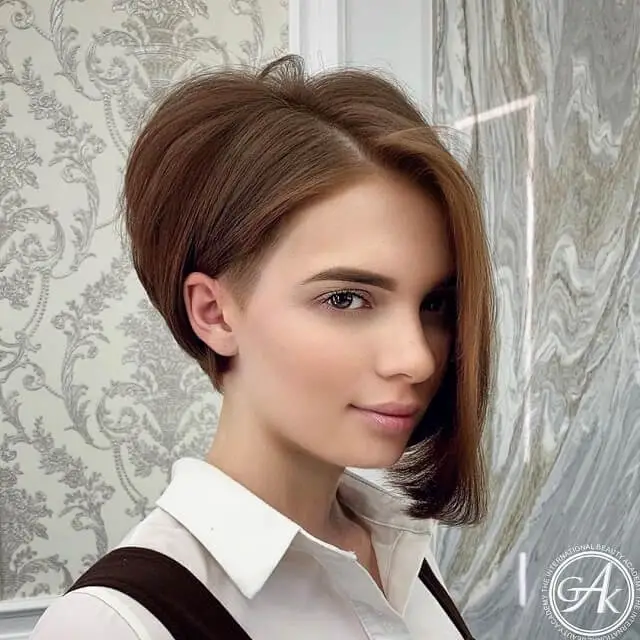 Dark black straight hair pulled to one side can give you a slick look. Watch out as the slight mid-part with this hairstyle will blast dynamite in your admirers' eyes.
2. Short Pixie Cut With Bangs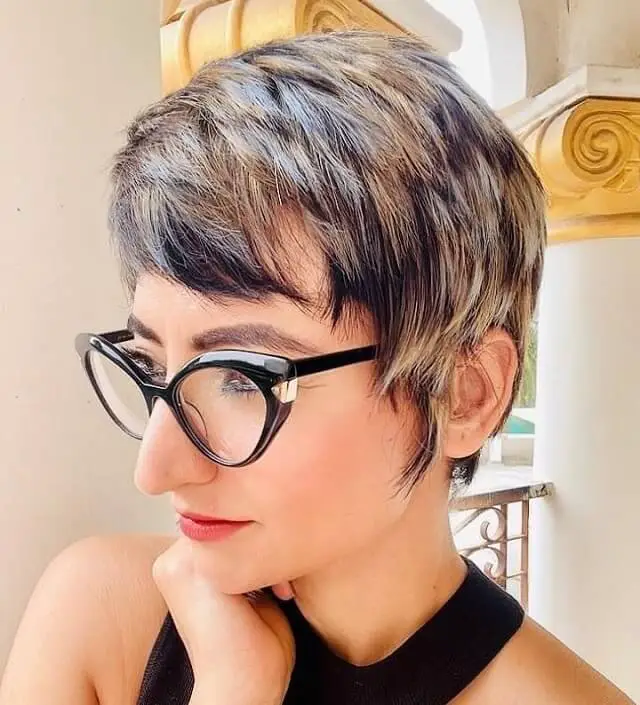 Wanna look like a celebrity with your hair short? We got you. Brush your hair elegantly towards one side and turn your buzzcut into a pixie similar to Kate Hudson. A haircut worth showing off.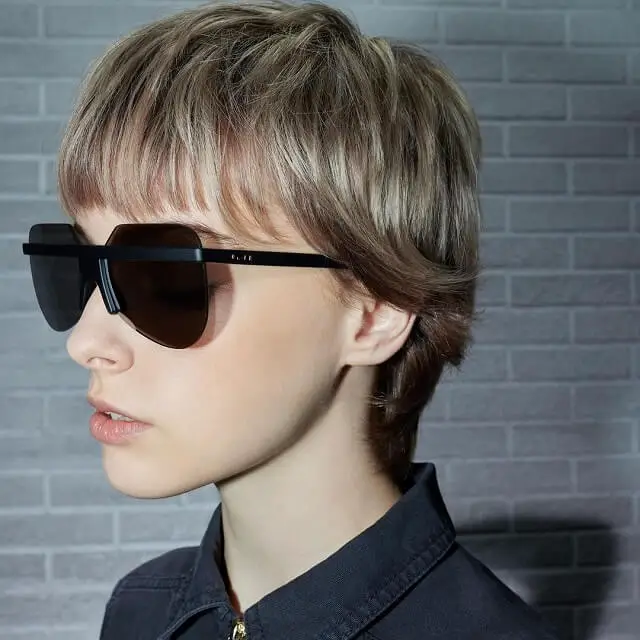 Another route to your short pixie cut is to brush your bangs forwards and keep slight long hairs to the side. Short slick bangs on your forehead will make your face shine brighter.
3. Medium Pixie Cut With Bangs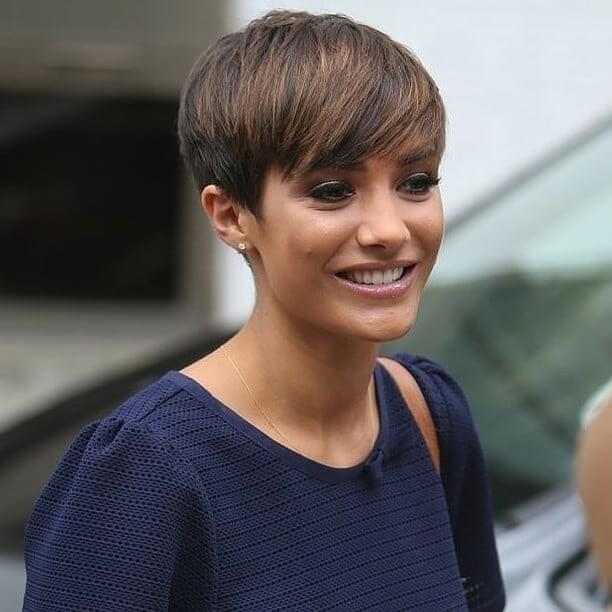 Portray gentle texture to your cropped styled hair, softly parting your hair to the side. This exquisite hairstyle is guaranteed to capture some attention. An effortless look with bangs on the front.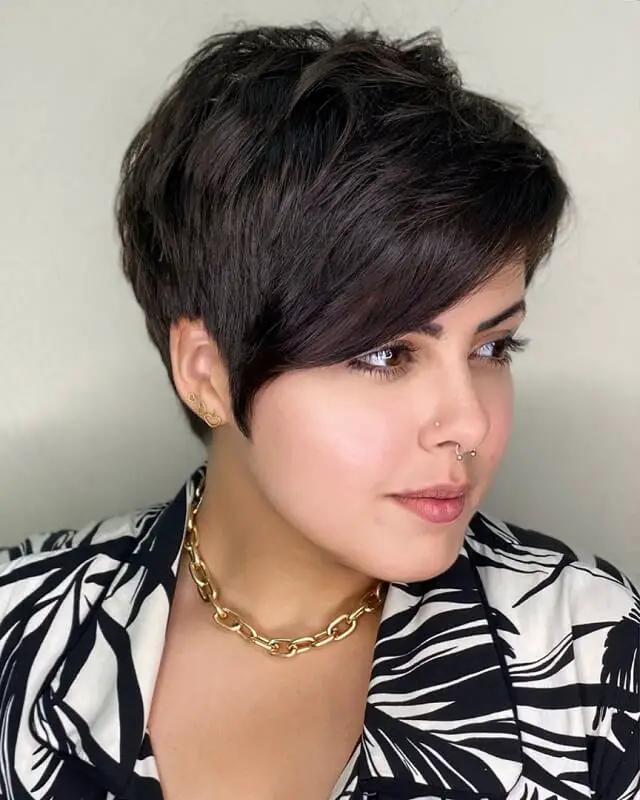 If you have slightly longer slick dark black hair on one side in addition to your soft side parting hair, it'll give you an even bolder look to keep your haters at bay and your well-wishers closer even more.
4. Messy Pixie Cut
A messy look with a shaggy hairdo to exhibit a casual look for parties and bars. With your high-volume short hair, it'll look incredible. Put the bangs in front of your forehead to complete the look.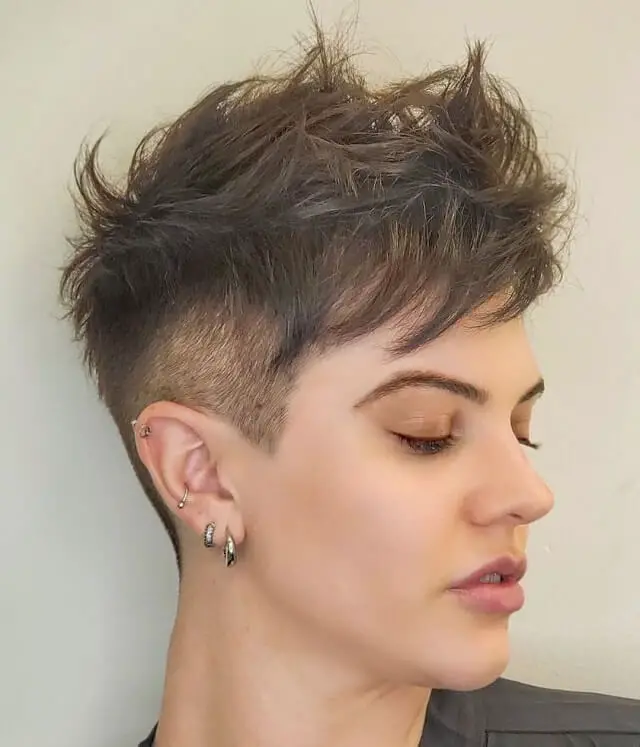 Different than the one before, but even shaggier hairdo and sides faded for an even bolder look. This close crop brings about a contemporary vibe to your hairstyle.
5. Pixie Cut With Side Bangs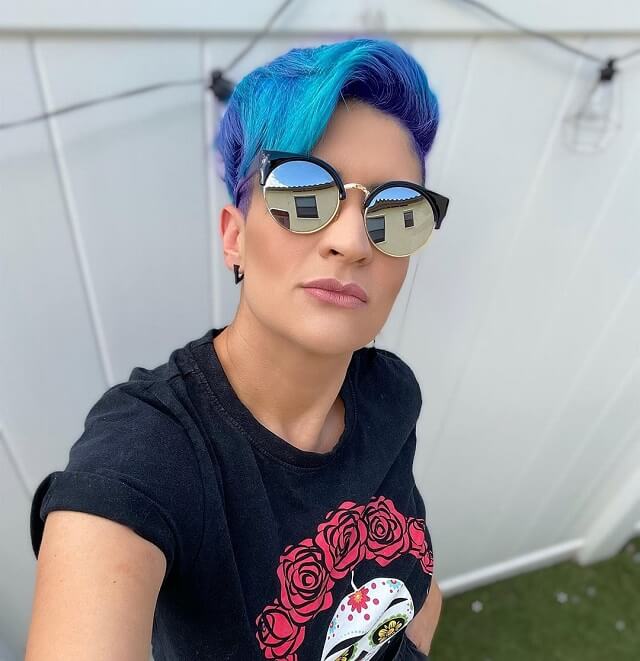 Unlike the first hairstyle, this will only have your long hair fall to your ears and not close to your neck. This flaunts a sharp and neat look to the eyes.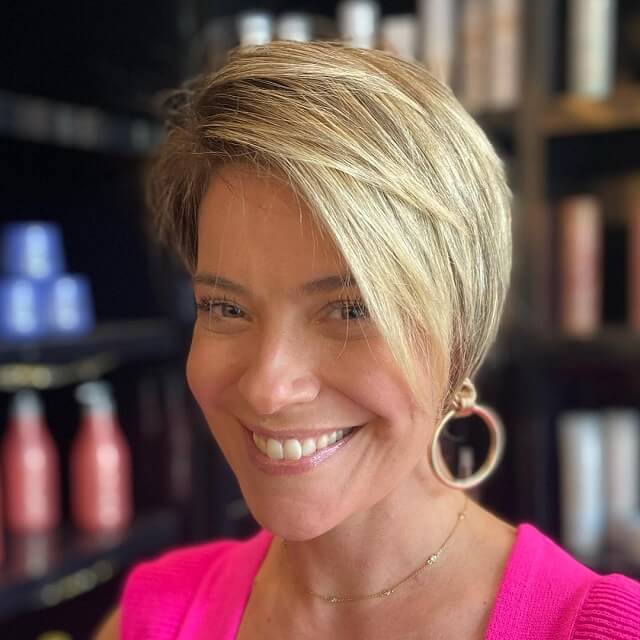 Another hairstyle for your blonde shiny hair, side part one side and pull down your hair to the other side straight instead of curling and feeling like a celebrity. With long hair, you get many options.
6. Pixie Cut With Side Swept Bangs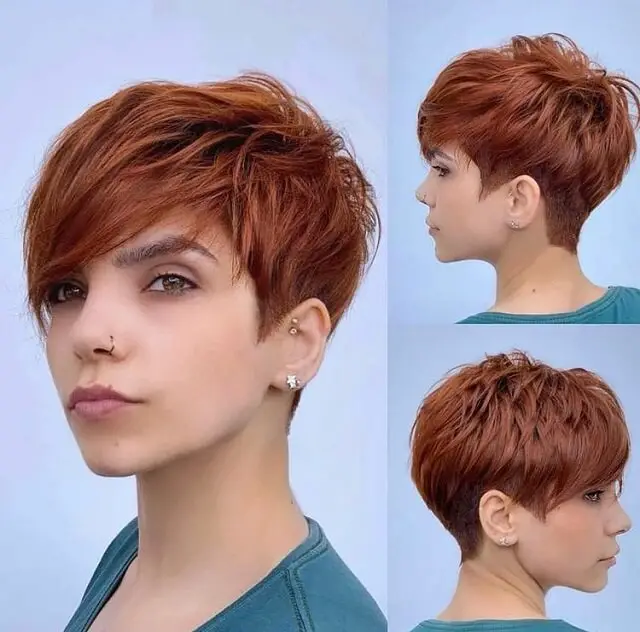 Side-swept bangs with a pixie cut are one of the fabulous hairstyles for you to try. Fade your hair on the back a bit low and find yourself looking fantastic.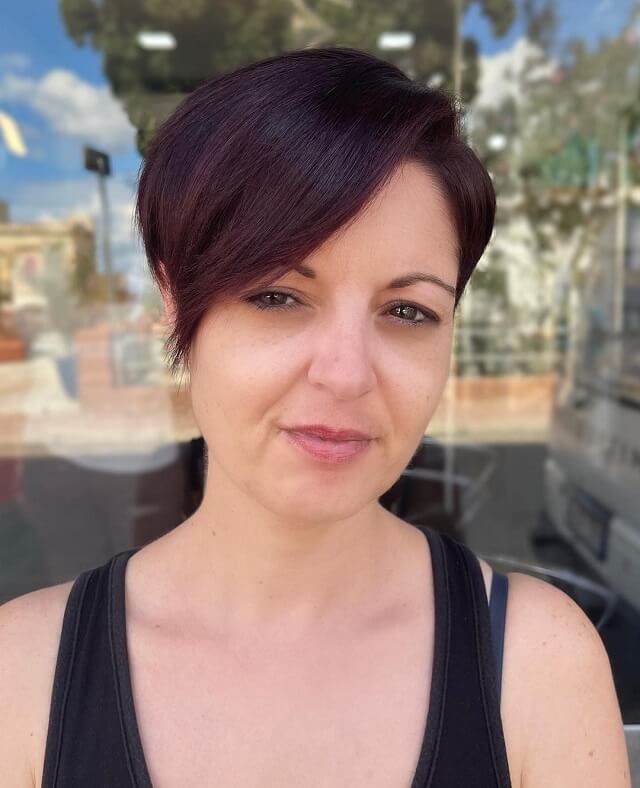 A side-swept pixie cut looks even marvelous with fluffy hair on the front and bangs on the side. Even this ordinary haircut can make you look extraordinary like no other haircut.
7. Round Face With Bangs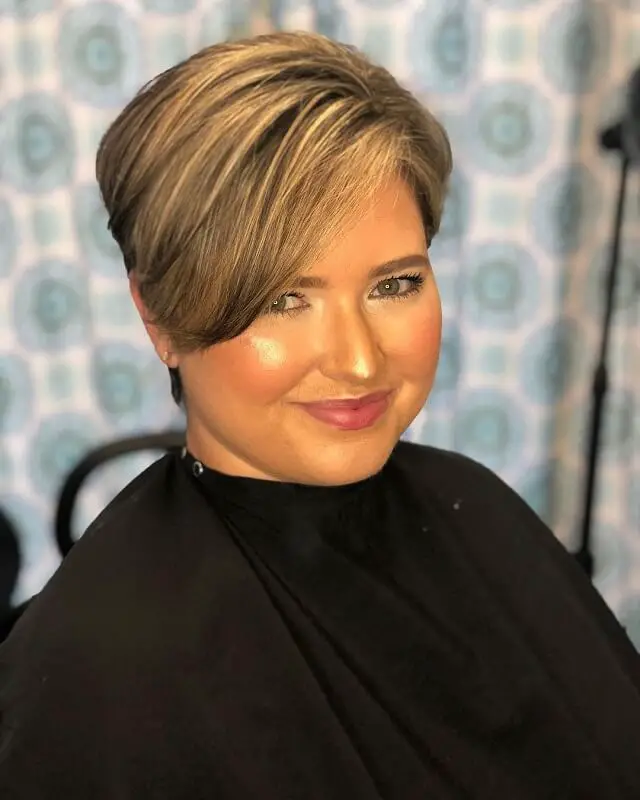 Now for the roly-poly ladies out there with their round faces, one hairdo for you to get is getting side-swept bangs with straight hair. You'll radiate like a star with this hairstyle.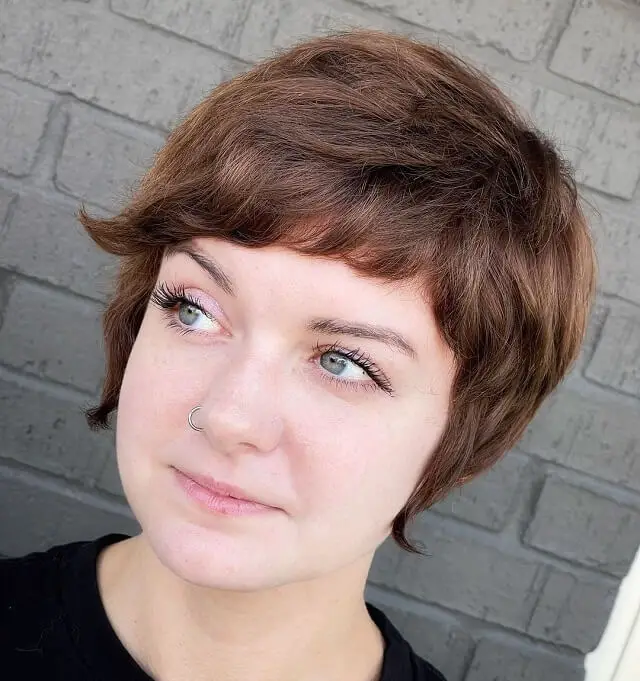 Fringes on the side and side sweeping your hair on the front is quite an exquisite look for you to try out if you are an owner of a rounded face.
8. Low Maintenance Pixie Cut With Bangs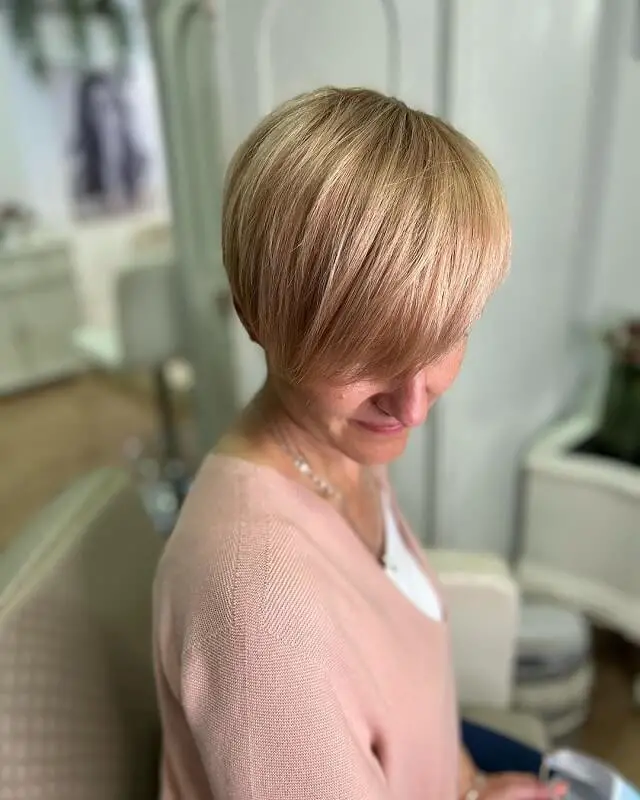 A mysterious look to try out with the low-maintenance pixie haircut with your long hairs on the front, hiding your face a bit. The allure of this hairstyle is apparent in everyone's eyes. Surprising look indeed.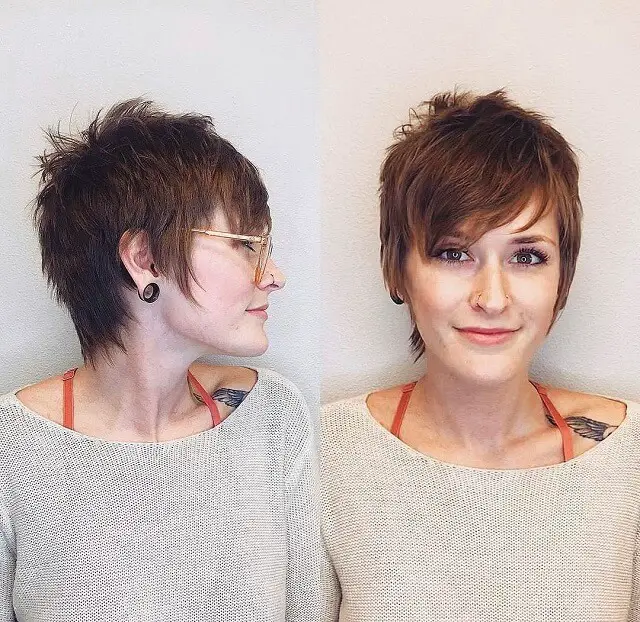 One more dashing hairstyle with your low-maintenance pixie cut is to have sharp side bangs and some on the front with a short bob and spiky hair on top. Gives an edgy feeling to your face.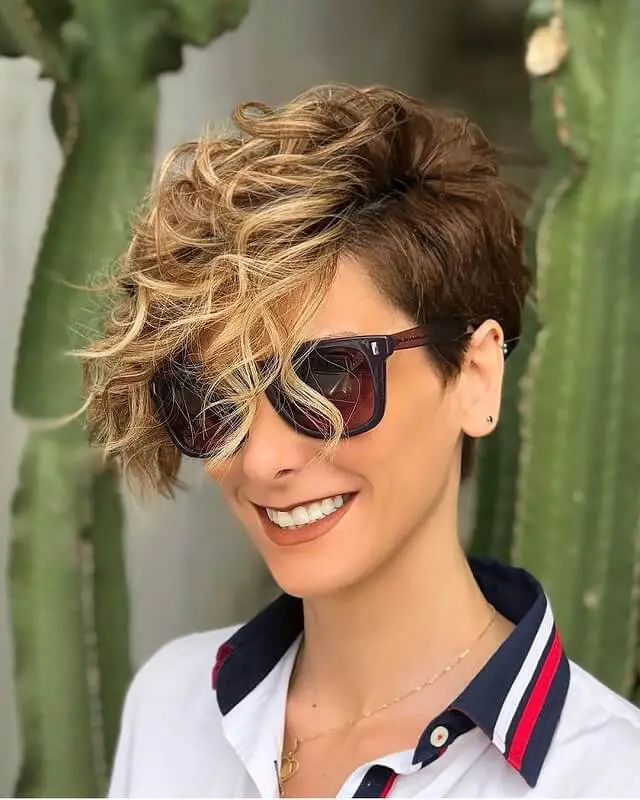 Now for the curly girls, brushing your curly hair on the side makes a stunning hairstyle to flaunt for your everyday needs. With a bit of a messy look, this hairstyle is best for hair with curls.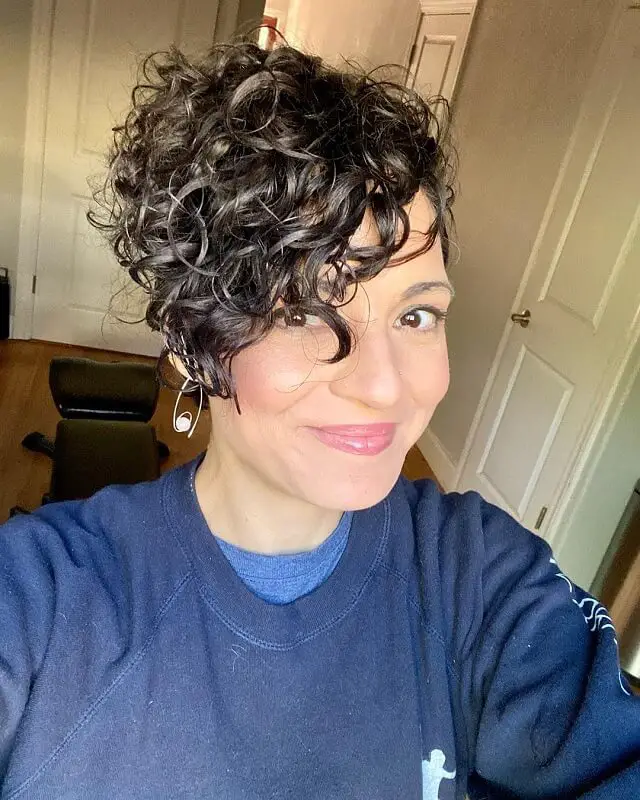 Unlike the last one, this look will be best for you if your whole hair is curly. Brush your dark black curly hair to one side as much as possible and the bangs on the front.
10. Layered Pixie Cut With Bangs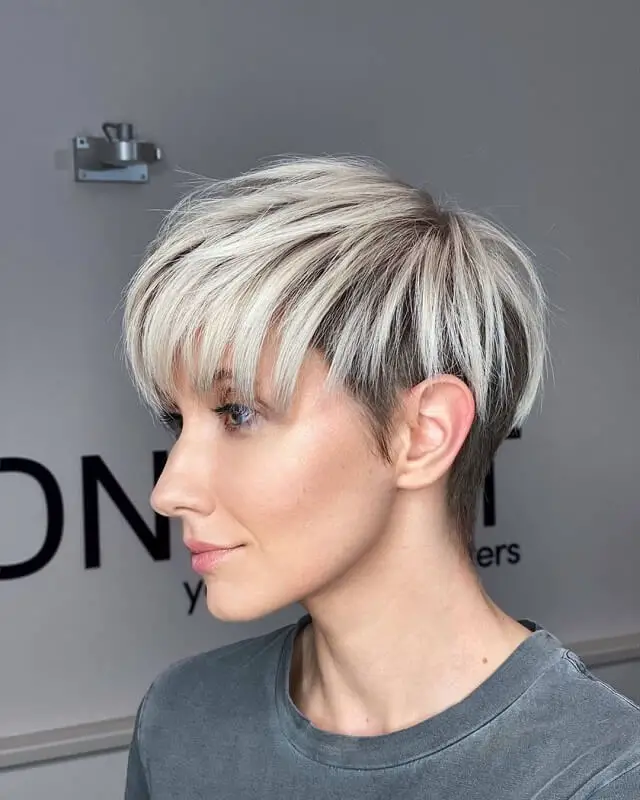 Layered hair gives off the impression of an enhanced texture to your hairdo. Dying one layer on top of another will make you look magnificent. This hairstyle accentuates your jawline perfectly.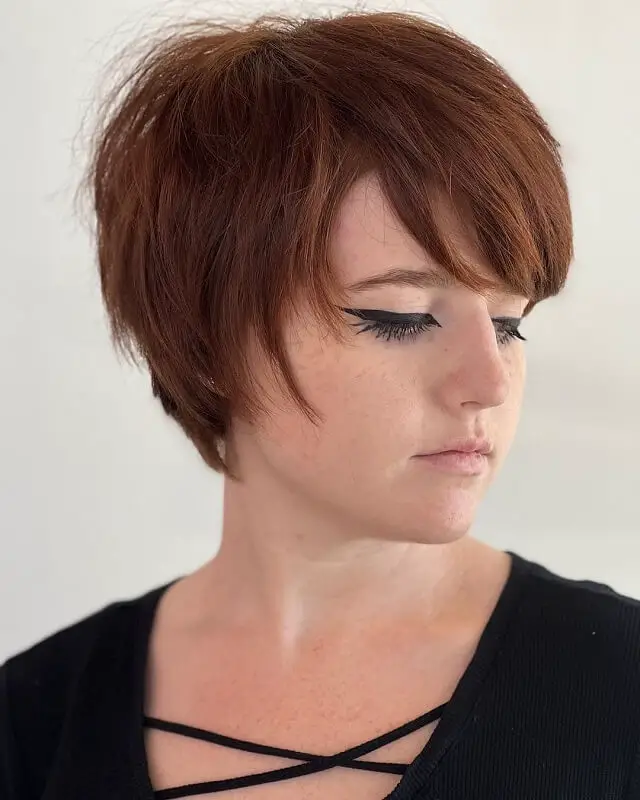 For people with high-volume hair, a layered style can be fantastic. For redheads, this one underlines their face the best. Brush your long pixie hairs to the side for extra 'oomph'.
11. Edgy Pixie Cut With Long Bangs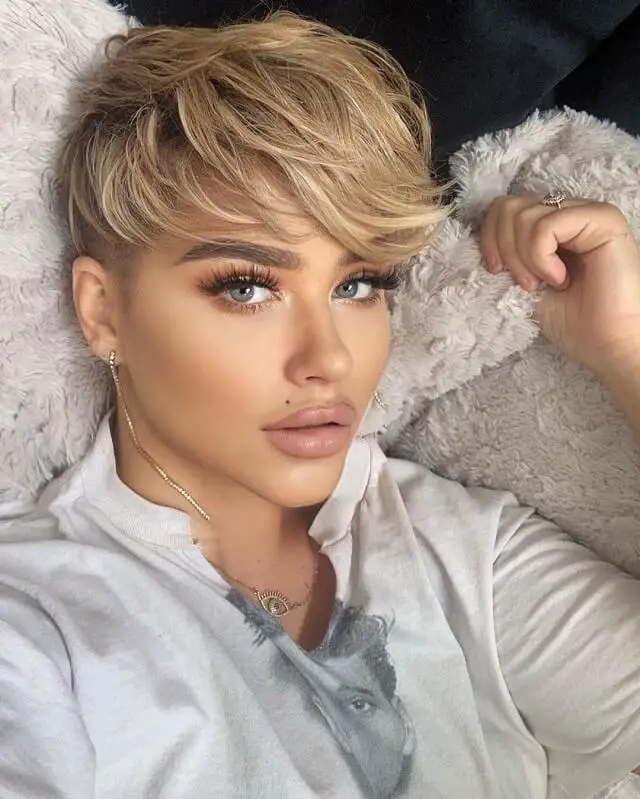 Bring an edge with the edgy pixie cut with your shiny blonde hair. This short crop will look stunning for a woman with a sharp jawline. Taper fade your sides for extra attention to the hairstyle.
12. Pixie Cut With Bangs For Black Woman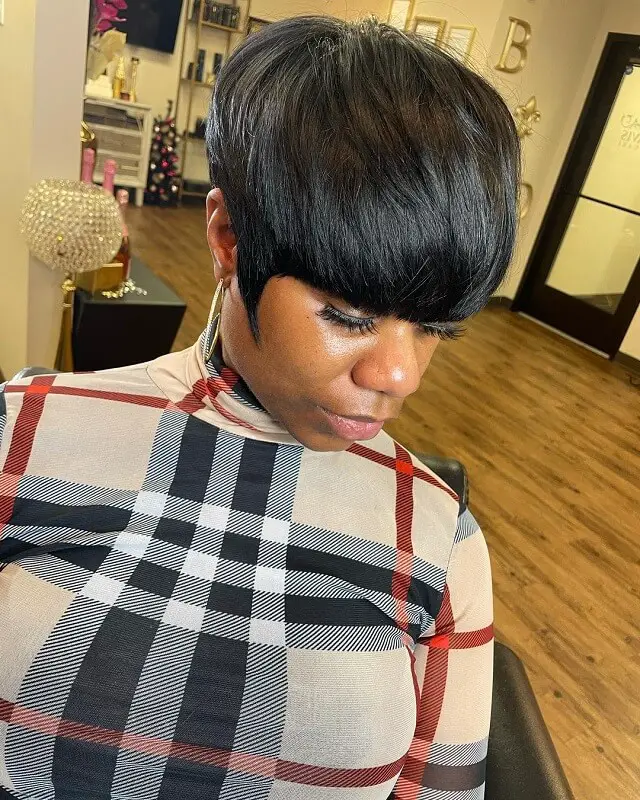 This heavy pixie black hairstyle will bring out the inner bad girl while maintaining a ladylike demeanor. A stunning edgy and rough look yet with a softer hue with your dark black hair.
13. Pixie Cut With Straight Bangs
Straight hair can be sometimes softer and sometimes edgier if you are brave enough to don it with sharp straight bangs on the front and shorter hair on the sides for a complete look.
14. Pixie Cut With Long Bangs for Black Hair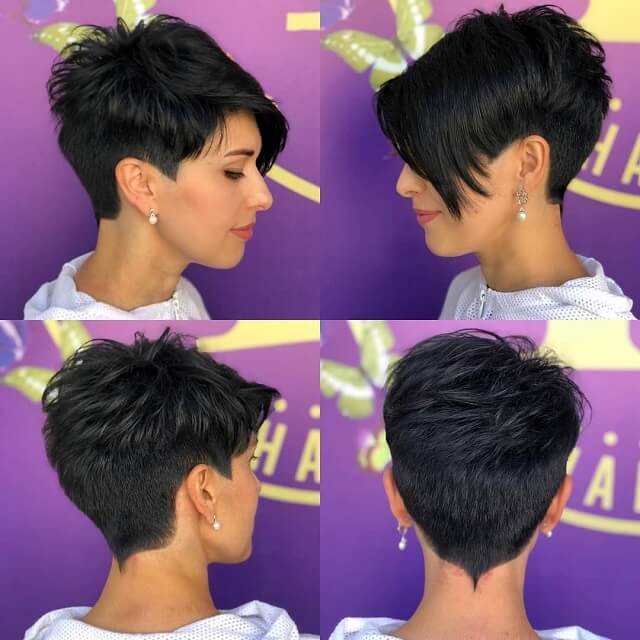 Shorter taper fade on one side and the back with longer hair on the other with straight side bangs gives a sharp and edgy look on your party hairdo. Maybe a bit bold for daily use nonetheless, rock on a party night.
15. Short Pixie Cuts With Long Bangs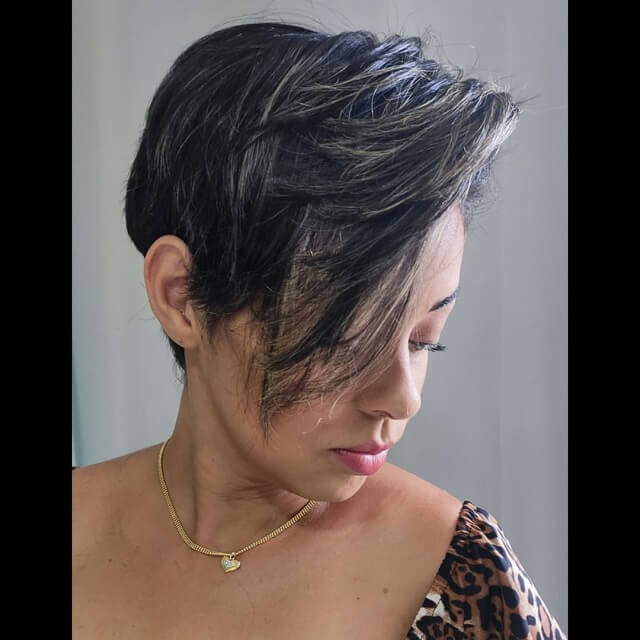 Long bangs give you a lot of variety to experiment with piexie cuts. This one works best if your hair is a bit messy, as in your bed hair and long bangs to either side to underline the other side of your face.
16. Pixie Cut With Curtain Bangs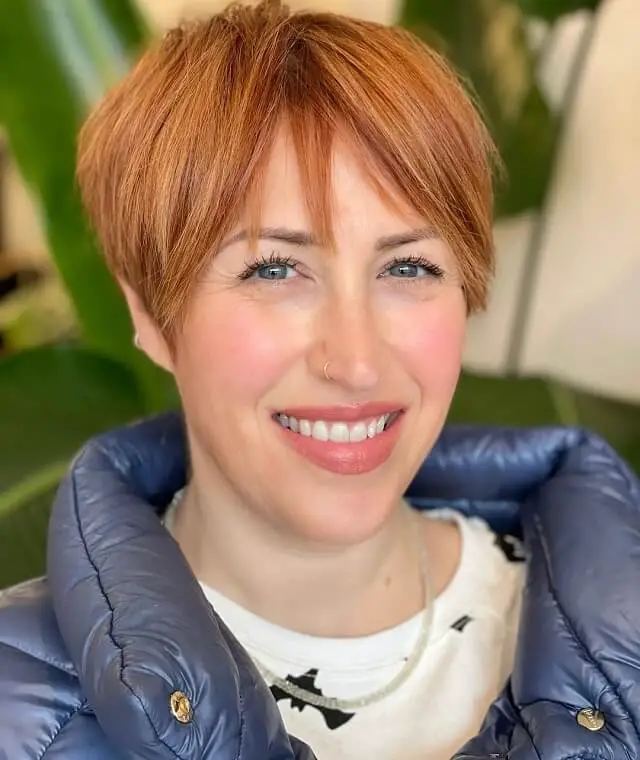 Shorter on the inside and gradually longer hair on the outside, curtain bangs with pixie cut will highlight your face shape the best. This brings alternative options to the table.
17. Shaggy Pixie Cut With Bangs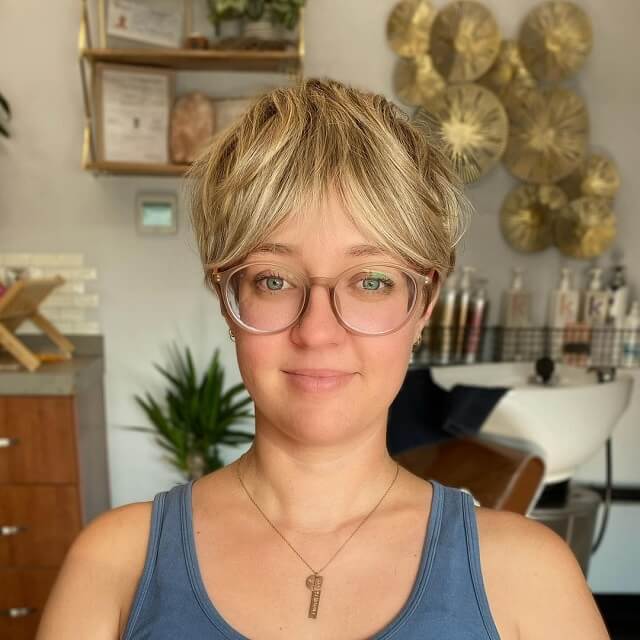 Adding to your curtain bangs, you can endeavor the shaggy pixie cut. It adds volume to your hair, and the mid part brings attention to your face shape more than any other hairstyle.
18. Long Layered Pixie Cut With Bangs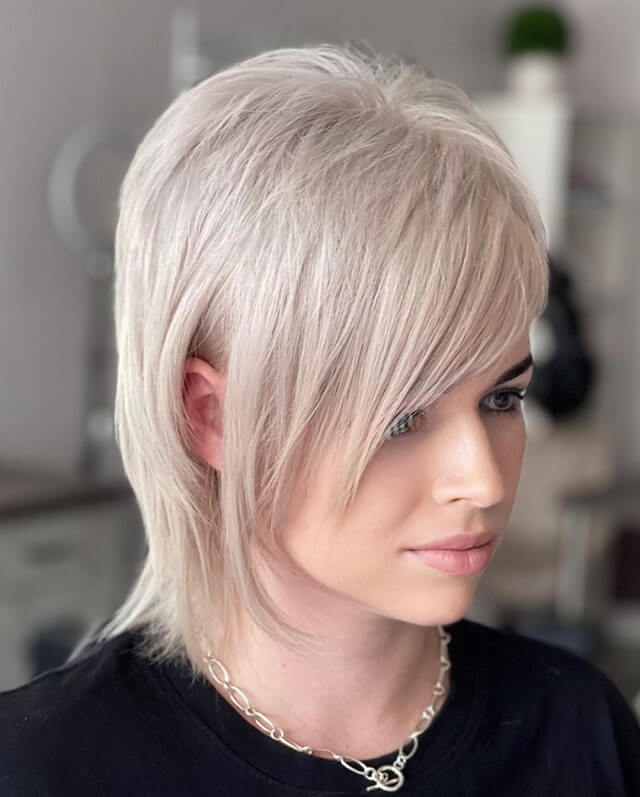 It's not a time to say goodbye to your long hair. Bangs with long hair layer on top of each other to create a sublime hairstyle to wear on your everyday war with the world.
19. Pixie Cut With Bangs For Thick Hair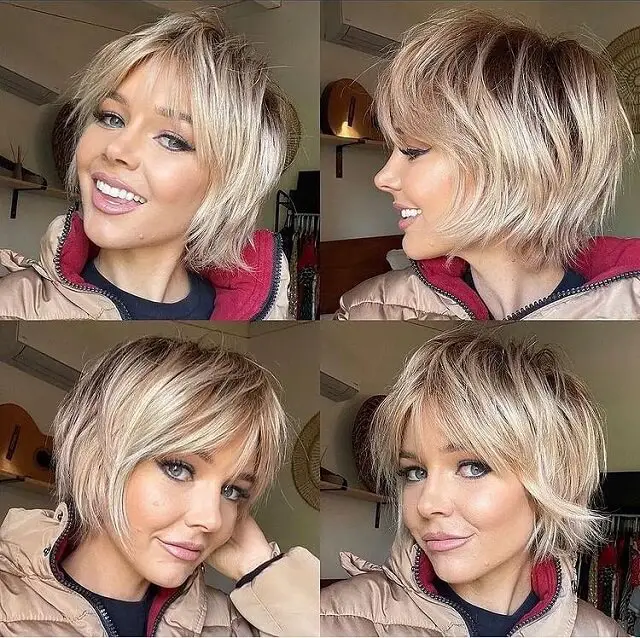 With thick hair, comes thick responsibility. Pixie cut with your thick hairs will look amazing with a mid-part and bangs on the side for the finishing move. This hairstyle will be fatal for your admirers'.
20. Undercut Pixie Cut With Bangs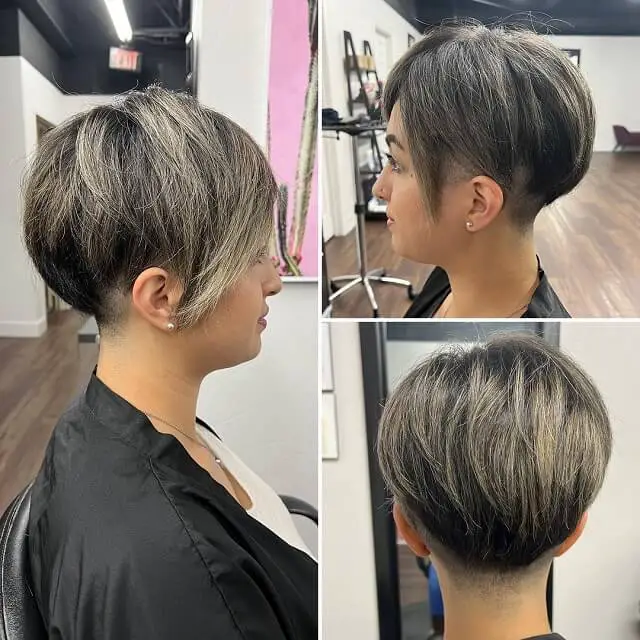 An undercut pixie is a great option for people with a rounded face shape. With longer hair on top and the sides and back of your hair cut to a fade will give a layered look to your hairdo.
21. Pixie Cut With Bangs for Thin Hair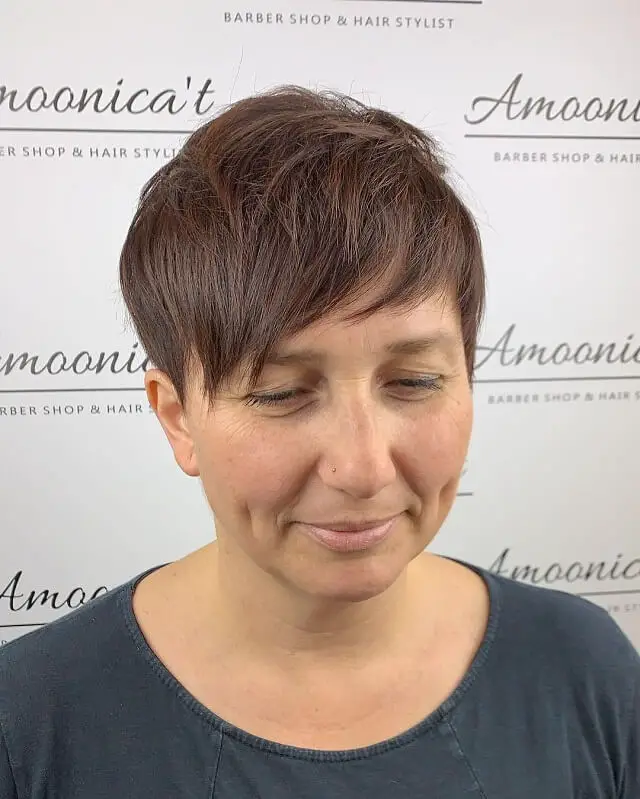 Thin layered thin hair craves extra attention for an extra special look. for thin hairs, pixie cuts and bangs are amazingly neat-looking hairstyles both for parties and your everyday hairdo.
22. Pixie Cut With Front Bangs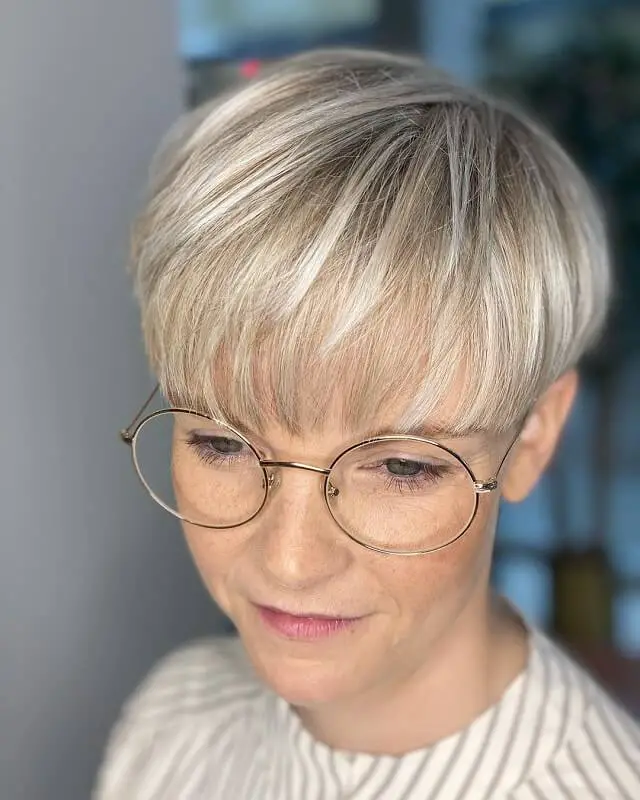 Your bangs are your friends. You can style them in any way you want. One of the exquisite ways to portray your bangs with a pixie cut is to brush them forwards. The higher the volume, the higher the eye catchiness.
23. Pixie Cut With Very Short Bangs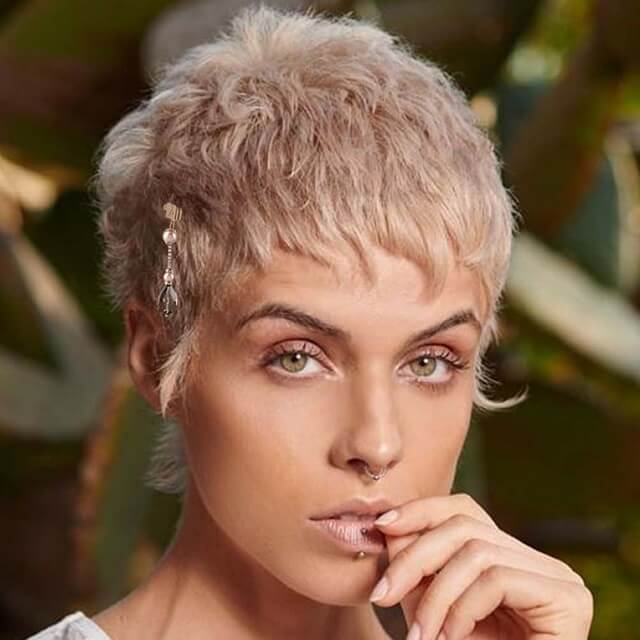 We have given a lot of our attention to long bangs, but it's time for our short pixie with bangs to gleam. Accentuate your killer jawline with short bangs pixie cut, a little bit messy add more appeal to this hairstyle.
24. Blonde Pixie + Long Bangs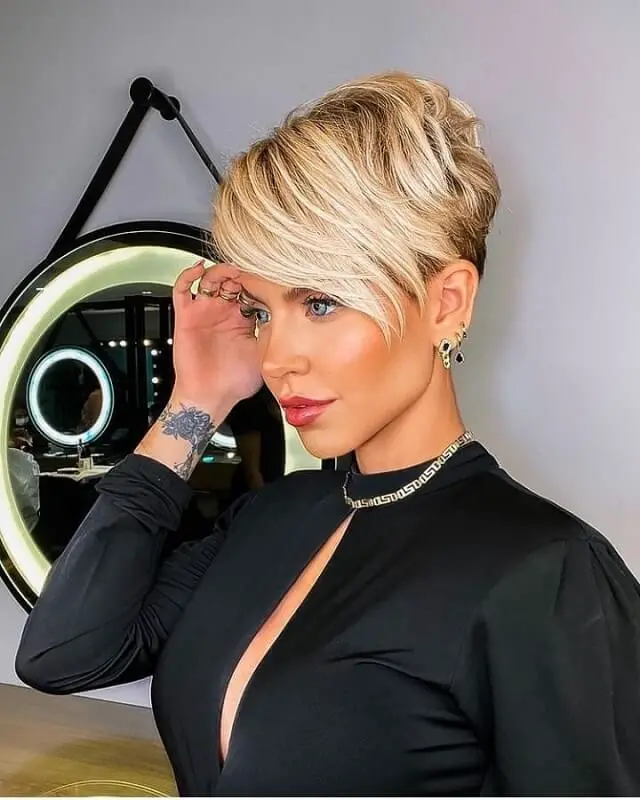 Layering your long blonde bangs to one side on top of your dark hair can give the impression of high-volume hair and a sense of exquisite style for an everyday look.
25. Choppy Pixie Cut With Bangs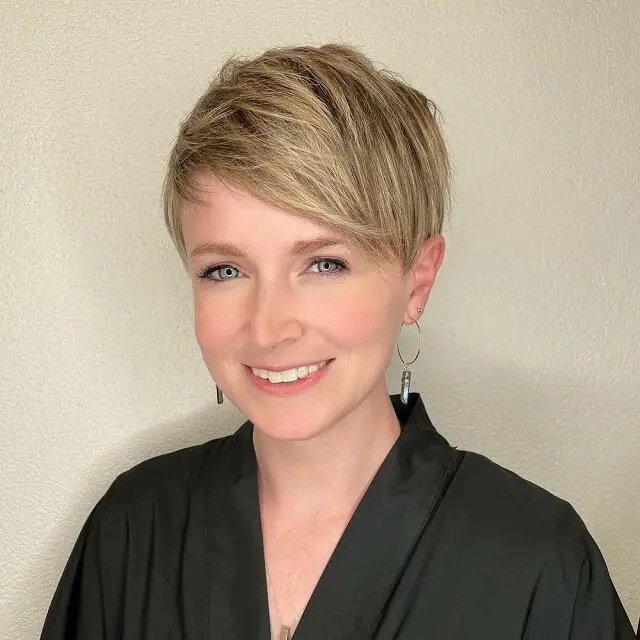 For your oval-shaped face, you can choose a choppy pixie cut, and with your bangs on the side with short hair, it will be a magnificent hairstyle to flaunt anywhere you walk by.
26. Gray Pixie With Bangs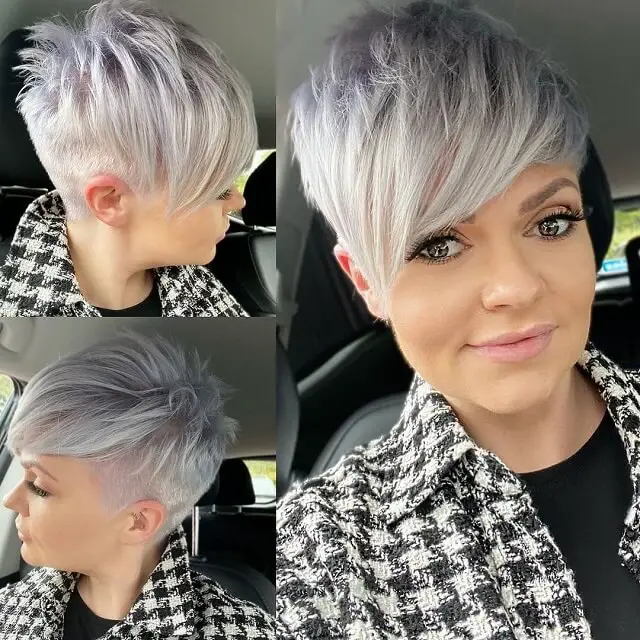 Gray shine is the new trend in town, and if that's the hairstyle you want to portray, then go with this hairstyle with tapered back and side bangs for a shining look overall.
27. Side Swept Pixie Cut With Bangs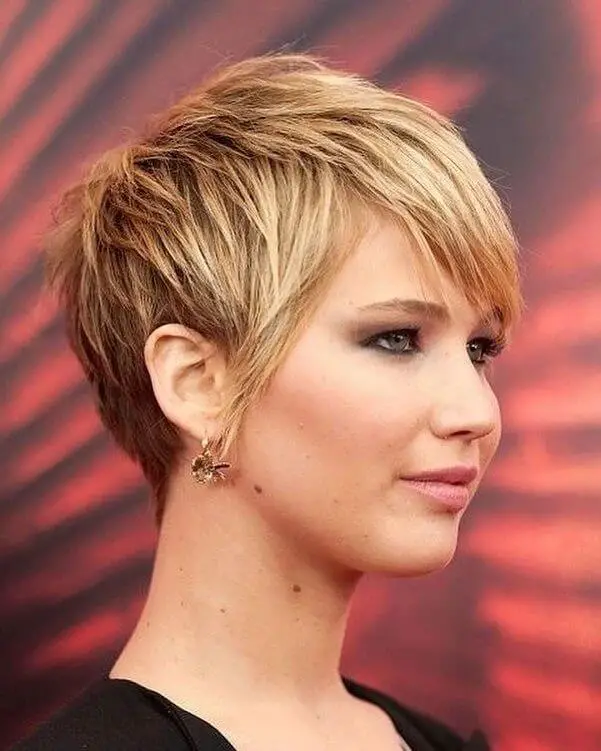 Jennifer Lawrence rocks the pixie cut like no other. Brush your hair on one side and keep the other side with a little bit of fringe to focus on your side jawline more.
28. Gray Pixie Cut With Long Bangs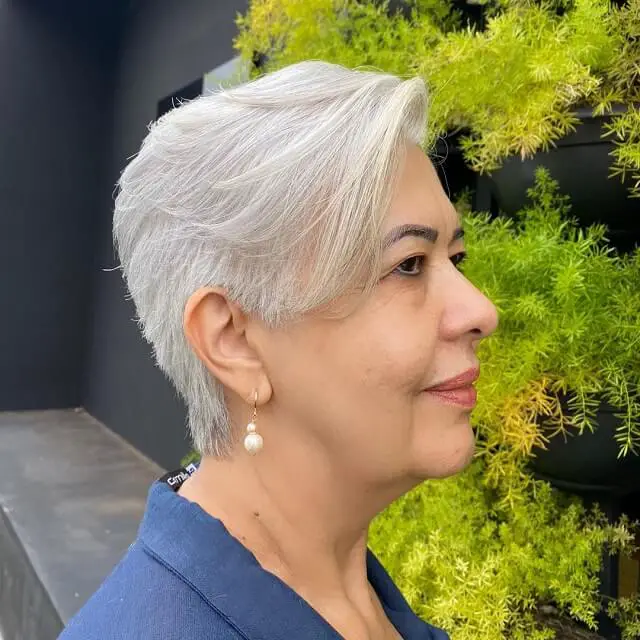 Long bangs with a pixie cut are a beautiful combination of gray dyed hair. Keep one side longer than the other and let them fall to your ear straight and comb the back for a straighter look.
29. Pixie Bang With Boy Cut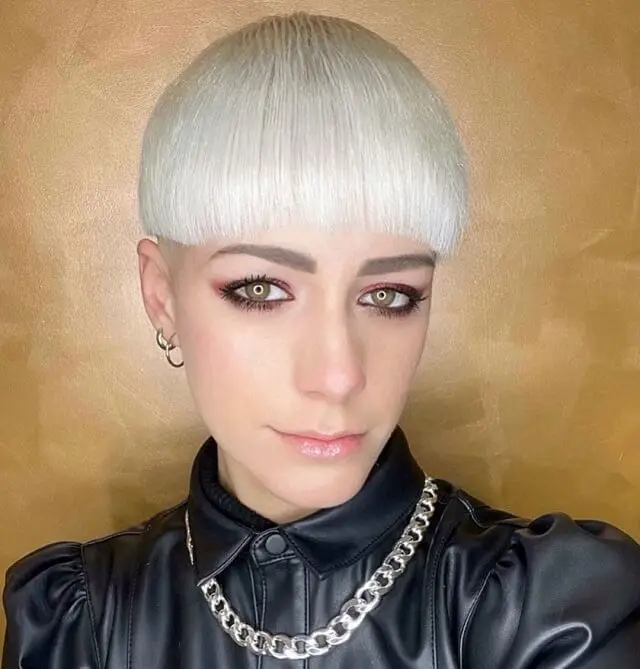 Boy cut is a hairdo not many people can pull off. If you are bold to try out something radical with your hair then this one is recommended. Experiment with this mysterious hairstyle to bring out the inner bad girl.
30. Side Long Bangs With Front Pixie Cut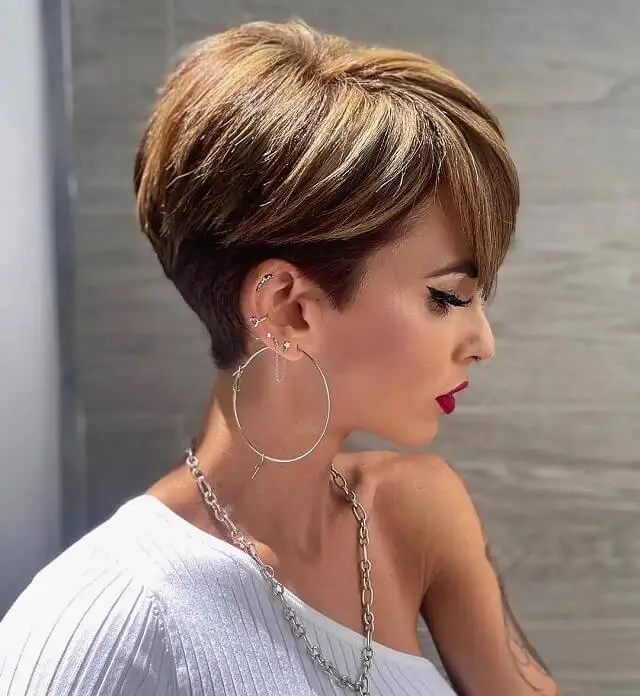 Now being mysterious with your pixie cut is easier said than done. For this aloof, mystifying look cover your eyebrows and slightly your eyes with your front bangs and Voilà.
31. Colored Pixie Cut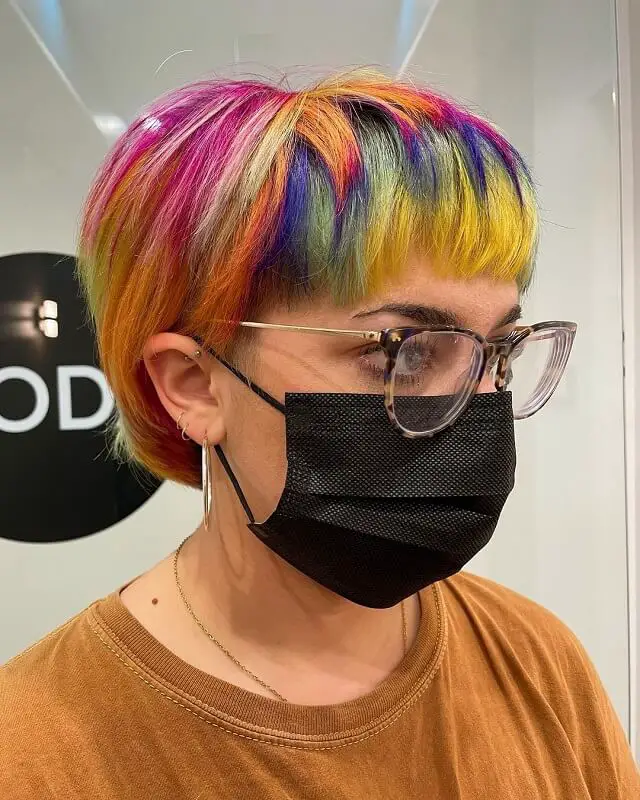 Dyed hair with bangs on the front and longer bangs on the back with a pixie cut, a killer combination to own the neighborhood with this hairstyle. Without a doubt, the boldest of them all.
32. Long Side Bangs With Pixie Cut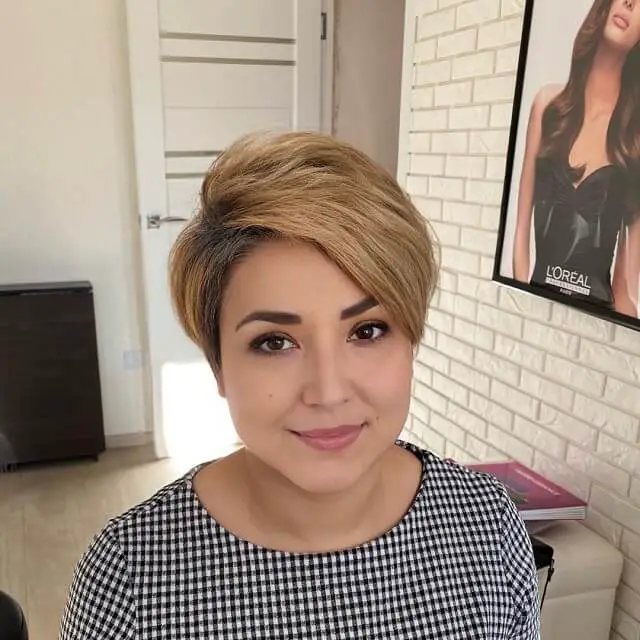 For rectangular-shaped faces, a pixie cut with side bangs can be an awesome choice to try out now. It will accentuate the sharpness of your face shape unlike any other hairstyle out there.
33. Side Swept Bangs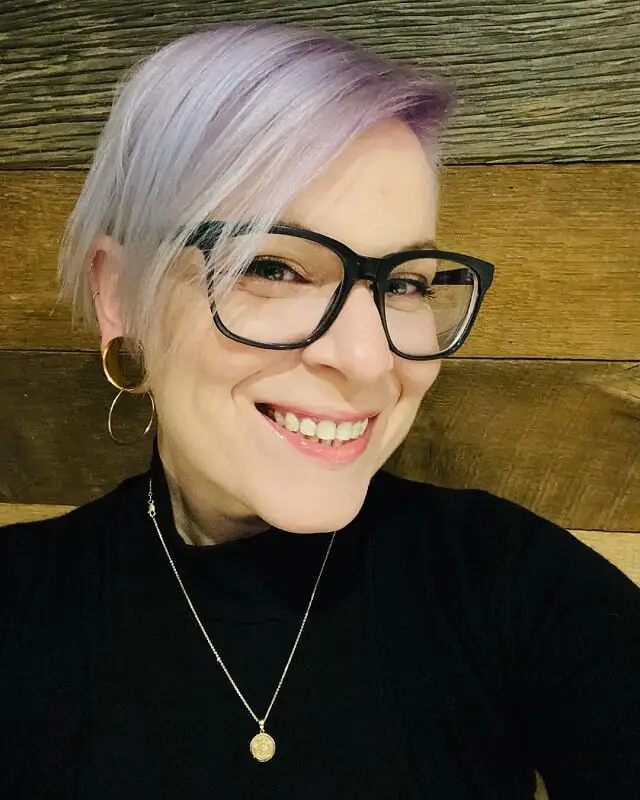 With your dyed straight long hairs, among the many things you can try out is the side-swept pixie cut. Let it fall to your ears and keep your forehead exposed. With glasses, this one blasts like a stick of dynamite.
34. Thin Hair Pixie Cut With Bangs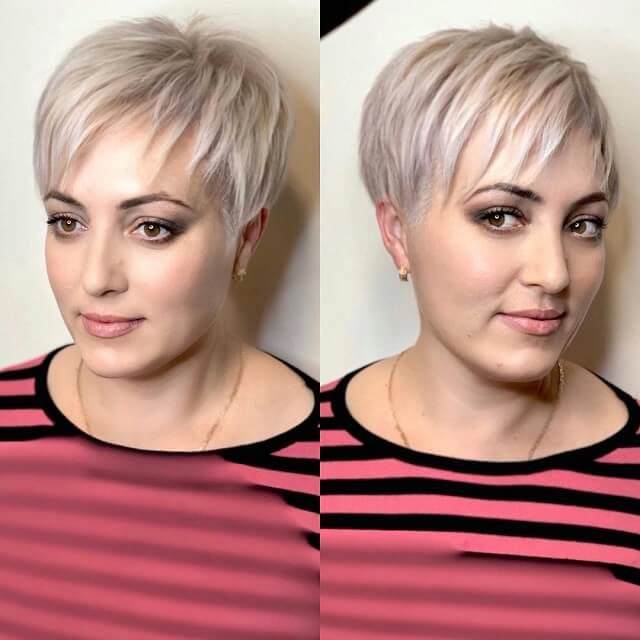 For thin-haired women, doing a pixie cut can be an effortless and stylish hairstyle to try out. Side part your hair and let your thin hairs dangle to the sides and a little bit of fringe on your forehead for extra care.
35. Front To Side Swept Pixie Cut
With your long hairs another variation you can try out, especially for redheads it to slightly brush your hairs to one side. Not a complete part and not completely straight. Bring a bit of ambiguity to your hairstyle.
36. Shaggy Curly Pixie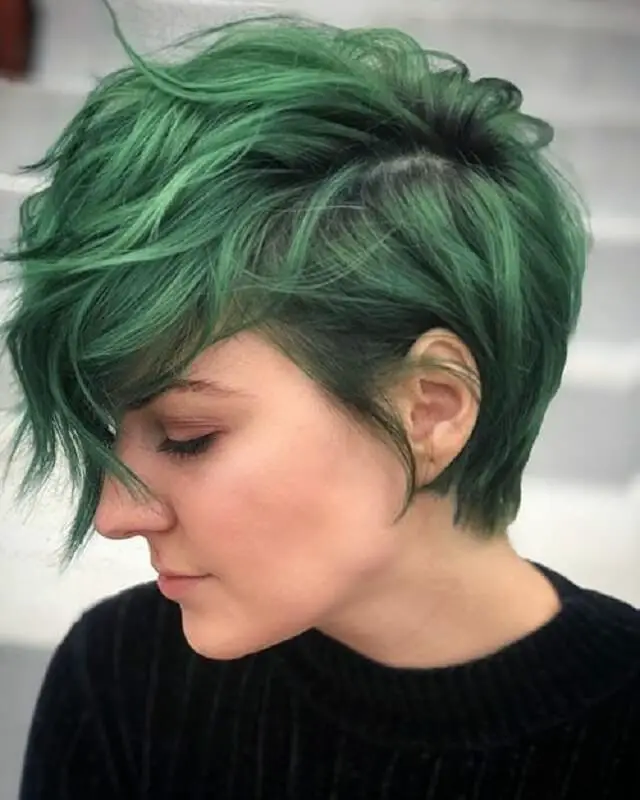 Curls and shaggy hair go hand in hand for a unique look. Let your curly hairs fall to the front hiding your forehead and eyebrows while the back is shagged with your messy hair.
37. Dyed Side Pixie Cut With Bangs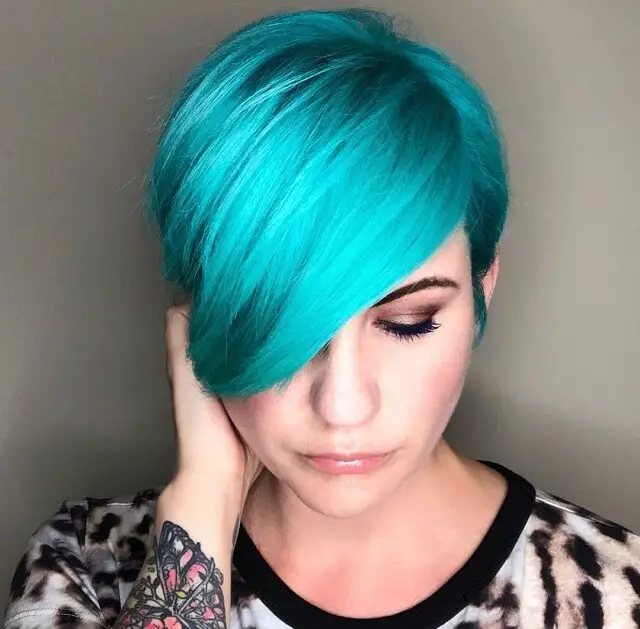 Straight hair dyed in any color looks stunning and a pixie cut on top of that puts you up on top of the beauty list. Letting your bangs drop to the side of the front either on is magnificent.
38. Front Mid Chop Pixie Cut with Bangs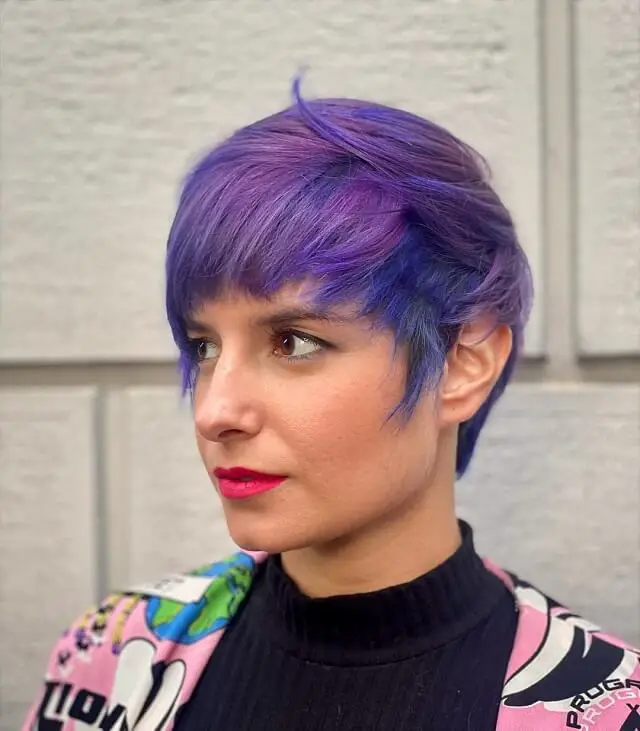 There are many variations with the long bangs on the front. What about keeping the bangs on the front short and letting the sides be longer. This chop crop is more about framing your face shape more.
39. Short Shaggy Pixie Cut with Bangs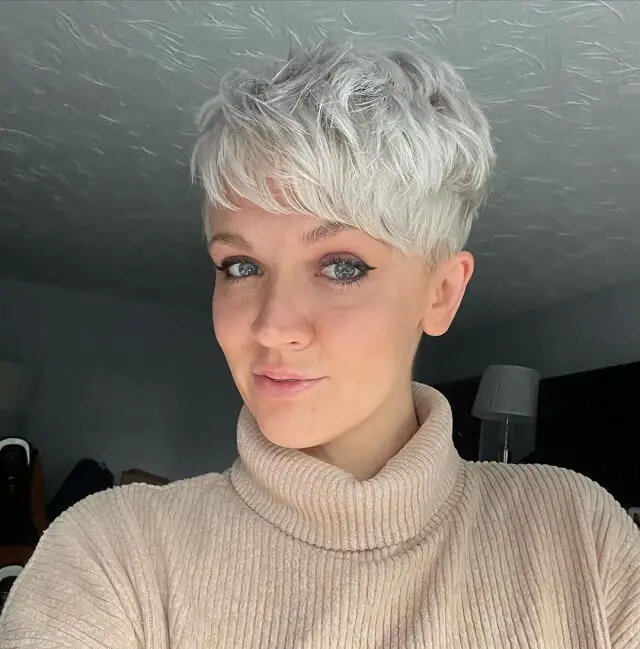 Shaggy and messy hair looks best with a short pixie cut. It says a lot about you. Soft and casual side of you instead of a rough and cold look to keep people away from you.
40. One Sided Curtain Pixie
Curtain bangs are always in style and are great for underlining your bone structure well. Let the front of your face be a bit covered by the longer bangs and the shorter bangs on the side for the finish.
41. Fluffy Side Swept Pixie Cut With Bangs
42. Layered Pixie Cut With Side Swept Bangs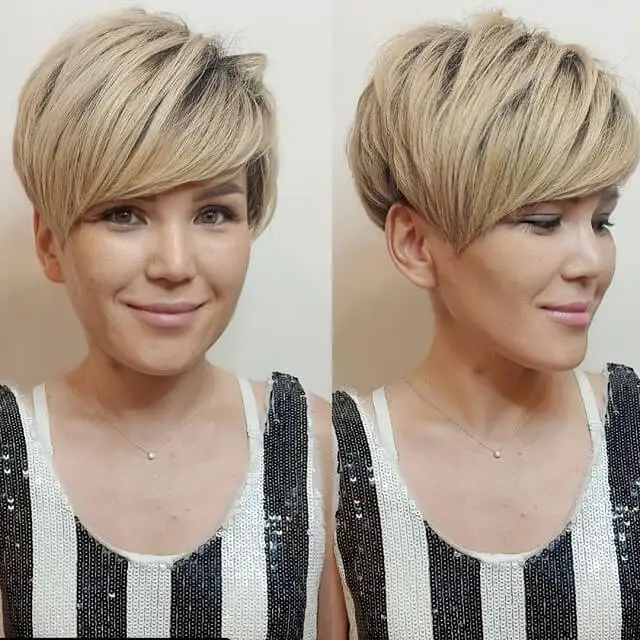 43. Side Part Hairstyle with Bangs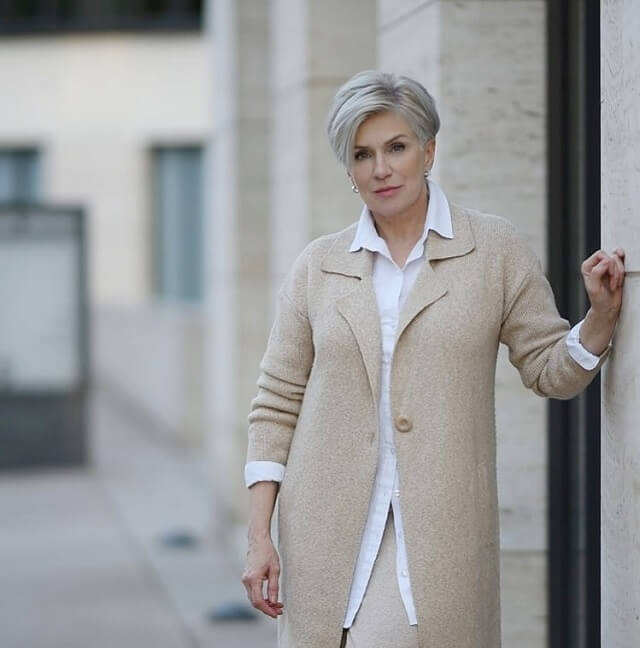 44. Feathery Pixie Cut With Bangs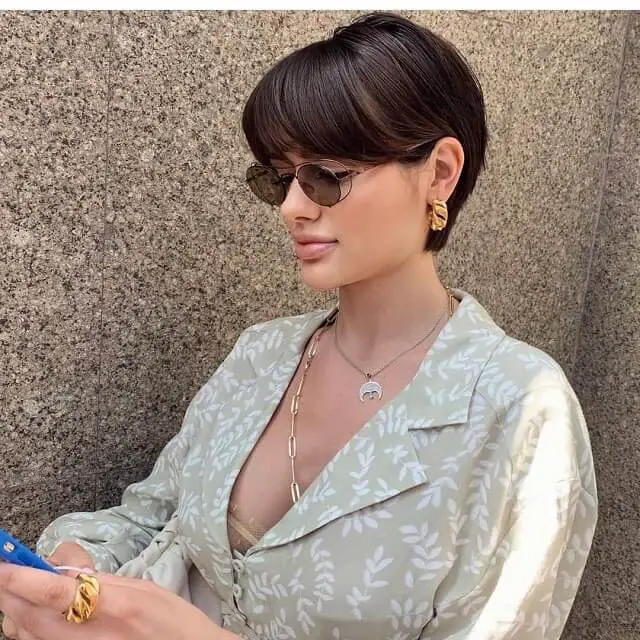 45. Straight Pixie And Bangs On Front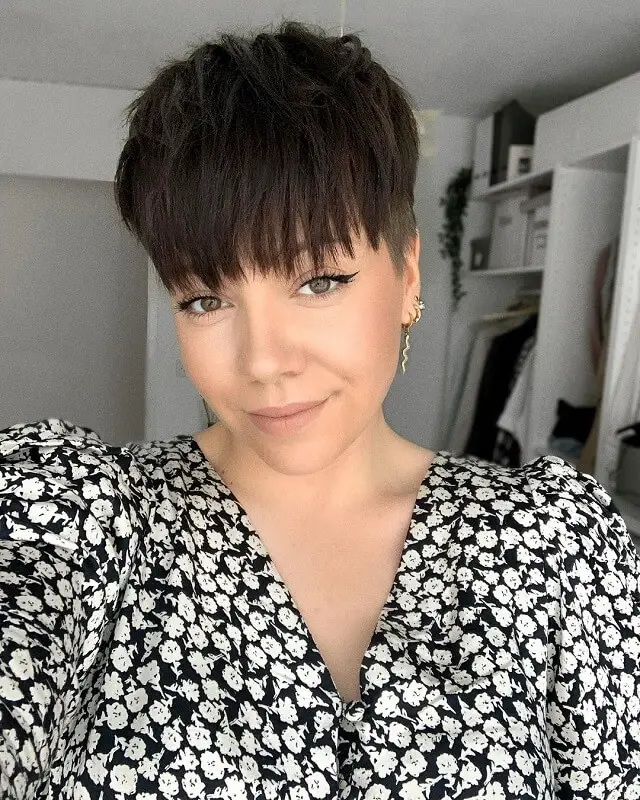 46. Dark Black + Front Sweep Pixie Bangs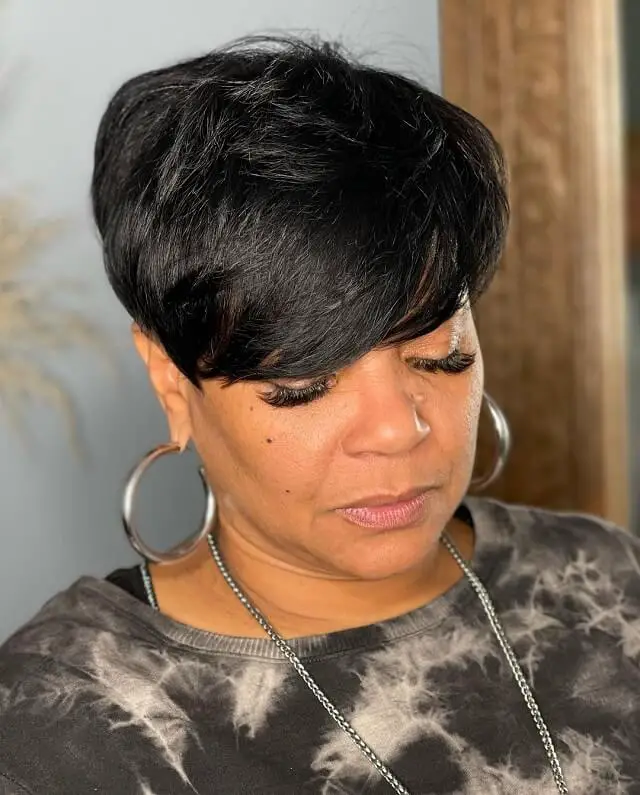 47. Asymmetrical Pixie Cut With Bangs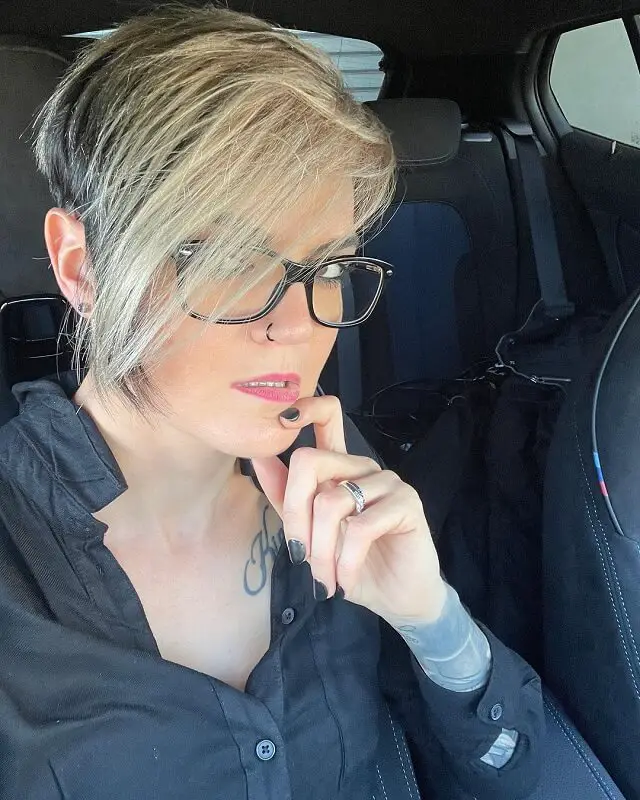 48. Messy Layered Pixie With Bangs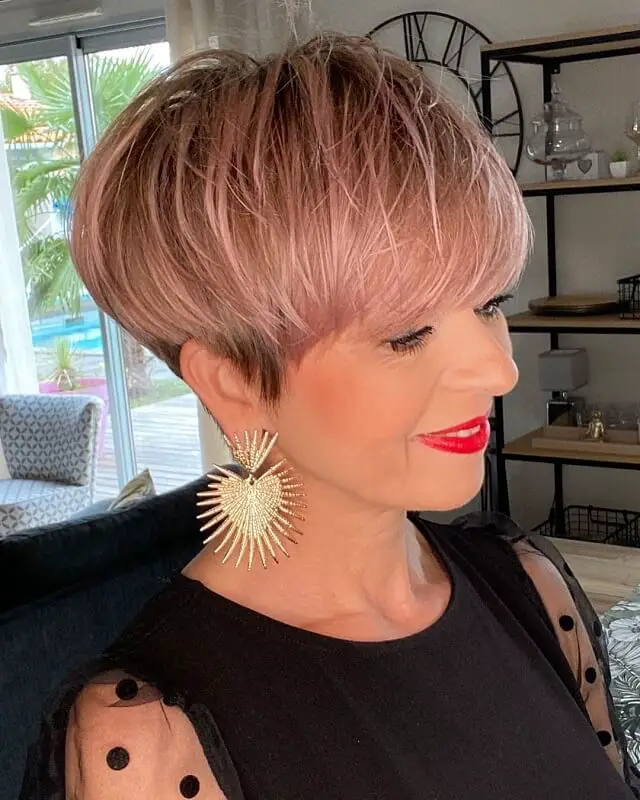 49. Dark Black Hair With Curtain Bangs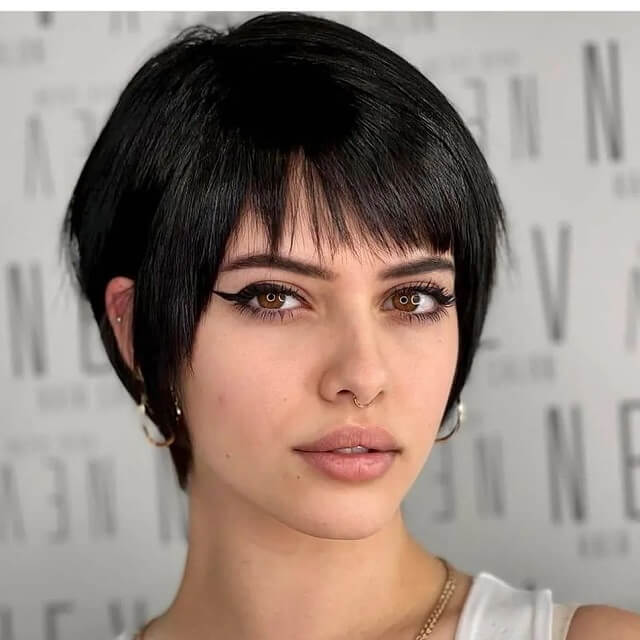 50. Blonde Pixie With Bangs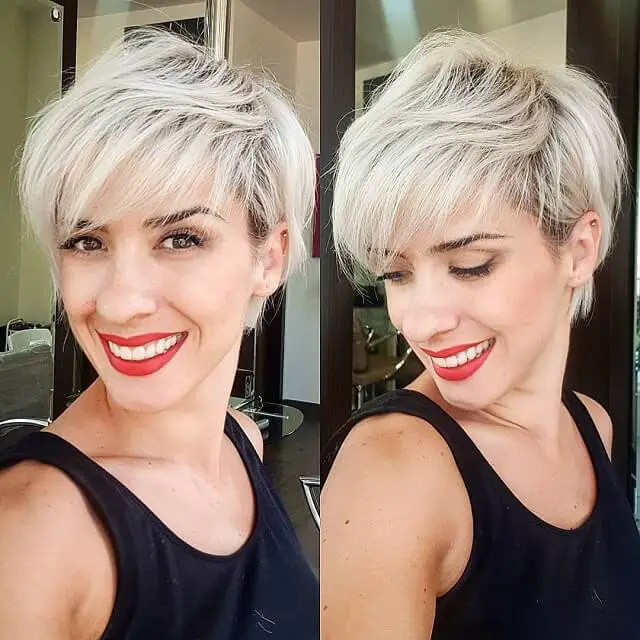 These 60 hairstyles might overwhelm you with all the choices out there. But the thing is, everyone has their own type of style and own type of choice – there's no correct answer.
So, pick the pixie cut with bangs that pulls you and the one you think will be the one to rock the streets like no other. Maybe get ready for tonight's party at your crush's house, or maybe go out with your gal pals to the nearest club to rock out the new you!