Age doesn't take away women's longing to look stunning and fascinating. You may get older, but your hair and mind will always be evergreen. To satisfy your cravings and keep up with your evergreen heart and hair, you need to style your hair with elegance and taste. 
Even after saying that, hair styling can get exhausting after a certain age. Women around 50 can't find the motivation to present their hair in a refined manner because of the time and effort it takes. That's where low-maintenance hair comes in. They are effortless and trouble-free, yet captivating and fashionable.
How to Choose What Low Maintenance Hairstyle Will Go with Your Over 50 Year Age?
Don't limit yourself to mundane hairstyles just because you have aged. You can still look fantastic by putting in just a little work. But the key is to find the right low-maintenance hairstyle for you. To do that, you need to consider some significant issues. They are as follows:
Discovering your face shape and highlighting its features
Face shapes play a vital role in how your hairstyle will appear. You need to determine your face shape first and emphasize its best features through your hair. For example, a Heart-shaped face needs to highlight cheekbones and attract attention to the eyes by adding volume on sides. A long face is suitable for short hairstyles. Any hairstyle is perfect for an oval-shaped face, whereas a round-shaped face needs elongation through shorter styles that'll add width and volume. Square faces call for sharp and bold styles with texture. 
Hairstyles can look different according to hair type. Therefore, it is essential to think about your hair type as well. 
Thick: Tons of layering is possible in thick hair. Long layers will decrease your hair's density which is great for hairstyling.
Medium: As medium sits between thick and fine hair types, many hairstyles can work in medium hair. Extra texture and layers are a viable option for this kind of hair too.
Fine: Fine hair lacks density, so layering is the last thing you need for your thin hair. Keep your hairstyle subtle and short. 
Don't forget to give your desires and upkeep the priority. 
All this technicality may get overwhelming. But the most important thing to do while considering the perfect low-maintenance hairstyle for you is to think about your wants and happiness. Don't let anything stop you from doing what seems comfortable and best for you. Adorn your spectacular hair in a lovely low maintenance hairstyle that will make you content.
Elegant and Effortless Hairstyles for Your Ever-green Outlook
Want to present yourself in a fashionable and graceful manner without putting much effort? We have assembled a list of the most flawless low-maintenance hair that's perfect for your youthful heart and will make you look mesmerizing. 
1. Blonde Pixie Cut For Women Over 50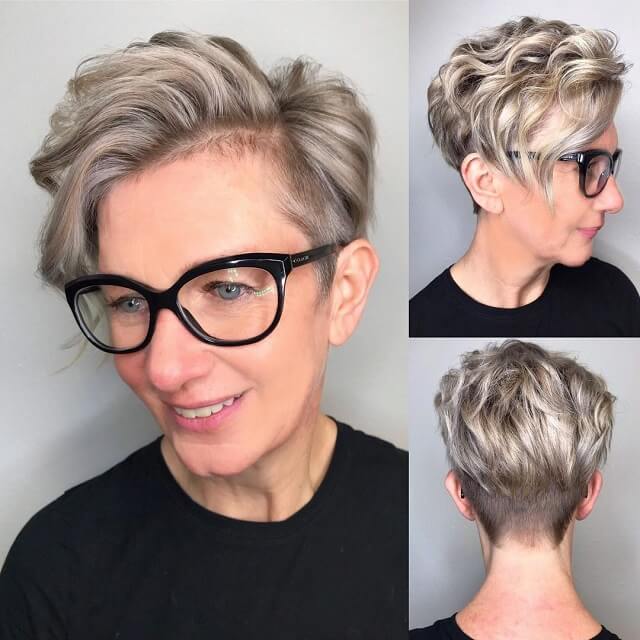 A pixie cut is preferred and quite popular among women over 50 because of its reliability. This modern haircut never fails to hit the target. The blonde wavy hues flaunt your hair's charm and magnificence. 
Suitable For:
Women with sharp faces should try this hairstyle. The jawlines and cheekbones are especially highlighted in a blonde pixie cut. 
How to do it:
Perform a pixie cut and shave the back hair ends to give your hair edge and sharpness. Next, make a side section in your hair to properly display your flashy waves.
2. Swept Back Curls With Bangs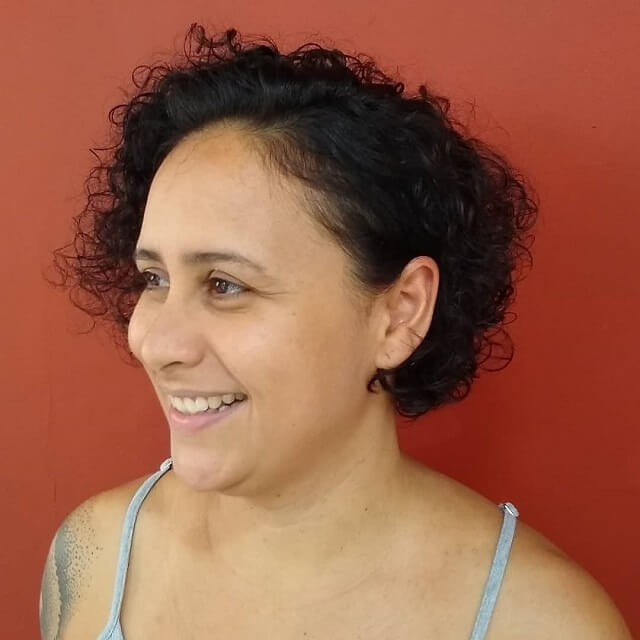 Swept-back curls are perfect for mature women. It's easily a pleasing look that's easy on the eye, which takes very little work. This haircut appears laid back but still has an old school and vintage feel in women at 50 or more.
Suitable For:
Swept-back curls with bangs suit all kinds of face shapes. A round face with natural curls looks radiating in this style. Swept bangs add length to your face. 
How to do it:
Chop your hair in a bob. Let your charming curls be free in the back. Add bangs at the front to look more unique.
3. The Long Bob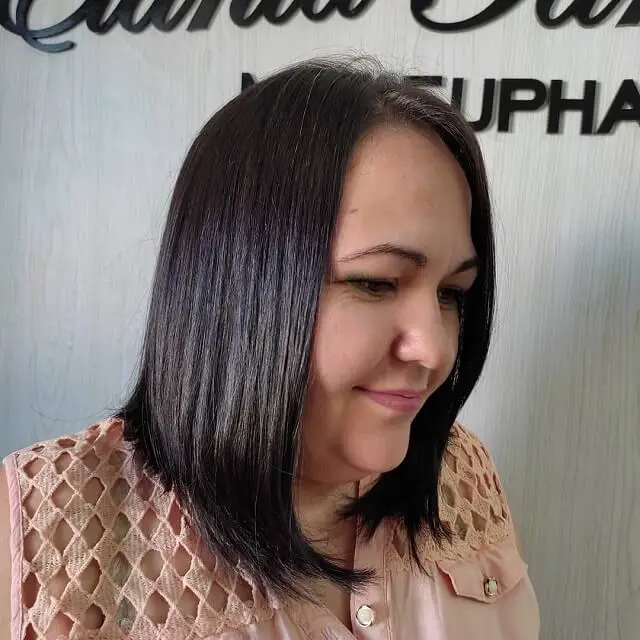 Whenever older women think about bobs, they tend to consider the short bob. But that's absurd. A long bob is just as flattering as a short bob. It perfectly highlights your splendid straight dark hair.
Suitable For:
Straight unswerving hair usually compliments this hairstyle to its full potential. All kinds of face shapes are okay for a long bob especially round faces.
How to do it:
Cut your hair at a sharp angle from back to front. Make sure to have shorter ends at the back that eventually leads to longer ends at the front. It's a fabulous look that you can easily rock.
4. Low Maintenece Short Haircut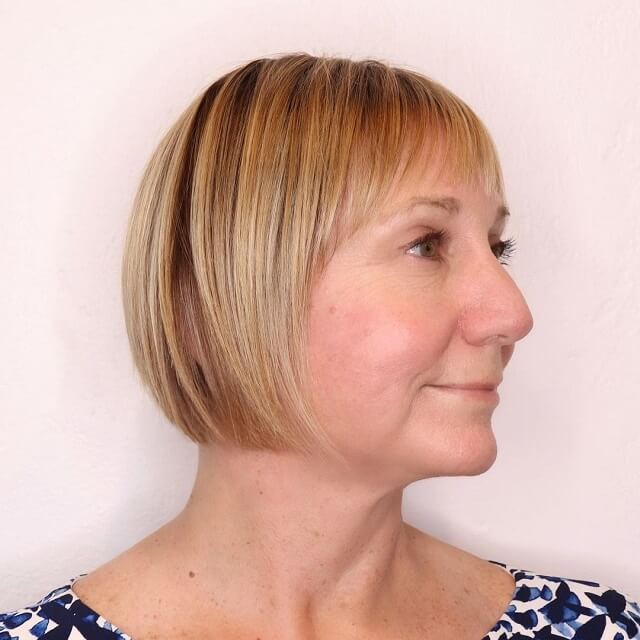 You can never go wrong with short hair if you desire to convey your everlasting fun and vigorous personality. It appears staggering and modern. The light-toned ends in your hair complement your golden blonde hair flawlessly.
Suitable For:
Short hair is fitting for any type of face. Moreover, it's a fresh change, and you should attempt it if they have grown tired of their long hair.
How to do it:
Maintain an evenly proportional cut while slicing your hair in short. You can chop the front of your hair in bangs that would look sleek.
5. For The Round Ones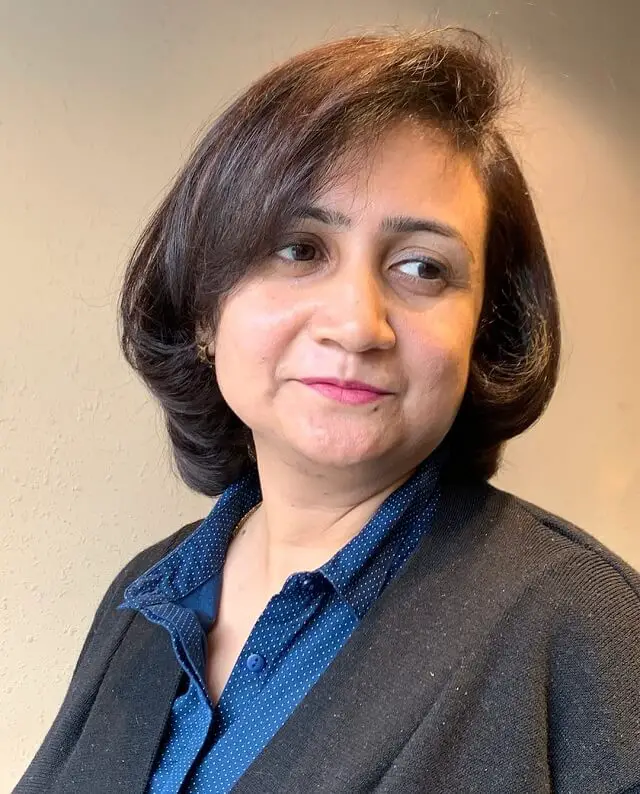 Round ones are a classic hairstyle you would want if you need to make your hair look voluminous. Allow your remarkable black hair to look effortless and attractive by trying out this look. 
Suitable For:
This hairstyle is exactly for women with round faces, as the title suggests. However, it also manifests beautifully in heart-shaped faces. Also suitable for overweight women over 50.
How to do it:
Give your hair a shortcut. Curl your ends inwards slightly to add volume. Style it in a side part and appear spectacular. 
6. Edgy Shag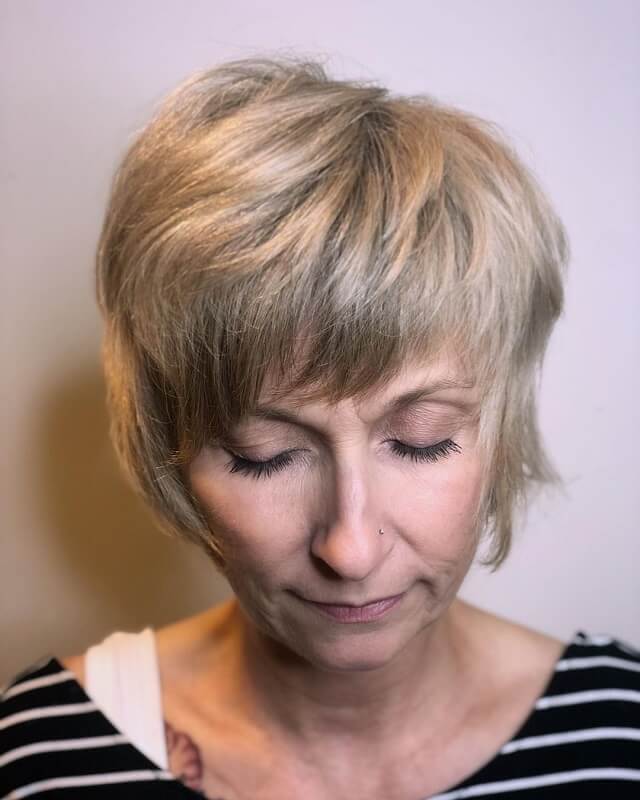 Want to manifest an easy-going and jaunty self at your age through your haircut? Then an edgy shag is precisely what you have been looking for. The unworried and bouncy edgy shag will definitely suit your frisky hair.
Suitable For:
Edgy Shag is more of a hairstyle for women with longer faces. It looks bold, exquisite and flattering in such a visage.  
How to do it:
Slice your blonde front hair just over your eyes and the back in short. Don't worry about letting your hair cover your hair. The messy part of this is what makes it so fun. 
7. Short Side-Parted Straight Hair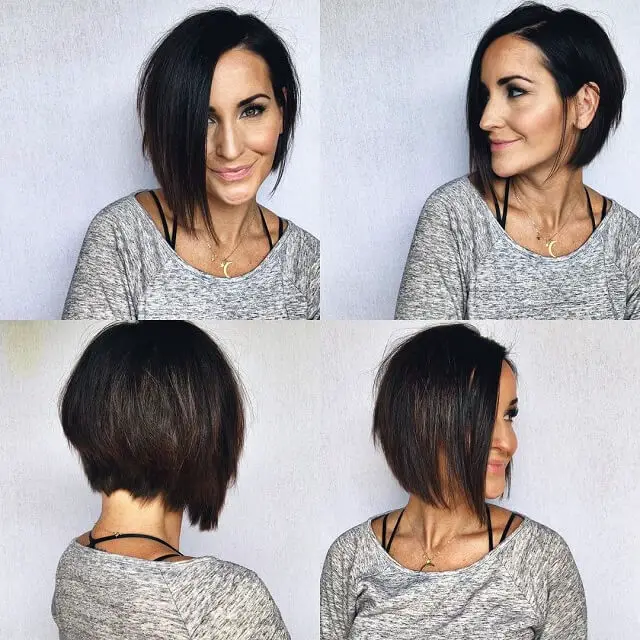 Everyone wishes to look a little exceptional. So try out a short side-parted haircut in your short hair. The side part makes women near 50 looks chic and trendy. But try to keep this hairstyle to look young. 
Suitable For:
Again short side-parted straight hair looks great in all shapes of face. Here you can see the conspicuous jawline shine through this hairstyle.
How to do it:
Maintain a longer cut on the opposite part of your side section. The uneven cut along with the side part shows your edge and is snazzy.
8. Big Curls
Short hair isn't the only option for women around 50. They look extraordinary in big curls. The voluminous, thick curls really bring out your hair's playfulness. This hairstyle has the potential to make you seem gorgeous and engaging.
Suitable For:
It's a look you can rock in any face shape. But the disadvantage is that you can't wear it everywhere as it takes some time to do this hairstyle.
How to do it:
If you have natural curls, then some chops would suffice. But you will need a massive barrel curling iron if you wish to create this look.
9. Layered Hairstyle for Women Over 50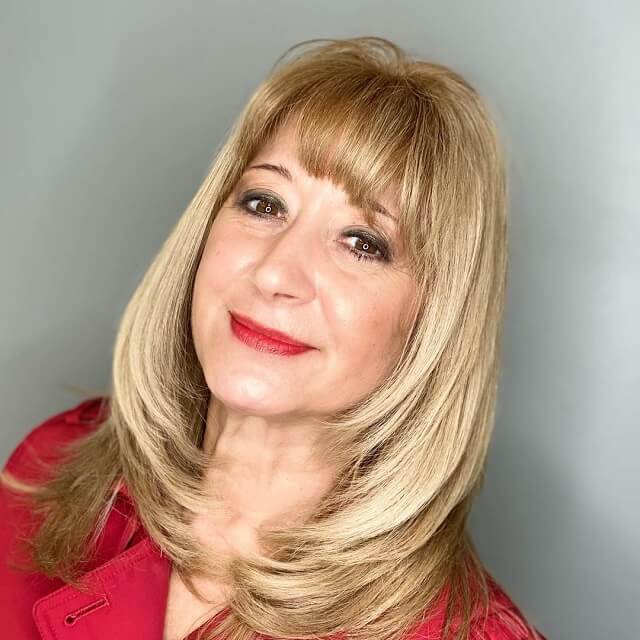 Layered hairstyle always makes you look up to date and fashionable. The layers definitely have a neat and delightful aura to them that looks awestruck in women close to 50 or more.  A layered hairstyle may not bring much change, but it still appears heavenly. 
Suitable For:
A layered hairstyle can look soft yet springy. Oval faces work with this look really well. 
How to do it:
To pull off this look, you will need to keep your hair long. Then, add bangs to the hairstyle to seem youthful. 
10. Messy Gray Pixie Cut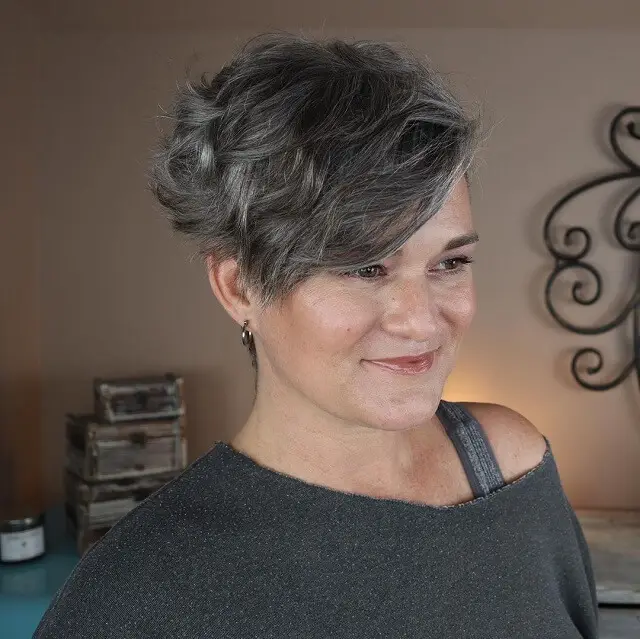 If you are unafraid to show your natural mellowed hair, this is for you then. A messy pixie cut in your beautiful grey hair will undoubtedly let you shine and make you fall in love with your hair all over again. 
Suitable For:
A pixie cut is befitting for all faces. However, it is spectacular in natural gray hair. 
How to do it:
It's an effortless look, to be honest. You just need to cut your hair in a pixie cut and let your hair look naturally exquisite. 
11. Short Layers For Fine Hair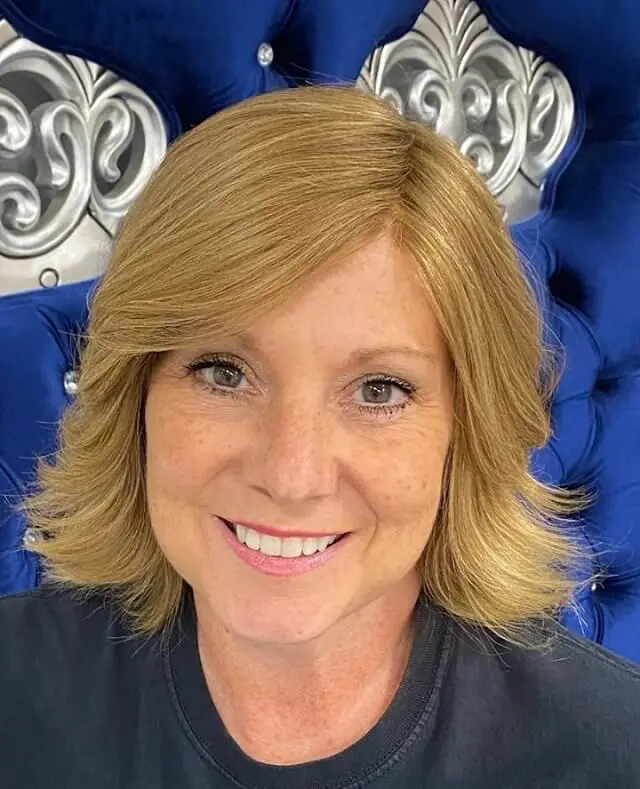 Be bold and give your fine hair the chance to look wondrous and discerning with short layers. The short layers flatter your stunning fine hair with grace. This hairstyle looks exceptional in blonde-toned hair. 
Suitable For:
A round and oval-shaped face is befitting for this hairstyle. This tidy hairstyle looks marvelous in golden blonde hair. 
How to do it:
Slice your hair short and keep layers short as well, but visible. Keep your hair tidy and display yourself in an organized and charming manner. 
12. Simple Cropped Cut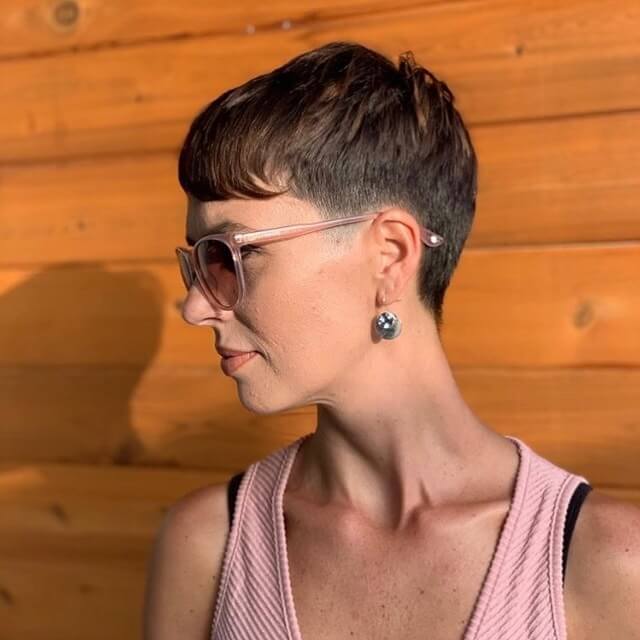 A simple cropped cut may be plain, but it's certainly a sassy and trendy look for women at 50. The best thing about this cut is that it's a straightforward look that needs no styling or effort. Just the trim is enough to make you look striking. 
Suitable For:
A simple cropped cut is displayed wonderfully in any type of face shape. It is a popular hairstyle that women go for a lot.
How to do it:
Take your hair into a boyish cut and let the edges be sharp. And you are ready to rock your chestnut auburn hair in a simple cropped cut.
13. Mature Short Layered Cut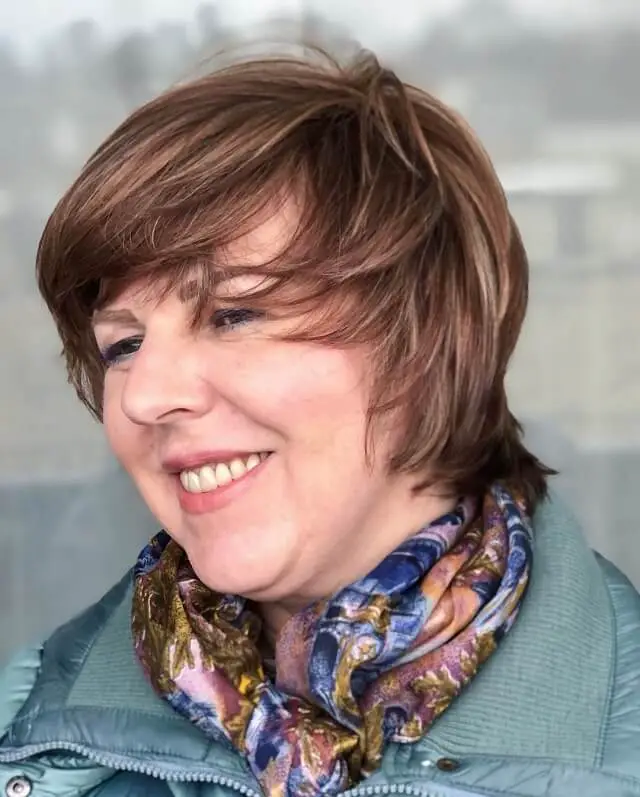 Sometimes you want to flaunt your age and experience through your hair. A mature short layered cut does that for you. This hairstyle gives you a mellowed look that allows you to appear tasteful and beauteous. 
Suitable For:
Layers are all for women with round and oval faces. A mature shore layered cut will accentuate the roundness of your face.
How to do it:
Shorten your gorgeous hazel hair on a neck level. Then, add layers to give your hair some flair. 
14. Angled Ash Blonde Cut for Women Over 50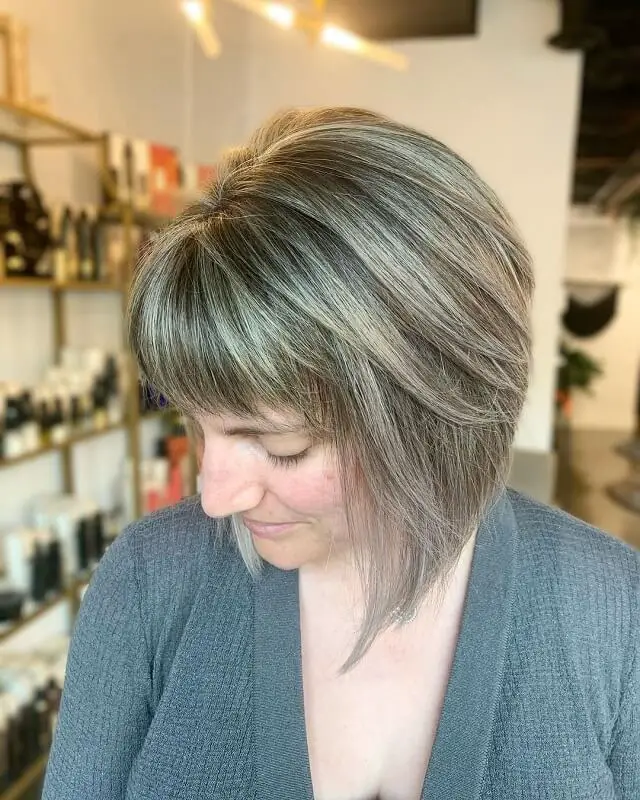 Let your naturally gray hair shine through an angled ash-blonde cut. Your genuine ash tone corporated with blonde appears marvelous. The angled cut on top has a keen yet phenomenal effect on you. 
Suitable For:
An angled ash-blonde cut can make any face look breathtaking. However, the tone of this hairstyle is what's exceptional about it. 
How to do it:
Keep your hair at a sharp angle. Tone a platinum hue at the end that will form with your natural ash hair. 
15. Rounded Bob With Stacked Nap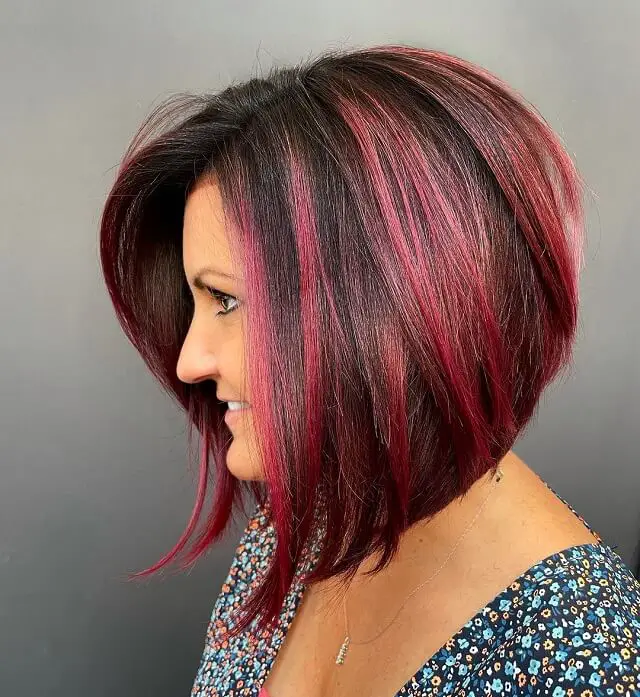 A rounded bob with a stacked nap has been in trend for women near 50 for some time now. The stacked bob provides your hair with extra volume and height at the crown, and the round shape shows off your beautiful nape. 
Suitable For:
Women with square faces need this hairstyle. The stacked bob adds height to your square face. In addition, a longer length in the front adds angle and sharpness to your face.
How to do it:
All you need for this prepossessing look is to crop your hair in a stacked bob that will leave a round shape from back to front. Then, highlight your hair in pink hues to look extraordinary.
16. Low Maintenance Short Layered Blonde Hairstyle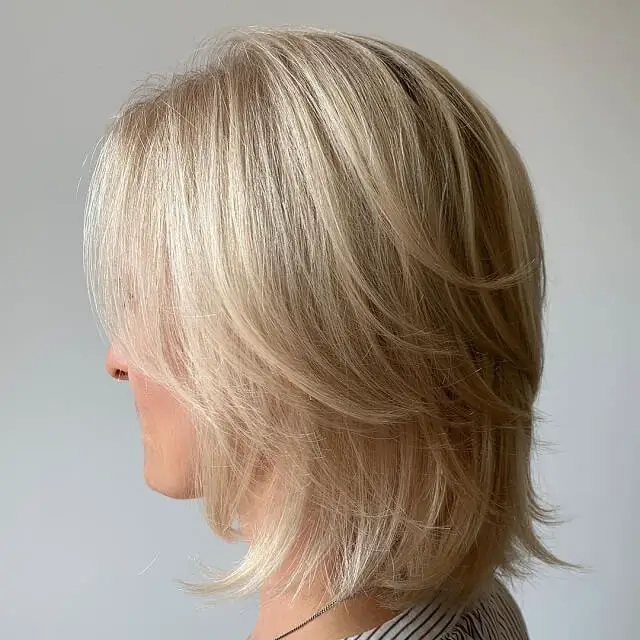 Give your experienced blonde hair the chance to look glorious and magnificent with a short layered hairstyle. Your unswerving fine hair appears graceful in the short layers. A short layered blonde cut takes really low maintenance, still looks appealing. 
Suitable For:
This hairstyle is appropriate for all kinds of face shapes. It has an elegant effect on long faces.
How to do it:
Chop your hair on a shoulder level. Then, stack the light layers on the back subtly to bring out your hair's natural charisma. 
17. Blonde Balayage Bob With Angled Layers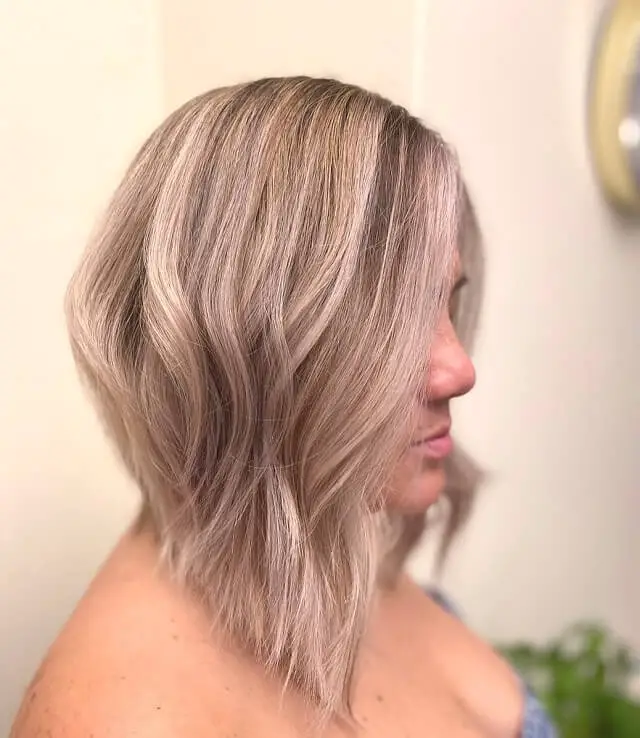 If you feel like highlighting your mature hair in an angled layer, a blonde balayage bob with an angled layer is a perfect choice. The blonde balayage accurately displays your bob in a diva-like manner, and the angled layer has a sharp feel to it. 
Suitable For:
The balayage effect has been used in all faces. It brings out boldness and looks striking. 
How to do it:
Do an angled cut and add on a blonde balayage effect to your hair. The blonde balayage can display your vigorous heart.
18. The Classic Lob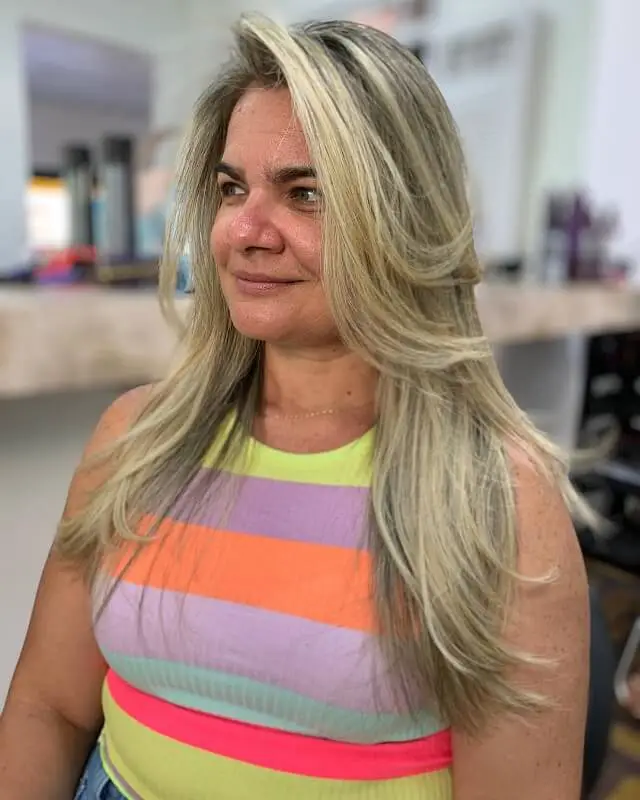 The classic lob is definitely a stunning look for women over 50. The modish hairstyle makes you appear spirited and imposing. The longer locks of your hair will appear graceful. This look can easily be branded as a stunner hairstyle. 
Suitable For:
The classic lob is flattering to any face. But it's best to avoid this in long faces. 
How to do it:
Divide your hair into 4 parts. Use a big round brush to comb your hair out while blow-drying to achieve this look.
19. 70s-Inspired Shag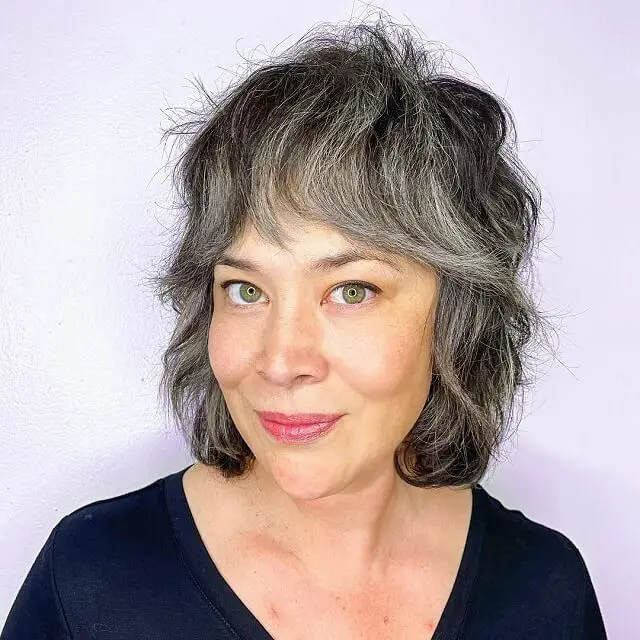 Don't you just love a look that can convey an old-school yet modern vibe? The 70s inspired shag is such a hairstyle that possesses that duality. In addition, this hairstyle exhibits a breathtaking and enchanting style made for women around 50.
Suitable For:
This hairstyle doesn't really depend on your face shape. Instead, it relies on whether you have the kind of personality to pull this off.
How to do it:
Shorten your hair and add bangs to it along with your waves. Keep it messy to look contemporary and flattering. 
20. The Effortless Half-Up Half-Down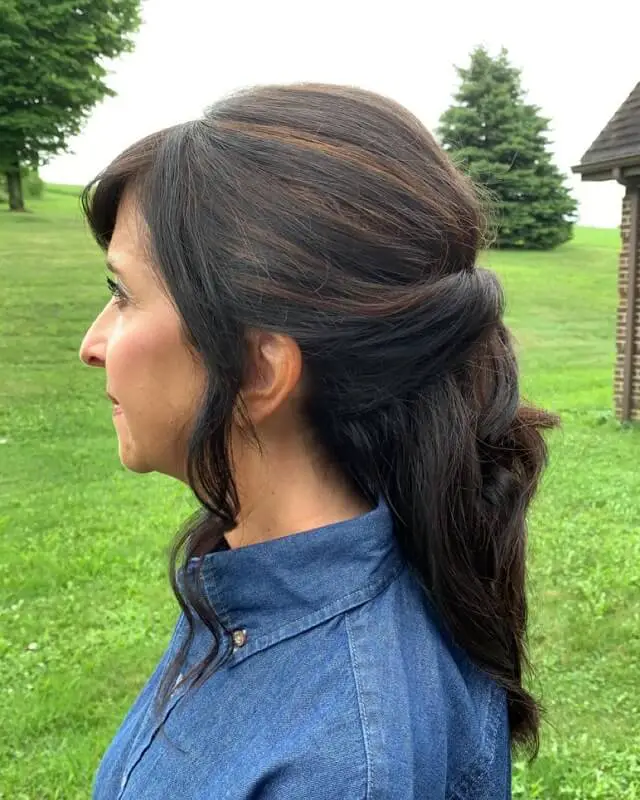 A half-up half-down is a comfortable and easy look that women closing 50 or over can give a try. This low-maintenance hairstyle is so effortless and simple, but it still can make you look glamorous and graceful.
Suitable For:
Half-up, half-down is a universal style. It looks fabulous in any face type and hair color. 
How to do it:
Just take a headband to pull your half of hair up and let the rest of it down. Keep some of your front hair down for some dazzle.
21. The Low Side Pony for Over 50
Need to look professional and tidy even at your age? Worry not! The low-side pony will do that. The uncluttered side ponytail clearly portrays your smartness and bold charisma. It is an unbeatable look that looks fantastic and striking. 
Suitable For:
It's a look reserved for anyone who needs a hairstyle for the workplace. It's an all-rounder hairstyle that can be used for any face shape. 
How to do it:
Gather all of your hair and tie it to a side ponytail—accessories your pony with different patterned and colored hair bands. 
22. Long Hair With Bangs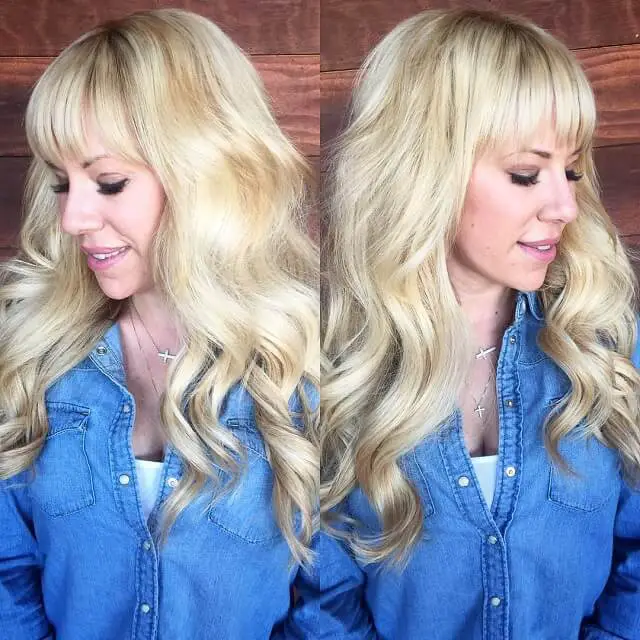 Bangs are a timeless and ageless style that always wins hearts. It goes well with almost every hairstyle. But long hair with bangs achieves a unique level of beauty and grace. It's undoubtedly a knockout hairstyle.
Suitable For:
It's a perfect hairstyle for people who want to look younger. It goes well with a face shape. 
How to do it:
Chop your hair in the front with bangs. Then, simply let your shiny and wavy hair down and allow it to do its magic. 
23. Medium Length With Bangs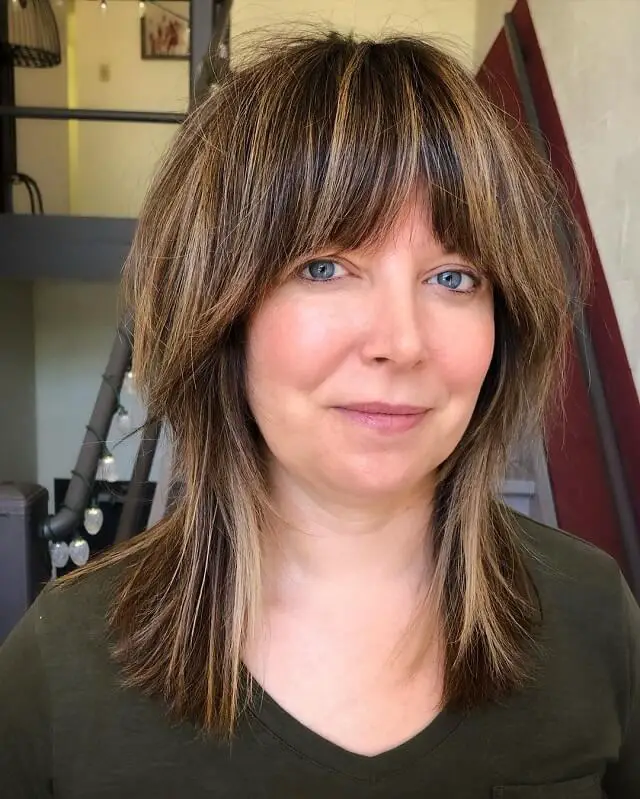 Add a fun twist like bangs to your medium-length hair. It looks incredible on aged women if it's done properly. Let your bangs be thick in your fine hair. It creates a distinctive look that stands out. 
Suitable For:
Medium Length with bangs compliments round and oval shapes excellently. It's a flattering and winsome look. 
How to do it:
Carefully chop your bangs at a subtly rounded angle. Allow the rest of your hair to flow down. 
24. Curly Bob For Older Women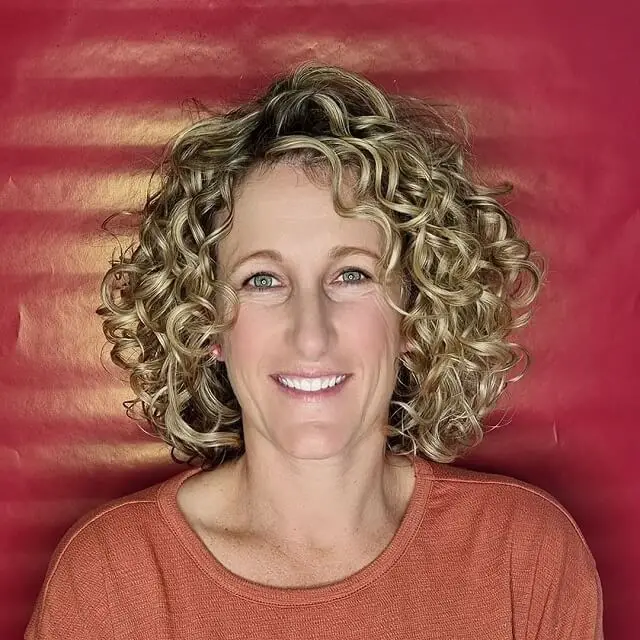 Attain the glamour and beauty you are looking for through a curly bob. The blonde curls in your bob cut appear scrumptious on women over 50. It's a winsome look that can't go wrong. The elegant curls make you feel confident and poised. 
Suitable For:
Elongated faces make use of curls perfectly. The curls add width and volume to the face that balances out the longness of your face. 
How to do it:
Shorten your hair in a bob cut. Style your hair in big beachy curls to obtain this look. 
Age is just a number. Don't let it stop you from looking fine, fashionable, and flawless. Break all the stupid social constructs and fly above them with poise. Style your hair effortlessly and look ever-dazzling and evergreen. Here we have put together some low-maintenance hairstyles for over 50 year old women that'll make you look phenomenal and elegant.