The exceptionality of curly hair never fails to captivate hearts and look stunning. However, curly hair takes a genuinely exquisite and adorable form in little kids. To match the energy of their ever-growing hair, you need some inspiration from curly hairstyles for kids.
The natural curls in their little heads appear absolutely precious and unique. Regardless, parents know that taking care of this kind of hair is a huge hassle and consumes a lot of their valuable time.
These hairstyles will save a vast amount of time while giving your kids a dainty and charming appearance.
Easy-to-do Curly Hairstyles For Kids
Provide your kids the chance to come across as lovely and fetching effortlessly in their curly hair with these styles. It's easy to style alongside looking fun and pretty. What more can you ask for? So, let's get on with these beautiful kids curly hairstyles.
1. Long Curly Hairstyles For Kids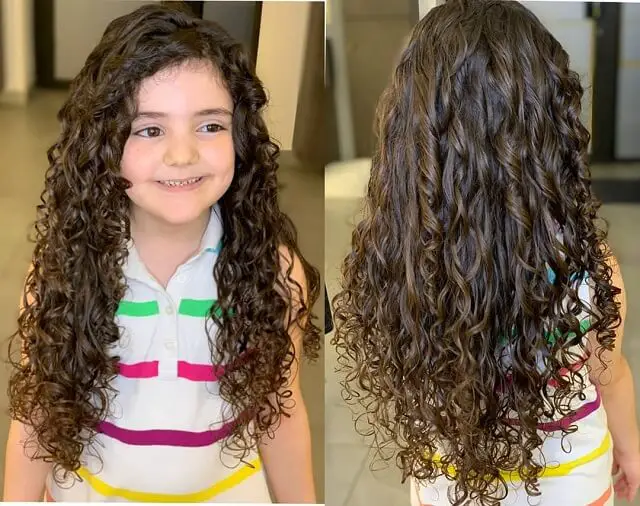 Exhibit the gorgeous long curls with this simple curly long style. Let the natural chestnut curls flow down without any restraints. Take some strands at the front and twist it to the back for a unique flair. It certainly comes across as dainty and extraordinary.
Suitable for:
Girls of 4-7 years old can pull off this style easily. It looks flattering in diamond faces as it accentuates the face shape.
2. Short Curly Hairstyles For Kids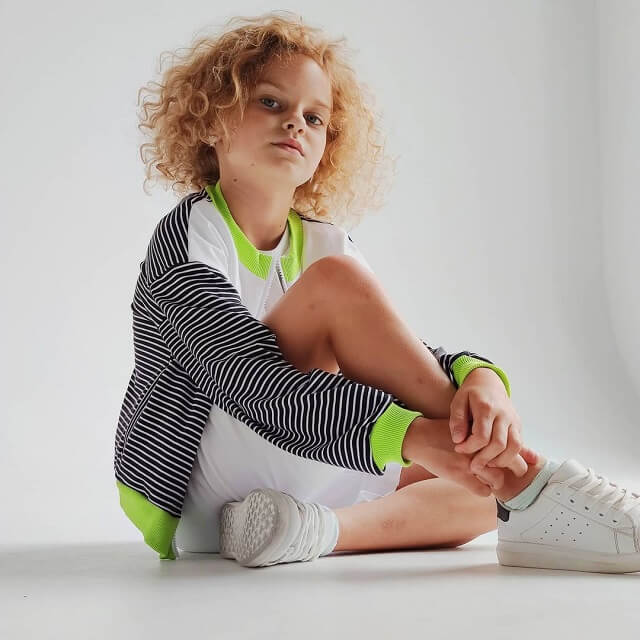 Use the full potential of your kid's wispy short curls with a curly short style. To create this look, you just need to keep the hair down. Do a side part to make the light curls appear slick.
Suitable for:
Kids who are a little older, around the age of 6-9 years old, wear this with style. Furthermore, this hairstyle is befitting of the perfect face shape, oval-shaped faces.
3. Natural Curly Hairstyles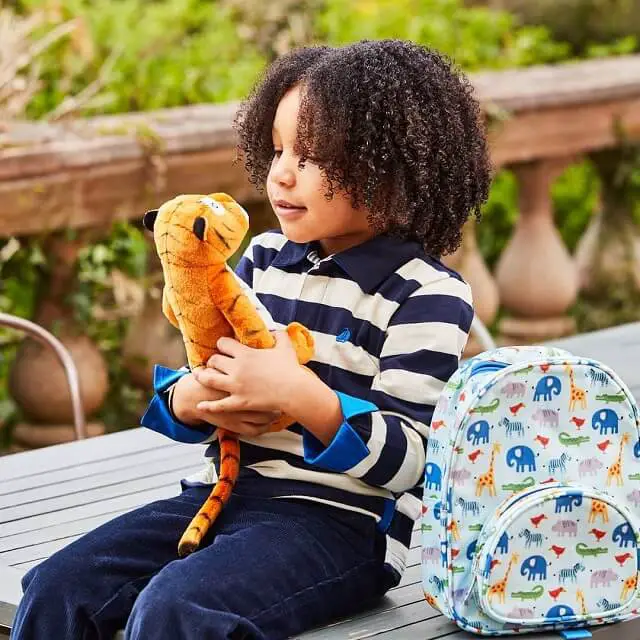 Natural curly styles always have a high ground over all other intricate styles. These effortless curly hairstyles for kids look winsome and cutesy. Make a middle section and allow the small natural curls to do their usual magic.
Suitable for:
7-10 years olds come across as super adorable in this style. Round faces highly suit this style because of their added width at the cheeks. 
4. Short Curly Hairstyles For Black Kids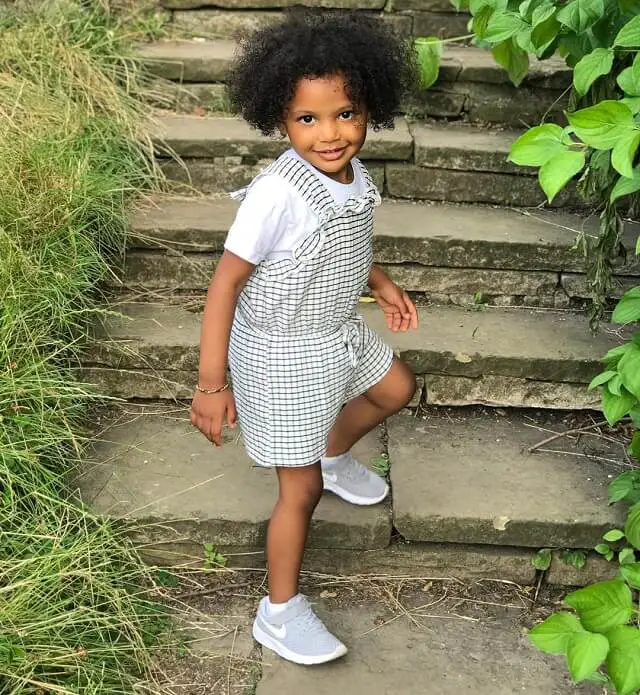 Black hair is quite different and distinctive than other hair types. So they need an appealing and exclusive style like black short curly style. Maintain the curls on an ear length while letting them be free.
Suitable for:
Children around the age of 5-9 years old show off this style's full potential with their oval faces.
5. Braided Curly Hair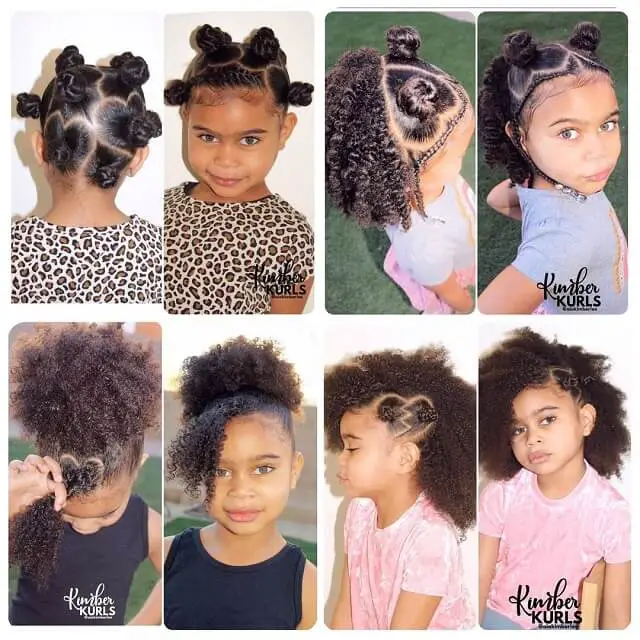 Braided styles can never go wrong in curls. It removes the possibility of being a bother keeping the curls neat and tidy. Here you can see different patterned braids that can provide the best curly hair experience while coming off as entrancing and pleasant.
Suitable for:
5-8 years old with an oval face shape enhances this style as all styles suit this face shape.
6. Cornrow Curly For Kids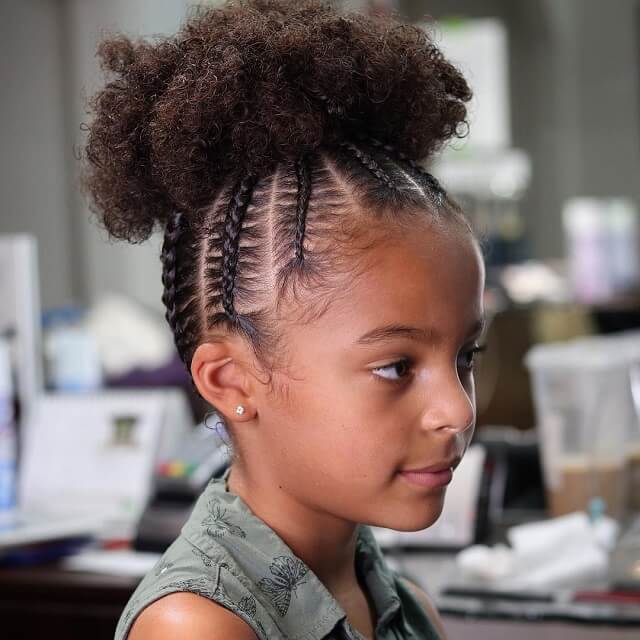 Portray the true beauty of curly hair through a curly cornrow braids style. Make thin cornrow braids close to the scalp all around the head. Bring them to a short voluminous ponytail on the crown of the head. This is surely a refined look.
Suitable for:
Girls with oblong faces, who are 8-11 years old, can rock this style. The dense volume at the top looks engaging.
7. Clip On Head Hairstyle For Kids With Curly Hair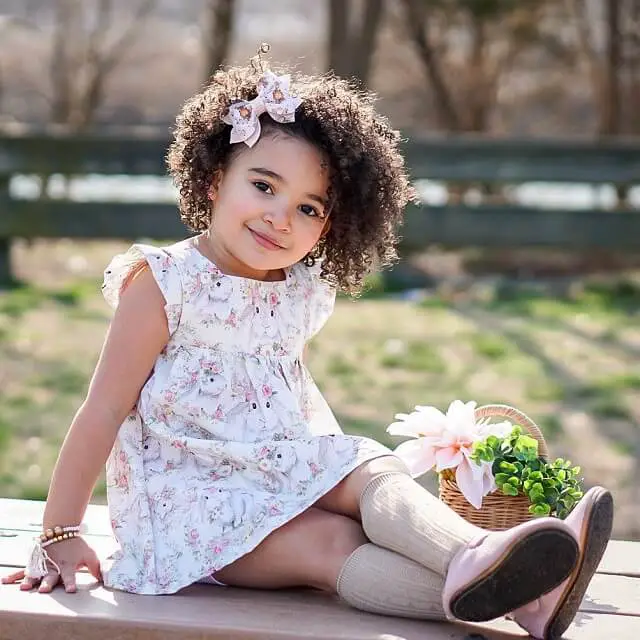 If your kid possesses short, tiny curls, a clip-on curly style is the best look you could go for. The floaty curls look adorable. Do a side part and adorn the airy short curls with two flowery clips to pull off this delightful look.
Suitable for:
Girls, around 3-7 years old, who have a round face shape can accomplish this kid's curly style with grace. The voluminous curls add width to the sides.
8. Kids Hairstyle With Beads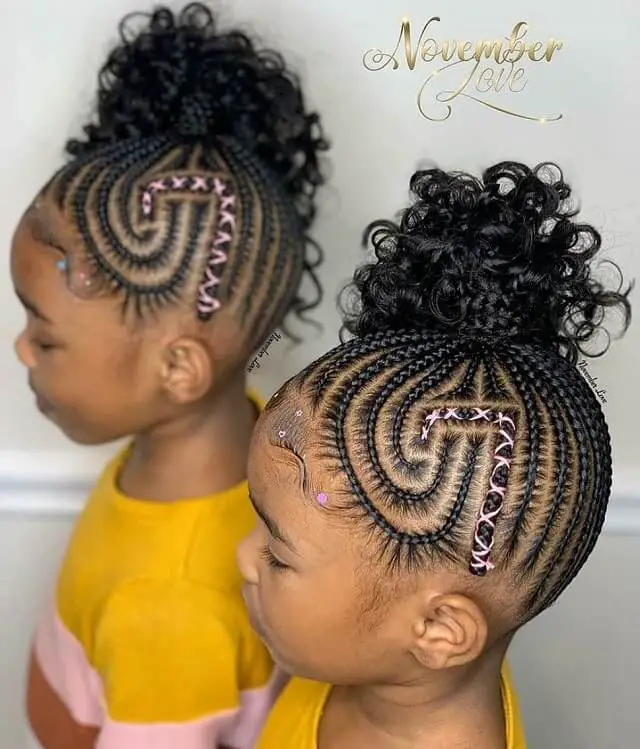 Beads are remarkable when they are used to style young curly hair. For this beads curly style, from some thin braids in a whirlpool pattern, taking them into a gorgeous wavy ponytail. Use subtle pink threads and beads to accessorize the style furthermore. 
Suitable for:
Kids who are 6-9, are perfect for this style. It suits elongated faces because of the extra density of curls.
9. Curly Bob For Kids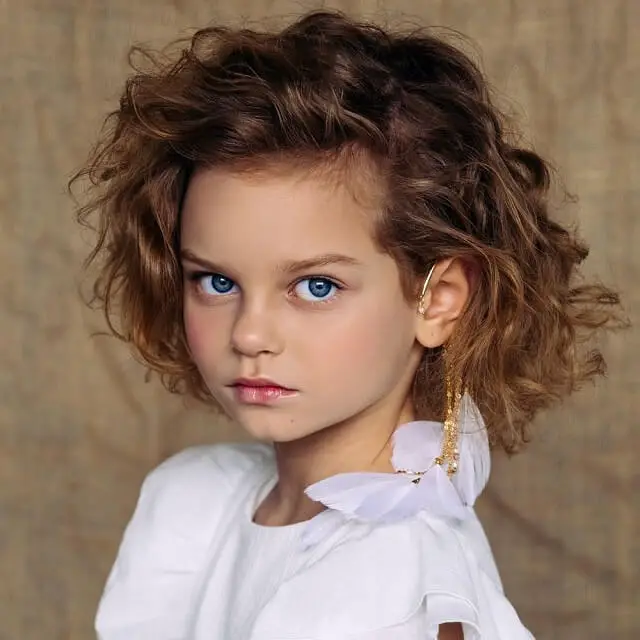 Want something easy-going yet fun and chic? A curly bob will be perfect for a little girl. Chop the curls to shoulder length along with a side part. The faint wispy waves strike as cutesy diva-like.
Suitable for:
Girls with heart-shaped faces, around the age of 5-9 years, lift this style's charm. It highlights the cheekbones generously.
10. Medium Length Curl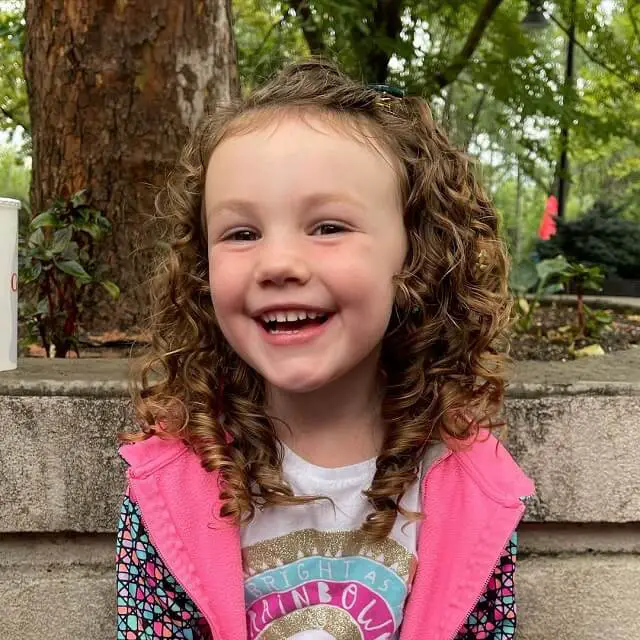 Can't choose between a long charismatic look and a short fashionable look? Go for a medium-length style that has the best of both worlds. Shorten the hair to slightly longer than shoulder level for this look. The looped curls look stunning in this style.
Suitable for:
Girls around the age of 5-11, easily carry this style with elegance. Longer faces are more appropriate for this style because of the hair's length.
11. Half Up Curly Hairstyle For Toddlers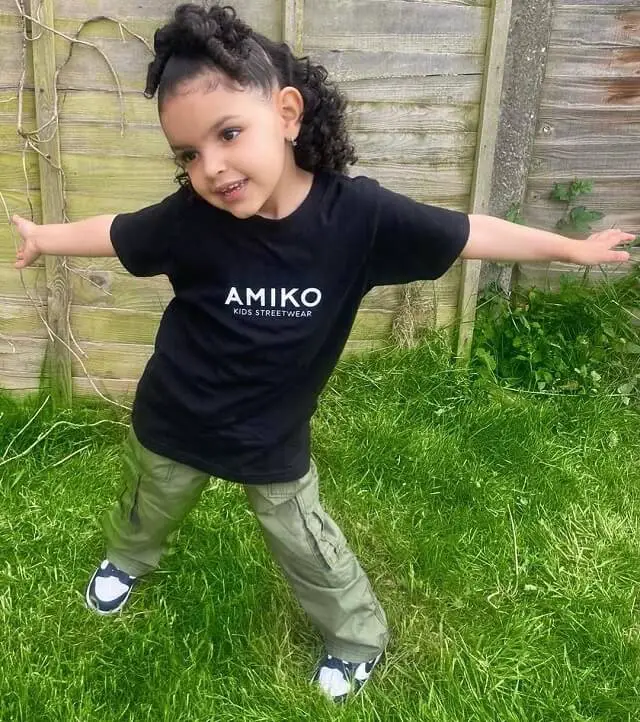 A half up half down curly style is the best comfort style for your kids. Take half of your hair up into a messy bun and leave the rest of the curls down for a magical look.
Suitable for:
This style is suitable for girls around the age of 7-11, who have diamond-shaped faces. It complements the high cheekbones enormously.
12. Messy Haircut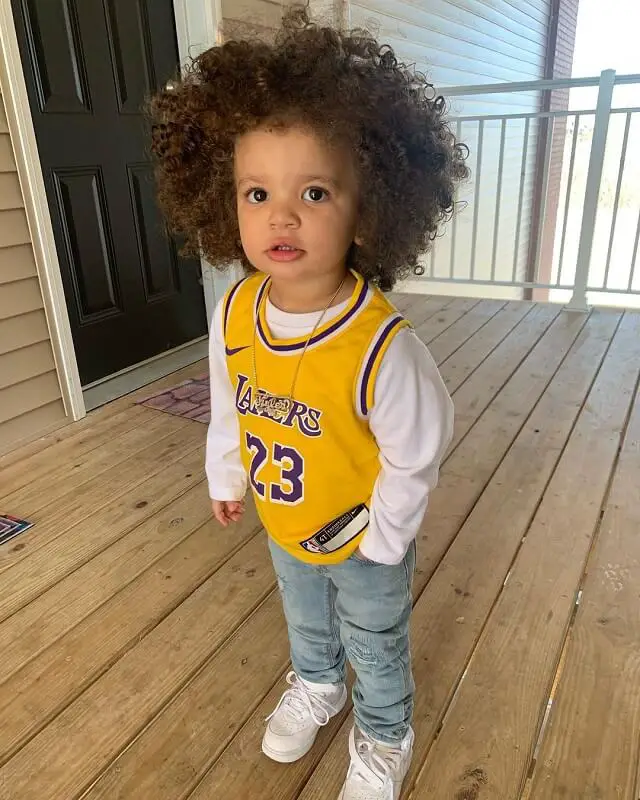 A messy curly cut perfectly portrays a kid's energetic, vigorous nature. To execute this style, let the voluminous dense afro curls run wild as it does. This style has a bold and gorgeous vibe to it. 
Suitable for:
Kids with a cute round face look cutesy in this style. It looks better on kids around the age of 4-9 years olds.
13. Bangs for Kids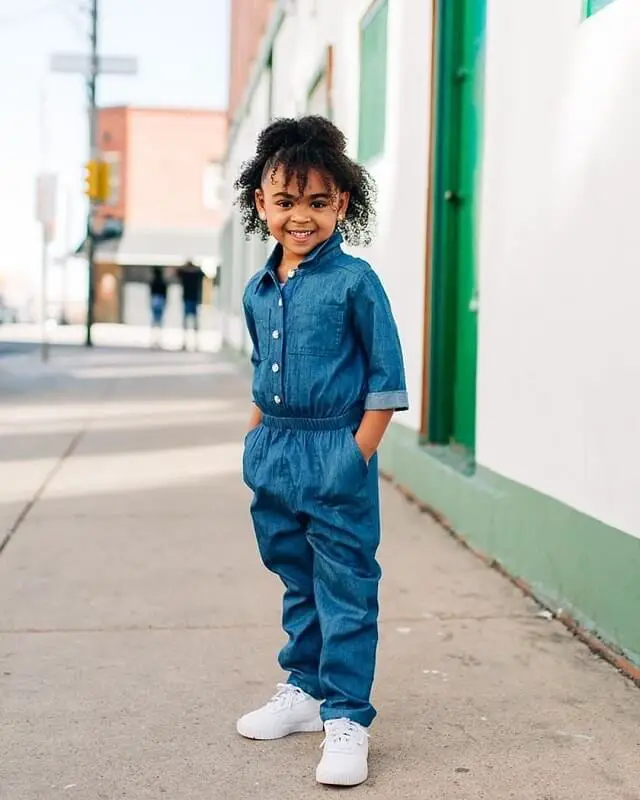 Bangs are an ageless style that can grace any hairstyle. It's the same with curly styles too. Tie the curls in a bun bringing them to an ear level, and cut the front in flattering bangs, and this is a winsome look no one can avoid.
Suitable for:
Children with heart-shaped faces around the age of 7-12 years, boost this style with taste. The added bangs are extremely complementary.
14. African American Curls For Kids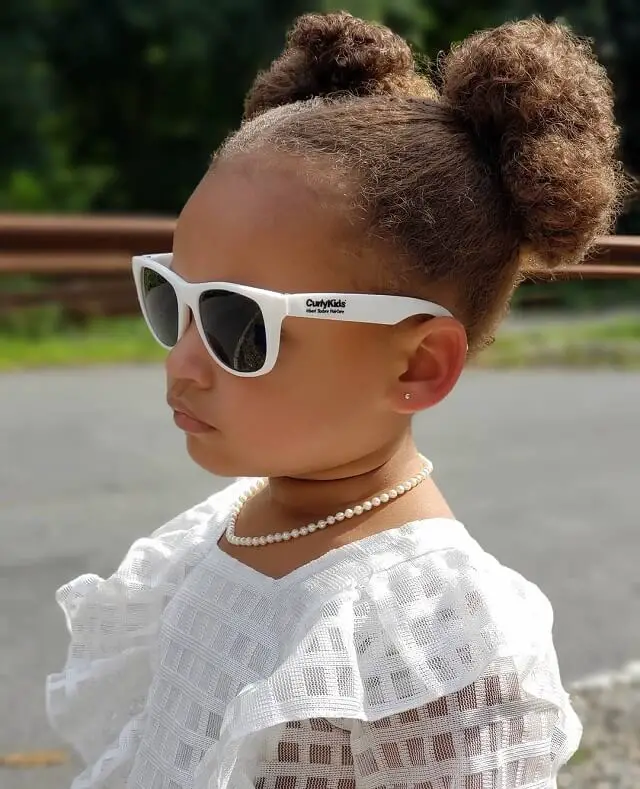 African American hair can reach its full potential through curly hairstyles. Pull the hazel curls up into two dense bonnie knots to perform this style. It's a strikingly endearing look that needs to be tried.
Suitable for:
Girls with a good round face around the age of 4-8 years old are appropriate for this hairstyle. It looks stylish on them.
15. Curly Bun For Kids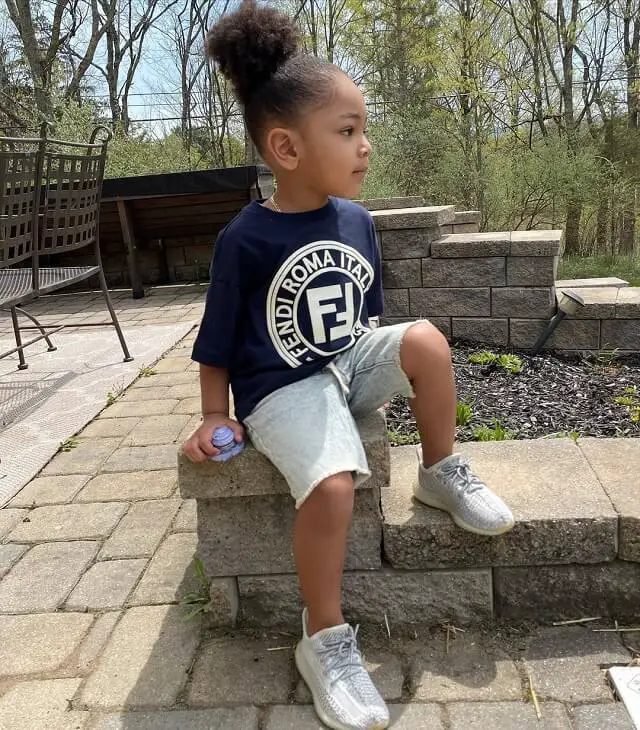 If a neat look is what you are looking for, a curly bun will do the job. Carefully brush out the flyaways and take the hair up into a single fine bun. It's the perfect style for playtime.
Suitable for:
Oblong faces are fitting of this style. Kids near the age of 6-11, execute this style flawlessly.
16. Braided Updo With Curls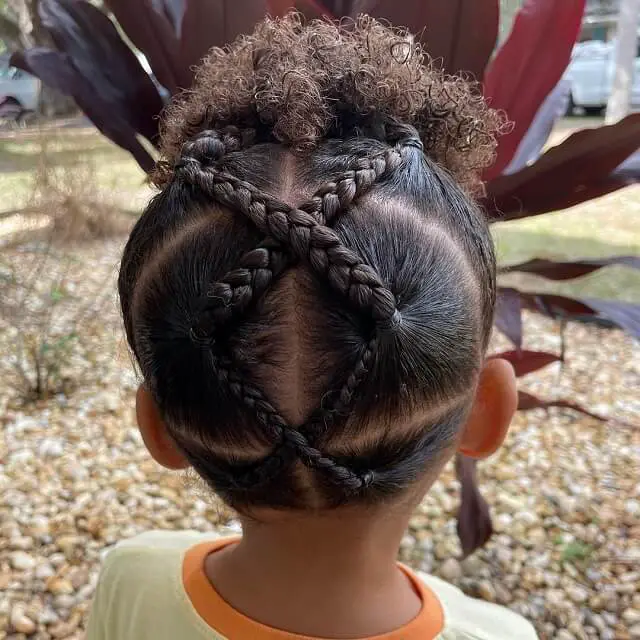 An updo with braids gives off an innocent graceful feel. Create six sections, bringing braids from them, fusioning the braids in a zig-zag pattern, and forming a beautiful updo for this look. It appears exclusive and distinctive.
'
Suitable for:
Kids around the age of 5-10 can perfect this style to its core with their charm. Oval faces never fail in this style.
17. Curly Mohawk For Little Kids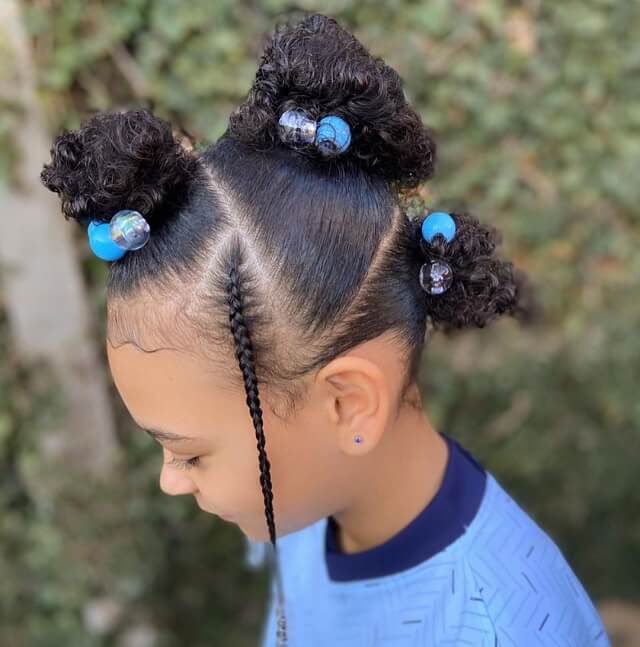 If your kid loves fashion and modern style, a curly mohawk can fulfill their fashionable desires. Execute three different updos along with two thin braids hanging on both front corners. Accessorize the updos with bands encompassed with fetching blue and white balls.
Suitable for:
Longer faces are more applicable to this style. The curls' volume suit this style. Kids around the age 8-11 look extraordinary in it.
18. Twisted Two Bun Hairstyle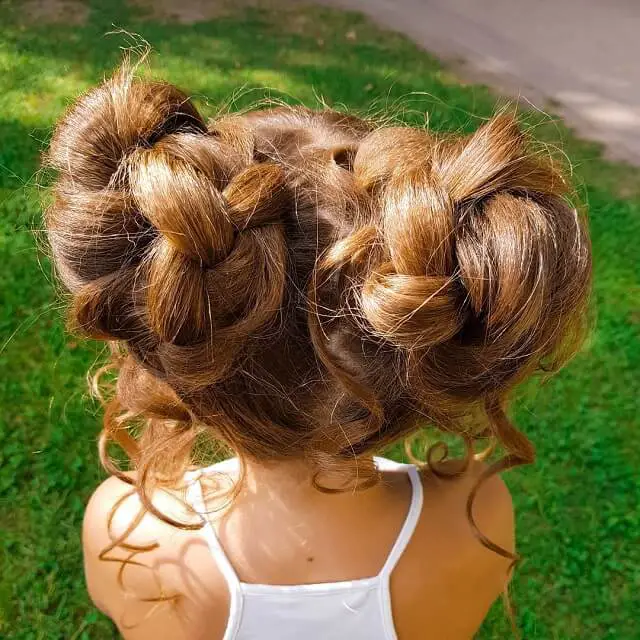 Take the beautiful blonde curls to an exclusive level with a two-buns twisted style. Make a zig-zag middle section and twist two thick buns on top for this style. It's an extremely charming and fetching look.
Suitable for:
Oval faces can adorn any hairstyle with poise. It's the same with style. Girls of 9-12 years match this exquisite style.
19. Colorful kids Curly Hairstyle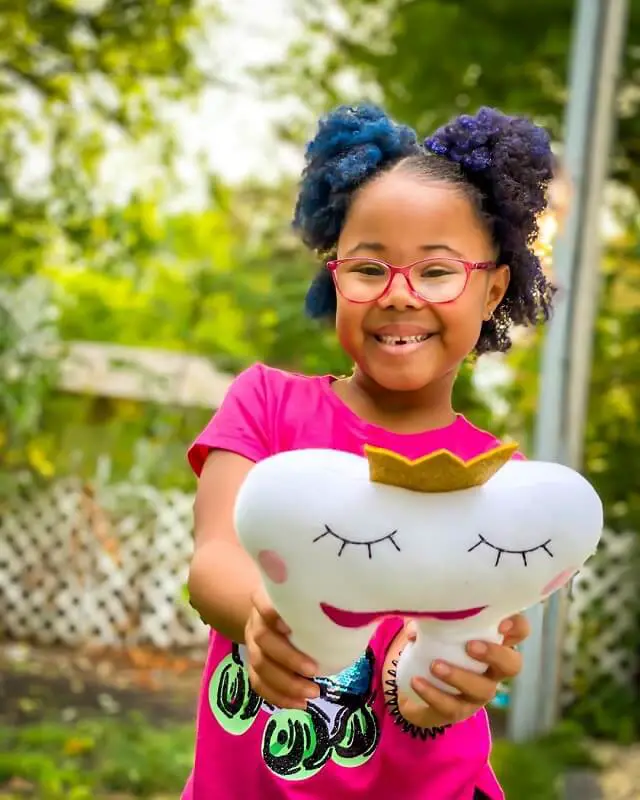 Highlight the curls in a fun and exciting way with a curly colorful style. To pull off this style, make a middle part and tone one side in a pretty purple shade and the other in a bold blue shade. It's undoubtedly a stunner.
Suitable for:
Girls with elongated-shaped faces flatter this style. This looks excellent on 8-12-year-olds.
20. Bubble Braids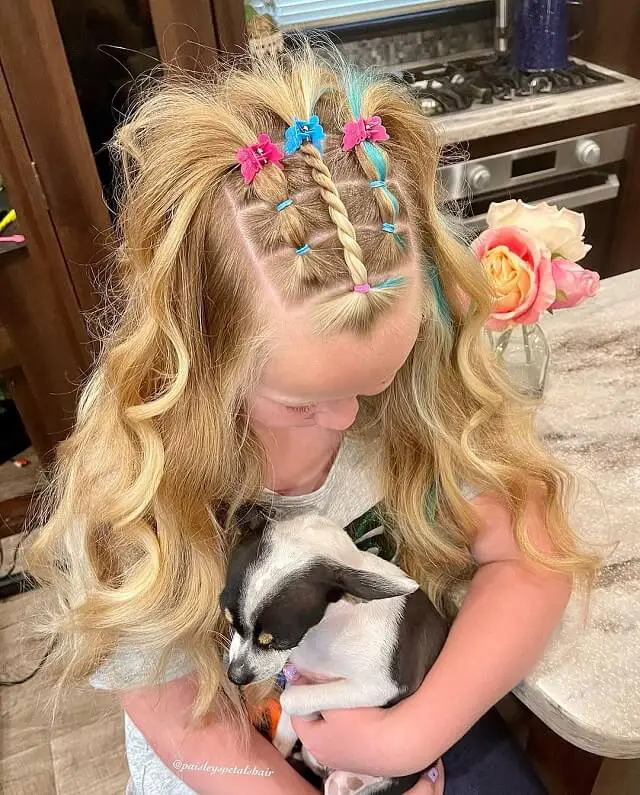 Display the captivating curls in a beauteous bubble braid. Create three sections at the top front and take two thin bubble braids at the side., twisting the middle braid. Adorn your hair with vibrant blue and pink clips and bands to tie the loose ends.
Suitable for:
This style fits on 9-12-year-olds. This style can manifest the enthralling features of oval-shaped faces.
21. Cute Curly Ponytails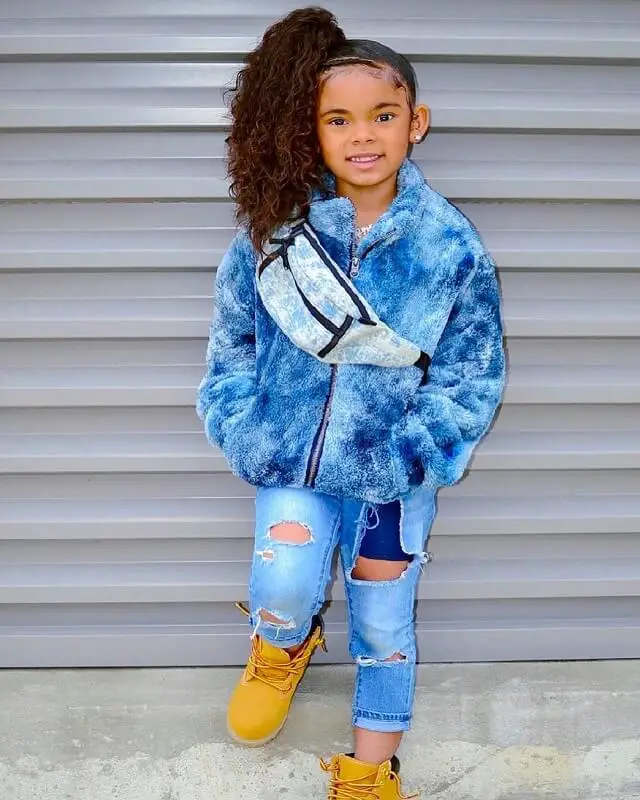 Express the sharp and sleek persona through curly ponytails. Do a side part and create a sleek side ponytail for this style. This cute ponytail makes you appear smart while keeping the kidlike cutesy vibe.
Suitable for:
Round faces are befitting of this style because of the ponytail's volume. 9-12 years old look dapper in this style.
22. Curly Feed In Braids For Kids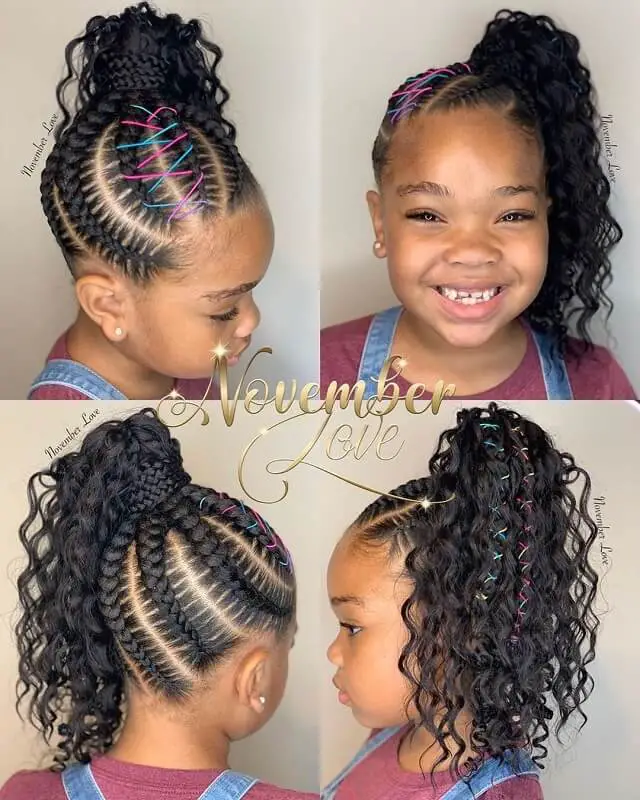 Feed-in Braids are certainly a go-to style for curly heads. Procure various thin braids around your head and tie them together in a high side ponytail. Use blue and pink threads to decorate the braids for an extra twist.
Suitable for:
Kids near the age of 8-12, with a heart-shaped face, have the capability to enhance this style by accentuating the high cheekbones.
23. Curly Hair With Faded Sides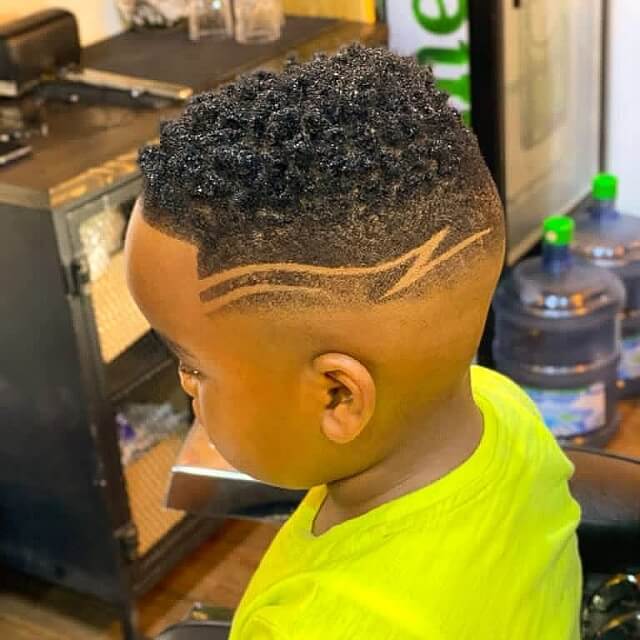 If there is a need for a chic and modern look, faded sides will satisfy those needs. Keep the top untouched while shaving the back and sides into a faded trim. Trim the faded side in a unique pattern to make the curls stand out.
Suitable for:
Kids with a cute round face look dashing in this curly style. They look fabulous in 6-11 years old.
24. Curly Undercut Fade For Kids
Undercut is a popular choice among kids because of its low maintenance and hip look. Take the top curls into an updo while trimming down the sides and back to execute this style. This is a savvy and fun appearance that a kid will adore.
Suitable for:
This style is suitable for kids around the age of 7-13 years. It reaches its peak in longer faces.
25. Two Looped Curly Ponytails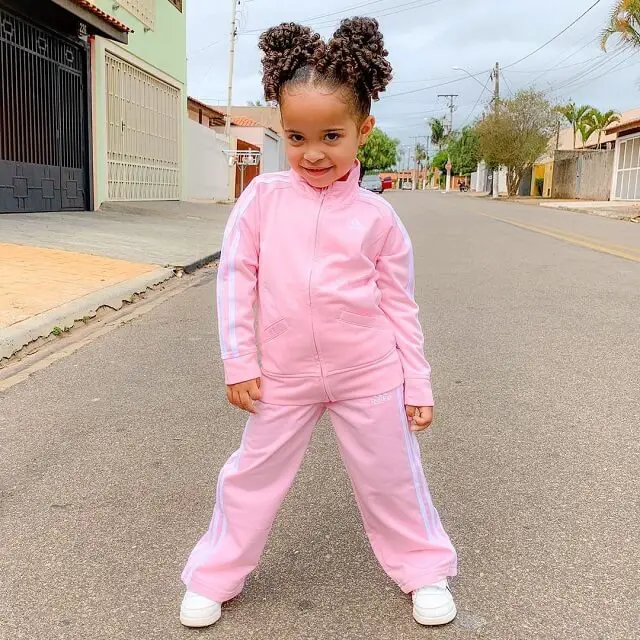 Looped ponytails will surpass all the curly hair expectations providing an absolutely knockout look. Take the dense looped curls into two ponytails and do a middle section along with it to pull off this style.
Suitable for: Kids near the age of 7-11 enhance this style with their hipness. Oblong-shaped faces keep up with this style exceptionally.
26. Natural Afro Curls for Kids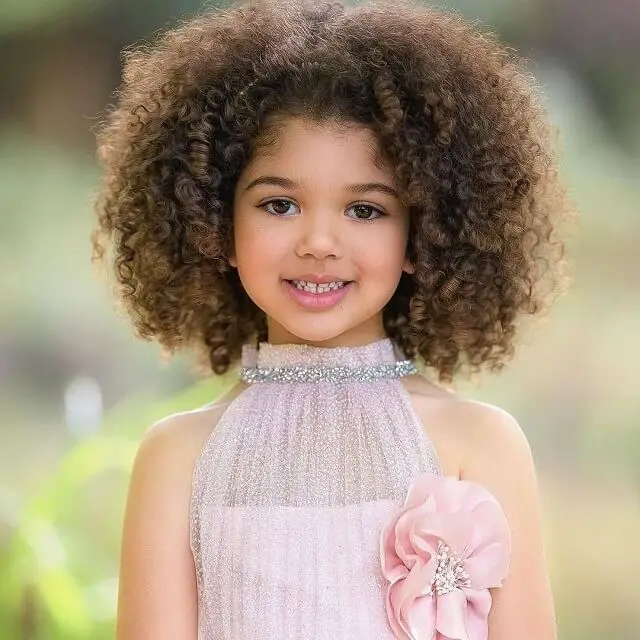 Rock the natural curls by keeping them in their original form by afro natural curly hairstyle. Just simply allow the natural curls to flow down. The small voluminous curls come across as striking and gorgeous.
Suitable for:
A heart-shaped face graces this hairstyle with sophistication highlighting all its features. 7-11 years old appear charming in this style.
27. Curly Black Hairstyle for Kids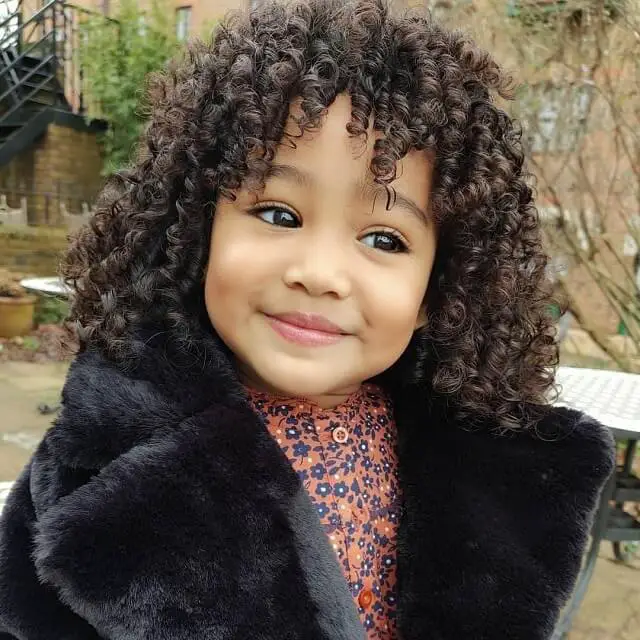 Convey the originality of the dark curls through a black curly style. Shorten the curls to a neck level and allow the small beautiful curls to run free. This style gives off a lovely adoring appearance.
Suitable for:
Children with square faces are apt for this style which flaunts their jawline. 3-7-year-olds look super cute in this style.
28. Curly Blonde Hairstyle for kids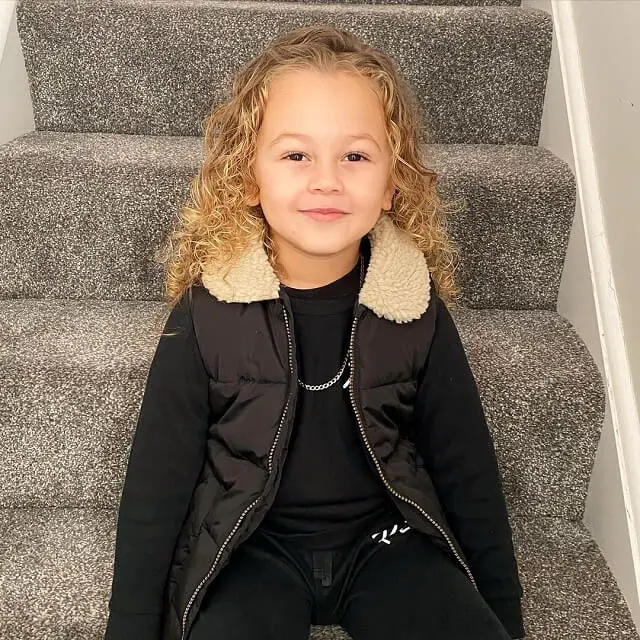 Show off the wavy curls with a blond curly style. Cut the hair to a shoulder-length and lay it back while letting it roll down. The beachy waves in blonde serve a cut and winsome look.
Suitable for:
Kids around the age of 7-10 look awesome in this style. Their elongated faces are apt to this style.
29. Buns with a Middle Section for kids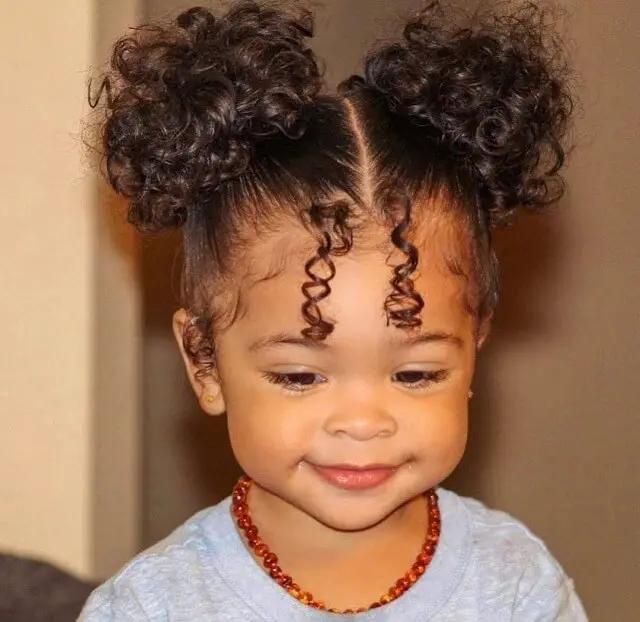 Deliver a classic elegant and super cute appearance through a middle section bun hairstyle. Brush the curls thoroughly and do an even middle section. Then take the hair up into two tight buns and flaunt the gentle curls.
Suitable for:
This style works great with children near the age of 4-7. Their adorable round faces are such a pretty sight to see.
30. Curly Auburn Hairstyle for kids
Capture the pleasing essence of auburn curls via an auburn curly style. Let the awestrucking auburn curls run down. Fix a fetching bow on it to decorate it and finish off this delightful and enchanting look.
Suitable for:
Oval-shaped faces enhance this look with style. Girls from 3-7 years, appear exclusively pretty.
Conclusion
No matter how much of an unorthodox beauty curly hair possesses, maintaining them is an everyday struggle. It gets especially hard when it has to be done in vigorous restless younglings.
These effortless curly hairstyles for kids come in as a rescue and saves a lot of work and time for the parents. They also accentuate the beauty and elegance of curls, making kids appear sweet and as pretty as a picture.
Take a fettle look at which one is going to rock on your lil fairy.