The versatility of the long angled bob hairstyle is the gift that just keeps giving. With so many styles and different approaches to each style, you never know what you're going to get. This hairstyle is one that has a lot of depth and class. However, it can be portrayed in multiple ways.
Different Types of Long Angled Bobs
Here are a handful of different types of this hairstyle.
1. Long Angled Bob With Bangs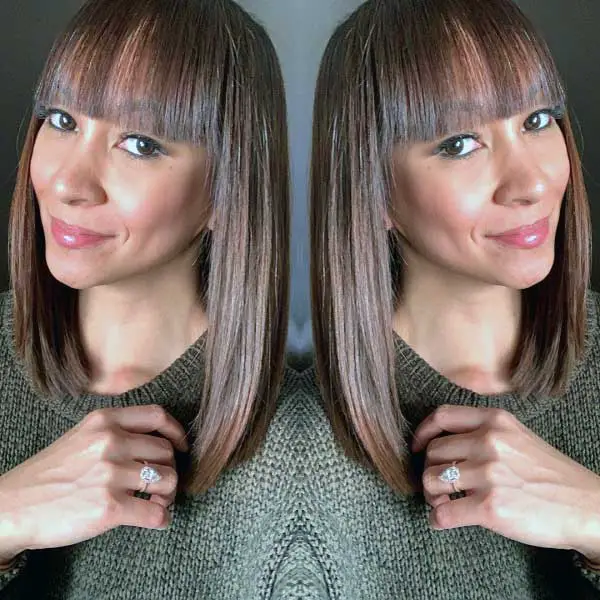 Here's an angled bob look with evenly cut bangs. The bangs rest on the eye lids and this draws attention to the eyes. This style is achieved with shoulder-length straight hair and it's got depth.
Here is a more laid-back approach to the previous style. Featuring choppy bangs, layered, shoulder-length hair and a practical color transition. This look is low-maintenance but can work for multiple scenarios.
2. Long Angled Layered Bob
Featuring loose waves, a fierce color, an angled cut and choppy ends, this style is just stunning at first glance. The style also has side swept bangs which adds mystery to the look.
This side-parted long angled bob is giving the best summer vibes. The golden and honey blonde color fusion, the shoulder length coupled with its loose curls makes the style somewhat high-maintenance.
3. Shoulder Length Bob
Now this is just stunning in every definition of the word. The soft curls just brings the entire look together. This angled bob is achieved with shoulder length hair of average density. It's center-parted and it just works.
This style is much similar to the previous, but this is achieved with thick hair. Featuring a side part, bangs that merge with the hair and choppy ends, it's the go-to style for that casual chic.
4. Angled Long Bob With Side Bangs
This style is giving off power and elegance. Here's a long angled bob that's sure to give you the attention you want. The side bangs which drape down the face is just icing to this very stunning cake.
Giving you all shades of low-maintenance. Here's a very laid-back bob hairstyle achieved with a thick weave and some extensions. The side swept bangs defines the look and gives it life.
5. Curly Angled
Thinking of going curly? This side-parted angled bob look has lots of alluring curls. It's a very practical style and can go from day to night events with zero to little tweaks.
Here's a curly long bob that'll make you shine through. Featuring a water curly pattern on shoulder-length hair, this angled bob style is one that's definitely alluring. The curls here seem to be water activated too.
6. Angled Bob Long Front Short Back
Here's a bob style that's favored by middle-aged women. This long front short back angled style has all the necessary elements to look out for in a hairstyle. It's got the edge, the comfort and most importantly, bangs, making it a ten out of ten.
This long front, short back bob style is apparently simple. It's got the side part and the angled appearance but it looks super comfortable and quite convenient to rock as it's also low-maintenance.
7. Long Angled Stacked Bob With Bangs
Layers, layers and even more layers. This long bob style is quite textured and intricate. The color transition, layered nature, side part and bangs give it edge and depth which adds to its beauty.
Here's a long angled bob hairstyle with fine texture. The bangs here are side parted as they complement the c-shaped nature of the style. The color gives it edge while the bangs adds definition.
There's something about the geometrical fusion of a round face and an angled bob. They just go together and this approach proves this. The short length really compliments the style.
Here's a more curved approach to the style. This center-parted bob look accentuates key facial features like the eyes and chin. It's easily maintained and works for different occasions.
9. For Thin Hair
Thin hair, don't care. This looks satisfies all geometrical cravings in a hairstyle. It's straight, neat and absolutely perfect. The center part just makes it better along with the color gradient.
This thin hair blonde bob style is one with curls and choppy ends. The blonde highlights give the style depth while the center part defines the look. The style is highly alluring and keeps people's attention on the subject.
10. Long Bob With Highlights
Speaking of highlights, here's a very much highlighted approach to the style. Featuring different shades of blonde, a center part, thick curls on voluminous hair and choppy ends, this look speaks for itself.
The color contrast is exactly what this style needed. However, one can't ignore the soft, loose curls, the long length and the shine which this style obviously has. It's just stunning.
11. Side View
Talk about geometry! The Angled cut of this long bob is just satisfying a need for perfection. The center part and color transition shape the style however, it's the precise angled cut that molds the look.
Here's a softer long angled bob style which is even c-shaped. This style has a lot of edge but it's easy to achieve and it's even easier to maintain. The center-part and long front ends really defines the style.
12. Long Angled Bob Hairstyles Back View
Here's what the angled bob style looks like from the back. This view reveals the style's textured layers, seamless color transition and choppy ends, just as evident from the front.
There are so many ways you can rock a long angled bob hairstyle and adding bangs to the mix, exponentially increases this number. One of these ways is the angled bob and this piece has highlighted certain approaches to this one look, just to give you inspiration for your next salon appointment. You're going to look great.