Braid is one of the best hairstyles that black girls love to do. It looks unique and you can try tons of variations. Feed in braids ponytail is such a style. The specialty of this haircut is, it doesn't require a particular type of hair. You can literally try the style for any kind of hair.
A braided feed-in ponytail is a kind of hairstyle where a hairstylist adds an extension on the hair to give an illusion of more hair volume. It looks natural and real. The extra volume helps to make the braids thicker and stronger.
Different variations of this hairstyle are now trending. Here we have shared the unique styles to try with braided feed-in ponytails.
How to Get Feed in Braids Ponytail?
If you are taking help from a professional hairstylist, doing a feed in a braided ponytail would be easy. But what about if you are trying it at home? Well, you can try it at home too by following the steps we have shared here –
Step 1: Part Your Hair
In the feed-in braids and ponytail combo, you will have to make multiple braids. So, parting your hair is the first step. You need to part the hair equally. Well, there is no way to measure, but you can at least assume by checking the hair on the mirror. Try to keep them in equal thickness.
Step 2: Make Small Sections
Now you need to make small sections from the parts you have done in the first step. These small sections will be individual braids. So, how much hair will you keep for the small sections? Well, it should be at least 1.5-inch thick. That will give the braid a classic look.
Step 3: Make the Strands
Take a small section to create the strands for braids. To feed in a ponytail braid, you have to make three strands. Start distributing the hairs from the small section. Once again, you need to take an equal amount of hair for each strand so that it looks better.
Step 4: Feed in the Extension
In this step, start making the braids from the root of the hair. Once you start cornrowing the hair, you will need the extension. Add the hair extension with the original hair. Keep cornrowing the hair by adding the extension so that it looks like natural hair.
Step 5: Braid the Extension Carefully
Now you need to sync the hair extension with the braids. Do this carefully and attach the extension tightly with natural hair.
Step 6: Follow the Same Process for Other Sections
Finally, follow the same way for more braids all over your scalp. However, based on your chosen style, you can keep it fewer. Once all the braids are ready, get them together and tie the ponytail. Keep the ponytail high or low – it is all up to you.
Top 40 Braided Feed in Ponytail
As mentioned, you can choose a ton of variations for this particular haircut. From all the variations, we have chosen the top 40.
1. Goddess Feed In Braids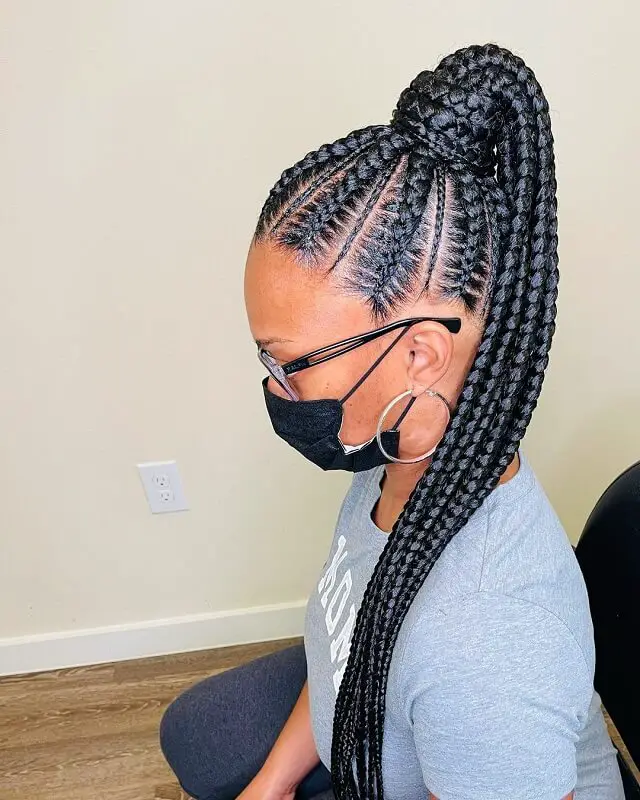 If you have got long hair and want to look stunning, choose the goddess feed-in braids with a ponytail. Try to keep the ponytail as high as possible. Also, for the ponytail, use a tight and thick hairband to make an illusion of more volume.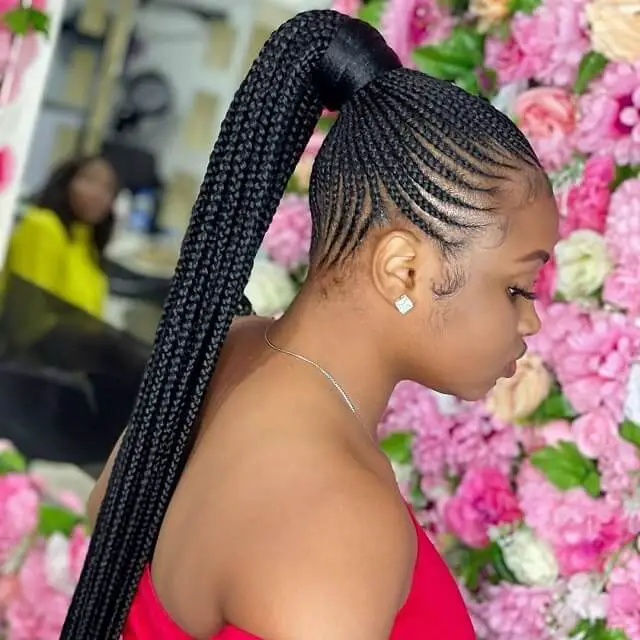 For parties and casual events, you can try a different version of goddess ponytail with braided feed. Instead of keeping the braids on the side, keep them straight back. We highly recommend the style for black women with round faces. You can wear almost any outfit with the style.
2. Small Feed In Braids Ponytail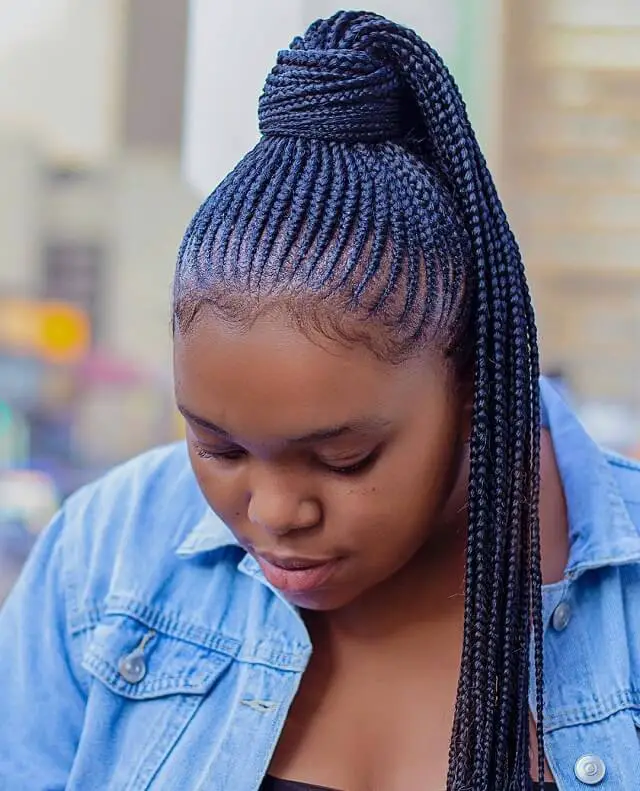 Do you have less volume in your natural hair? Want to make it bigger and thicker with braids? Then the small feed in a braided ponytail is for you. You don't need too long or too thick hair. In your natural hair, input the extension carefully.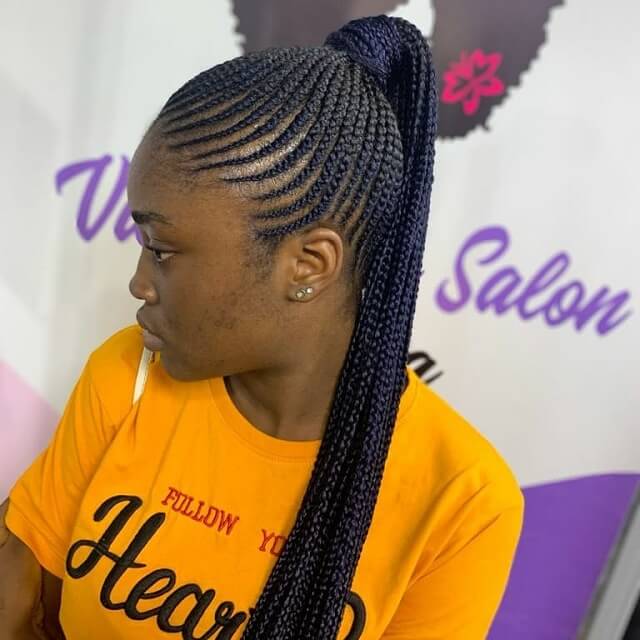 Girls in their teenage years can try this version. Keeping the hair length short won't be an issue for this cut. Simply get your hair done by a professional as you want to keep it small. Tie the ponytail higher with a black rubber band.
3. Medium Feed In Braids Ponytail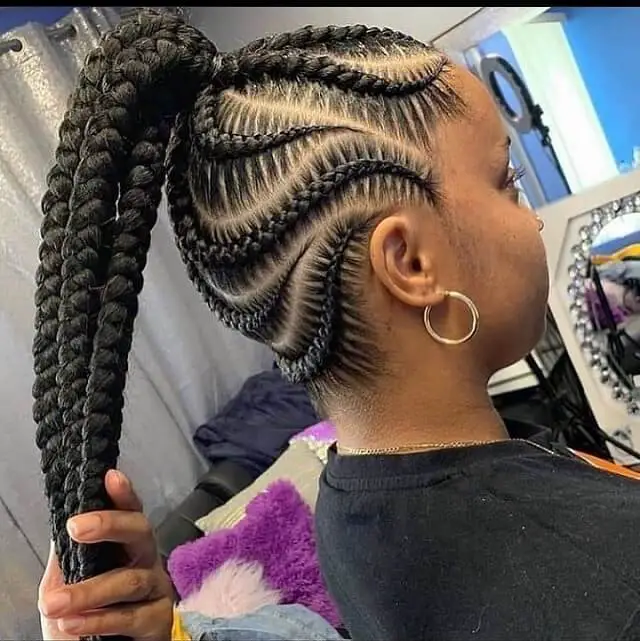 Just see the image. Do you think it is cool? If so, just go for it without any hesitation. The medium-sized braided ponytail best suits young girls. Instead of just going straight. Spread the braids on the scalp so that it looks like you have parted them.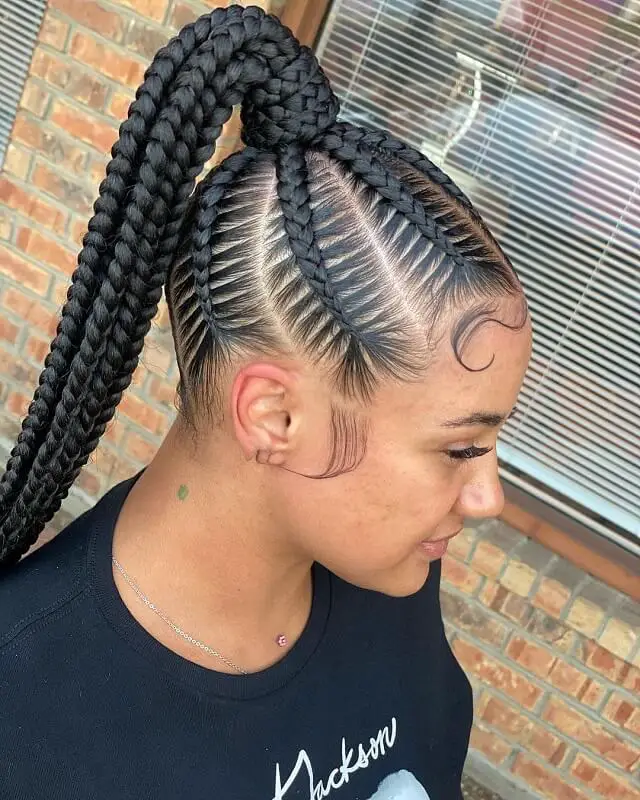 With a longish face, choose this version. But it will be a bit different compared to the regular one. The number of braids will be fewer. But the ponytail must have to be on high. It looks classic and lasts longer.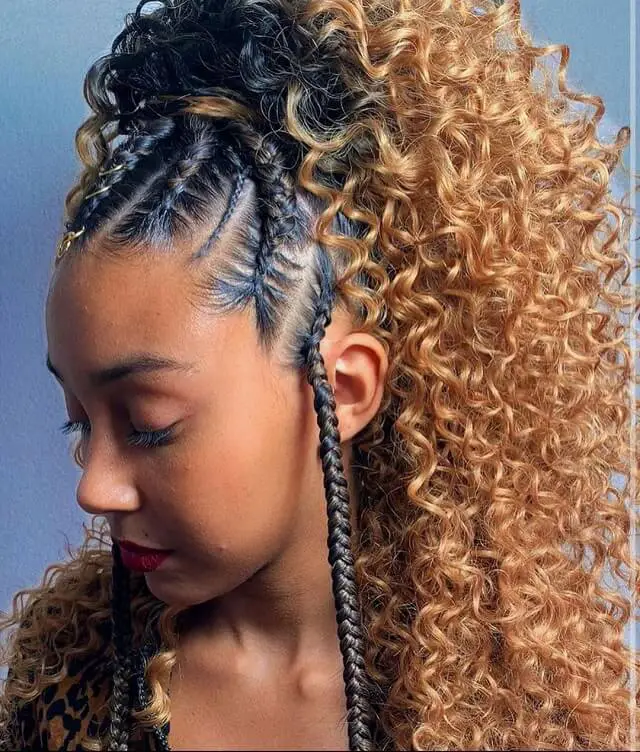 Girls with curly hair often complain that they can't adapt to new hairstyles. But you can at least adapt the feed braided ponytail for sure. The simple rule is, keep the braids short. So, make multiple braids with hair extensions and let the back part of the ponytail remain curly.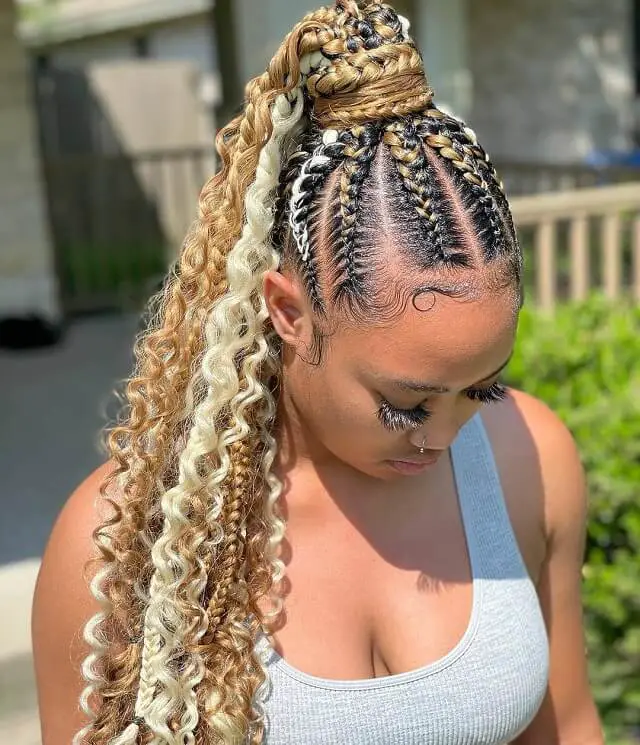 If you are considering more braids rather than only a few, go for this one. You can actually combine hair extensions with a wide range of colors. Mix up the extension with your curly hair and it will look unique.
5. Bohemian Feed In Braids Ponytail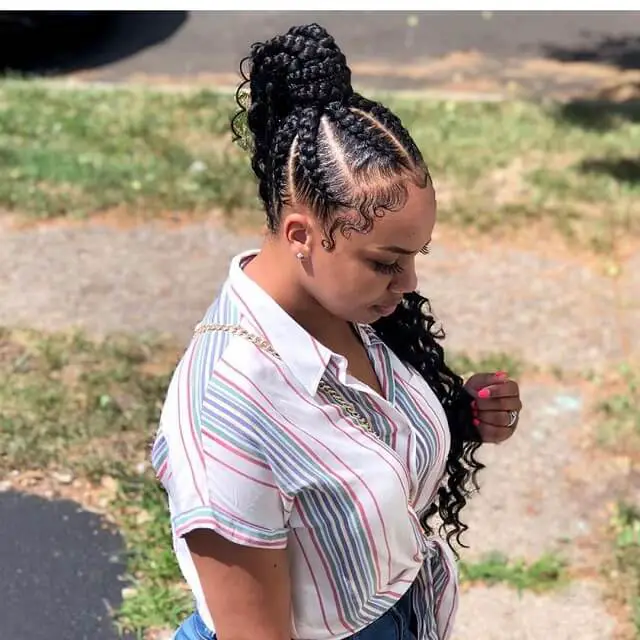 As the name suggests, it is a kind of bohemian hairstyle. The braids won't be like regular ones. You can either side part the braids or start from the backside. Tie an extra thick ponytail with all your braids. There is no need for any extra band if you can tie it well.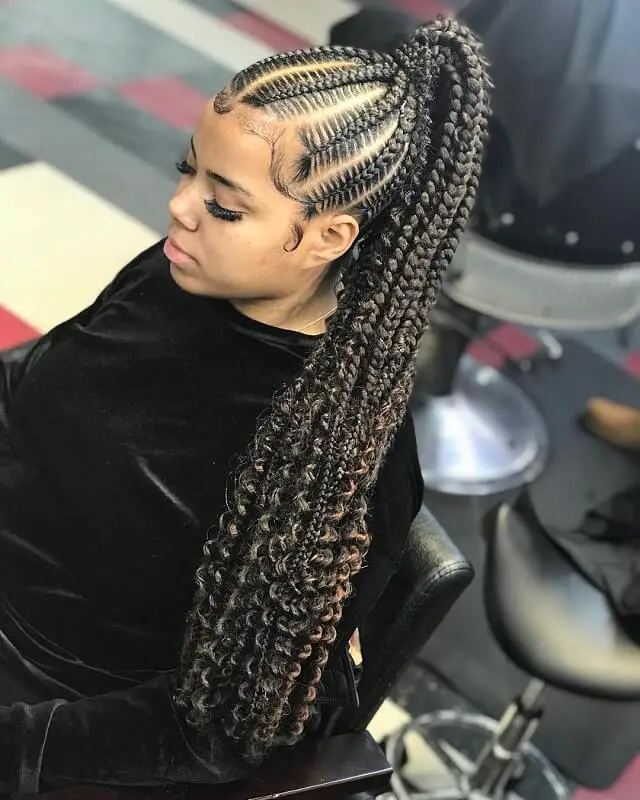 You can alternatively try this one, which is also known as a bohemian hairstyle. We don't suggest the style for women over 40. For young girls, it is a go-to hairstyle. Unlike the first version, here you can keep the ponytail part regular and let the braids fall on the back.
6. Half Up Half Down Ponytail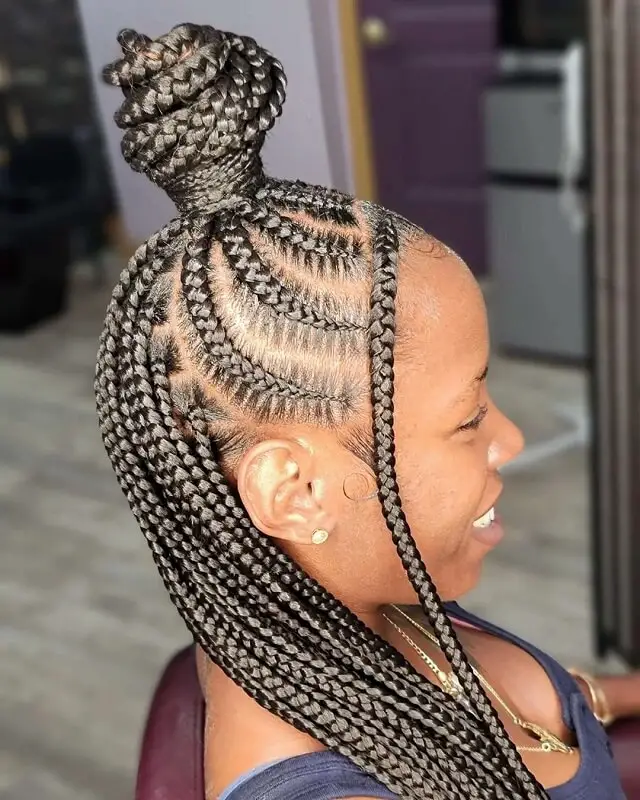 A half ponytail is a hairstyle that you can combine with almost any cut. The same goes for feed in braids and ponytails. So, simply get your feed in braids done by the hairstylist. Now, take half of the braids on top and tie them. Let the rest of the braids remain straight on the back.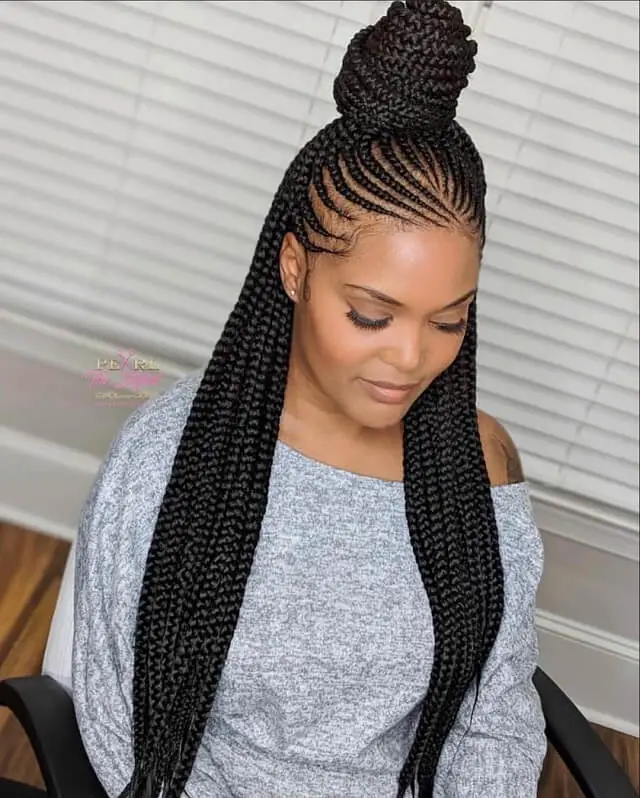 If your hair has extra volume naturally, you are good to go for this version. So, you have to make a thicker ponytail on the top. The ponytail would be high and it should look bigger. Spread the rest of the braids on both of your shoulders.
7. Two Feed In Braids With Curly Ponytails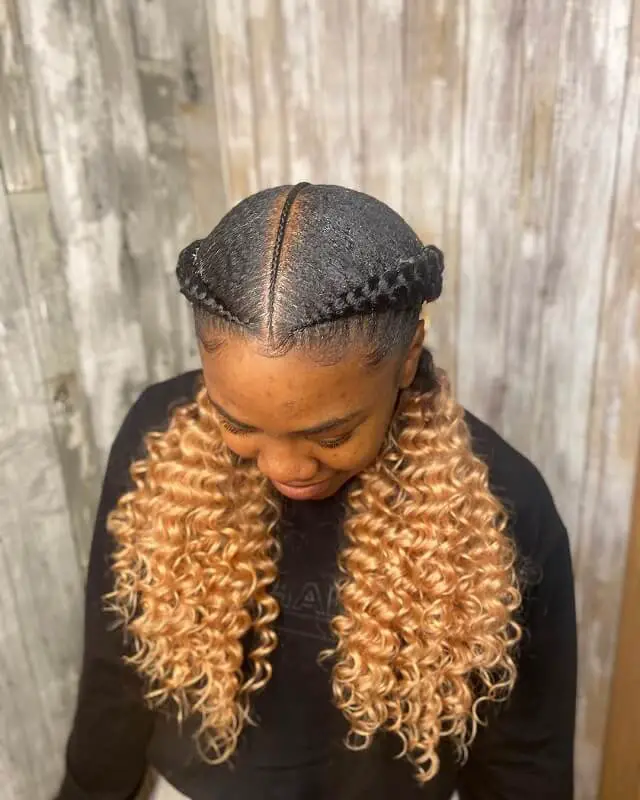 As you are seeing in the image, this one is a bit different and unique. If you love to experiment with your hair, try the two feeds in braids with curly ponytails. Part your hair into three sections and make braids from each. Keep on braiding in the middle and the rest of the two on the sides. Tie a simple ponytail and keep the extension in a natural look.
If you are going to a party or maybe a wedding, try the classic braids on the back. The style best suits young girls. Try thick and classic braids with two strands. Tie a low ponytail for each of the braids.
8. Feed In Braids Ponytail For Little Girl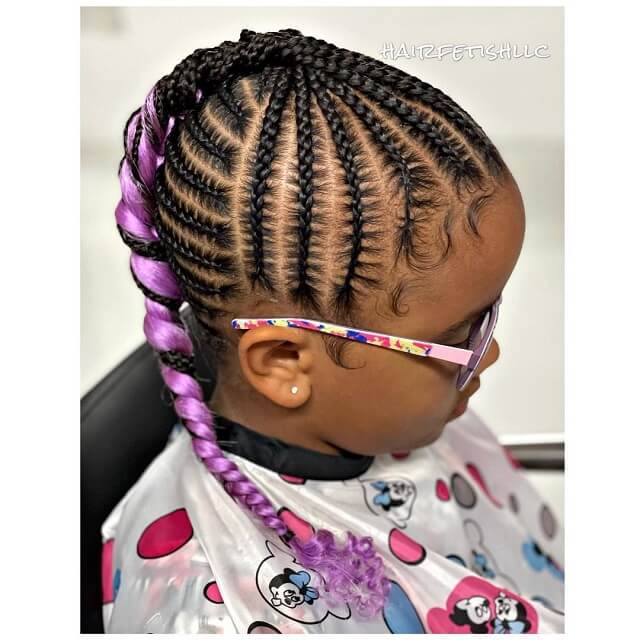 Your little girl might want to try braids on her hair. You should let her do it. If you are dressing her hair, keep it simple. Spread the braids all around the head and finally tie a small ponytail on top. Use colored extensions for a unique look.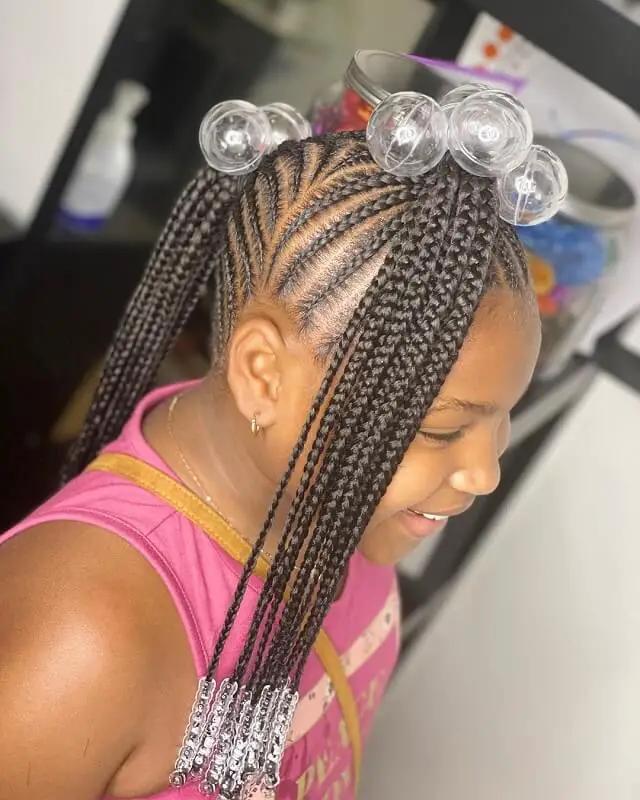 If the girls are just going to touch her teenage, let her do this unique version. Make tons of braids on the scalp and spread them. Tie a big ponytail in the frontal scalp and use multiple hairbands. Colored bands are preferable.
9. Feed In Braids With Curly Ponytail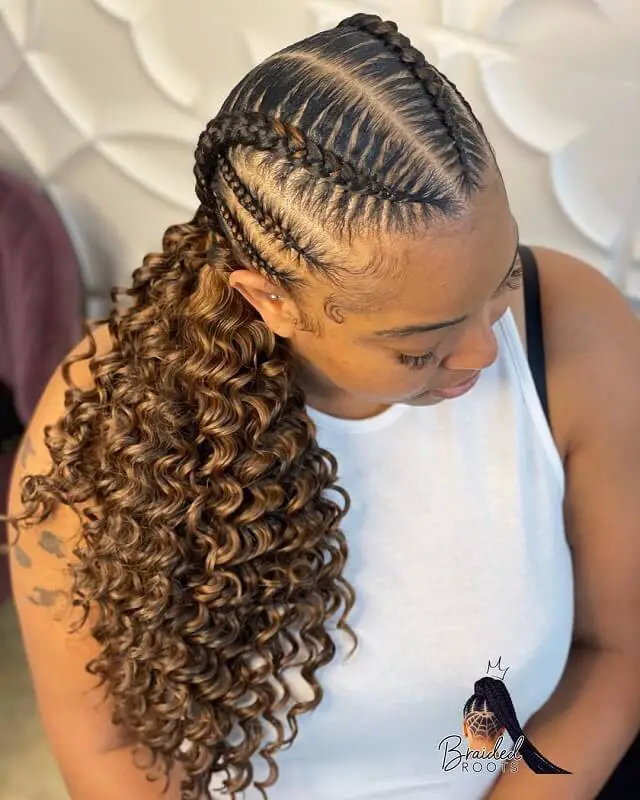 Did you get curly hair naturally? Want to try something unique? Then you should choose the feed in braids ponytail on your hair. So, once you get the feed in braids, you can tie a low ponytail and then keep the curly hair straight back.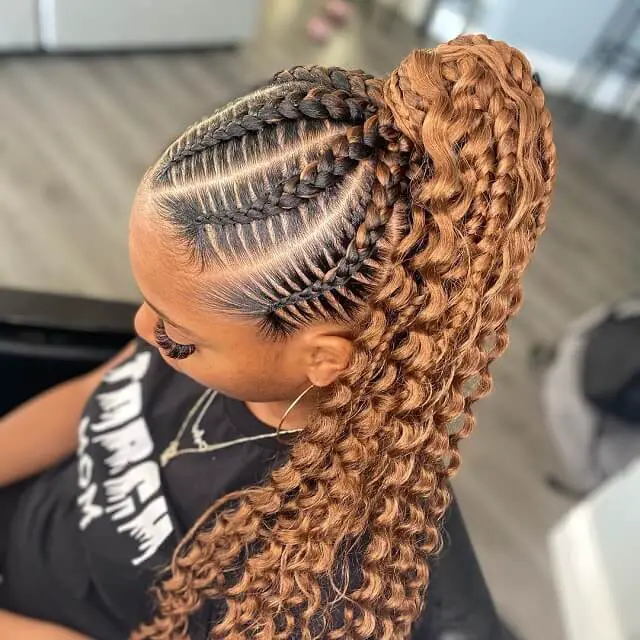 If the first version doesn't suit you, try it. you actually need to use a colored hair extension and feed it in. We suggest using a golden touch hair extension for it. You should tie the ponytail as high as possible to show a unique look with golden hair extension.
10. Blonde Feed In Braids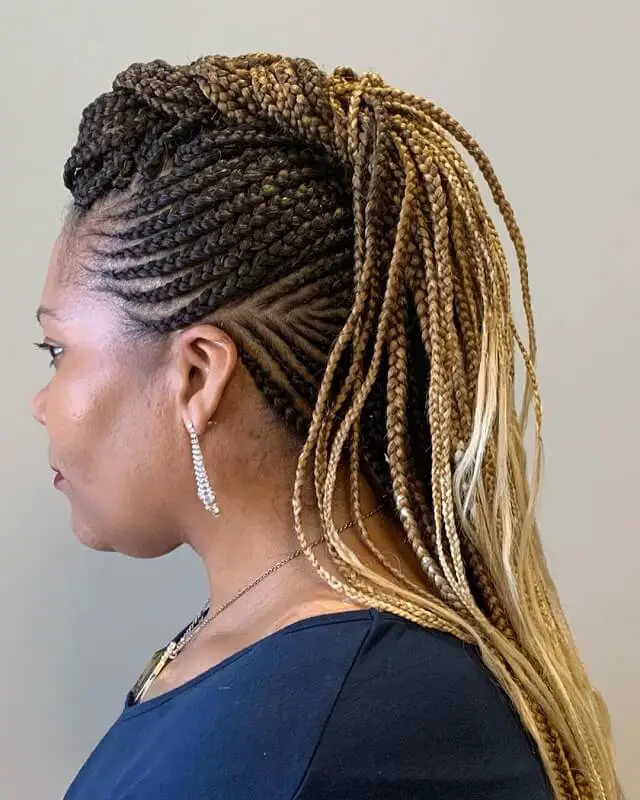 You might have naturally black hair, but you can actually give a blonde look to your hair. All you need is a blonde hair extension to feed it in. While adding this extension, twist the braids like ponytail on the mid-scalp. It goes with any outfit.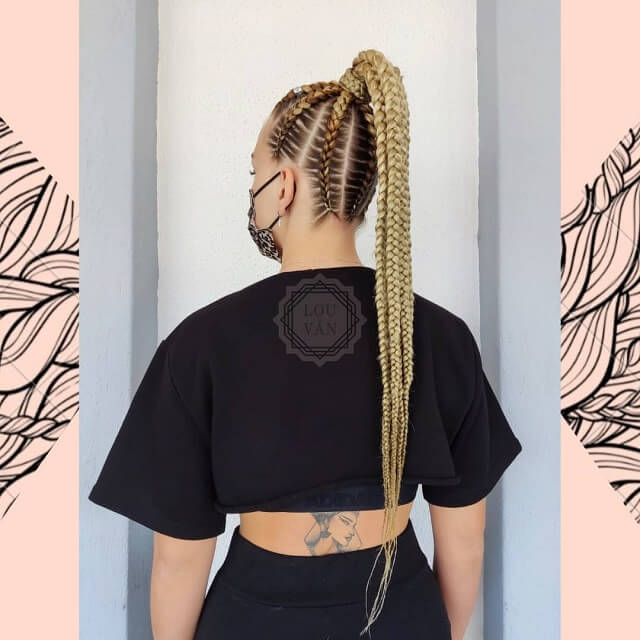 With less hair volume, you can try this particular feed in braids ponytail version. Instead of too many braids, keep it fewer. Otherwise, the braids will be too small. add the extension with a bit extra length. Now let the extension fall on the backside and tie a high ponytail.
11. Feed In Braids Ponytail With Color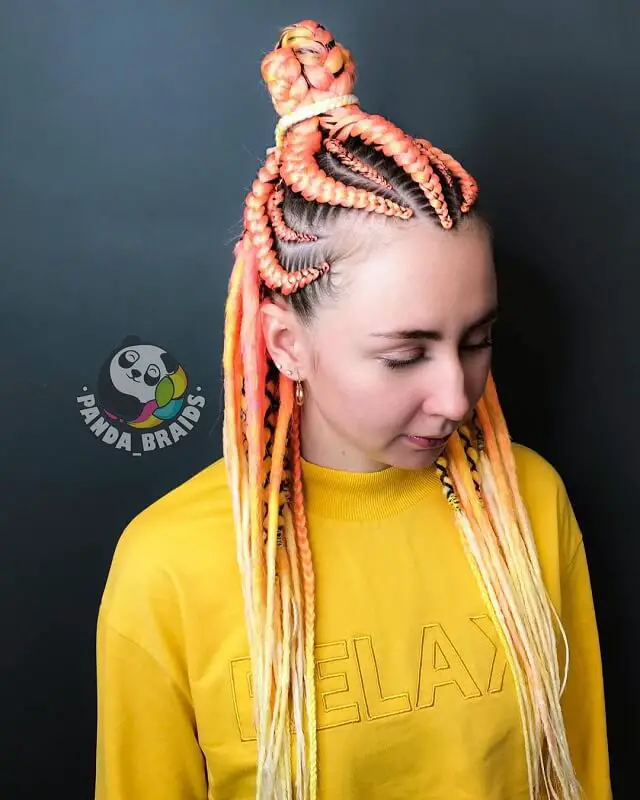 Getting a unique hair color feels awesome. Whether you are getting the regular feed in a braid or something different, you can try a colored version. So, add a thick and orange-colored hair extension to get the feed in the braid. Then tie a big ponytail on the scalp and secure it with a hairband.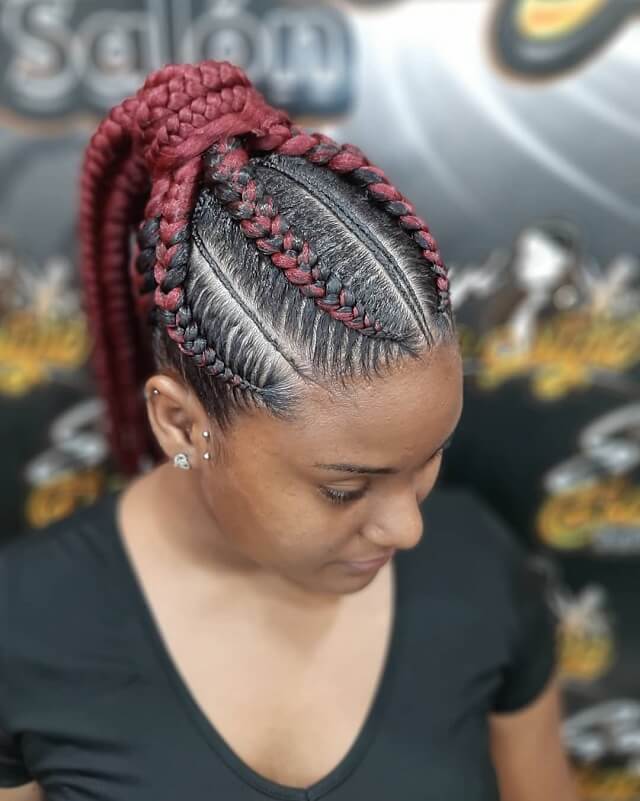 Didn't like the previous color? No issues. There are no limitations when you are using colored hair extensions. Try this red-black combo as the feed in braids and get the ponytail. Must keep the ponytail bigger so that it can highlight the color.
12. With Box Braids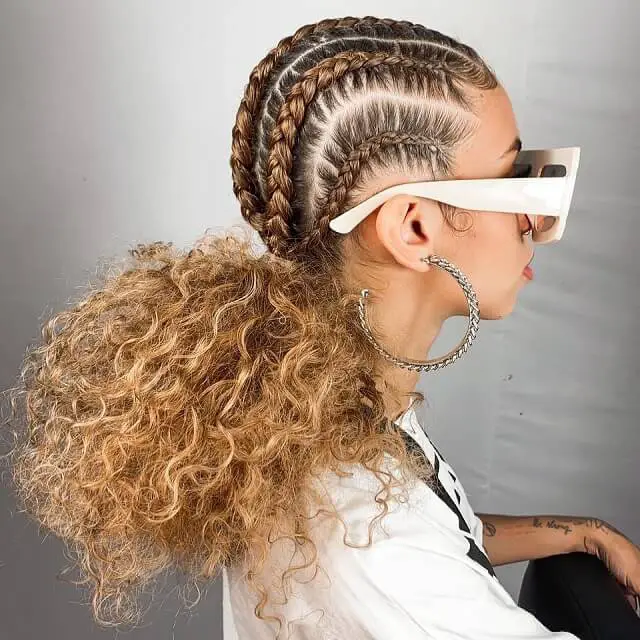 Box braid is a good way to keep the style for a longer time. Combining it with feed-in style, you can add more volume. Also, the style suits all ages. However, you should always tie the ponytail a bit low for this particular style.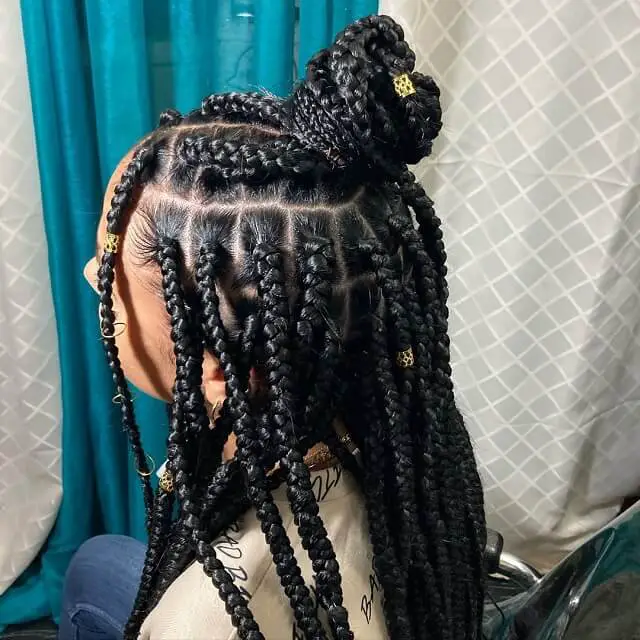 If you have enough hair on the scalp and they are naturally black, try the boxed braid with feed in a ponytail. Spread the braids all over your head so that it looks a bit disorientated. Finally, tie a high ponytail with a tight hairband.
13. Feed In Braids Ponytail Bun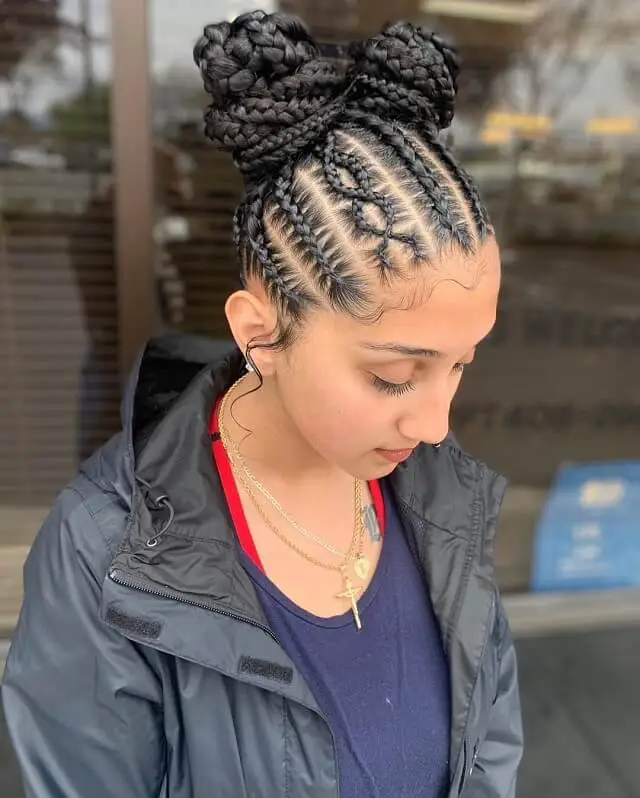 Ponytail and bun – sounds confusing, doesn't it? Well, you can actually have this hairstyle with feed in braids. So, instead of making too many braids, make fewer but thicker. Now gather them all together on top and tie the ponytail in the braided bun style. You can either go for two buns or a single bun.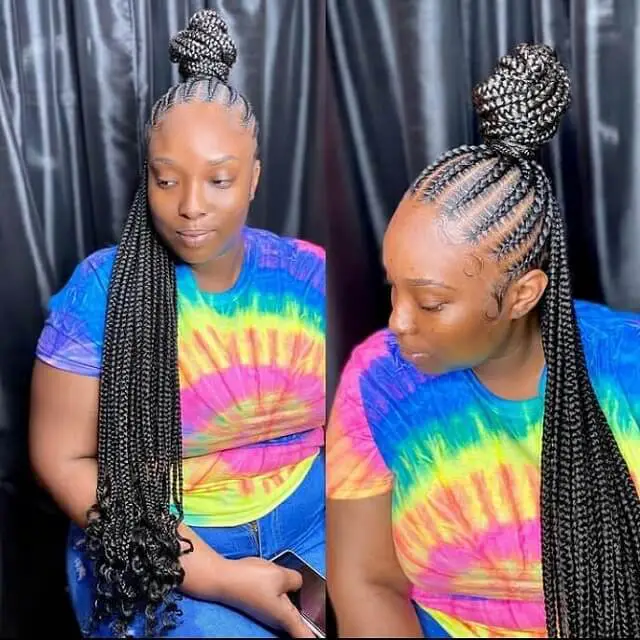 With a heavy face and long hair, you can try this style. Unlike the first version, here you can make tons of braids but with less thickness. Once they are ready, now tie a high ponytail and keep it in the bun style. Spread the braids on your shoulder.
14. Big Feed In Braids Ponytail
Young working women always like to keep the hairstyle simple to maintain it properly. The good news is, you can do the same when you are doing the big feed in braids ponytail. The hair looks stunning in it and you are ready for any event. Use tighter clips to hold the ponytail.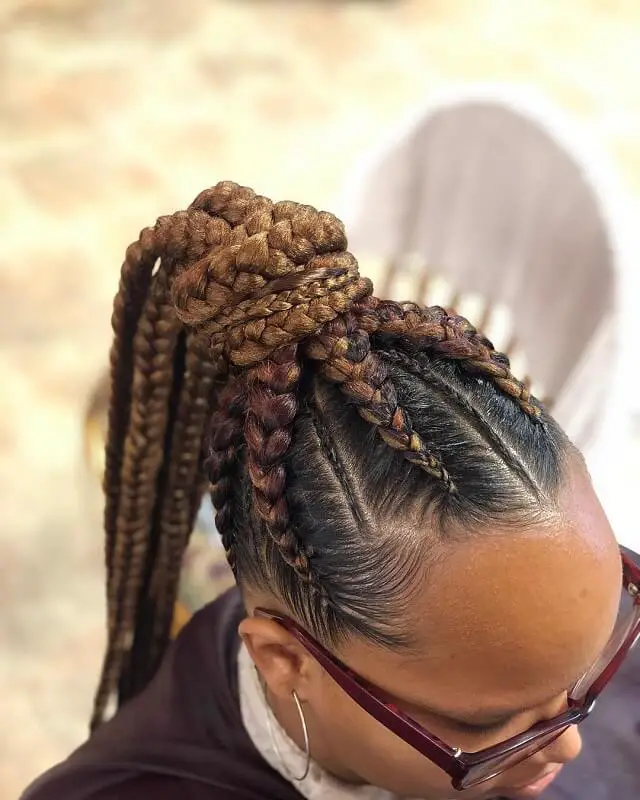 Do you wear prescription glasses and find it difficult to match the hairstyle with your face? Then you can try this one. here you will have to make thicker braids with more hair extension. The braids should go straight back and the ponytail needs to be on top of the scalp.
15. Skinny Feed In Braids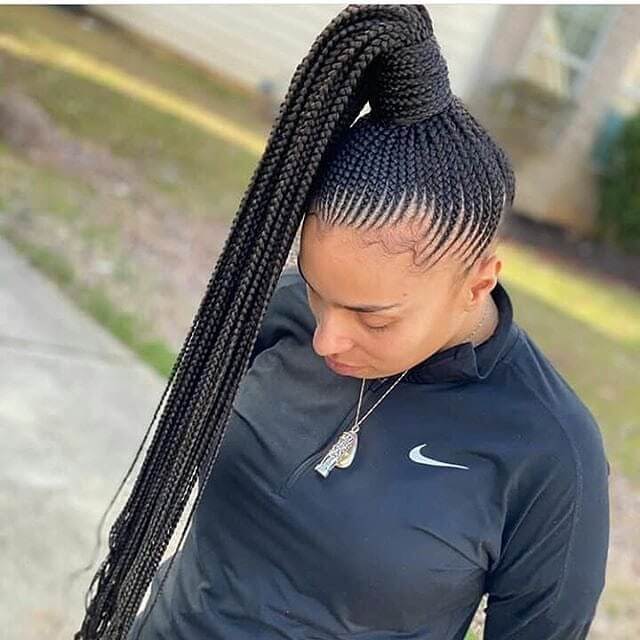 As the name suggests, a skinny ponytail with feed in braids is great for hair with less volume. However, remember to keep the hair length long. Then get your braids with extension and make more braids. Get the high ponytail with a tight hairband and pull the braids in the front.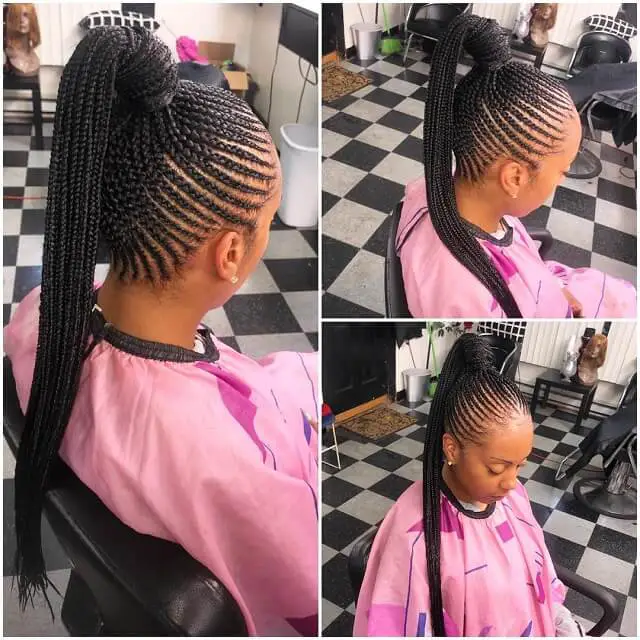 For this one, we suggest taking the help of a professional hair expert. Tell her that you want to get skinny feed in a braided ponytail. Make braids with all your hair and then tie a high ponytail. It is okay if you have a medium hair length.
16. Feed In Braids Going In A Ponytail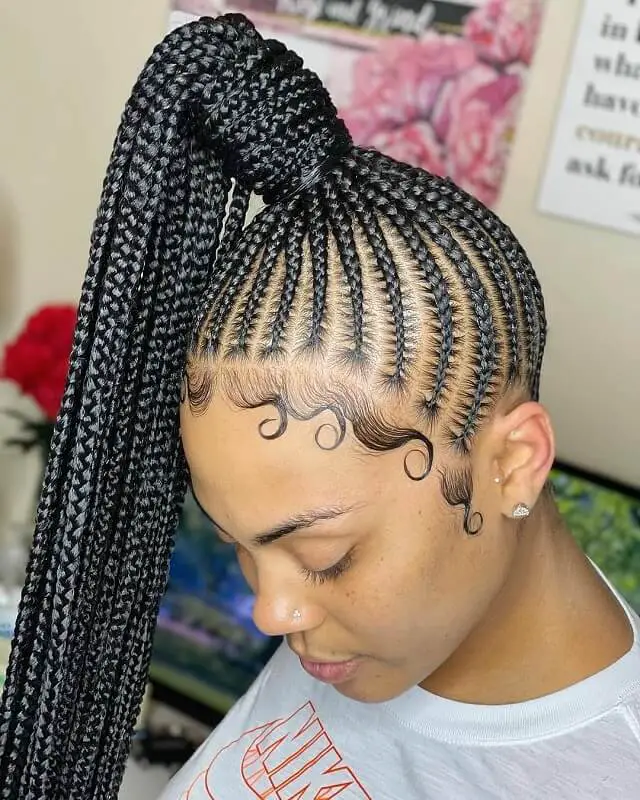 Would you like to look unique on hot summer days? Then go for it. Getting this hairstyle gives you the chance to get more air on the scalp. Do the regular braided feed in a ponytail and then draw art on the forehead.
17. Tribal Feed In Braids Ponytail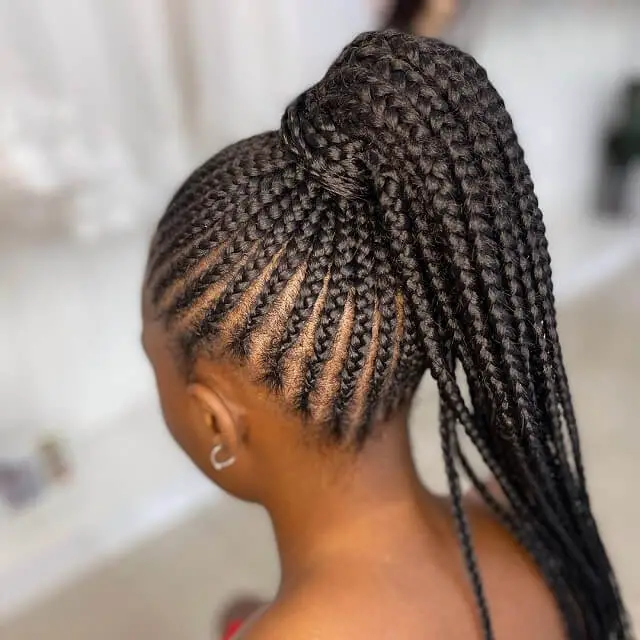 Why is this known as tribal feed in braids ponytail? Well, it is most common in different tribes. But now it is classy and looks great on anyone. You can try the style with any hair length.
18. Side Ponytail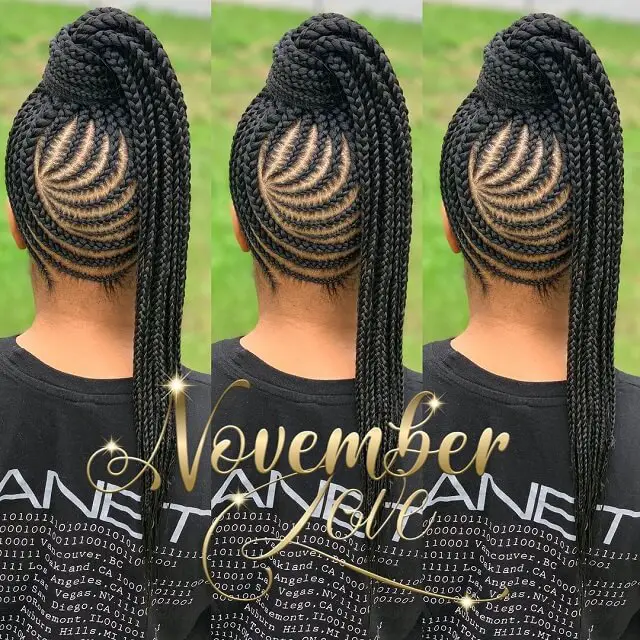 So, you have enough time to style your hair? Then choose this one as your regular hairstyle. Instead of letting the braids fall straight to the back, wrap the scalp with braids and then get a ponytail.
19. Feed In Ponytail with Small Braids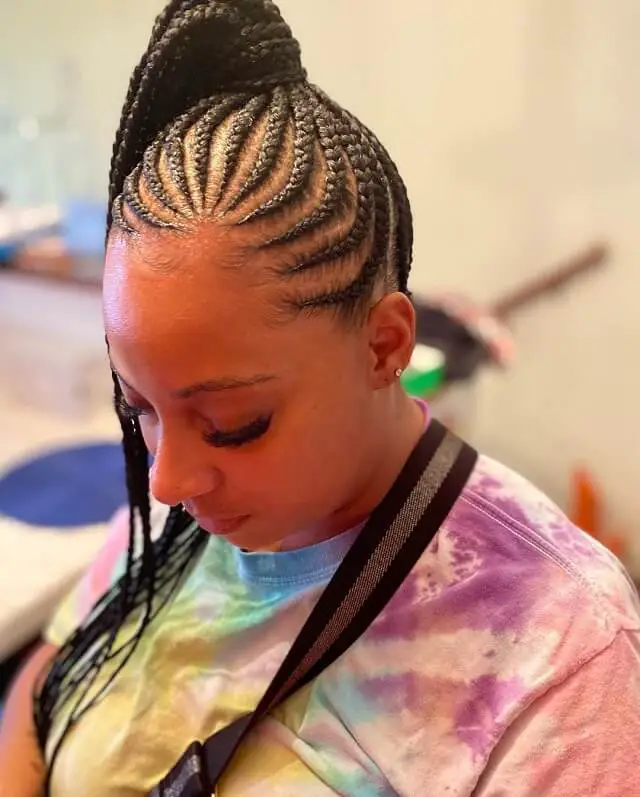 Do you have shorter hair? No issues! You can get the small braids to feed in a braided ponytail. However, when doing the braids with the hair extension, try to keep it natural. No extension should come out from the braids. Get a classic and small high ponytail with your feed braids.
20. Tent Feed in Braids Ponytail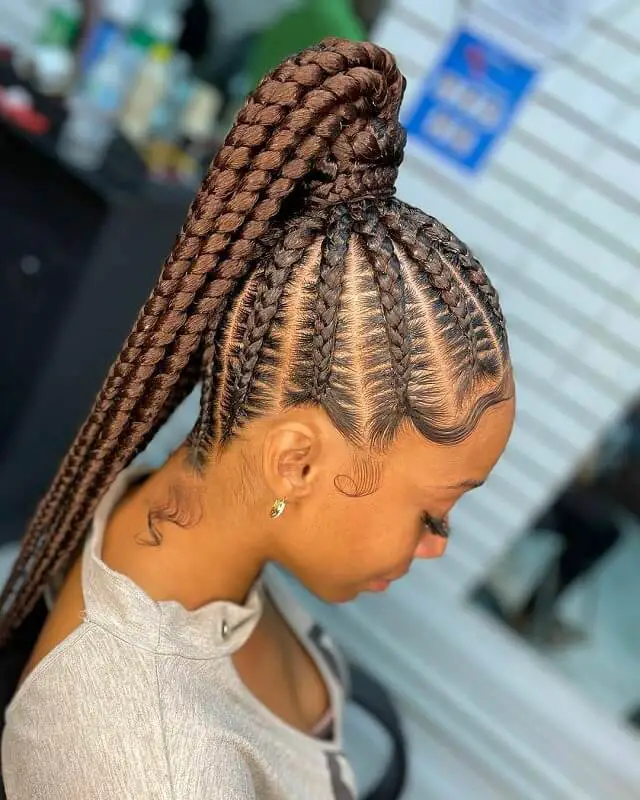 Wondering why the name sounds like that? Well, here you will pull the braids and give them a tent-like shape. Remember to keep the feed in braids thicker. In between hairs should be well dressed. Now give the braids a tent-like shape and get the ponytail.
21. Pull Down Feed in Braids Ponytail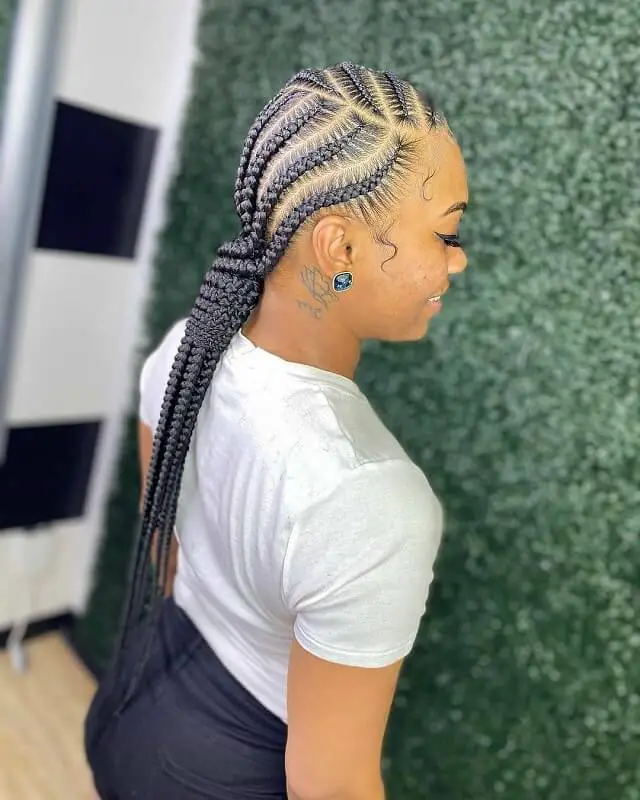 You might have noticed that most of the hairstyles in the list contain only high ponytails. But what about getting a low ponytail in your hair? Well, it looks great if done properly. Tie the ponytail like the feed in braids are going through the ponytail.
22. Extra Thick Feed in Braids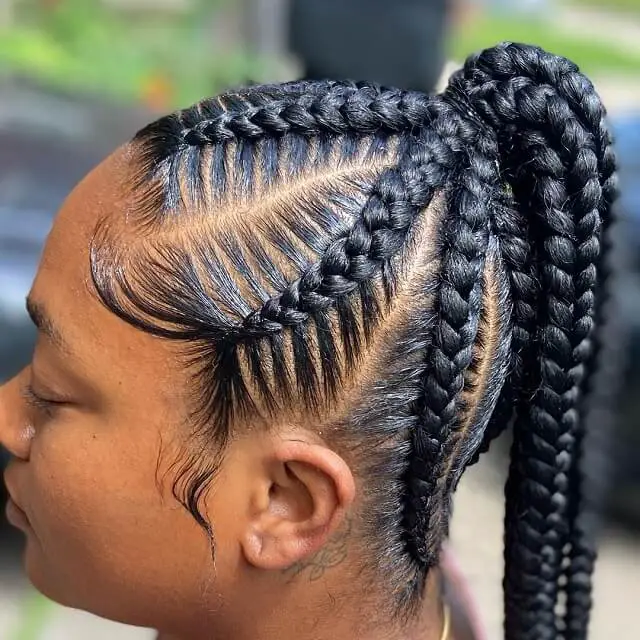 Got natural volume in your hair? Then adding hair extensions will add more volume to it. Keep the braids thicker and stronger. Make sure that you are getting the feed in braids with all your hairs. Tie a high ponytail but in a small size.
23. Side Fall Ponytail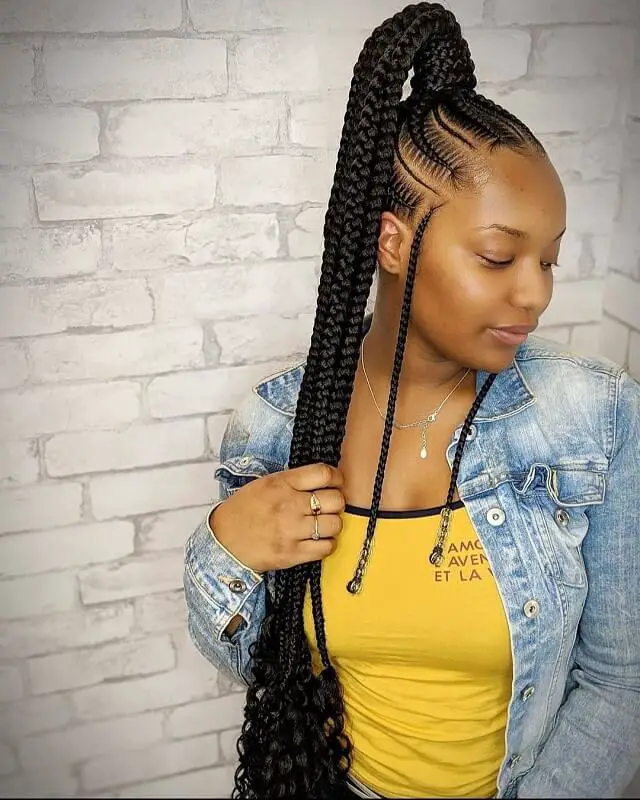 Follow all the steps we mentioned for a feed in a braids ponytail. But when following the steps, keep some hair-free. After getting the final feed in a braided ponytail, start making thin braids with the free hairs. Let them fall on both sides of your face.
24. Green Classic
Look at the image. What do you see? Green hair tone with braids, right? But it is actually including the feed in braids. The hair extension actually comes in green color. So, you don't need any hair dye.
Final Words
It is the most complete list of trending feeds in braids ponytail on the web. You can literally pick any style from the list and get it. Feeding in braided ponytails is mostly common in young women. But you can try them out in all ages.