Braided bun hairstyles are just perfect for this season. Simply stunning! You can make quick, casual buns when short on time, while there are variations you can wear for that girls' night out, a romantic date, or even a wedding. They are well suited for any hair-type and every face shape.
Serf through these absolutely stunning hairstyles to get inspired and book your hair appointment.
1. French Braided Bun Hairstyles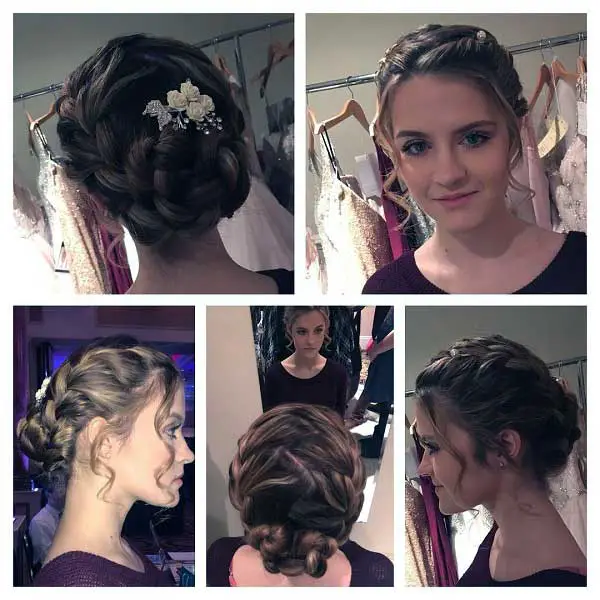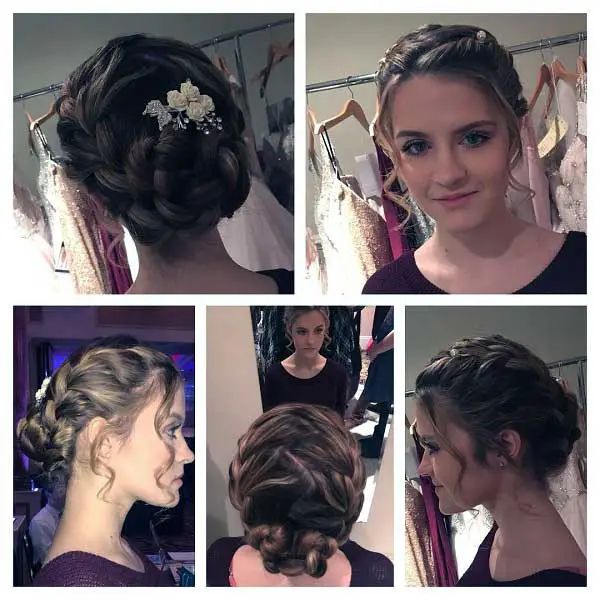 Here comes the bride! This braided bun has well-crafted folds and locks of hair are left in front on both sides, to create an elegant bridal look. A little complex to make but worth it, this is pure class.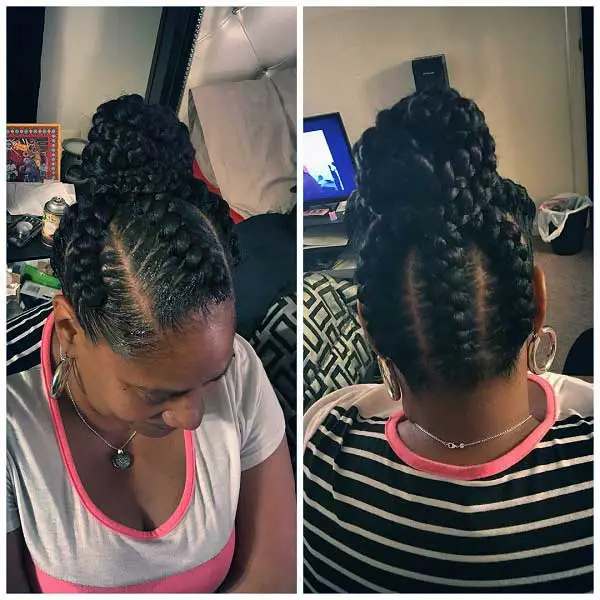 This hairstyle is a beautiful work of art. It has neat partings and the thick French braids all smoothly climax as a beautifully braided high bun. The hair comes in a jet black color that makes it blend easily with any complexion.
2. Braided Buns For Black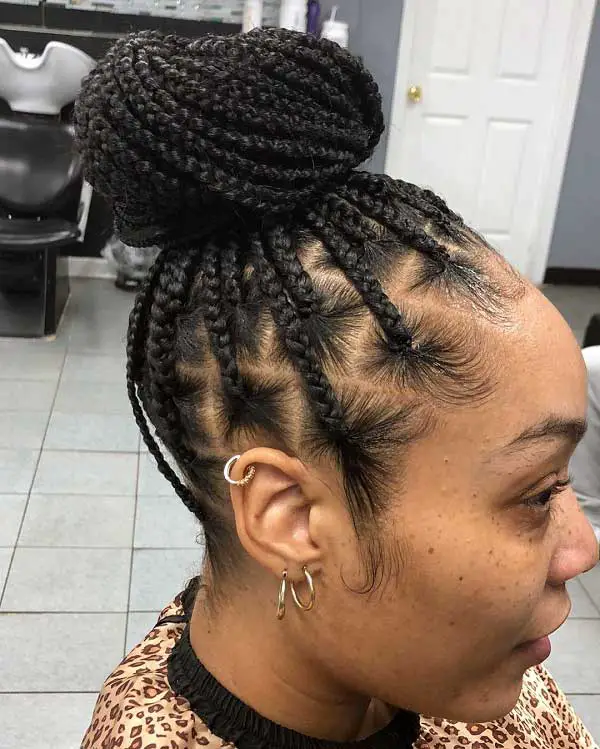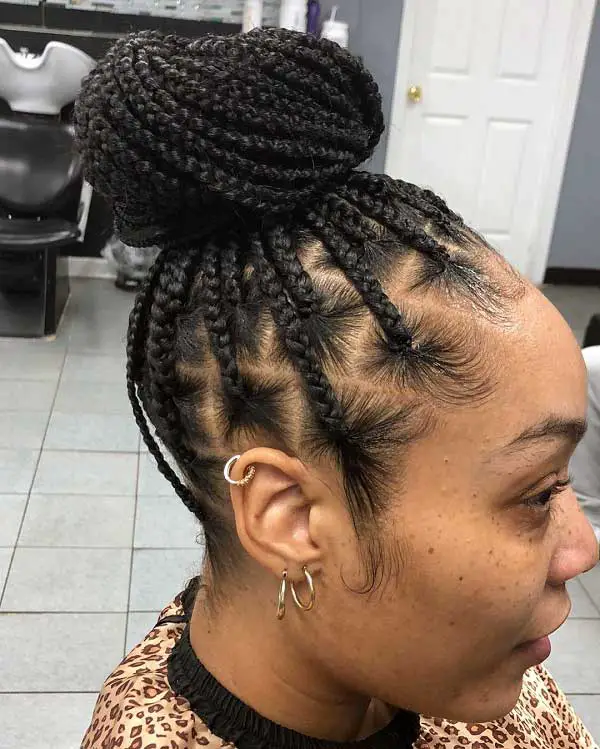 Box braids give you a gorgeous look. The braids extend from each box and are wrapped in a simple high bun with curly baby hair in front for extra sass. This style is timeless and perfect on women with oval shaped faces.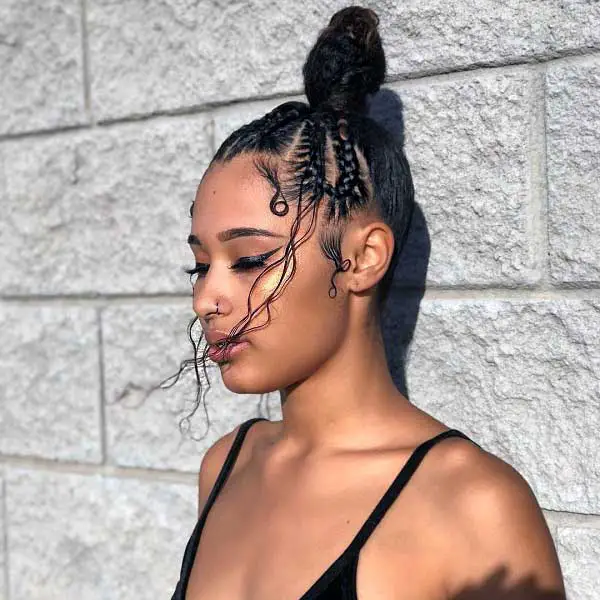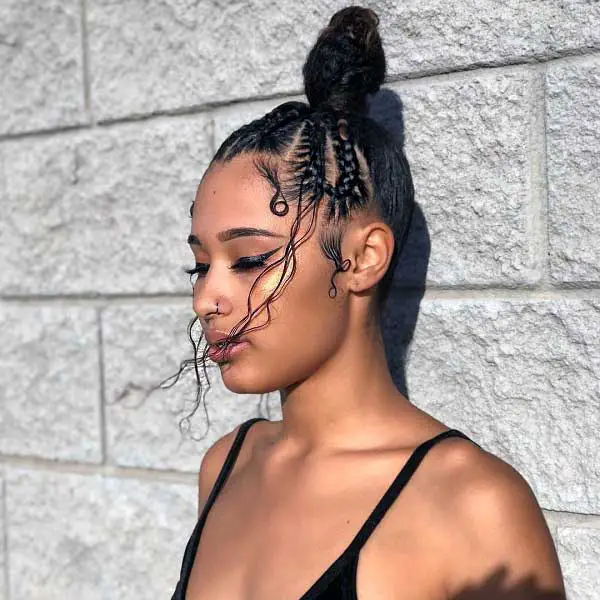 Just look at those edges! Short braided buns are a must for African American women during the summer months. They are a very comfortable choice and the well-laid-out edges give this style a chic and yet simple appearance.
3. Braids With Bun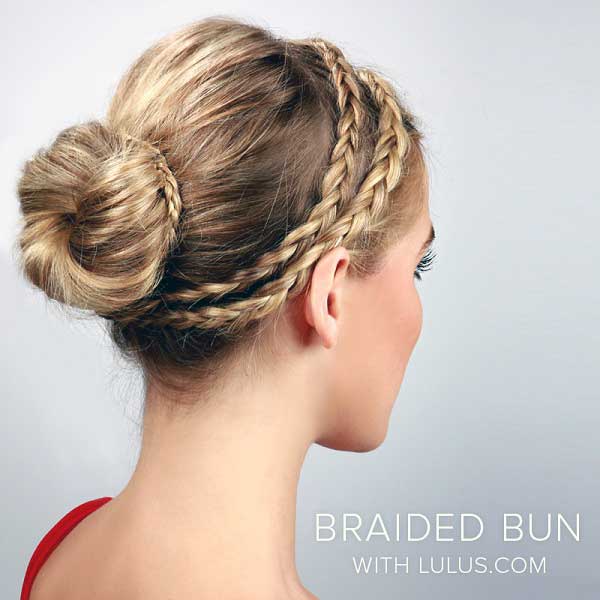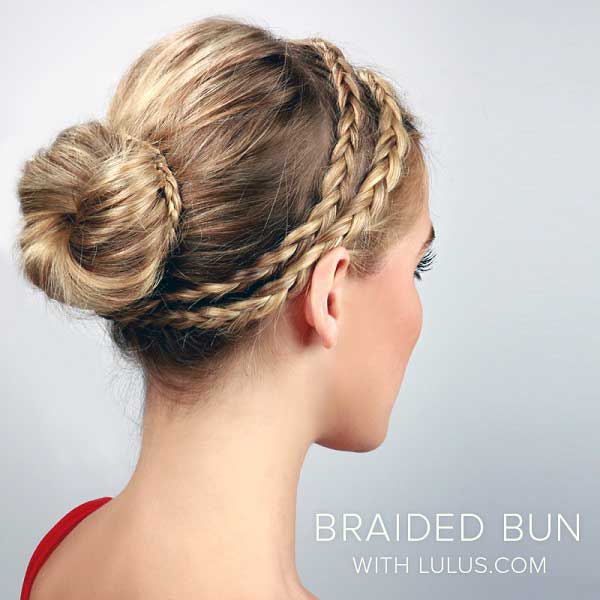 Source: lulus
This style features two beautiful side French braids that run behind the right ear and are tied into a cute bun. This braids with bun is romantic and is a perfect hairstyle for a prom date. Jaws are sure to drop!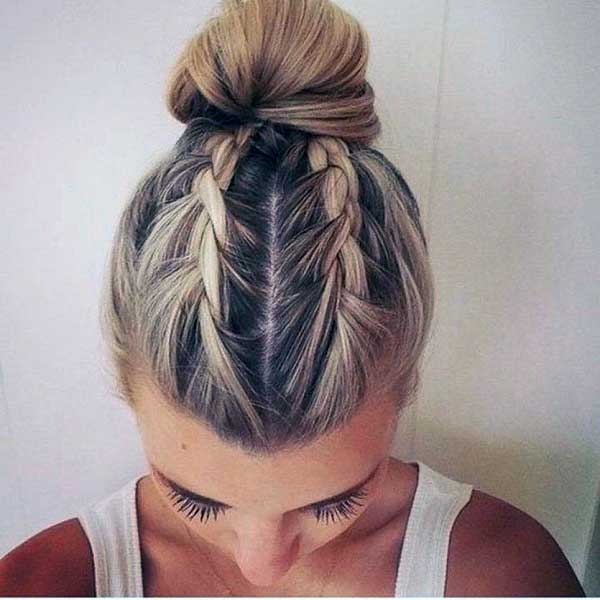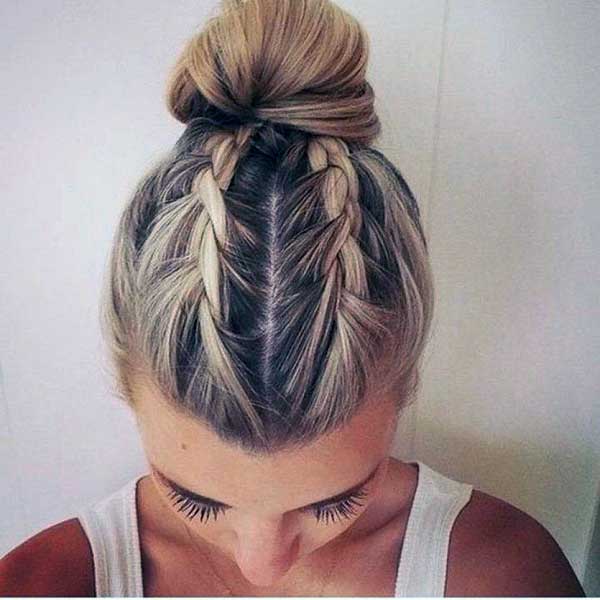 With its woven black locks and golden highlights, these visually pleasing braids are well crafted into a golden brown bun. It is indeed a deft play on colors and you best believe that two braids are better than one!
4. Feed In Braids With Bun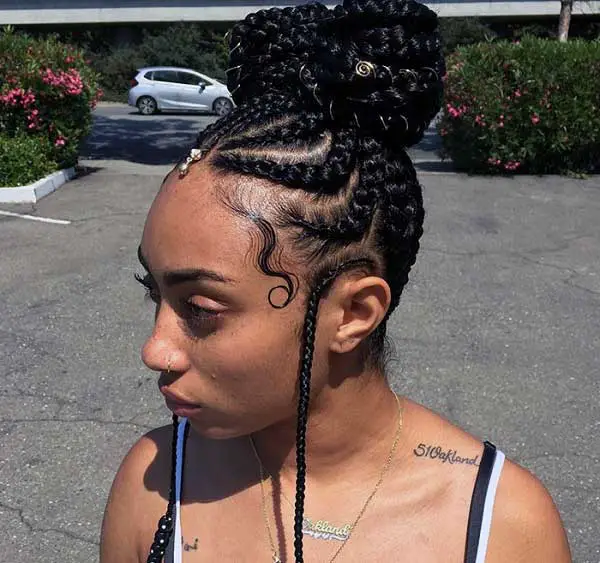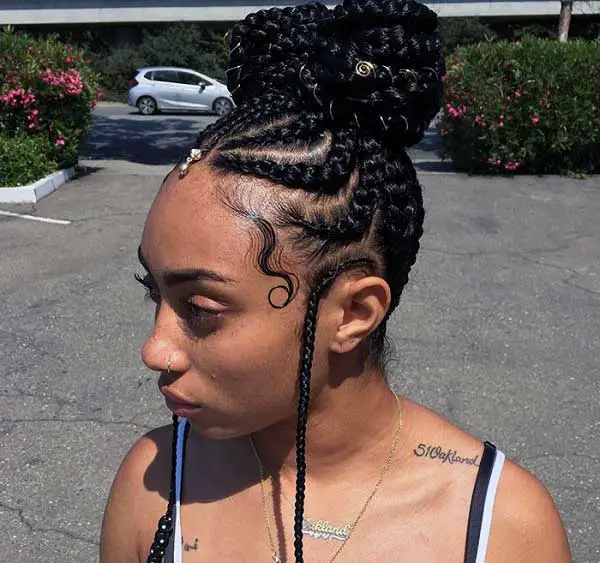 If you are willing to switch from short locks to long braids, extensions are the way to go. This style sports thick and curvy braids and a single thin braid left hanging on both sides, to give off an urban vibe.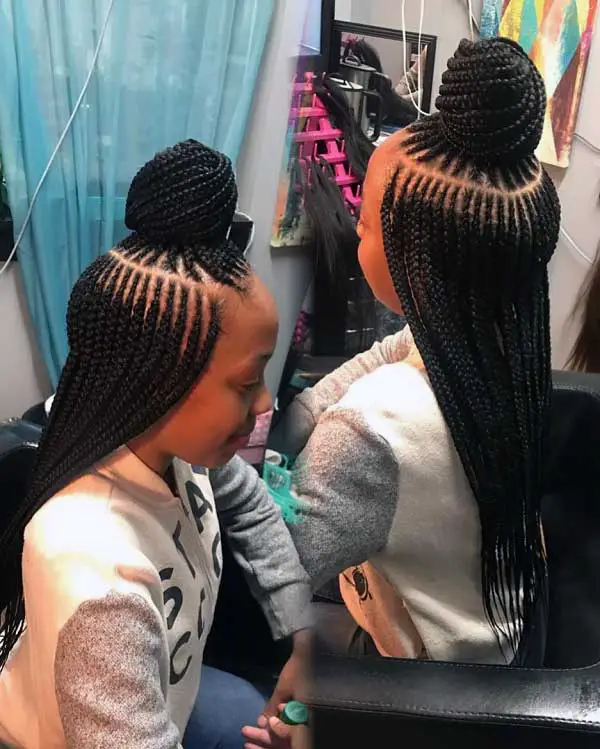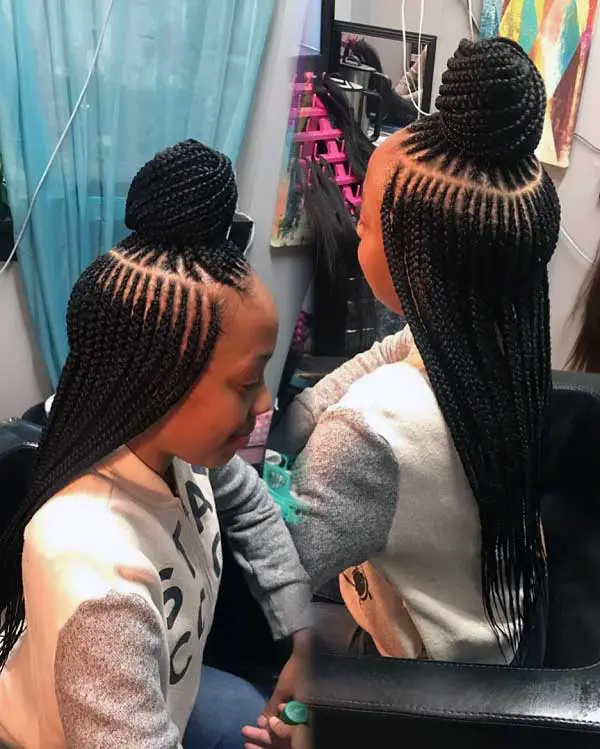 You just have to try this black braided style with its high twisted updo. Well demarcated, it is symmetrical beauty with braids that flow to your shoulders and shows off your lovely hair color. For your girls' night out, consider this.
5. Space Buns Braided Hairstyle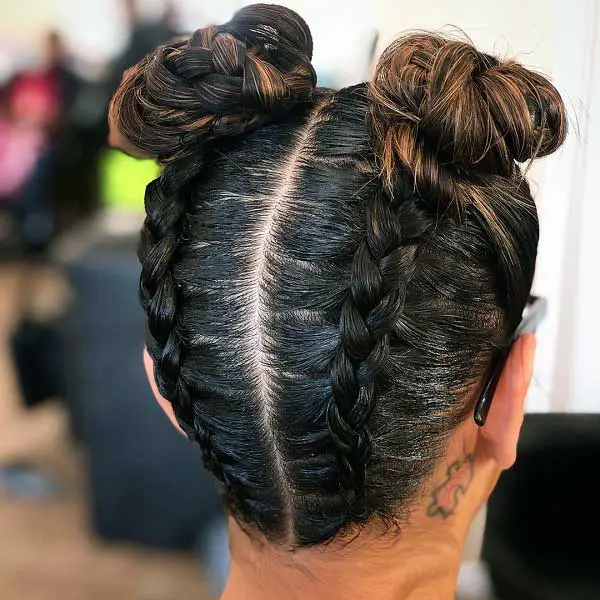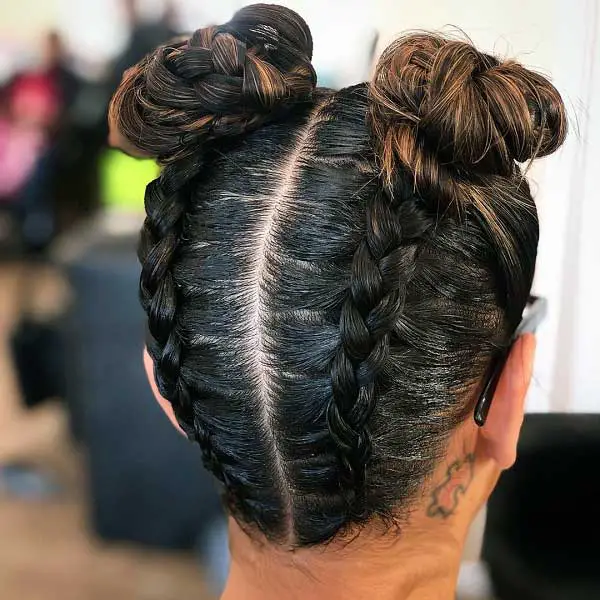 What is lovelier than French braids with dark and lovely hair? The braids run up the back of your head and end with two space buns boasting golden brown highlights that make them pop. It is perfect for both formal and casuals.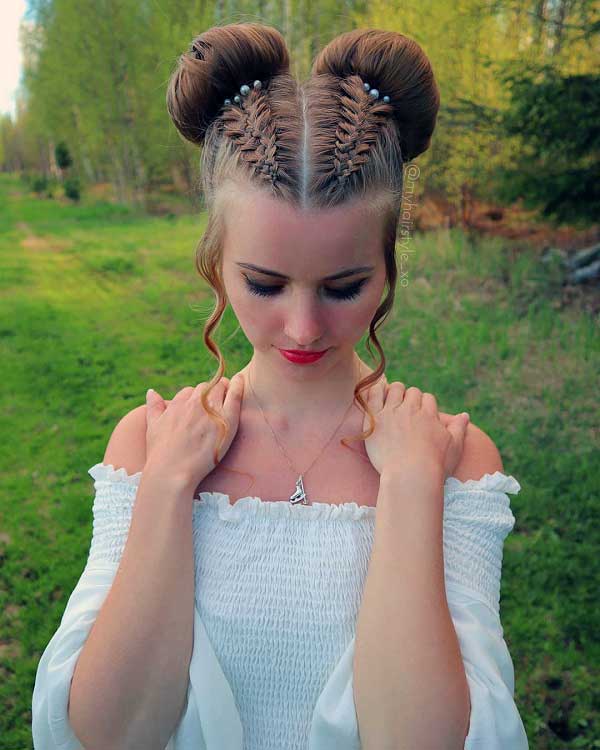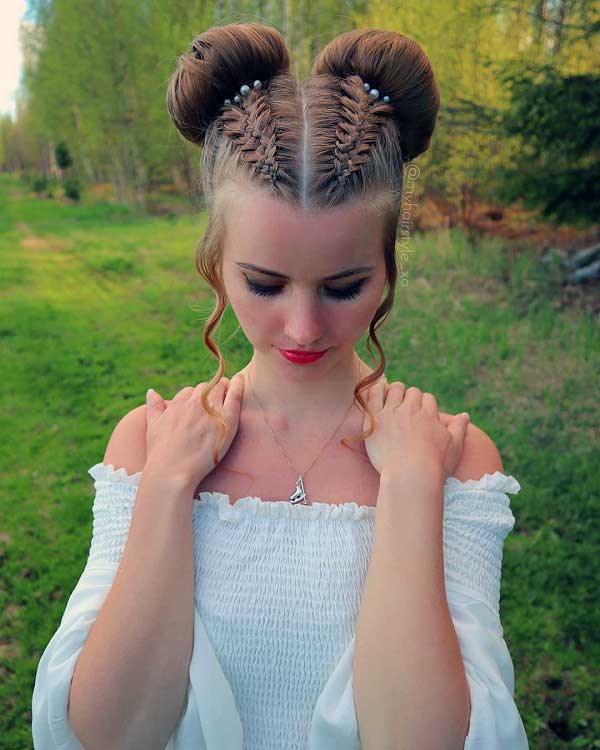 This coffee-brown double dutch braids with space buns is a dazzling sight at weddings. You can show off your side-locks and wear this on any face shape. Space buns are a treasure because they can work with most hair lengths.
6. Side Braid Bun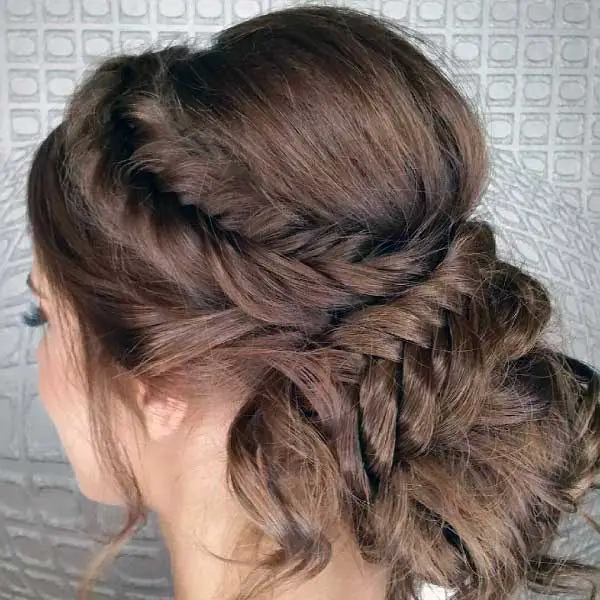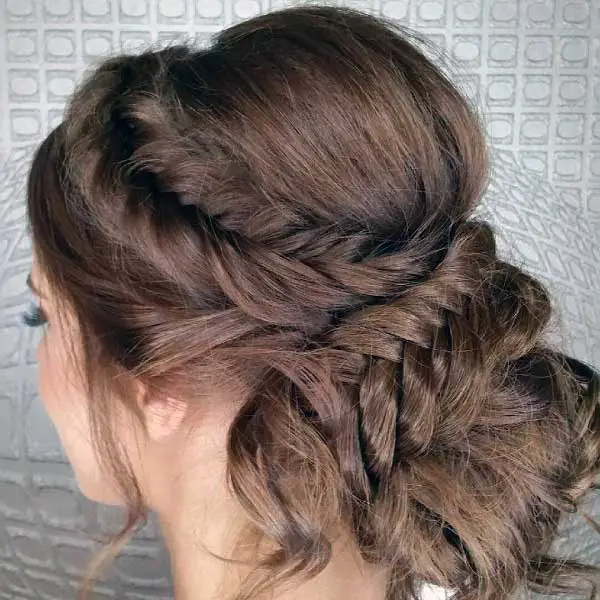 A side braid bun is a sure trick to looking stunning and classy. You can choose how neat you want your side braid bun to be, based on the occasion. Whatever your choice is, this style oozes sophistication.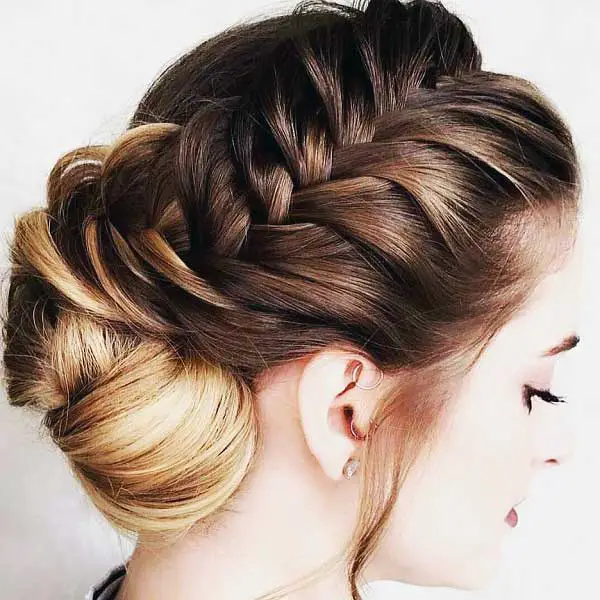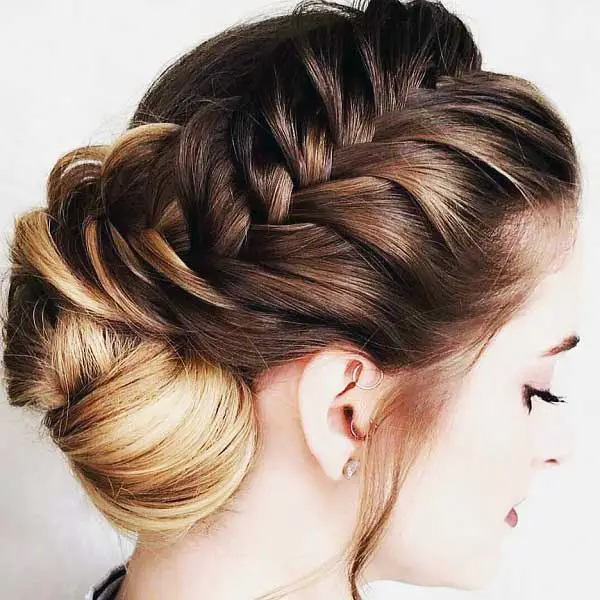 A makeover is nothing without a great hairdo. This fishtail side braid with bun has a silky, brown hue with golden highlights in its big voluminous bun. It is a comfortable style for a wedding and suits an oval-shaped face.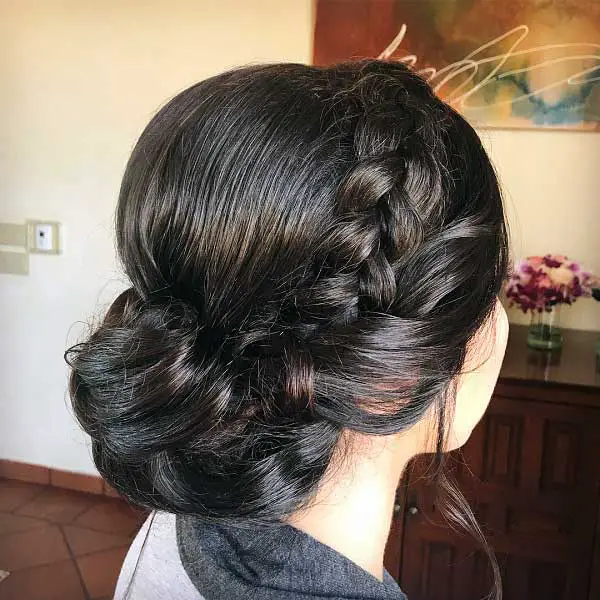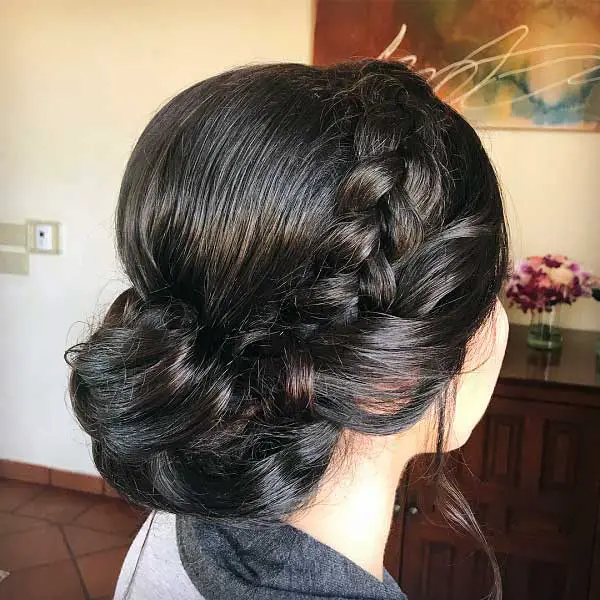 Weddings are not complete without a side braid bun. The braid runs from front to back, blending sweetly into the messy bun. Giving you an infinite number of options for styling, this hairstyle gets your creative juices flowing.
Also see : Black Ponytail Hairstyles
7. Two Braids Into A Bun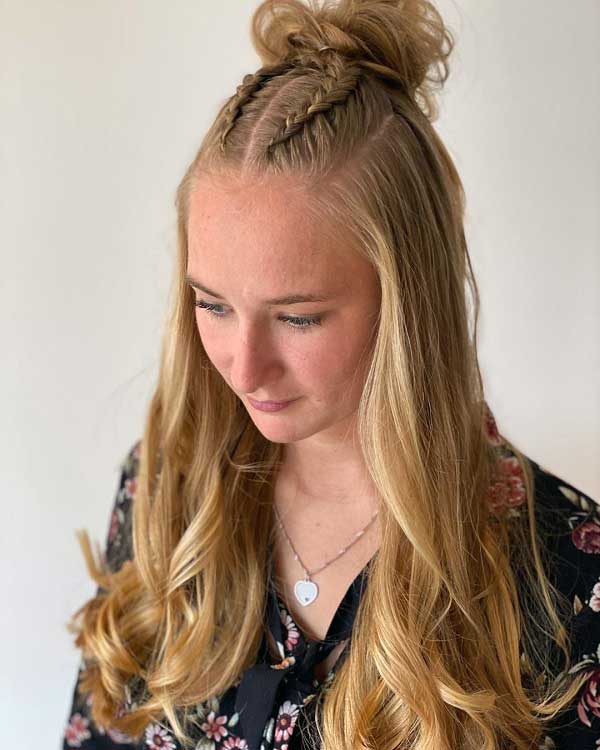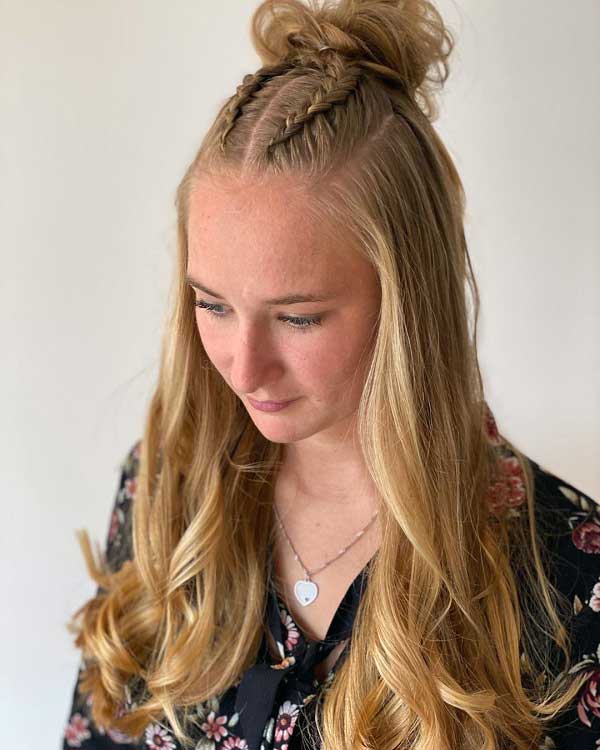 When you see a hairstyle as beautiful as this, Princesses and fairies are the only words that come to mind. With flowing wavy locks on display, this style is sure to get you looking like a modern-day Cinderella.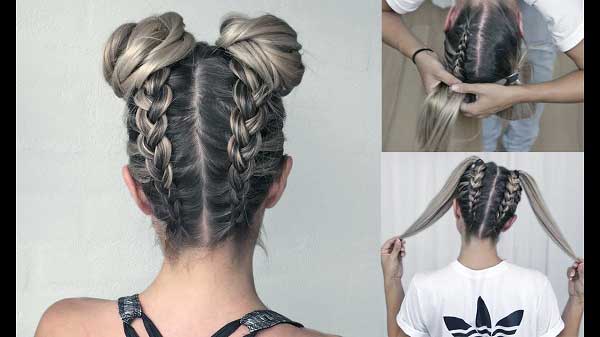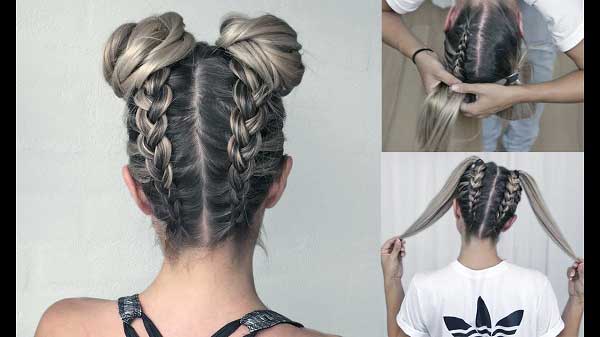 This upside-down dutch braids follow a simple idea and provide flexibility when styling. You can braid this style into two space buns or ponytails. The multi-tonal hair color gives it an exquisite and unique look. Perfect for all face shapes.
8. Cornrows Braided Into A Bun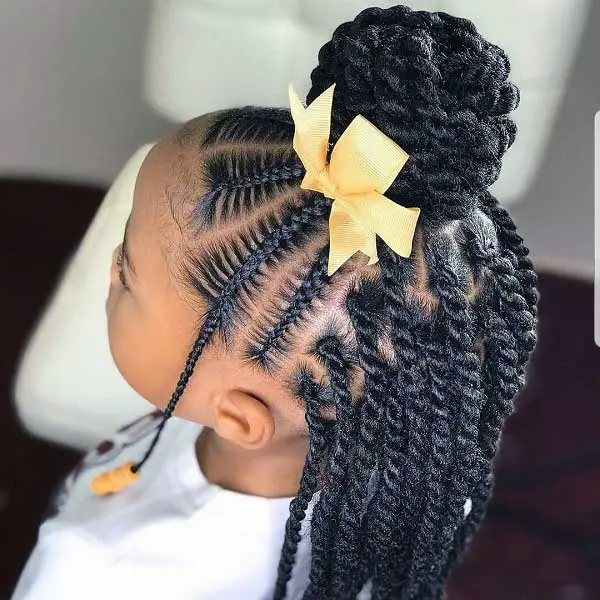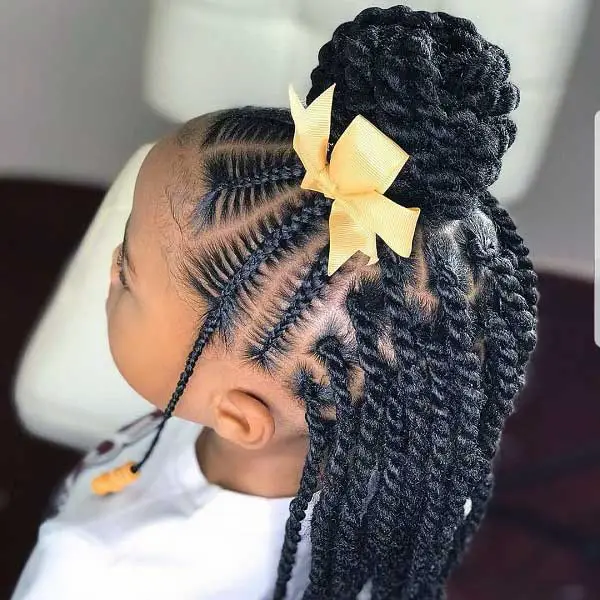 Upright braids give you a bold appearance. The half up, half down braids are tied up in a bun, with a yellow bow to add some color. This gives you a youthful look that is perfect for a lunch date.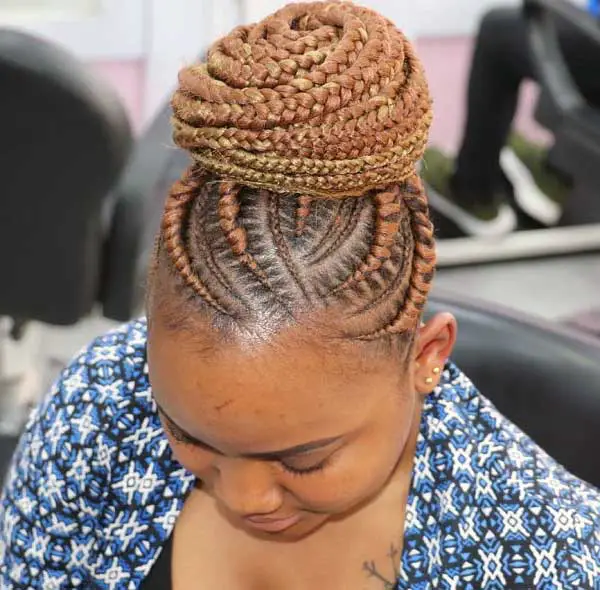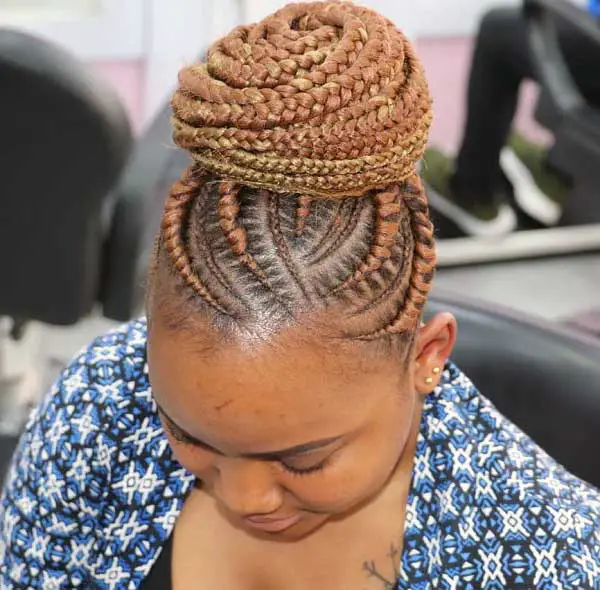 What's hair without interesting colors? This unique color brings the braids to live and the alternating thick and thin braids give the hairstyle more dynamism. This trend is on the rise and it is never too late to hop on.
9. Dutch Braid With Bun Hairstyle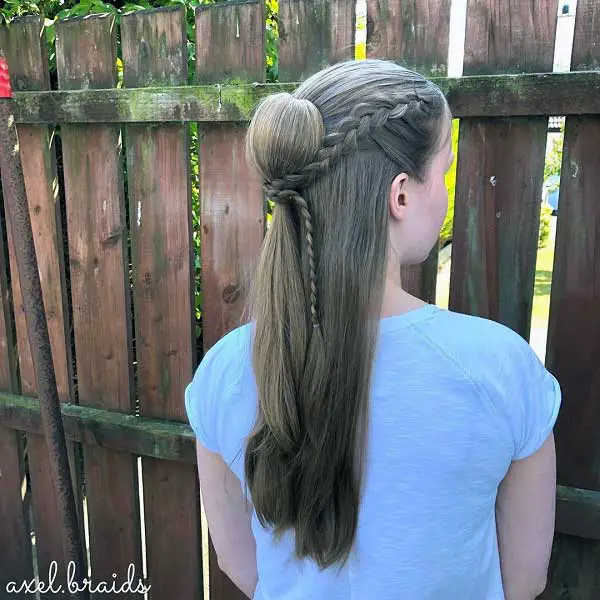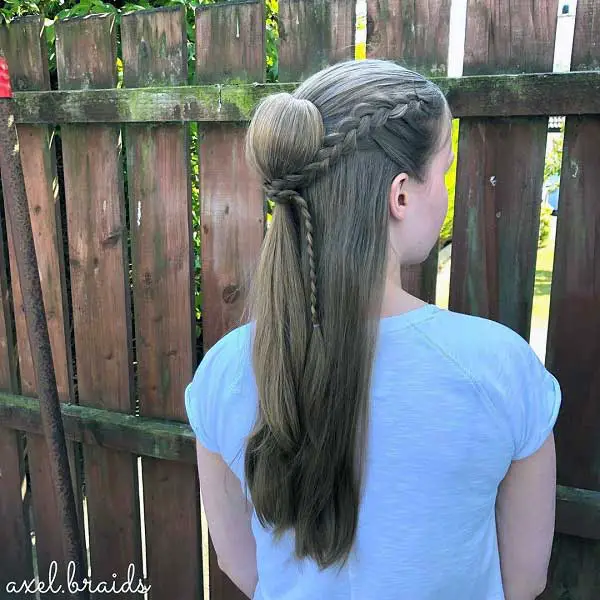 Braided buns are a classic! The braids add an extra dimension to simple buns making them look more intricate without much effort. This style fits right in a festival setting and is well suited for women with pear-shaped faces.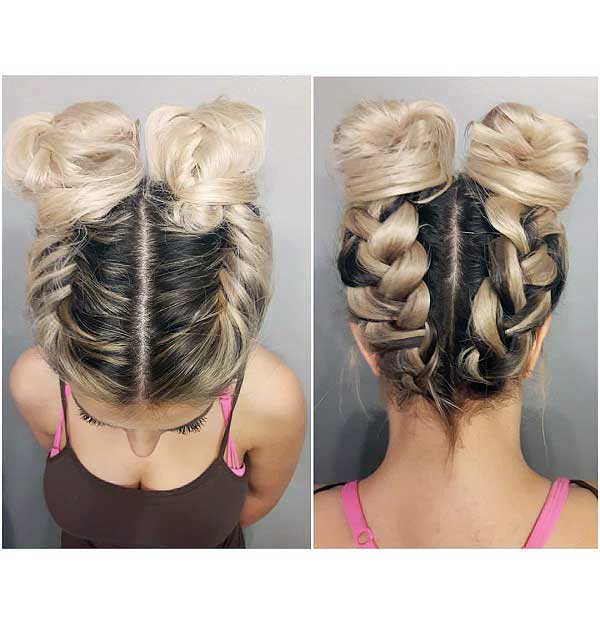 This hairstyle shows the versatility of Dutch braids. It creates a look that is simply dazzling with prominent blonde highlights. Tying them into buns is an option when having an activity-packed day at work. Perfect for oval-shaped faces.
10. Messy Bun With Braid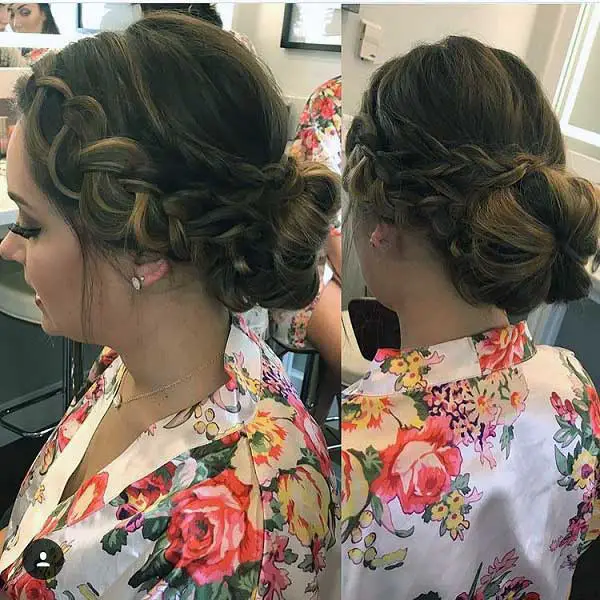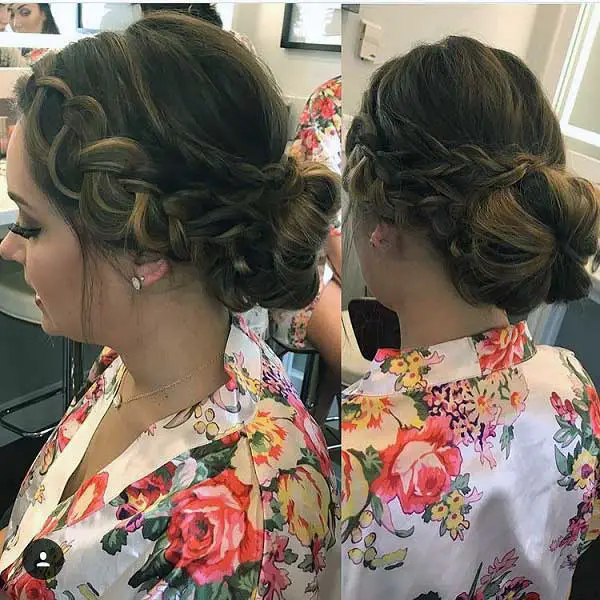 This braided bun hairstyle has thick French braids that run along the side and turn around into a low bun. It is a great fit for an evening at the opera and you get a huge confidence boost from donning this hairdo.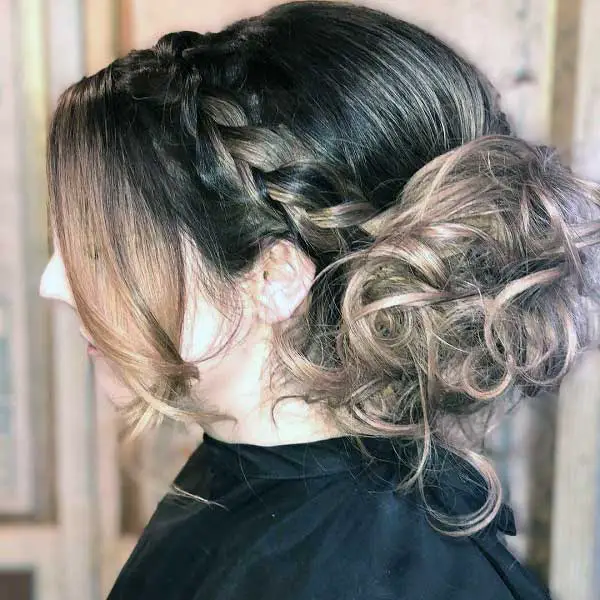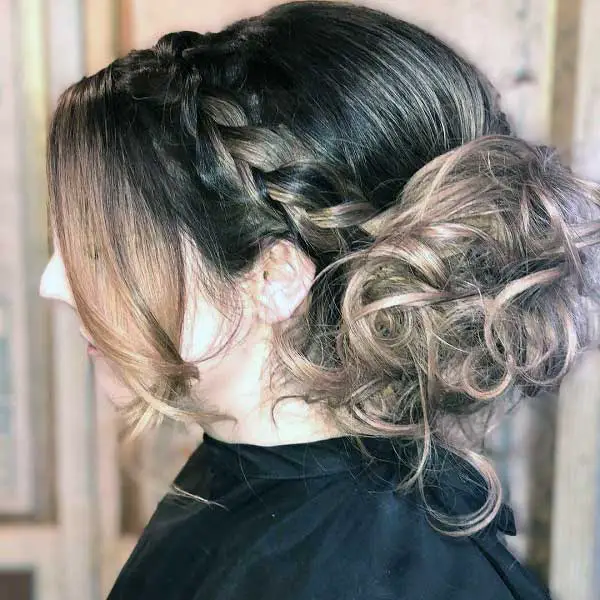 If you love your wavy tresses, then you'd love this style. The single thick French braid ends as a messy bun which adds a bit of drama. This hairdo is a revelation and fits women with square faces.
11. Braided Low Bun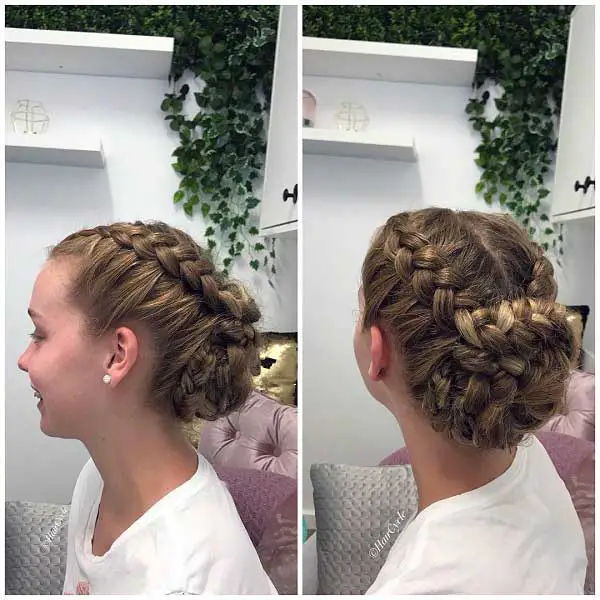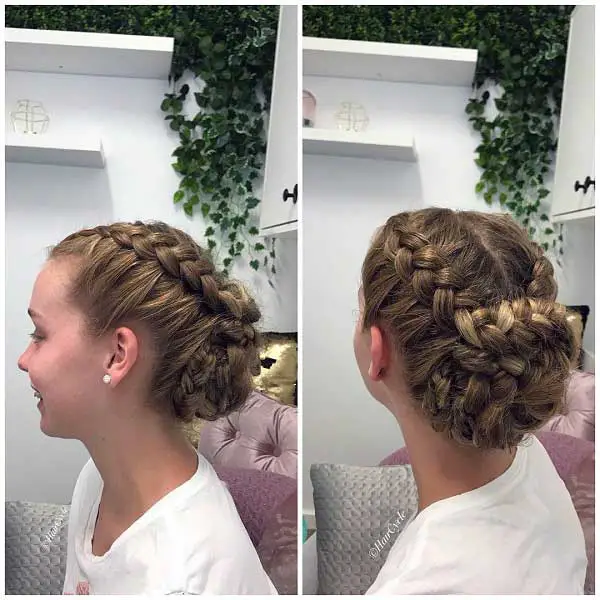 Updos have a variety of sophisticated elements, and this is one of the really challenging ones. A center parting beautifully splits this, into two very even sections. It can be used to easily hide any hair damage (split ends).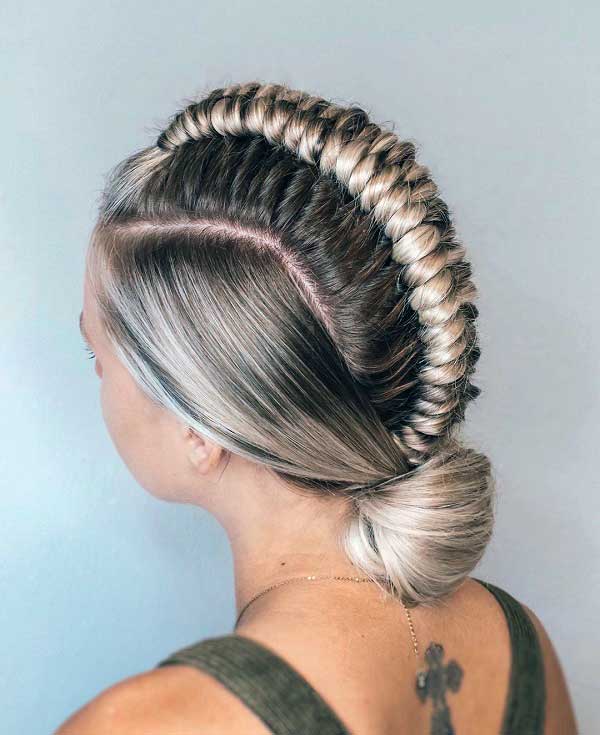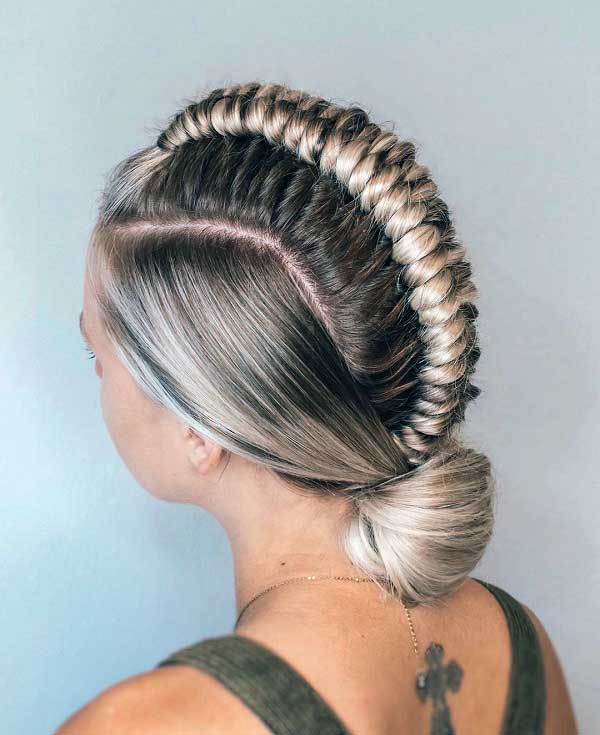 For braided low bun hairstyles, this is a fantastic choice. The hair is parted into three sections with a sleek Mohawk braid on the central part. It gives soft highlights and glamorous appearance. Women with round-shaped faces choice.
12. Ghana Braids with Bun Hairstyle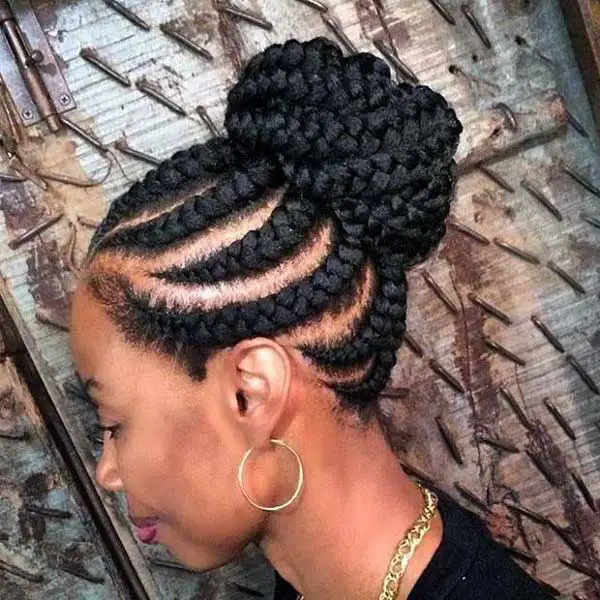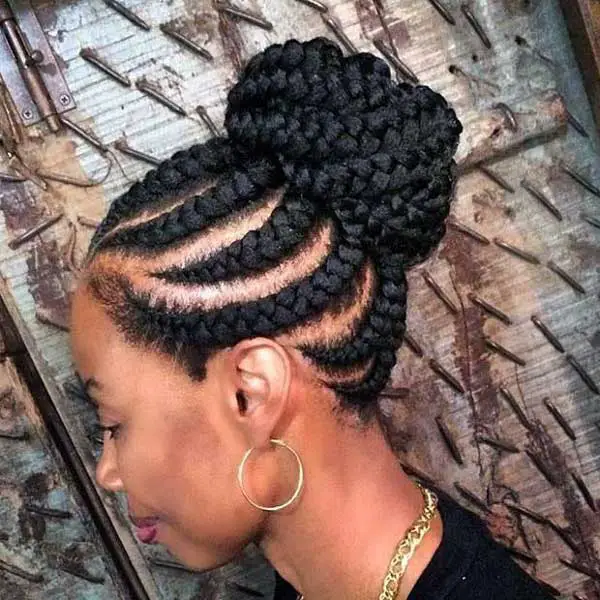 Show off your beautiful well-spaced out Ghana braids! The braids are thick and curvy, with a bun capping it off to create an edgier look. So, if you are going for that party, this style is just for you.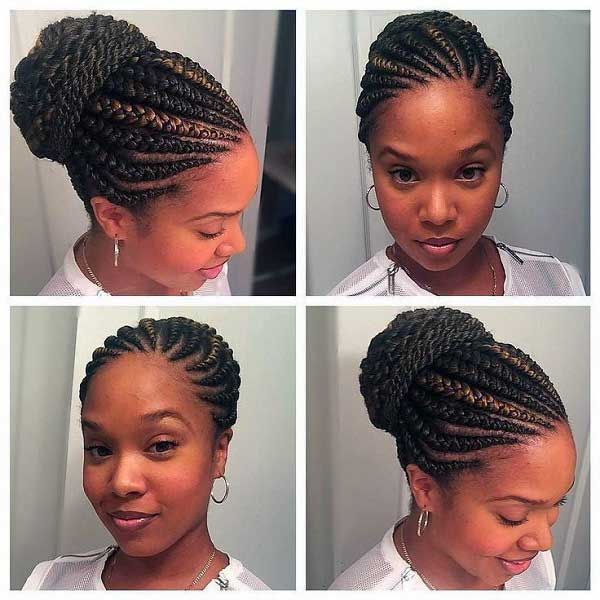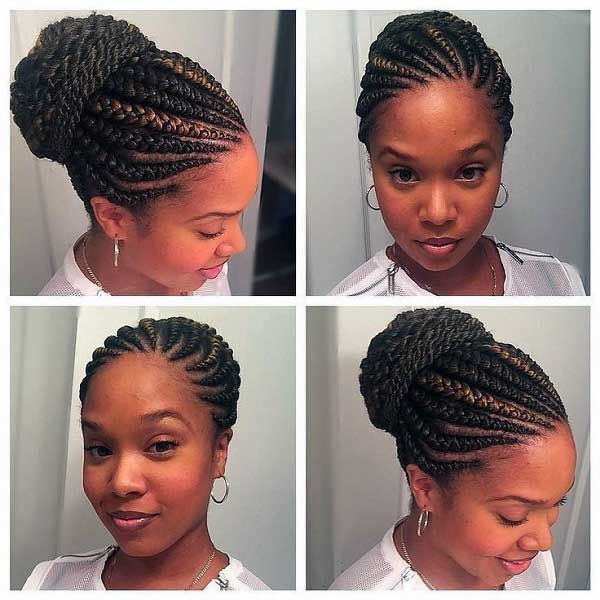 Buns are one of the most comfortable ways to wear Ghana braids. This up-do is smooth, adorable, and works amazingly if your braids were created in an upward movement. You can also unwrap your bun for a chic ponytail.
13. Big Braids In A Bun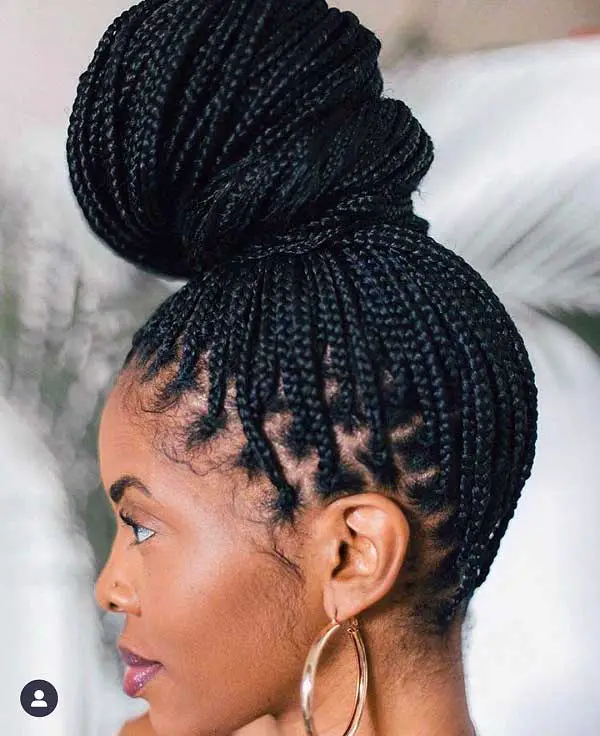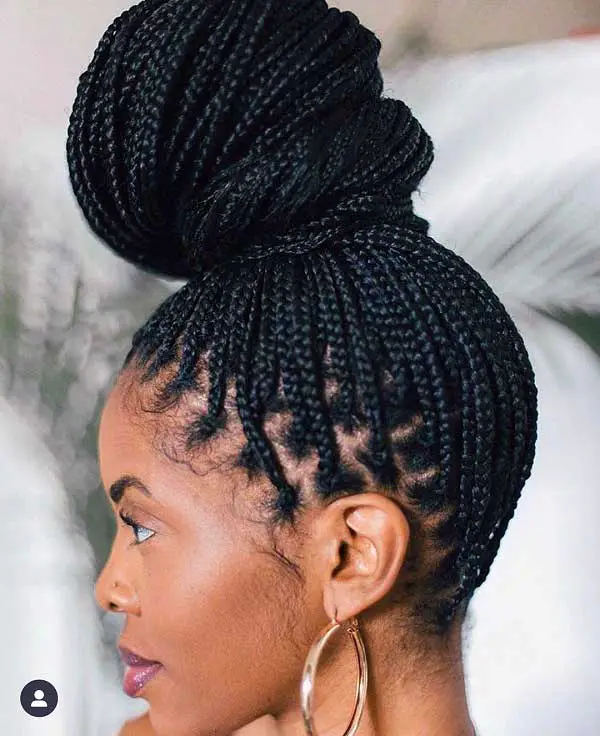 This really is one of the trendiest braided hairstyles you would find. It is well suited for any occasion and the larger than life bun gives this style an extra spark. Trying this on an oval-shaped face is a must.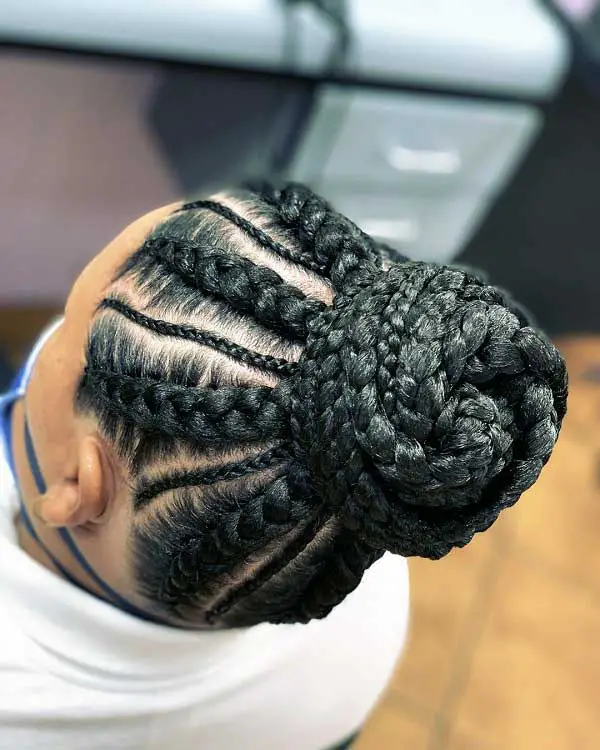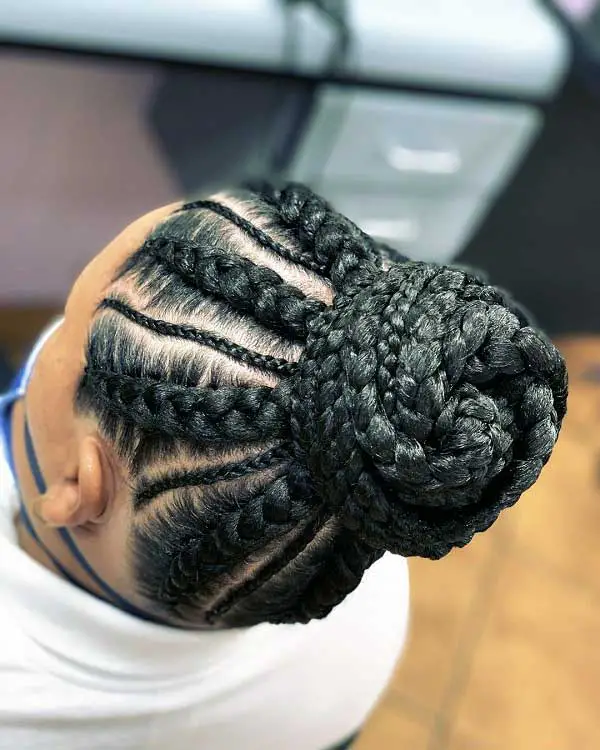 Big braided up-dos are no longer reserved for only older women. Old is new again, and younger women are embracing the trend with flair. The thin braids complement the thick cornrows to add a fun, youthful twist to the style.
14. Crown Braided Bun Hairstyle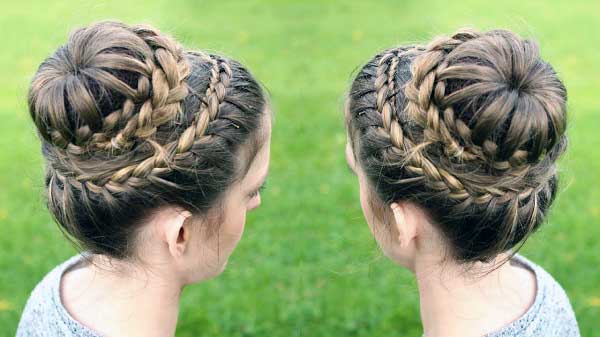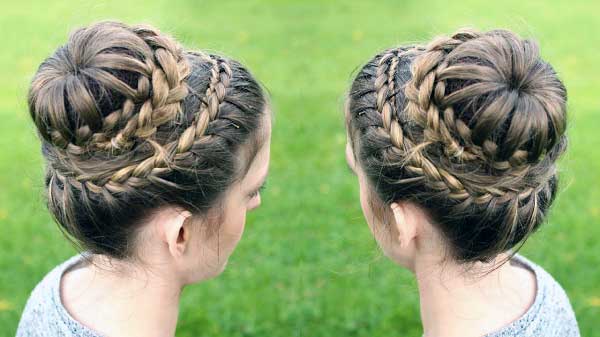 This one is a complex and intricate crown braid. It features 2-layers of braids, each step easing closer to the grand bun at the top. Mixing up the braids makes the whole look warm and absolutely enchanting!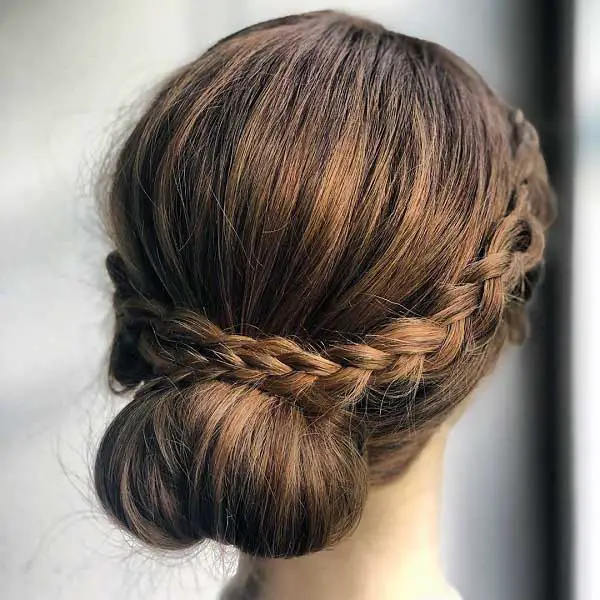 If you are to be a bridesmaid at a wedding, this is a look you could rock. There is a beautiful side-braid that wraps around the head spectacularly like a queen's crown. A heart-shaped face would boost this look.
15. High Bun With Braid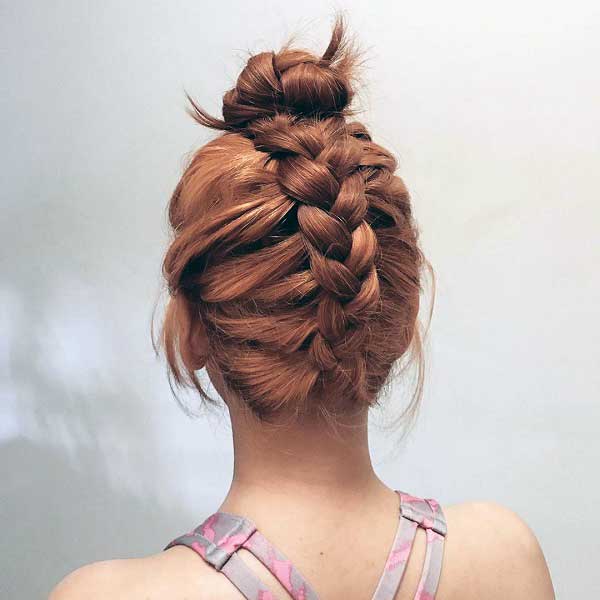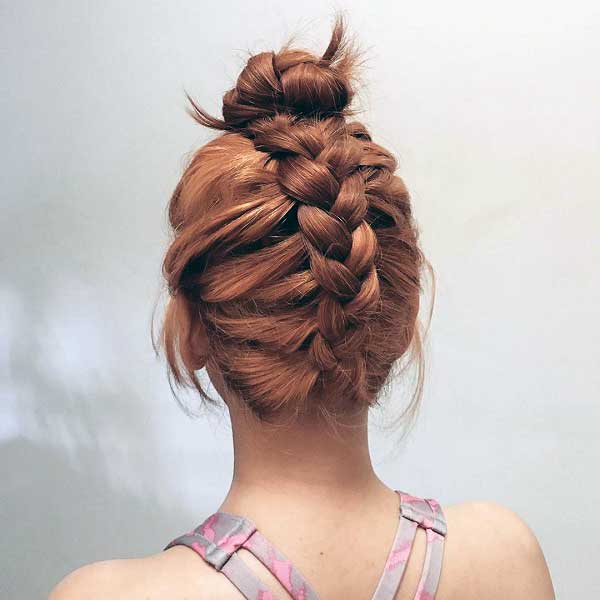 This auburn colored beauty is a show-stopper. The way the braid ascends from the nape to the end as a high bun is aesthetically pleasing. Its messy waves add some bite and this style is sure to rock any party.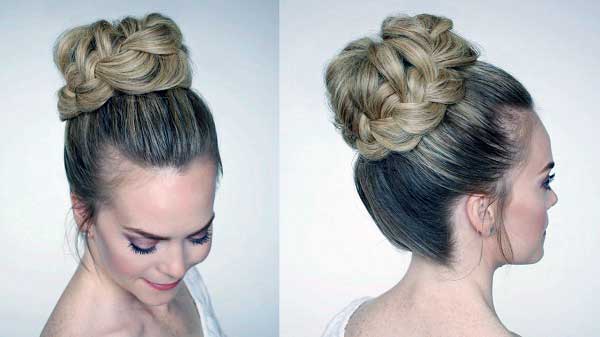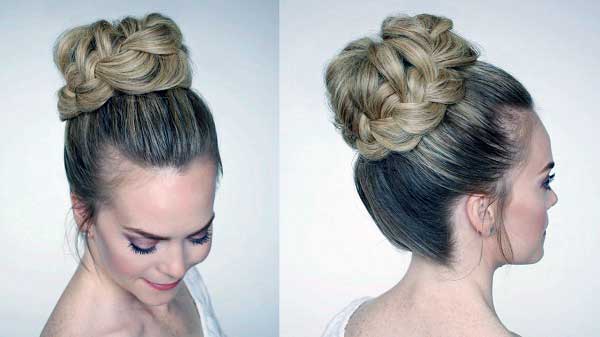 An exciting way to spice up your top knot bun is by making a braid wrapped high bun. This is a great option for women with long hair and is a style fit for a queen. It is beautiful on oval-shaped faces.
16. Upside Down Braided Bun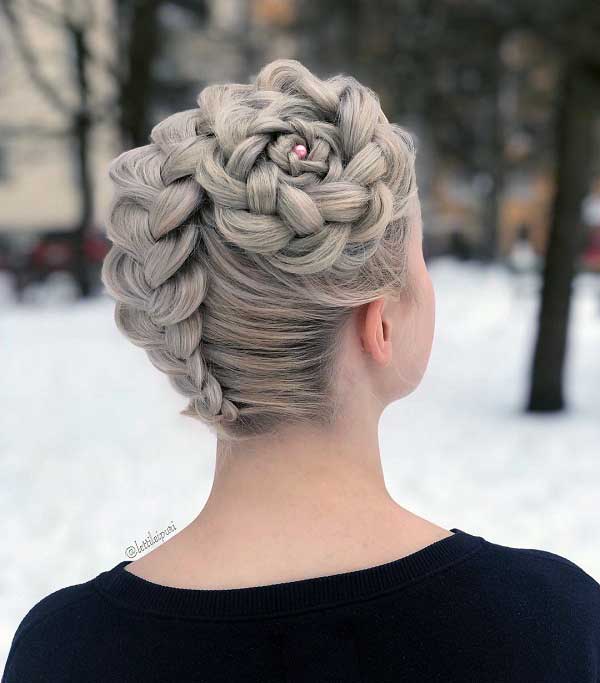 Nothing beats upside-down French braid. This braided bun hairstyle magically stems upwards and ends in a flourishing sideways bun. The grey color is undeniably exotic and there is no other way to look during those cold, winter months.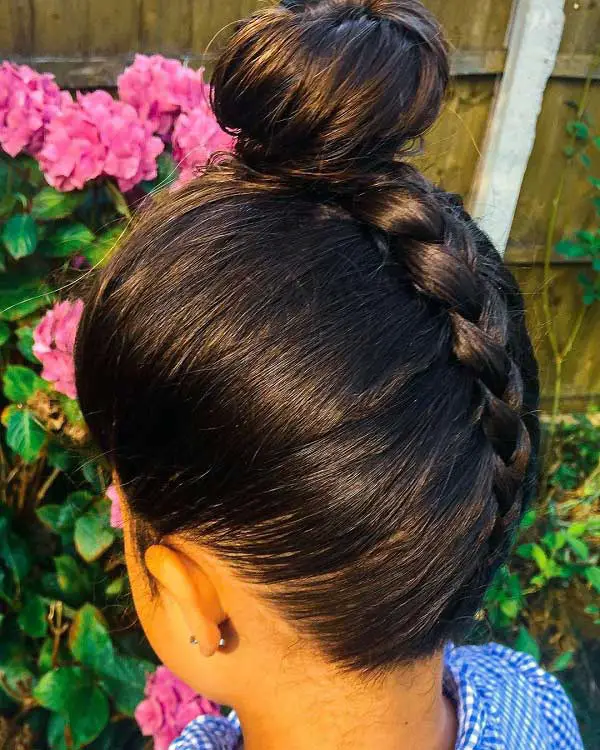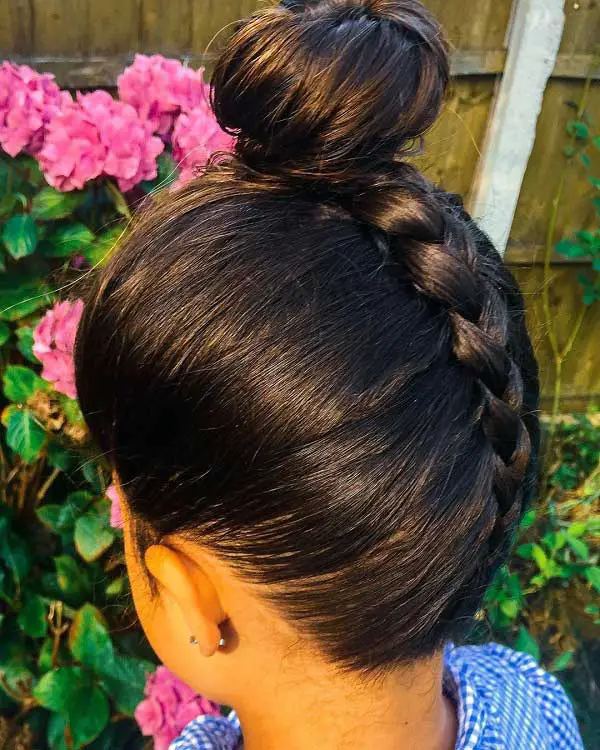 This is one look that wonderfully balances work and plays. It is very comfortable but with a classy edge. The upside down braid transitions beautifully to a swirling bun, accentuating your facial features and giving your eyes a sharp glint.
17. Hair Braided Into A Bun With Weave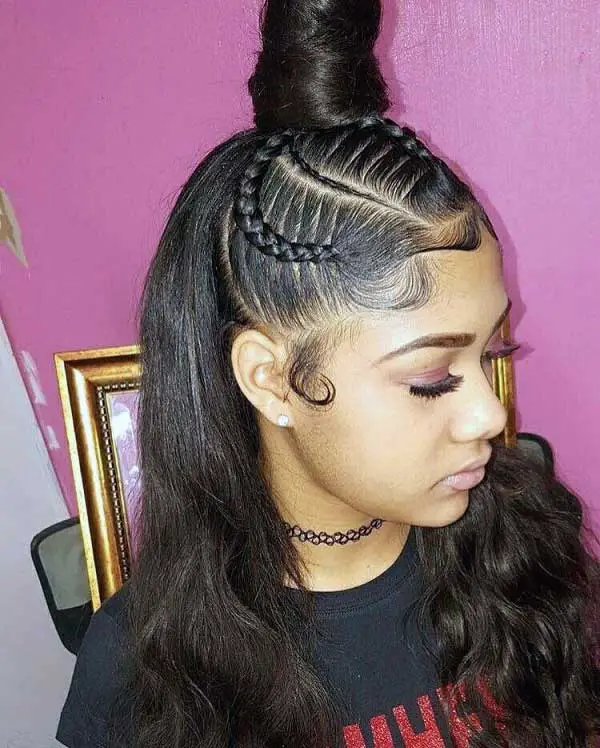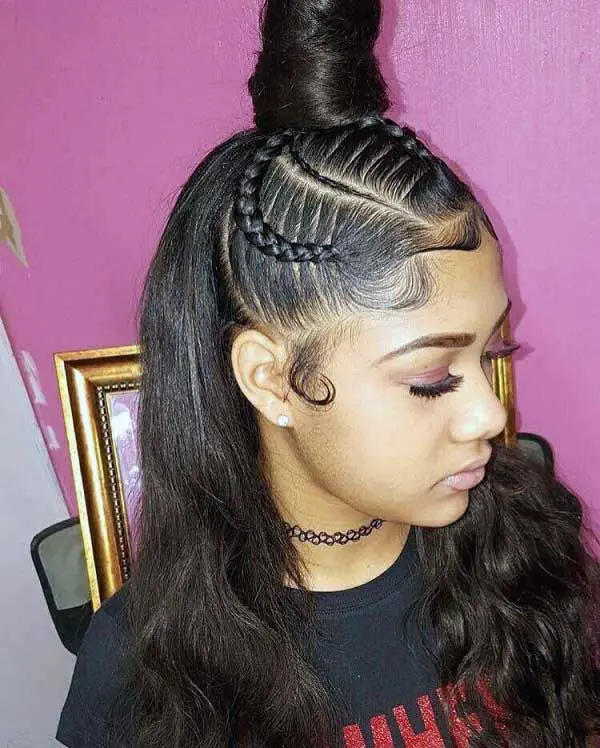 Creativity is absolutely necessary when dealing with braids. You can switch your looks to sassy by donning this hairdo. With its weave bun and curly baby hair, it is a super chic style that is perfect for all face shapes.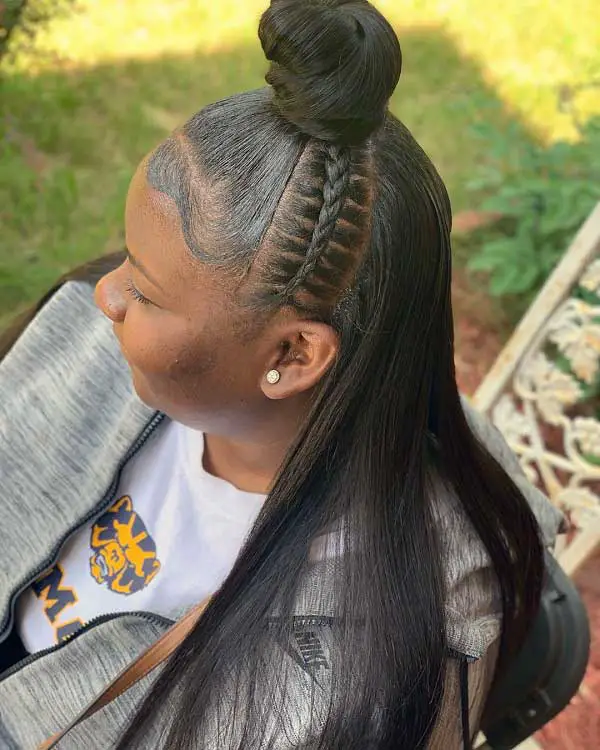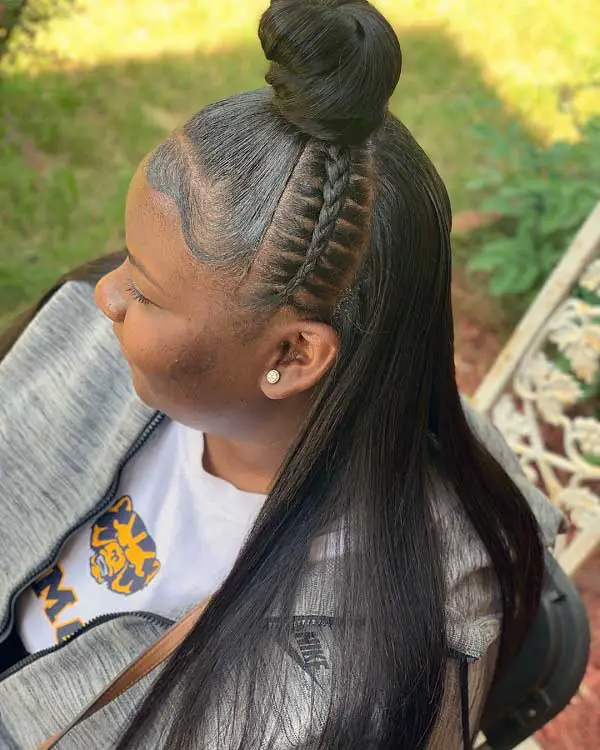 Who says you can't have it all? This style deftly mixes a lovely side cornrow with a weave that falls to your shoulders gracefully. The resulting look is sexy and fun yet quite simple and practical.
18. Braided Ballerina Bun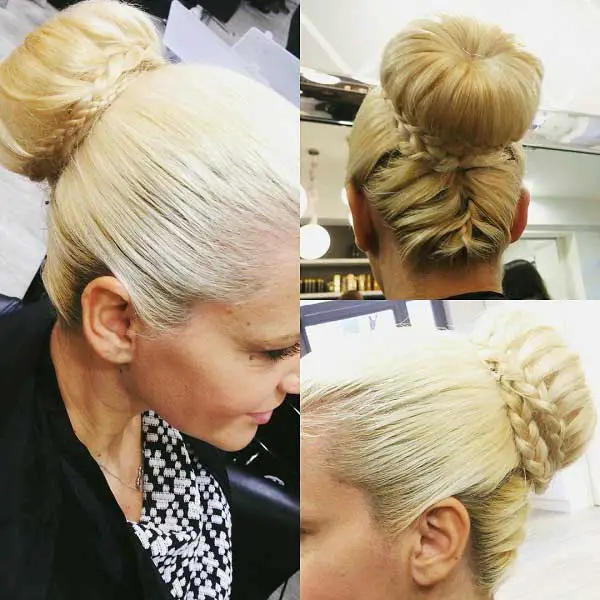 Braids and buns are in vogue now. This lush blonde hair is smoothly packed and made into a bun with a French braid, wrapping round it. It is well finished with an upside down braid and is quite stunning on an oval-shaped face.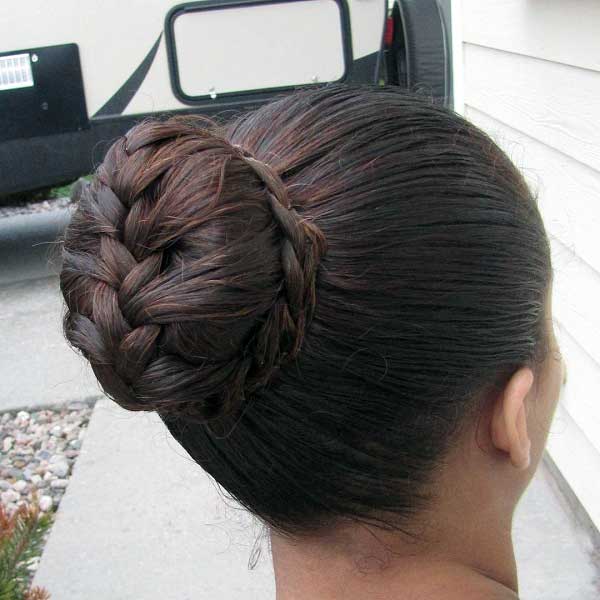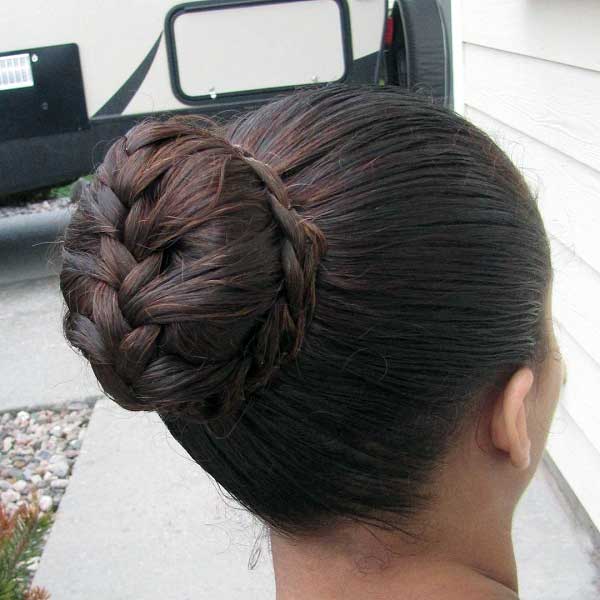 This exquisite ballerina bun features an intricate braided pattern and should top your bun style list this season. This is a really endearing way to wear your natural hair and it works for both formal and casual events.
19. Crochet Braids In A Bun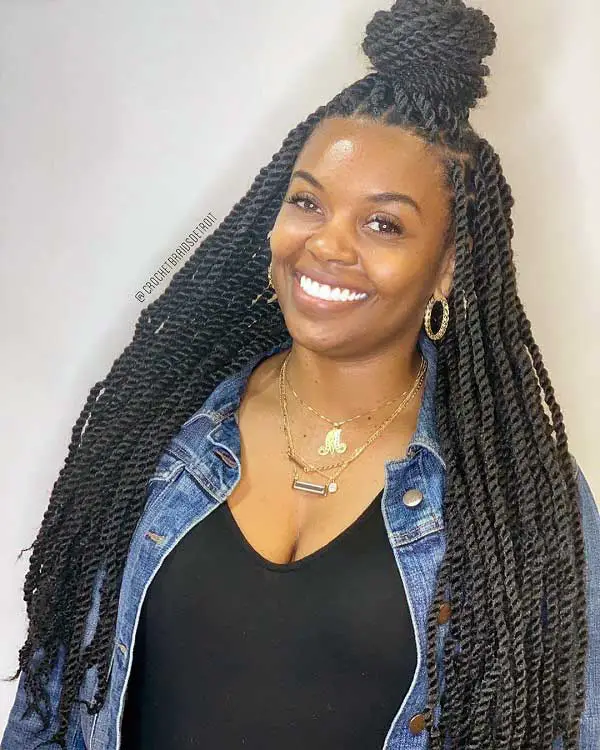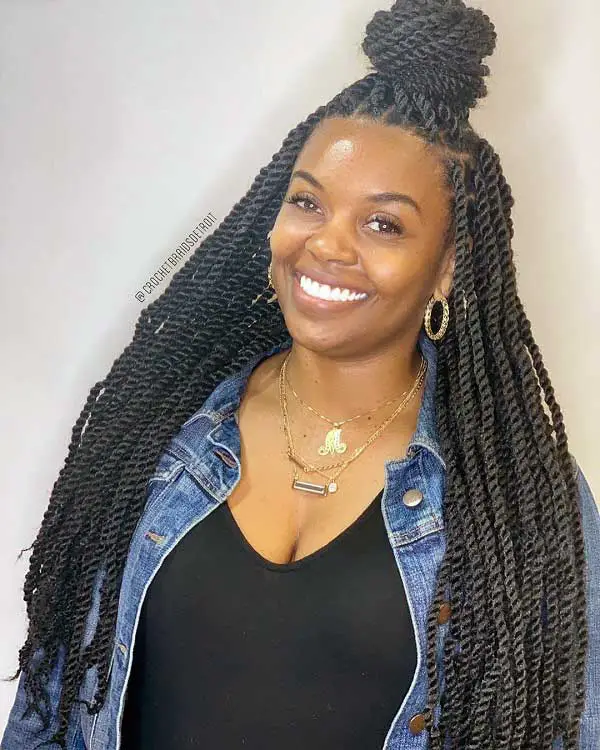 Crotchet braids are making a comeback. The style gives you the option to roll some braids up in a bun – half up, and let the rest down – half down. This style is timeless and would give an extra dimension to your appearance.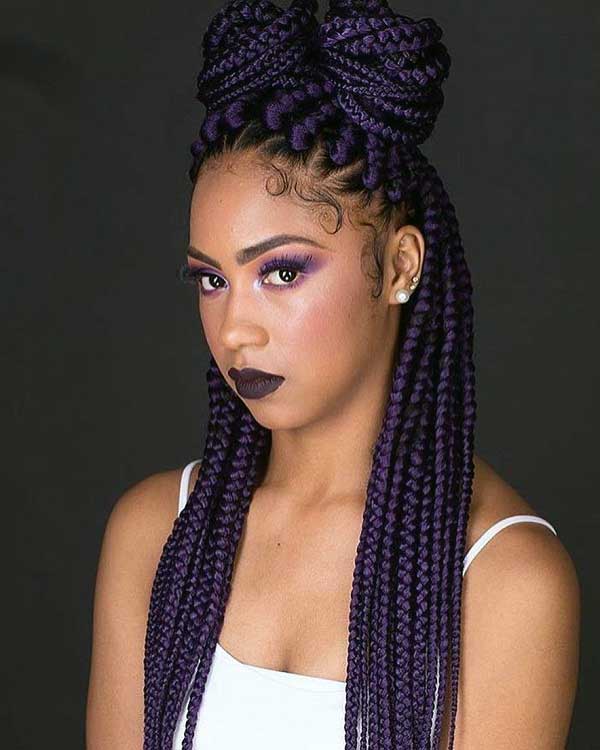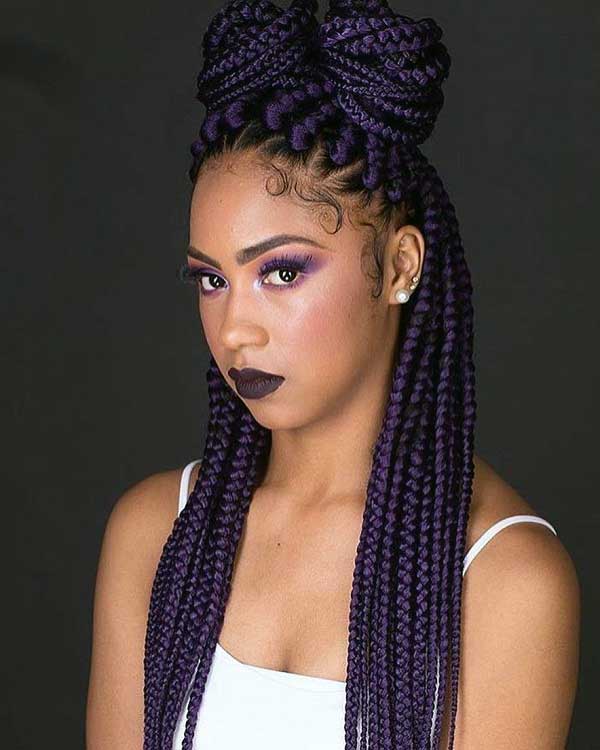 Long braided hair is beautiful on black women. This comes in a purple hue with two high buns, curly edges and the rest of the hair let down, for a full on glam effect. Try matching make up to add a sexy edge.
20. Fishtail Braid Bun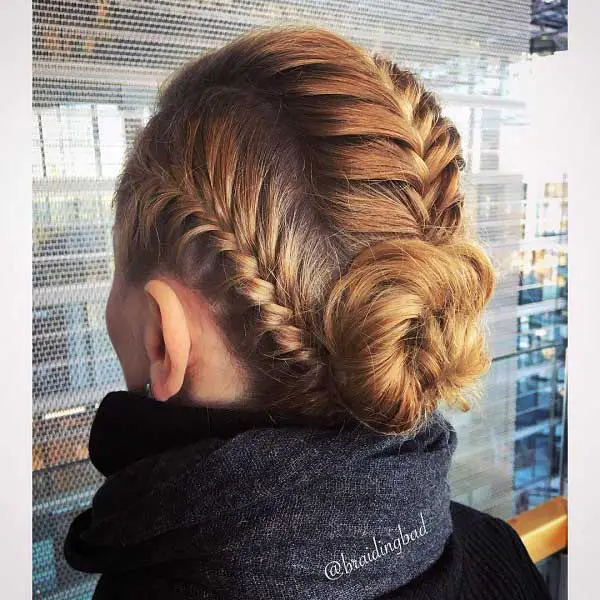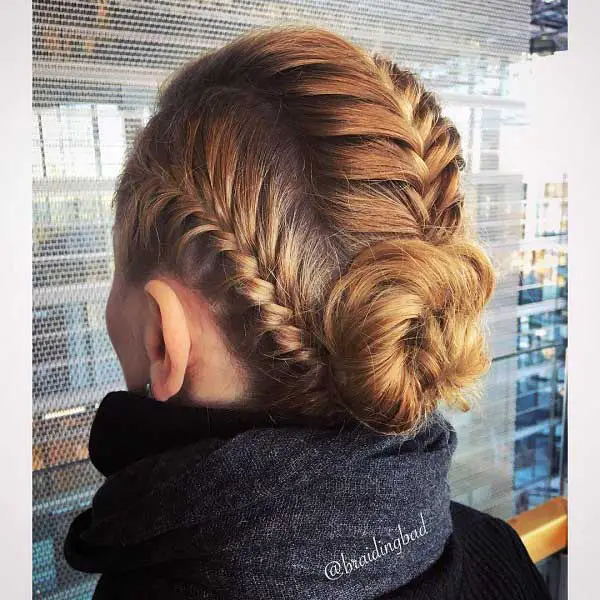 Fishtail braids were the trend in the '90s and are still great today. This style has thick fishtail braids, with a central one that gives it a Mohawk look. If you want a classy retro look, this is for you.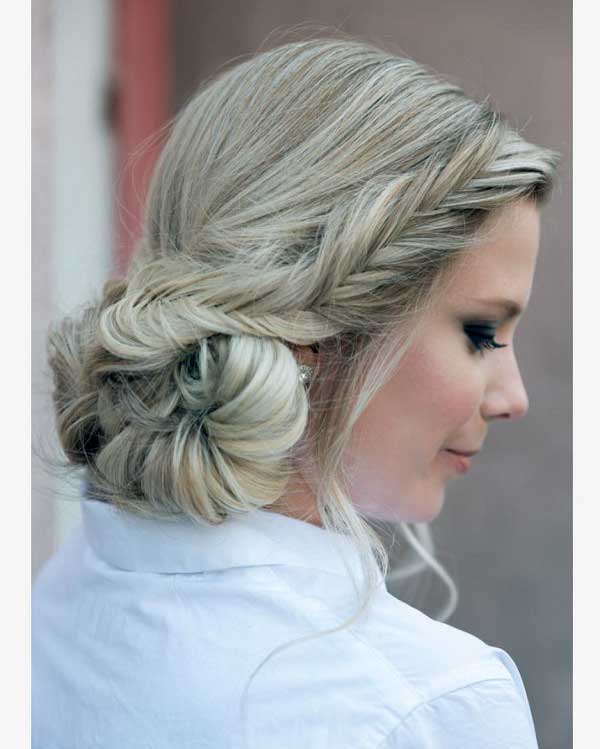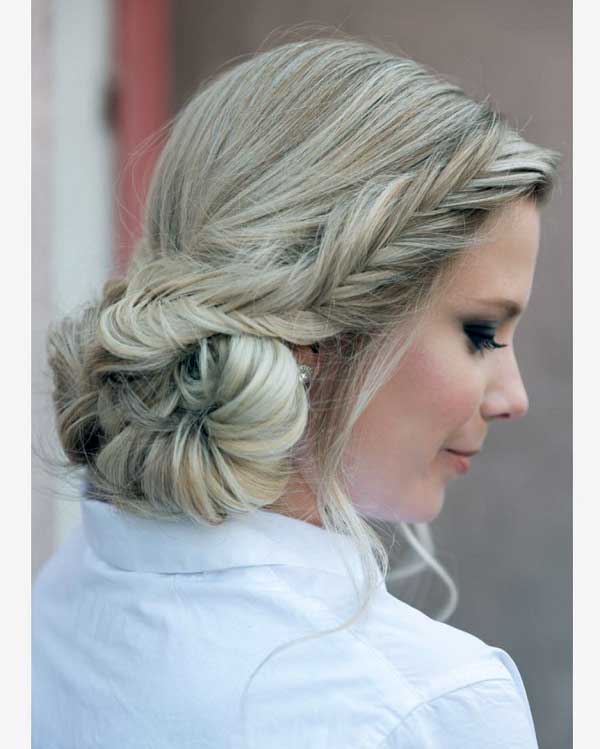 There is something unique and trendy about this style. The fishtail braid runs along the side of the wavy locks before becoming a messy bun. It is great for wild hair and suitable for all face shapes.
21. Half Up Half Down Braided Bun Hairstyle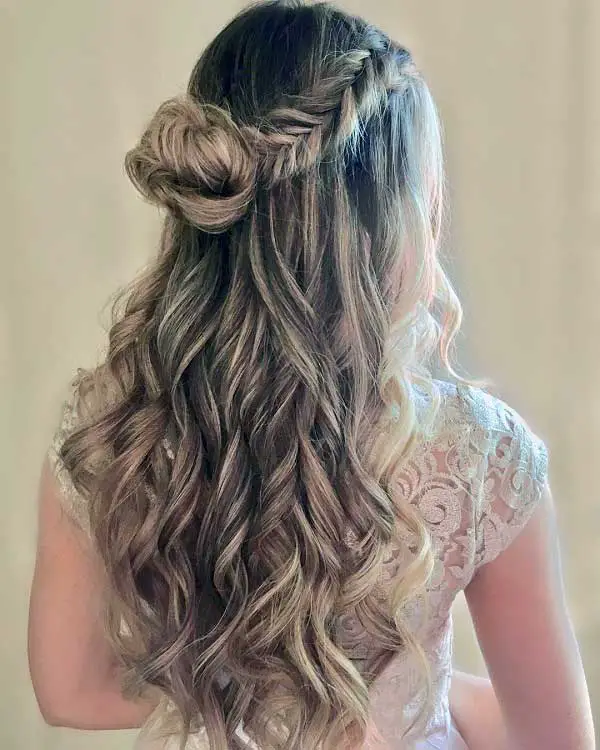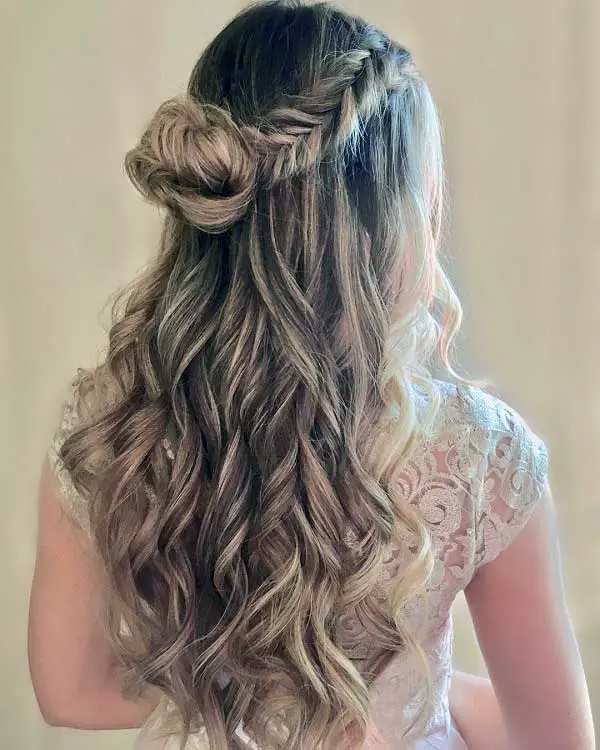 Without a doubt, ombre hair will be popping for years to come. A half up, half down braided style with wavy tresses, is exactly what you need for those highlights to come to life. The outcome would leave you breathless.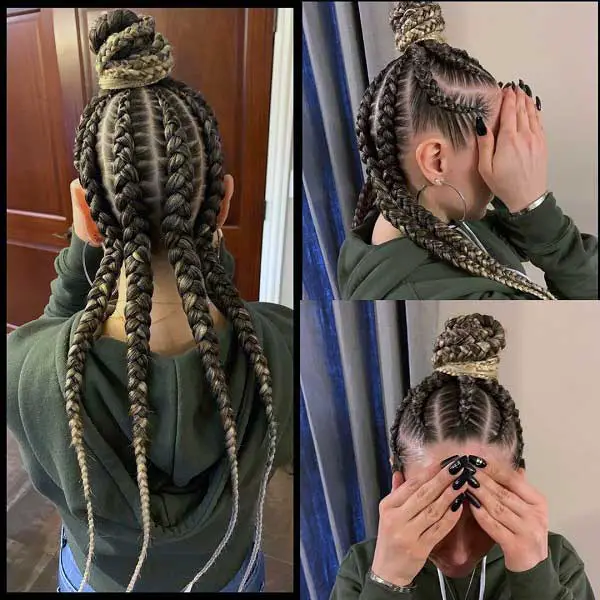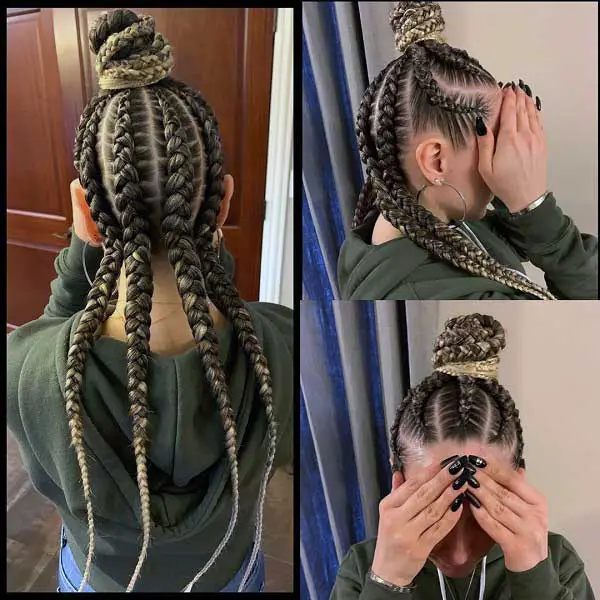 This is a classic interpretation of the half up, half down braids. The braids are multi-tonal and woven in thick, wave-like cornrows with the front half made into a bun and the remaining half, let down. Absolutely charming ombre braids!
22. Middle Braid Bun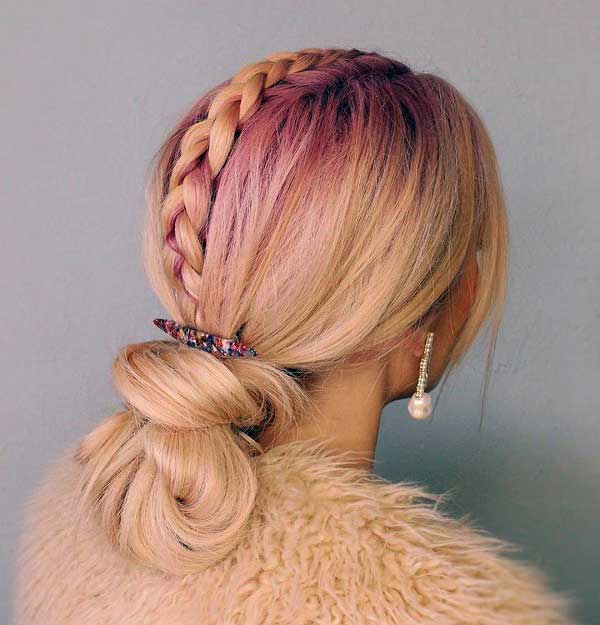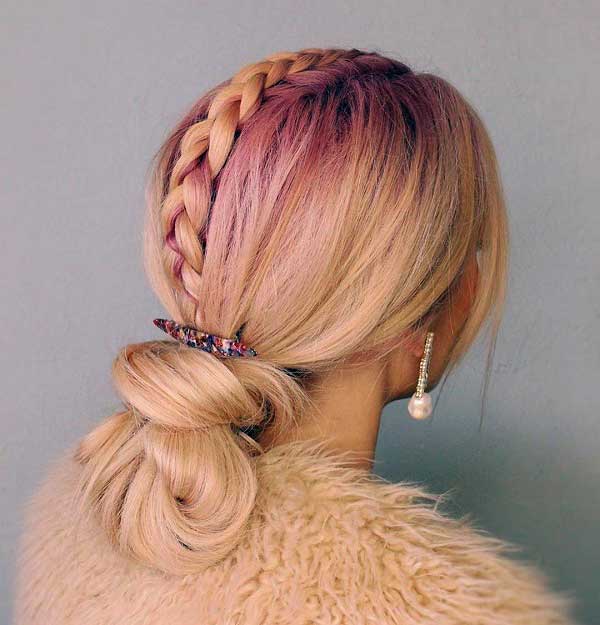 A pink splash on cream-colored hair is a sure thing. The middle braid winds from front to back, and is beautifully tied into a low bun. This style will have you looking like a celebrity in an instant.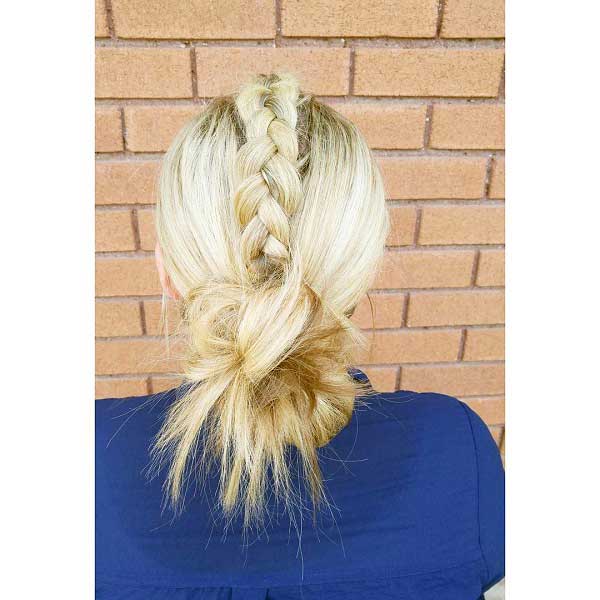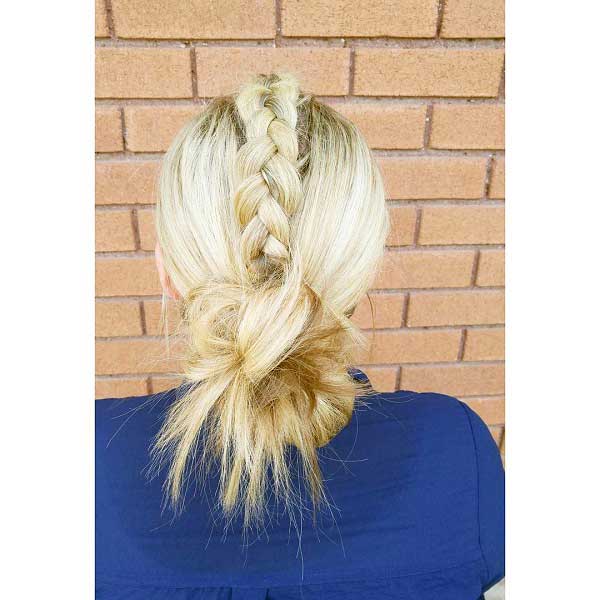 Here's a hairstyle that still captivates onlookers at any fancy events. The bun is gracefully tied into a knot. It has an amazing blonde appeal, with a thick middle braid to add a posh and vibrant twist.
23. Braided Chignon Bun Hairstyle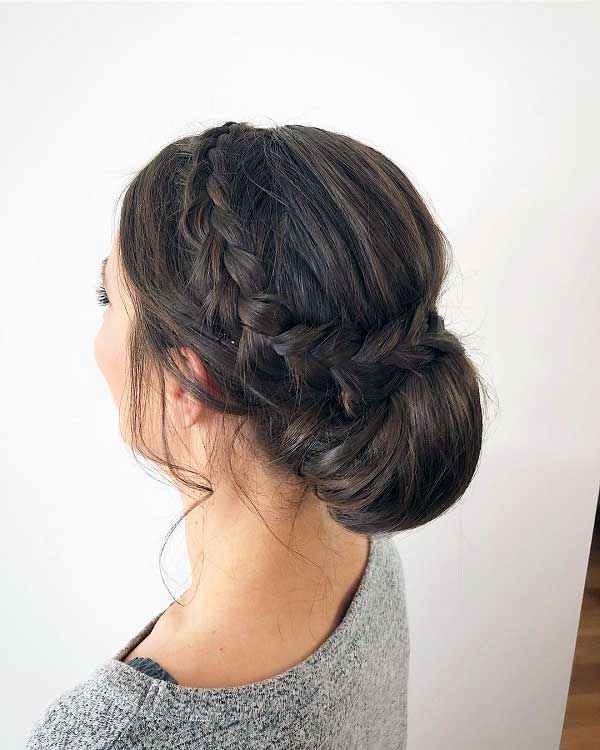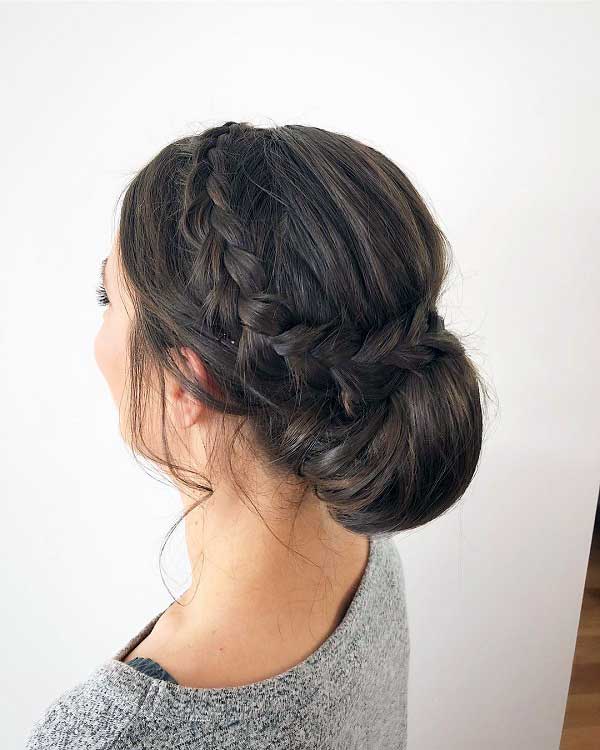 This braided bun hairstyle is always a surefire way to show you're a chic girl. You can leave some flyaways for effect. A single French braid to the side, blends into the chignon bun making for a stunning and classy look.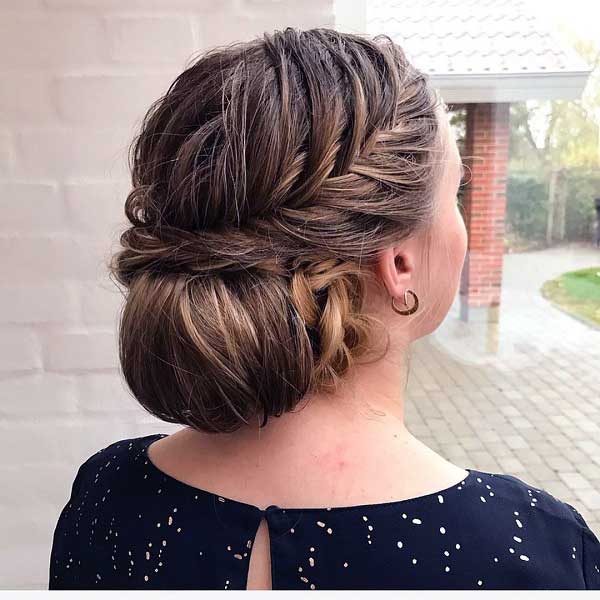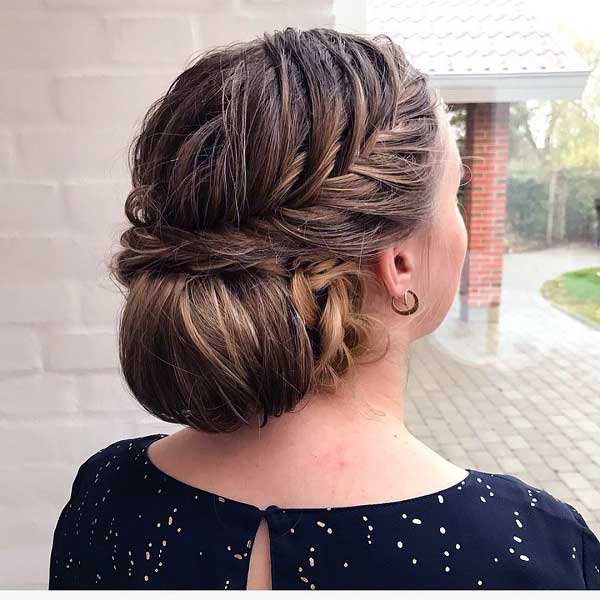 The beauty of this braided chignon bun hairstyle is that it is very practical and perfect for all hair texture types. You can use this as a protective hairstyle for your beautiful, natural messy locks. It's indeed a beautiful mess!
24. Donut Braid Bun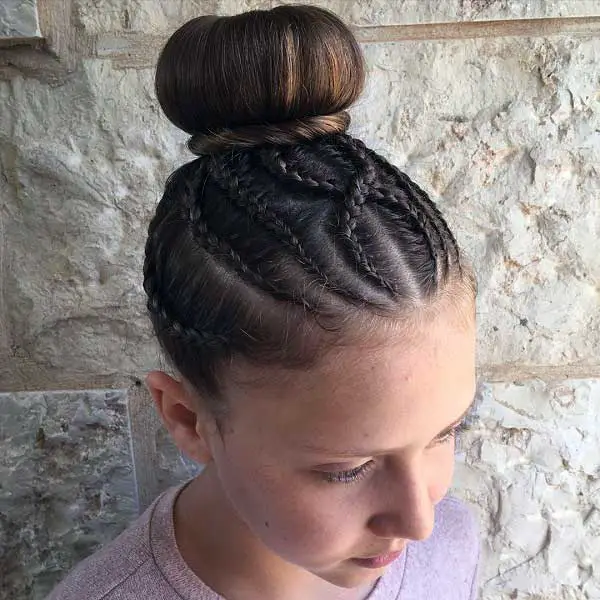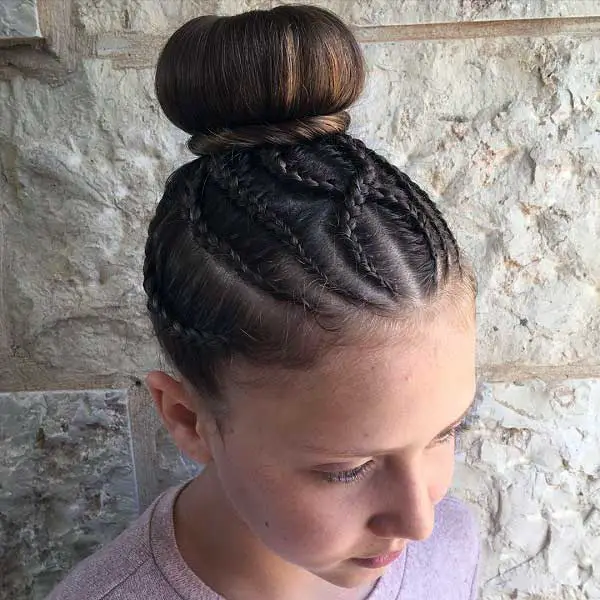 We all know the struggle involved in getting that perfectly round, picture-perfect bun. However, this hairstyle boasts a beautiful donut bun with intercrossing braids that give a cool edge. It is an amazing look for that prom date.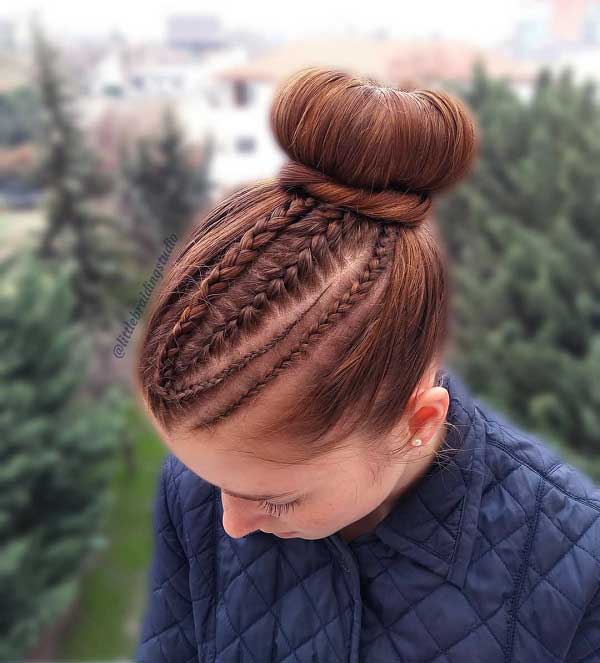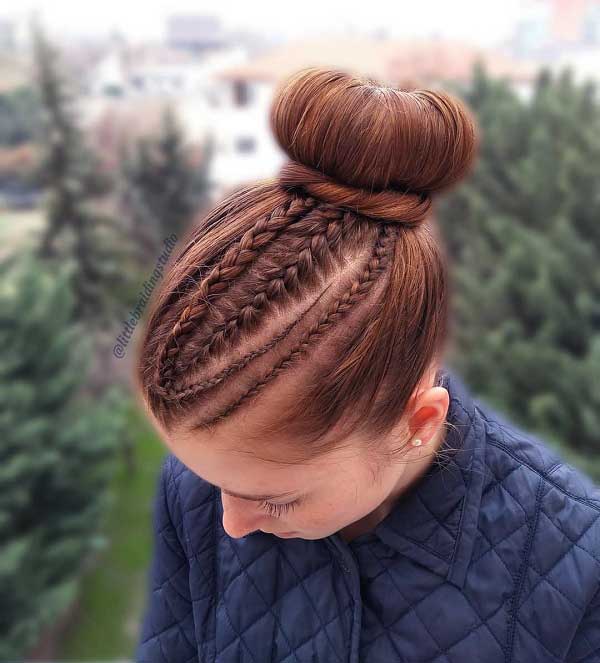 With a creative braiding pattern and its magnificent auburn hue, this is a style for every season and occasion. The donut bun adds in elegance, sophistication and a fun edge. It is suitable for oval and heart-shaped faces.
25. Wedding Hair Braid Bun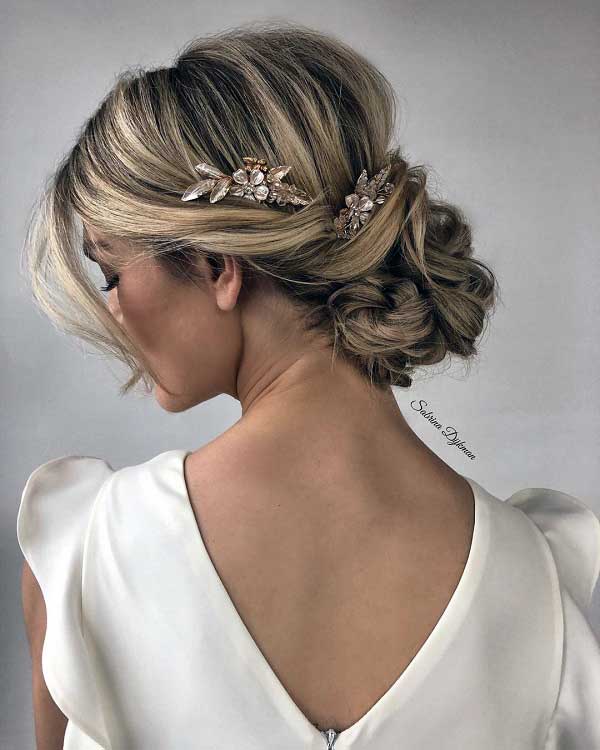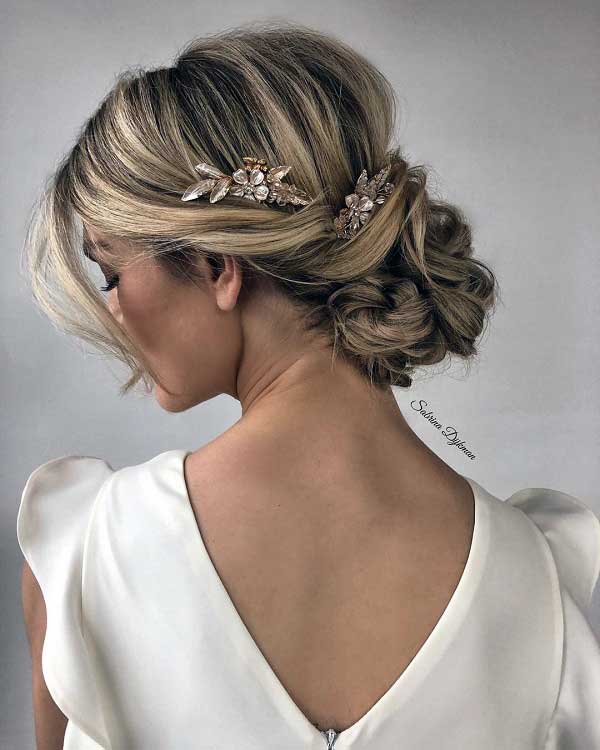 Hair clips are indispensible for wedding hairstyles because they provide flexibility when styling.  This hairdo has amazing highlights that create a balayage effect, giving it a lush appearance. With this on, you would be nothing short of a stunning bride.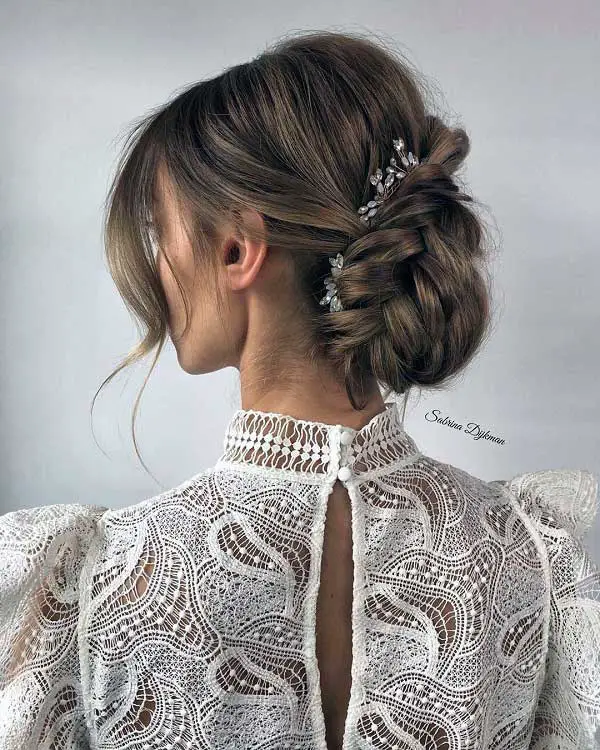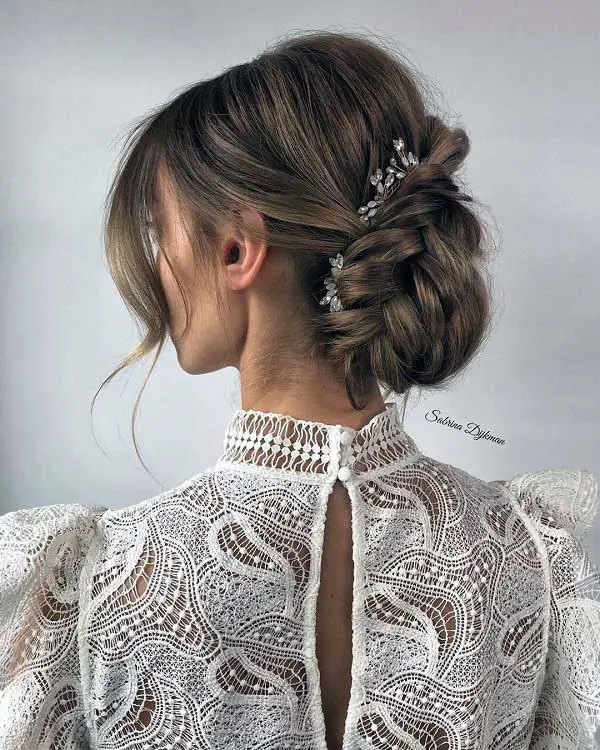 A beautiful bride deserves to look nothing less than ravishing on this most unforgettable day. This style gives you the liberty to go all out with the braids and floral accessories you need to create your bridal fantasies from childhood.
26. Rope Braided Bun Hairstyle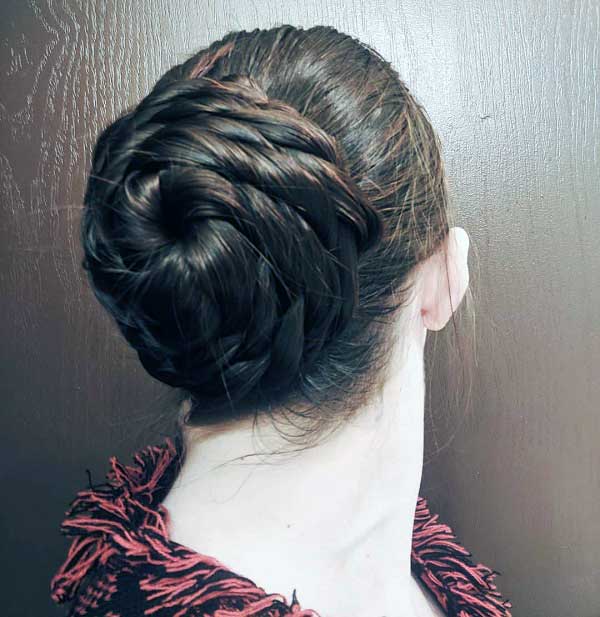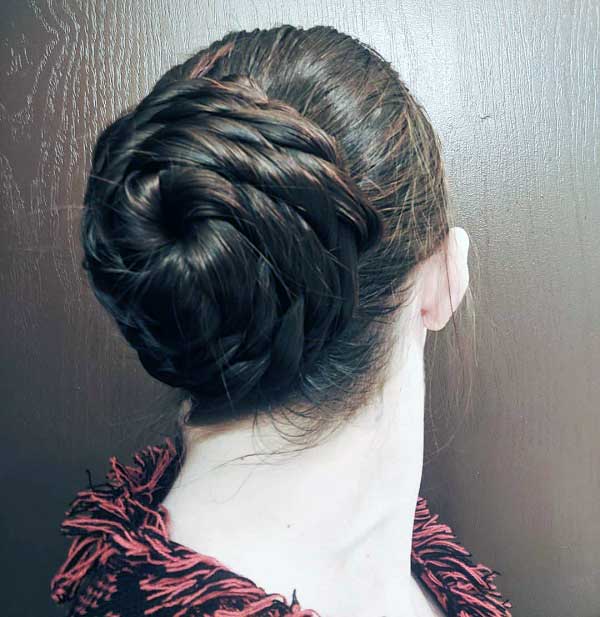 There is something truly memorable about rope braids. Here, sleek black locks are made into rope braids then curled into a gorgeous bun.  This is a style that fits right in the workplace and is suitable for all face shapes.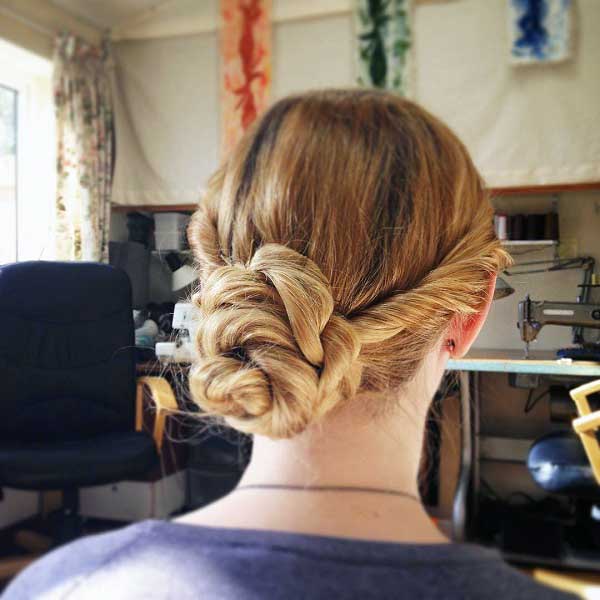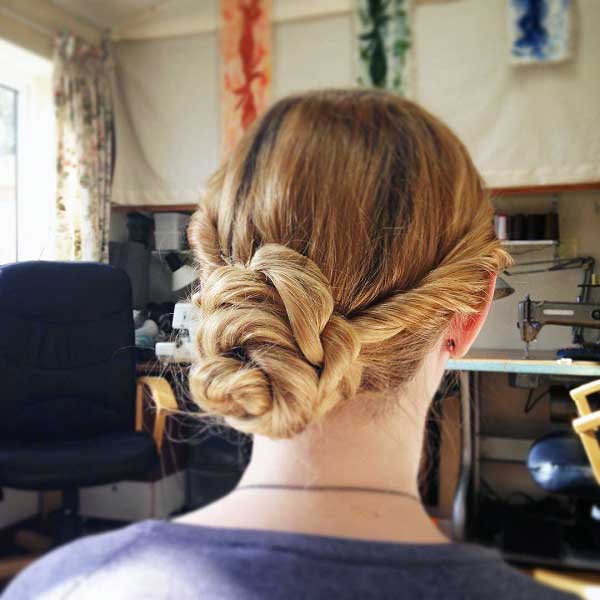 Brown hair never lets you down. The hair twists on both sides transitioning into a rope braid bun at the middle. This alluring hairstyle requires little effort and the highlights add an extra dynamism and spice.
27. Braided Bangs Hairstyle With Bun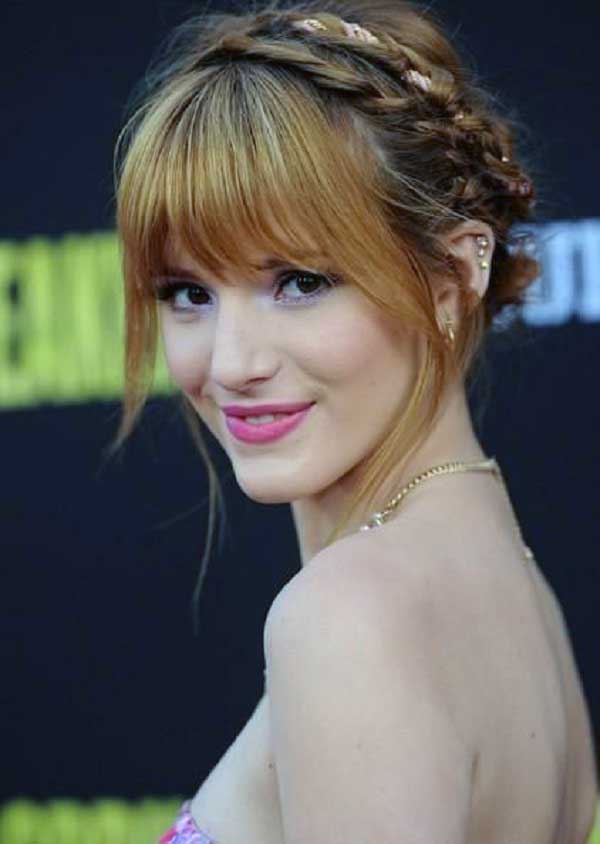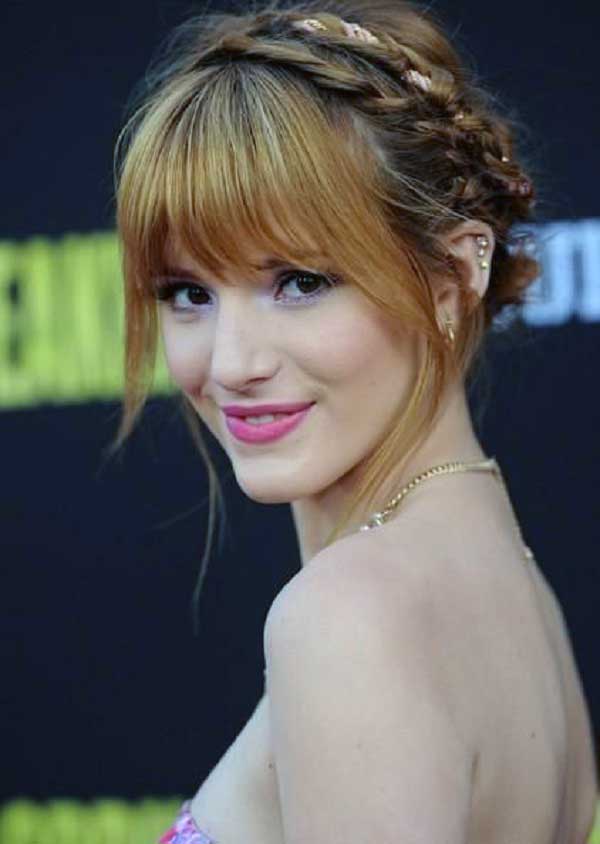 Who says bangs don't go with braids? The bangs frame your face beautifully with the golden brown color contrasting the cool, coffee-brown braids and bun, giving off a classy vibe. This looks magnificent on oval and heart-shaped faces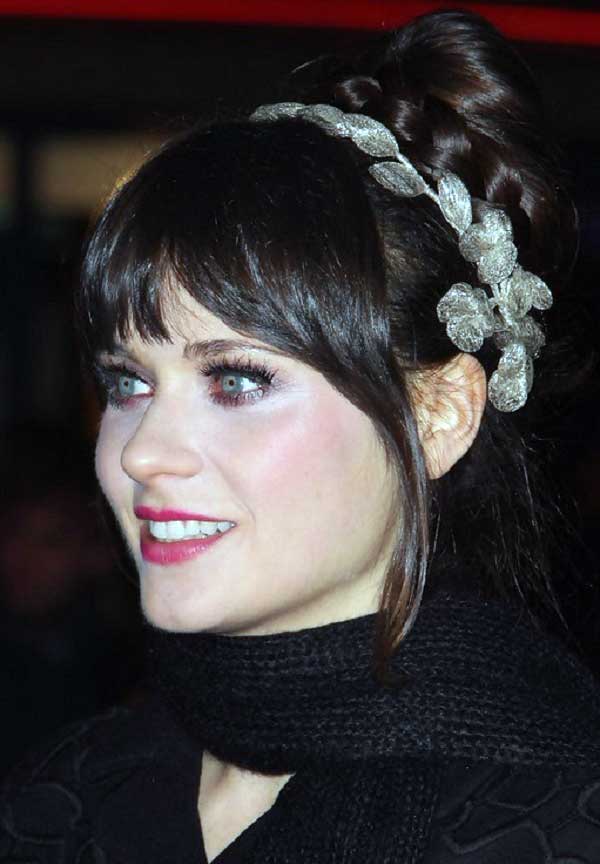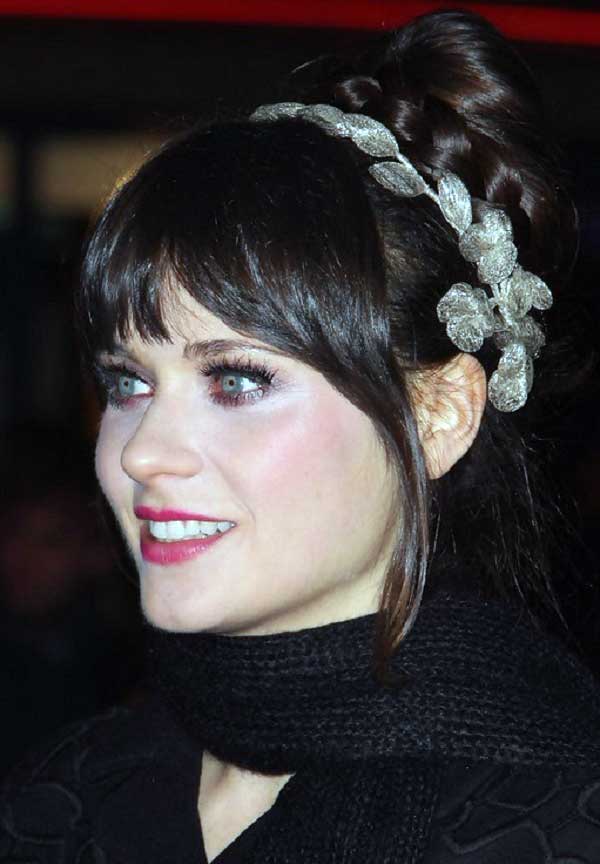 You simply can't get bored of braided bangs with a bun. They are convenient and guaranteed to make you look fabulous every time. Dark hair is enough to do the trick and you can adorn the bun with floral accessories.
28. Waterfall Braid Into Bun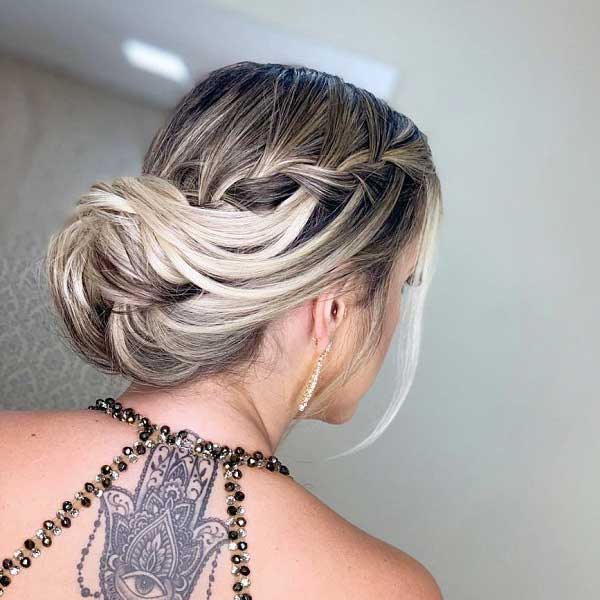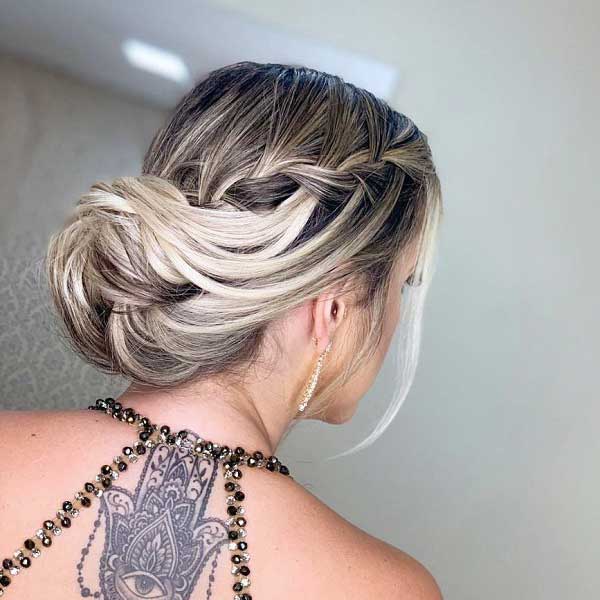 For a truly majestic hairstyle, you would fall in love with waterfall braids with a bun. It has eye-catching highlights that beautifully align to create a sleek, balayage effect. The bun is a beauty and the overall look, breathtaking!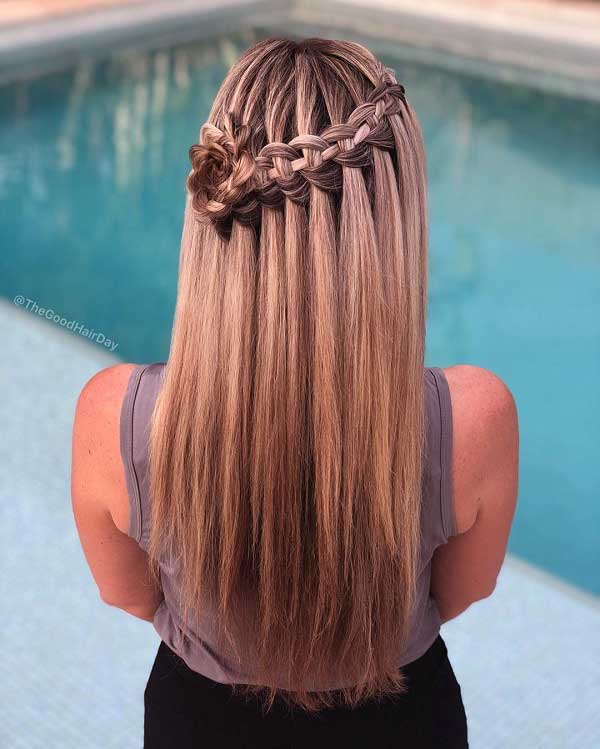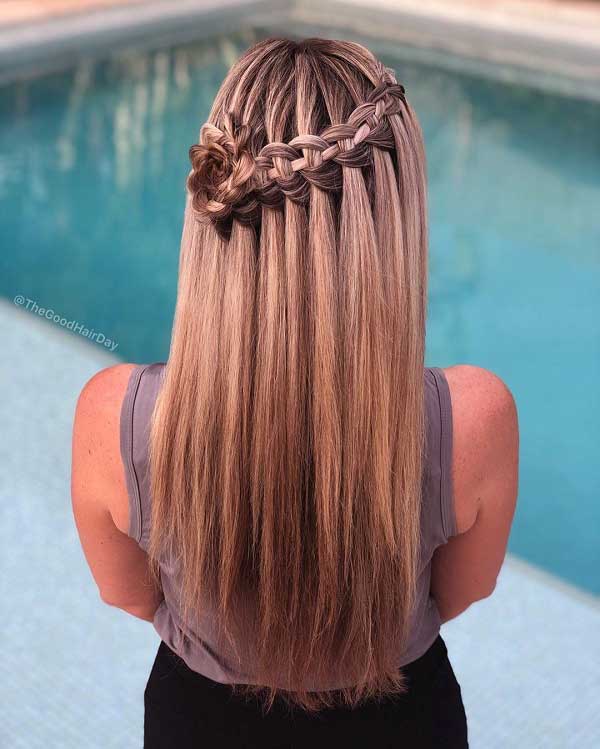 Do not miss out on fun styles because of your hair length. This waterfall braid is a pleasing way of showing off your beautiful, straight hair. It is a modern impression of flower crowns and gives your coif an ethereal quality.
29. Curly Bun With Braid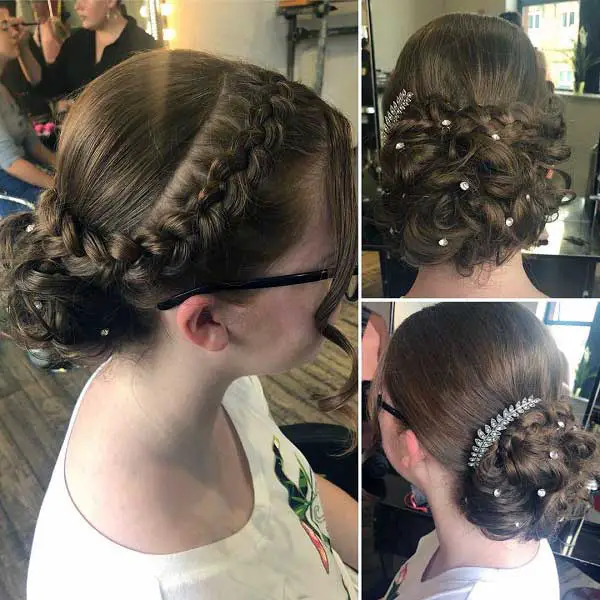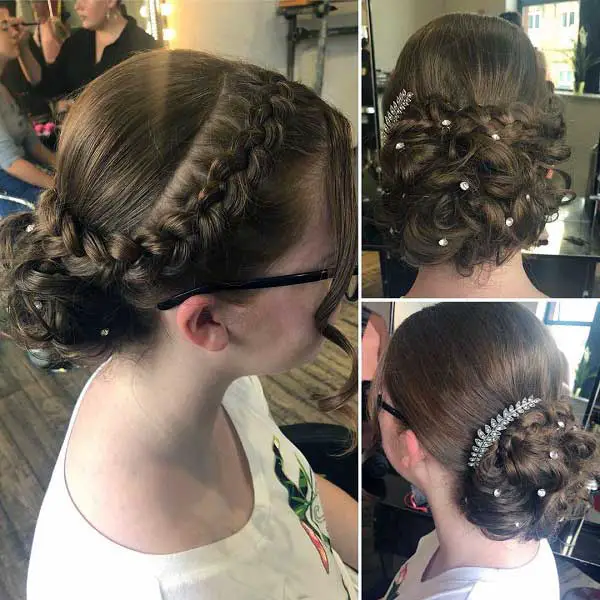 Having a braid works wonders with a curly bun. In this case, it is a side French braid, making its way into an elaborate bun at the back of your head.  This is perfect for all face shapes.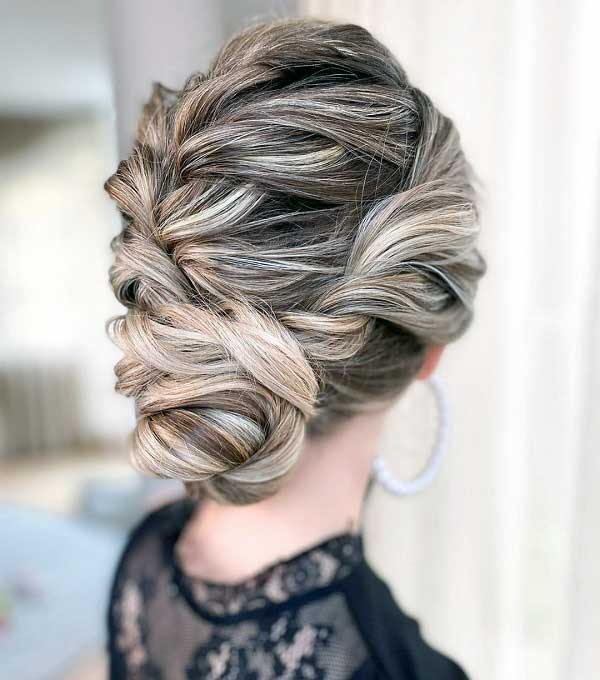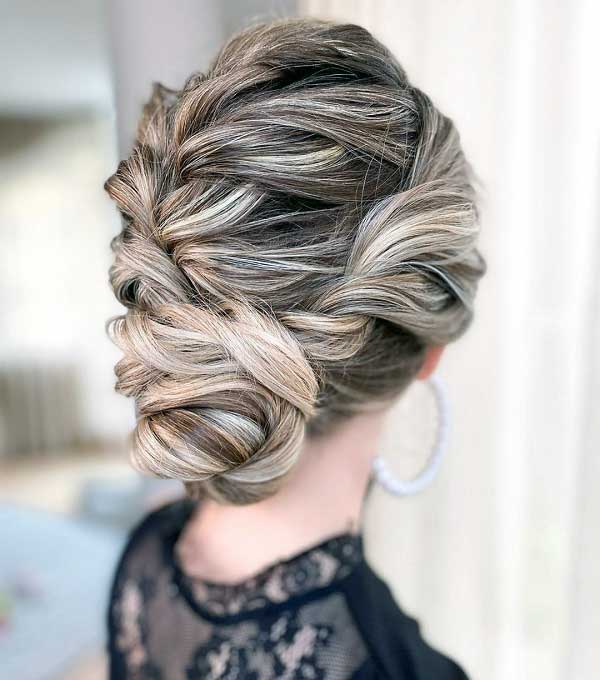 Try not to secure your bun to the head tightly with pins for this style. It does not necessarily need to have a neat and slick look. Loose braids with a curly bun for a messy look would suffice.
30. Braided Bow Bun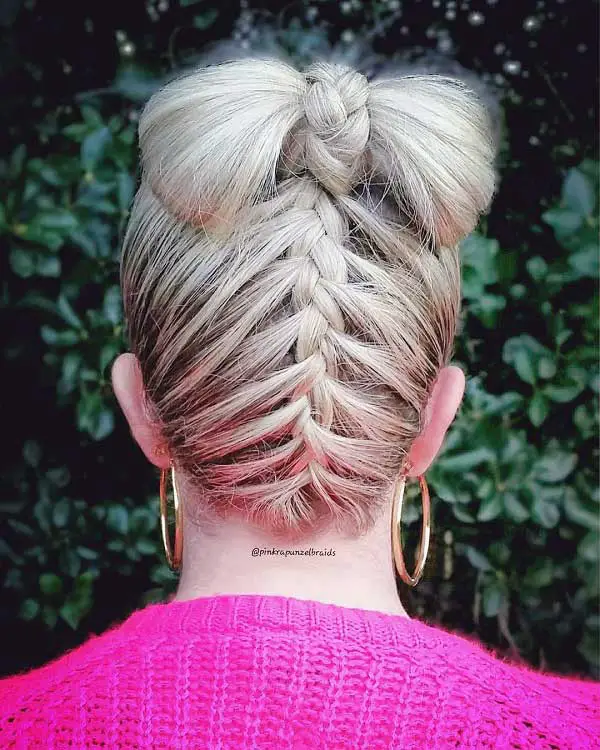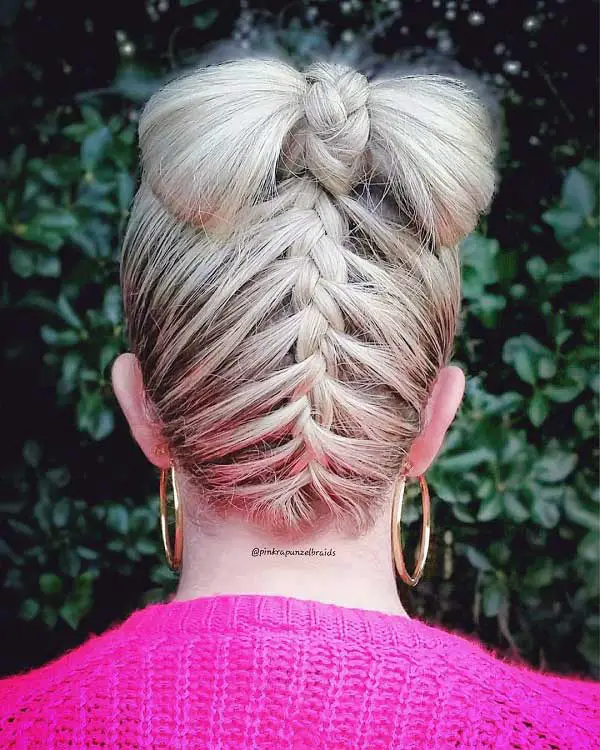 This braided bun style is a special treat for our girly girls. The lovely upside down braid has a sweet ombre flair, with a braided bow from your hair serving as an accessory. This is perfect for an evening out with friends.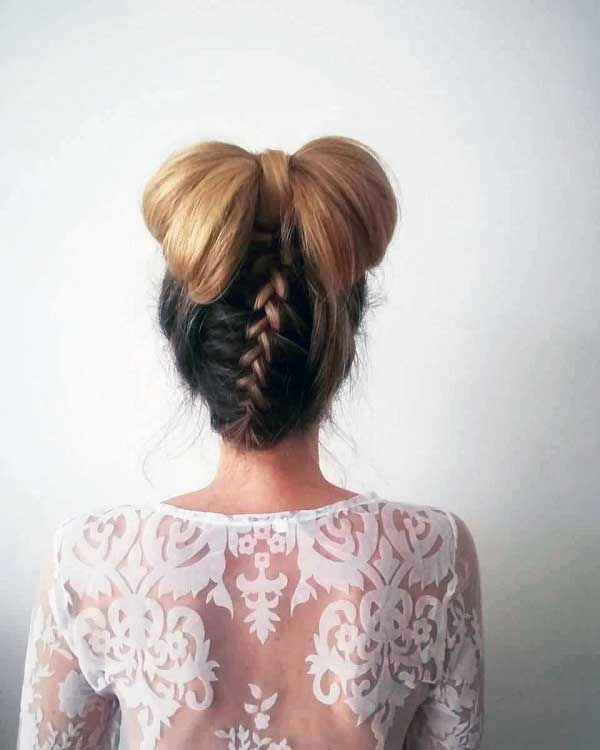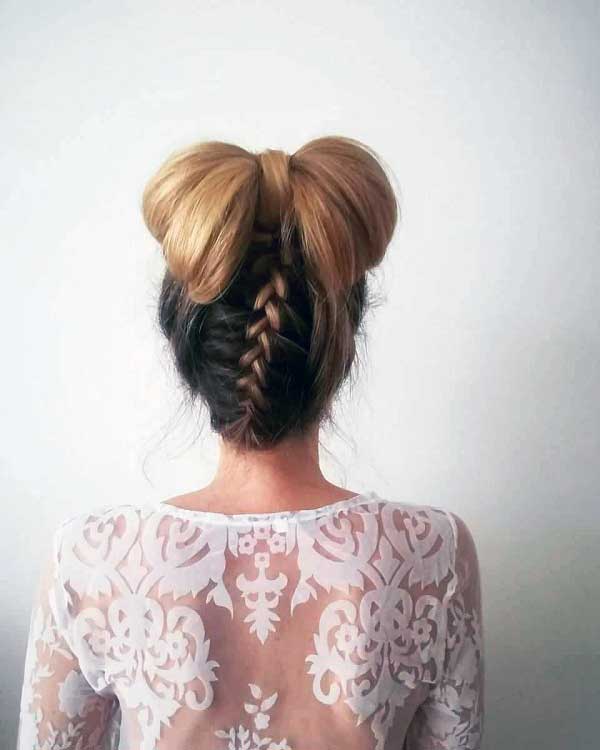 Combining braids with buns can be really cosmetically pleasing. The brown upside down braid pops on a dark hair background. To finish up, tie the ends into a carefree bow. This is for the beauties with an oval-shaped face.
There are so many creative styles you can do with your hair but braided bun hairstyle is simply special. They help create a smart and endearing look, no matter the variation you pick. So, if you are pondering on a new hairdo, look no further. These braid styles are just for you.