The messy bun with bangs hairstyle is one that's seemingly ageless with a lot of depth and effortlessness that it's a highly considered style for that 'I woke up like this' look. However, like many other hairstyles, there are dozens of ways it can be worn as they're several approaches to bangs. This piece is highlighting a few of the looks you can get when rocking a messy bun with bangs.
Types Of Messy Bun With Bangs Styles
Here are a few of the many ways you can rock your bangs with a messy bun after your next salon appointment.
1. Loose Grip Messy Bun With Long Bangs
Featuring long bangs that go beneath the chin whilst framing the face, a loosely gripped messy bun with a whole lot of layers, and a center part, this look is both casual and elegant too.
2. Messy High Bun With Bangs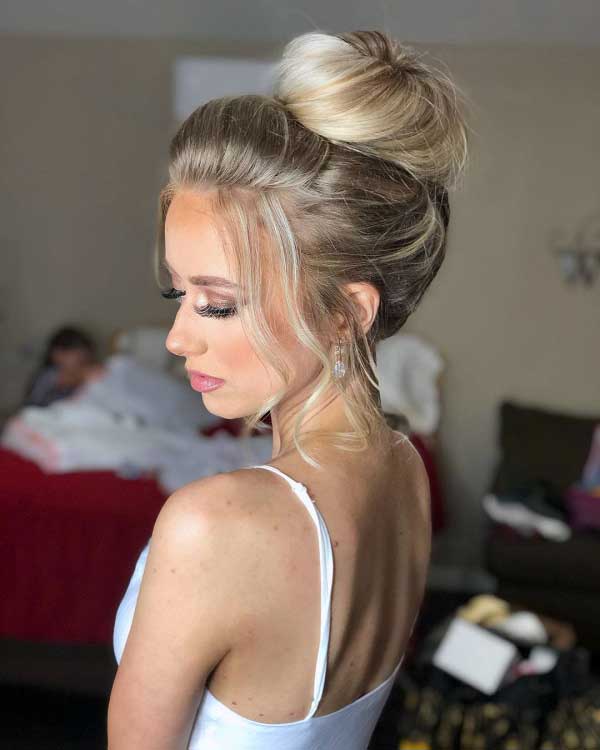 This messy bun comes equipped with loose bangs that drape down the face whilst accentuating its features. It also features a tight grip and no parting. This look can suffice for a bridal look.
3. Messy Bun With Ombre Colored Hair
Firstly, the color transition in this look is seamless and stunning. The style features center-parted curtain bangs, a low bun, and a lot of loose strands. It's very elegant too.
4. Banged Messy Bun With Thin Hair
You do not need so much hair thickness to rock a messy bun hairstyle with bangs and this look proves that. The messy bun here is held low and the loose strands circle the face like bangs.
5. High Ombre Messy Bun With Bangs
Here's a look that has got a bit of everything. From the high nature of the messy bun to the center-parted bangs which are draped over the ears, the ombre color transition and of course the endearing loose strands.
Recommended: Trendy Braided Bun Hairstyle
This messy bun has a bit of a French aura to it. Featuring a color transition, soft loose bangs and a whole lot of effortlessness, this is definitely an approach that should be considered for your next salon appointment.
Here's a messy bun look with bangs that doesn't seem to be overly messy at all. This approach is perfect for those who prefer to tuck in their loose strands instead of letting it hang. It's simple, low maintenance and very stunning.
6. Messy Bun With Center-Parted Bangs
Speaking of low maintenance, this messy bun requires little to no effort. Featuring a center-parted curtain bangs and a simple messy bun, this is a go-to look for either casual or corporate events.
Similar to the previous, here's an approach to the style achieved with just a scrunchie. Hence, it's quite an easy style. The center-parted curtain bangs with top knot bun give the look character.
7. Low Messy Bun With Long Bangs
The color, length, and texture of this hairstyle are its key elements. However, the long bangs, messy nature, and overall appearance give this look a bit of edge and class.
This low messy bun look with long bangs is quite unique from the rest. The bangs here are curled and so is the hair in general. However, it's just as effortless but maybe not so low maintenance.
8. Bridal Messy Bun With Bangs
Messy buns are quite popular for bridal looks and here's how it can be rocked with bangs. Featuring a center part, long curtain bangs and a lot of loose strands, this look is stunning enough for one's big day.
Featuring honey colored hair, a scrunchy and thick center-parted curtain bangs, this style is simple but elegant enough to make you the star on your big day. This style lays emphasis on the facial features.
9. With White Highlights
Here's quite the simple messy bun hairstyle with too little hair strands to be considered for bangs. Achieved with a scrunchy and white or silver highlights, it's low-maintenance and quite stunning too.
Here's a messy bun look that's simply white. Featuring white or platinum blonde locks, center-parted bangs and a whole lot of edge, this is one approach that's got the character and pizzazz you require.
Messy buns can feature long hair too. This approach comes equipped with back-length hair and it's styled in a 'half-up half-down' nature. Hence, it's very low maintenance and easy to style.
With a plethora of approaches, styles and types of messy bun hairstyles which feature bangs, the need to explore different options before making a decision is great. Thus with the looks embedded in this piece, one can weigh the options and figure out a style through this inspiration piece for one's next salon appointment.