A nape undercut is anything but safe and boring. Rather it can be best described as daring, edgy and trendy. This risqué "hairdo" is loved by women of all ages and hair types because it offers an incredible definition and dramatically updates their overall outlook in no time.
It doesn't matter if you have long, short, straight or curly tresses, the boldness of an undercut on your nape would never fail to make you a style goddess. Try it now, Babes!
What Is A Nape Undercut?
A nape undercut is when you shave or cut the manes on your neck really low to make an effect. It is an interesting haircut and can change your appearance drastically. You can also deck up this undercut hairdo with different shapes, colors or even accessories to make it ever so versatile and even more dramatic!
25 Best Inta-Worthy Nape Undercut
There's a huge variety of nape undercuts that you can try in your manes to be your most stylish self. We have discussed the top 25 most striking undercuts that you can try on your nape for an undeniably edgy appearance.
1. Pixie With Nape Undercut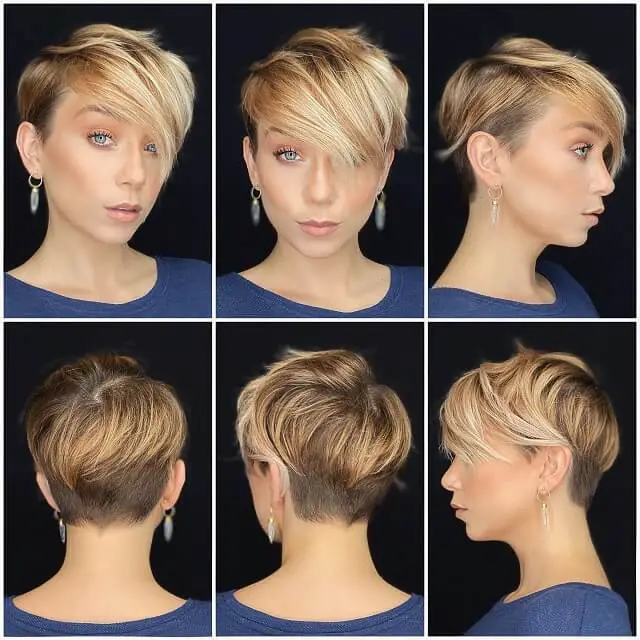 A pixie itself is a stylish haircut. And when you pair it with a nape undercut, the outcome is "oh so chic and edgy". It looks not only uber stylish but also ensures incredible comfort. Style it with messy or sleek styles; either ways, its appeal is undeniable.
2. Nape Undercut For Long Hair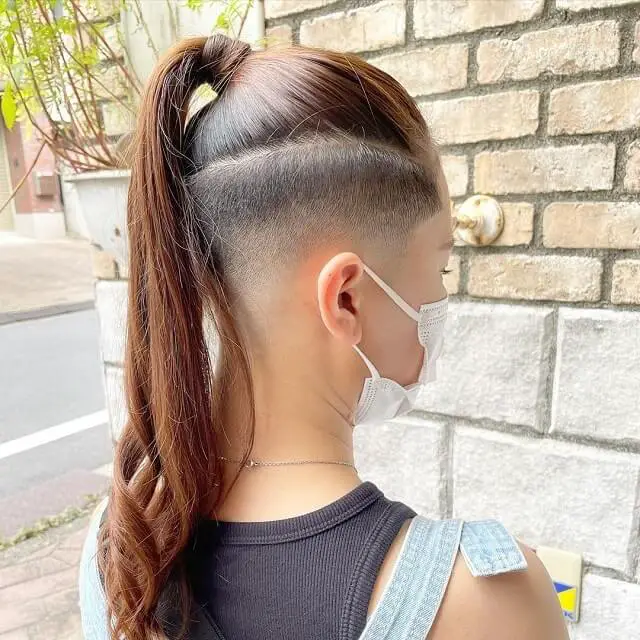 Add a whole lot of edge and drama to your long hair with a sexy nape undercut. This amazing hairstyle makes you look cool and comfortable without sacrificing the length of your flowy long manes.
3. Triangle Female Nape Undercut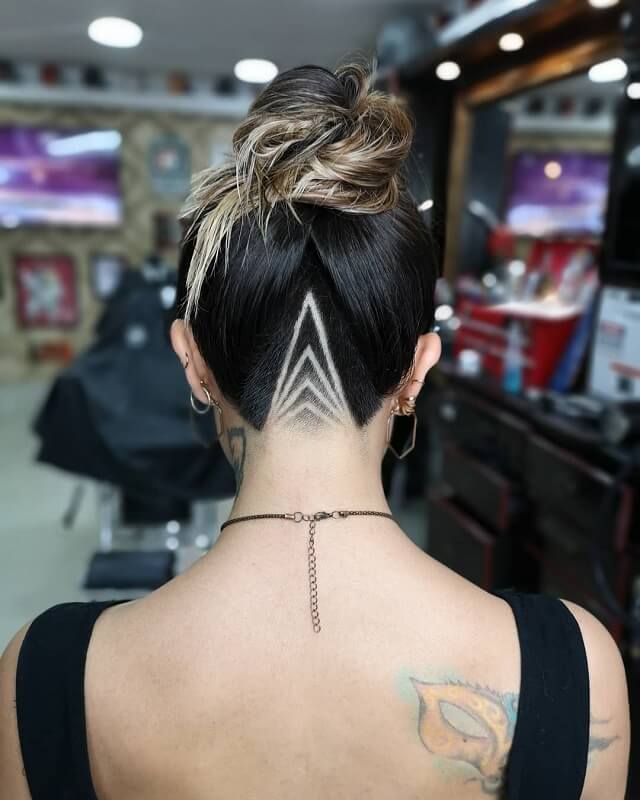 Make the undercut on your nape stand out with a creative triangle design. The perfectly done triangles paired with a sultry topknot draw all the attention towards you and make you look ravishing. Pair it with an open-back dress for maximum effect.
Give your sophisticated bob a dramatic outlook with an undercut at the nape. The shaved back and the classy bob make your tresses look more voluminous and give it a lot of movement. Style it with sleeker tresses or waves to create versatile styles effortlessly.
5. Shaved Undercut Nape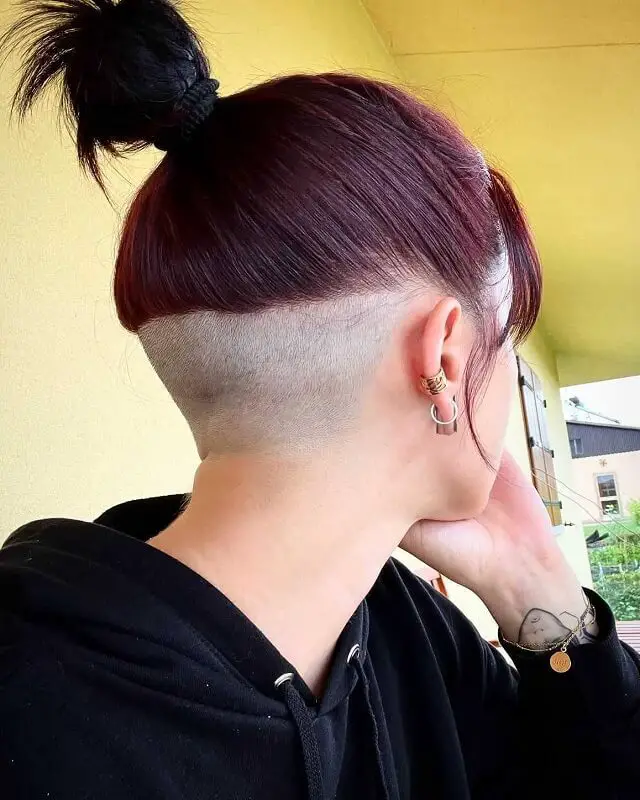 If you are looking for a more daring look in your hair, try getting a shaved undercut on your nape. A shaved nape not only assures comfort but also looks incredibly versatile. Wear this style with long or short hair; it would always make a stylish statement.
6. Nape Undercut For Short Hair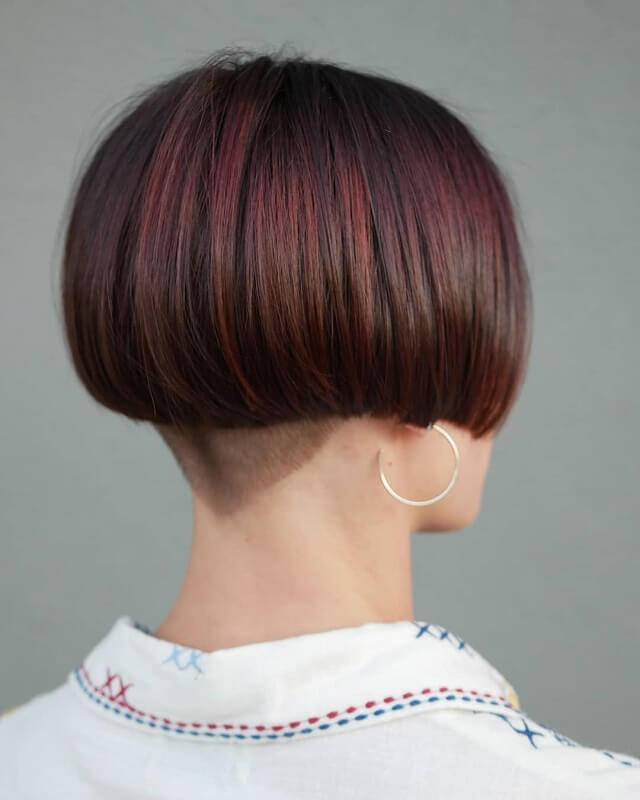 A nape undercut paired with short hair can be bold and badass. If you are someone who loves to make a style statement, this hairstyle is just the right fit for you. Suitable for all face types, this hairdo would surely turn heads, without a DOUBT!
7. Nape Undercut With Curly Hair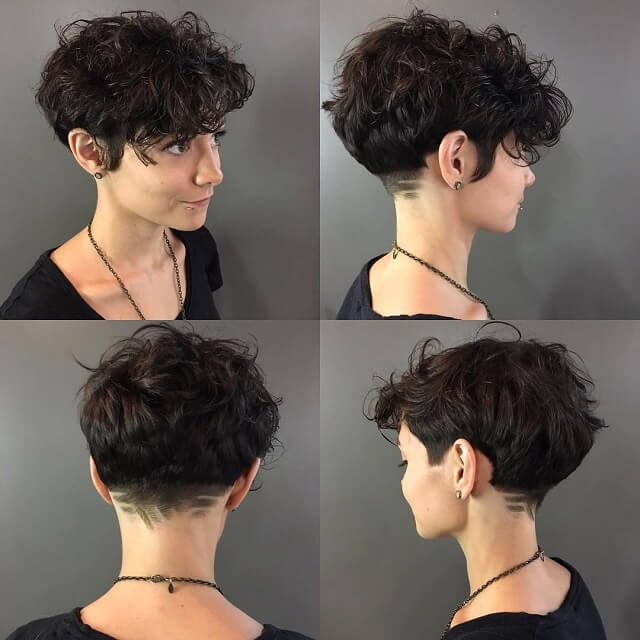 Give your wild curls a much rougher outlook with a chic nape undercut. The designed undercut with the bouncy curls on the top creates the perfect balance in your look. This haircut assures comfort while also being "oh so gorgeous."
8. Nape Undercut For Thick Hair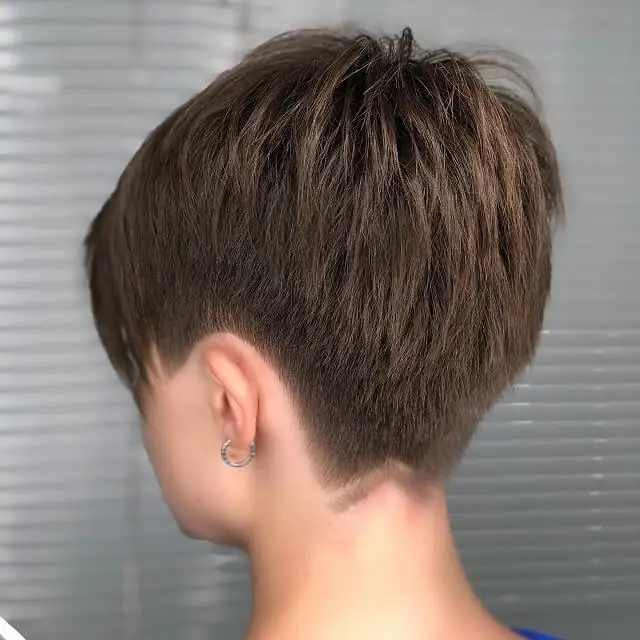 Shed a lot of your thick hair weight with a swanky nape undercut! Because you are shredding a lot of your hair from the back, it makes the tresses feel lighter without sacrificing the volume. This amazing haircut would add just the right bit of glamour and edge to your whole look if done perfectly.
9. Small Nape Undercut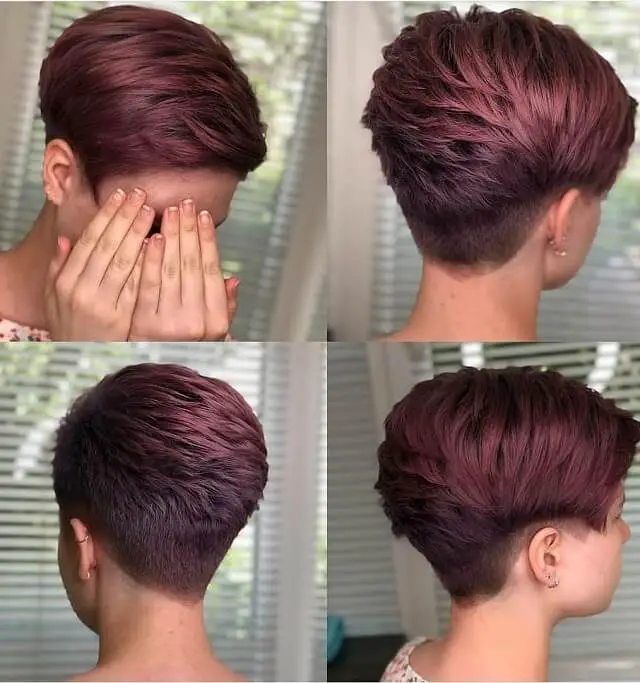 You don't always have to go for extreme, dramatic undercuts in your hair to make a statement. You can try out the small nape undercuts for a subtle yet stylish appearance.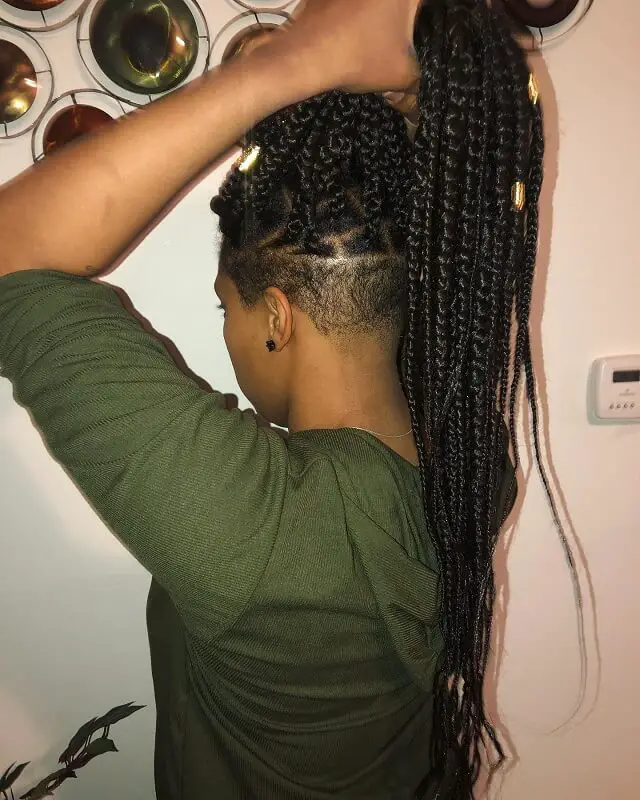 Combine long, sexy boxybraids with a short, sharp undercut at the nape to create a visually interesting outlook. You can either tie the braids in a topknot or create a high pony to beautifully show off your trendy undercut.
11. Layered Pixie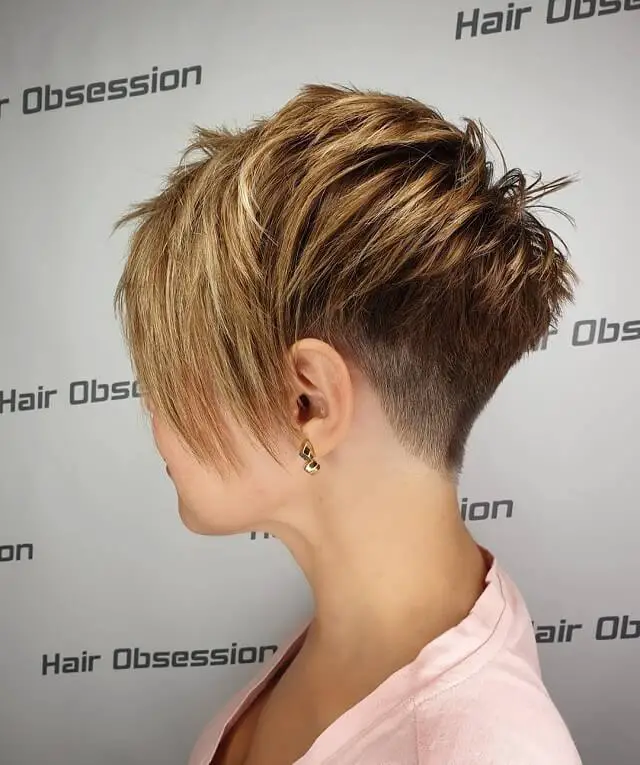 Give your short hair a dynamic spin with a layered undercut at the nape of your neck. Featuring different lengths and layers of the undercut strands, this hairdo gives your hair an illusion of volume and body. It doesn't matter if you have straight or curly hair, this interesting haircut will look flattering on any hair type and any face shape.
12. Nape Undercut For Thin Hair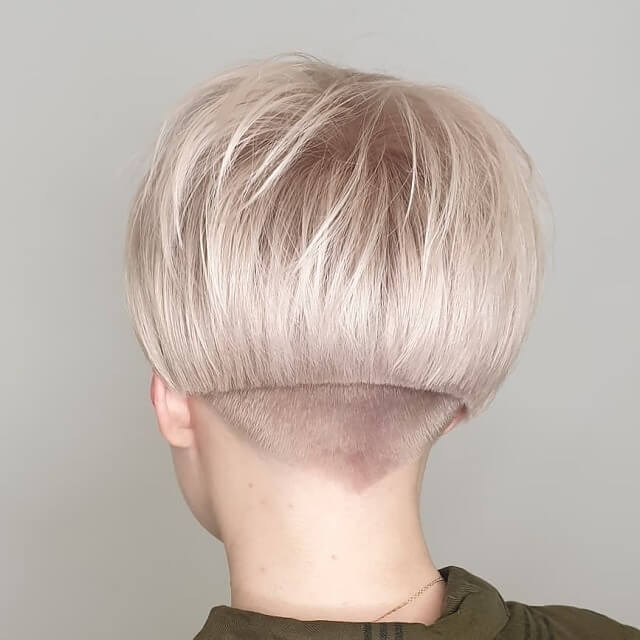 A nape undercut gives your fine, thin hair the much required body and movement. Because the neck is almost shaved, it makes the top hair look more voluminous and bouncier. Try it with different hair lengths for a customized outlook.
13. Chevron Nape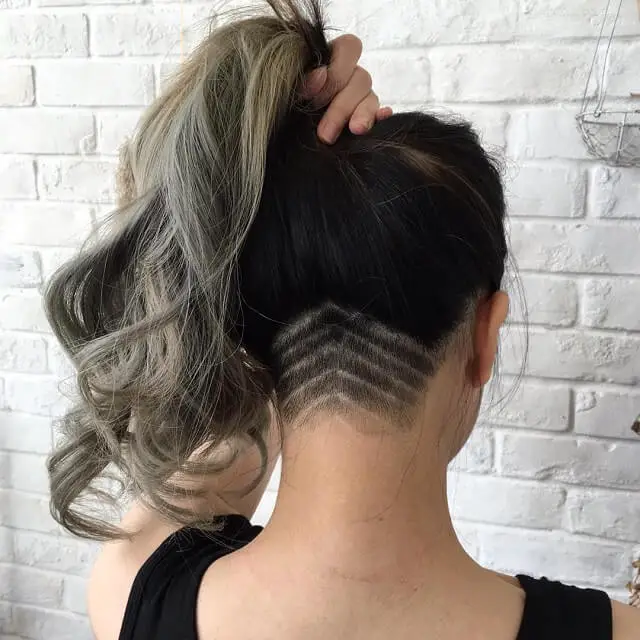 Make your nape undercut more interesting with a chevron pattern! This amazing pattern itself is quite striking, and when you rock it on your neck, the result is anything less than impressive.
14. Glitter And Nape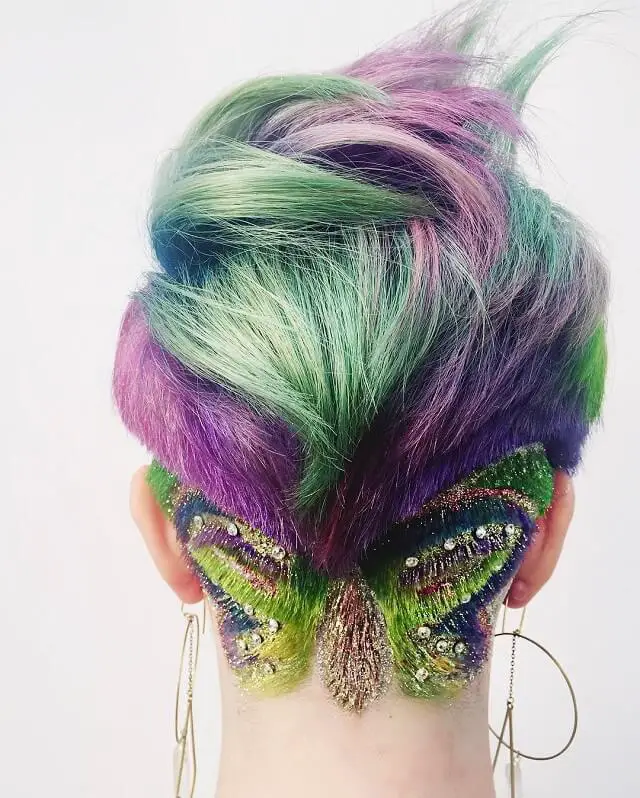 Don't hold back when it comes to adorning your nape undercut with alluring shapes and colors. Decorate it with various colors, glitters and sequences to make the "do" look interesting and versatile.
15. Rose Gold Hair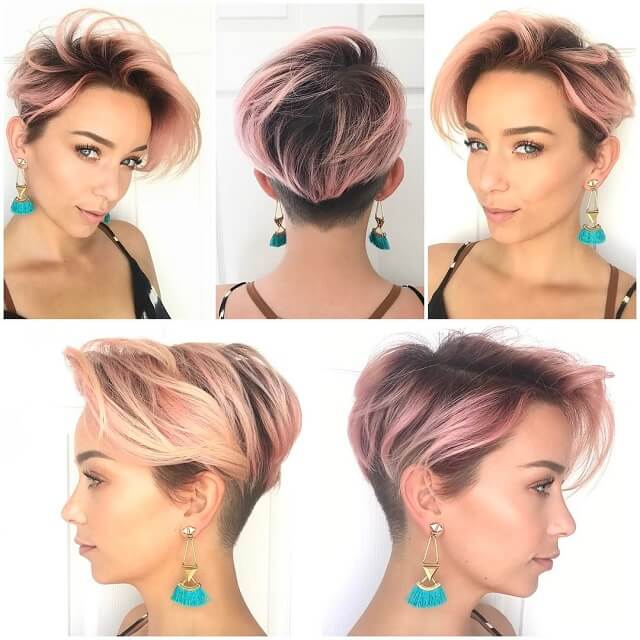 Pair your rose gold hair with an undercut at the nape to make it look even more eye-catchy and beautiful. The edginess of the undercut along with the subtle hues of the rose gold create perfect balance and makes you look as attractive as ever.
16. Honeycomb Nape Undercut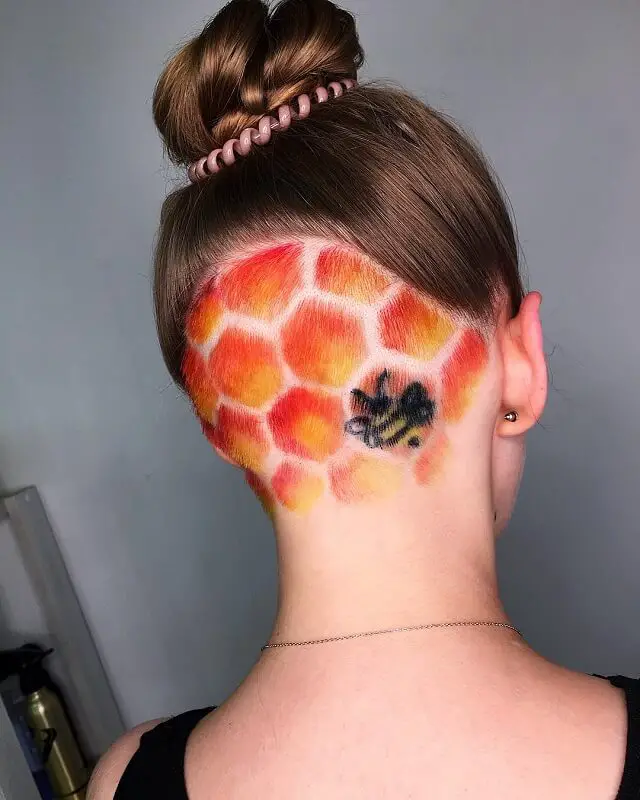 The honeycomb pattern in your neck can be alluring and striking. Try it with longer or shorter hair, it would never fail to make you stand up in a crowd.
17. V-Shaped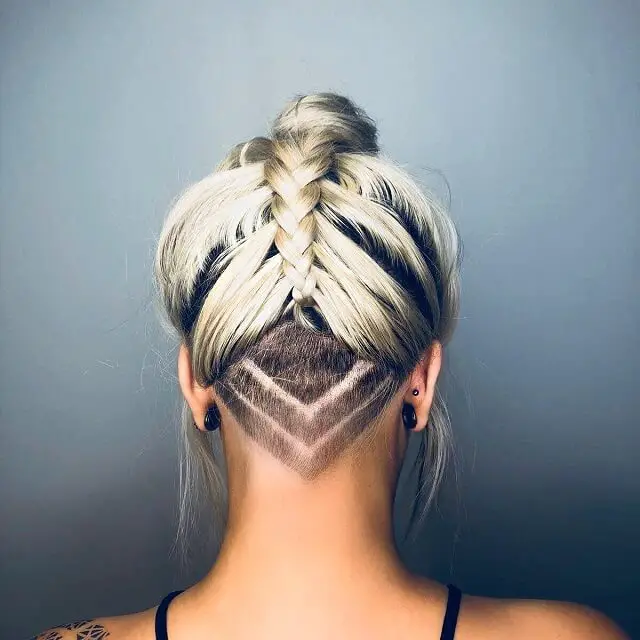 If you are looking for a simple yet cool design for your nape undercut, consider a minimal 'V' hair design. You can either try a single "V" or rock a double one to attract maximum attention. Talk with your hairdresser to find the best style for you.
18. Original Asymmetric Design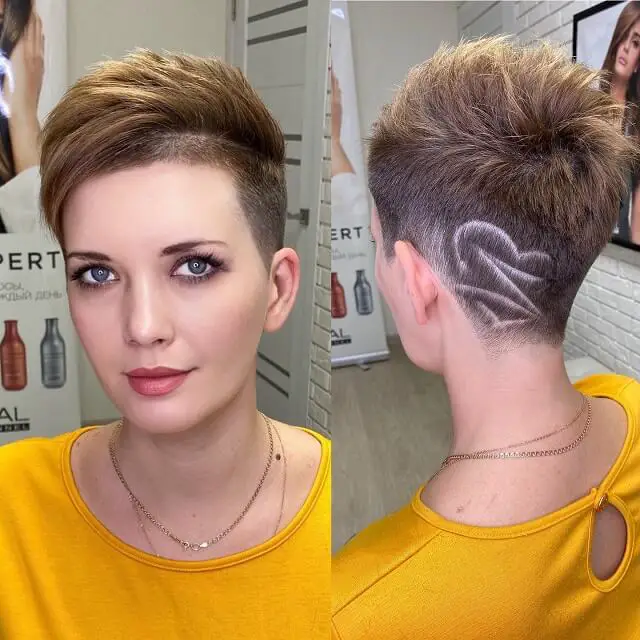 An asymmetric undercut looks flattering with a short bob or pixie haircut. If you are someone who isn't afraid to take risks, this nape undercut design is for you.
19. Tribal Design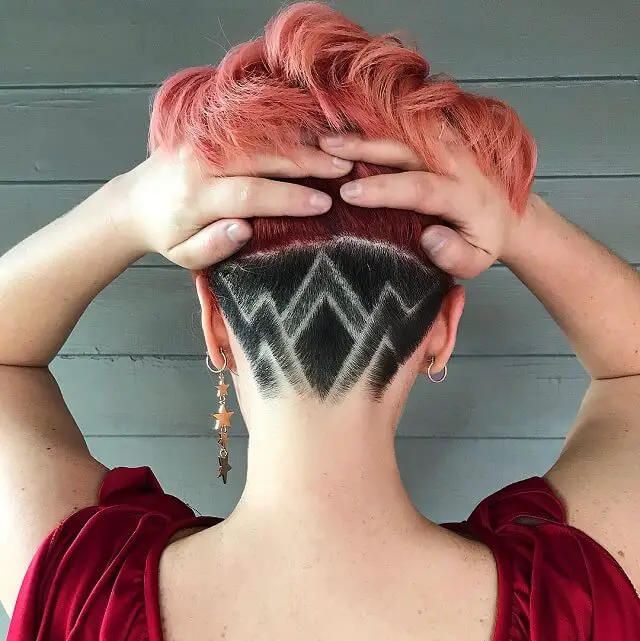 Why settle for simple, straight lines when you can adorn your nape undercut with an alluring tribal design? The perfectly designed, shaved lines at the nape of your neck draw enough attention and helps you to be the star of the crows without even trying hard!
20. Zig Zag Pattern On Nape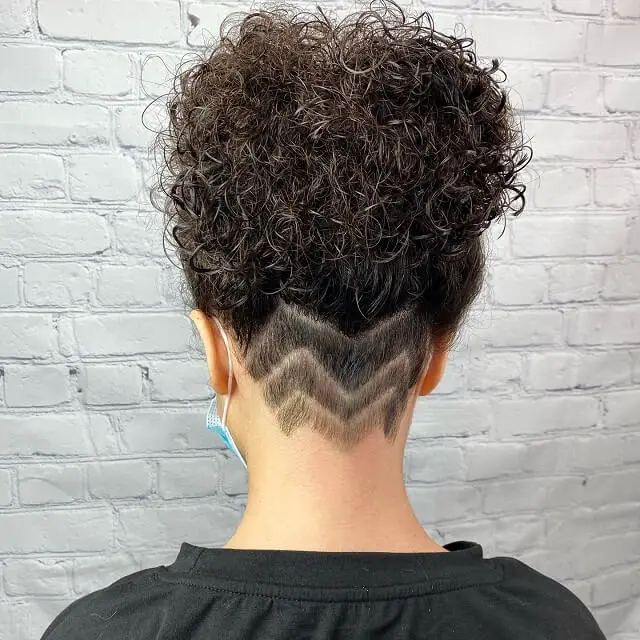 There are a few cuts that is more expressive than a zig-zag cut done at the nape of your neck. The contrast between the lines and the fades makes the style stand out instantly. While this undercut design goes well with a short haircut, you can also pair it with longer tresses for styling versatility.
21. Nape With Different Color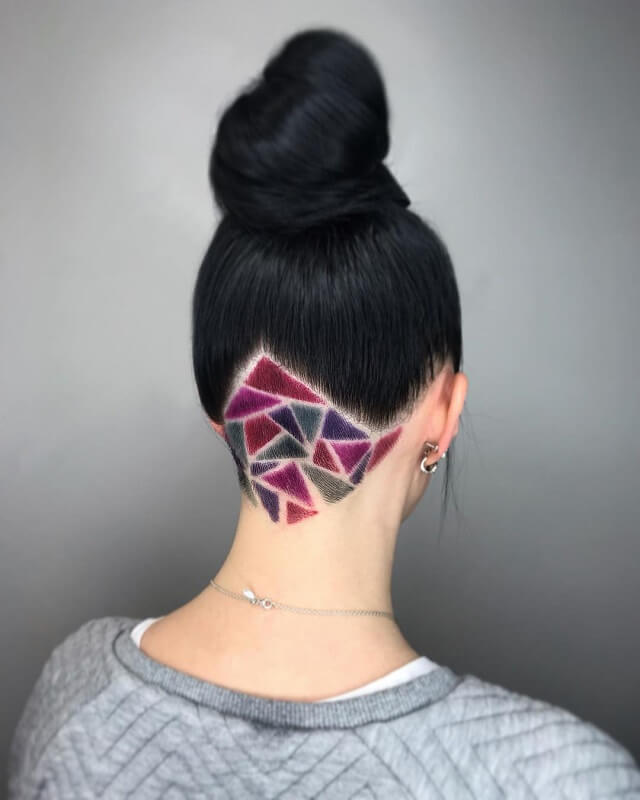 Coloring your nape undercut with different hair colors can make it more versatile and funky. Try out trendy shapes with funky colors to make more of a statement.
22. Nape Undercut with Red Bob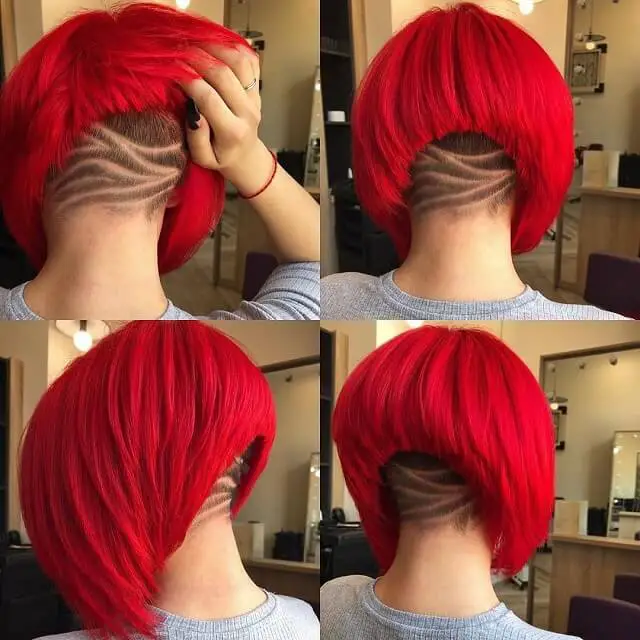 Want to look fiercely fashionable? Try out a nape undercut with a bright red bob haircut. The edginess of both the bob and the undercut makes you look attractive and sheds all the spotlight only on you!
23. Braided Nape Undercut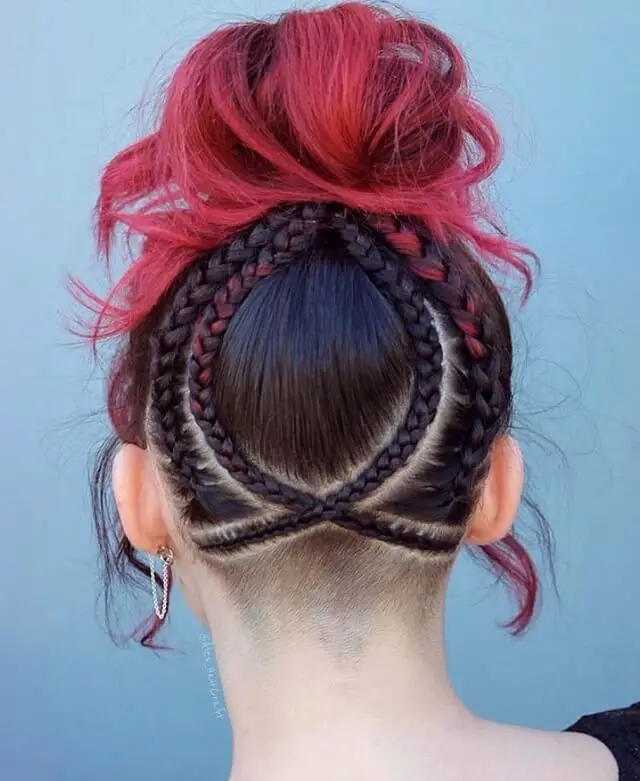 Braids at the neck are ever so popular. And when you pair them with a faded undercut, its appeal is enormous. Make sure that you have long tresses [enough for making braids] before trying out this "hairdo."
24. Abstract Nape Undercut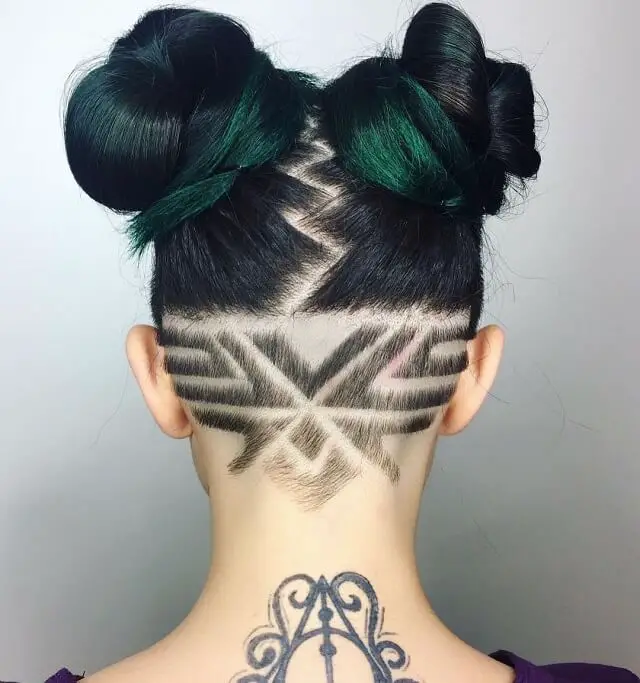 As its abstract, it doesn't follow any rules or patterns. Ask your hairdresser to create a design with the patterns you like for a super unique outlook.
25. Flower Design Nape Undercut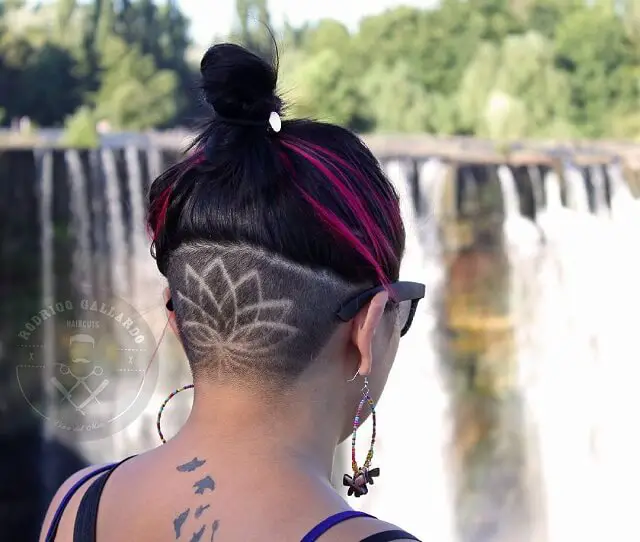 Take your hairstyle to the next level with a flower design on the nape of your neck. The faded undercut with a precisely-drawn flower expresses your creativity and makes you the center of attention easily.
FAQS:
How Long Does It Take To Grow Out An Undercut?
The time an undercut would take to grow out largely depends on your hair growth level and the type of undercut you have tried. If you have a shaved undercut, it will take much longer to grow out than the one that is not as faded or small.
However, it generally takes somewhere between 3 to 24 months to grow out a nape undercut fully.
A nape undercut isn't just a haircut, and it's a style statement. It doesn't matter if you have long hair or shorter ones. This amazing haircut would up your style game regardless of your hair type and texture. Try any one of the above undercuts and be as mesmerizing as ever.